Art Deco Engagement Rings That Are Totally Gatsby-Inspired
You won't be able to take your eyes off of these vintage-inspired rings.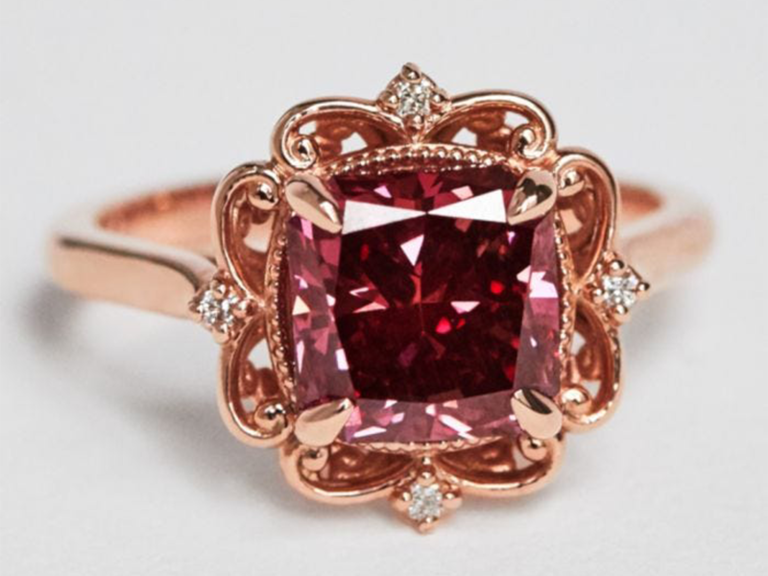 We have included third party products to help you navigate and enjoy life's biggest moments. Purchases made through links on this page may earn us a commission.
Whether you're looking for a sparkler with inherent heirloom quality or are drawn to geometric stones and settings, an Art Deco engagement ring has lots to offer—both in terms of its historical roots and it's unique aesthetic. Below, read up on the origins of this timeless engagement ring style, plus shop editor-approved options you can add to your cart right now.
In this article:
What is an Art Deco Engagement Ring?
"The term 'Art Deco engagement ring' is typically used to refer to vintage diamond rings created in the early part of the 20th century," says Greg Kwiat, CEO of Greg Kwiat and Fred Leighton. "There are certain distinctive design elements that give Art Deco engagement rings their character. Delicate filigree work became more prevalent in jewelry in the 1910s and was a defining feature of Art Deco engagement rings."
Another distinctive quality of these rings? The center stone of an Art Deco engagement ring is almost always a diamond, and most of the settings were also created in white diamonds as well.
"These rings also sometimes included details of color, most often sapphire, ruby, emerald and black onyx," Kwiat says. "One of the hallmarks of Art Deco design was its geometric and angular nature. Some classic Art Deco rings will use step-cut fancy shapes like baguettes and emerald cuts to create that aesthetic."
What to Look For in an Art Deco Engagement Ring
Shopping for an Art Deco engagement ring but not sure what to look for? Kwiat has a few considerations to keep in mind while you're browsing.
1. Keep quality top of mind
"As with the purchase of any ring, it's important to understand the quality the piece itself. As with all periods of history, not all jewelry was created equally," Kwiat advises. "Some pieces used finer materials and craftsmanship and other pieces were more commercial and produced in larger quantities. When searching for an Art Deco engagement ring, be certain that the diamonds and craftsmanship in the ring you select are of an appropriately fine quality."
2. Make sure it can last forever
"You must also make sure that the ring is in good enough condition to withstand regular wear," Kwiat recommends. "Not all 100-year-old rings can handle another few decades. You'll want to make sure that your ring can."
3. Stay true to the Art Deco style
"It's also important to understand that new rings are still created today in the Art Deco style," Kwiat encourages. "There's nothing wrong with a newly made setting in a style that you love. However, if you're after a true vintage piece, make sure to understand the difference between the two and to work with a seller who is honest."
Why Choose an Art Deco Engagement Ring?
If you're between a few different styles and can't decide what you want, Kwiat has a few selling points on why you should go with an Art Deco style.
"You should choose an Art Deco engagement ring because you love the style. These rings are unique and special, and that can be appealing to jewelry lovers looking to craft their own style sense," Kwiat says. "Many people who select an Art Deco engagement ring love the history of the piece itself—in particular the romantic notion of a ring traveling through time as a symbol of couples' eternal love."
Art Deco Engagement Rings You Can Buy Now
Feeling an Art Deco engagement ring right now? Shop some of our favorites below.
Jennie Kwon Rose Cut Oval Deco Ring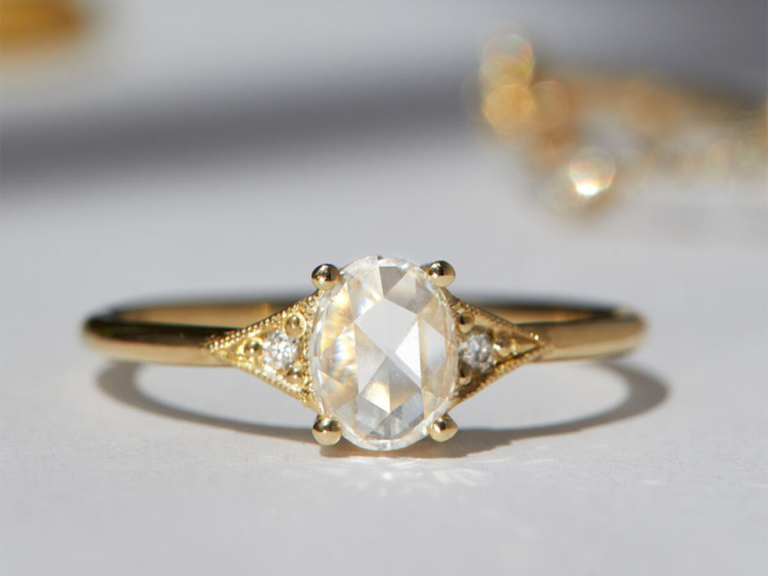 A romantic rose-cut oval diamond paired with milgrain edge triangles in 14-karat gold metal give off vintage vibes with modern touches.
Arabesque Diamond Engagement Ring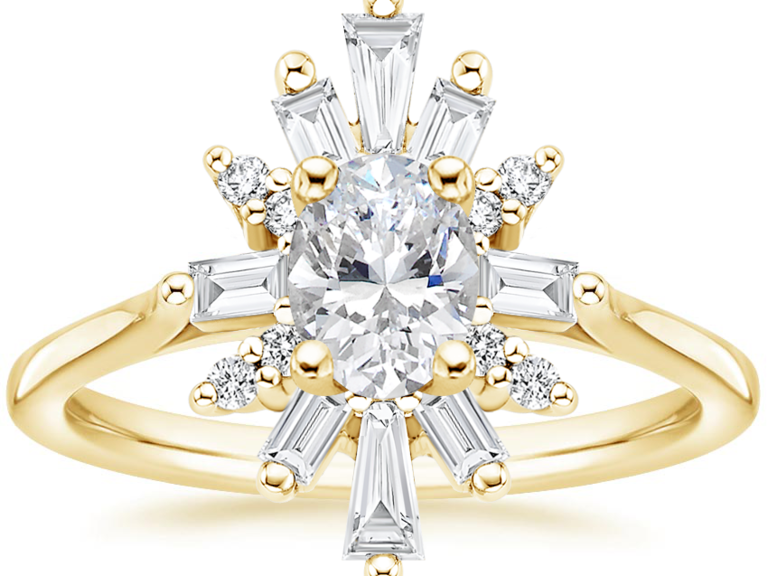 This unique engagement ring features baguette and round diamonds that form a halo around an oval-cut diamond, as well as two baguette side stones to finish off the vintage style.
Bella Vaughn for Blue Nile Scia Diamond Engagement Ring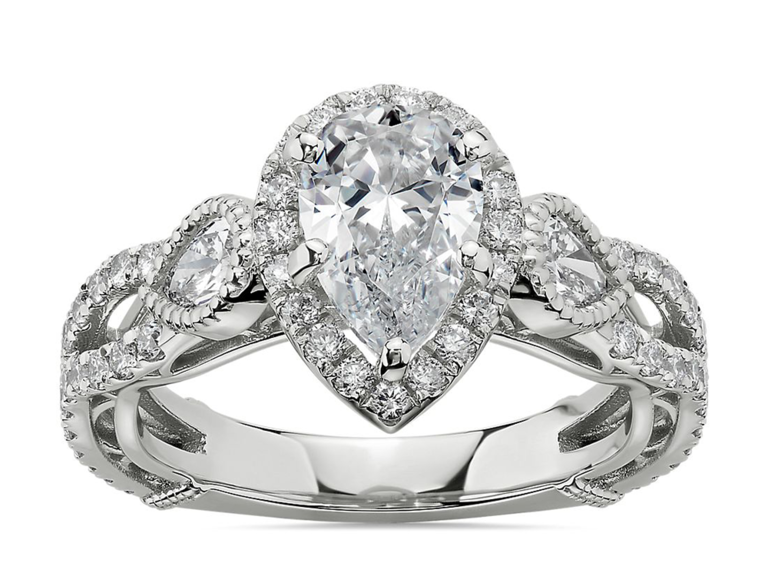 Be prepared to shine bright wearing this pear-cut diamond accented with a pavé diamond halo, side stones and a sparkly twisted band.
Savannah Diamond Halo Engagement Ring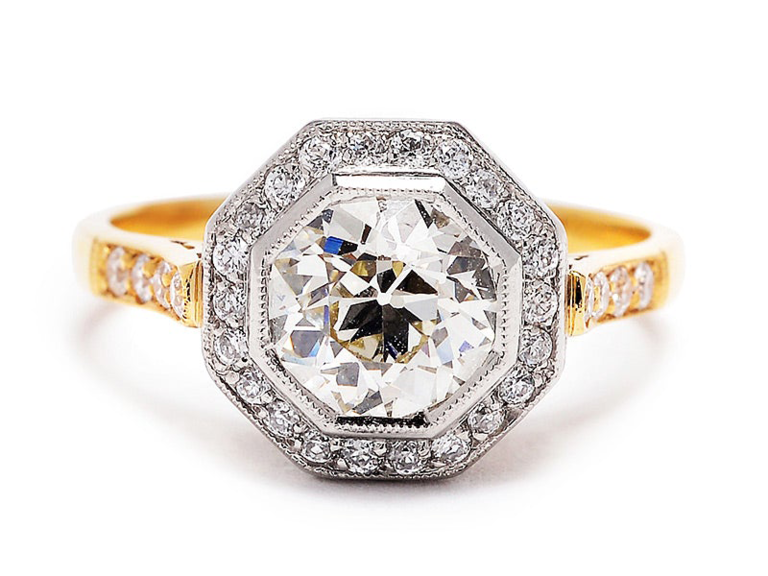 Geometric shapes are a staple of Art Deco style and this octagonal halo channels an antique look. The old European-cut diamond adds a layer of elegant vintage style.
Enchanted Disney Fine Jewelry Jasmine Engagement Ring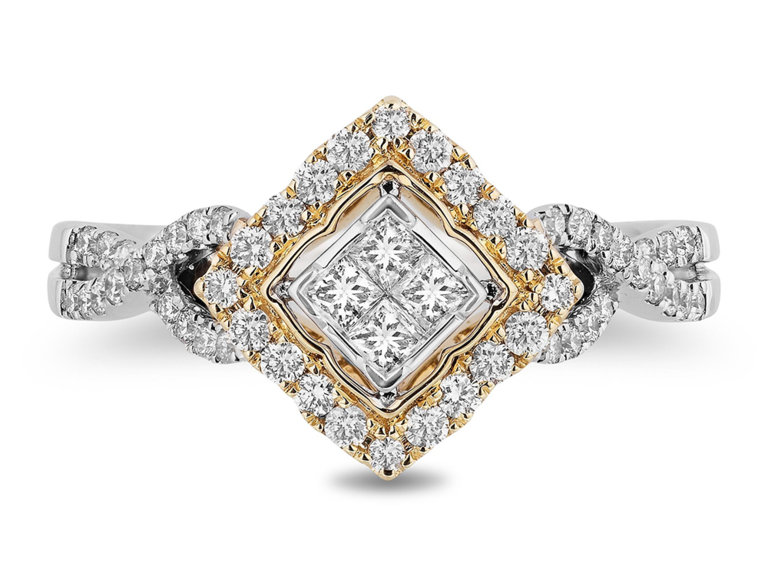 These princess- and round-cut diamonds are angularly set, another pillar of Art Deco style. This unique white and yellow gold engagement ring is guaranteed to turn heads.
Ashoka Diamond Engagement Ring with Three Step Diamond Band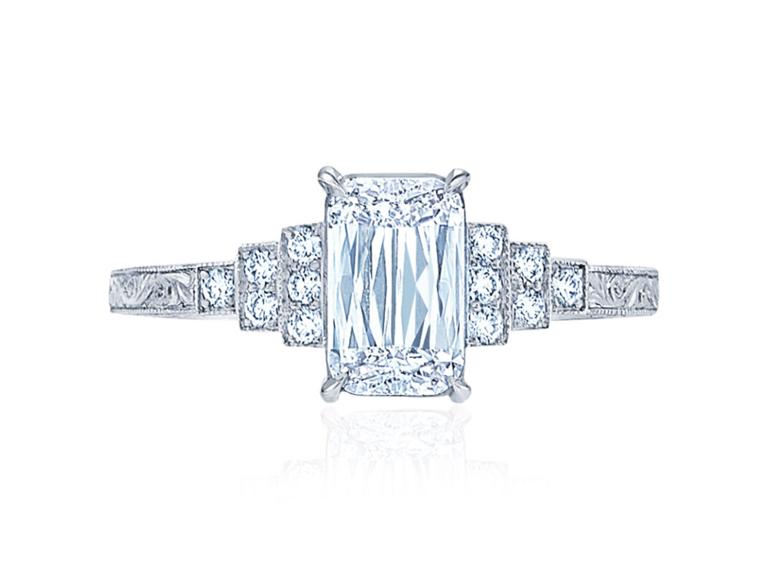 From the emerald-cut diamond to the three-step platinum band with detailed engraving, this ring brings the glamour.
Vintage Scroll Halo Diamond Engagement Ring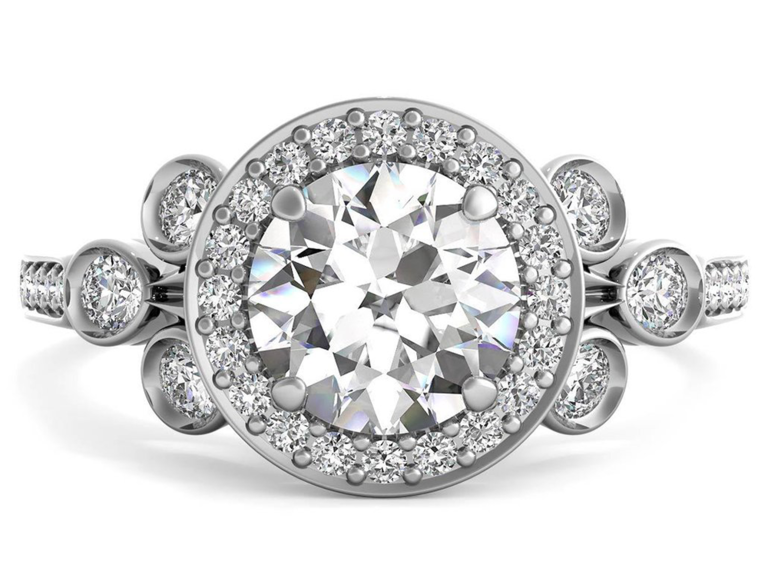 If you're looking for something off the beaten path, your search ends here. This vintage scroll-inspired ring features six bezel-set diamonds surrounding a round-cut diamond—the ultimate pillar of uniqueness.
Alvadora Engagement Ring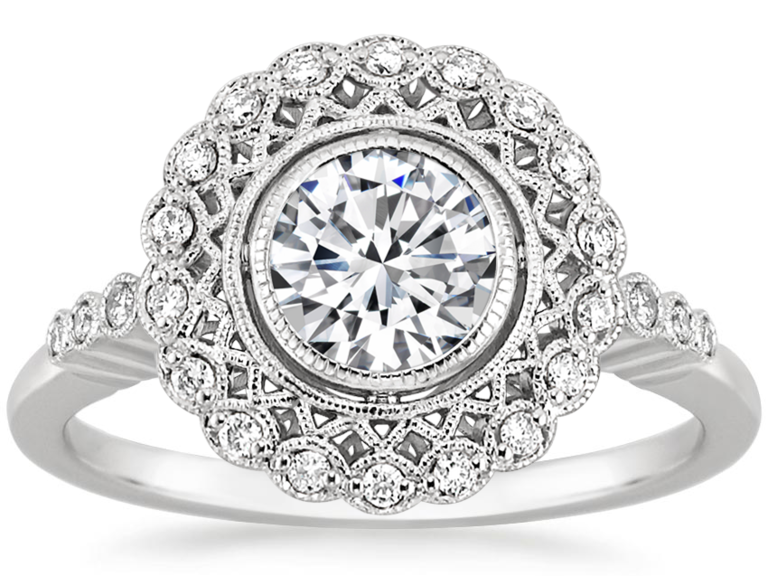 This antique engagement ring looks like it's right out of the Art Deco era. The bezel-set oval-cut diamond is surrounded by latticework detail and tiny sparkling diamonds, perfect for someone with an appreciation for detail.
DB Classic Emerald Cut and Tapered Diamond Ring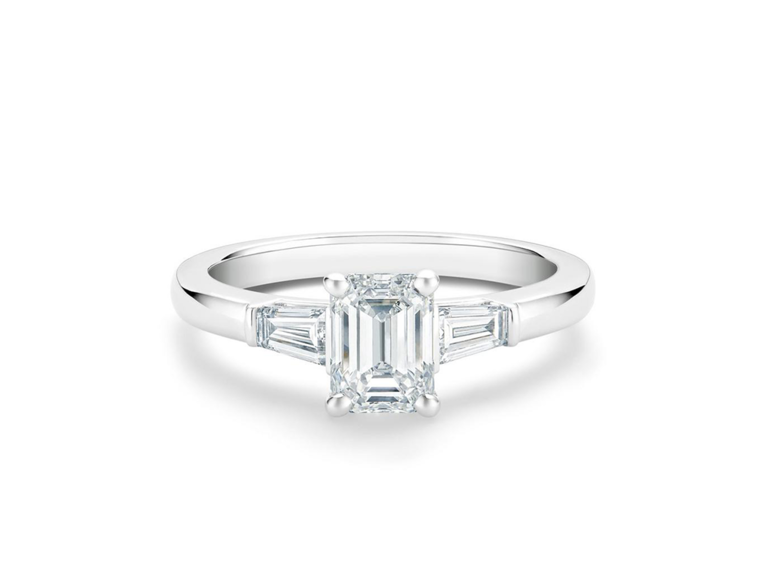 While this engagement ring may not have as many bells and whistles, its classic style will make any woman's heart flutter. This emerald-cut diamond is flanked by two baguettes on the platinum band.
Fred Leighton Art Deco Cabochon Ruby and Diamond Ring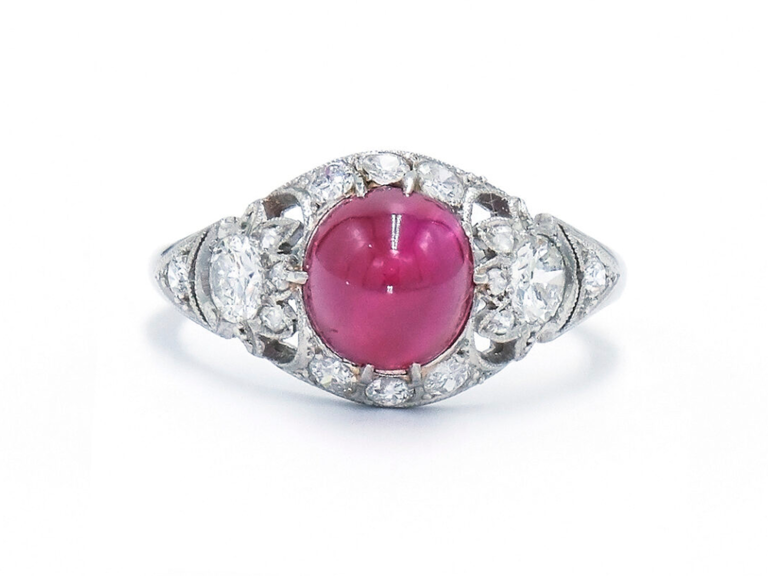 If a diamond center stone isn't your style—don't fret. There are tons of options out there. This cabochon ruby ring is three carats and is accented by a plethora of mini shimmering diamonds (just in case you decide you want a few diamonds after all).
Marilyn Monroe Collection Oval Diamond Double Frame Starburst Engagement Ring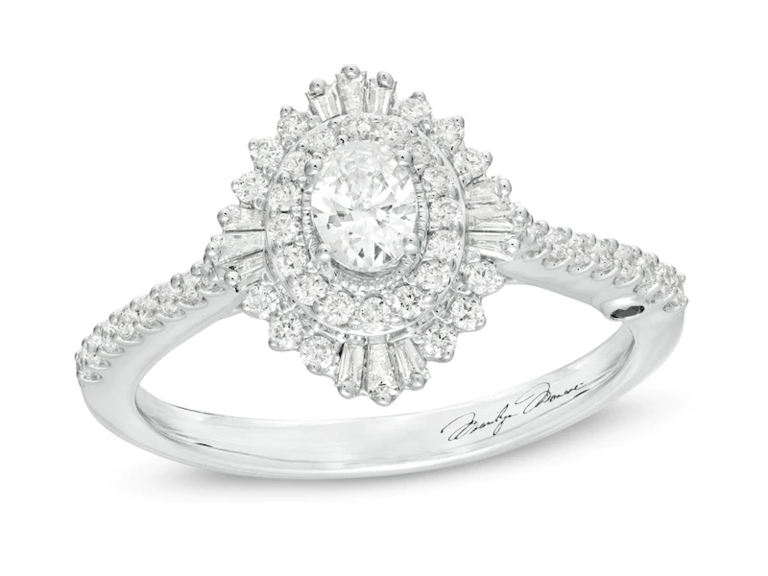 This starburst style engagement ring will turn heads in any room you walk into. The oval-cut diamond is encircled by tiny diamonds and a starburst frame of baguettes and round diamonds. Add this to your proposal wish list!
Noam Carver Engraved Solitaire Engagement Ring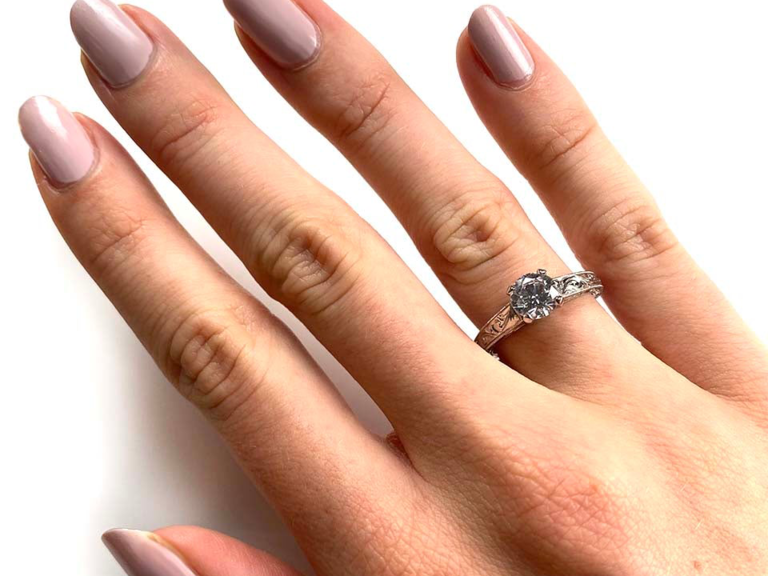 There's something so stunning about a solitaire engagement ring. From the engraving on the 14-karat white gold band to the round cut diamond being held firmly in place by the delicate prongs, this ring is all about simplicity.
Fred Leighton Art Deco Sapphire and Diamond Ring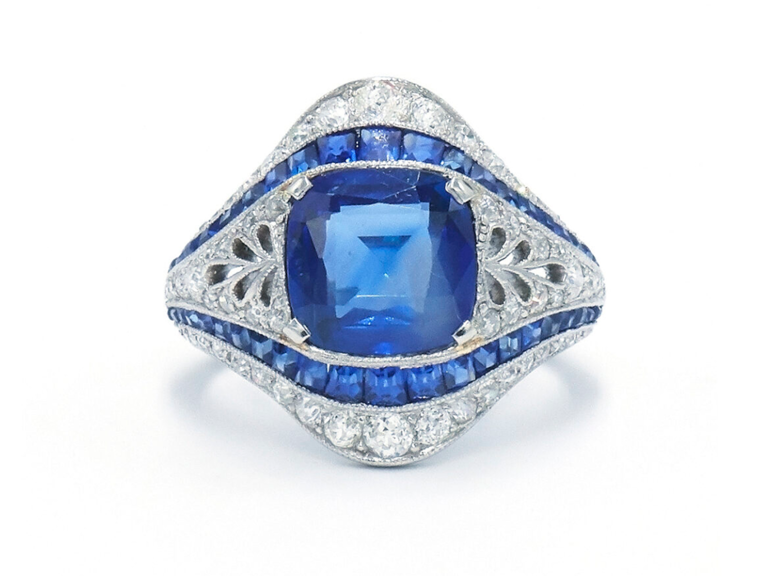 Nothing says vintage Art Deco engagement ring like a sapphire set in a platinum mounting surrounded by diamonds, sapphires and milgrain, oh my!
Brilliant Earth Hudson Engagement Ring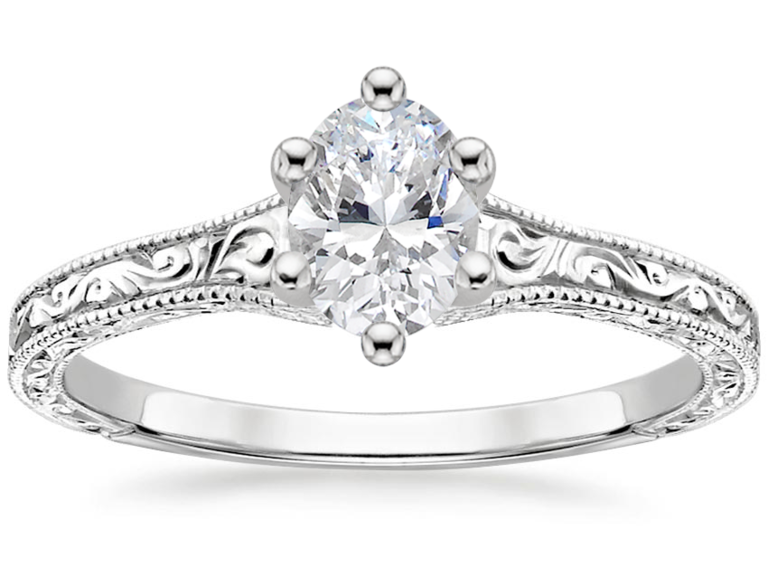 It's all in the details. This oval-cut diamond is held in place by six prongs and surrounded by motifs that are hand-engraved into a 18-karat white gold band.
Clean Origin 14k Rose Gold Fancy Red Radiant Vintage Halo Engagement Ring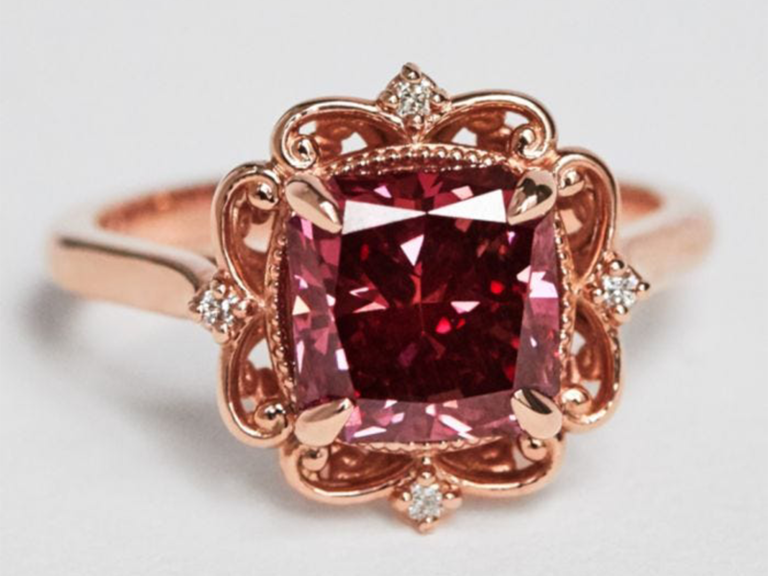 White metal settings not your thing? This 14-karat rose gold halo diamond ring might do the trick. Bonus: The red radiant center stone is surrounded by a detailed halo.
The Kwiat Vintage Collection Engagement Ring with Three Round Diamonds and Sapphire Halo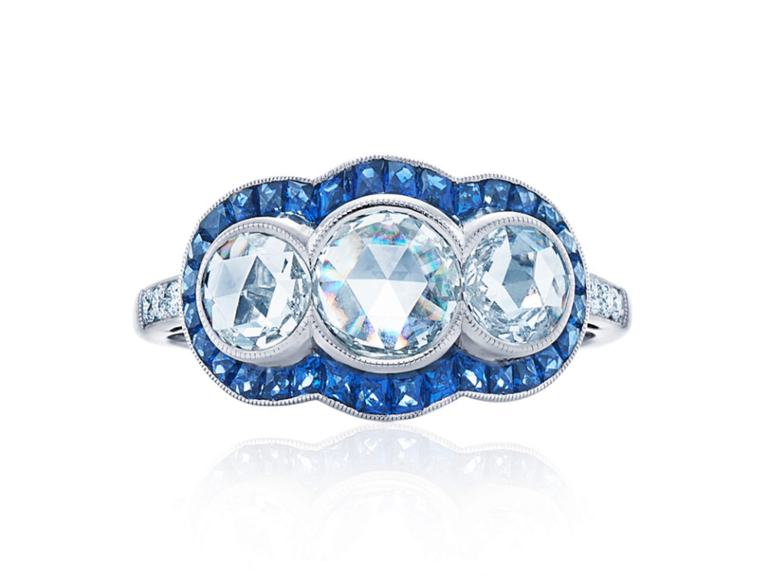 Torn between a classic diamond and a sapphire? Why settle for one when you can have both. This vintage engagement ring features three round diamonds surrounded by tiny shimmering sapphires.
ZAC Zac Posen Vintage Three-Stone Diamond Engagement Ring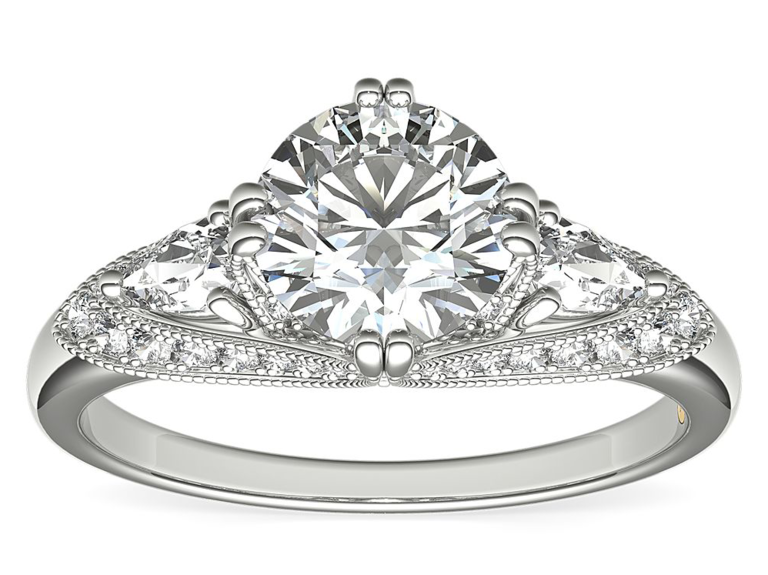 The milgrain detailing on this three-stone ring is classic Art Deco style. The pear-cut center diamond sits elegantly atop the 14-karat white gold band bordered by side stones.
Gemvara Emerald Isle Ring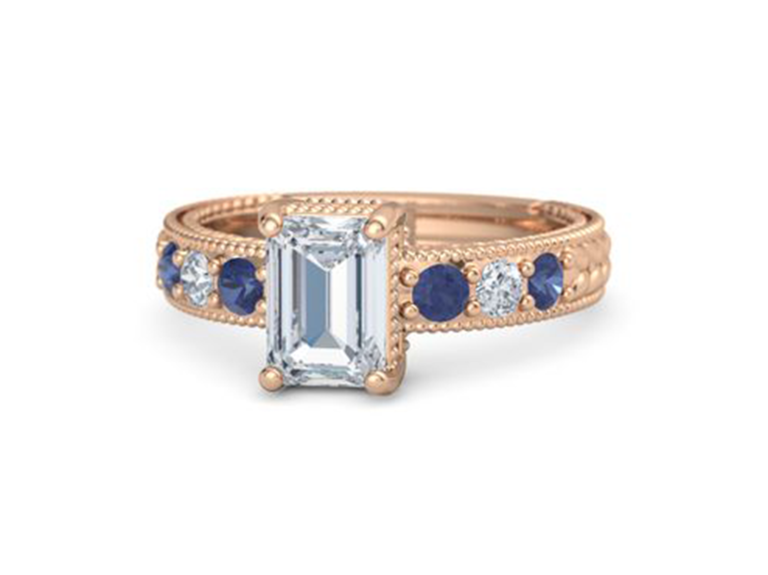 This Art Deco diamond engagement ring has a little bit of everything. From an emerald-cut diamond in the middle to alternating sapphire gemstones and diamonds set in a milgrain border, this ring incorporates the very best of Art Deco style.
Jeff Cooper 14k White Gold Heather Engagement Ring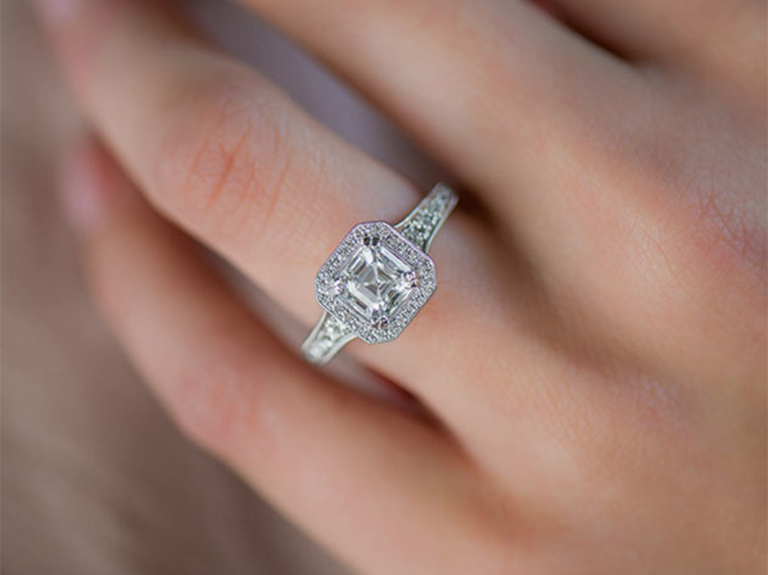 The focus on angles and geometry is clear here, with an Asscher-cut center stone surrounded by an octagonal halo. If you're into the geometric details that are a pillar of Art Deco style, take a second look at this rock.
Gemvara Caroline Ring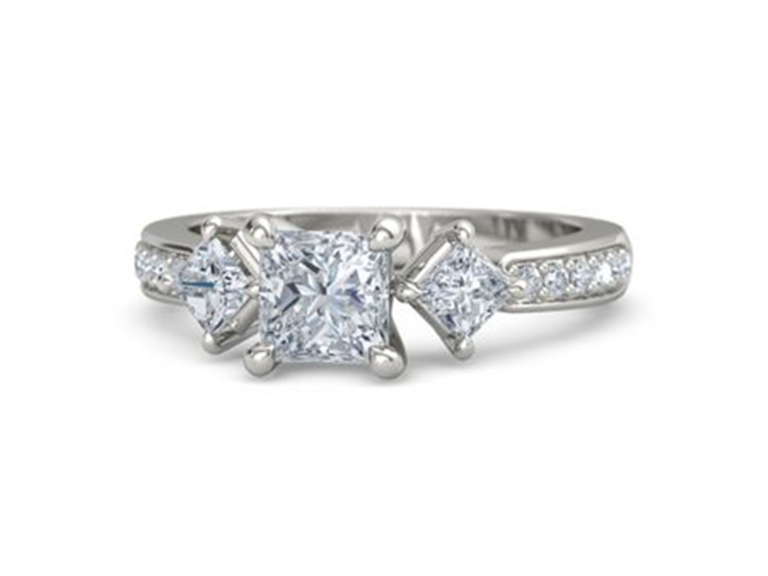 The sharp and distinct corners of a princess-cut diamond are statement-making details on this uniquely set ring. The pavé diamonds on the band add a hint of glam.
DB Classic Trio Emerald-Cut Diamond Ring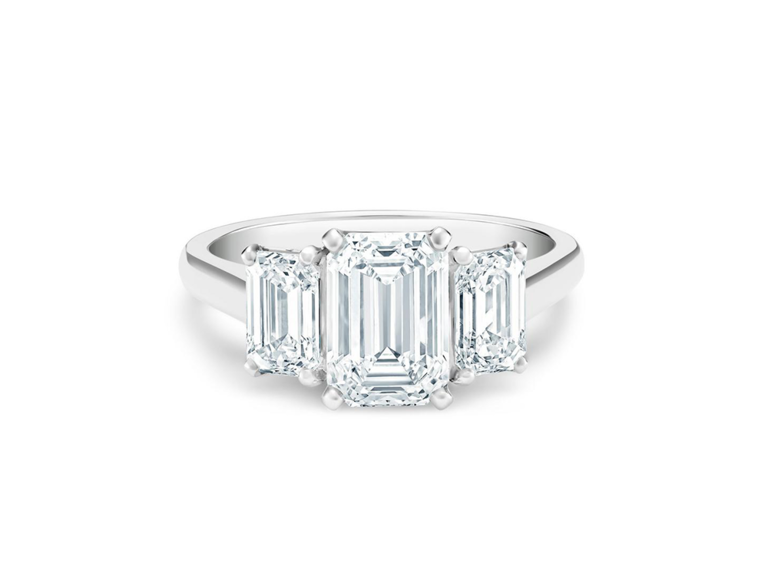 Name a better trio than three emerald-cut diamonds set next to one another on a platinum band. This sparkler is the epitome of class and elegance.