15 Couples Subscription Boxes for a Gift That Keeps on Giving
Keep the spark alive with a weekly, monthly or quarterly surprise.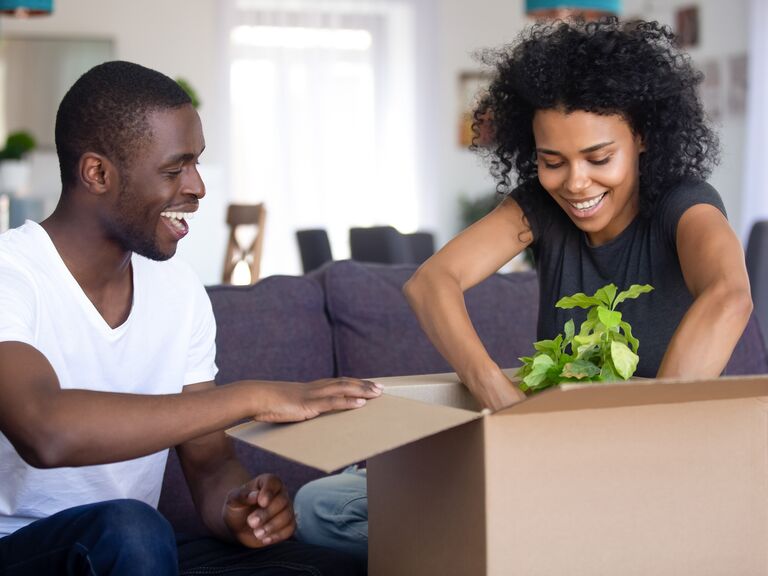 fizkes / Shutterstock
We have included third party products to help you navigate and enjoy life's biggest moments. Purchases made through links on this page may earn us a commission.
Bonding over new experiences is a great way to strengthen relationships—it can spark meaningful conversations, encourage emotional vulnerability and ultimately, increase feelings of security. So, if you're looking for a gift for your partner or a couple you know, a subscription service is a romantic and thoughtful option. That's why we've scoured the web to find the absolute best subscription boxes for couples. Whether you need a wedding, anniversary or holiday present for two lovebirds or you're shopping for your special someone (and yourself), one of these regular deliveries is sure to satisfy.
1. A Subscription Box for Gamers: UnboxBoardom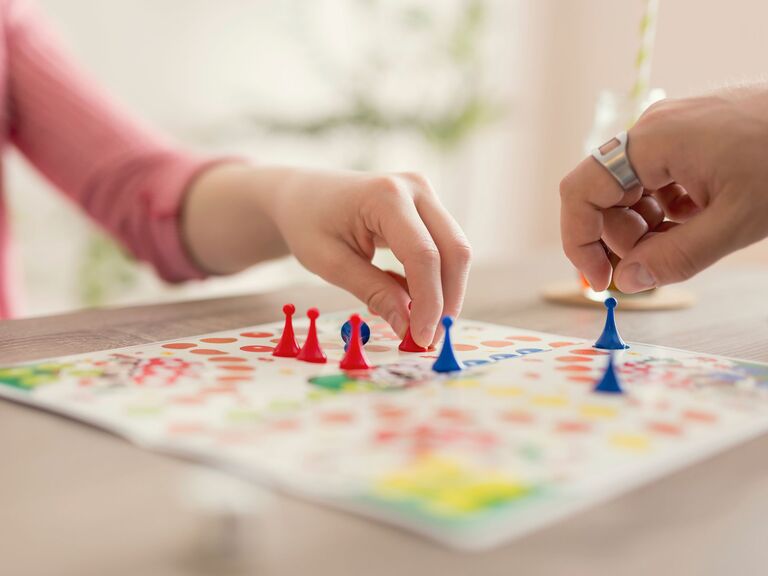 Giftable plans:
Gaming Guru (monthly): $34/box for 1 month, $33/box for 3 months, $32/box for 6 months, $30/box for 12 months

Casual Gamer (bimonthly): $34/box for 1 shipment, $31/box for 6 games over 12 months

Board Game Beginner (quarterly): $34/box for 1 shipment, $32/box for 4 games over 12 months
2. A Subscription Service for Gourmands: Mouth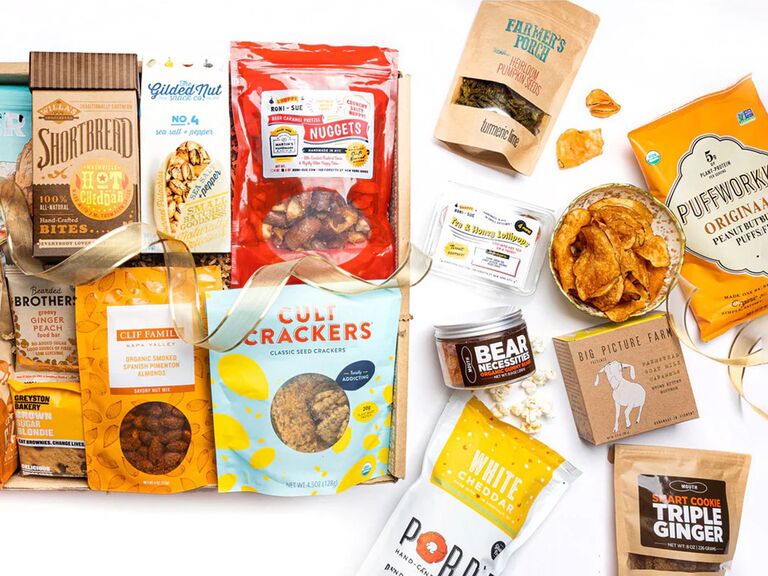 Indie States of America plans:
Pay monthly: $60/box

Prepay 3 months: 3 deliveries, $60/box

Prepay 6 months: 6 deliveries, $57/box

Prepay 12 months: 12 deliveries, $54/box
If you fell in love with a foodie—or know two foodies in love—you'll fall for this subscription service. Mouth delivers curated boxes of sweet, salty and crunchy goodies so their pantry is never empty. There are monthly subscription boxes for couples who love pickles, cheese and more. Simply pick what best suits their taste preferences and select the duration of the subscription. Need help deciding? We recommend the Indie States of America box, which gives couples the chance to taste the country's best flavors without leaving their home. Once you receive your order confirmation, you can forward the email to present your gift.
3. A Quarterly Houseplant Delivery: Lively Root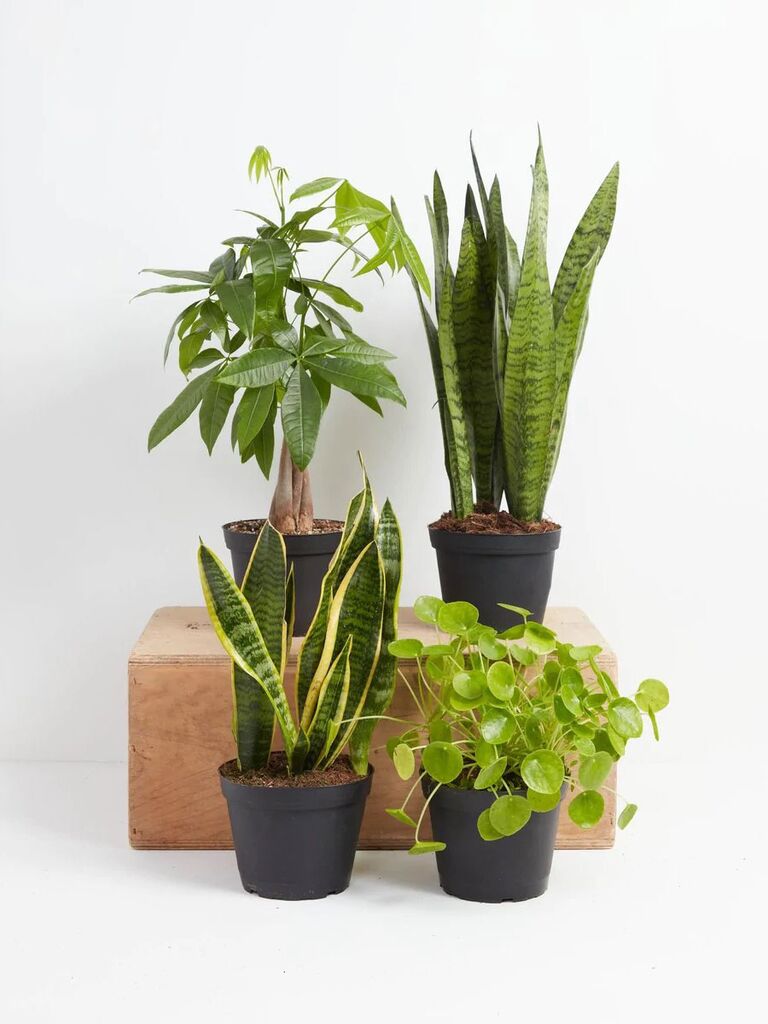 Giftable plans:
Easy Care Plant Gift Club: 1 plant every 3 months for a year, $152 total for small plants or $200 total for medium plants

Pet-Friendly Plant Gift Club: 1 plant every 3 months for a year, $200 total

Rare & Special Plant Gift Club: 1 plant every 3 months for a year, $210 total
4. A Cocktail Subscription Box: Shaker & Spoon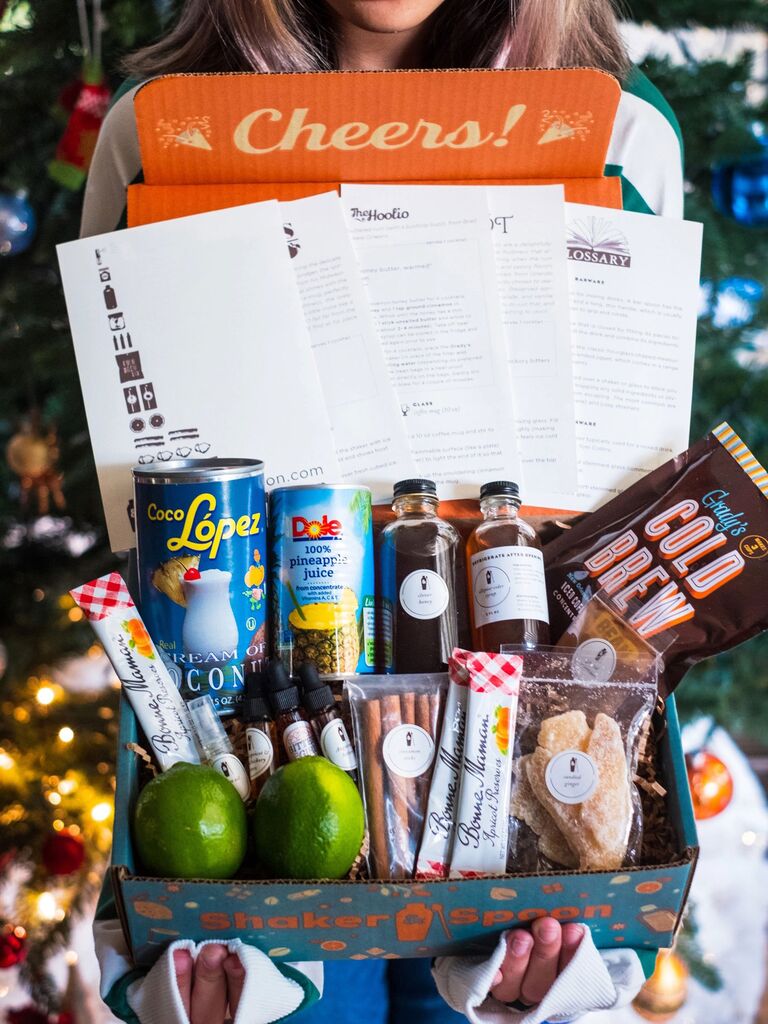 Giftable plans:
1-month gift: $59

3-month gift: $169 ($56/box)

6-month gift: $319 ($53/box)

12-month gift: $599 ($50/box)
Shopping for a pair of mixologists? Love concocting drinks with your partner? Help them discover new creations each month with a specialty craft cocktail subscription. Shaker & Spoon delivers everything they need (besides the liquor) to make artisanal beverages right from the comfort of home, like Italian-inspired spritzers and whiskey-based elixirs. Each box comes with four recipes and enough ingredients for four servings of each—which means there's more than enough for two people. Choose the subscription duration, then Shaker & Spoon will send an e-gift card to be redeemed. The brand also offers cute printables to supplement the email so you can hand them something in person too.
5. A Meal Delivery Service: Blue Apron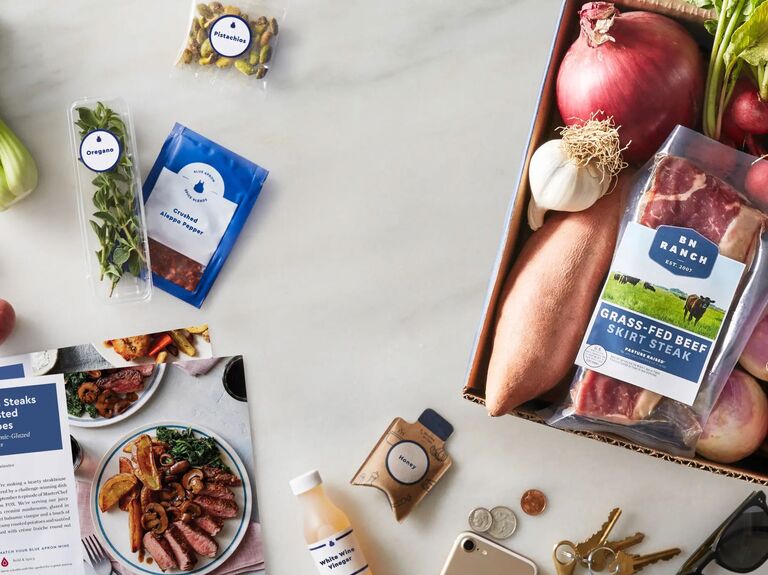 The details:
$70, $140 or $280 meal e-gift card

Gift cards can be used toward any meal subscription plan
Kick things up in the kitchen with a meal kit subscription suitable for couples. Blue Apron sends everything needed to make two servings of two, three or four chef-designed recipes each week—hello, cooking as a team; goodbye, grocery lists. Give a gift card so the pair can build a personalized plan that works for them (think: quick-and-easy recipes or veggie-only dishes). It's an especially great subscription box idea for engaged and newly married couples, because it takes one less thing (meal planning) off their very full plates.
6. A Record Subscription Membership: VYNL
Giftable plans:
Trio 1 Month: 1 delivery of 3 records, $40

Triple Triple 3 Months: 9 records across 3 deliveries, $120 total

BFF 12 Months: 36 records across 12 deliveries, $420 total
Music buffs usually agree that albums sound better on a record player. Anytime you're shopping for someone in that camp, VNYL makes a great subscription gift. This fun and unique service connects couples with new—you guessed it—vinyls. The recipient creates a profile so the music matchmakers know what they like, taking all the pressure off you. Each month, they'll get three new albums so they can jam out to new music or set the ambience of an at-home date (the retro aspect makes things all the more romantic). You can send them a gift box with their unique invite code to set up a membership or, if you're shopping last minute, send them a digital invite over email.
7. A Mystery Box for Couples: Hunt A Killer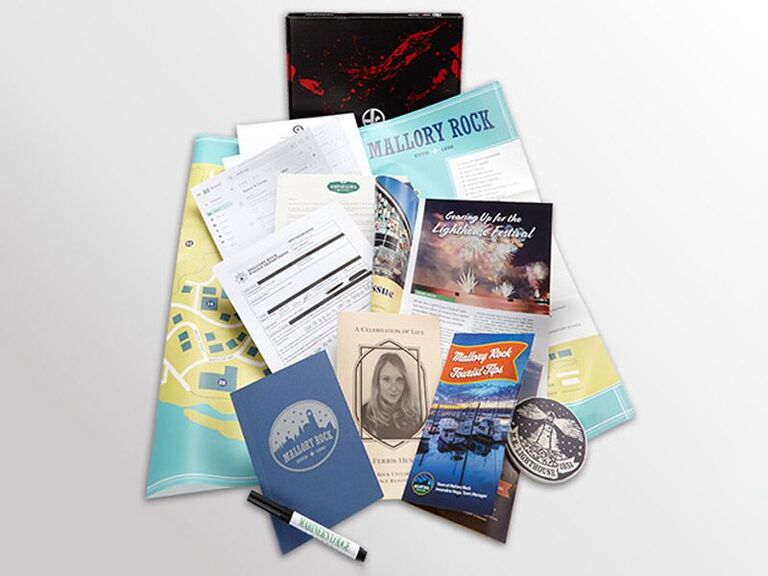 Membership gift cards:
Full Season Pass: 6-month subscription, $165

Double Season Pass: 12-month subscription, $300
Do they love true crime podcasts? Do they also think they could solve a murder themselves? Hunt A Killer is a really fun monthly subscription for couples who are obsessed with mystery. Every month, they'll receive a box filled with different clues, from autopsy reports to witness statements. Then, over the course of six boxes, or "episodes," they'll work together to find the suspect. Gift the detectives one season of Hunt A Killer (six months) or two (12 months) so they can play whodunit themselves. Their gift card will ship in a miniature Hunt A Killer box so they have something to unwrap before going online to pick which story they want to embark on.
8. A Subscription for Caffeinated Couples: Trade Coffee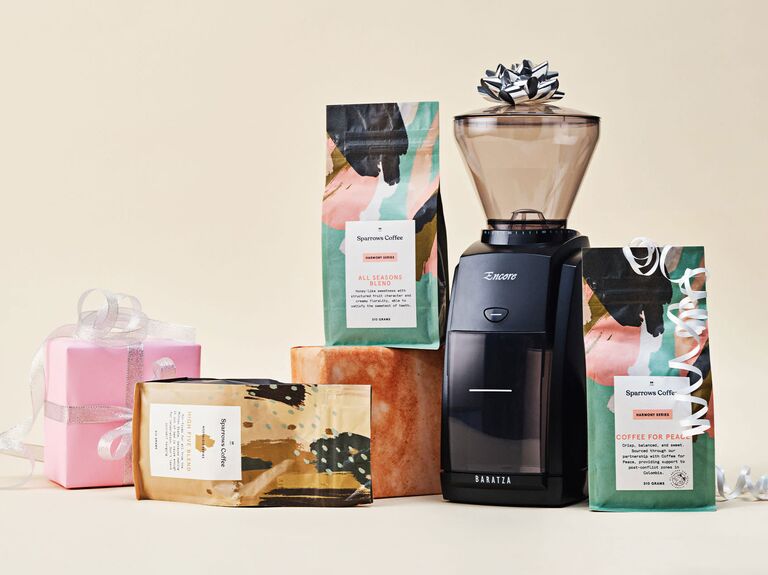 Gifting options:
2 bags: $40

3 bags: $60

6 bags: $108

9 bags: $162

12 bags: $216

24 bags: $430
Is there anything worse than waking up in the morning to discover your spouse used the last of the coffee? Avoid a shortage with Trade, one of the best subscription boxes for couples with a caffeine dependency. The company delivers ground or whole coffee beans from the nation's top roasters right to your door. Just choose how many bags you want to gift your spouse (and, thus, you), then they'll be emailed a digital gift card. From there, they fill out a quiz on their taste preferences and choose a delivery frequency (available in weekly increments). Now, next time you make morning coffee, you have enough to make two cups.
9. A Monthly Tea Subscription: Atlas Tea Club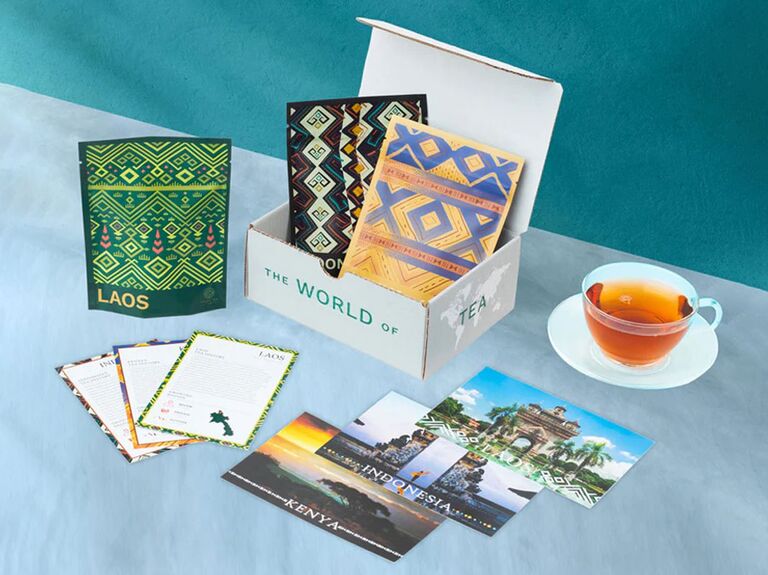 Giftable plans:
3-month gift: 3 deliveries of 2 bags each, $65 total

6-month gift: 6 deliveries of 2 bags each, $109 total

12-month gift: 12 deliveries of 2 bags each, $199 total
If they prefer tea over coffee, don't worry—there's a couples subscription box for that too. Each month, Atlas Tea Club will send two new bags of loose-leaf, single-origin tea from places around the world (like Colombia and Indonesia) to brew and enjoy. Options include herbal tea, black tea, green tea or a sampler pack. Choose the first shipment day for a surprise in the mail or send an email letting them know their gift is on the way.
10. A Romantic Box for Couples: The Adventure Challenge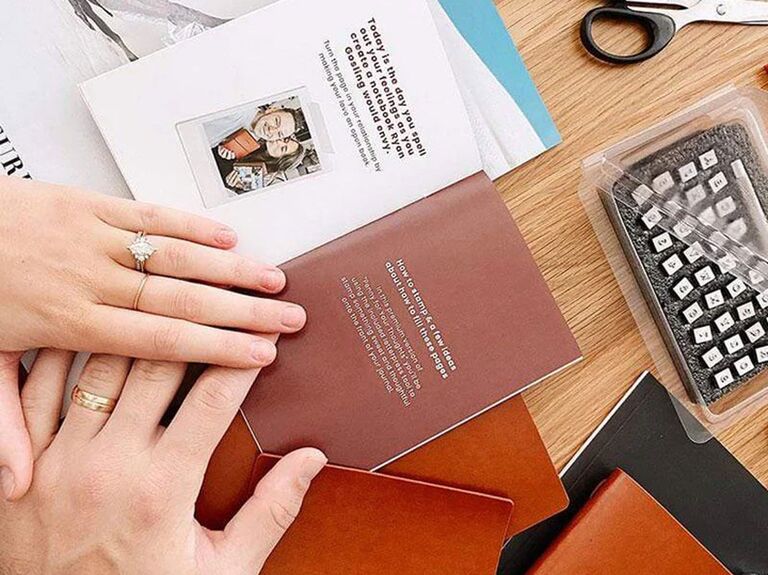 The Adventure Box details:
$50/box for up to 9 months

The dates correspond with challenges in the Couples Edition activity book ($50 extra)
11. A Sweet Subscription for Couples: Universal Yums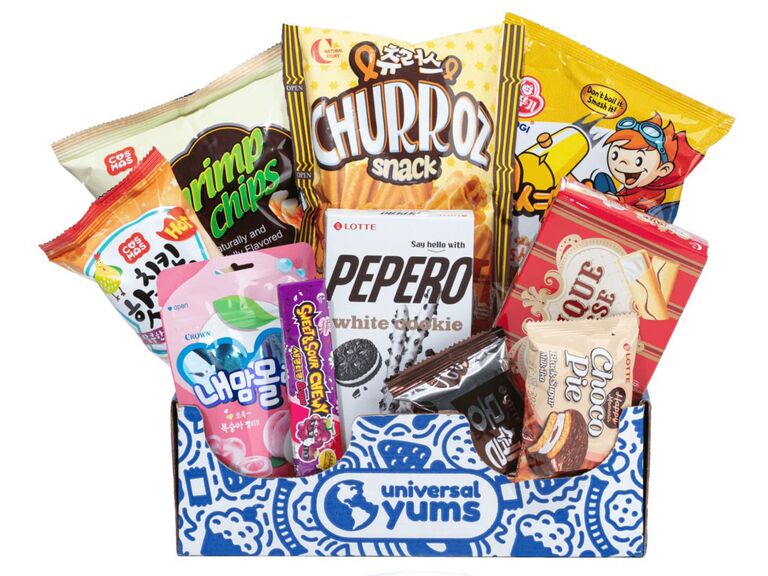 Giftable plans:
Yum Box (5-7 snacks): $19/box for 1 month, $18/box for 3 months, $17/box for 6 months, $15/box for 12 months
Yum Yum Box (10-12 snacks): $33/per box for 1 month, $31/box for 3 months, $29/box for 6 months, $26/box for 12 months

Super Yum Box (15-18 snacks): $51/box for 1 month, $48/box for 3 months, $45/box for 6 months, $41/box for 12 months
This cool couple's monthly subscription box will introduce them to new candy from around the world—like iced tea wafer cookies from Thailand and passion fruit-flavored bubble gum pops from South America. It won't just satisfy their sweet tooth, it will also inspire their wanderlust. Choose the size of the goodie box you want to gift along with a duration (one, three, six or 12 months), then pick the first location you want them to taste. You can add a gift message to their first box or have them receive an email after it arrives letting them know who it's from and what the gift entails.
12. A Monthly Bubbly Subscription: The Sip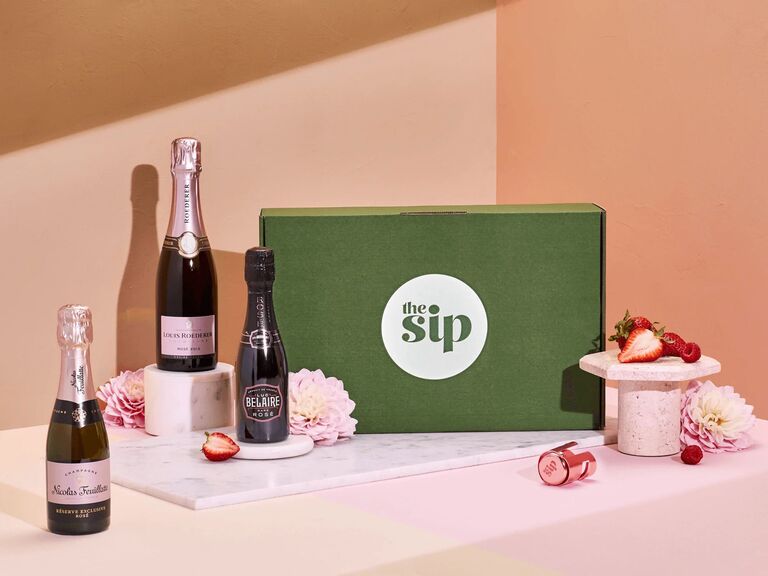 The Sip e-gift cards:
3 boxes: bimonthly over 6 months, $177

6 boxes: bimonthly over 12 months, $330

12 boxes: bimonthly over 24 months, $624
Champagne is a classic gift for couples, so why not up the ante for a special occasion like their wedding or an anniversary with a subscription of sparkling wine? The Sip Society will send a custom email to the recipients on the date and time of your choosing for them to redeem their personalized membership. Then, every other month for six months, a year or two years, they'll receive a curated box of champagne, allowing them to toast to their love regularly.
13. A Pasta of the Month Club: Sfoglini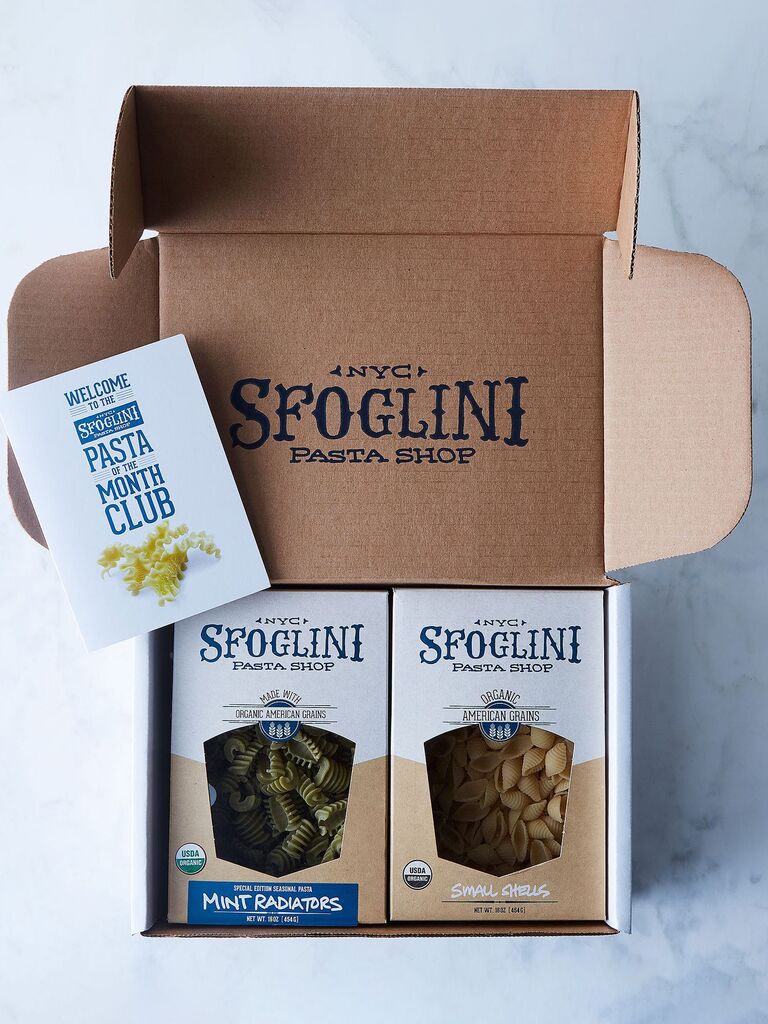 Giftable plans:
3 months: 3 deliveries with 2 boxes each, $65 total

6 months: 6 deliveries with 2 boxes each, $120 total
14. A Seasonal Home Decor Delivery: Decocrated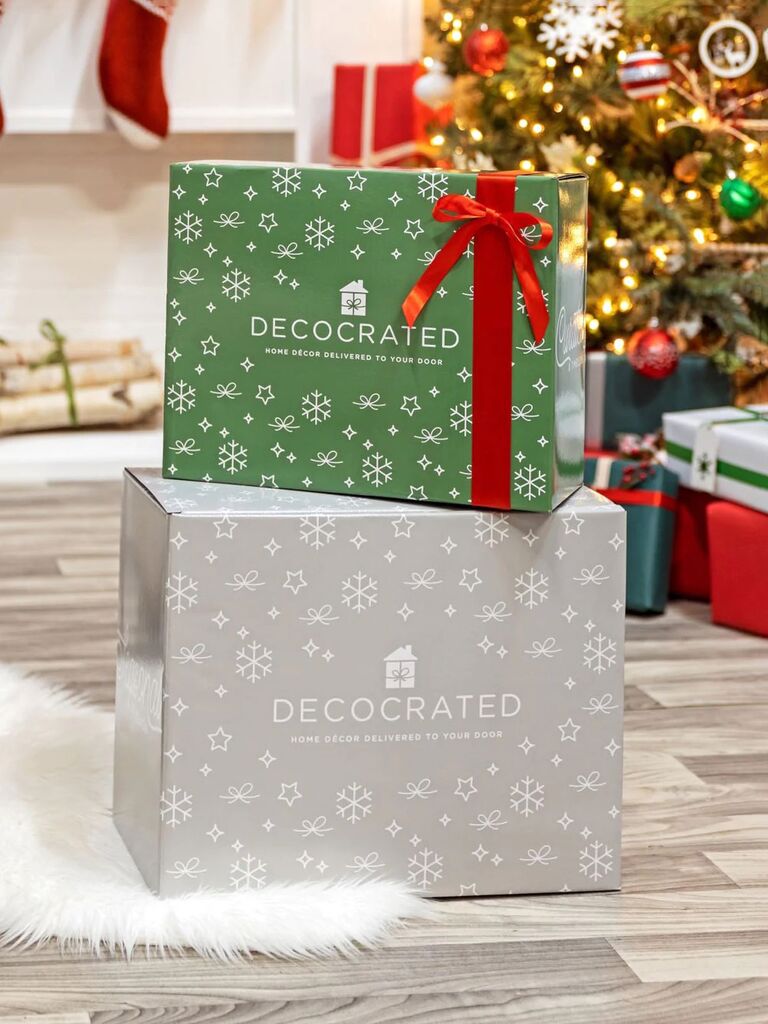 Gifting option:
E-gift cards are available for $50, $100, $200, $250, $300 or $350

Gift cards can be applied to box memberships, add-on boxes or shop purchases
If their house is the go-to spot for all holiday parties—we're talking Halloween, Thanksgiving, Christmas and the Fourth—then they'll love to receive exclusive home decor products that are timeless and seasonal. A Decocrated membership for couples includes quarterly decoration deliveries plus access to the brand's online storefront to stock up on even more home treasures. Decocrated even provides members with styling tips so each piece sent or purchased is on its best display. Just send the couple an e-gift card to redeem a box subscription or shop add-ons.
15. A Charcuterie Subscription Box: Platterful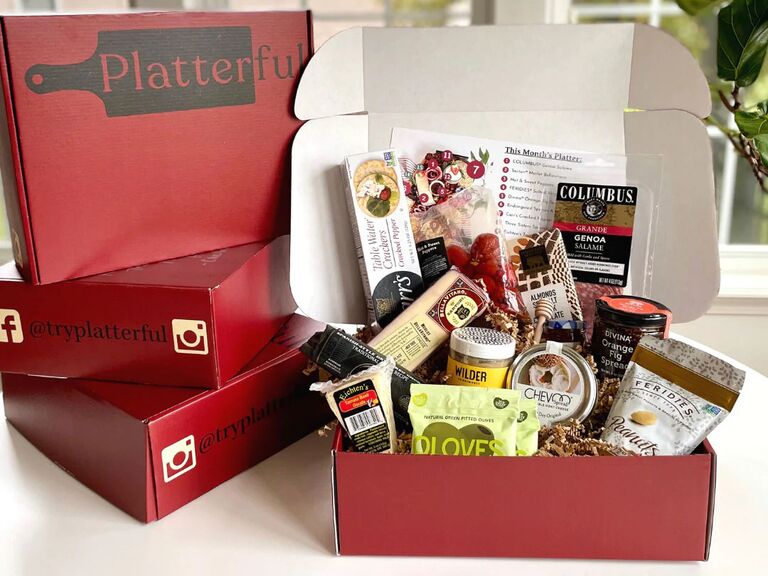 Giftable plans:
Month-to-month subscription: From $75/box

3-month prepaid subscription: 3 boxes, from $179 total

6-month prepaid subscription: 6 boxes, from $349 total