Tie The Knot at One of These 29 Austin Wedding Venues
From museums to pet-friendly gardens, Austin has a wedding venue for you.
If you're currently on the hunt for the best Austin wedding venues, you've come to the right place. When it comes to finding a wedding venue for your special day, there are a couple of questions that you should ask yourself while doing your research: what will the weather be like? What is the budget? What does the guest count look like? What aesthetic am I looking for? Since Austin is in the South and it can get quite hot (especially during the summer), hybrid venues are recommended so you and your guests have a place to retreat when you need some cool air or some added warmth during the cooler months.
We know that finding a wedding venue is likely not the only item on your wedding planning checklist, but it is one of the most important ones. If you're currently reading this, you're probably either in the process of searching for the additional wedding vendors you'd like to work with (you can check out The Knot Vendor Marketplace for some of our recommendations) and learning about the policies of each venue. Our job is to make the wedding planning process easier for you which is why we've compiled a list of the best wedding venues in Austin for you to consider. Whether saying "I do" on a golf course or in a gazebo sounds like a fairytale to you, read on to learn more about the best wedding venues in Austin, Texas.
The Allan House in Austin, TX
The Allan House is a great option for a downtown Austin wedding venue with lots of history. Since the house was constructed in 1883, it has been updated while keeping many original features. This mansion is equipped with both indoor and outdoor spaces for hosting making it a great hybrid venue option. The mansion's outdoor courtyard area filled with flowers and limestone steps can accommodate up to 200 guests for a seated reception. The mansion's indoor reception spaces are fitting for those smaller wedding receptions with space for up to 60 guests. If a winter reception is in your future, your booking of the venue includes a heated tent–we think that sounds pretty nice (and warm).
Star Hill Ranch in Austin, TX
Celebrate your love with some simple elegance at Star Hill Ranch. What's so special about this Austin ranch wedding venue is that it's more than 25 acres of land consists of a plethora of historic buildings that have been relocated and restored on the property. For hosting wedding ceremonies, the ranch is home to a little chapel that can comfortably seat 125 guests. The larger chapel can seat up to 300 guests. The outdoor arbor area can accommodate more than 500 guests for those larger ceremonies. As for wedding receptions, The Reception Hall is an indoor space that can seat more than 200 guests. In addition to serving as a space for a wedding reception, The Reception Hall can also serve as a rehearsal dinner venue. The Fitzhugh Building can seat 300 or more. For couples wanting even more of a small-town feel, a dinner on the ranch's Main Street area can be arranged for the happy couple and more than 500 guests.
The Austin Club in Austin, TX
Theater lovers will enjoy celebrating their next chapter at Austin Club nestled inside the historic Millett Opera House. The club's Grand Medallion Ballroom is notable for its high ceilings, hanging chandeliers and 250 person capacity. And, it's only one block from several churches (if you choose to have a religious wedding). The team at Austin Club has been hosting wedding receptions since 1949–so you can rest assured that yours will be a great one.
Springdale Station in Austin, TX
Springdale Station is a unique Austin wedding venue that offers guests a combination of 1920s-style architecture and contemporary amenities. This refurbished train station turned events space offers more than 4,300 square feet of indoor space and one acre of outdoor space for celebrating in addition to more than 575 parking spaces for guests. What's great about this space is that it's wonderful for creatives who want to have control over the look and feel of their venue–various bar and lighting options can be arranged to fit your desires and budget. The venue also partners with local vendors that can be considered to make your wedding vision a reality. Whether you want to host an indoor reception with up to 300 guests or an outdoor reception with 400 guests, or get married in the Pine St Room (220 guests), White Room (140 guests), or Backyard (400 guests), Springdale Station has a space for you.
The Oasis on Lake Travis in Austin, TX
Offering panoramic views of Lake Travis and Hill Country, The Oasis on Lake Travis is a solid spot for saying those "I dos." What makes this venue stand out is its variety of space available for celebrating. Whether you'd like to exchange vows at the outdoor Top of the Oasis deck area or simply enjoy the company of your close friends and family in The Starlight Terrace, The Oasis on Lake Travis can accommodate. The Starlight Terrace can comfortably fit up to 400 guests and includes a dance floor and plenty of natural light thanks to its glass-paneled doors and retractable roof. Plus, all of the venue's available reception spaces include a private deck which can serve as a great backdrop for wedding photos.
UMLAUF Sculpture Garden & Museum in Austin, TX
If feeling particularly relaxed on your wedding day is a priority, the UMLAUF Sculpture Garden & Museum may be just the Austin wedding venue you're looking for. Its winding pathways and ponds may provide some serenity on a likely hectic day. The venue is equipped with a ceremony arbor for exchanging wedding vows and a room which can accommodate 250 guests for a seated dinner. When you book a wedding at this venue, exclusive use of the lawns, terrace, arbor ceremony area, garden and catering kitchen are included. If you're looking to host a smaller ceremony only inviting those closest to you, this venue offers a daytime Intimate Wedding Ceremony option for 15 to 25 guests.
River Place Country Club in Austin, TX
You'll experience true Southern hospitality when you host your wedding at River Place Country Club. You can begin your day with a ceremony on the 10th Tee Box on the Tom Kite-designed golf course or Sky Deck Patio. Then, you can head to one of the club's event rooms for your reception which contains hardwood floors and contemporary light fixtures. On-site childcare is also offered which is a bonus, especially if your friends and family are unable to find a sitter for the little ones if you choose to have an adults-only celebration.
Wax Myrtle in Austin, TX
Whether you're planning a wedding with 13 guests or 200, Wax Myrtle is a wonderful downtown Austin wedding venue option with the space needed to bring your wedding dreams to life. This chic bar and restaurant is equipped with comfortable lounge seats where you can mingle with your guests and they can also do the same amongst themselves. Wax Myrtle offers wedding packages with three-course plated or buffet-style meals that can be enjoyed in The Bayberry Room which can be customized to fit your needs and extend into the Patio Bar area.
DoubleTree by Hilton Hotel Austin in Austin, TX
Plan a Central Austin wedding at the DoubleTree by Hilton Hotel Austin. Its Spanish Colonial architecture and outdoor spaces make it one of the best wedding venues in Austin to exchange vows and take pictures. If you're looking to host a wedding with many guests traveling from out of town, the venue is a favorable one since it's situated only 20 minutes from the Austin Bergstrom International Airport. With more than 20 event spaces and 24,000 square feet of space that can be transformed for your big day, it's unlikely you'll run into difficulty when it comes to planning your wedding at this Austin hotel wedding venue.
Tuscan Hall & Veranda Room in Austin, TX
Located 900 feet above Austin, Tuscan Hall & Veranda Room is an ideal venue if a more intimate wedding venue is what you're searching for. With a maximum capacity of 100 guests, you and your partner can exchange vows outside in a marble-white gazebo or inside at The Tuscan Hall. For an even smaller gathering, The Veranda Room can accommodate up to 50 guests indoors, but is connected to an outdoor courtyard where guests can stargaze and enjoy some fresh air and breathtaking views of the city.
The Sanctuary Event Space in Austin, TX
Give back to the local community while you marry the love of your life at The Sanctuary Event Space. This venue which sits in the heart of South Downtown Austin is wonderful if your dream wedding consists of a backyard-style celebration. You can begin your day at the outdoor ceremony site and then head over to the terraced gardens to share a meal with up to 150 of your closest friends and family before hitting the indoor dance floor at the Studio.
Bella Oaks in Austin, TX
For a nature-filled wedding, Bella Oaks is the place to tie the knot. As you may have guessed from its name, this venue is surrounded by oak trees and accented with various waterfalls. You can say "I do" under oak trees embellished with market lights before heading into its 4,800-square-foot event center featuring sliding glass walls, plenty of natural light and gorgeous estate views.
Bullock Texas State History Museum in Austin, TX
If you met at the University of Texas and are looking for a nearby venue to formally declare that you'll be spending the rest of your life together, Bullock Texas State History Museum. With room for up to 350 guests, this venue is equipped with multiple spaces including the Austin Room, the Bullock Atrium and the Grand Lobby which are all ADA accessible for all of your guests to enjoy. Make sure to take some pictures on the spiral staircase in the rotunda at some point throughout your celebration–you'll be glad you did.
Cactus Moon Lodge in Austin, TX
If a wedding venue with accommodations is what you seek for your Austin wedding, consider Cactus Moon Lodge. The lodge's farm tables, cafe chairs, pool area, courtyard and decks give it a casual yet upscale feel. And, when you book this lodge for your special day, your reservation includes a two-night stay for between 16 and 19 guests. If this venue piques your interest, be sure to inquire about your wedding date sooner rather than later as the lodge only hosts 10 events per year with up to 100 guests each.
Chateau Bellevue in Austin, TX
You'll feel like you've stepped into a fairy tale from the moment you step foot at Chateau Bellevue. When you book at this woman-owned venue, you can rest assured that you and your partner and up to 148 guests will be well-fed and taken care of thanks to its in-house catering team and free nearby parking spots. This French-inspired venue is so charming, you might just forget you're nestled in the heart of downtown Austin.
The Addison Grove in Austin, TX
You'll receive the best of both worlds when you book your wedding at The Addison Grove as this barn venue is close to the city and maintains a relaxed feel. Well-suited for those larger-style weddings with up to 300, it has both indoor and outdoor spaces that can be utilized throughout your day including a 6,000-square-foot barn that is perfect for hosting a meal and can be transformed into a hybrid venue thanks to its rolling glass doors. In addition to the venue's modern feel, we think your guests will enjoy the complimentary lawn games and surrounding greenery.
The LINE Austin in Austin, TX
The boutique hotel known as The LINE Austin is home to two spacious ballrooms that can be transformed to make your wedding dreams come true. The 6,000 square-foot Onyx Ballroom is decorated with floor-to-ceiling windows and is equipped with enough space to comfortably accommodate 600 guests. For a mid-sized wedding with up to 400 guests, Topaz Ballroom is perfect and offers stellar sunset views for an evening event.
Fairmont Austin in Austin, TX
Fairmont Austin is a picturesque hotel in Austin's Central Business District overlooking Lady Bird Lake and the state Capitol. Although this hotel is comprised of many event spaces where weddings can be held, Manchester Ballroom is one of the most notable offering a sense of opulence while accented with classic architecture. What makes this space stand out is that it can be divided into three smaller spaces if your wedding vision has distinct elements you want to emphasize. When it comes to cuisine, the hotel offers plated meals of up to three courses for guests along with a wine tasting. (Fun fact: This property is known as "F1" because it notably houses many Formula 1 drivers when they're in town.)
Vintage Villas in Austin, TX
Plan a vintage wedding at Vintage Villas. You can begin your day at this boutique hotel with a ceremony under a vintage wrought iron gazebo before heading into the Events Center which can accommodate up to 299 guests if you plan on inviting all of your friends and family. If a reception with your closest friends and family is more along the lines of what you're looking for, the venue's Arbor & Travis room can accommodate up to 70 guests. Whichever event space you opt for, views of Lake Travis with the Austin sunset are included.
Hummingbird House in Austin, TX
For a couple of horticulturists or a couple who simply adores all things plants, consider Hummingbird House as your wedding venue of choice. Couples can begin their wedding festivities with a ceremony at the ceremony garden with more than five acres of gardens before heading to the reception pavilion. The venue's crystal chandeliers are the focal point of this venue (in addition to its eye-catching flowers and greenery). And, it is able to host weddings of up to 200 guests–even those four legged ones.
The Zilker Lodge Austin in Austin, TX
If your goal is to have a lodge wedding, The Zilker Lodge Austin can help. Facilities at the lodge include celebration rooms, multi-purpose rooms and a kitchen which you can utilize during your special day. Total event space consists of more than 21,000 square feet which can be transformed to meet your heart's and budget's desires. It's also a wonderful option if you're currently on the hunt for a bridal shower venue as it's equipped with accommodations for some out of town guests if needed. The best part is that when you book an event here, the rental fees are put towards sending children to Austin Sunshine Camps.
Allegro Wedding & Events Venue in Dripping Springs, TX
It'll be all about sophistication when you host your wedding at Allegro Wedding & Events Venue. When you tie the knot at this venue, the team will light up 50 trees that will leave you and your guests in awe. Whether you choose to use their wedding planner or one that you find on your own, the team will ensure your day is catered to your liking and will be remembered forever.
Prospect House in Dripping Springs, TX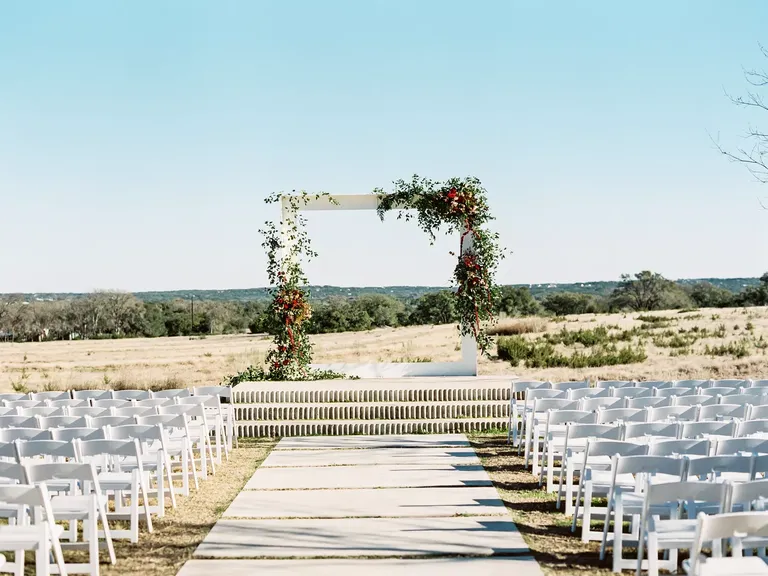 Couples looking for a modern ranch Austin wedding venue, your search is over. This chic spot just outside of Austin is incredibly popular for couples who want something contemporary in the middle of Hill Country. Prospect House in Dripping Springs, Texas, can accommodate up to 250 guests and is conveniently located just 25 minutes from downtown ATX. This modern wedding venue, which is a great blank canvas for couples to decorate, boasts wheelchair access, on-site parking, ample in-house furniture for event use and sweeping views of nature.
Greenhouse at Driftwood in Driftwood, TX
On the hunt for unique Austin wedding venues to consider for the big day? Make sure Greenhouse at Driftwood in Driftwood, Texas, is on your list. This HIll Country greenhouse wedding venue has hosted weddings since 2013. Not only is the wedding venue in ATX beautiful, but it is also committed to conservation and sustainability—the space operates primarily using rainwater and solar power. Weddings inside the greenhouse structure can accommodate 40 guests, but other spaces on the property can fit up to 250 people.
Hotel Van Zandt in Austin, TX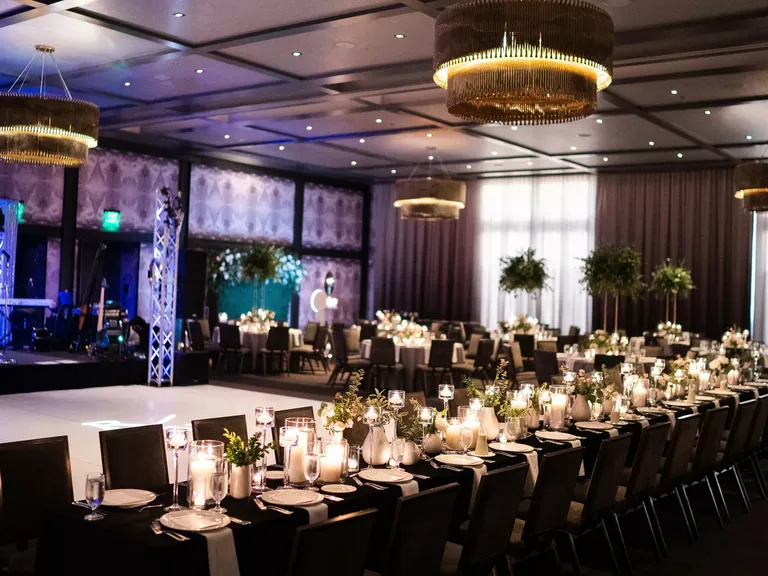 There are quite a few Austin hotel wedding venues to choose from which can make sifting through the options difficult. Thankfully, Hotel Van Zandt is an exception choice that rises above the others. Located in Austin's Rainey Street District, this downtown Austin wedding venue can fit an impressive 700 guests. As a bonus, the property has a rooftop pool with views of the city that would make for a lovely post-wedding brunch location. Wondering where the hotel's unique name comes from? It is loosely drawn for Texas icon Isaac Van Zandt, The Republic of Texas Ambassador to the U.S. in the 1800s, as well as his third great-grandson, Townes Van Zandt, who was a noteworthy musician. With so much rich history, this spot makes a great wedding venue for those who want to feel connected to their Texas roots.
Austin Proper Hotel in Austin, TX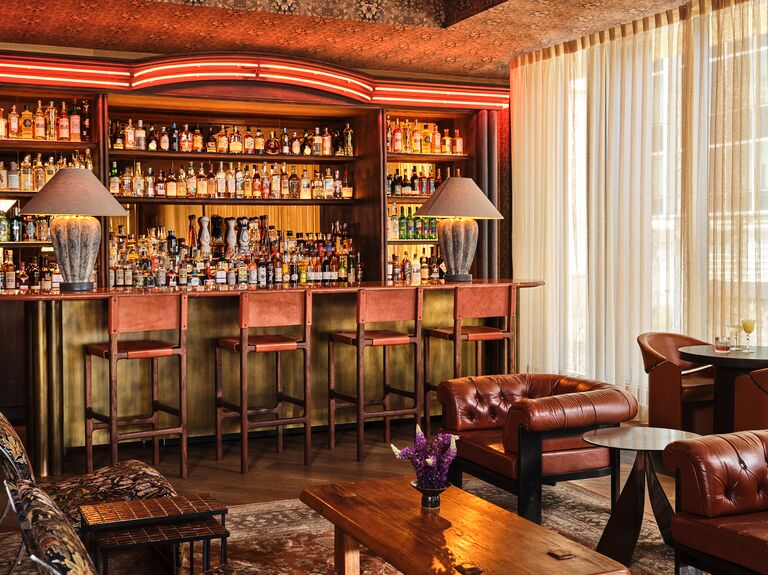 Austin Proper Hotel is another amazing hotel property for couples searching for downtown Austin wedding venues. Notably, the hotel recently opened an intimate cocktail lounge and salon known as The Quill Room which offers a combination of Old-World opulence and modern elegance with a French-inspired menu—welcome party spot, anyone? Meanwhile, the 11 other event spaces in the hotel can host between 10 and 250 guests.
Hyatt Lost Pines Resort & Spa in Lost Pines, Texas
Hyatt Lost Pines Resort & Spa is a Texas destination resort near Austin's Hill Country, tucked away on 405 lush acres along the banks of the Lower Colorado River. The property describes itself as "Texas with a twist, a down-home experience filled with elevated services and amenities." The resort is ideal for couples who want to host a multi-event wedding weekend—amenities on-site range from horseback riding and fishing to splashing in a lazy river or putting on an 18-hole golf course. The resort's largest ballroom is over 15,000 square feet and can fit 1,000 guests. Meanwhile, there are also six other spaces available to couples as well.
Camp Lucy in Dripping Springs, TX
Camp Lucy in Dripping Springs, Texas, describes itself as a "sprawling 282-acre luxury wine resort that includes four unique on-property wedding venues that host over 200 ceremonies every year." Camp Lucy has five unique event spaces on-site, one of which is Ian's Chapel, a restored 19th-century French chapel with an antique bell from Vietnam, an open-air pavilion and a stone arch that overlooks Onion Creek. This Austin, Texas, wedding venue can accommodate up to 300 guests.
The Driskill Hotel in Austin, TX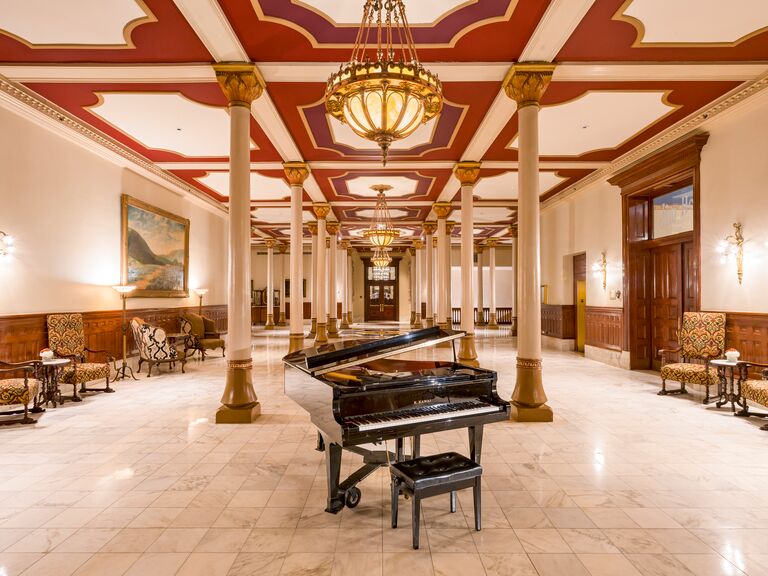 The Driskill Hotel is a 137-year-old hotel wedding venue in downtown Austin, TX. The historic wedding venue was built in 1886 and boasts eye-catching architectural details, like eight hold leaf-framed Austrian mirrors. Another notable historical feature of this space? It's the site of former president President Lyndon B. Johnson and Lady Bird Johnson's first date. The Driskill Mezzanine is the hotel's main event space and it is 5,634 square feet and can fit 750 guests max. Couples can also consider the 2,501-square-foot Driskill Ballroom that can gift between 60 and 350 guests. Beyond those two spaces, there are another nine versatile spots making the propety a viable option for any couple.
Hannah Nowack contributed to the reporting of this story.