6 Common Mistakes Couples Make When Buying Their Wedding Rings
Plus, our top tips on how to avoid them.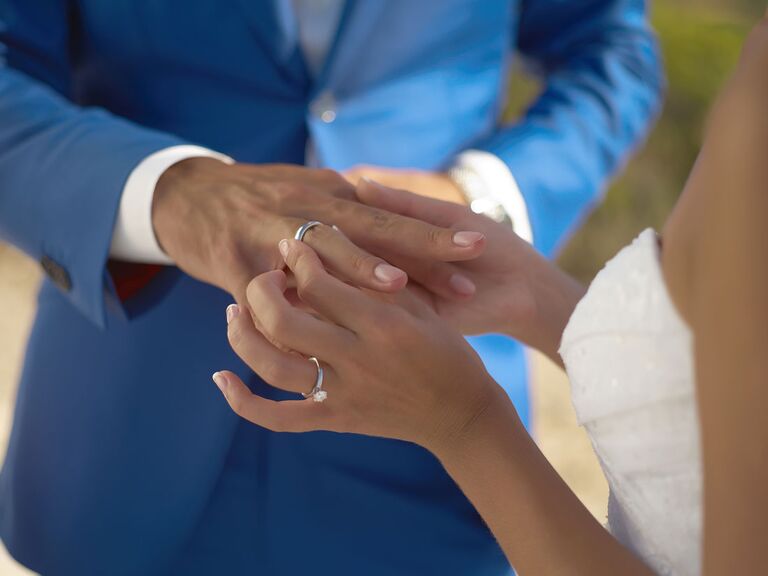 Nadya Korobkova/Shutterstock.com
If you don't know the first thing about wedding rings, you're not alone. Whether you're shopping for wedding jewelry online or in a store, it's important to go into the process with a little bit of knowledge so you can find a style you love. That's why we're here to give you a hand. Below, find the most common mistakes couples make when buying their wedding rings, and how to avoid them when purchasing your own.
Mistake #1: Thinking Matching is Mandatory
While some couples want matching rings, it's perfectly acceptable to get different styles. If you want a sense of cohesion between the rings, you can consider complementary rings (like similar styles in contrasting metals, or vice versa). Mixed metal bands are also an option. If only one partner likes rose gold, the other one can simply have a rose gold interior on their band to honor their spouse's ring. There are plenty of ways to make the rings feel connected without making them matchy-matchy. Statement wedding bands are also a major jewelry trend, so don't be afraid to go bold if that's your style. Work with a jewelry consultant or an expert to find wedding bands that complement your personalities.
Mistake #2: Mixing Metal Densities
Various metals wear differently over time, so it's in your best interest to make sure the carat weight of your metals is the same. For example, if your engagement ring is platinum, stick with a platinum wedding band. If your ring is gold, go for a white gold, yellow gold or rose gold band. Doing so will ensure both rings have a similar appearance over time.
Mistake #3: Waiting Until the Last Minute
It might seem low on your list of prewedding to-dos, but picking out your wedding bands should be a thoughtful, collaborative process. What styles do you and your S.O. like? Are you going to personalize them with engraving? Is there a chance you'll need to get them resized? Ordering your rings as early as possible leaves you enough wiggle room to make sure they're perfect before the wedding.
Mistake #4: Guessing Sizes
Speaking of resizing, it's an unnecessary annoyance if you have to do it leading up to your wedding day. Avoid that stress entirely by knowing your ring sizes from the get-go. While you can easily check your ring size in a store, some online retailers will also send a sizing tool before you finalize your order. We also break down everything to know about finding your ring size here.
Mistake #5: Not Considering Contrast
If your engagement ring is simple and classic, that doesn't mean your wedding band needs to be. You can embrace the opportunity to mix a solitaire engagement ring with an ornate band if that's your style. The same goes if you have a showstopping engagement ring—pick a pared-down, traditional band for a chic, contrasted look. This is also a good solution if you can't find an exact match for your engagement ring. If you're not sure how to mix styles, consider following engagement ring accounts on Instagram for inspiration.
Mistake #6: Thinking Your Options Are Limited
Don't think you're limited only to traditional or classic wedding rings. Some alternative engagement rings with certain settings will require a custom band in order for the rings to sit closely. If a close fit is important to you, consider a contoured band. If you'd prefer the flexibility of having a straight band that can easily be worn on its own (for instance, when working or traveling) that's another factor to take into consideration. You might also find you love a ring that has a natural curve that allows it to be worn individually too.