39 Wedding Signs That Are Both Stylish and Smart
These lovely decor elements guide guests through different parts of your big day.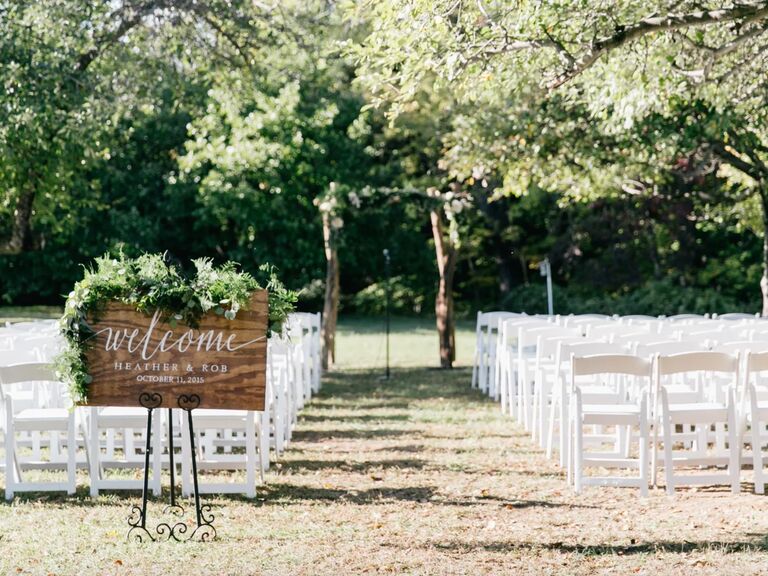 Emily Wren Photography
We have included third party products to help you navigate and enjoy life's biggest moments. Purchases made through links on this page may earn us a commission.
When choosing your wedding decor, you'll pay special attention to the flowers, linens, and furniture. Once you've picked all that out, you'll probably realize you could use some wedding signs as finishing touches. A wedding sign can serve several different purposes. It might simply be a piece of decor that spiffs up your space and maybe even is a little sentimental. But it might also point guests in the direction of the ceremony, the parking lot or the bar area. It might give them instructions on what to do at a photo booth or other special station. So signs can be important elements to guide guests as they enjoy the celebration you've planned for them. From big (a wooden welcome sign) to small (a table marker) these wedding sign ideas will inspire your own big day's decor.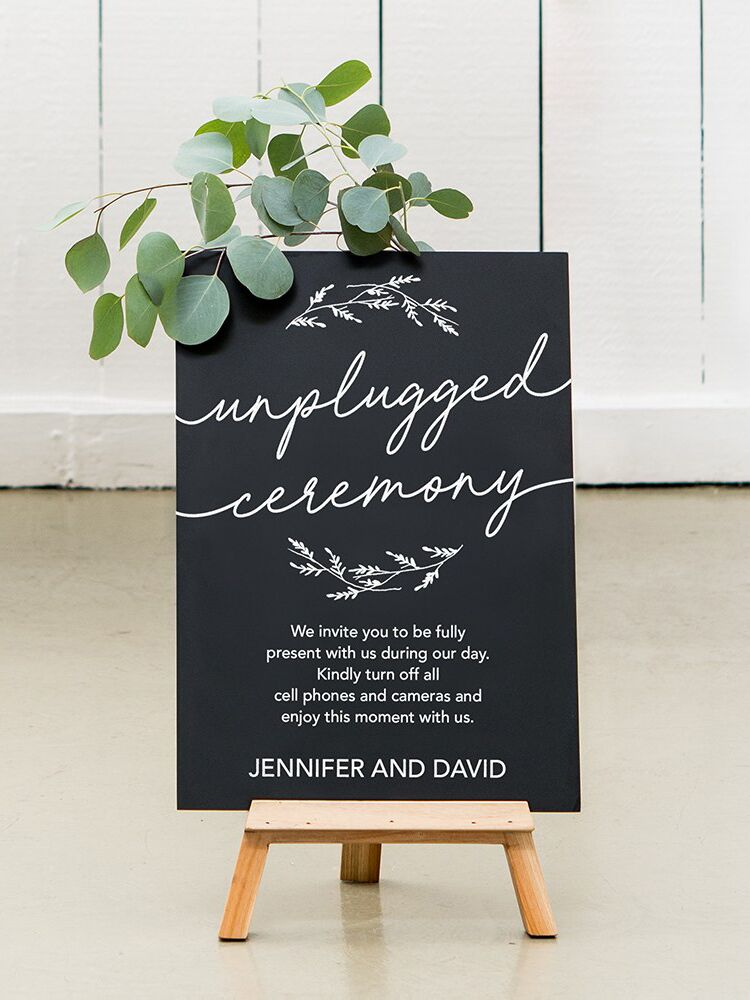 Ask guests to turn off their devices and thoroughly enjoy the ceremony with an unplugged wedding sign. This chalkboard-style one can be customized with your names.
The Knot Shop custom chalkboard-style unplugged wedding sign, $25, TheKnotShop.com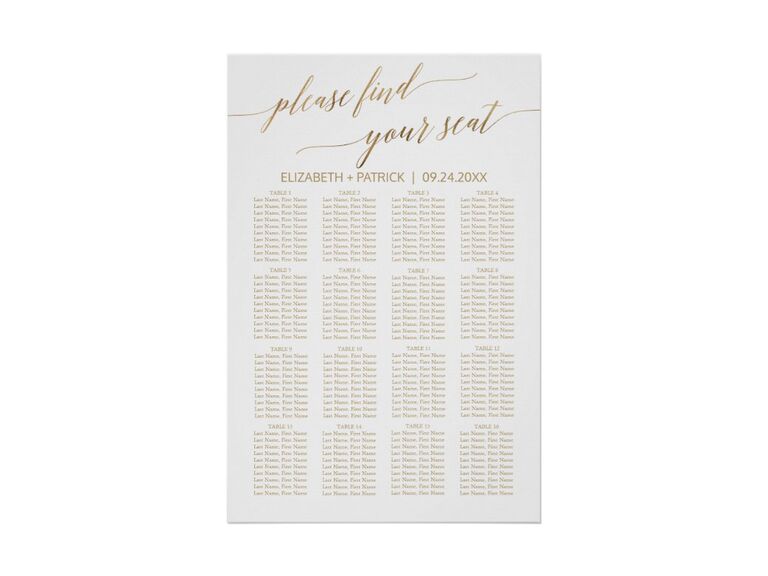 Instead of escort cards, you might opt to direct guests to their wedding reception tables with a custom seating chart sign.
Fresh & Yummy Paperie elegant gold calligraphy seating chart, $25, Zazzle.com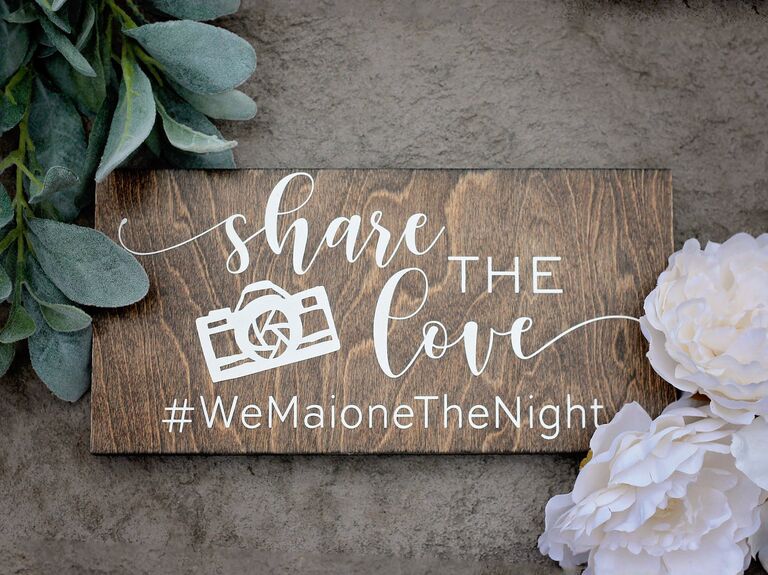 Want to ensure you see as many photos as possible on the big day? A wedding hashtag sign helps inform guests of how to share. This wooden one perfectly coordinates with rustic wedding decorations.
Simply Timeless Events wood wedding hashtag sign, $17, Etsy.com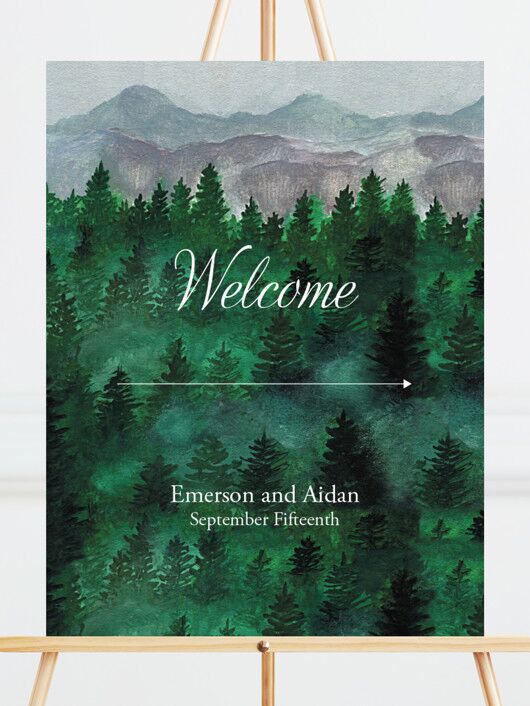 A welcome sign is a sweet way to greet guests when they enter your wedding ceremony or reception space. And this one is a work of art.
Elly Adventure Awaits large wedding sign, $35, Minted.com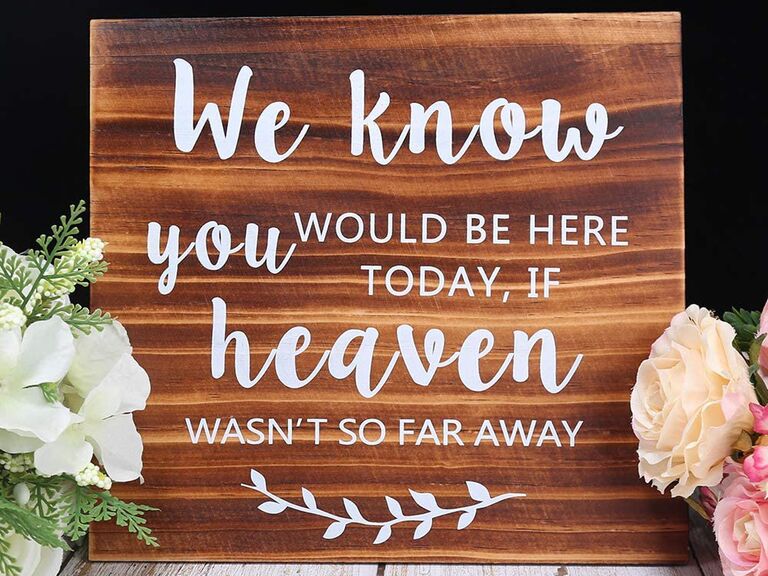 Pay tribute to loved ones who are gone but certainly not forgotten with a heartfelt sign like this. It's one of our favorite wedding ideas.
Akitsuma We know you would be here sign, $15, Amazon.com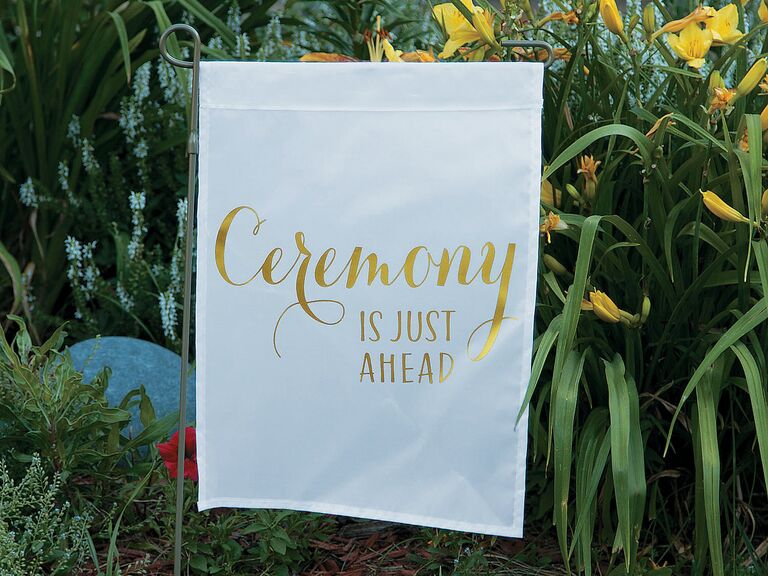 Ceremonies can take place in some hidden places: a hilltop beyond a path, a beach just past the dunes, a grassy area on the rear of the property. And so, guests may need a little direction to find it.
Oriental Trading outdoor wedding ceremony yard flag with stake, $10, OrientalTrading.com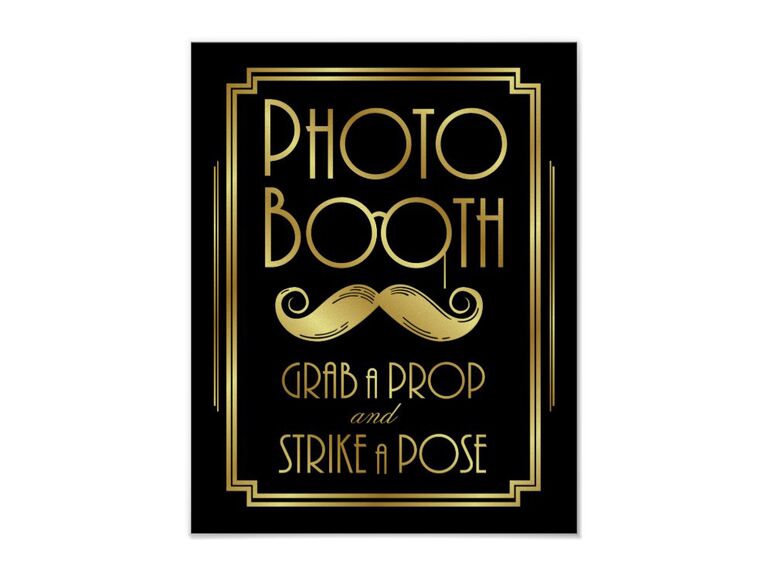 Renting a photo booth? Give the station some retro flair with a roaring '20s-style sign.
MNINEdesigns photo booth sign print, $11, Zazzle.com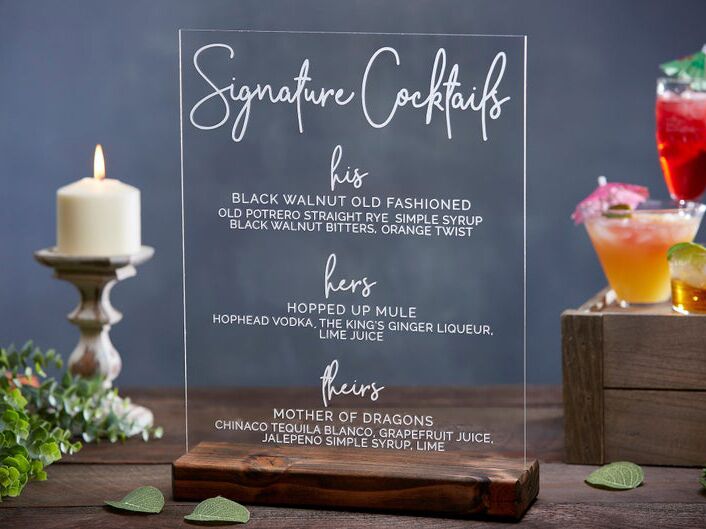 Creating signature cocktails is a fun way to infuse your personalities and tastes into your day, and a cute wedding bar sign tells guests all about them.
Rich Design Co Personalized signature cocktail wedding bar sign, $54, Etsy.com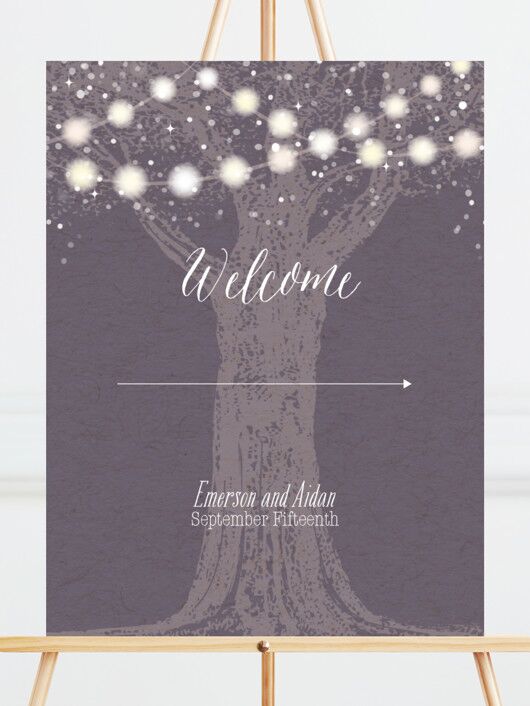 Which way to the bar? Tell guests where they need to go with a stunning sign. This one has quite the magical vibe.
Hooray Creative Garden Lights cocktail hour sign, $35, Minted.com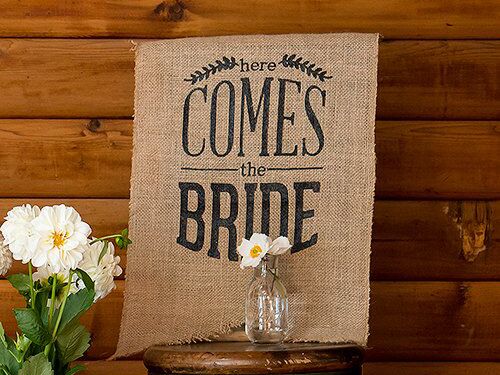 Hang this rustic-chic sign near the ceremony space, or have a ring bearer or flower girl hold it to alert everyone that the bride is on her way. It works for a beach wedding or a barn wedding alike!
Beau Coup Here comes the bride burlap sign, $17, Beau-Coup.com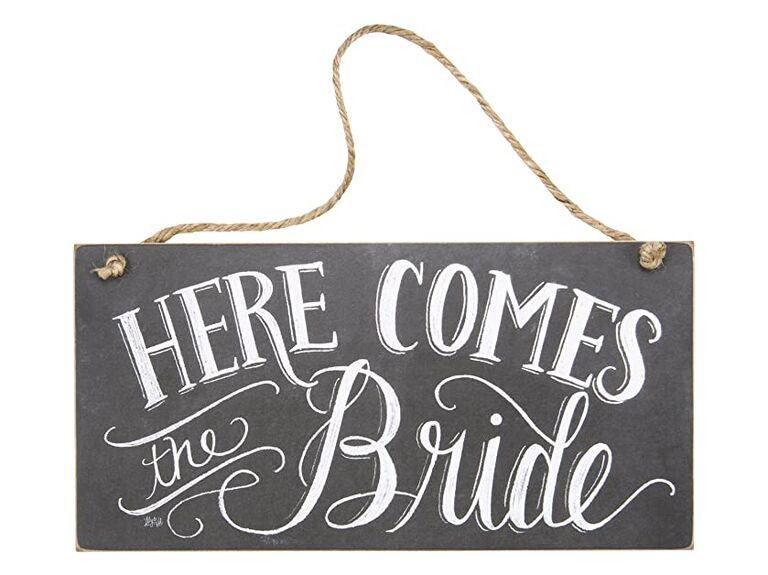 Here's another adorable way to announce the bride's debut, this time, in a chalkboard style.
Primitives by Kathy chalk art wedding ceremony hanging sign, $8, Amazon.com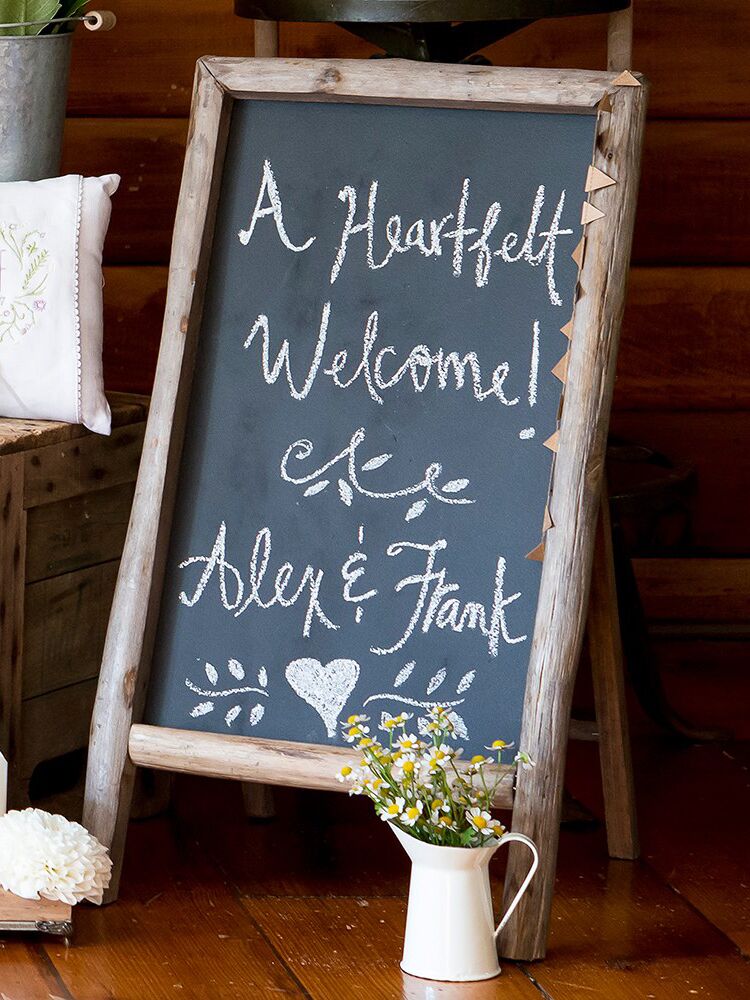 You—or an artistic friend—can write any message or directions you want on this adorable standing chalkboard sign.
The Knot Shop self-standing chalkboard sign with rustic wooden frame, $50, TheKnotShop.com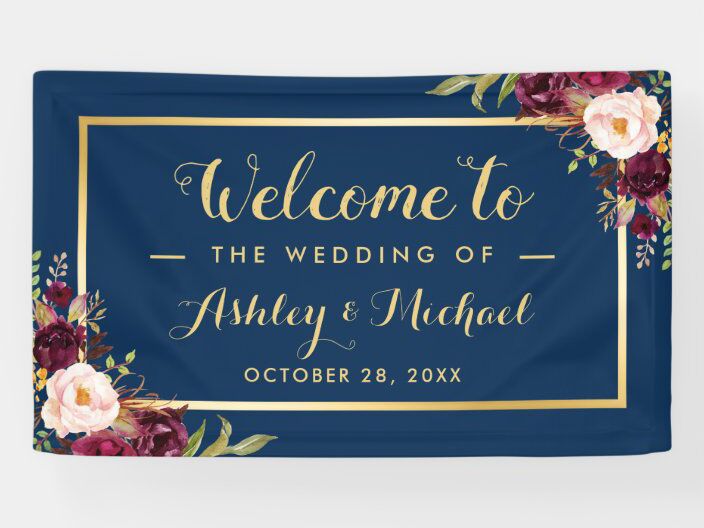 Welcome guests to your wedding with a customized printed banner in your wedding colors. We're digging the bold blue, feminine florals and greenery on this one.
CardHunter floral and navy wedding party banner, $30, Zazzle.com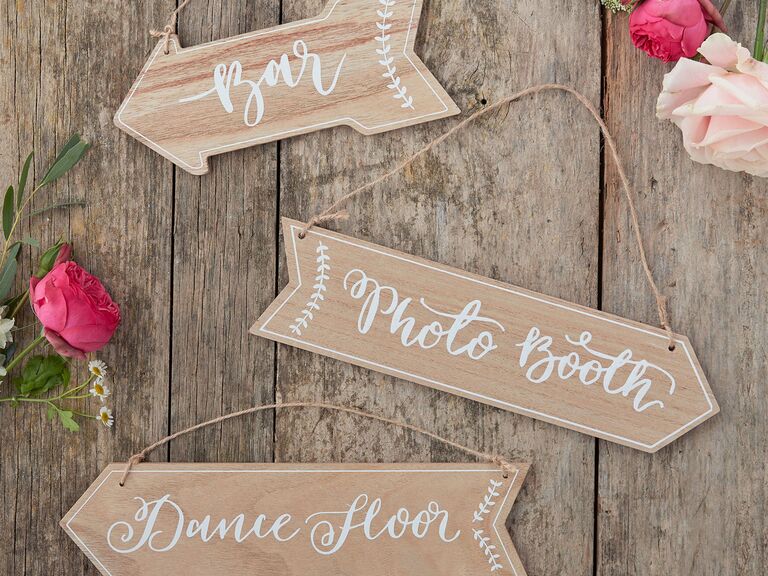 Prevent confusion with this lovely set of arrow signs to display around your wedding venue.
Ginger Ray boho wedding directional signs, $34 for set of three, PartyCity.com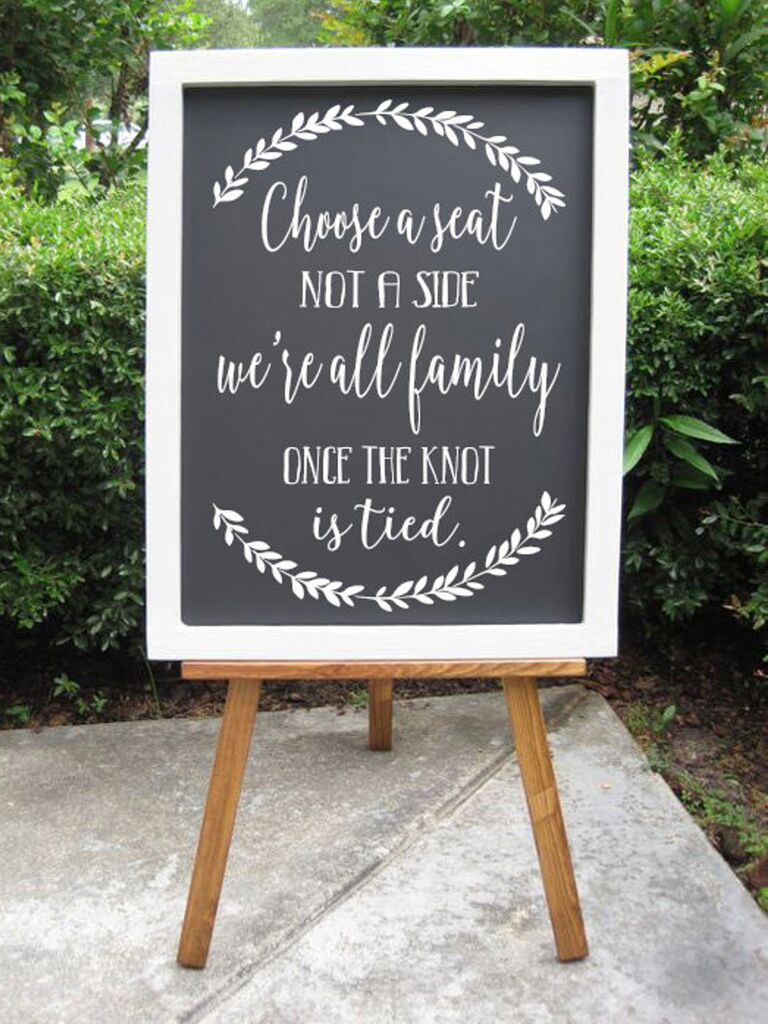 Eschew stuffy tradition and tell wedding guests to sit anywhere they like with a sign that says "choose a seat not a side."
East Coast Vinyl Decals wedding sign decal, $30 for 16x20, Etsy.com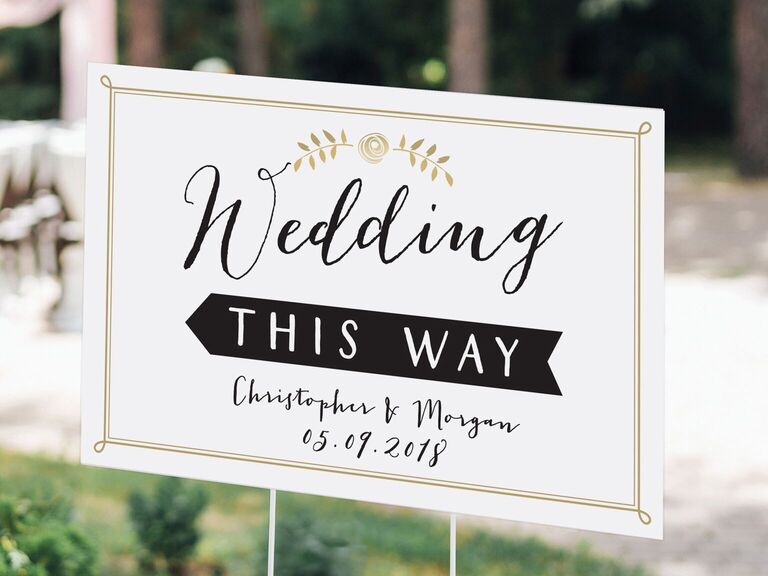 Simple and stylish! Follow this arrow to get the celebration started.
Beau Coup personalized script wedding sign, $19, Beau-Coup.com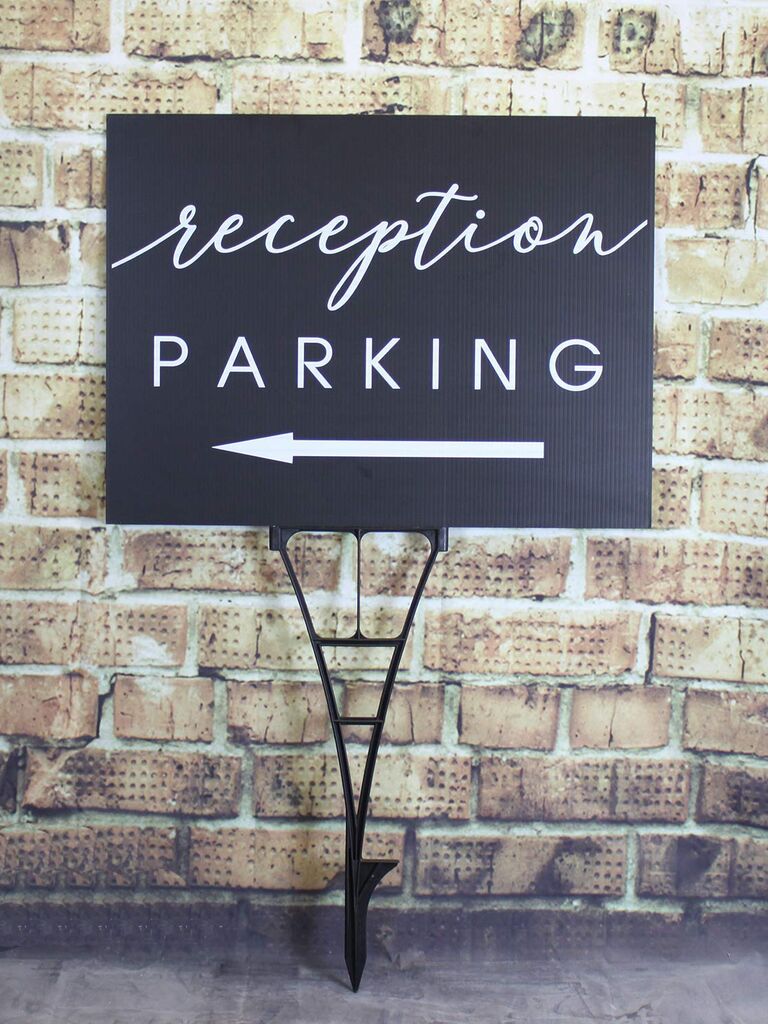 Guests will feel more at ease in a new place if you can clearly point out where to go. Thus, a reception parking sign is an excellent idea.
Back40Life reception parking sign, $23, Amazon.com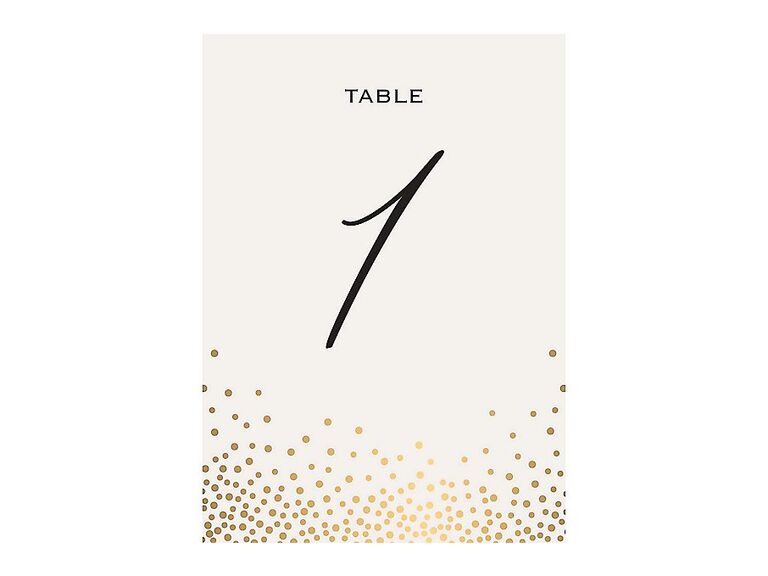 Signify table numbers with a hint of cheerful style.
Paper Source champagne table number signs, $25 for 10, PaperSource.com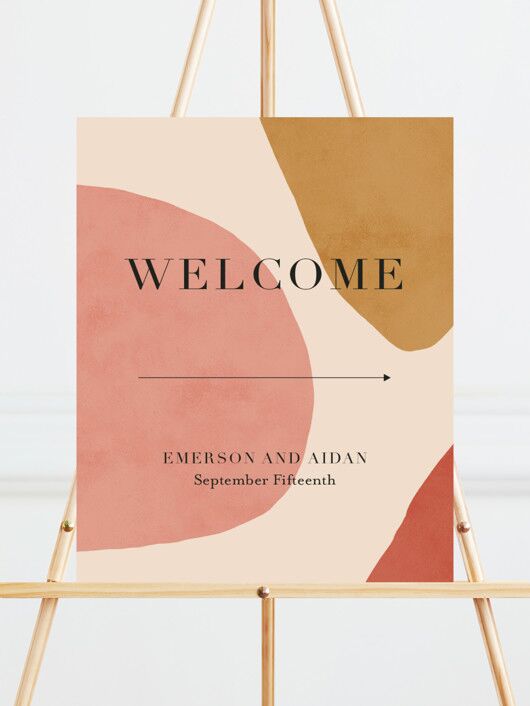 Reception's over here! We're loving this modern motif for a contemporary bash.
Kelly Schmidt Galeria large sign, $35, Minted.com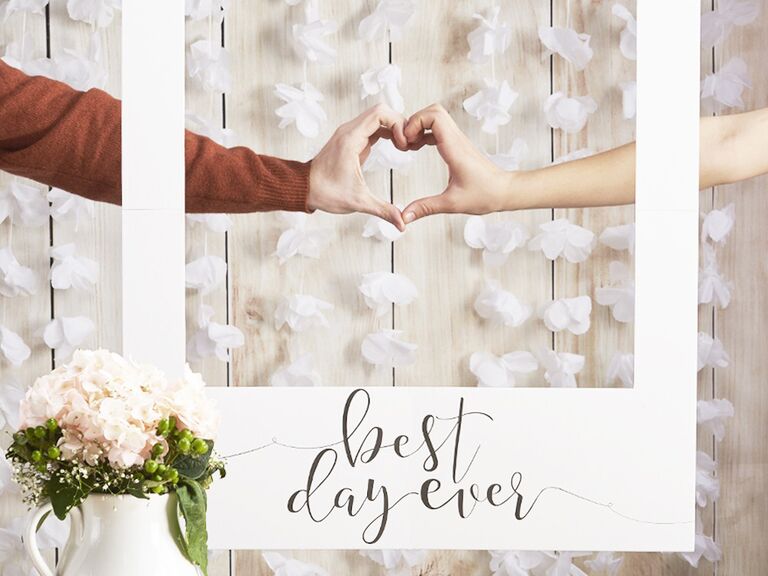 Ideal for a photo booth or selfie station, this Polaroid-inspired cut-out sign makes for an adorable photo op.
Beau Coup giant best day ever Polaroid sign, $22, Beau-Coup.com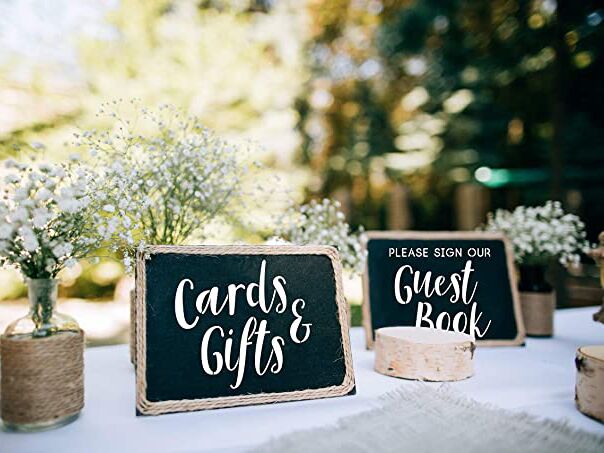 If you're crafty and want to DIY your wedding signage, check out this set of five stencils to help you with the lettering.
I Like That Lamp DIY wedding stencils, $35, Amazon.com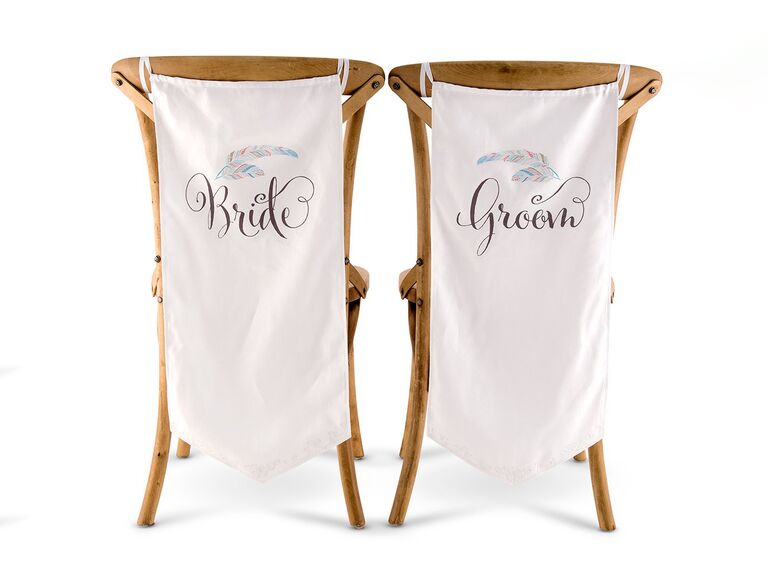 Make your reception chairs feel extra special with these banners.
The Knot Shop Feather Whimsy banner set, $50 for set of two, TheKnotShop.com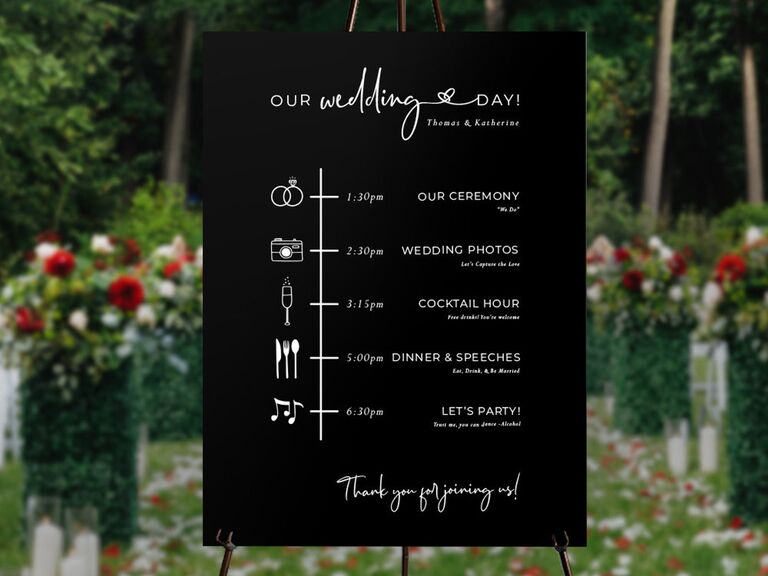 Tell guests what to expect when by printing the wedding day itinerary on a graphic and fun sign.
iCustom Products custom acrylic wedding itinerary sign, $165 for 24x36, Etsy.com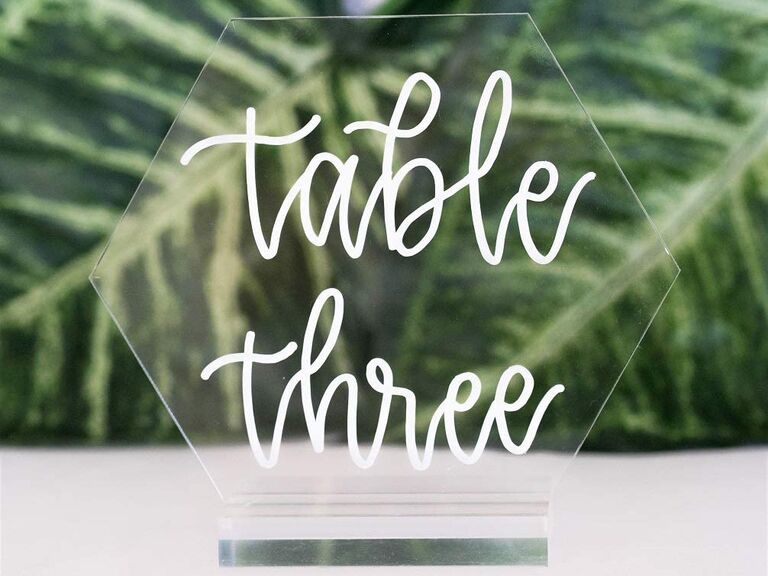 Clear acrylic table signs tell guests where to sit without obstructing anyone's view. These ones are blank and allow you to write your own numbers or messages.
Uniquooo clear blank acrylic signs, $40 for set of 20, $39, Amazon.com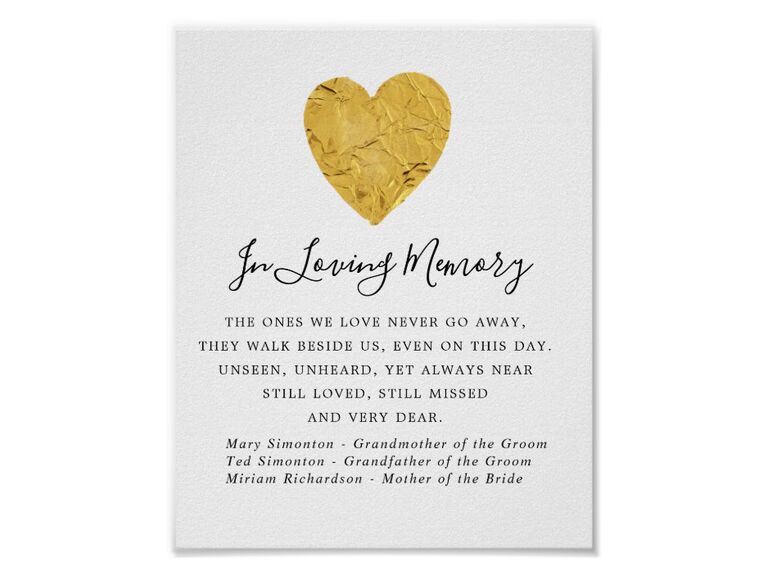 Here's another touching way to recognize loved ones who've passed on.
Celebrais gold foil heart wedding memorial sign, $9, Zazzle.com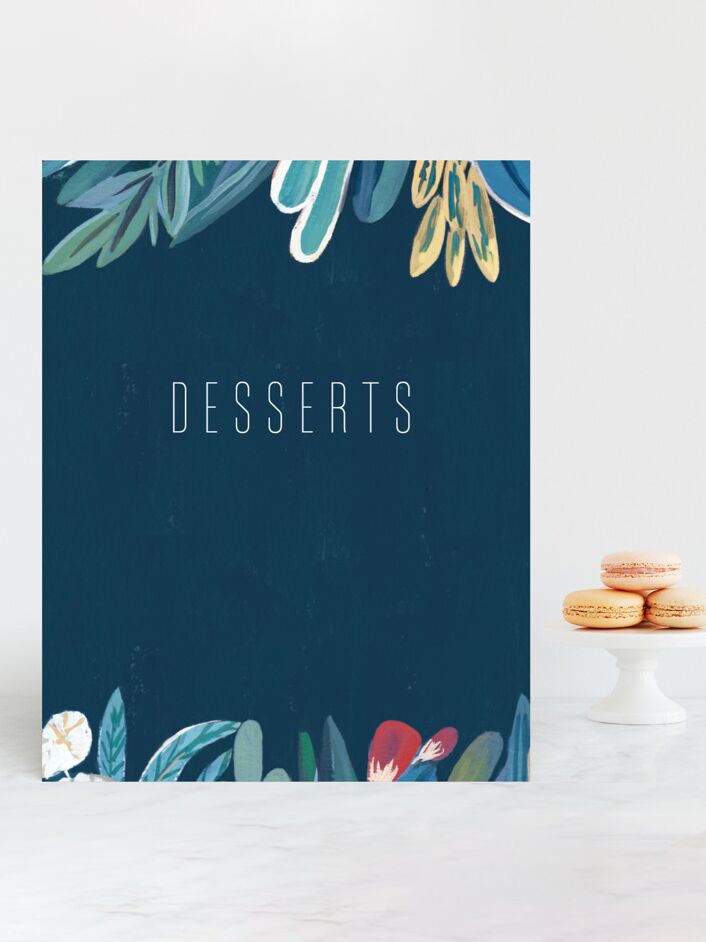 Simple and sweet—that's the perfect way to show guests to the wedding cake and dessert table.
Morgan Ramberg Floral Burst small sign, $20, Minted.com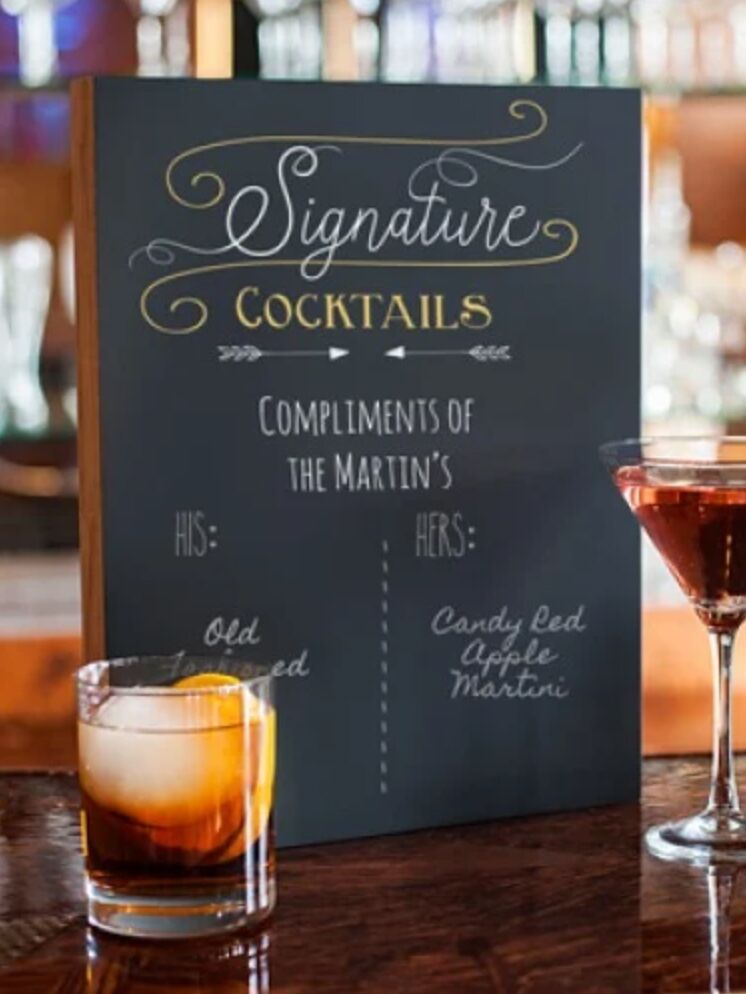 Chalk up the signature drink menu for guests to peruse on this wedding bar sign.
Beau Coup personalized signature cocktail menu chalkboard, $63, Beau-Coup.com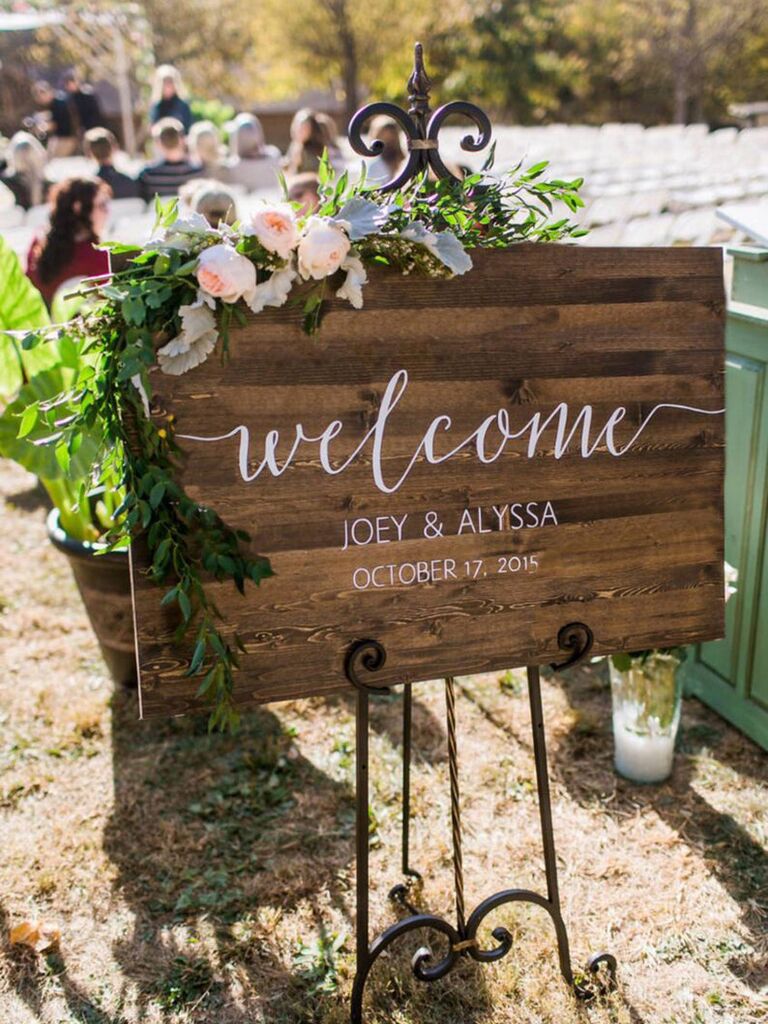 This gorgeous wooden sign welcomes guests to your event—and will look lovely accented with wedding flowers. After the wedding day, hang it near the entrance to your newlywed home.
OAKY Designs wedding welcome sign, $92 for 20x30, Etsy.com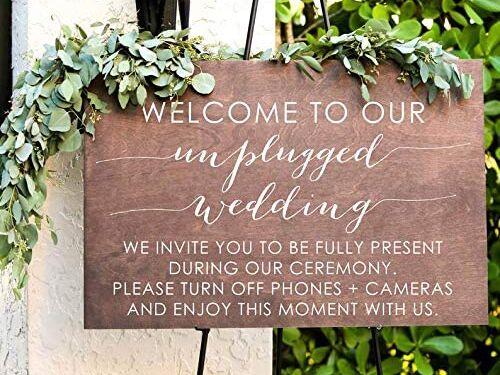 Here's an unplugged wedding sign option in wood motif—a pretty option for a rustic ceremony.
Celycasy unplugged wedding ceremony sign, $20, Amazon.com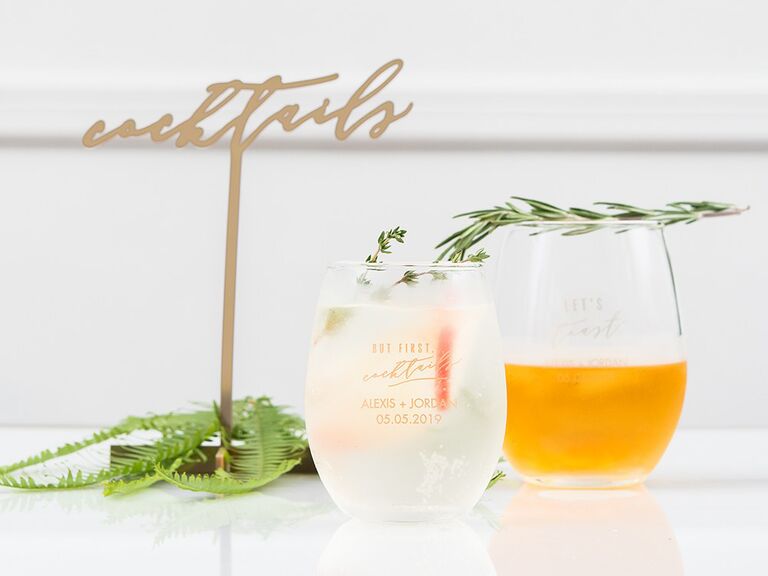 Here's where to toast the newlyweds! Decorate your bar with an acrylic "cocktails" sign that has a chic, minimalist wedding design.
The Knot Shop cocktails acrylic wedding bar sign, $20, TheKnotShop.com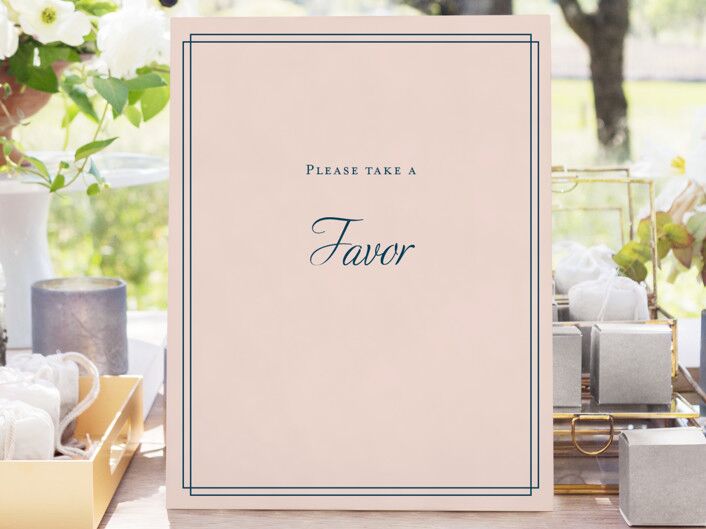 How charming is this favor table sign that tells guests to take their treat to go? It's so vintage-looking, it defies wedding trends. It's timeless!
Kimberly FitzSimons Chic Gala small sign, $20, Minted.com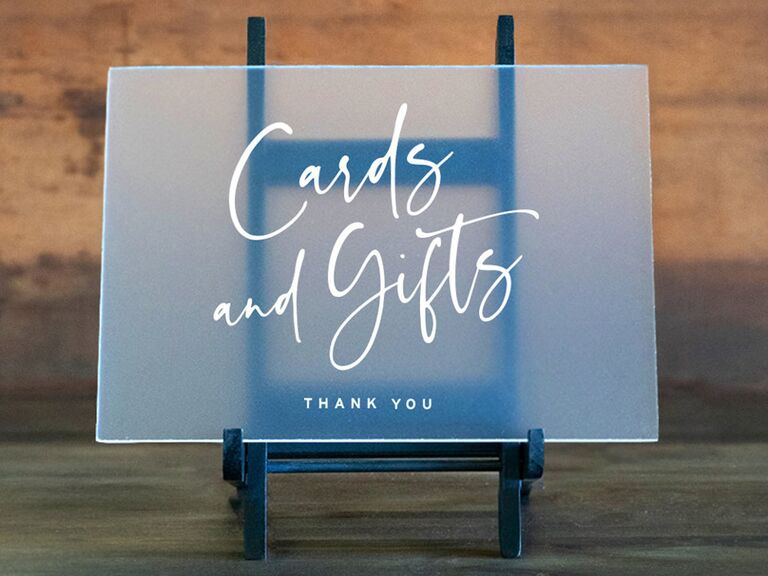 Show guests this is a safe place to drop their cards and gifts with this sleek, acrylic sign.
iCustom Invite cards and gifts sign, $20 for 5x7, Etsy.com
This heart-shaped wedding hashtag sign encourages guests to share the love by sharing their photos.
OnlinePartyCenter Capture the Love heart wood sign, $26, Amazon.com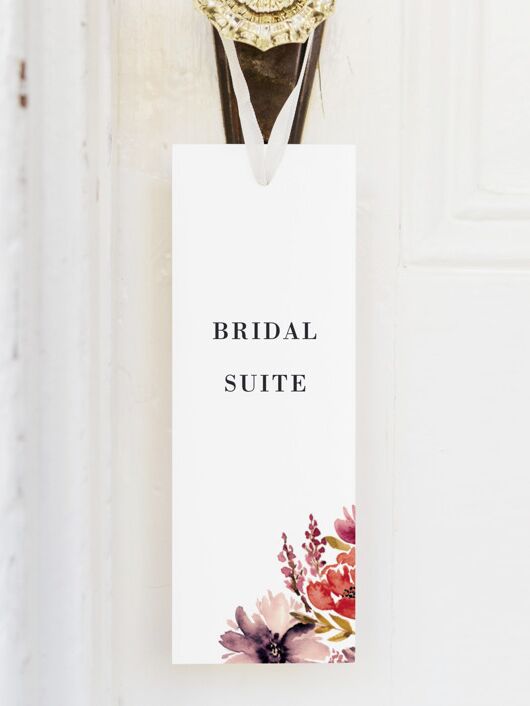 Signs are a wonderful way to designate certain spaces. For example, a sign like this on the knob of the bridal suite invites bridesmaids but discourages guests from entering. the vibrant colors are ideal for a fall wedding!
Chris Griffith Autumn Vows long sign, $8, Minted.com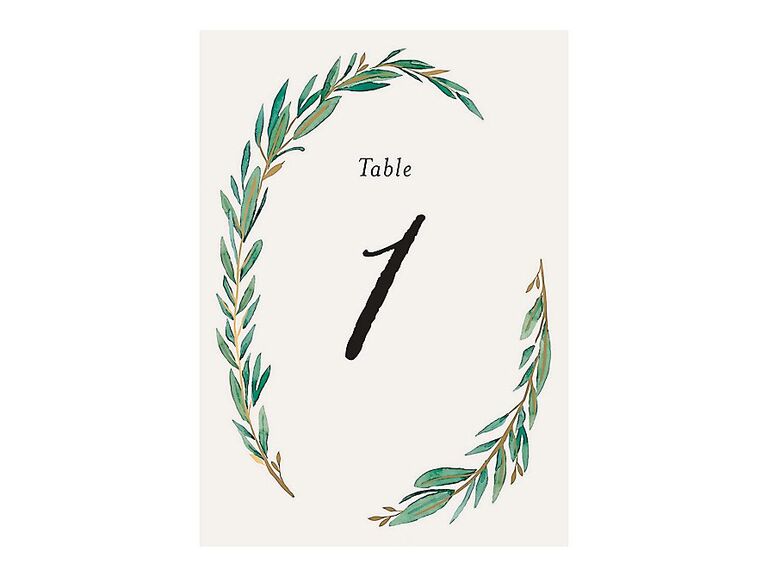 Here, olive branches adorn table number signs that add a watercolor look.
Paper Source olive branch table numbers, $25 for 10, PaperSource.com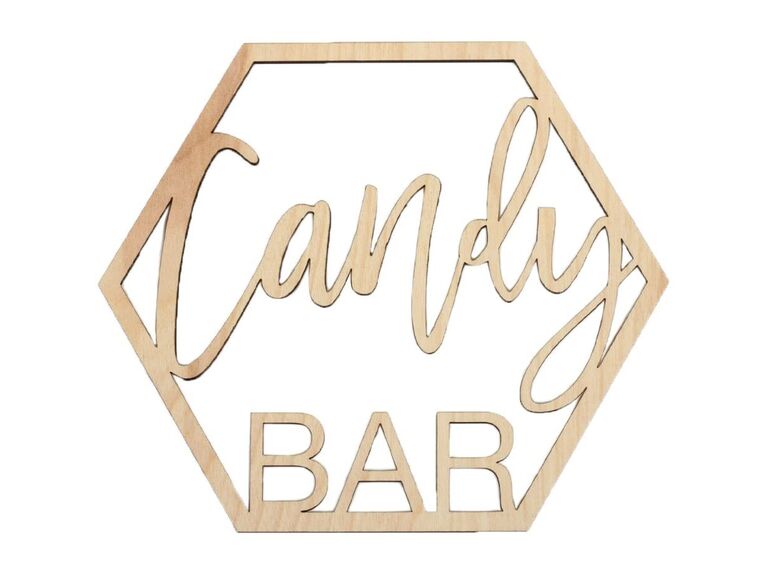 Providing a candy bar for guests to make their own sweet selections? There's a chic wedding sign for that!
Koyal Wholesale wood candy bar sign, $18, Amazon.com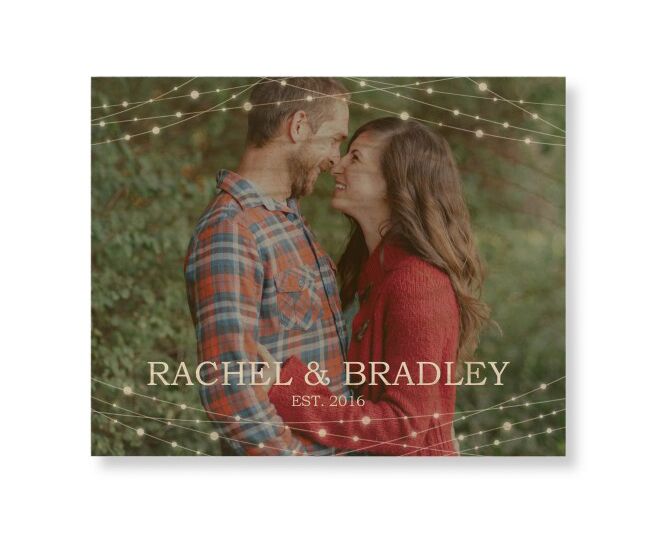 Turn an engagement photo into wedding decor! This custom wooden sign will be a lovely addition to your celebration venue.
Shutterfly string light wood wall art, $99 for 10x14, Shutterfly.com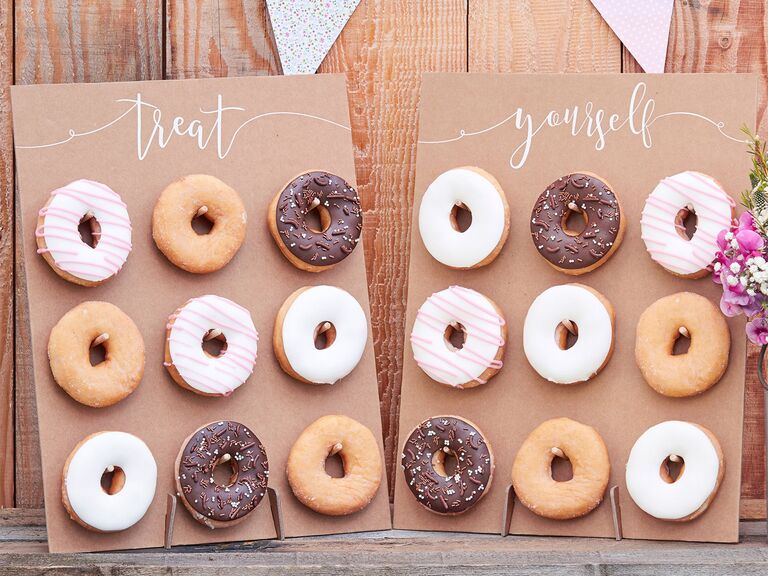 Fun-loving couples who want to create their own donut display—a combo of a sweet treats and reception decor—will love this "treat-yourself" wall kit.
Ginger Ray donut wall kit signs with pegs and legs, $38, PartyCity.com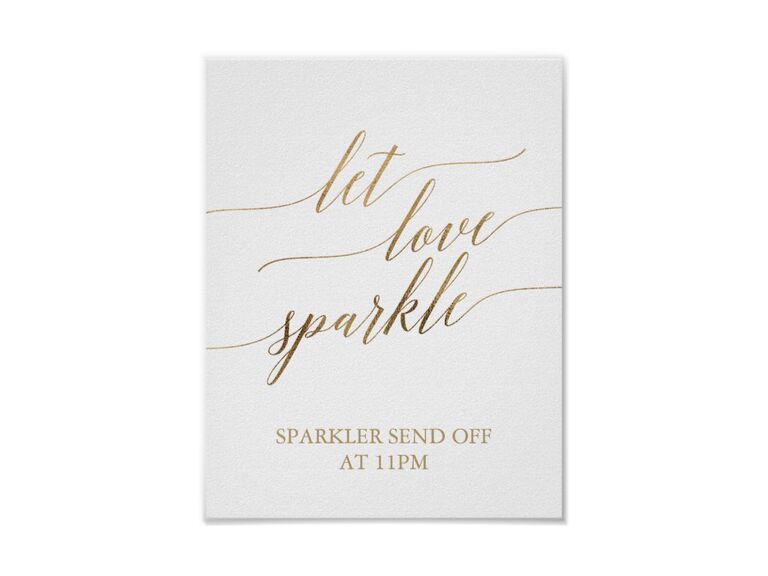 Meet us in the back for sparklers! This sign is a stylish way to let guests in on the exit plan.
Fresh & Yummy Paperie elegant gold calligraphy sign, $9, Zazzle.com