6 Wedding Photo Booth Ideas You'll Love
From GIF photo booths to ones that create custom flip-books, our list of creative ideas will change everything you know about this wedding reception staple.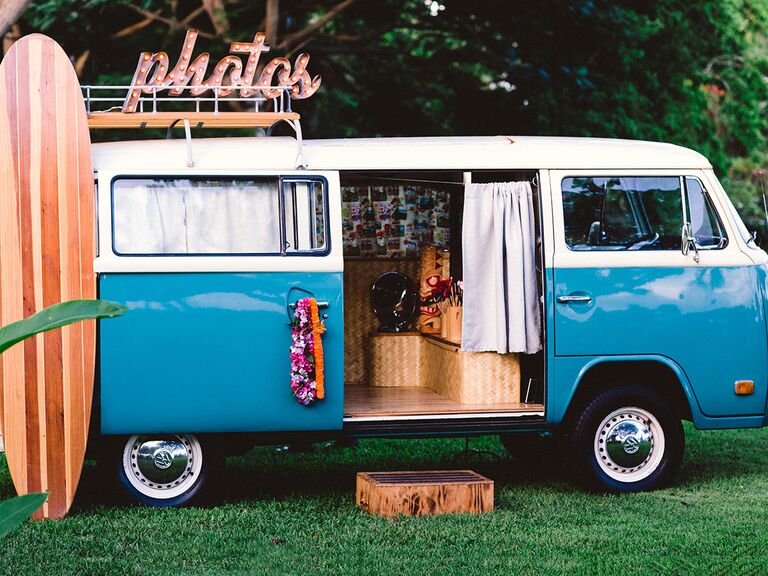 Naomi Wong Photography
While you could go for the classic photo booth (the one with the old-school curtain that prints a black-and-white photo strip—always a crowd-pleaser), there are many other kinds of photo booths out there to consider if you want to try something different for your wedding. Some come with unlimited photo prints and others are techie friendly, making it easy for guests to share on social media platforms. Here are six of our favorites sure to provide a fun, creative guest experience.
1. GIF Photo Booths
Who doesn't love GIFs? These creative photo booths, offered by companies like Phhhoto and Photomadic, take quick bursts of photos and then automatically string them together in a stop-motion-style short clip. Your guests can have the GIFs sent to them by email or text. Bonus: The magic is in the camera you'll rent from one of these companies, so you can customize the backdrop.
2. Slow-Motion Video Photo Booths
The booths look like any other photo booth—except when you hit the clicker, the video camera captures you and your guests at a very exaggerated slow speed. The result is a series of (silly) videos everyone will want to share. Some videographers are now offering these slo-mo video booths for an extra fee and will even edit a few video booth clips into the final wedding video. Or you could go with a company that specializes in these types, like The Slow Motion Booth or SlowMO PARTY. If you're looking for other tech-forward photo booth options, try a hologram selfie booth where your guests can create holographic doubles of themselves, or a 360-degree photo booth that'll capture every angle in an awesome way.
3. Booth-less Photo Booths
It's so simple that it's genius. A booth-less photo booth is a photo printer that automatically prints photos from a social hashtag (the custom hashtag you spent weeks brainstorming) or geolocation. That means your wedding is one giant photo booth! Make the most of the photo booth freedom and encourage snapping and sharing by setting up two or three different backdrops around the reception space, complete with props and passing around selfie sticks. At the end of the night, make sure there's also a station near the exit for guests to pick up their prints on the way home. Love the idea? Check out Instaprint, Photo Booth Solutions and SocialfotoBar for rental options.
4. Flip-Book Photo Booths
Flip-book photo booths are similar to video photo booths, except that in this case, your guests get to take a flip-book of themselves at your wedding home with them at the end of the night. Some flip-book photo booth services let you customize your flip-book cover with your names, wedding monogram and even your hashtag to remind guests to share their flip-book. There are other companies, like PicFlips, The Laugh Box and A Little Scene, that also make it easy to share on social media.
5. Hand-Drawn Photo Booths
If you think about it, portrait artists were the original photo booths. Now they're trending in the wedding world and are one of our favorite retro spins on the classic photo booth. It's as simple as it sounds too. The subjects (aka your wedding guests) sit for a few minutes while an artist whips up a custom-drawn portrait. We're not talking about the cheesy caricature artists you see at theme parks, either—these drawings are more true to life and classic. You can find someone to hire through Doodlebooth or Quick Draw Photo Booth. There are also a few companies like NY Drawing Booth that will actually have artists draw directly onto an iPad and then email or text guests their shareable drawings at the end of the session.
6. Creative Set Photo Booths
The photo booth you choose can help set the tone for your reception—that's why some photo booth companies have gone completely custom with their backdrops. Imagine a vintage Airstream trailer or a '60s Volkswagen bus turned photo booth at your wedding. Deck it out with oversize paper flowers and lots of fun props. Other companies offer giant inflatable photo booths, ball pit photo booths, trampoline photo booths and more. There are a number of companies that do these ultra-creative sets, including Airstream Photo Booth and Photo Booth Planet.
Find photo and video booth rentals in your area here.