27 Creative Alternatives to a Traditional Ceremony Arch
Dress up your altar with one of these standout ideas.
Whether it's a 100-year-old oak tree, a curtain-draped chuppah or a vine-covered arbor, the ceremony backdrop you choose will help frame and highlight the two of you during your vows. And while a traditional wedding arch is always an option, don't feel like you have to stick to the usual. Need some ideas? These unique wedding arch alternatives are just the thing to leave you feeling inspired. We've hand-picked some of the most unexpected ceremony decor ideas from real weddings, including trendy neon signs, elegant candles, rustic barrels and more. Here are 27 creative wedding ideas to make this ceremony detail feel all your own.
1. Boxwood Wall Backdrop
Floral wedding arches are classic, but so is a ceremony backdrop made from neatly trimmed boxwood. This modern design is traditional with a twist, and you still have the option to incorporate some fresh flowers if you want by placing them on pedestals or the ground. Your florist can create a boxwood wall using fresh greenery, or you can easily rent a faux lookalike from a decor vendor.
2. Balloon Pillars
Going for a whimsical theme on your wedding day? There's nothing more playful than accenting your ceremony space with clusters of balloons—bright colors will add to your lively vibe, while pastels or neutral balloons will come off more subtle. Bonus: You can easily pick them up and repurpose them for your wedding reception decor.
3. Metal Grid Backdrop with Pampas Grass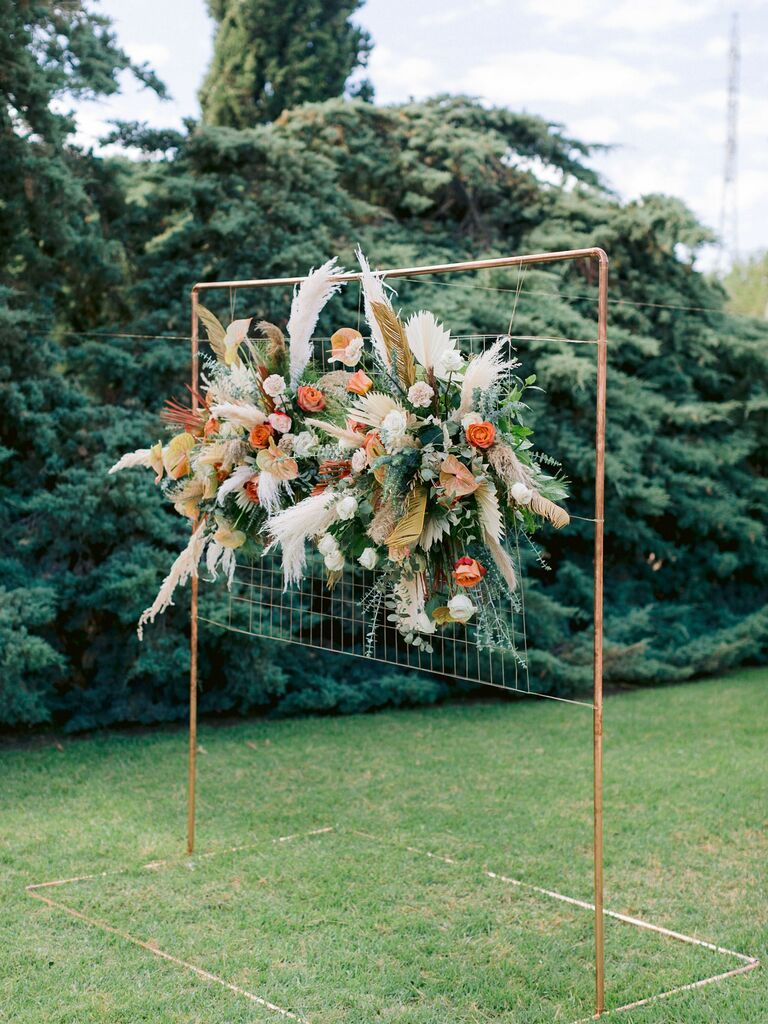 If you're working earth tones like terracotta and olive green into your wedding color palette, you'll love this boho chic wedding arch alternative. Use copper pipe framing to pick up the orange hues and stand out against neutral pampas grass or dried greenery.
4. Candlelit Fireplace Mantel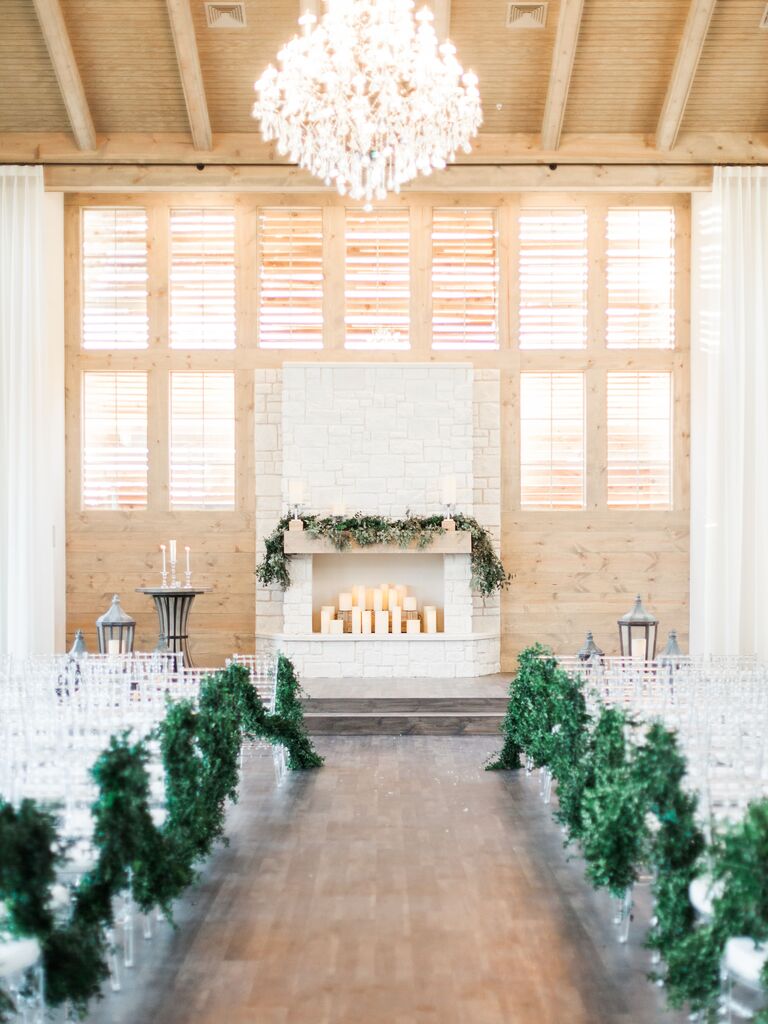 Set a romantic mood with soft glowing candles arranged beneath a fireplace mantel. This wedding altar idea incorporates different sized pillar candles and greenery for an elegant but inviting atmosphere. If your venue doesn't have a fireplace, try sourcing a mantel from a local selvedge shop or event rental company to recreate the look.
5. Wrought-Iron Gates
Something as simple as a wrought-iron gate can make the most enchanting alternative to a wedding arch. Find an interesting gate—the more intricate, the better—to stand in front of on your special day (check out local antique yards for options). For extra detail and a pop of color, drape a lush floral garland across the front.
6. Bamboo Poles
This beach wedding arch alternative is a fun option for a waterfront ceremony. Arrange bamboo poles in abstract, triangular shapes and finish them off with island-inspired blooms that stand out against the ocean backdrop, like Birds of Paradise, orchids, anthurium, and of course, tropical greenery.
7. Macrame Curtain
Here's an idea for anyone who's crafty: Create macrame strands to hang as a DIY wedding altar decoration. It's simple and understated, and the best part is that this backdrop won't steal the attention away from you at the ceremony. You can add optional greenery or flowers depending on your wedding style.
8. Colorful Acrylic Squares
We guarantee this unique backdrop is one that your guests haven't seen before (and we're into the '90s throwback vibes). Layer neon acrylic pieces for a statement-making alternative to the basic wedding arch, and finish the design with rainbow-inspired flowers to match.
9. Canoe Arch
Perfect for a summer wedding by the lake, this canoe arch is another creative option for your ceremony decor. Showcase a canoe, kayak or rowboat (the one from this wedding was custom-designed) on top of tree branches to reflect the outdoorsy theme.
10. Neon Sign Backdrop
Pick a favorite quote (or your names or wedding date) to craft into a custom neon sign. Display it against a boxwood wall and voilá: instant wedding backdrop. Just make sure the view of the sign isn't obscured during your ceremony.
11. Flower-Covered Cross
Make Mother Nature your church with a gorgeous flower-covered cross at your outdoor ceremony. We love the homey touch of using church pews instead of individual chairs as seating.
12. Pampas Grass Garlands
You've seen pampas grass arches, but what about pampas grass garlands? Tie the dried branches up with twine to put an unexpected spin on this boho wedding trend.
13. Painted Canvas Collage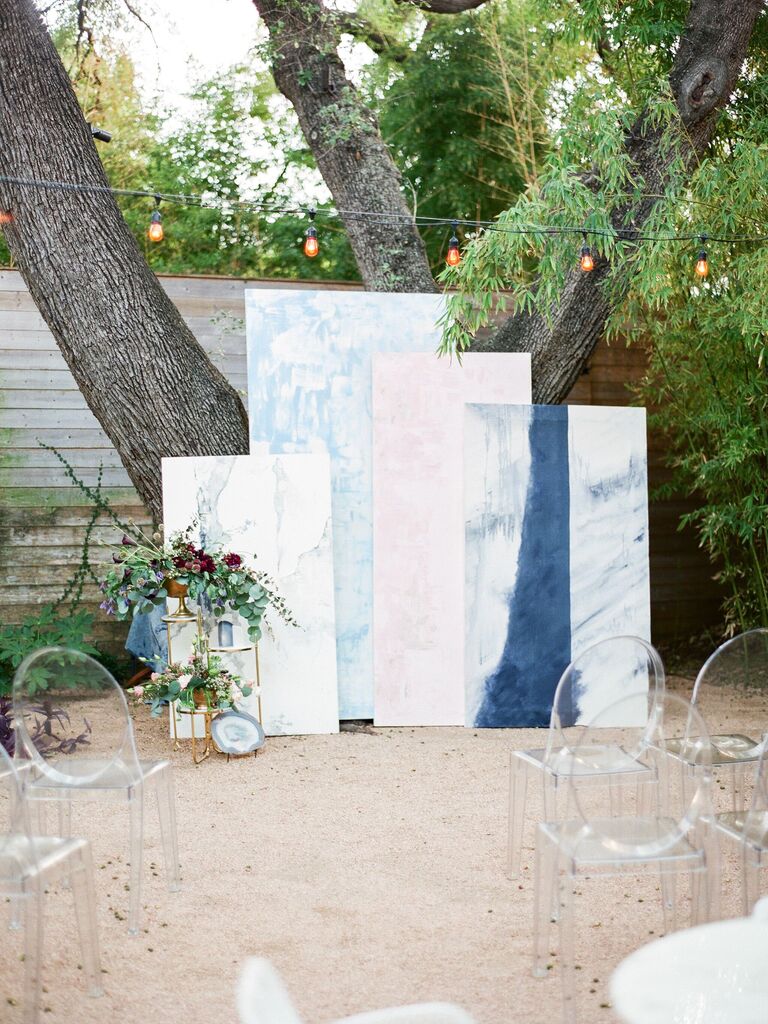 If you're an artist, this wedding arch alternative will be a piece of cake to tackle. Paint a collection of canvases to match your wedding color scheme, then stack them at the altar to create an eclectic backdrop. Not so handy with a paintbrush? You can use patterned wallpaper or contact paper instead.
14. Oversized Square Frame
This simple ceremony backdrop idea proves that you don't need to go overboard. If you're having an outdoor wedding, use a square structure to highlight a focal point of the scenery—and frame you and your partner as you're exchanging your vows.
15. Rainbow Paper Streamers
Say "I do" in front of colorful garlands (add handcrafted paper flowers if you want) to make your ceremony feel a touch more whimsy. Mix in a few extra-crinkled strands to add dimension.
16. Twinkle Light Strands
What could be more romantic for a nighttime ceremony than getting married under a canopy of string lights? You can recreate this gorgeous setup indoors or outdoors, and it looks even dreamier with the addition of candles, chandeliers or a vine-covered arbor at the altar.
17. Soccer Net
Celebrate your shared love of sports by using a net and goalposts to make your wedding arch alternative. Our tip: Use brand-new equipment for the cleanest look, then add a few fresh flower accents to soften the overall design.
18. Dream Catchers with Floral Garlands
Manifest sweet dreams for your future together by decorating your wedding altar with dream catchers (woven hoops believed by Native Americans to have spiritual powers) and strands of flowers. They're light, cheerful and will look lovely floating in the air when the wind gently blows.
19. Flower Canopy
Whether chosen for cultural reasons (such as a mandap) or purely decorative purposes, an exquisite floral canopy will always look elegant. Who needs a floral arch when you can be surrounded by flowers on all four sides instead?
20. Reclaimed Window Panes
Repurpose window panes and wine barrels for an easy ceremony backdrop that's spot-on for a fall wedding or rustic wedding theme.
21. Cloud Backdrop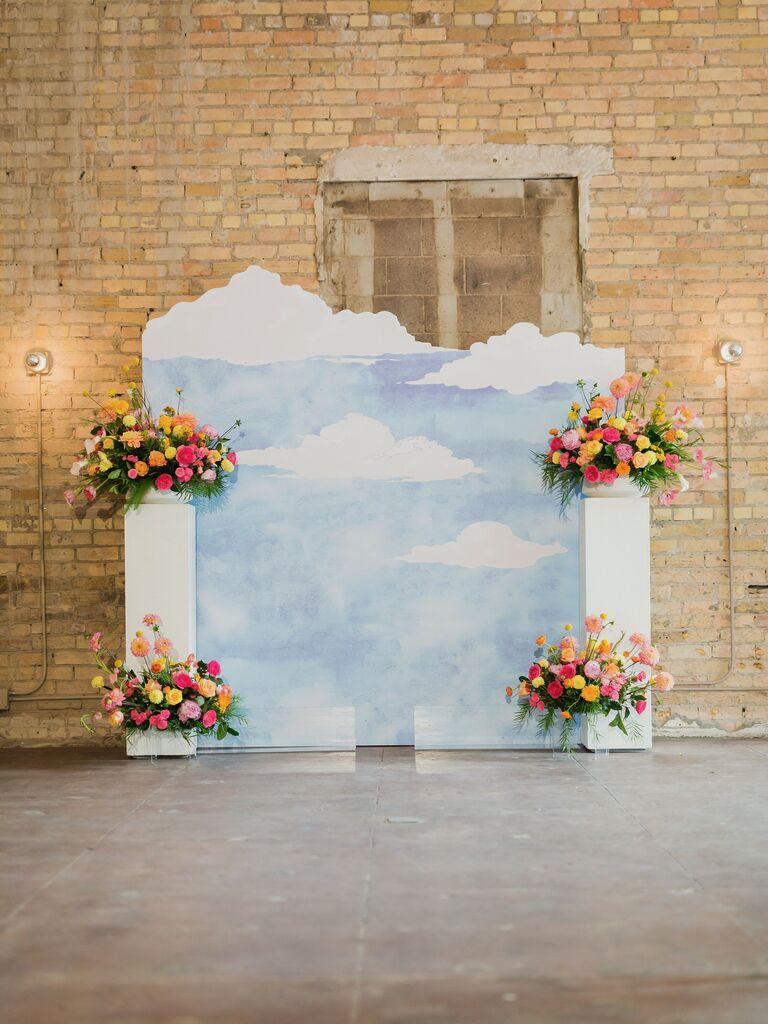 Use a backdrop of painted clouds to bring the outdoors in on your big day. Finish the setup with bright centerpieces to add a summery vibe (while indoors enjoying the perks of A/C).
22. Wedding Venue Exterior
Take advantage of an interesting feature of your venue's exterior, like a door, ivy-covered wall or whitewashed brick, by choosing it as your ceremony backdrop. Make it feel more intentional by completing the space with a simple garland or floral swag.
23. Dried Palm Leaves
If rounded arches aren't your style, opt for an alternative wedding arch in a triangular shape instead. Dried palm fans and pampas grass are a beachy-meets-boho combination.
24. Spray-Painted Flowers
Brightly colored blooms are a wedding flower trend you can expect to see sticking around for a while. This frame of monstera leaves goes beyond your typical greenery, with some leaves that have been painted to stand out.
25. Vintage Books
You don't have to get married at a library to appreciate this clever ceremony backdrop. Use books from thrift stores and stack them open-faced, side-by-side for an alternative (and relatively affordable) wedding decor idea that's perfect for bibliophile couples.
26. Geometric Grid Backdrop
Adding geometric touches, like this cut-out wooden grid, gives your decor an artful element. A cascade of flowers in vibrant colors will stand out against the light backdrop.
27. Assorted Flower Pedestals
Still want to incorporate flower arrangements into your decor without resorting to an arch? Showcase the blooms in urns or atop pedestals instead—even better if you use planted flowers, like hydrangea bushes, jasmine vines or garden roses.