19 Creative Alternatives to a Traditional Ceremony Arch
A run-of-the-mill arch isn't your only option.
Whether it's a 100-year-old oak tree, curtain-draped chuppah or vine-covered arbor, the ceremony backdrop you choose will help frame and highlight the two of you during your vows. And while a traditional rounded or rectangular ceremony arch always looks gorgeous, don't feel like you have to stick to the usual—this is one ceremony detail you should personalize however you'd like. Here are 19 ways to rethink the traditional wedding arch and make this ceremony detail feel all your own.
1. Oversize Arch
While it's not a huge deviation, an extra-grand and sloping wedding arch will make an even larger statement at the end of the aisle.
2. Circle of Blooms
Turn an open-ended arch into a complete circle to signify eternal unity.
3. Perfect Frame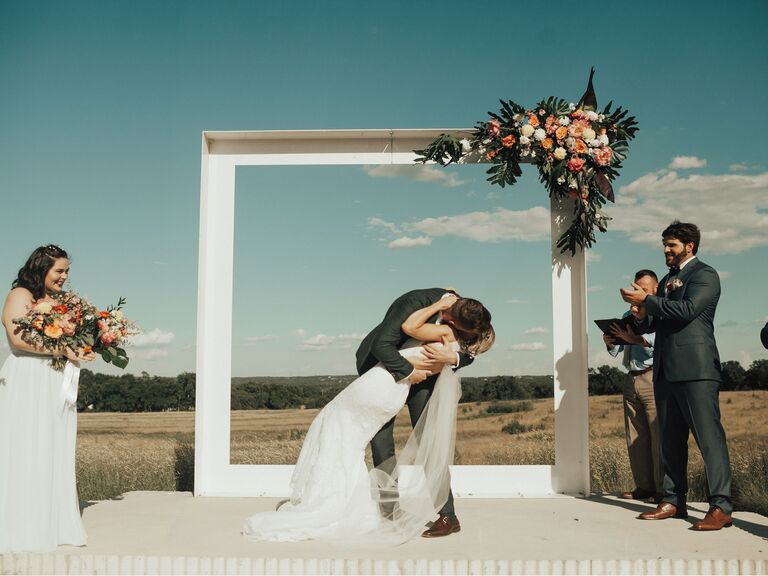 Think of the incredible photos you'll get from this stunning modern backdrop.
4. Geometric Trellis
If your garden's already got it, flaunt it.
5. Homey Touch
There's no better way to symbolize your new life and home together than with a house-shaped arch.
6. Wrought-Iron Gates
A bold and elegant structure, like these wrought-iron gates, make the perfect backdrop for an outdoor ceremony.
7. Floating Garlands
Drape a garland or gauzy curtain over a tree branch to get an undone, organic look.
8. Ring of Flowers
You don't need to stand in front of anything, especially if your setting really speaks for itself. Try standing on a bed of flowers or inside a ring of flowers (or candles or driftwood).
9. Edgy Triangle
Give your arch some edge with a uniquely geometric shape.
​
10. Rustic Wood Cross
Make Mother Nature your church with a stately flower-covered cross at your outdoor ceremony.
11. Gold Geometric Honeycomb Arch
An asymmetrical honeycomb arch feels fresh—and sweet like honey. (Sorry, we had to.)
12. Stained Glass Backdrop With Shutters
Make an earthy outdoor ceremony feel a touch more dramatic and regal with a stained glass backdrop.
13. Crimson Bougainvillea Arch
Pick an unexpected bloom (and shape) for a twist on a traditional flower arch.
14. Whimsical Paper Flowers and Ribbon
Say "I do" in front of colorful ribbons and garlands of handcrafted paper flowers to make a sophisticated ceremony feel a touch more whimsy.
15. Modern Neon Sign
Pick a favorite quote to craft into a custom sign—and make sure the view isn't obscured during your ceremony.
16. Architectural Wooden Structure
Get creative with an architectural structure that's sure to stand out (in photos and real life).
17. Half-Circle of Blooms
Surround yourself with a half-circle of freestanding blooms—a makeshift garden, if you will.
18. Rustic Arch
Still set on a traditional arch shape? Pick a material like unfinished, natural wood for an ultra-unique and rustic vibe.
19. Floral Canopy
Whether chosen for religious reasons or not, an exquisite floral canopy will always look elegant.