30 Ways to Use Greenery in Your Reception Centerpieces
Decorate your tablescapes with these lush arrangement ideas.
Also known as "nature's neutral," greenery adds a fresh, organic pop of texture to any color scheme or wedding style. Greenery centerpieces aren't the only way to work this trending detail into your wedding decor, but they're a great place to start. From assortments of leafy branches and cascading eucalyptus runners, to mini potted plants, tall foliage-filled designs and more, we're sharing some of our favorite ways to use greenery for your table decor—no flowers required. (Once you've dialed in on the look you want, you can start brainstorming other wedding floral designs that also look amazing with greenery, like bouquets and wedding arches.) Ready to go green? Check out these ideas.
In this article:
Eucalyptus Wedding Centerpieces
Favored for its wispy, long branches, there are several varieties of eucalyptus you can use on your wedding day, each with a slightly different look. Here's how to incorporate this popular greenery for any wedding style, from classic to rustic.
Tall eucalyptus and olive branch centerpiece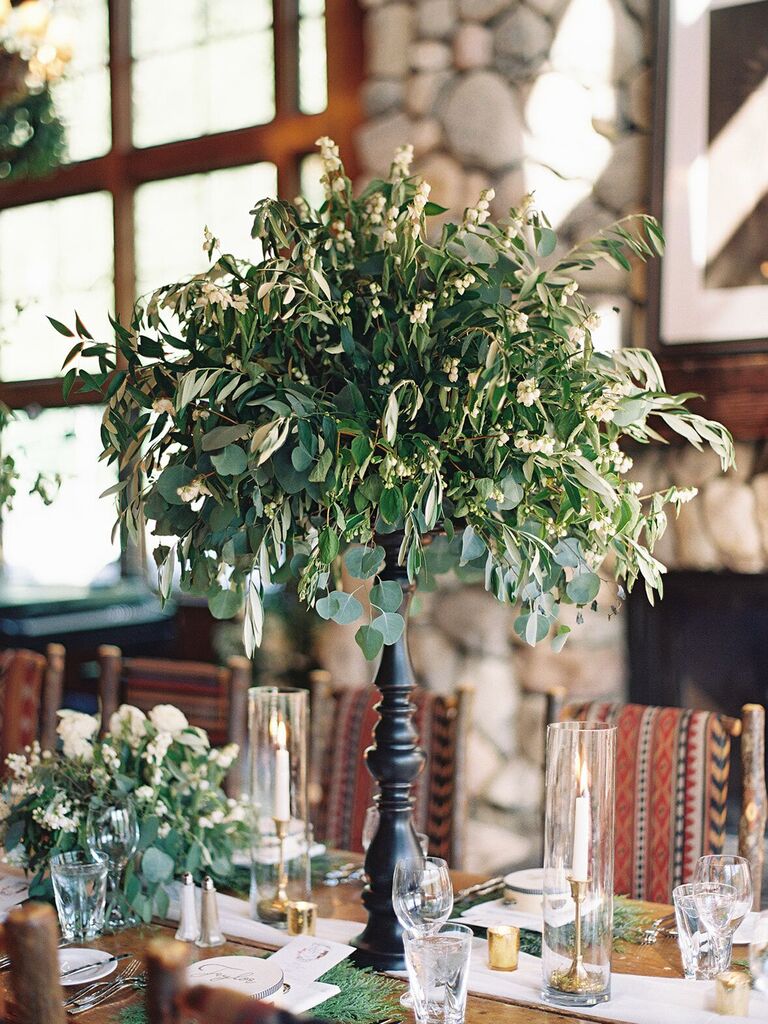 Give your eucalyptus centerpieces a Tuscany-inspired spin by adding olive branches to the floral arrangements.
Short eucalyptus centerpiece with hydrangeas
Love the rustic look of eucalyptus? Boost the earthy, low-maintenance vibes of this greenery by styling it with hydrangeas, lisianthus and delphinium in an assortment of glass jars and birch wood vessels.
Rustic eucalyptus table runner
For a welcoming, dreamy effect, decorate bare wooden banquet tables with long eucalyptus garlands, pillar candles and complementary green water goblets.
Mason jar eucalyptus centerpiece
Made using two types of eucalyptus—baby blue and seeded eucalyptus—this no-frills greenery wedding centerpiece idea is perfect for a summer backyard reception or minimony.
Silver dollar eucalyptus centerpiece with roses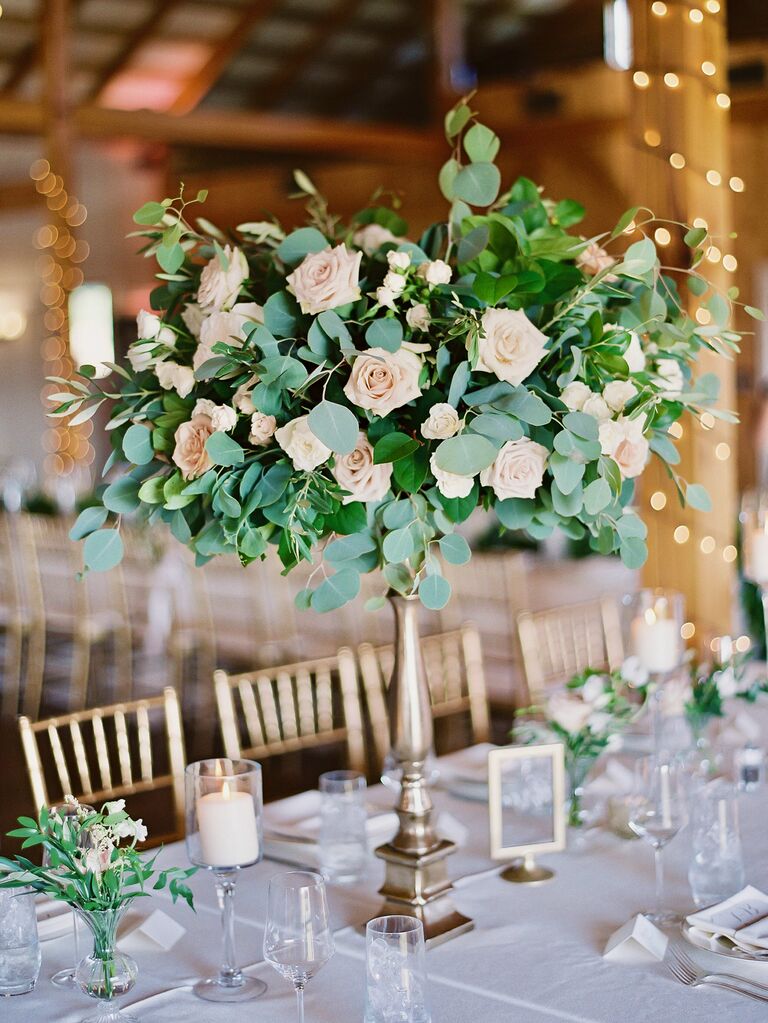 Paired with blush roses and gold accents, this centerpiece of silver dollar eucalyptus is classic and romantic. Votive candles scattered along the table add even more ambience to set the mood.
Classic eucalyptus table runner
Here's how to do a formal tablescape for an outdoor wedding reception. Dress up long banquet tables with white linens, taper candles and giant greenery garlands that drape onto the floor.
Spiral eucalyptus centerpiece
Embrace a farm-to-table theme by adding wildflowers to eucalyptus bunches, then accessorizing your tables with burlap runners, vintage vases and favor boxes wrapped in twine.
Short Greenery Centerpieces
Low wedding centerpieces are ideal for informal wedding styles and encouraging conversation among guests (since they won't block the view across the table). Add greenery to your arrangements for texture and dimension or if you're looking for alternatives to traditional flowers.
Palm leaf centerpiece
This simple greenery centerpiece is perfect for a minimalistic tropical theme. Use assorted palm fronds and ferns in vases clustered together throughout your tabletops for a modern, chic look.
Greenery centerpiece in wooden trough
Rectangular wooden troughs are some of the best vessels to use for your rustic wedding centerpieces. Fill them with various greenery, herbs and flowering shrubs (which you can totally replant or repurpose after the wedding day).
Hydrangea and greenery centerpiece
If you don't want your centerpieces to be entirely comprised of greenery, start with a base of flowers, like this arrangement featuring hydrangeas, baby's breath and Queen Anne's lace. Greenery and other accents, like smilax, berries, dianthus and pussy willow branches, fill out the design.
Potted fern centerpiece
Ferns are great for complementing a woodland-inspired or cottagecore wedding theme. For an eco-friendly approach, use potted ferns as your centerpieces and offer them to plant-loving guests at the end of reception.
Lily of the Valley and greenery centerpiece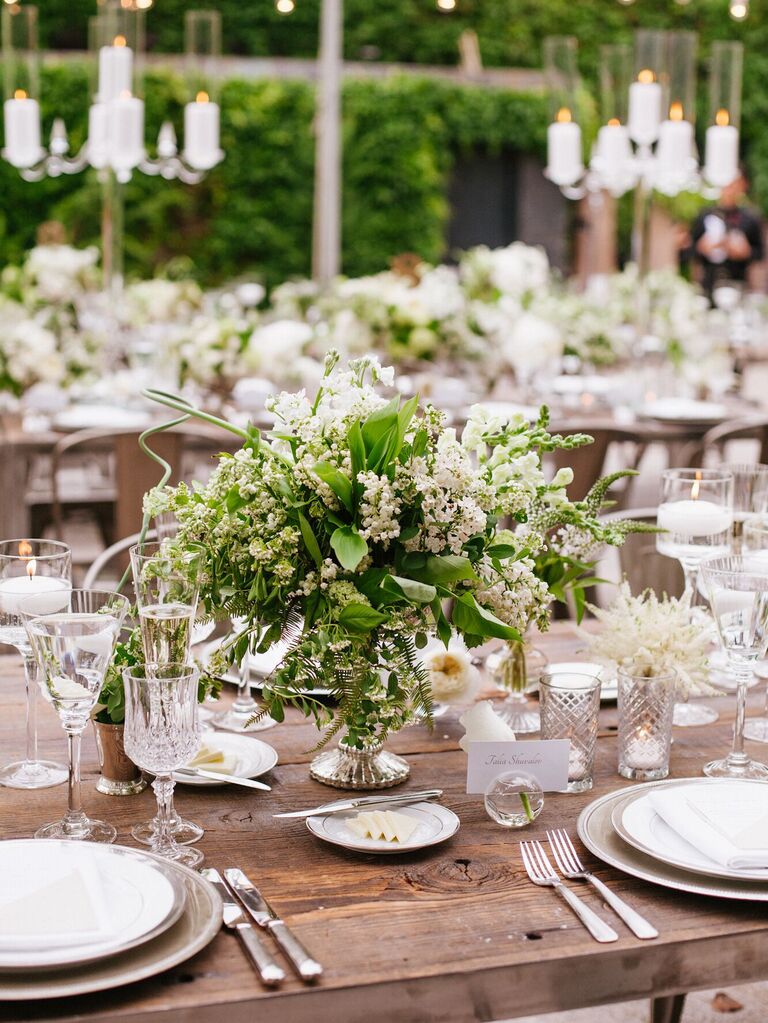 White flowers and assorted greenery will always be a gorgeous combination, especially if you love English garden wedding style. This timeless centerpiece with greenery includes Lily of the Valley (you'll love its sweet fragrance!), wax flowers, stock and gooseneck in a silver compote vase.
Simple greenery centerpiece with candles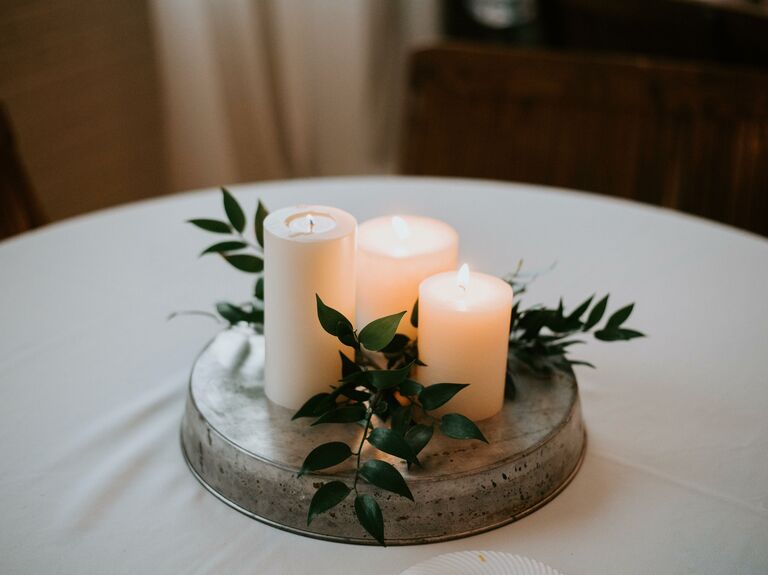 For a barely-there wedding centerpiece, use smilax vines or Italian ruscus to accent a cluster of candles on top of a tin tray.
Greenery centerpiece with vines
Add a country chic aesthetic to your wedding tables by filling low vases with overflowing vines—the wilder, the better!
Succulent centerpiece with votive candles
Although succulents aren't technically a type of greenery, they evoke the same laid-back feel. These low-maintenance plants look best in your centerpieces when they're arranged in clusters or pots.
Short greenery centerpiece with roses
If traditional flower arrangements are more your style, fresh greenery is a lovely accent for classic wedding flowers like roses, peonies and dahlias.
Banana leaf centerpiece
Getting hitched at the beach? Incorporate tropical greenery into your table decor. This lively centerpiece is comprised of banana leaves, anthurium and corn plants displayed in individual cylinder vases.
Hurricane lantern centerpiece with greenery
Add miniature hurricane lanterns and votive candles to your greenery arrangements if you're having a vintage-themed wedding (even better if you can source antique lanterns or other vessels).
Queen Anne's lace centerpiece
We love the perfectly imperfect look of these galvanized tin arrangements. Asymmetrical designs and wild greenery stems, like Queen Anne's lace or bishop's weed, will make your centerpieces seem like they came straight from the garden.
Mini topiary centerpiece
What could be cuter than miniature potted trees on your wedding reception tables? Topiaries are an adorable and unique alternative to everyday greenery centerpieces. They're a perfect fit for a Mediterranean-inspired theme, especially if you're using lemons or other citrus fruit in your wedding decor.
Tall Greenery Centerpieces
Greenery wedding centerpieces that tower above your tables will undoubtedly make a statement. These elevated arrangements are great for filling out a space with high ceilings or adding drama to your wedding theme.
Monstera leaf centerpiece
Large monstera leaves make a statement all on their own, so you won't need much else to complete your table centerpieces. If you're working with longer banquet tables, consider adding a few smaller arrangements, like these proteas, to fill out the decor.
Tall smilax centerpiece
You can never go wrong with an all-greenery centerpiece displayed atop a streamlined gold stand.
Greenery and foraged branches centerpiece
Turn to your wedding season for inspiration when you're working with your florist to finalize the centerpieces. They may be able to source local greenery and other botanical accents based on the time of year, like leafy lilac branches for a spring wedding, colorful foliage for a fall wedding or fragrant evergreens for a winter wedding.
Tall palm fronds centerpiece
This tall centerpiece features oversized, dramatic palm fronds and leaves for a contemporary, beachy effect.
Hanging greenery centerpiece
Looking to really wow your guests with your greenery centerpieces? Decorate your head table with a show-stopping hanging greenery installation to make it seem like they've stepped into an enchanted garden.
Candelabra centerpiece with greenery
Gold candelabras wrapped in greenery will bring and Old World romance vibe to your reception space. Leave them as-is or add flowers and other accents to match your theme.
Boxwood branches centerpiece
Boxwood is a popular type of greenery for neatly trimmed arrangements, but it looks just as stunning in its more natural state. A large cluster of the branches makes an impact without the need for flowers or fancy designs.
Greenery and white flower centerpiece
Tall wedding centerpieces are inherently more formal, but these lush white and green arrangements keep the long banquet table from feeling too stuffy.
High-low centerpiece
Alternatively, you can decorate your head table with tall arrangements in the middle, accented by shorter centerpieces or garlands that extend on either side.
Greenery centerpiece with pampas grass
Your centerpieces will instantly get a boho upgrade with the addition of just a few pampas grass stems.