The 5 Zodiac Signs That Make the Best Wedding Planners
Some personalities appreciate the planning process more than others.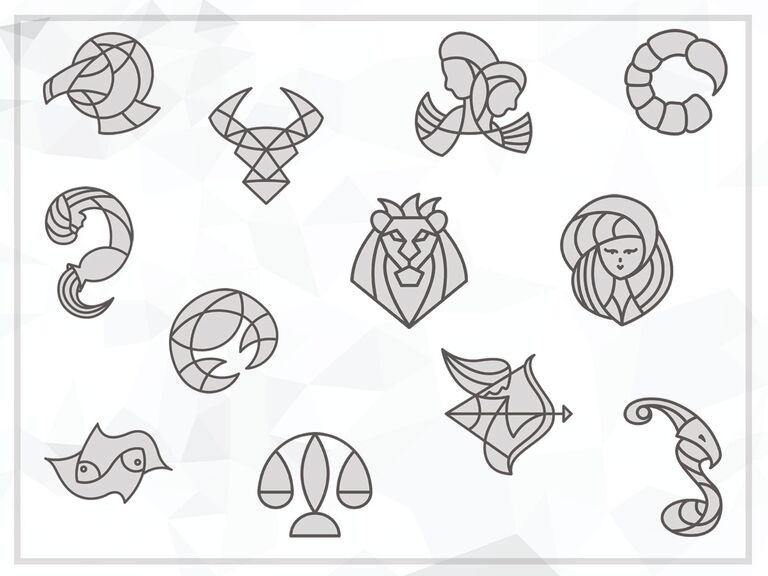 Whether you're hiring a wedding planner or doing all the details with your partner, it's important to know what it really takes to pull off the sometimes difficult task of planning a wedding. If you ask us, it requires a killer combination of organizational skills and resilience in the face of obstacles.
So, yes, certain personality types will likely thrive during wedding planning while others might begin to crumble under the stress without a little outside help. That's why we've turned to the stars to see what zodiac signs are most cut out for the challenge. And for the rest of you (and those choosing not to enlist the help of one of the below signs) we're not saying you won't make great wedding planners too. Your other fierce qualities—like your unprecedented negotiating skills, Scorpio—will ensure you'll be just fine out there.
Aquarius: January 20–February 18
While you're not the most organized sign, you're extremely disciplined when you have a task at hand. You love lists, and you have so many ideas that you find yourself jotting them down or putting them in the Notes section of your phone constantly. With all of the things you think up daily, you won't have a cookie cutter ceremony, that's for sure.
You love a good challenge, and what's more challenging than planning your once-in-a-lifetime nuptials? You'll absolutely thrive during the process, and you'll even feel a bit blue once it's over.
Taurus: April 20–May 20
You're known for being extremely dedicated and down to earth, and those qualities will be invaluable during the wedding planning process. You keep your expectations realistic, but at the same time, you know no one will do a better job than you.
You're arguably the most stable and sound sign, so if something doesn't go your way, you'll know how to handle it like a pro. No matter how stressed you might feel on the inside, you're nothing but poised on the outside, and your loved ones will appreciate your calm demeanor leading up to your wedding day.
Virgo: August 23–September 22
This probably comes as no surprise. You already control every detail of your life, so why would planning your nuptials be any different? You're a perfectionist and arguably uptight to a fault, and this will definitely work in your favor throughout the planning process. You're a neat freak who won't have a thing out of place at your ceremony or reception.
You don't love surprises, so if something doesn't go your way (say, your venue is double-booked) you'll immediately go into fight-or-flight mode to remedy the situation.
Libra: September 23–October 22
You're the ultimate crowd-pleaser, so the idea of "putting on a show" for your loved ones gets you absolutely giddy. You're also a team player—if your partner has something different in mind for your venue, you'll be more than happy to compromise with them. Basically, you work extremely well with your other half under pressure (not many signs are lucky enough to say that).
You're meticulous in how you plan things, and your wedding day will have a strict itinerary from start to finish. What's not to love about a timeline that will keep everything running smoothly?
Capricorn: December 22–January 19
You're a type A perfectionist and a bit of a show-off—if you don't mind us saying so—so you'll undoubtedly make sure your nuptials are immaculate for your guests (and off-the-charts impressive, which won't go unnoticed).
You're extremely goal oriented. Generally speaking, once you know what you want, you go after it. You always have a vision in your mind, and you won't be content until it's executed to the highest standard. It goes without saying that you won't compromise when it comes to the details on your day.