5 Ways to Feel (and Look) as Confident as Possible on Your Wedding Day
Whether you're a bride or a bridesmaid, it's normal to panic about your appearance before an event as big as a wedding. Here's how to handle it.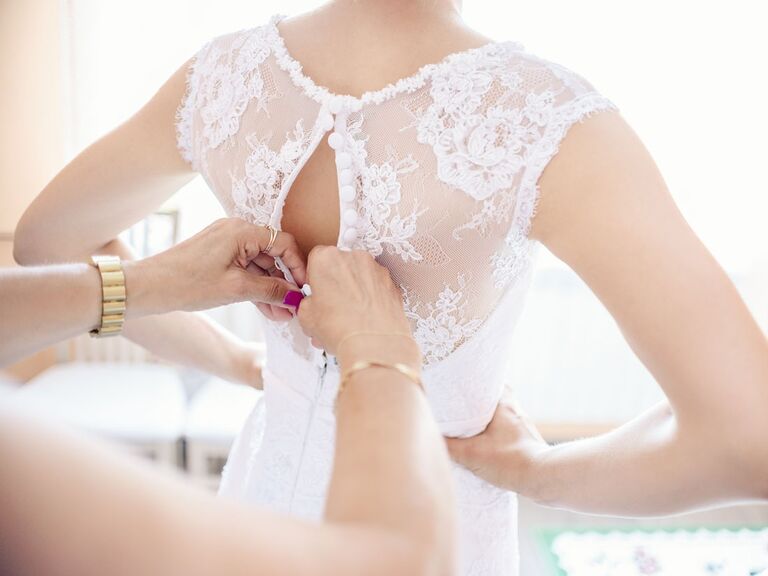 Daniel Jedzura/Shutterstock.com

We've all heard the horror stories of brides who obsess over their bodies before their wedding day, or require their bridesmaids to do the same. Unfortunately, it's super common—from mandatory dieting to bridesmaids being kicked out of the wedding because they supposedly didn't look good in their dress (or even worse—the dress doesn't even come in their size at all).
Weddings are supposed to be a time for celebration—of your union and of the people who've been with you along the way. So as far as we're concerned, there's no better way to celebrate being a bride or bridesmaid than uplifting yourself and those around you to feel good enough just the way you are. With that attitude in mind, let's jump into all the ways you can be a body-positive bride or bridesmaid so you can feel amazing about your appearance (IRL and in the gorgeous photos you'll end up getting), no matter what.
1. Acknowledge that all your friends have different body types when choosing bridesmaid dresses.
This is the most important one. Yes, your bestie will wear anything because she loves you, but no one wants to be in the spotlight as a wedding attendant if they don't feel like they look their best. One suggestion is the mismatched dress trend, which keeps everyone uniform, but also gives bridesmaids the option to pick the best silhouette for them. If you're the bride, choose a color and provide a few guidelines. There are tons of bridesmaid dress shops that offer different styles in the same color.
2. Never underestimate the power of a genuine compliment.
Whether you're the bride or a bridesmaid, authentically complimenting those around you is a great way to keep the body-positive energy flowing. In the months before the wedding and on the day-of, you'll be spending tons of time with the wedding party. Being around a group of fabulous ladies is the perfect time to compliment the beautiful and unique things about them.
3. Pick a dress in the size you wear today.
Set yourself up to feel good. There's always been pressure for brides to "shed weight" before the wedding (which, for the record, we don't believe in). Far too often, brides and bridesmaids pick dresses in smaller sizes in hopes that (by dieting) they'll be able to fit into them when the wedding date comes around. Besides possibly setting yourself up not to look your best in a too-small dress, you're actively trying to change yourself instead of embracing what you currently have (and what your future spouse—if you're the bride—obviously loves). Instead, go the body-positive route and select your correct size at the time of your purchase. The mental anguish you'll avoid altogether will be so worth it.
4. Surround yourself with positive vibes only when dress shopping.
This goes for both brides and bridesmaids. If you're the bride, avoid bringing people who you know won't make your experience positive (like your aunt who always mentions how your curvy backside must've come from the other side of the family). As the bride, the squad you assemble for your epic dress shopping experience should be made up of the people who are going to champion and empower you.
If you've been chosen to help find a wedding dress as a bridesmaid, this is a tremendous honor and so fun, and the energy you bring should certainly be positive. The bride asked you to come because she values your opinion, so being a cheerleader for her during this special experience is a must. As the bride tries on dresses, think about how you phrase your advice. For example, if she comes out in a dress that isn't the best one for her, instead of saying, "That dress makes you look big," say something like, "That's a gorgeous dress, but I think there's something even better and more flattering for you." Giving your opinions in a body-positive way will make the bride feel supported and set the tone for others to follow your lead.
5. Say "no" to diet talk.
A wedding is the perfect place for diet culture to rear its ugly head. Whether you're on a diet or not, constantly talking about what you're putting into your body will negatively affect those around you whether you realize it or not. If you say, "I can't have a piece of cake, carbs go straight to my thighs," those around you will start thinking about whether or not they should have cake. Instead, shift the conversation into a more productive and positive direction.
Need more body positive inspo from theCURVYcon? We'd love to send you theCURVYcon's inspiring weekly letter.