$10K Wedding Budget Challenge: Cincinnati, Ohio $10K Budget Wedding
Sure, we know the average wedding will run about $27,000, but that didn't stop us from asking wedding planners all over the country to accept The Knot $10K Wedding Budget Challenge. Here, Alison Wenstrup of Aviva Events show us how to do it in Cincinnati.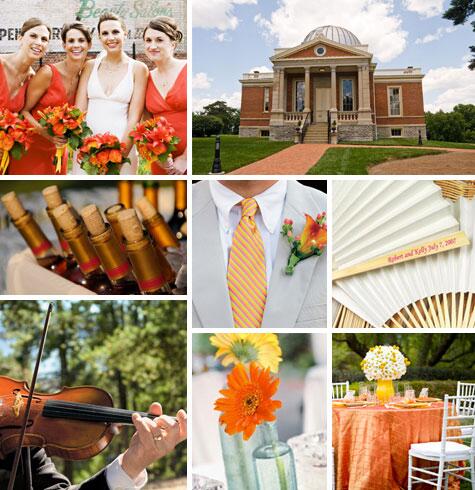 The Setting
Fewer places are more romantic than a park on a warm summer afternoon, so that's where the wedding ceremony will take place. A carefree, tented, picnic-style wedding reception will follow with 85 of the couple's closest friends and family.
The Ceremony
The ceremony will take place at The Ault Rose Garden -- a location so stunning that no additional decor is needed. The natural beauty of the rose garden provides a gorgeous backdrop for exchanging ceremony vows. White wooden garden chairs, rented from Camargo Rental, will play off the woodland surroundings nicely. Seek out a string trio from the College-Conservatory of Music in Cincinnati to provide gorgeous classical music during your outdoor ceremony.
The Bouquets and Boutonnieres
Plan to go DIY with all the bouquets and boutonnieres. Head to Dayton to take a bouquet-making class at The Flowerman; then order flowers from Wildey Flower Farm or Bigg's. A day or two before the wedding gather up your craftiest friends and create your arrangements together.
The Officiant
After some two-on-one meeting time, Kathryn Siefert, a nondenominational officiant, will create a memorable and personal wedding ceremony for you. Her fee includes the rehearsal time and a getting-to-know-you sit-down session.
The Stationery
Five Dot Design on Etsy.com will create the perfect invitation sets. Order 50 sets to cover all 85 guests. To save on reply postage, ask guests to RSVP online at your free wedding website on TheKnot.com, or via phone.
The Attire
A garden party calls for a simple, sleek look, and a bridesmaid sheath will fit the bill. Many are available in white and ivory and make excellent choices for a more casual look. A great example: the silk tricotine Robin long dress in ivory from J.Crew. To complement the outdoor afternoon setting, the groom can buy a cotton chino suit jacket and pants from J.Crew and pair it with his favorite shirt, tie, and shoes.
The Transportation
Who needs limo service when The Ault Rose Garden and the Cincinnati Observatory Center, the site of your luncheon, are literally three minutes apart? Ask a guest with a convertible to whisk the two of you away from the ceremony in supreme summer style.
The Reception
The reception will take place beneath a bright and airy tent on the grounds of the Cincinnati Observatory Center. You'll save big because this often overlooked venue lets you use any caterer or rental company you want! For the centerpieces, cluster small vases at each table and fill them with flowers. The morning of the wedding, ask a trusted friend to arrange the vases and flowers for you.
The Reception Lunch
Play up the garden theme with the "Picnic in the Park" menu from Chef's Choice Catering. You'll get stuffed croissants, pasta salad, fresh fruit salad, and cookies -- perfect for an outdoor summer wedding. Keep the bar simple with a few varieties of soda, beer, wine, and liquor. The Party Source will help you pull together the perfect selection. Have a friend pick up the food and beverages the morning of the wedding.
The Reception Music
Hire a DJ to help set the mood for the day and lead you through the first dance and cake cutting. DJ Toad offers affordable packages.
The Photography and Videography
Professional photography is a must! Have a photographer from White Photography cover four hours of your wedding -- that'll be enough to capture your ceremony, portraits, and the key reception highlights.
A lot of couples skip videography -- don't! Photos can't capture your groom's quavering voice as he tearfully delivers his vows, your family's reactions, and your wedding toasts. You'll want to remember those. Try Take-One Studio for the "Bridal Bailout" package, which includes three hours of ceremony and reception videography coverage.
The Wedding Cake
A buttercream-frosted cake sprinkled with just a few dainty flowers will complement your summer wedding day. Check out DessertWorks Cakery -- their affordable prices even include the cake design. Get a two-layer decorated cake to display, plus a quarter sheet cake -- just the right amount to feed your 85 guests. Ask a friend pick these up as close to the reception as possible.
Favors
To keep guests cool at the outdoor ceremony, order colorful personalized paper fans from Beau-Coup.com. Spread the word that they should take them home at the end of the party.
BUDGET BREAKDOWN
Ceremony: $1,607.38
Marriage license: $45
ProbateCt.org/marriagelicenses/ for info

Ceremony site rental: $150
The Ault Rose Garden, Cincinnati-OH.gov/cityparks/pages/-4960-/

Officiant fee: $300
Kathryn Siefert, [email protected]

String trio: $425
College-Conservatory of Music, CCM.UC.edu

85 white wooden chairs (includes delivery, setup, take down, day-of pickup, and tax): $647.38
Camargo Rental, Camargo-Rental.com

Bouquet-making class: $40
The Flowerman, YourFlowerman.com
Reception: $5,753.41 (including tax)
Space rental: $1,500
Cincinnati Observatory Center, CincinnatiObservatory.org

Lunch: $679
Chef's Choice Catering, ChefsChoiceCatering.net

Beverages: $600
The Party Source, ThePartySource.com

Two-layer cake and double-stacked quarter sheet side cake: $185
DessertWorks Cakery, DessertWorksCakery.com

Tent, linens, tables, and chair rental (includes delivery, setup, takedown, pickup, and tax): $1,702.19
Camargo Rental, Camargo-Rental.com

Flowers in bulk: $300
Wildey Flower Farm, WildeyFlowerFarm.com
Bigg's, Biggs.com for stores

Vases: $11
Any dollar store in your neighborhood will do!

DJ: $600
DJ Toad, DJToad.com

Personalized fan favors: $176.22 (includes shipping)
Beau-Coup.com
Photography & Videography: $2,195
Photography (1 photographer for 4 hours, as well as online proofing and print ordering, digitally enhanced proofs, and a

DVD of hi-res files with copyrights): $1,595
White Photography, WhiteImagery.com

Videography (3 hours of ceremony and reception video coverage): $600
Take-One Studio, Take1Studio.net
Stationery: $171
50 invitation sets: $150
Five Dot Design, FiveDot.Etsy.com

Postage: $21
USPS.com
Attire: $775.32
Wedding dress: $365.83
J.Crew.com for stores

J.Crew cotton suit: $409.49
J.Crew.com for store
Transportation: $0
Ask a friend!
Hair & Makeup: $0
Ask a friend!
GRAND TOTAL: $9,902.11