These Are the Couples Who Met and Fell in Love on Social Media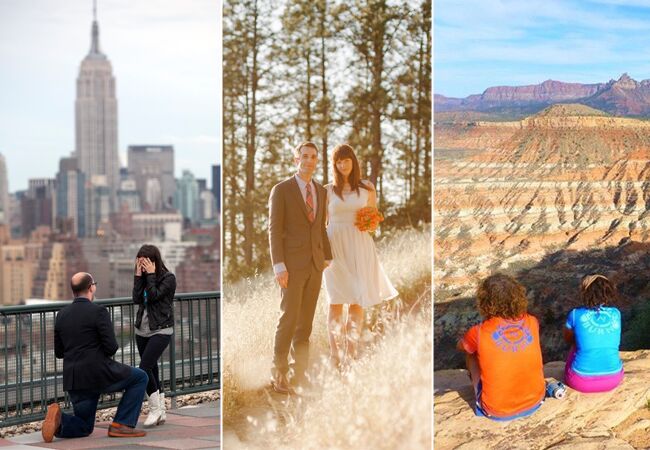 Forget Match.com. Twitter, Facebook and Instagram are the new online matchmakers. And it's no surprise in our digital world — an intriguing tweet, photo or even a blog post can inspire a total stranger to make a comment. For many, these comments are the beginnings of a conversation that, for some lucky ones, turns into a relationship.
They Met on Instagram…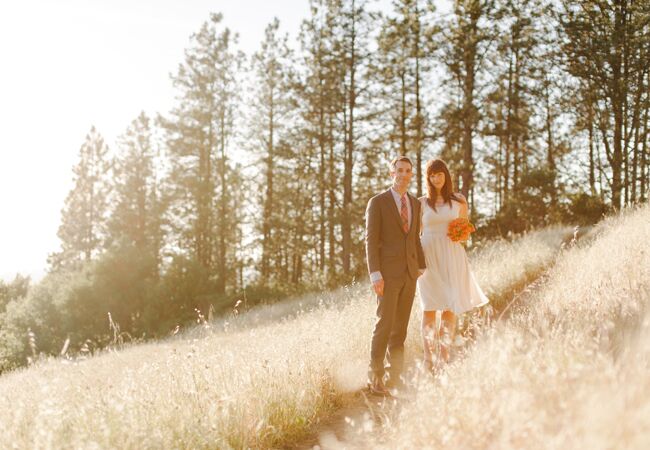 THE COUPLE: Robin Coe, 34, and Matthew Fleming, 34
WHEN THEY MET: January 2012
WEDDING DATE: May 10, 2013
THEIR STORY: When Robin, a Canadian native, and Matthew went to the US Immigration Office before their May 2013 wedding, they went armed with the Instagram app. That's because it documented their entire relationship from the moment they met—online.
Back in 2011, Robin had joined Instagram to find and follow interesting people and soon began following Matt, an avid cyclist who documented his bike rides. One day after Robin commented on his photo of a sun-filled California road, he responded back about her snow-filled images. A few more exchanged comments led Matthew to ask her to email him, and though he was a stranger, he was part of her online community, so Robin says she didn't hesitate to get in touch. They commented on Instagram, emailed and Skyped for months until she finally left snowy Toronto behind to move to California. All the while their many Instagram followers watched the inspiring love story unfold through pictures and posts. (Their engagement announcement post got more than 10,000 likes!) Robin says it was Instagram that got her out of her comfort zone, and reignited some spontaneity in her life. "If I hadn't been on Instagram, we wouldn't have connected; it opened me up to seeing other people's adventures, and carrying those people around in my pocket."
They Met on Twitter…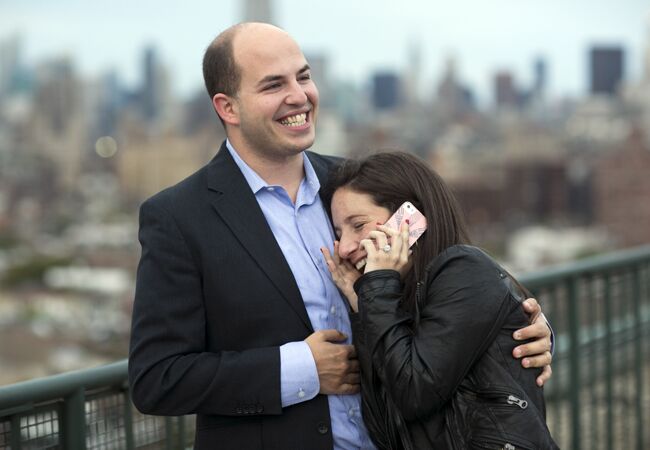 THE COUPLE: Jamie Shupak, 32, and Brian Stelter, 28
WHEN THEY MET: December 2010
WEDDING DATE: February 22, 2014
THEIR STORY: For Jamie, tweeting about New York City traffic jams is part of her job as the traffic reporter for local news channel NY1. In 2010 during a huge snowstorm, Brian, host of CNN's Reliable Sources, was home for the holidays browsing his Twitter feed when some of Jamie's tweets appeared as retweets. Granted they were about the road closure nightmares caused by the more than 20 inches of snow just dumped on the city, but something about them caught his eye. He clicked to check out her profile, and his hunch was right—her avatar (a pop art-inspired caricature) was very cute. Within the hour he had direct messaged her and a few short weeks later they had their first date. It wasn't weird to Brian—he'd previously dated a few people he met on Twitter—but Jamie says she "had no idea people hit on other people over Twitter!" The two quickly became tweethearts, and Jamie now live-tweets Brian's show every Sunday. And this coming February, the pair will wed in Philadelphia where the bride, the groom and all their guests plan to live-tweet the festivities using #thestelters.
They Met Through Her Blog…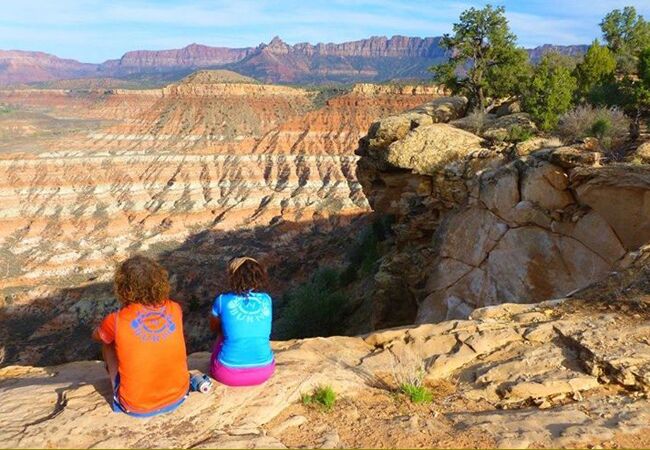 THE COUPLE: Vanessa Runs, 31, and Robert (Shacky) Shackelford, 45
WHEN THEY MET: September 2010
THEIR STORY: While training for her first marathon, Vanessa began keeping a blog of her running experiences. One day, Robert, a veteran ultramarathon runner, came across it and began offering tips. Since Vanessa didn't know too many runners, she valued his comments and always responded. Their friendship continued over Facebook and Skype as Vanessa relied on him for guidance—he even flew from San Diego to Canada to pace her marathon!—and it eventually turned into love. Now the two travel around the country in their 22-foot RV as Vanessa tracks their adventures on her site, VanessaRuns.com.
They Met on Twitter…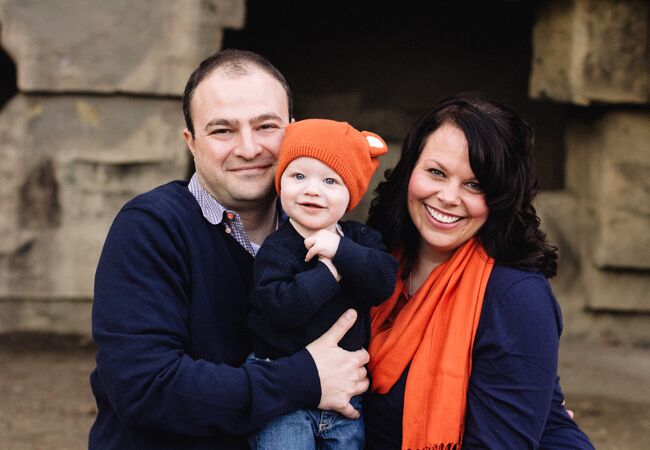 THE COUPLE: Jamie Light, 32, and Aaron Snyder, 36
WHEN THEY MET: April 2009
WEDDING DATE: October 9, 2011
THEIR STORY: It's not every day Twitter cofounder Jack Dorsey sends a tweet congratulating you on your wedding. "May you always follow each other" was his happy wish for Jamie and Aaron, when they were married in late 2011.
Both born and raised in California, the two die-hard LA Dodgers fans often tweeted about the team's performance using #Dodgers. Aaron, a television producer for SportsNet LA, liked to search the hashtag and scroll through to see what others were saying. In the spring of 2009, while he was living in LA, he came across a great sarcastic tweet by Jamie. When he clicked over to her account he was quickly drawn in by her other hilarious tweets—as well as her pretty picture. Usually very anti-Internet dating, Aaron mustered up the courage and sent Jamie a direct message letting her know he liked what she had to say. "I was 31 years old, and sitting in an apartment by myself, so I needed to do something out of my comfort zone," he remembers. And he's very glad he did. Jamie tweeted right back, and the two hit it off online. Eventually, after a series of direct messages, Aaron invited Jamie to come to LA (she was living more than 100 miles away in Bakersfield, California) to go to a Dodgers game. And what a game it was—that first date in October 2009 was the day the Dodgers clinched a playoff spot.
The Dodgers's win was also a win for Aaron—it gave him the perfect excuse to invite Jamie back. He immediately bought tickets to game one of the playoff series and their second IRL (in real life!) date was booked for four days later. Their relationship continued online as well as in person, and by the following summer, Jamie, a high-school English teacher, moved to Los Angeles. The rest, as they say, is history, and when the couple got married, Aaron's best man, Ari, wanted to honor his friends' special story, so he secretly contacted Twitter and told them how Jamie and Aaron had bonded over their Dodgers tweets. That prompted the congratulatory message from Dorsey, which was retweeted thousands of times across the Twitterverse.
They Met on Facebook…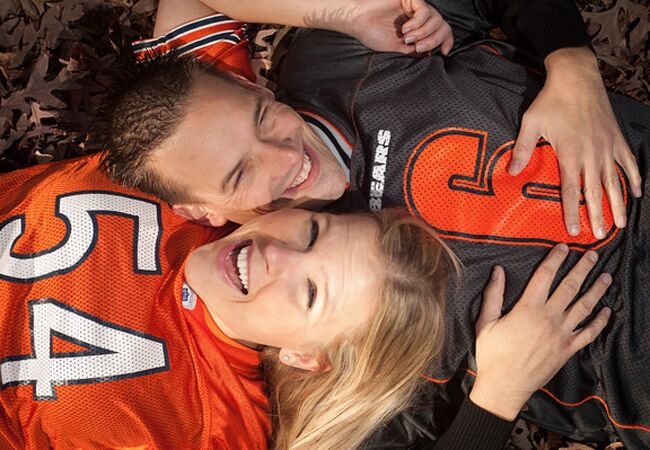 THE COUPLE: Kendra Cowser, 30, and Sean O'Brien, 32
WHEN THEY MET: January 2010
WEDDING DATE: September 14, 2013
THEIR STORY: Kendra rarely friended anyone on Facebook other than people she knew, but in 2009 fate stepped in when Sean sent her a friend request. Although Kendra didn't know him, he lived near her hometown of Galva, Illinois, and thought they might have mutual friends in common, so she accepted. None of his friends looked familiar though so she just let it go, until six months later when Sean started "liking" some of her photos. One night as she was packing up her apartment in Chicago getting ready to coincidentally head back to Galva, Kendra finally decided to satisfy her curiosity and message him. Sean responded immediately and they ended up writing back and forth all night. And then every day forward. It turns out Sean didn't know her but she popped up in his list of people he might know. "I saw a cute girl and I wanted to add her," he recalls. Both admitted that neither of them was planning on starting a relationship at the time, but it sure turned into one. Two days after Kendra was back in Galva, Sean was at her doorstep with a bottle of wine to celebrate meeting in person. In July 2012, Sean messaged her on Facebook (of course!) to ask her to go ring shopping—his way of proposing—and last September they threw a huge bash that their guests described as "the best wedding they've ever been to!"
They Met On Twitter…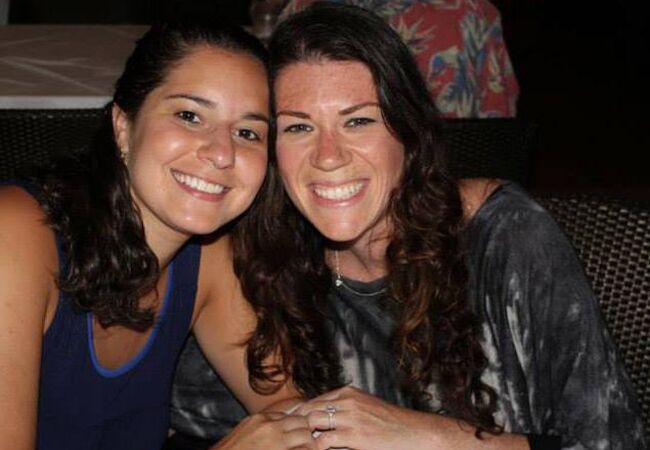 THE COUPLE: Joanna Stern, 29, and Michelle Barna, 31
WHEN THEY MET: February 2009
WEDDING DATE: September 14, 2014
THEIR STORY: As a technology journalist living in New York City, Joanna was one of the early adopters of Twitter. Long before it had the nearly 220 million active users it does today, she followed colleagues, media companies, tech companies and her favorite TV shows. While searching for other fans who were tweeting about Showtime's The L Word, she found Michelle's feed and loved how snarky her tweets were. Joanna hit follow and Michelle soon followed back. When they realized that Michelle, a director of social media and communications for a digital marketing agency, had once pitched story ideas to Joanna, their Twitter connection quickly turned to friendship, and a few months later to a date.
Fast-forward five years later to last November and Joanna proposed to Michelle. How? On Twitter, of course! "I knew I wanted to propose on Twitter because of the strong symbolism," says Joanna. And she had the perfect plan in place. "We were on vacation in Hawaii. I prepped the tweet on my phone and timed it to send when I knew Michelle would be on her phone."
@michellebarna or @misssarcastic It seemed only right to ask here, where we first met: will you marry me?
— Joanna Stern (@JoannaStern) November 10, 2013
But like it sometimes happens with proposals, Michelle wasn't following the intended plan. As the two of them sat all alone overlooking the water and the sunset, Joanna couldn't focus on the romantic view. All she could do was anxiously wait for Michelle to check her Twitter feed where Joanna had posted a special proposal video along with a tweet asking Michelle to marry her. But the alert never came! Instead, Joanna had to quickly figure out a way to prompt Michelle to check. "When I finally got her to read the tweet, I made her watch the video and then I took out the ring to propose IRL along with the Twitter proposal," says Joanna. Judging from Michelle's tweeted response (an enthusiastic "YES!"), and the accompanying picture of the engagement ring on her hand, it all happily came together in the end. The couple is currently planning an intimate vineyard wedding for this fall. As for where they should go on their honeymoon? Joanna says "We're taking suggestions…on Twitter!"
Originally published in the Summer 2014 Issue of The Knot Magazine
Want More? Of Course You Do!
> 6 techy commandments for every bride
> How did you know you had found "The One"?
> The best proposals of 2013