Flower Girl Attire Basics for the Parents
Now that she's ready to take on the role, it's time to find the perfect attire. Here's a must-have list for her.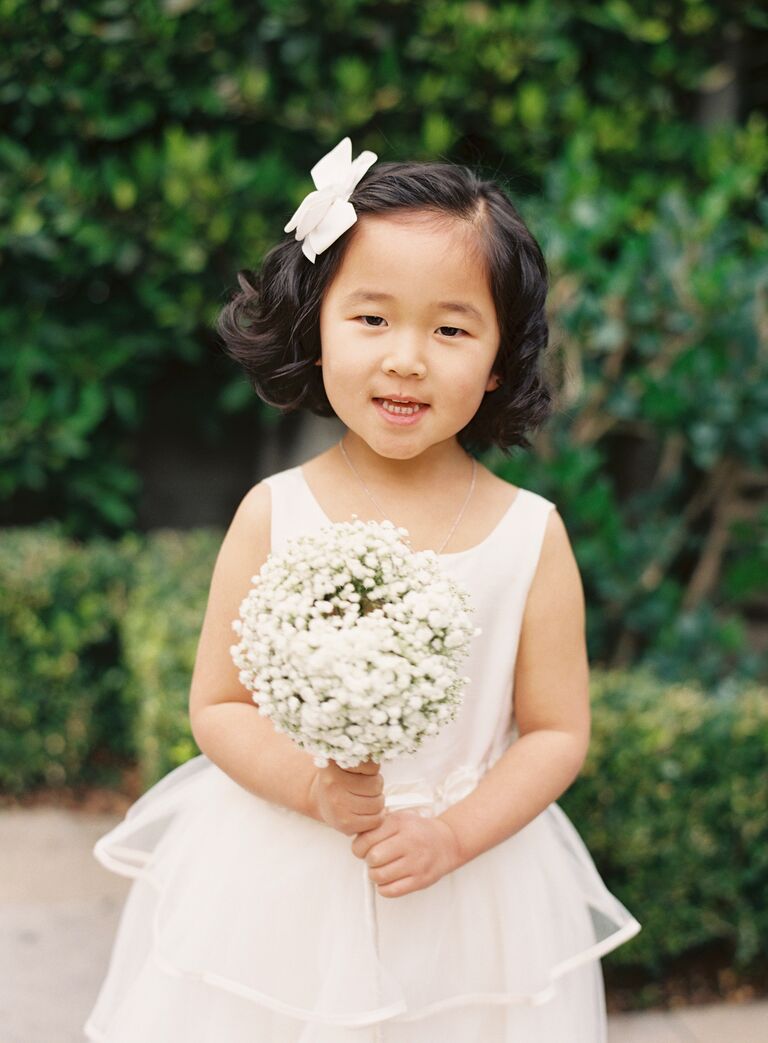 Caroline Tran Photographer
Dress
Prices vary depending on the designer, fabric, and size, but feel free to make some suggestions. A bride choosing on looks alone may overlook a scratchy collar or a heavy dress. Your daughter might have to go for fittings to make sure the dress is comfortable and not too long, to avoid tugging or tripping during the ceremony. Floor-length dresses can be tricky, especially if your daughter is younger or simply not used to walking in something so long. If you're worried, suggest shortening the hem by an inch or two.
Shoes
Often overlooked, shoes that don't fit will literally hurt your child's performance. Get them at least a month in advance, and have her break them in for a few hours each week (just around the house) to make sure she's comfortable. In a pinch, at a casual warm-weather wedding, you might suggest that she walk barefoot. It looks adorable!
Jewelry
Small pearl studs for pierced ears, or a simple bracelet, are perfect for the wedding day. It's best to keep the jewelry minimal -- and make sure your daughter knows it's not the time to break out her favorite large, plastic ring.
Underwear
Colors or polka dots easily show through a light dress, so white is the best bet.
Stockings
If your flower girl will be wearing stockings, it's best to line up two pairs in case of wedding-day snags. And if the dress is white or ivory, make sure the stockings match -- shades of white and ivory can be very different!
White Cardigan
If she gets cold, you don't want her to end up in a sweatshirt! A pretty cardigan to match her dress is great to have on hand.
Hair Accessories
Will she wear barrettes, a tiara, or flowers in her hair? It's a good idea to check with the bride on this one, so you can line up the right supplies -- especially if you're going to be your daughter's hairdresser.

Excerpt from Fiona the Flower Girl.