21 Junior Bridesmaid Gifts They'll Want to Keep Forever
One of these unique picks is sure to please.
We have included third party products to help you navigate and enjoy life's biggest moments. Purchases made through links on this page may earn us a commission.
Tying the knot with a junior bridesmaid by your side? Honor their unique role in your wedding with something extra special. Lucky for you, there are tons of cute junior bridesmaid gifts out there to show them just how much they mean to you. But before you dive headfirst into gift shopping, here's a quick refresher: What is a junior bridesmaid? They're typically a little old for playing flower girl (but too young for a boozy bachelorette).
When it comes to bridesmaid gifts, it's safe to assume that the younger members of your crew will appreciate something different than your college roommates (who are now fully fledged adults). For instance, your 30-something friends with their own homes might love a set of monogrammed marble coasters —but what's a 16-year-old going to do with it? To help you out, we've made a list of our favorite age-appropriate presents that they'll actually use. Whether you're planning a junior bridesmaid proposal or just want to say thanks, check out these no-fail gifts ideas.
(And if that's not enough, head to The Knot Shop for even more junior bridesmaid gift inspo.)
1. Comfy Tee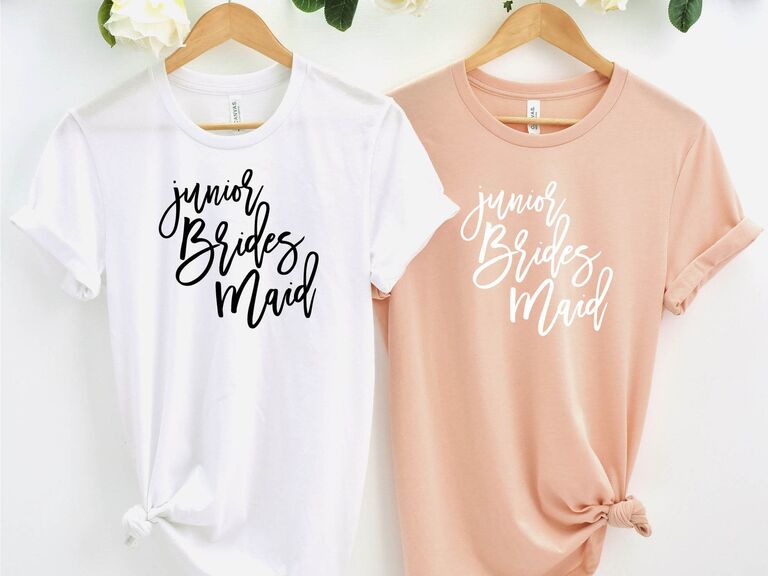 Commemorate their part in your special day with a cute T-shirt that reads "junior bridesmaid." Bonus: This one comes in a whole range of sizes and colors to suit your unique wedding party.
Custom Apparel US Junior Bridesmaid shirt, from $17, Etsy.com
2. Bridesmaid Proposal Gift Box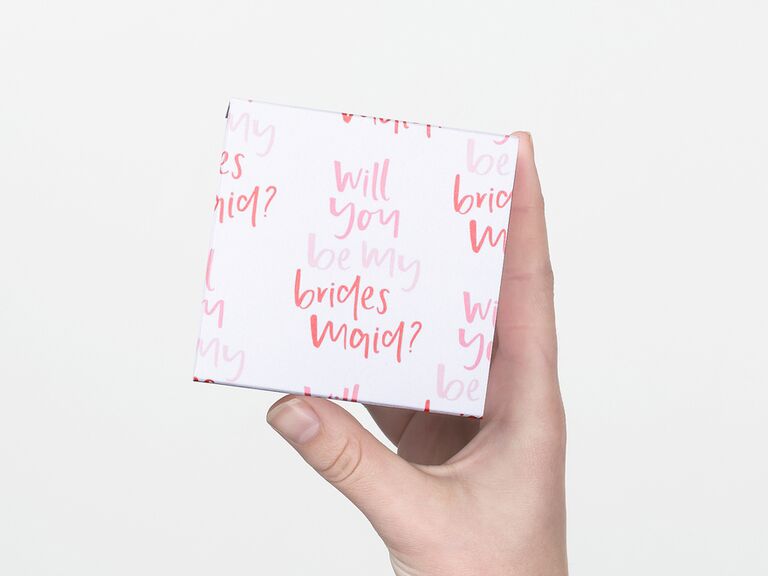 Plan a memorable junior bridesmaid proposal with this awesome service from Greetabl. You can create your very own gift box that unfolds to reveal a heartfelt note, adorable photos and a pocket-sized gift. Choose between sweet treats, stickers, bath products and more.
Greetabl Be My Bridesmaid gift box, from $13, Greetabl.com
3. Sequin Pillow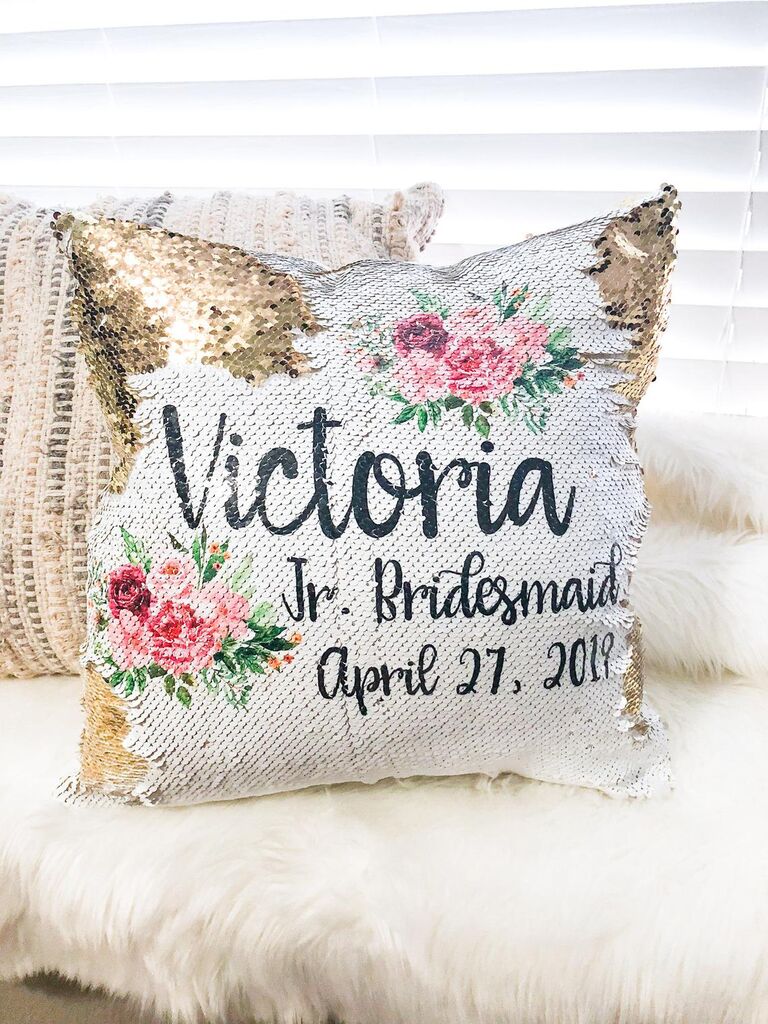 While monogram coasters might not be the right choice of gift for a junior bridesmaid, homeware isn't totally off limits. This personalized sequin pillow will instantly bring some sparkle to their bedroom.
Chevron Cottage personalized Jr. bridesmaid gift, from $20, Etsy.com
4. Fashionable Friendship Bracelet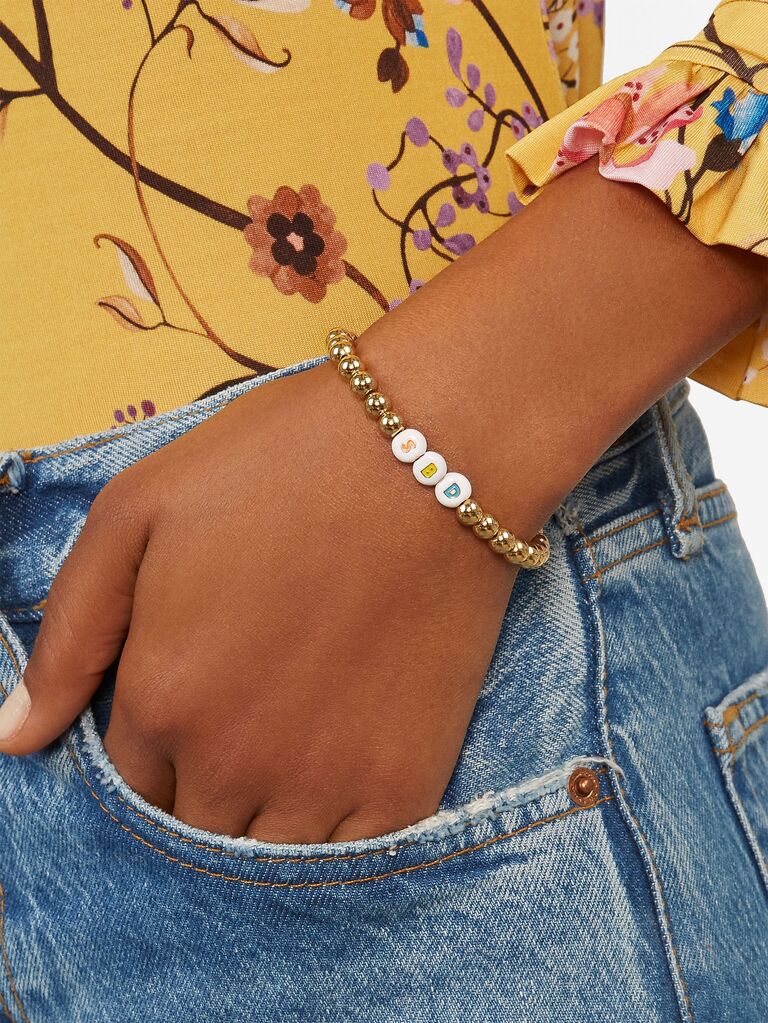 This retro beaded bracelet is one of our favorite junior bridesmaid gift ideas. Customize it with their initials for an ultra-thoughtful present.
BaubleBar custom multi Pisa beaded bracelet, $36, BaubleBar.com
5. Cozy Waffle Robe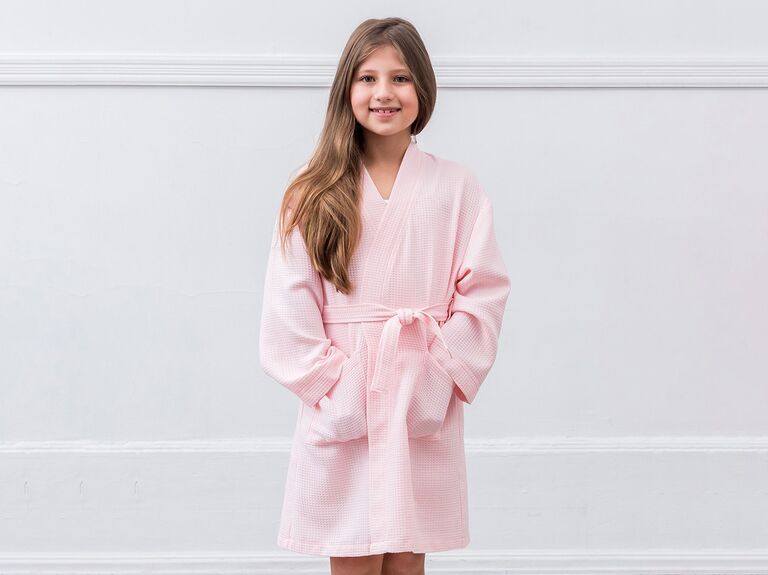 Bridesmaid robes are a staple when it comes to the morning of the big day. Make sure your juniors are in on the fun with their very own comfy clothing. (Psst, The Knot Shop has lots of stylish options for older bridesmaids too!)
The Knot Shop personalized embroidered junior bridesmaid waffle robe, $26, TheKnotShop.com
6. Custom Cardholder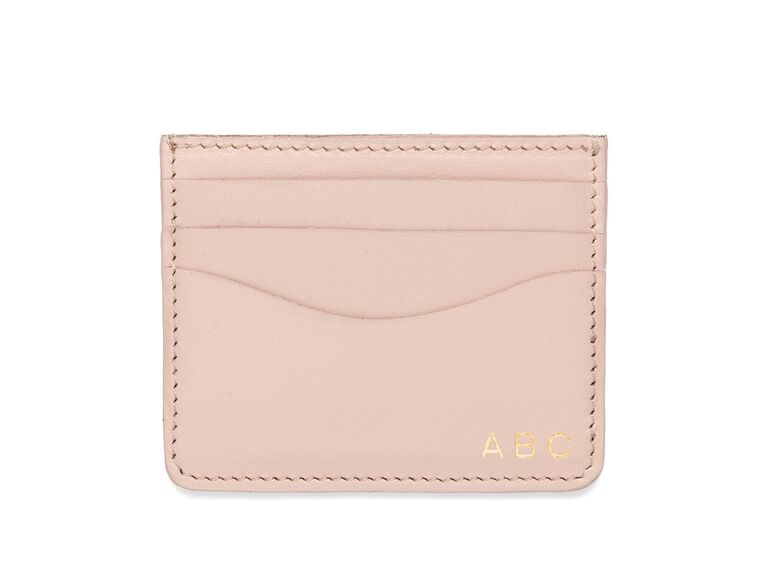 For the slightly more sophisticated junior bridesmaid, consider this sleek leather cardholder that's perfect for school IDs.
Cuyana leather cardholder, from $45, Cuyana.com
7. Phone Case Gift Card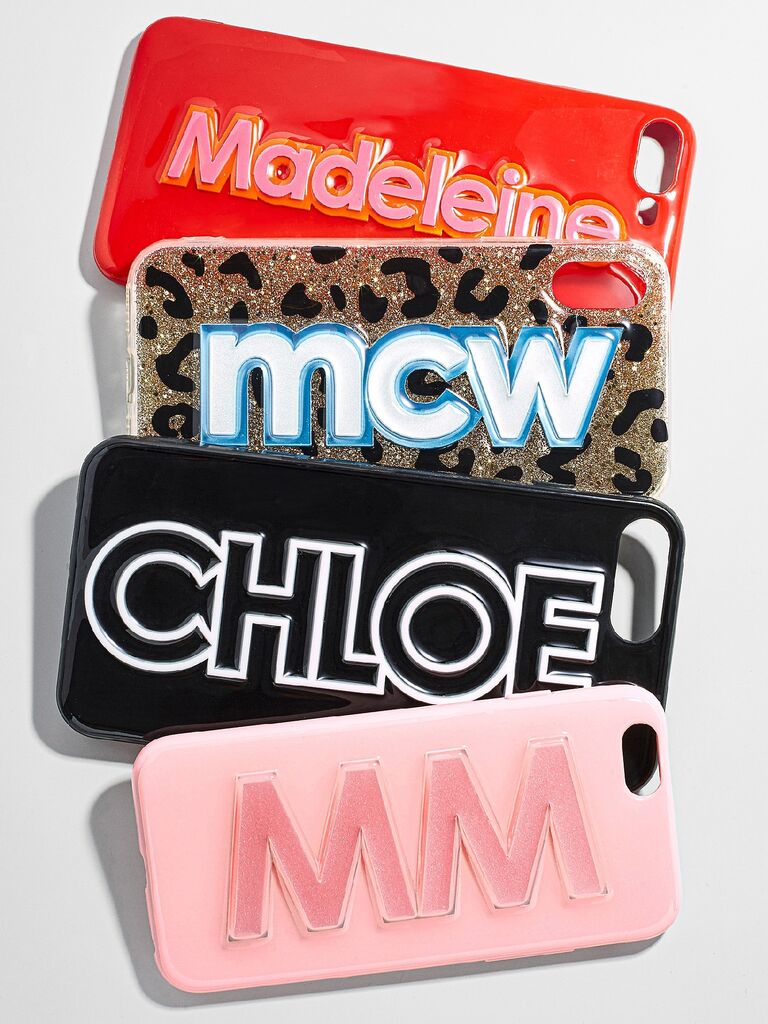 Let's be real, it can be hard to stay on top of the latest teen trends. If you'd rather not risk it, let your junior bridesmaid take the wheel and design their own phone case.
BaubleBar design a phone case gift card, from $78, BaubleBar.com
8. Pretty PJs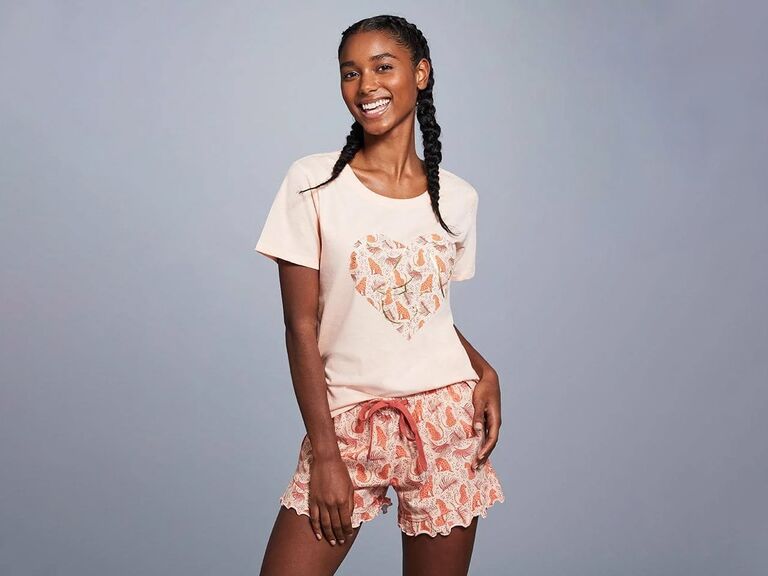 Still searching for the perfect present? Try this cute set of bridesmaid pajamas—they're great for a girls' night in before the big day. Bonus: This awesome brand donates part of its profits to saving the elephants.
Ivory Ella Aileen sleep tee, $35, IvoryElla.com; Ivory Ella Aura ruffle sleep short, $39, IvoryElla.com
9. Monogram Necklace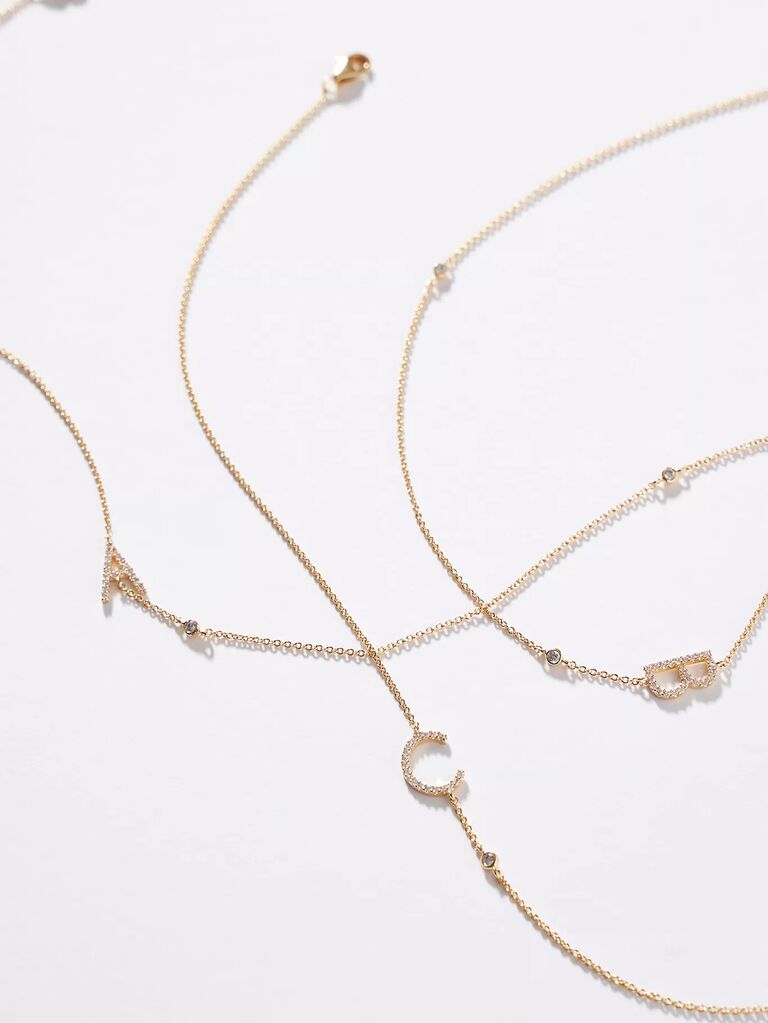 Jewelry is one of those gifts that'll work just as well for junior bridesmaids as the grown-up members of your squad. This gorgeous initial necklace is equal parts elegant and unique.
Anthropologie delicate monogram necklace, $38, Anthropologie.com
10. Velvet Scrunchies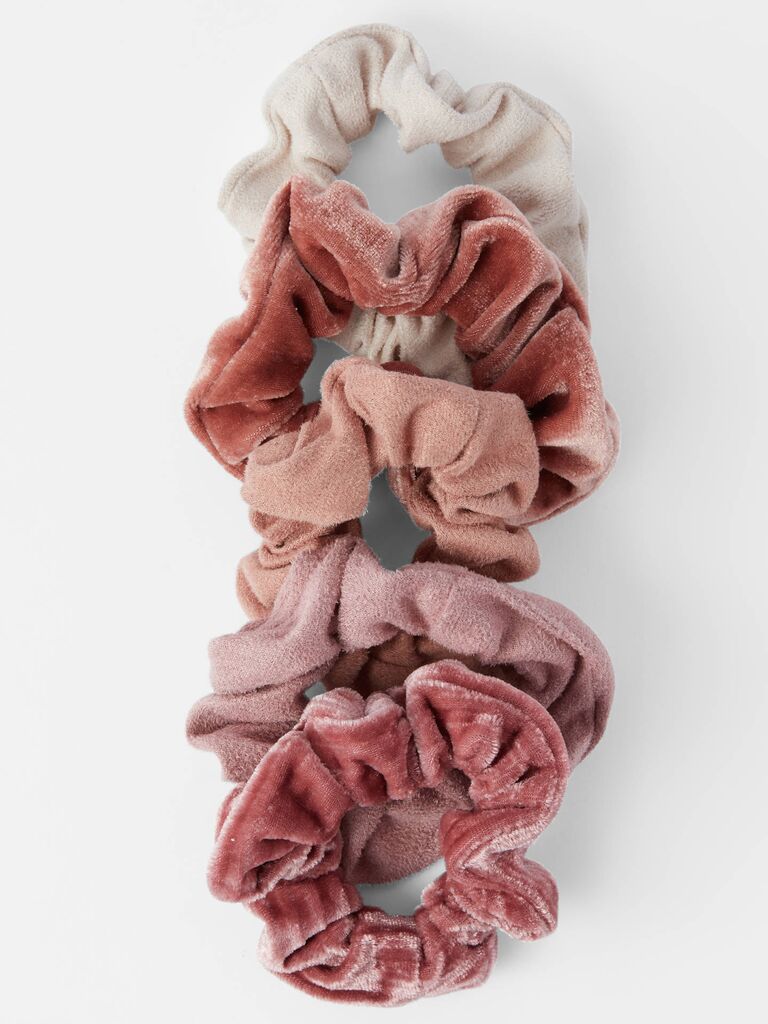 Scrunchies are back, baby. These fun, dusty rose accessories will keep their hair in place without damaging their locks. Look no further for affordable junior bridesmaid gifts.
Kitsch velvet scrunchies in Blush-Mauve, $11, BeautyBay.com
11. Super-Cute Jewelry Case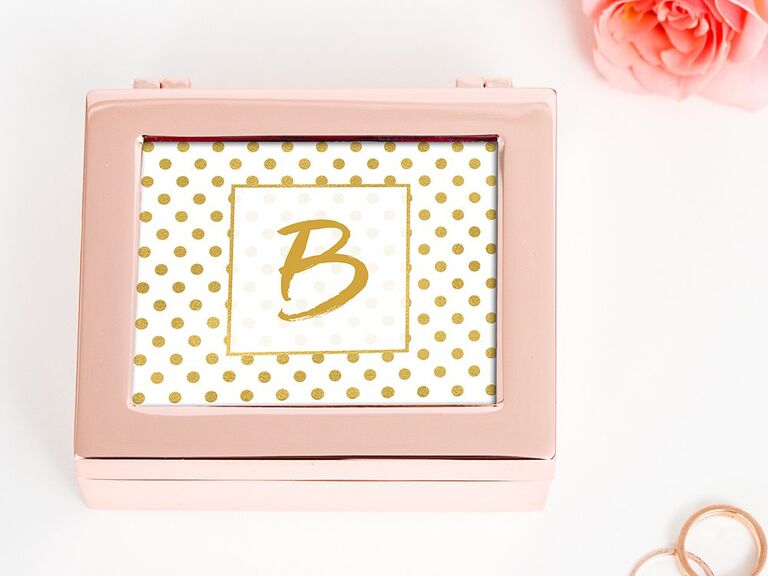 This stylish metal jewelry box is the perfect place for them to store their accessories after the wedding. The colorful polka-dot design makes it a fun junior bridesmaid gift.
The Knot Shop small personalized modern metal jewelry box in Gold Polka-Dot Print, $20, TheKnotShop.com
12. Luxurious Bath Bomb
A bath bomb is a welcome gift for any bridesmaid who wants to relax after the celebrations. You can't go wrong with this cute and colorful version for the younger members of your crew.
Da Bomb Fizzers Fairy Bomb bath fizzer with surprise inside, $8, Etsy.com
13. Junior Bridesmaid Candle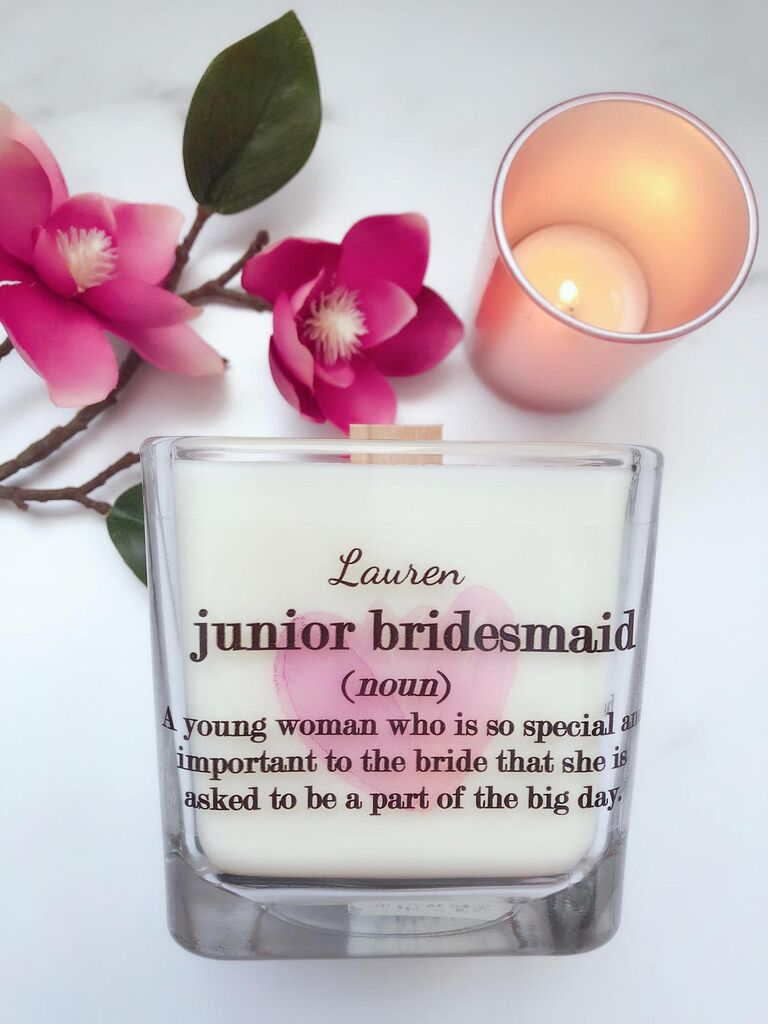 This thoughtful candle comes with a sweet note (and an even sweeter smell). Give it as a solo gift or as part of a junior bridesmaid proposal box. Either way, it's sure to be appreciated.
Vintage Created junior bridesmaid proposal gift candle, $17, Etsy.com
14. Personalized Makeup Bag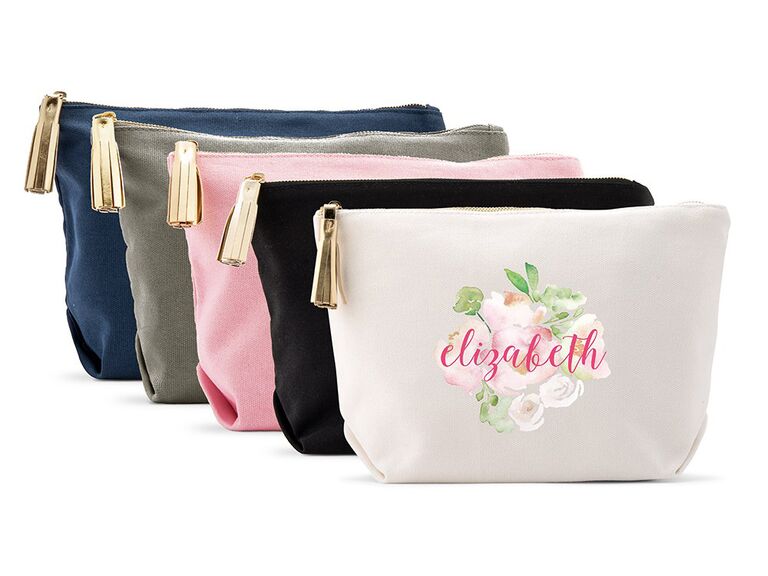 If they've started to gather quite the collection of cosmetics, why not have an adorable makeup bag personalized with their name? You can even fill this cute junior bridesmaid gift with some other goodies (think: candy or lip gloss) for an extra-special present.
The Knot Shop large personalized canvas makeup and toiletry bag, from $15, TheKnotShop.com
15. Unicorn Bridesmaid Proposal Box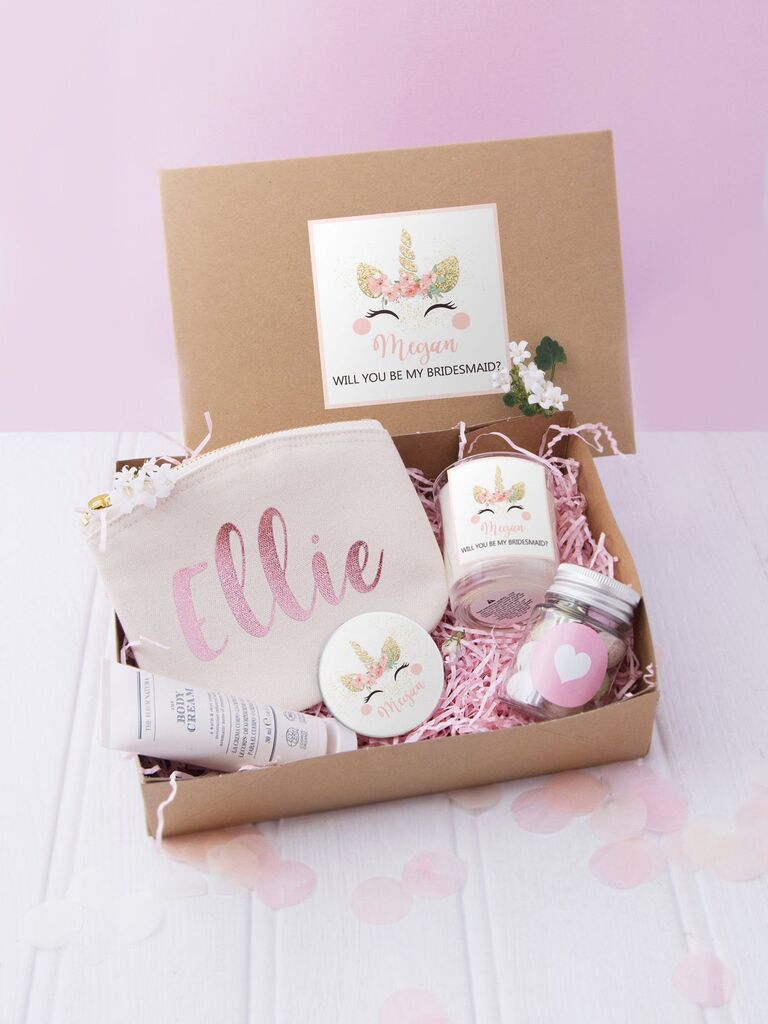 Themed sets make for some of the cutest junior bridesmaid proposal gifts you can give. This unicorn-inspired one is chock full of treats they simply can't say no to. It's filled with a personalized candle, moisturizer, a compact mirror, a makeup bag and candy of your choosing.
Amy Lucy Designs personalized unicorn bridesmaid proposal gift box, $24, Etsy.com
16. Stylish Tumbler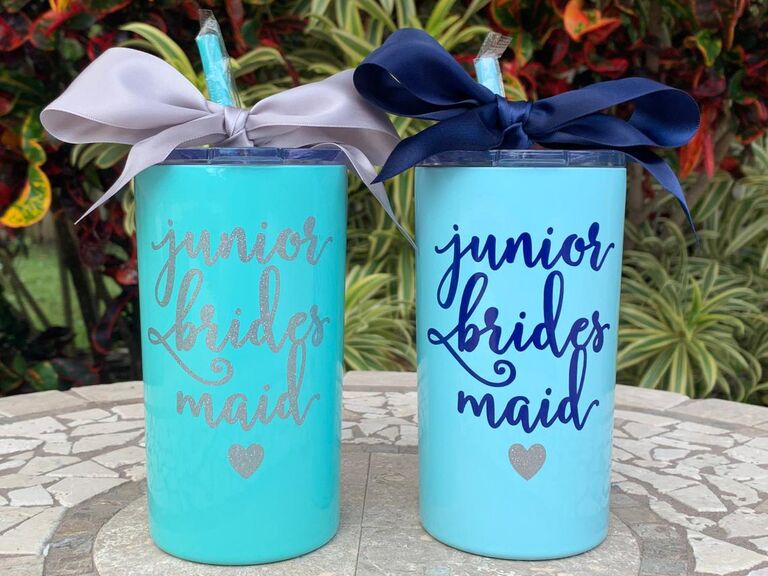 If your goal is to find gifts that your junior bridesmaid can actually use, we've got your back. These stunning stainless steel cups come in a range of gorgeous colors and can be personalized with any name.
Shop Initially Yours personalized junior bridesmaid stainless steel cup, from $19, Etsy.com
17. Celebrity Video Message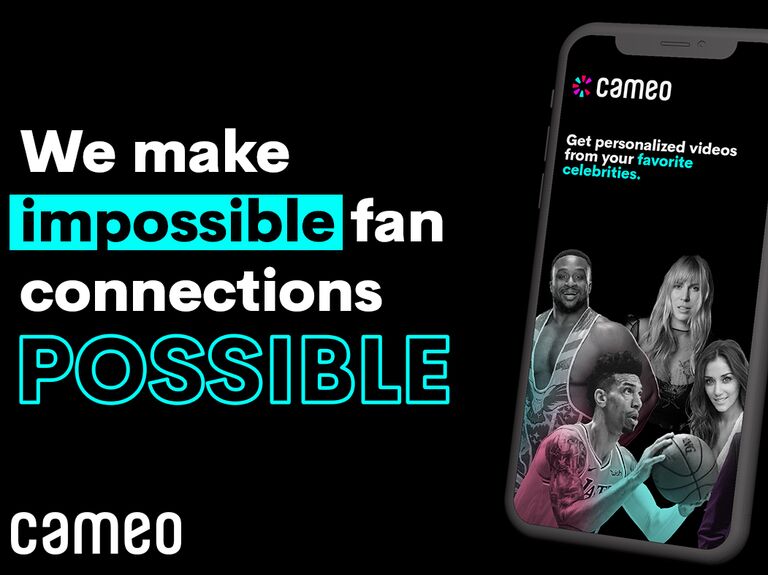 Not sure how to ask your (future) junior bridesmaid to join the team? Have someone else do it for you! But not just anyone—with Cameo, you can pick one of their favorite celebs to deliver the message. From musicians and actors to YouTube and TikTok personalities, there's bound to be someone they love in this star-studded lineup.
Cameo personalized message, rates vary, Cameo.com
18. Tie the Knot Bracelet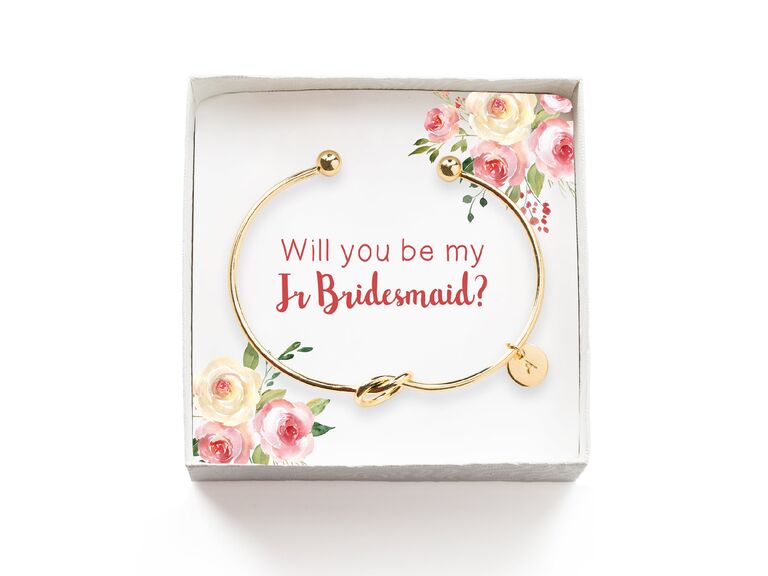 Junior bridesmaid proposal gifts will help make that magical moment feel all the more special. This gorgeous bracelet certainly doesn't look cheap, and the unique knot design is a fitting nod to the occasion.
Vantage Ways Will You Be My Junior Bridesmaid gift, from $10, Etsy.com
19. Colorful AirPods Case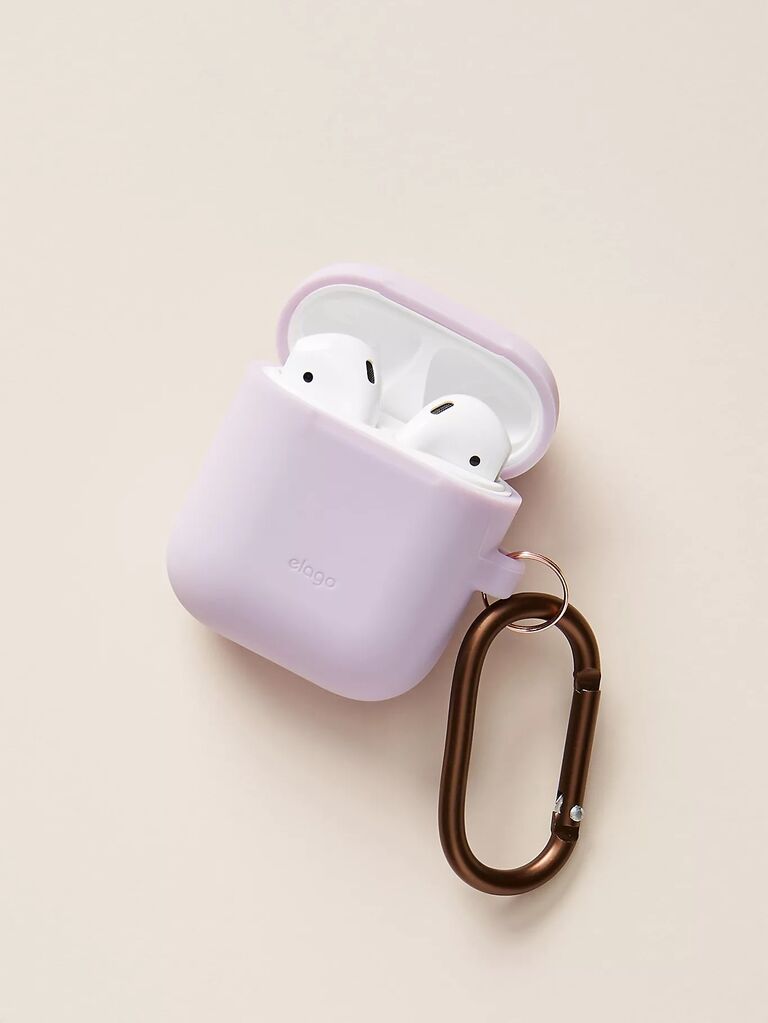 If they're always on top of the latest tech trends, opt for junior bridesmaid gifts that'll complement their gadgets. This pastel-hued keychain case will keep their earphones safe in style.
Elago AirPods hanging case in Moss, Lavender or Peach, $15, Anthropologie.com
20. Iridescent Makeup Brushes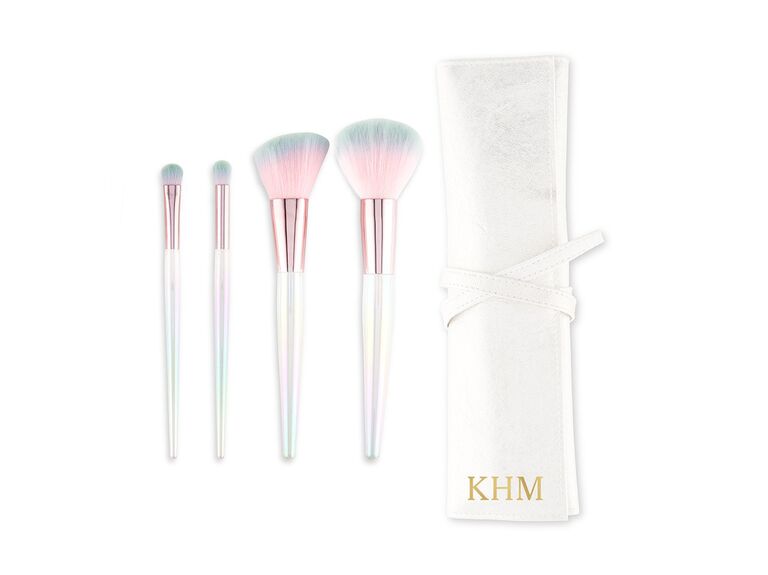 A cute set of makeup brushes is an excellent choice for your teen bridesmaid(s). It's something they'll get plenty of use out of, and the chic monogram case can easily be stowed away.
The Knot Shop personalized makeup brush set & travel pouch in Iridescent Unicorn, $20, TheKnotShop.com
21. Classic Candy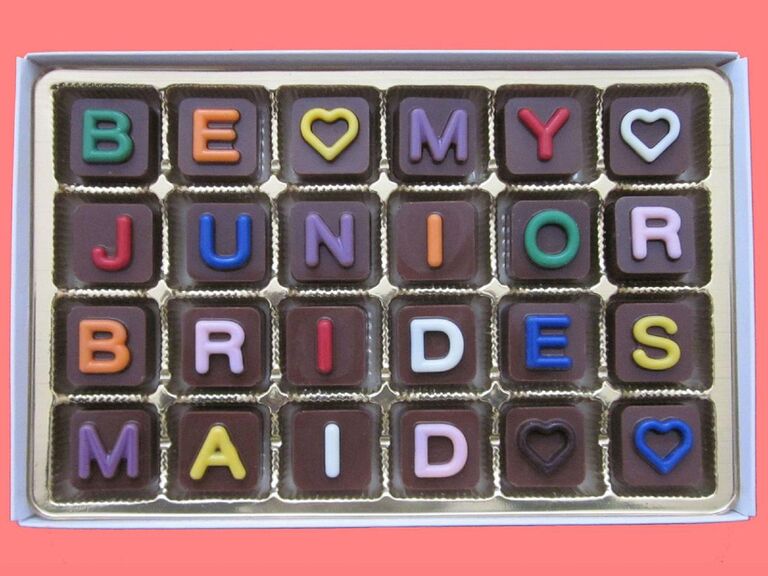 If they've got a sweet tooth, why not pop the question with a box of bright and colorful chocolates? Nothing says "be my junior bridesmaid" like this unique gift (literally!).
What Candy Says junior bridesmaid gifts chocolate box, $56, Etsy.com