24 Junior Bridesmaid Gifts That'll Make Them Feel Special
Here's what to get your younger bridesmaids to thank them for their help on the big day.
We have included third party products to help you navigate and enjoy life's biggest moments. Purchases made through links on this page may earn us a commission.
Tying the knot with a junior bridesmaid by your side? Honor their unique role in your wedding with something extra special. Lucky for you, there are tons of cute junior bridesmaid gifts out there to show them just how much they mean to you. But before you dive headfirst into gift shopping, here's a quick refresher: What is a junior bridesmaid? They're typically a little old for playing flower girl, but too young for a boozy bachelorette.
When it comes to bridesmaid gifts, it's safe to assume that the younger members of your crew will appreciate something different than your college roommates (who are now fully-fledged adults). For instance, your 30-something friends with their own homes might love a set of monogrammed marble coasters—but what's a 16-year-old going to do with it? To help you out, we've made a list of our favorite age-appropriate presents that they'll actually use. Whether you're planning a junior bridesmaid proposal or just want to say thanks, check out these no-fail gift ideas.
In this article:
Junior Bridesmaid Proposal Gifts
Stumped on junior bridesmaid proposal ideas? She'll definitely say "yes" to one of these cute presents—or "yes, yes, yes!" if you pair a few items together for a proposal box.
Junior Bridesmaid T-Shirt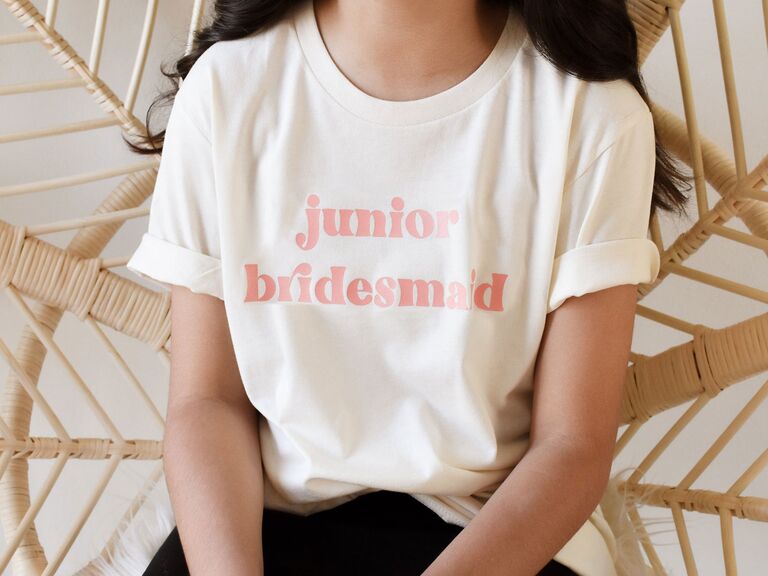 Commemorate their part in your special day with a cute T-shirt that reads: "junior bridesmaid." It has a sand color background with pink writing and comes in an XS-XXL. (Pro tip: The trend for teens is to have it fit oversized, so size up.)
Team Bride Candle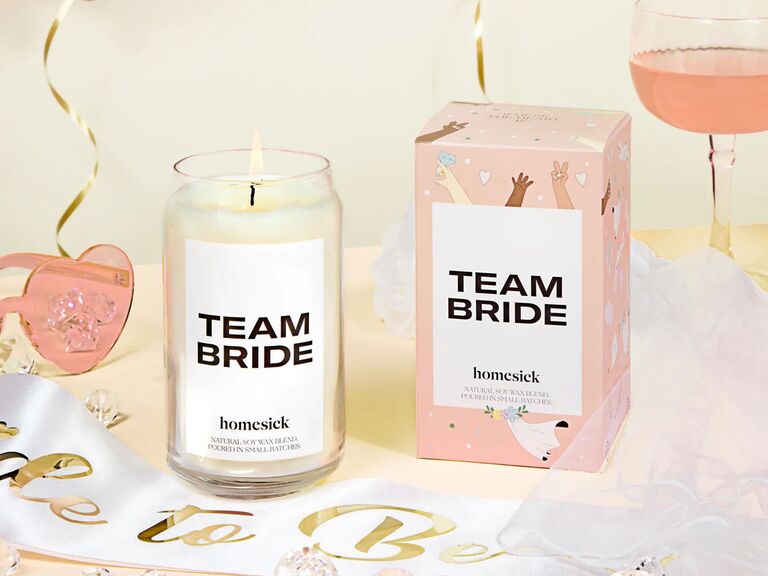 Let them know they're on your team with this scented candle. It will fill their room with the aroma of clean linen and fresh marine with a hit of orange blossom. Just make sure they're old enough to understand fire safety if you choose this junior bridesmaid gift. You can also personalize it with a note for an extra-special touch.
Bridesmaid Beaded Bracelet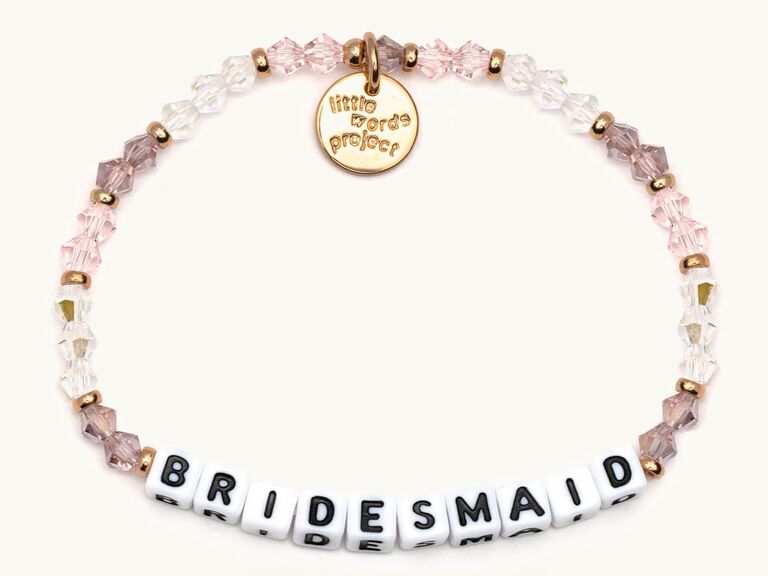 While officially she may be a junior bridesmaid, you can shorten the title for some of her swag. This sweet beaded bracelet flaunts mauve, blush and clear beads alongside alphabet beads that spell "bridesmaid." Once presented with this accessory, she'll know exactly what you're asking.
"Will You Be My Junior Bridesmaid" Puzzle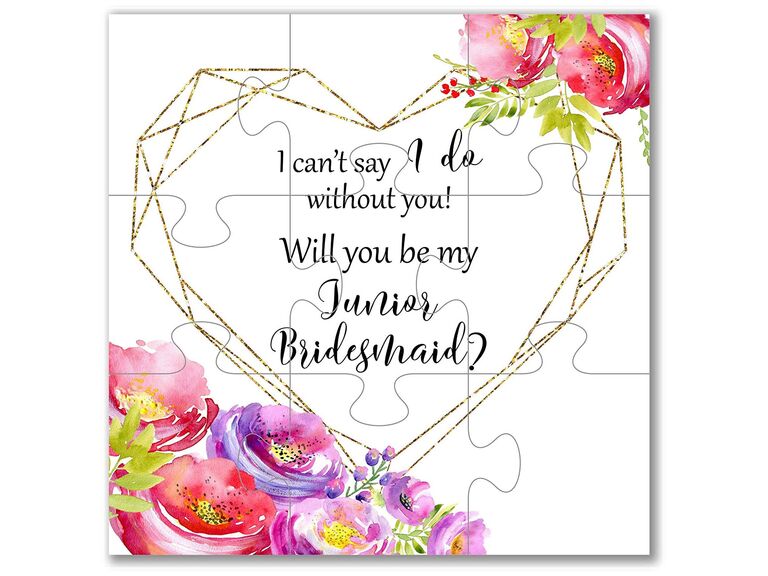 Turn your junior bridesmaid proposal into a little game. Once put together, this puzzle reads: "I can't say 'I do' without you! Will you be my junior bridesmaid?" Best of all, it's super affordable in case you're on a budget or want to get her more than one gift.
Junior Bridesmaid Proposal Box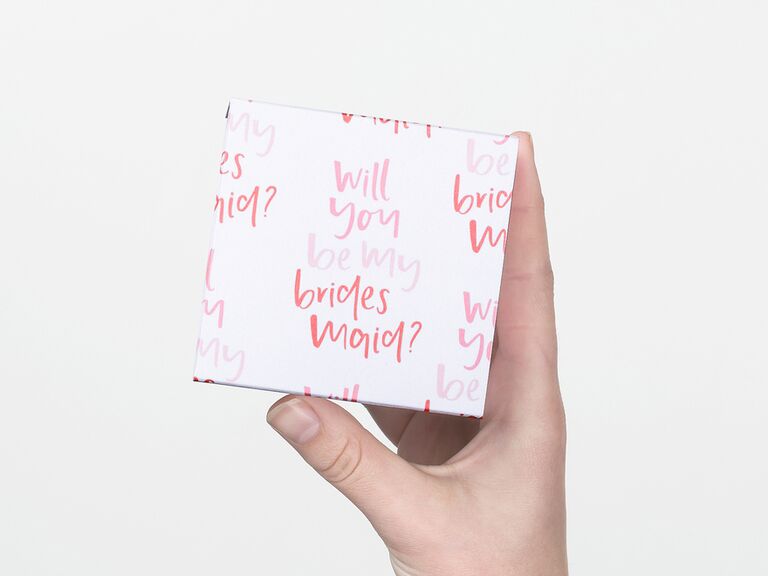 Plan a simple, yet memorable junior bridesmaid proposal with Greetabl. You can create your very own mini gift box that unfolds to reveal a heartfelt note, adorable photos and a pocket-sized gift. Choose between sweet treats, stickers, bath products and more.
Gold and Sage Proposal Box
Wedding party proposal boxes are a fun way to spoil your crew and make them excited for your upcoming nuptials. Give your junior bridesmaid this pre-filled box with a chic glass tumbler personalized with her name in calligraphy as well as a scrunchie and artificial rose.
Personalized Canvas Tote Bag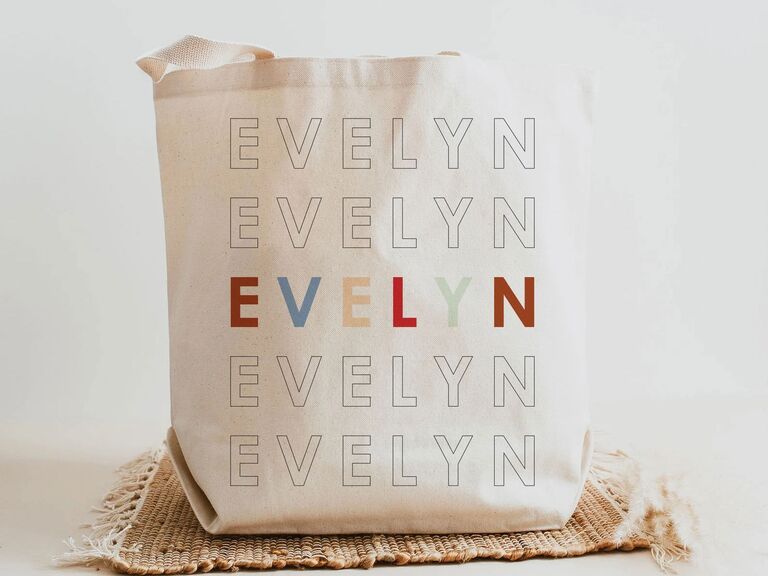 Trend alert: Canvas tote bags are in! If you're looking to build your own junior bridesmaid proposal gift bag, this is the perfect base. Her name is written in repeating block letters across the front, with the center text boasting fun colors. She'll definitely use it for pool or park days with friends, to carry her school or sports supplies and—of course—to carry her cosmetics, jewelry and formal shoes to the wedding.
Heart-Shaped Sunglasses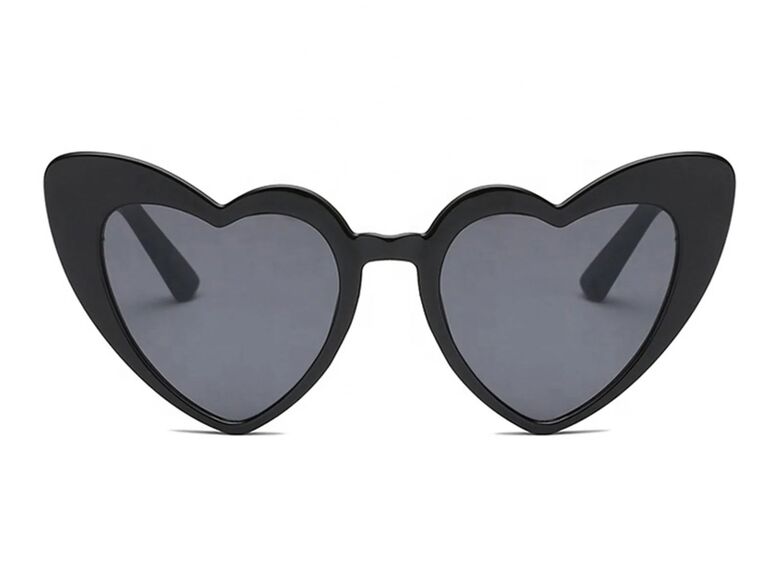 No proposal box is complete without a fun pair of sunnies—especially your junior bridesmaid's. These heart-shaped sunglasses come in six different colors, but we personally think she'll wear the black the most often. Especially since a retro style is super popular right now.
Floral Drink Tumblers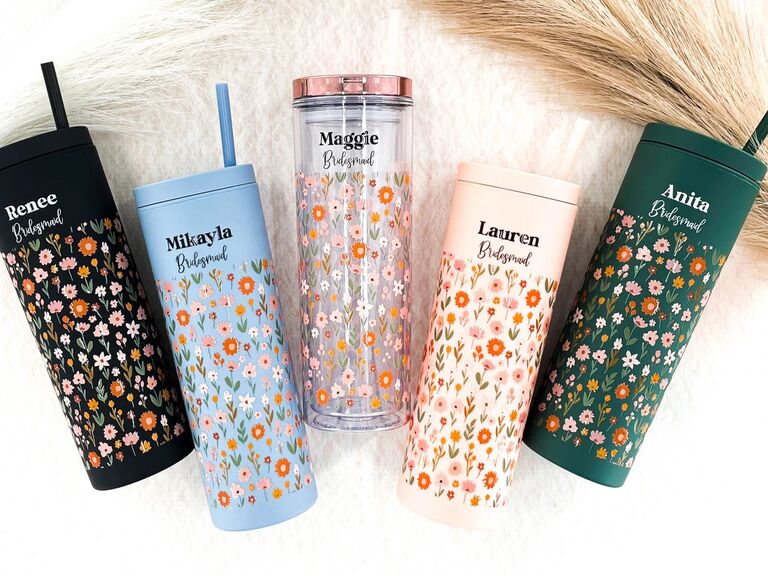 Chances are, if they are serving as a junior bridesmaid, they're not legally old enough to drink, so personalized wine glasses aren't a useful gift idea. Instead, give them these unbelievably adorable water bottles. The skinny tumbler features a push-on lid and matching straw—both decorated with fun wildflowers, the recipient's name and their wedding title. They'll know exactly which drink is theirs when they're with the crew helping to plan the shower, running wedding errands or getting ready on the big day.
Personalized Phone Case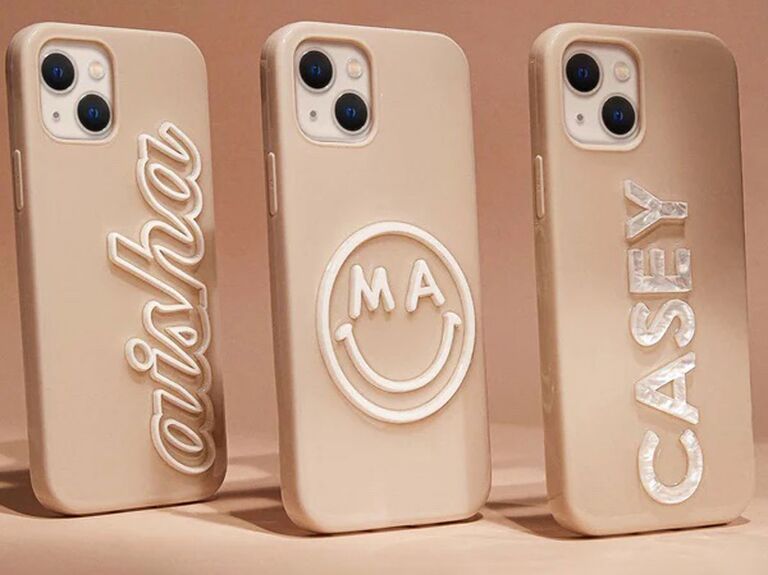 Write a note to your junior bridesmaid letting her know she can text or call you with any questions about her new role. Then pair it with an ultra-chic phone case personalized with her name or initials. The customization literally pops off the surface!
Yearly Planner
If your junior bridesmaid is in grade school, a yearly planner to track her homework and extracurriculars is a really handy gift. Start her calendar for her by writing in your wedding date for a creative way to propose. For an extra sweet touch, pair it with colorful pens or highlighters.
Enchanted Rose Light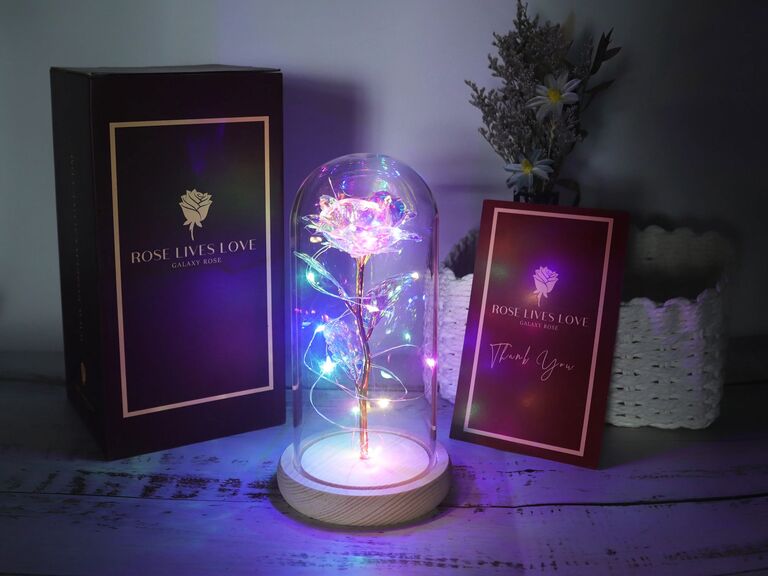 Ask your junior bridesmaid to be part of your fairytale with this enchanted lamp. Inspired by "Beauty and the Beast," this iridescent rose that's encased in a glass dome will make her decor dreams come true. The fairy lights add a magical finishing touch any Disney lover would appreciate.
Junior Bridesmaid Thank-You Gifts
Show your junior bridesmaid how much you appreciate her support with one of these thank-you gift ideas on or shortly after the wedding day.
Embroidered Waffle Robe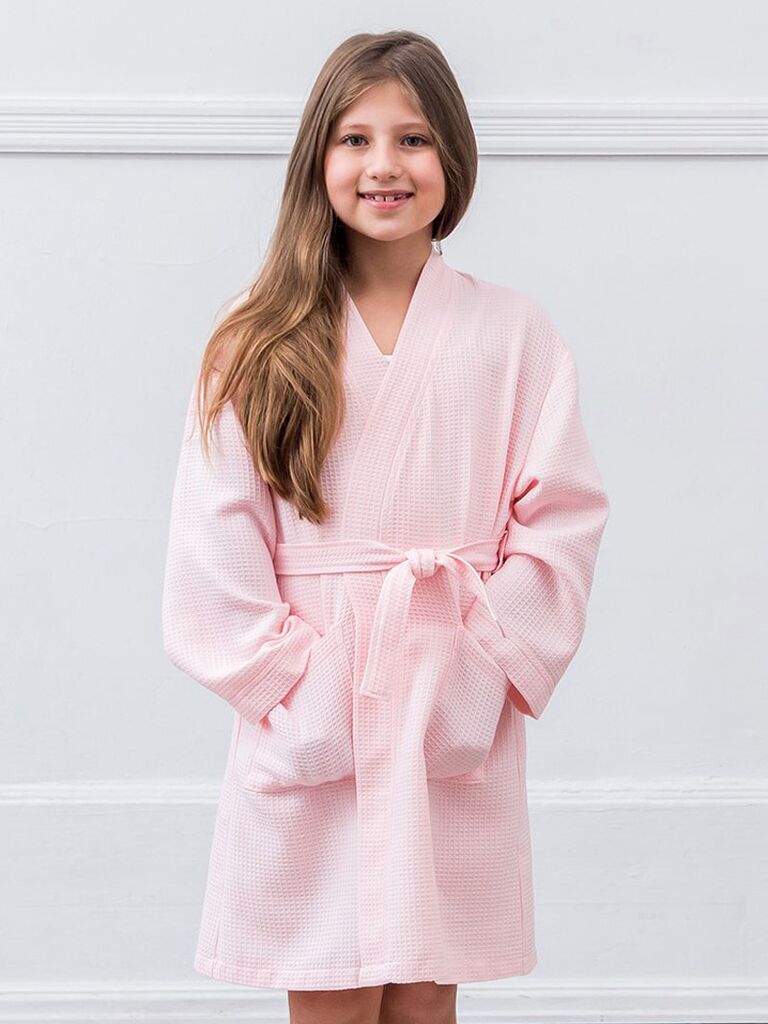 Your young bridesmaid(s) want special getting-ready outfits too! Shop junior sizes in luxe robes like this cotton blend waffle robe to dress up all of your attendants. It also comes in matching adult sizes from S-XL, plus size options from 1X-4X and kid's sizes. Best of all, it can be embroidered with your choice of thread and each receipt's name, initials or wedding role.
Geometric Dopp Kit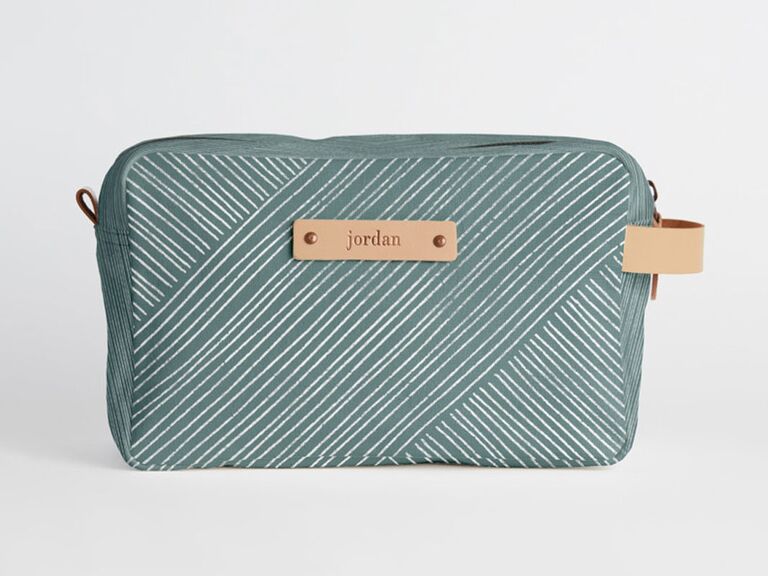 We love the idea of surprising your junior bridesmaid with her own vanity counter in the getting-ready suite. Start with this cute, geometric patterned dopp kit with a custom foil-pressed leather name tag. It's made from 100% durable cotton with a water-repellent liner, so it'll stand-up against any spills.
Rose Gold Compact Mirror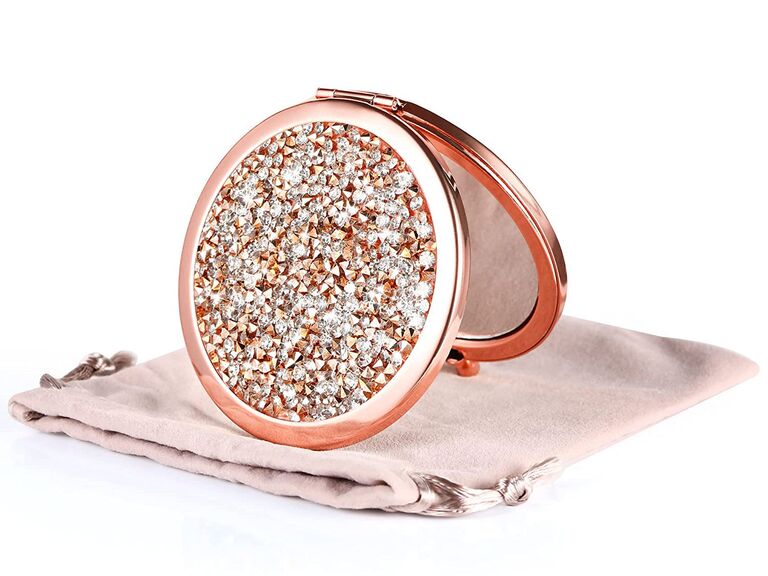 Gift her a compact mirror so she can check her hair and makeup on the go—like between dinner and the dance floor. This one is all about the glam. It's rose gold-hued with a bedazzled lid and comes with a soft storage bag. She'll definitely carry it with her all the time.
Iridescent Makeup Brushes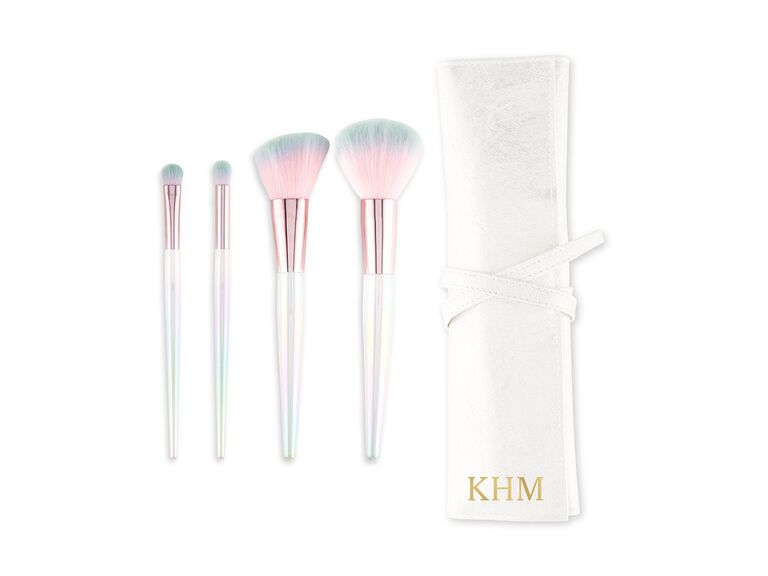 A cute set of makeup brushes is an excellent choice for your teen bridesmaid(s)—especially if they don't have their own set (or have never cleaned their set). This set has a powder brush, blush brush and two eyeshadow brushes with magical-looking iridescent handles. They all come packed in a chic, synthetic fiber case with their monogram.
Monogram Necklace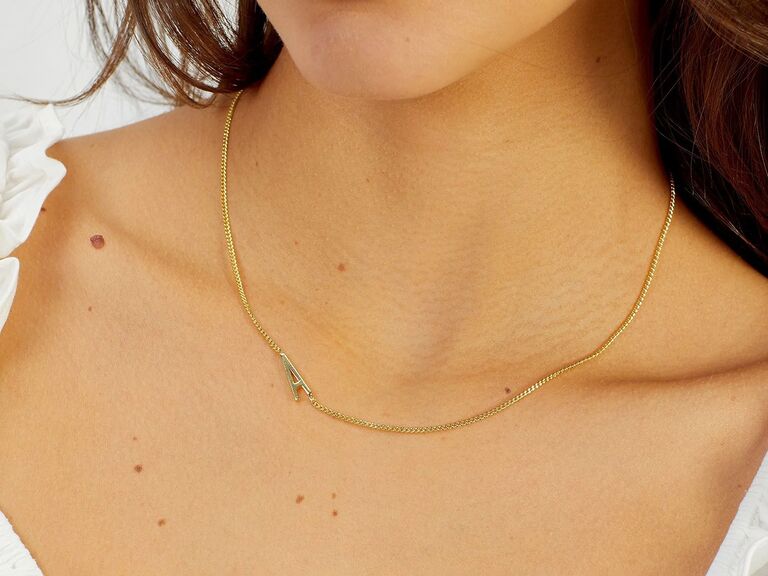 Jewelry is one of those gifts that'll work just as well for junior bridesmaids as it will for the grown-up members of your crew. This dainty initial necklace is made from 18K gold-plated brass and has an adjustable chain length for effortless layering. It's equal parts timeless and trendy—the perfect aesthetic for a teenager. Gift it to her on the wedding day so she has a nice new bauble to wear.
Glass Jewelry Case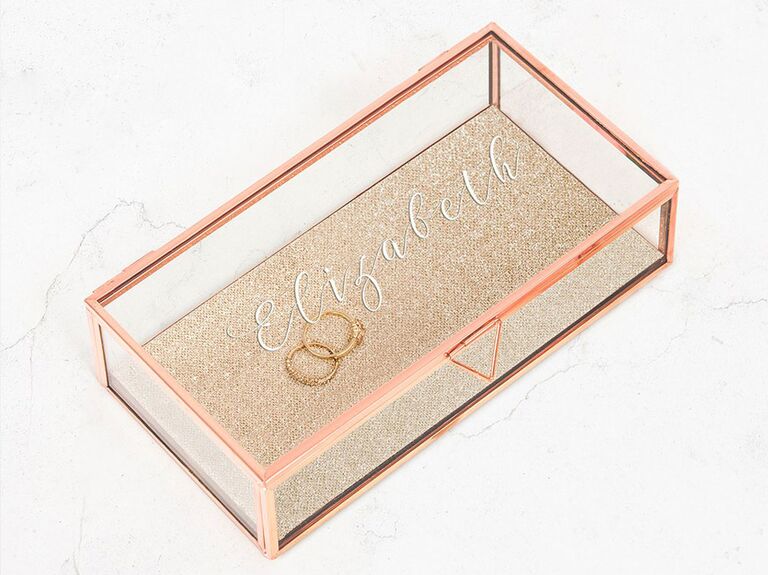 This stylish glass jewelry box with rose gold-hued edges is the perfect place for your junior bridesmaid to display their growing accessory collection. Their name is also printed in beautiful calligraphy on the top. They'll definitely want to leave this piece out on their dresser.
Bath Bomb Gift Set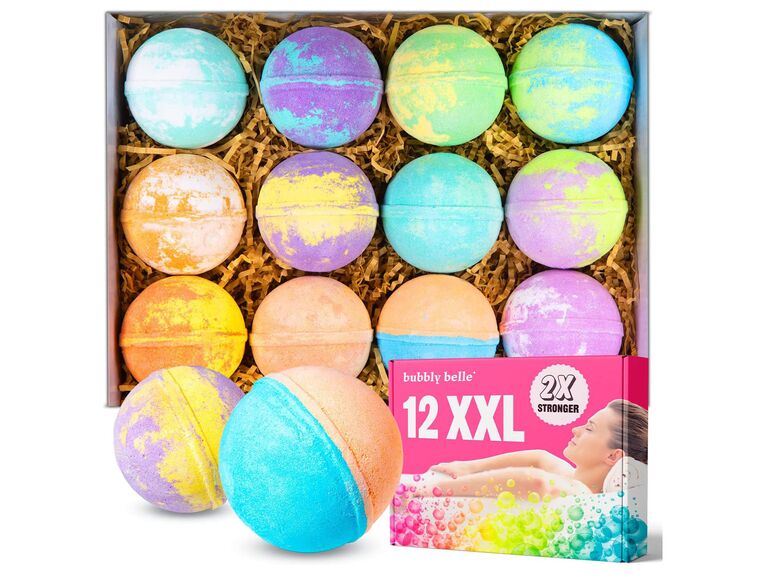 Everyone in your party will appreciate a little R&R time after the wedding—even your junior bridesmaid who seems to never run out of energy. Gift her a set of 12 extra-large bath bombs infused with essential oils for some fun self-care. She'll have the most luxurious spa night, thanks to you.
Matching Pajama Set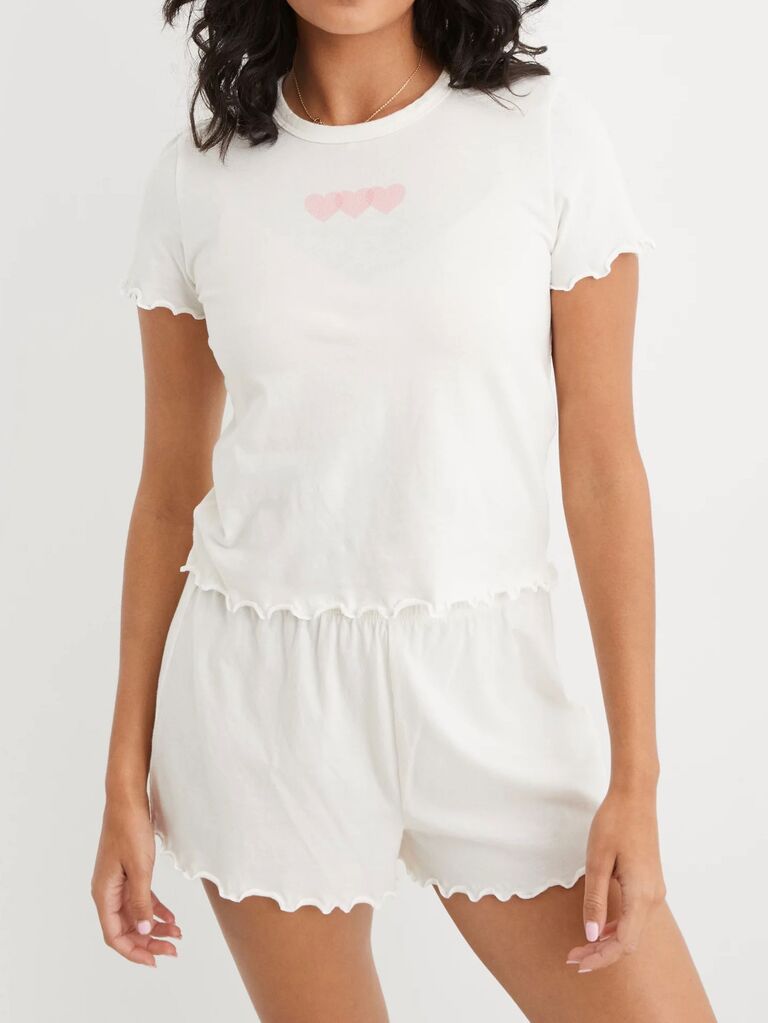 How about a matching sleep set for a great junior bridesmaid gift? These adorable pajamas come in blush pink or white and have ruffled hems along the shorts and T-shirt. She'll be the best dressed at all of her future sleepovers.
Personalized Wooden Hanger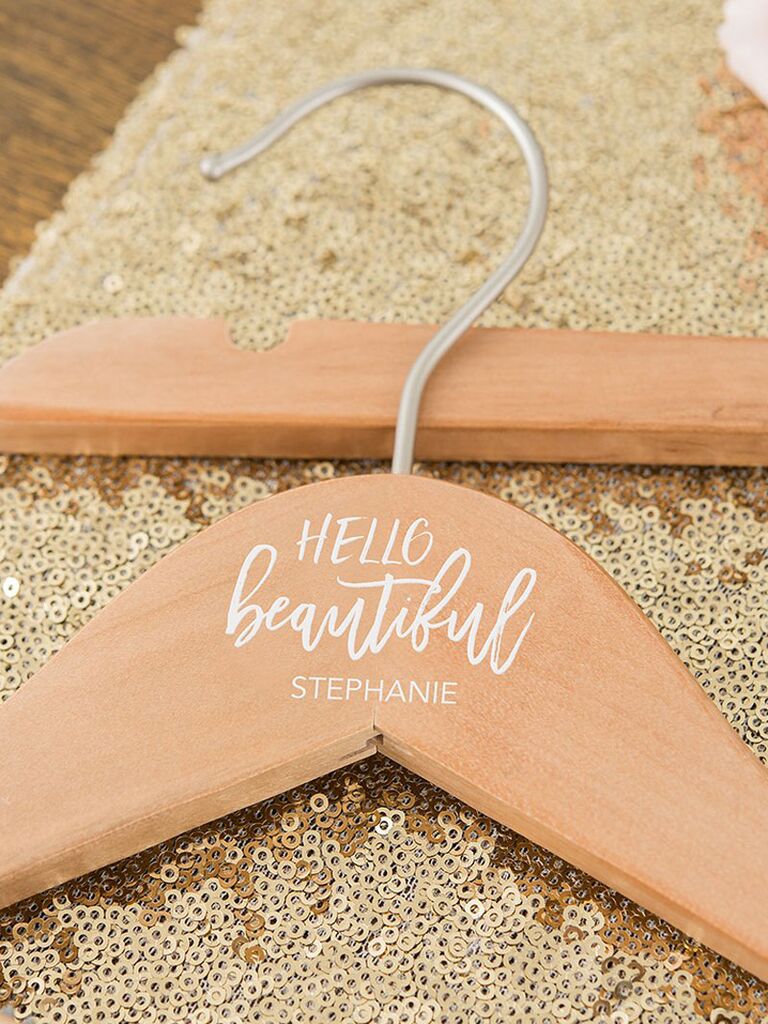 Everyone needs a place to hang their formalwear while getting ready. Give your junior bridesmaid this personalized wooden hanger that says, "Hello beautiful." She really does look stunning.
Unicorn Squishmallow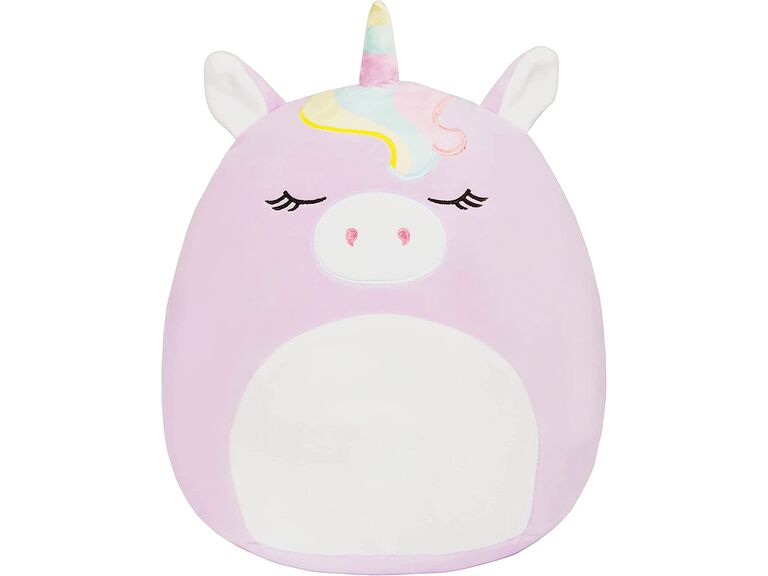 No matter how old your junior bridesmaid is, she's definitely heard about Squshimallows. They're basically Beanie Babies for the new generation and kids and teens alike love to collect—and cuddle—them. There are dozens (and dozens) of different animals, film characters and even food Squishmallows to choose from, so you should be able to find one they don't have yet. We personally love this unicorn!
Instant Camera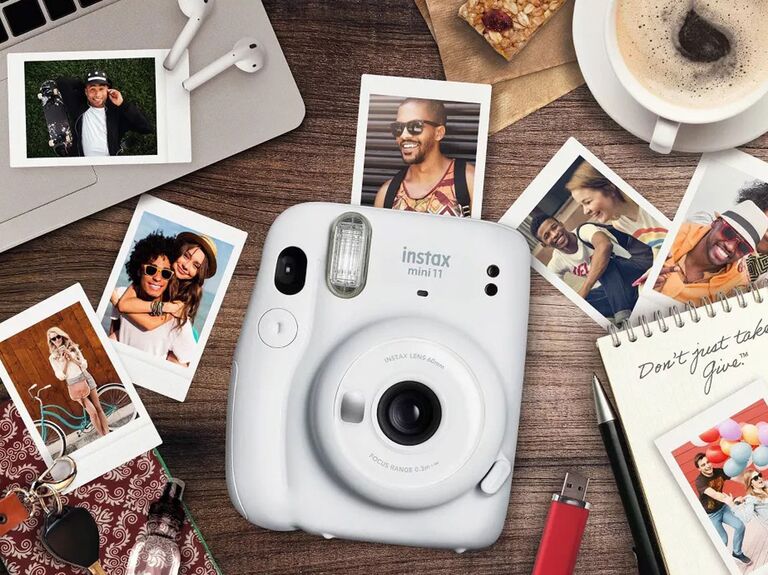 She's going to want to remember this day! Tell her thanks for all the memories so far with this trendy instant camera. She can snap photos of fun moments at the wedding to have immediate keepsakes of the special day. Just don't forget to give her some film!
Stud and Hoop Earrings Gift Set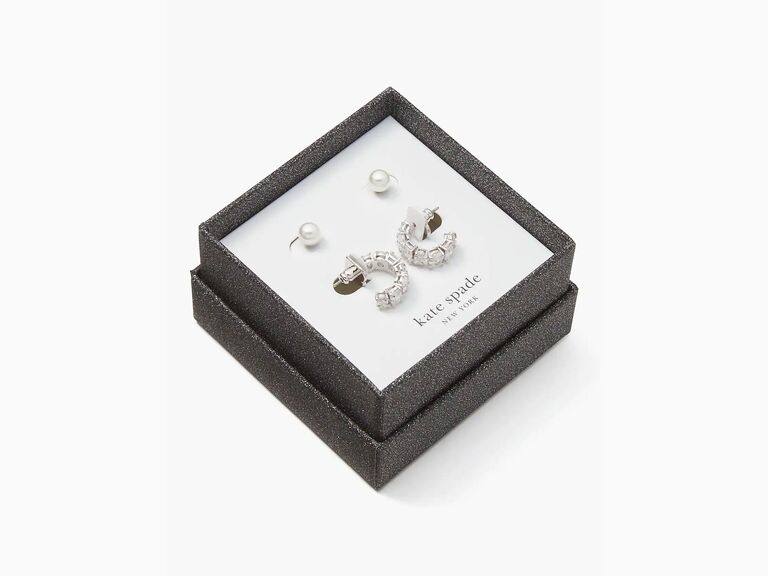 Does she have her ears pierced? Gift her a new pair of studs or hoops—or both! This earring gift set from Kate Spade lets her swap classic glass pearl stud earrings with silver cubic zirconia-embellished huggies depending on her style that day. (They also look great together, if she has double piercings.) Best of all, this set is fittingly titled: You're A Gem. And she really is one for serving such an important role in your wedding.