I Said Yes to the Wrong Dress. Now What?
I got pressured into buying the wrong wedding dress. Here's exactly how I handled it.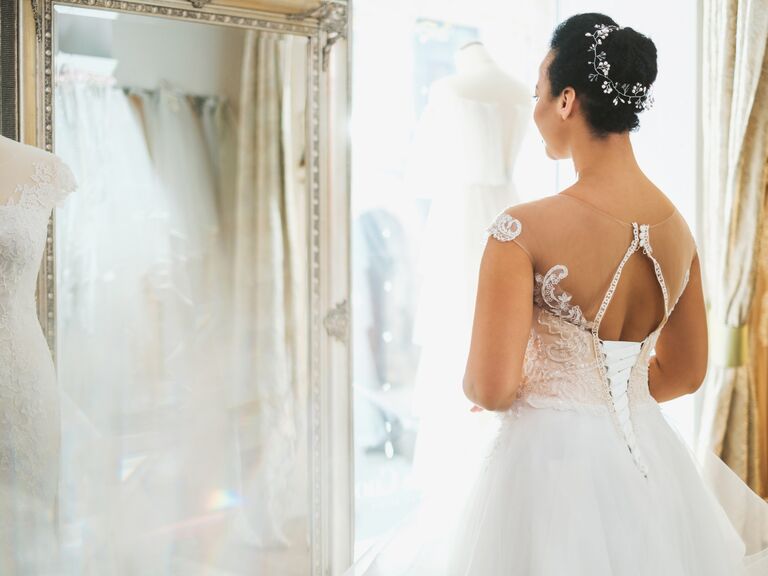 Shutterstock
I'm not an impulse shopper and never have been. So the idea of trying on three dresses and suddenly feeling so overcome with emotion that I wanted to hand over my credit card, for thousands of dollars, on a nonrefundable purchase wasn't my style and never would be. I knew that walking into the bridal salon for an appointment with my mom, future mother-in-law, and bridesmaid, and yet it still happened: I realized that I hated my wedding dress, and regretted my decision.
It wasn't mine or my entourage's fault that this happened — it was the perfect storm. I was worn down from a weekend of dress shopping at different salons where they went hard on trying to get you to commit after a 60-90 minute appointment. (My now fiancé and I dated for almost five years before getting engaged, I'm not a fast committer — I needed time to date my dress instead of feeling rushed into it!). I also spent these appointments surrounded by other brides melting into pools of tears as soon as they tried something on and gushing about getting that "instant feeling." My eyes were still bone dry as I examined the different gowns and did cost analyses, which left me secretly wondering if there's something wrong with me. 
So when I walked into that last appointment on the special weekend my mom planned, I was mentally exhausted. The consultant was lovely at the start and since I knew the exact silhouette and general style I was looking for, she quickly went to pull gowns. At first it felt like a repeat of the other appointments, nothing great while prancing out among other brides joyfully screaming that they found the one. But then the cheerful consultant pulled another dress that technically checked the right boxes. Plus, even though my head had one budget, my gut had a lower number in mind (I was trying to stay practical since we were paying for the wedding ourselves and it wasn't easy!). The price point of this particular gown made it increasingly attractive. 
I was smiling when I came out and my loved ones immediately saw this and started gushing. But my plan hadn't changed, this was a pretty gown and I would wait to see if I still felt the same way in the morning. But then the consultant started with veils, giving me a sign to hold proclaiming I decided on my dress, and talking about paperwork. I asked if I could wait and come back or call to place the order over the phone and her demeanor instantly changed. 
She cooly said, "Think of the moment with your mom here from out of town and your future-mother-in-law so happy, you'll never get that back if you wait. Plus, when your fiancé proposed, did you ruin the moment by asking to wait and think about it? Or did you just enjoy the moment."
This swiftly shut me down. I decided to go with it because I didn't want to upset anyone or "ruin" anything, even though my body was internally screaming as I signed the dotted line. I even remember pausing halfway through my signature, wondering why I was doing it when I just wanted to wait. But by the time I walked out of the salon, that doubt had turned into full panic and I turned to my bridesmaid in the parking lot to let out the truth: I just made a major, nonrefundable mistake—I hated my wedding dress. So what could I do? 
Act fast. 
I immediately knew I needed to try and get out of the elaborate contract I just signed. Instead of the joy I should've been feeling, I was filled with complete regret and disgust with myself for letting myself feel pressured by that stranger. I was the last appointment that night so the door was locked behind us and the salon was closed the next day. But that didn't stop my lovely bridesmaid from not wasting any time and getting to work. As I drove home, she sent a lengthy email explaining what had just happened so it was time-stamped minutes after the appointment. She was also on the phone as soon as the store reopened asking about options and if the contract had even been processed yet. 
Don't panic.
While waiting to hear back, I was a ball of anxiety and feeling terrible instead of enjoying what should be a happy time. I was afraid that if I admitted to my mom and mother-in-law how much I hated the dress, it would make them feel bad or like they pressured me into it -- which they did not at all and I didn't want that on them. Looking back at the photos taken during the signing hoopla, I'm smiling but my eyes are sheer panic. But I also had to remember that the dress wasn't terrible — or else I would've never gotten this far with it. Part of why I had this pit in my stomach was the fact that I felt forced into it by signing that night and didn't have a choice anymore to think about it. That wasn't the gown's fault. I also had to remember that this salon is in the business of making brides happy so hopefully they would have a heart, especially since nothing had been ordered yet and they weren't being put out at all.
Know your options. 
It was 36 hours between when I walked out of the salon and when they reopened and that wait felt like an eternity. But I used that time to research what my options were, what other brides in this situation had done, and to contact my credit card about what insurance/protection options I had. I also researched websites to possibly sell the gown if I wasn't able to get out of it. Being educated on the different options helped me stay calm and feel a bit less trapped (and therefore hateful of this gown) while I waited to find out what the salon would say.
Is it regret or something stronger?
After sharing with bridesmaids and friends what was going on and how upset I was, I repeatedly heard how "dress regret" is normal, which I know. But that's not what was going on here. This wasn't an out of sight, out of mind problem that was being fueled by endless Instagram posts of other gowns. I wasn't going to feel better when I was finally reunited again and remember why I fell in love with the gown in the first place. That's because I never did — and I knew that from the beginning. Knowing that I wasn't going through the "common" dress regret and actually did in fact pick the wrong gown, helped me to stay strong and act fast instead of wavering or trying to wait it out in case I "changed my mind" again.
Look at the big picture. 
With all of this gown anxiety, I had to keep in mind exactly what it was: just a dress. If they wouldn't refund the dress or give me a credit, and I couldn't sell it, it wasn't the end of the world. I'd still be lucky enough to be walking down the aisle to the man of my dreams, in a (questionably) lovely wedding gown, which is something I couldn't take for granted. No matter how things ended up, there are bigger things to worry about in life than this and I couldn't let it eat me up. 
Trust your gut—after a break. 
I was lucky in my situation that the bridal salon was willing to somewhat work with me and gave me a credit that could be used towards a different gown. Although I never wanted to walk back in there again or see that consultant, at least I had what felt like control again over what I was going to wear on my wedding day. Instead of jumping back into the dress hunt, I gave myself time. And when I finally did start again, I let my gut lead and was clear from the start of the appointment: "Please don't ask me to say yes at any point today, I will not be. Even if I'm swept off of my feet, I want to be able to sleep on it." Starting with that clear directive took what felt like the pressure and expectations off me and with time, I was able to find a different dress that my gut loves just as much as I do.