Wedding Veil Dos and Don'ts
Here are some fashion-conscious dos and don'ts for choosing your headpiece.
by Hollee Actman Becker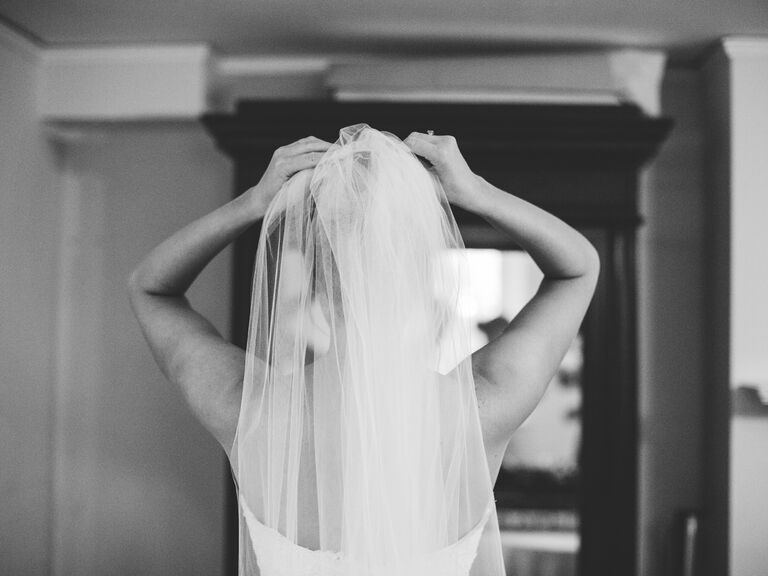 Ask any of your married friends about the moment they first felt like a bride, and they'll tell you it was the moment they put on their veil. There's just something about a wispy piece of white fabric that completes the transformation from your daily persona to…The Bride.
The ideal veil depends largely on the style of wedding gown you choose, as well as your face shape and personality. Feeling royal? Opt for a cathedral-length stunner like a princess. Want something more hip and modern? Go short. Something with a period feel? Try a caged veil. Whatever style you choose, consider the following pointers before making your final decision:
Veiled Threat

First and foremost, ask yourself if a veil is appropriate for your wedding. Strict etiquette mavens consider veils inappropriate for second-time or pregnant brides, though today's more modern remarriage types sometimes opt for subdued elbow-length veils and flyaways. Only you can decide what feels right.
Doodas
Any ornamentation on your veil should start below where your dress ornamentation ends, so the two don't compete with each other.
The Bedazzler

Crystals reflect light and often photograph better than rhinestones, which can look like black dots in snapshots.
Rethink the Ribbon

Though it may look cleaner than unfinished tulle, depending on its length, a ribbon around the edge of your veil could create a horizontal line across your middle, making you appear shorter.
Dyeing Don'ts

Don't try to dye an antique veil. Its appeal lies in its uniqueness; it doesn't have to match your dress exactly.
Matching Ideas

Likewise, any embellishments on a new veil -- pearls, crystals, sequins -- don't need to match those on your dress. They should complement each other, however.
You May Now...

Are you going to wear a blusher (a veil that covers your face) during your ceremony? Make sure it's long enough to flip up and over your head for the all-important kiss-the-bride moment.
Rear View

Don't forget to check your look from behind. If showing off the back of your gown is important to you, you may want to opt for a very sheer veil of just one or two layers of tulle.
Letting Loose

If you plan to remove your veil after the ceremony, have it attached to your headpiece with fabric hook and loop closures for easy on-and-off. Keep in mind, though, that if you remove your veil before the reception, it won't appear in pictures of the cake cutting, first dance, etc. Many brides wait until after the first dance.
Room to Move

If you choose to keep your veil on for the entire wedding and it's cathedral length, you may want to try a multi-layered version with a fingertip-length top layer, which can be worn on its own during the reception.
Unveiling
And finally, ask yourself this: Do you really want to wear a veil at all? Though steeped in tradition, etiquette-wise, a veil is not a prerequisite (though you should check with your officiant about any religious head-covering requirements). Sparkling tiaras, glittery barrettes, fresh flowers, and hairpins are just a few of today's more modern options.
One final note: Don't forget to be true to the bride inside. To veil or not to veil is a personal choice, but one you should make intelligently and carefully. Remember -- wearing one is (hopefully) something you'll never have the chance to do again.