'Little People, Big World's Audrey Roloff: How I Planned My Wedding With Jeremy Roloff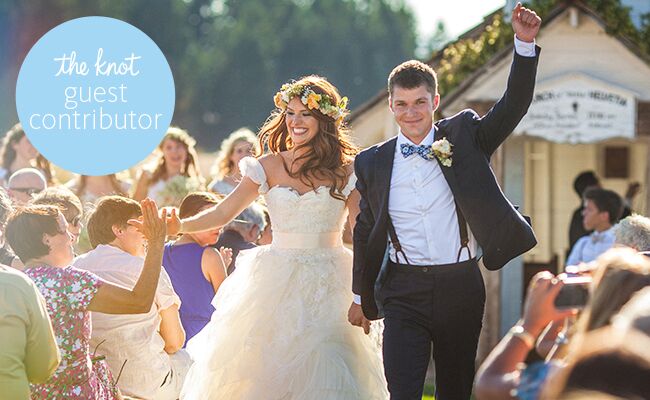 By Audrey Roloff for The Knot
On September 20 at Roloff Farms in Helvetia, Oregon, two souls became one. Audrey Mirabella Botti married Jeremy James Roloff. At precisely 4:42 p.m., we were announced Mr. and Mrs. Jeremy and Audrey Roloff! Prior to this day, Jeremy and I had known each other for five years, dated for three years in a long distance relationship and were engaged for five-and-a-half months.
We planned our wedding while living in different states, but it turned out to be everything we ever dreamed that it would be — and more. It was a warm summer day full of flower fields, flower crowns, vintage style, floral, copper and lace accents, quilts, food, drinks, frolicking, dancing, laughing, embracing, communing, toasting, storytelling, rejoicing, sparkling, cheering and most importantly, LOVE.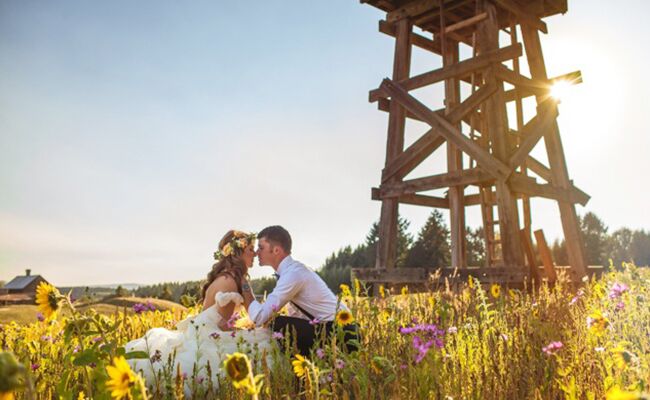 My bridesmaid dresses where designed by Lauren Graebner, my college roommate. She has her own company called Eva's by Reclamation and makes adorable dresses out of recycled fabrics. For my wedding, she custom-designed a dozen different vintage floral dresses for all my bridesmaids (including herself). She also made the flower girl dresses, my mom's dress, Jeremy's bow tie and matching bow ties for each of the groomsmen. She's a stud.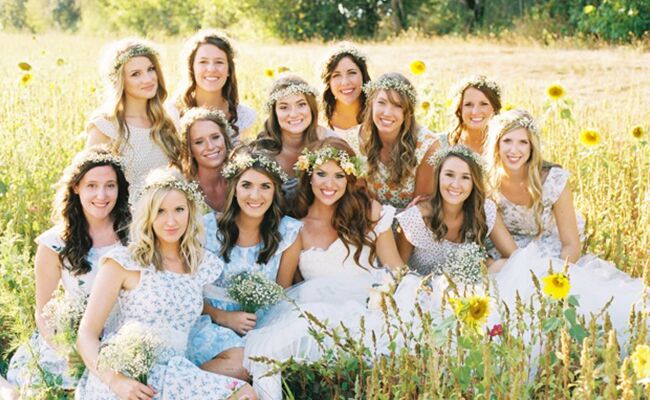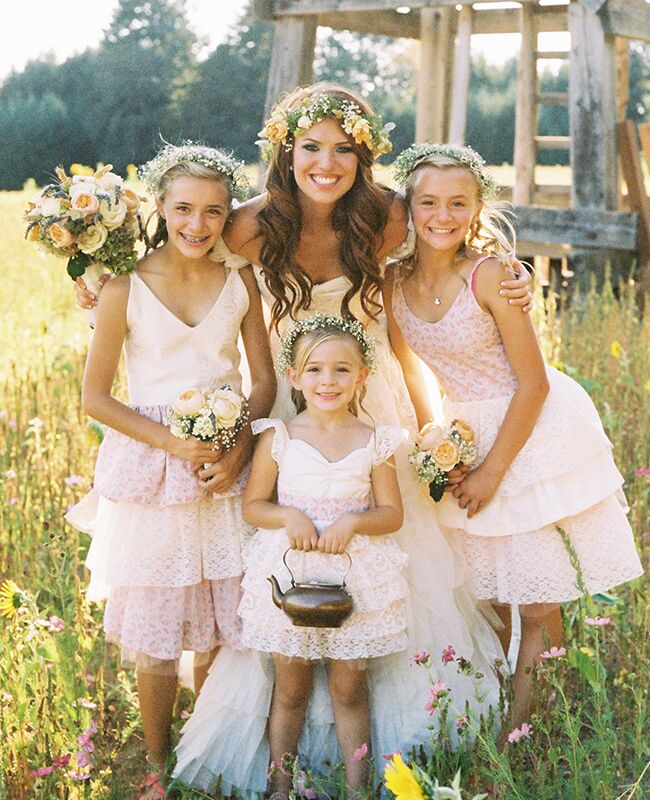 Our ceremony took place in front of the little white church covered in garland, and our guests sat on hay bales and church pews covered in quilts. The farm is so enchanting in late summer and early fall, so our decor only enhanced its natural beauty. Guests were greeted in front of a gorgeous barn full of antiques.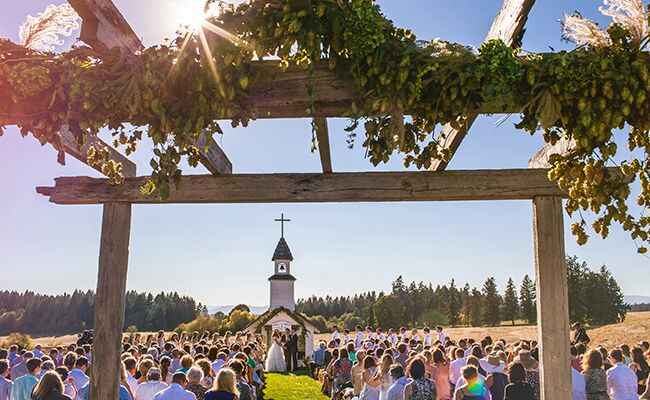 Jeremy and I did a first look in the forest behind the wedding ceremony. I wouldn't trade this moment for the world.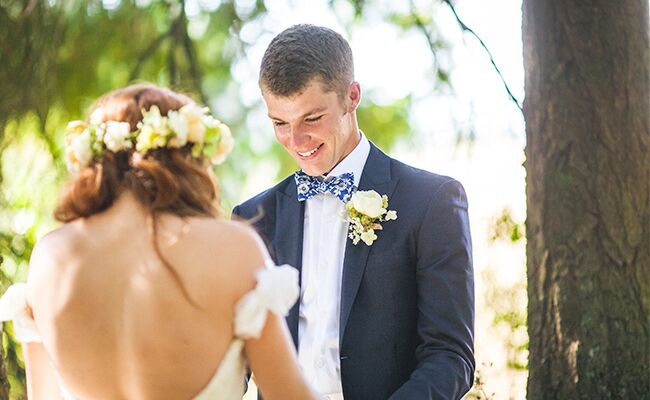 My sweet friend Corinne Carver has a sign making business called Little Flock Designs, and I had her make signs that the groomsmen carried down the aisle. This was a surprise to Jeremy. Each of the signs had a word or phrase on it that Jeremy uses to describe me, but his groomsmen were the ones that came up with the words. I also had the ring bearer carry a sign that read, "and now…" and my father carried a sign that read "she's yours."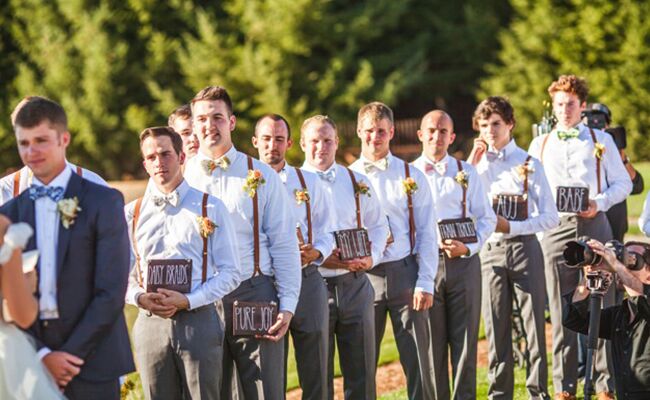 "My love for you is more than just a feeling of inloveness, it's an unwavering confidence in my choice to love you with all that I am for the rest of my life. I want to love you in direct, personal, specific and ever fresh ways. There is no doubt in my mind that you are the one that I am supposed to team up with for life. I know the Lord is rejoicing with us today, and fist pumping at his successful matchmaking skills. I thank God relentlessly for giving me a man that I don't deserve. You are that man. You have all the characteristics of a husband that I prayed for, and that filled my journal pages during the years leading up to meeting you. You are above and beyond what I could have ever asked or imagined. Because of your great love for me, today I make this great promise to you…"
These are part of my promises to Jeremy on our wedding day. We wrote our own vows and read them to each other through blurry eyes during our ceremony.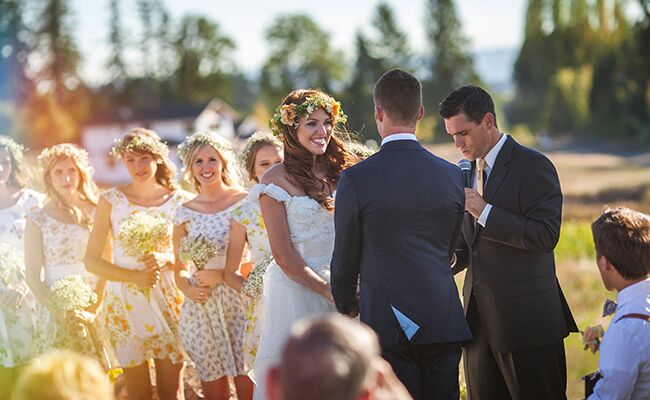 When we walked back down the aisle as husband and wife, there were literally wedding bells ringing from the church. Our officiant sounded the bells and they echoed over the hills of Helvetia.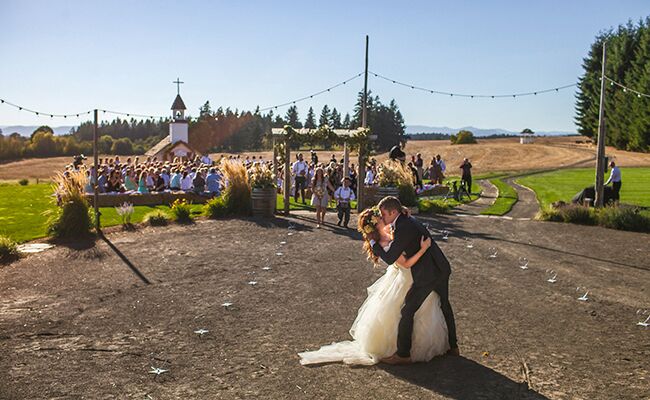 My wedding dress was inspired by a gown Keira Knightley wore in the movie Anna Karenina. I searched Pinterest for a replica to no avail. Finally, I found a wedding dress called Eliza by Vera Wang that was very similar on a pre-owned wedding dress website. I had it shipped to me without trying it on! Honestly, it was a very risky move and the dress needed a lot of work when it arrived. There was a stain in the front, a chunk of tulle missing from the side, the hook and eye were missing, the zipper was broken and it was dirty and wrinkled.
I also wanted the dress to be backless with off-the-shoulder cap sleeves, more boning in the front, more lace and a sweetheart neckline. It was pretty much an impossible task, but somehow it all came together to be the most perfect dress for me to wear when I became Audrey Mirabella Roloff. With the help of my amazing mom (her career was in apparel design) and the incredible seamstress we found, we made my vision come to life!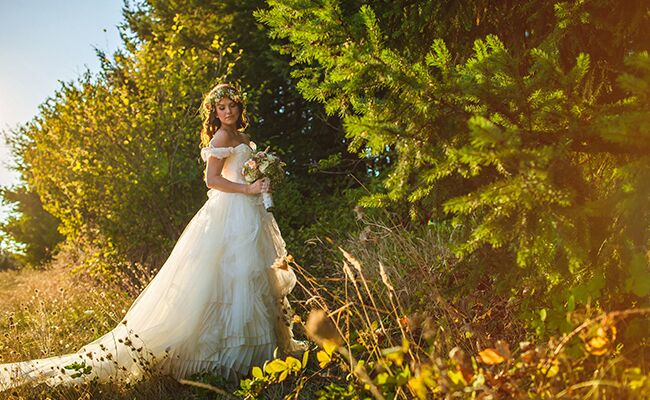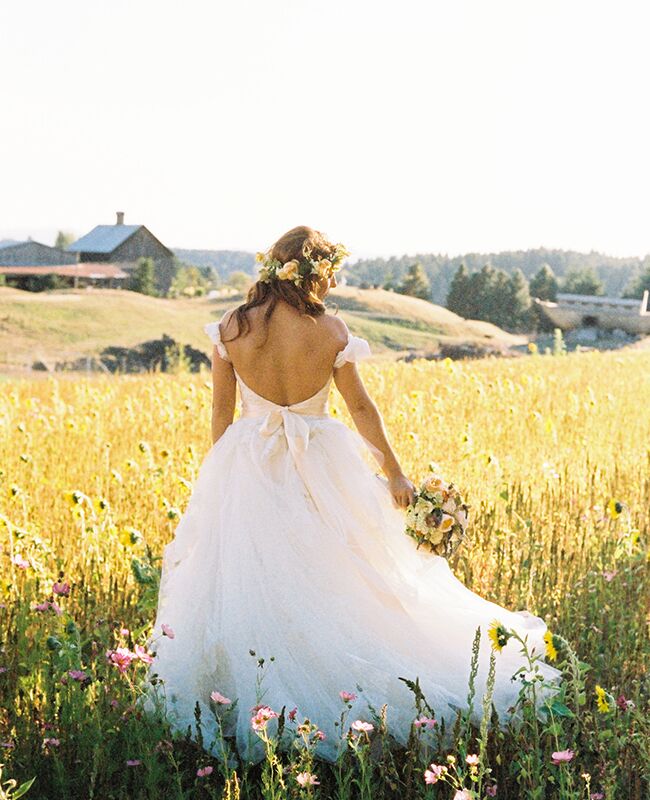 The wildflowers were in bloom, the fields were gold and the sunset was majestic. Jeremy and I snuck away from our reception for a moment with our incredible wedding photographers Montana Dennis and Christianne Taylor, to take a few more photos in the radiant light.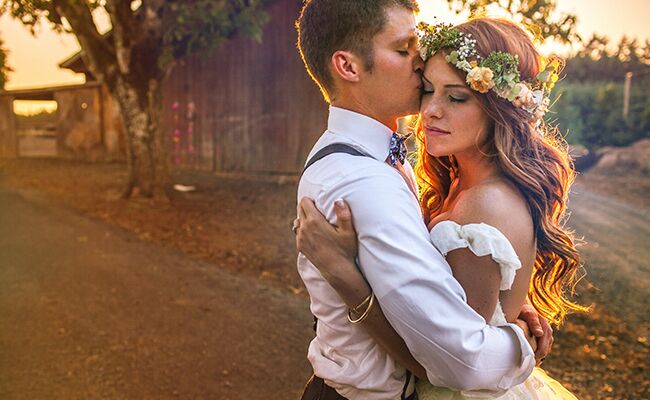 The reception took place in a different location on the farm: Jeremy's actual backyard. Our reception was nestled in the trees strung with lights and chandeliers. The tables were covered in flowers (by Blooming Bouquets), lace and candles and set with vintage floral plates, gold silverware and floral napkins made from bed sheets. Our bridal party sat at one long banquet style farm table in front of the dance floor, and next to our sweetheart table. Much of the reception decor was rented from Something Borrowed, a vintage wedding rental company. My friend Vanessa Schmidt is an artist, stylist and graphic designer and she made the giant chalkboard calligraphy seating chart, flower crowns and our wedding invitations.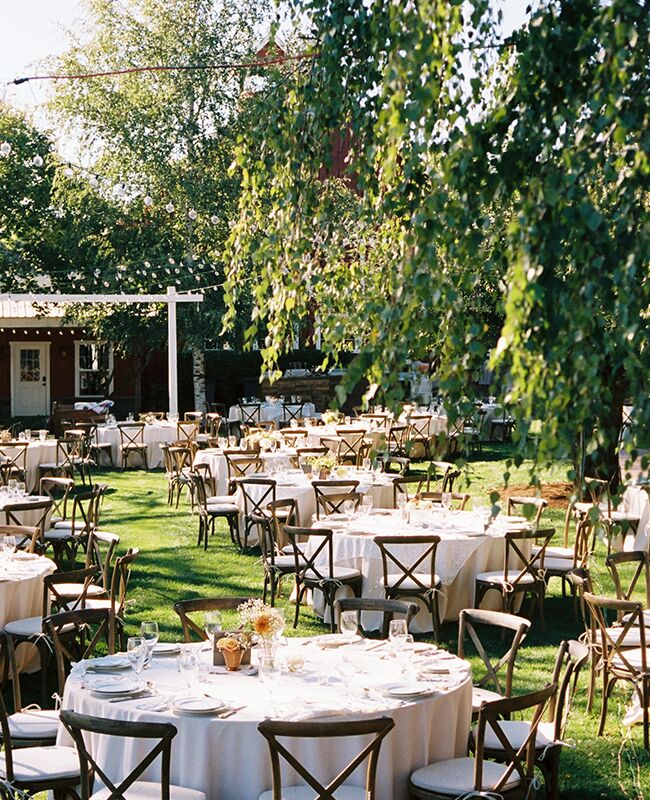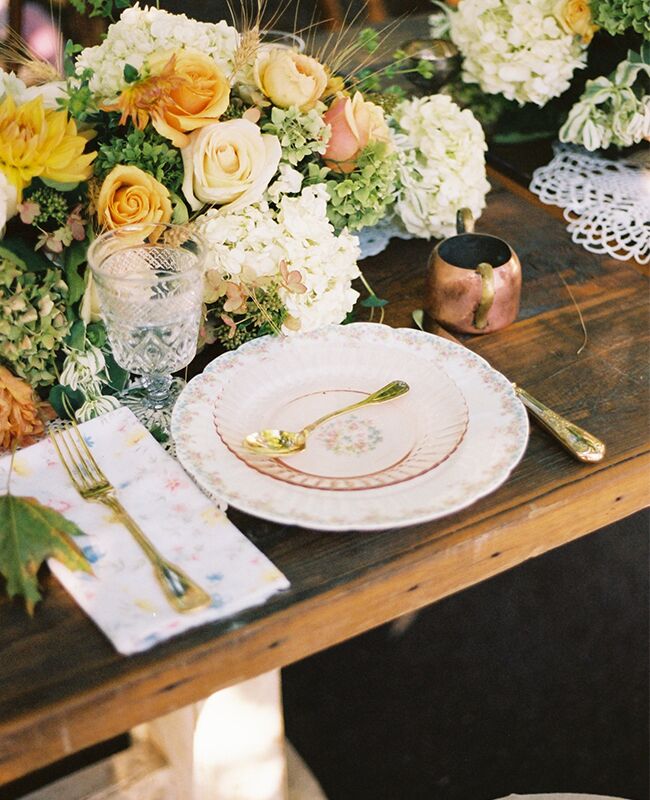 It was always my dream to have cobbler (my favorite dessert and possibly food) as my wedding cake. Mindy at Decadent Creations made our cobblers. We had four different kinds: summer berry, blackberry-peach, peach-bourbon and apple crisp. Jeremy and I had one of each of the cobblers stacked in a custom-made copper cake tier. Everyone in our bridal party each got their own serving size of blackberry-peach cobbler (our favorite) and each of our reception tables was served a pie pan of cobbler — and a gallon of ice cream.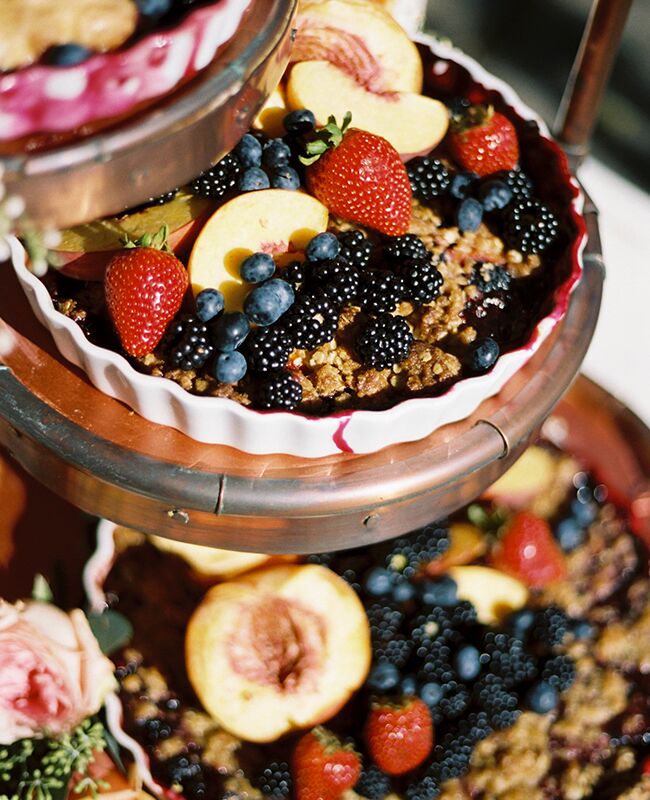 Toasts and dessert was followed by dancing… and then more dancing! During the dancing, Jeremy and I walked to the corner of our reception to watch all of our friends and family celebrating our best day ever. We wanted to have a moment to engrave the memory on our hearts, or as we like to call it, "lock it in."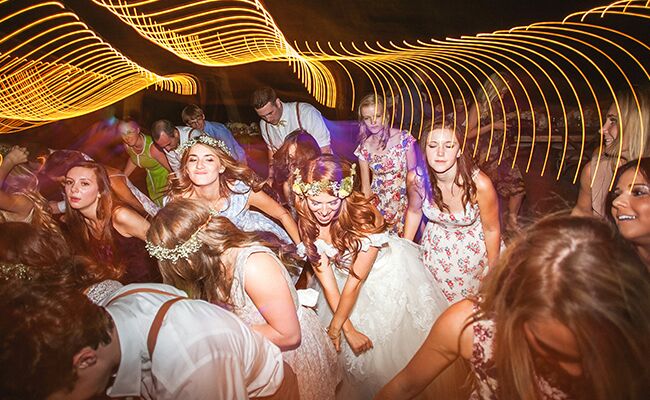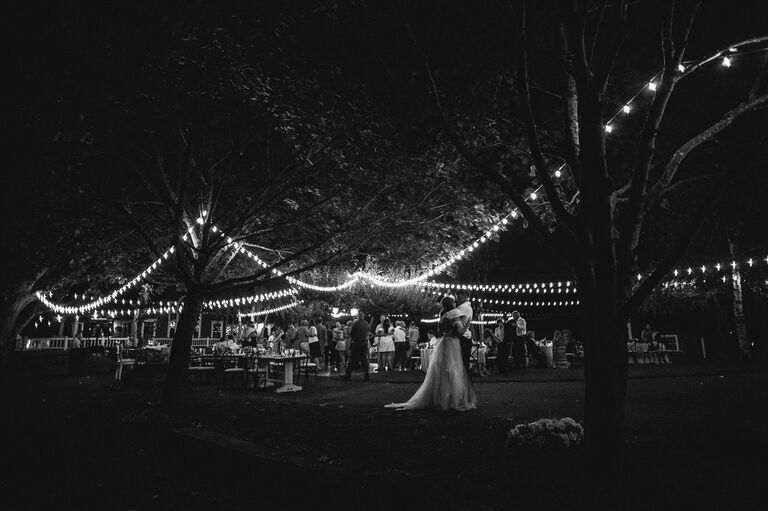 We exited our reception through a tunnel of cheering and sparklers. At the end of the tunnel was Jeremy's Toyota FJ40 covered in window paint and hops (which was used in the garland that was over the arch of the church during the ceremony).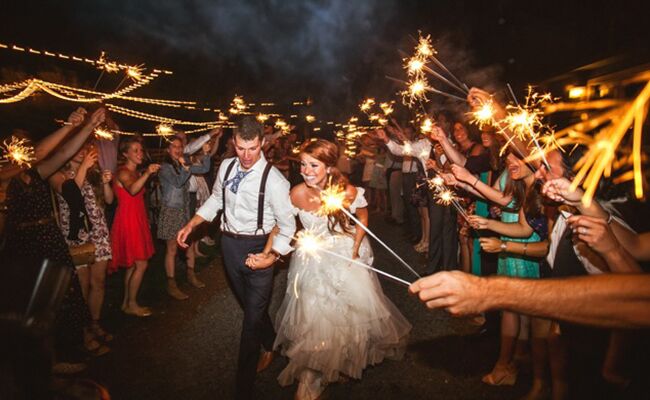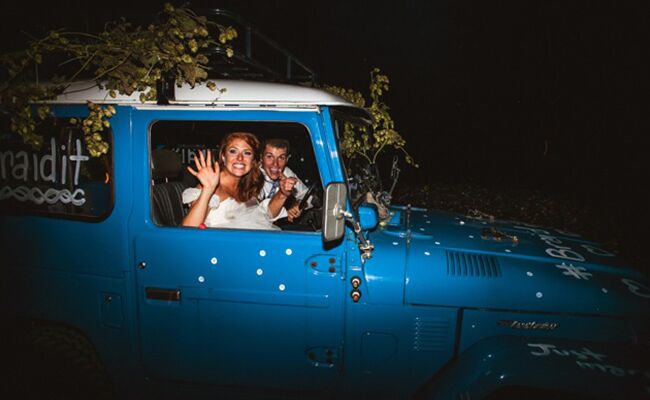 And so it continues, the #journeyofjerandauj.
Follow along with Audrey on Instagram, Twitter and Facebook. You can also read Audrey and Jeremy's full vows and see more details about their wedding day on her blog!
Want more? Of course you do!
> See Little People, Big World star Jeremy Roloff's sweet proposal pictures!
> How to pick the perfect wedding date