Love Pink Wedding Colors? These 29 Fresh Ideas Are For You
We're obsessed with these pretty-in-pink wedding ideas.
Pink—it's a little bit red, a little bit white, and all around stunning. It's not hard to understand why so many couples select pink wedding colors. Pink comes in so many shades that it could work for just about any wedding style—blush would look great at a romantic Cottagecore wedding while we love the idea of dusty rose for a boho wedding and hot pink from a dramatic, modern Barbiecore big day. We're gathered our very favorite pink wedding ideas to inspire you as you plan your dream wedding. Check out the tips and pictures below to bring your own perfect pink wedding to life.
In this story:
What does the color pink signify in marriage?
Many say that pink represents the idea of nurturing, playfulness, affection, harmony and inner peace. According to event planner and wedding expert Dee Lee of Dee Lee Designs in Pasadena, California, pink is "the universal color of love. It is light and airy. It is timeless and elegant." Lee goes on to explain that "there is a psychology to the type of emotions colors evoke. The color pink has always been associated with romance, love, devotion and elegance."
Lee notes that Millennial pink, which is considered a pop-culture phenomenon is generally considered to be "feminine, elegant, and high-end. Its brings that subtle bling to your wedding day. It is not gaudy but the perfect accent to give pink some flair." As for blush, the expert explains that the color is "calming and creates a sense of sophistication. It is a soft, dreamy, yet elegant color that goes well with a multitude of colors and complements various skin tones."
What colors go with pink for a wedding?
Pink is a popular color for a reason–it goes with a lot of colors. According to Lee, "there are so many ways to go about designing a pink wedding. Depending on the vibe you are trying to set for your wedding it can a principal color or an accent to your wedding design. Pink pairs well with other pastel colors. Additionally, pink ombré palettes are a beautiful mix of soft and vivid tones."
Blush Pink and Gold
Blush and gold is a classic combination. If you're hosting a romantic wedding in a ballroom or at a historic estate, this is a great color palette to consider.
Dusty Rose and Turquoise
Dusty rose and turquoise can work in a number of different settings. The pairing would pop at a modern art museum for minimalist nuptials, but would also look stunning at a vineyard or desert venue for boho "I dos."
Berry Pink and Navy
We love the richness of berry and, when paired with navy, it has a fun preppy-and-nautical feel. This duo would work especially well for fall or winter weddings along the coast.
Hot Pink and Slate Gray
Gray adds a unique and modern feel to any palette. If you're looking for a sleek, au courant color palette, this is the look for you.
Dusty Rose and Forest Green
Getting married at a mountain resort? Maybe you're tying the knot under towering redwoods in Northern California. Dusty rose and forest green are a beautiful combo for a rustic-meets-romantic wedding in nature.
Blush Pink Wedding Ideas
If you've always imagined being a blushing bride in the most literal sense, you're going to adore these blush pink wedding ideas. From wedding invitations to centerpieces, these fresh ideas showcase just how beautiful and timeless blush pink really is.
Find all the vendors you need
Discover top-rated pros for any budget, background and style.
Blush Pink Wedding Invitations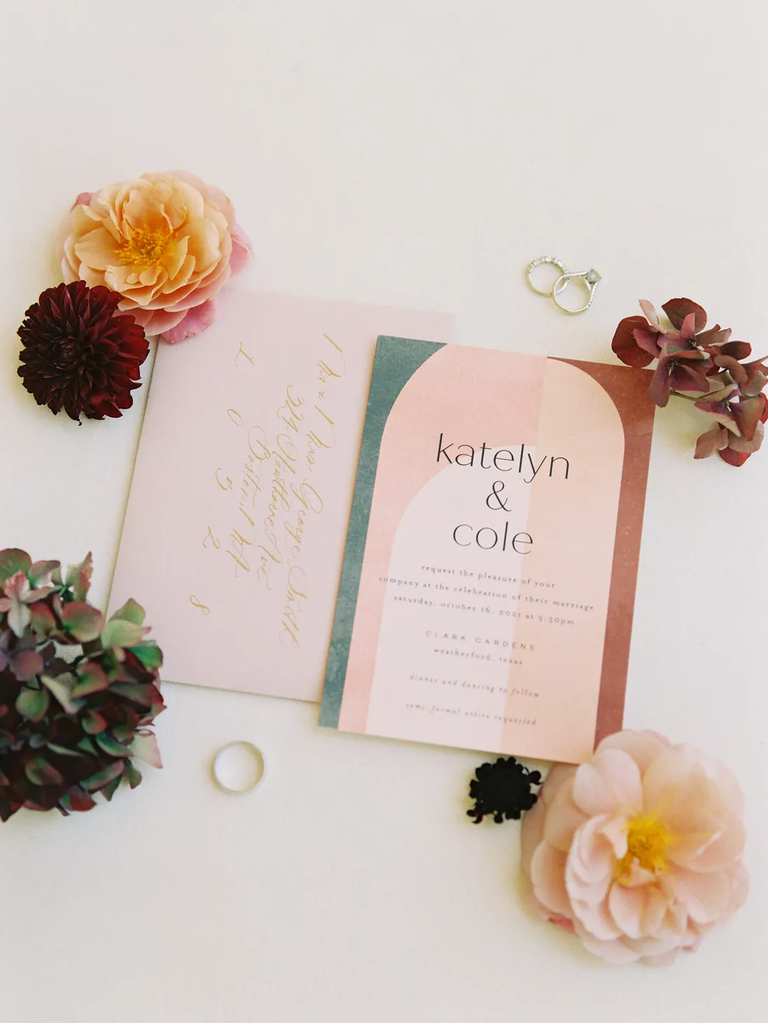 Your wedding invitations are a great spot to give guests a peek into the color palette you're planning. Gold calligraphy and a modern curvilinear design made this already-beautiful blush wedding invitation suite even more memorable.
Sikh Ceremony Canopy With Blush Pink Wedding Flowers
For her wedding processional, this Sikh bride entered the ceremony underneath a traditional canopy decked out in blush roses. To match the color scheme, the wedding party members who processed with her were also in blush ensembles.
Blush Pink Wedding Bouquet
We can't get over how dreamy this blush garden rose bouquet is. Roses come in so many shades of pink that they're a great bouquet option, even if you want a hue more vibrant than blush.
Blush Pink Wedding Cake
A blush statement tier brought a refreshing dose of color to this otherwise white wedding cake. To bring cohesion to the entire cake table, blush roses and peonies were used as a finishing touch alongside white hydrangea blooms.
Blush Pink Centerpieces
We can't decide what our favorite element of this blush-centric tablescape is. A blush linen napkin beautifully complemented the blush centerpiece comprised of chrysanthemums and roses.
Blush Pink Wedding Table Decorations
There's so much to love about this pink tablescape. Dramatic blush, red and berry flower arrangements anchored the end of the table while a gauzy blush runner ran the length of the wood farm table.
Blush Pink Wedding Lounge Seating
We love how big and bold of a statement this velvet couch made. Not only did the vignette serve as a cozy lounge area for guests, but it also worked as a festive photo op backdrop to attendees could snap pictures of the festive California wedding.
Blush Pink Wedding Reception Chairs
While including blush in your flower arrangements and linen selections is one of the most straightforward ways to add the color to your reception, it is certainly not your only option. This couple got creative and seated guests in fun pink chairs for dinner.
Blush Wedding Reception Decor Draping
Draping is a beautiful way to soften your venue and, in this case, it brought a residential feel to an al fresco wedding reception. From a practical standpoint, the blush draping also helped to hide some of the mechanics of the tent structure.
Hot Pink Wedding Ideas
Want a pink shade that's a bit bolder than blush? Enter: hot pink. Thanks to the Barbiecore wedding trend, hot pink is really having a moment in the spotlight.
Hot Pink Wedding Invitations
Hot pink and royal blue wowed guests as they opened their mailboxes to find these watercolor-inspired wedding invitations. To make the suite feel even more custom, the couple chose a fun wedding font to pair with the bright palette.
Hot Pink Wedding Flowers
Talk about packing a punch! This hot pink bouquet included multiple rosy blooms: protea, amaranthus, peonies and roses.
Hot Pink Wedding Flower Chandelier
This couple brought their hot pink color palette onto the dance floor. They commissioned a dramatic pink wisteria chandelier that served as a fun canopy over the dance floor.
Hot Pink Wedding Bouquets
Hot pink roses added vibrance to this wedding bouquet which also included soft blush roses and dark berry dahlias. We love that the bride kept the pink theme going by donning pink wedding heels as well.
Hot Pink Wedding Cake
Even your wedding cake can get in on the hot pink fun. While the actual wedding cake was soft blue, the star of this dessert were the vibrant hot pink peonies and roses cascading down the three-tier bake.
Rustic Hot Pink Wedding Centerpieces
Since this couple selected an airy all-white barn as their wedding venue, the blank slate backdrop afforded them the chance to go bold with their table centerpieces. Hot pink flower arrangements graced the tops of the wood farm tables at which guests dined during the wedding reception.
Modern Hot Pink Wedding Centerpiece
Don't be afraid to break the mold with your wedding reception centerpiece design. We love this modern hoop wedding centerpiece idea which included hot pink roses.
Hot Pink Wedding Table Decorations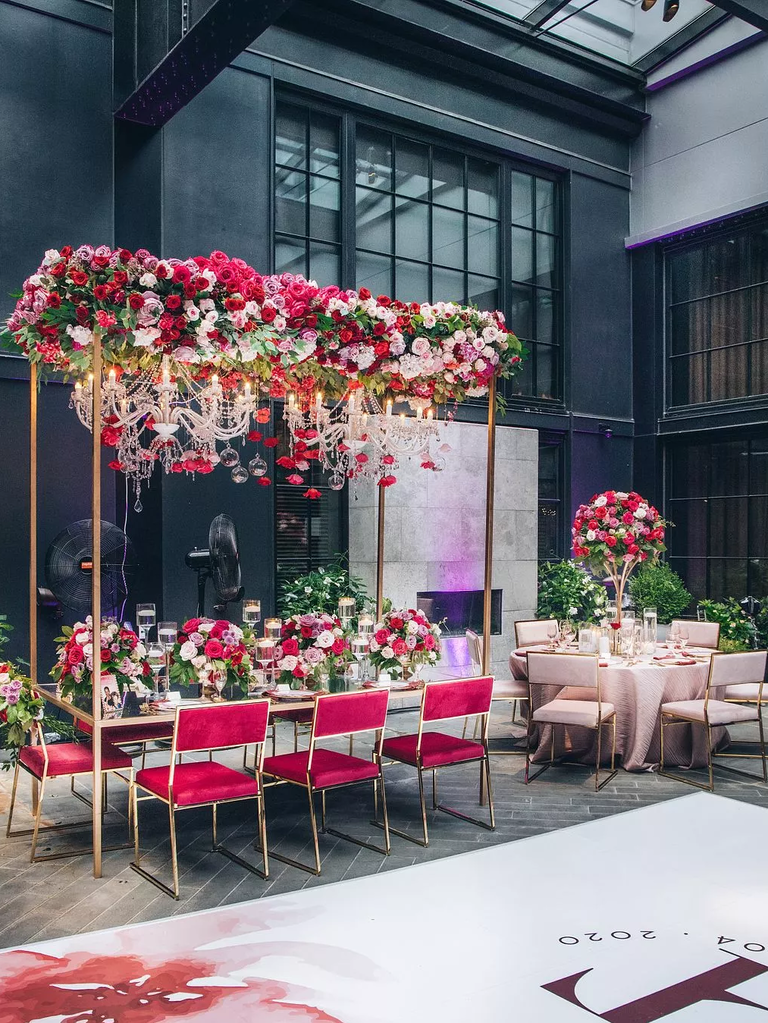 This look felt straight out of a fairytale. Pink chairs, pink flowers, even a pink dance floor—we're obsessed with this wedding's pink, pink, everywhere motto.
Hot Pink Seating Chart
Wondering if purple and orange go with hot pink? Here is you answer! A dramatic paneled seating chart, made of three curved acrylic signs, directed guests to their seats at this wedding.
Hot Pink Bridesmaid Dresses
How stunning is this hot pink squad? These wedding party attendants donned vibrant pink bridesmaid dresses for their loved one's summer wedding and the end result was beautiful.
Dusty Rose Wedding Ideas
What exactly is the color dusty rose? It is a mix of pink and violet which results in a color with some beige-like undertones that is absolutely eye-catching. We've gathered the best dusty rose wedding ideas—you're sure to love the pink wedding inspiration below.
Dusty Rose Wedding Invitations
How dreamy is the dusty rose suede box that encased this curvilinear wedding invitation suite? We love everything about this elegant suite from the calligraphy down to the spot illustrations seen throughout the design.
Dusty Rose Wedding Flowers in Cascading Bouquet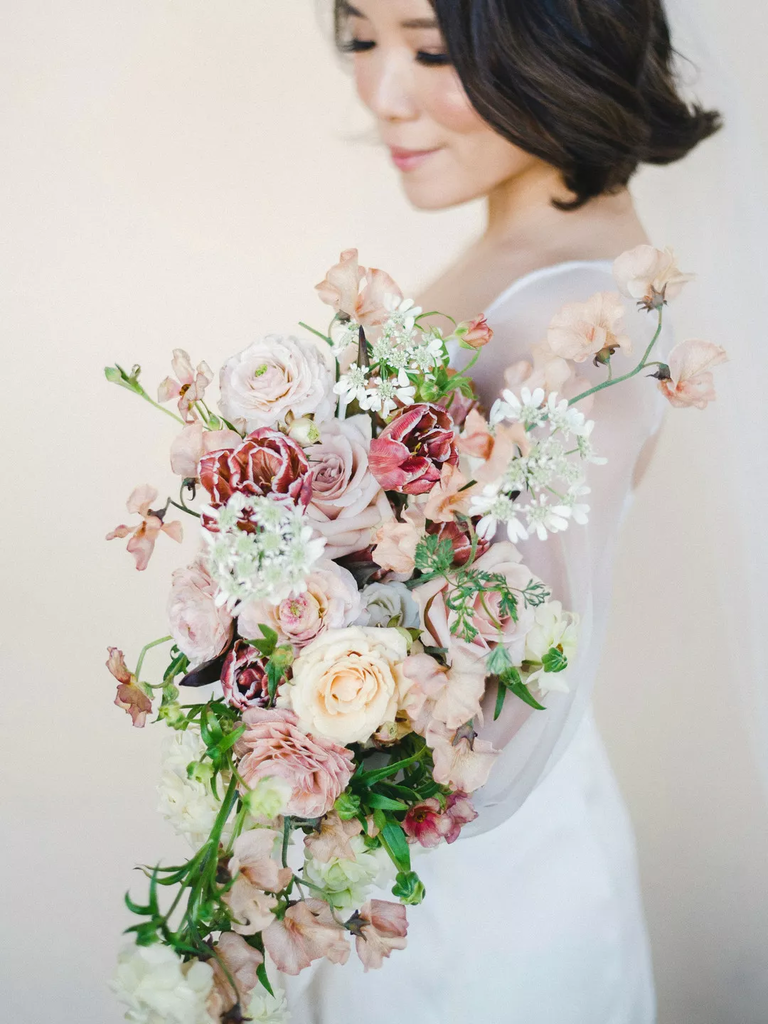 Did you know that sweet peas come in dusty rose? Consider this sweet pea, tulip and rose cascading bouquet your sign to include dusty rose sweet peas in your wedding flower designs.
Dusty Rose Wedding Bouquet
If you want a statement bloom for your bridesmaids' bouquets, consider anthurium. With a prominent stamen and heart-shaped petal, the flower (seen here in dusty rose) if a fun and unique option for weddings.
Dusty Rose Wedding Cake
A plethora of dusty rose-colored sugar roses cascaded down this sculptural multi-tier wedding cake. The great thing about sugar roses is that they don't wilt the way fresh blooms might on a wedding day.
Dusty Rose Wedding Centerpieces
This tablescape design was a beautiful explosion of dusty rose. A dusty rose velvet linen anchored the scene while roses, napkins and menu cards in coordinating shades rounded out the look.
Dusty Rose Wedding Table Decor
Soft shades of caramel complemented dusty rose seamlessly in this glam wedding reception design. Our personal favorite part of the look? The dusty rose water goblets.
Dusty Rose Ceremony Decor
Let's talk about how fun this pink wedding ceremony altar installation is. The couple's florist spray painted bunches of baby's breath to get a dusty rose look and layered in red roses to the design to add depth.
Dusty Rose Bridesmaid Dresses
How beautiful did this wedding party look? This bride's best pals rocked shimmery floor-length dusty rose dresses for her glam Baltimore wedding.
Dusty Rose Wedding Suit
Dusty rose suiting? We're here for it. For his big day, this groom didn't shy away from color—he rocked a festive pink suit.
Dusty Rose Wedding Dress
White isn't the only way to go with a wedding dress. This bride selected a feathered and embellished dusty rose number with a high slit for her wedding in Tulum, Mexico.