A Guide to Blue Wedding Flowers and 36 Ways to Use Them
Bookmark this list of blue-colored blooms to round out your arrangements.
Floral arrangements are one of the best ways to bring your wedding color palette to life, which is why it's important to have an idea of what you want before meeting with your wedding florist. Including blue in your color palette? You'll want to familiarize yourself with some of the most popular blue wedding flowers ahead of time. Your florist will help you narrow down your options from a professional (and budget) standpoint, but it doesn't hurt to start out with a bit of inspiration. Below, brush up on some of the most common blue flowers for weddings and browse our favorite ways you can use them IRL.
In this article:
The Best Blue Wedding Flowers
Compared to other colors, there are a limited number of naturally blue wedding flowers—but don't let that discourage you just yet. The good news? Some of the most popular wedding flowers bloom in shades of blue, such as hydrangeas and delphinium. (And since naturally blue flowers are harder to come by, that makes them all the more special.) Another option is using flowers that have been dyed blue, such as roses or orchids, which are better suited if you're looking for saturated, vibrant blue colors. Here are a few of our favorite blue flowers for wedding bouquets, centerpieces and more.
Anemone
While their petals bloom in white, purple or red, the centers of anemone flowers are actually a dark blueish-black color. These delicate flowers, which are in season during the winter and early spring, are perfect for a chic, slightly modern aesthetic.
Delphinium
The flowers on these tall, upright stalks bloom in light blue, royal blue and dark blue varieties. Also sometimes called larkspur, delphinium are a common summer wedding flower (they're the birth flower for July) and will bring a whimsical look to your arrangements.
Forget-Me-Not
A quintessential springtime bloom, forget-me-nots are one of the sweetest blue wedding flowers. The dainty, star-shaped flowers grow in clusters, providing multiple flowers per stem.
Hyacinth
Sometimes confused with lilacs, hyacinths grow on short, cone-shaped stems. They sprout from bulbs (similar to tulips) and are a great option for potted centerpieces or other arrangements. Aside from blue, hyacinths come in a range of pastel colors, including yellow, pink, purple and white.
Hydrangea
Blue hydrangeas are closely associated with classic style, beach weddings and summertime, which is when the blooms are at their peak. Their large flower heads will easily fill out any arrangement, but as indicated by their name ('hydra'), they tend to wilt quickly after being cut if they're without water for too long.
Iris
Irises are another blue wedding flower you'll easily find during the spring season. While they're most commonly known for their dark purple hue, some varieties bloom in light blue and medium blue colors.
Lupine
Lupines have a stalk-like shape that resembles delphinium, but the flower buds are more densely packed. They grow in vivid blue, purple, pink and yellow varieties and naturally grow in the wild throughout the country.
Muscari
Also known as grape hyacinth, these tiny blue wedding flowers grow in clusters that resemble bunches of grapes (hence the name). Their color ranges from pastel blue to bright violet.
Thistle
A favorite blue wedding flower for rustic and earthy aesthetics, blue thistle is a unique addition to bouquets and arrangements. The spiky flowers have a silvery, dusty blue color that pairs well with eucalyptus and other airy greenery.
What Color Flowers Go With Blue Flowers?
Blue is one of the most versatile wedding colors, which means that you can easily pair blue flowers with a range of other colors without worrying too much about clashing.
For a classic, romantic look, pair blue flowers with pastel tones and other timeless colors, such as blush pink roses, sage green eucalyptus and white ranunculus. Going for a bold maximalist theme instead? Pair blue flowers with bright colors like yellow daffodils, fuchsia bougainvillea and orange Icelandic poppies. If rustic or boho aesthetics are more your style, blue can be used as an accent color in a palette of neutrals, such as beige pampas grass, dried lunaria or toffee roses.
Blue Wedding Bouquet Ideas
Whether you're looking for bridesmaid bouquet ideas or inspo for your own wedding bouquet, these examples serve up plenty of different ways you can incorporate blue flowers.
1. Anemone Wedding Bouquet
Classic and sophisticated, this white anemone bouquet has hints of light blue thanks to delphinium and forget-me-nots.
2. Blue and Purple Clematis Wedding Bouquet
You don't have to stick to just one color for your bouquet. Choose flowers in a similar color family, like violet and dark purple, to complement blue flowers.
3. Light Blue Wedding Bouquet
Blue delphinium and thistle buds added pops of color to this cool-toned bouquet of white roses, anemones, eucalyptus and dusty miller.
4. Monochromatic Blue Wedding Bouquet
Make an impact with your bouquet by using flowers that are all close to the same color. This bouquet with delphinium, muscari and thistle is a perfect example of the monofloral trend.
5. Rustic Blue Wedding Bouquet
A small posy of blue wedding flowers and leafy greenery works well for a rustic theme. Don't worry about the shape being too perfect—the hand-tied look is what keeps it casual.
6. Blue and White Wedding Bouquet
Pair delphinium with white ranunculus and greenery leaves for a bouquet that looks pretty no matter the time of year.
7. Pink, Purple and Blue Wedding Bouquet
A bright pink, purple and blue color combo echoes the energy and fun vibes of a summer wedding.
8. Presentation Wedding Bouquet with Blue Flowers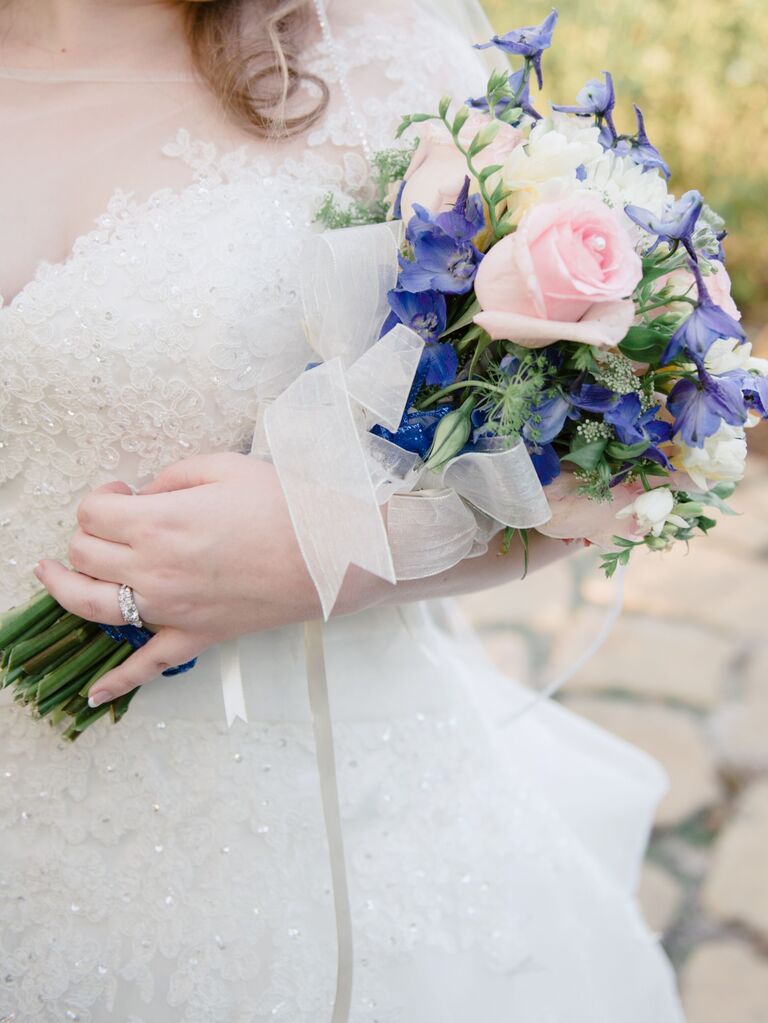 This pageant-style wedding bouquet (named for the way it's carried across one arm like a pageant queen) includes long-stemmed delphinium and roses. Simple but sweet.
9. Blue Delphinium and Hydrangea Wedding Bouquet
Use blue, white and green hydrangeas for a bouquet that works for a beach wedding, backyard venue or intimate garden soiree.
10. White and Blue Wedding Bouquet with Greenery
While the real showstopper of this bouquet is the abundant greenery, it has subtle touches of blue with scabiosa flowers and anemones.
11. Blue Thistle Wedding Bouquet
Although blue thistle makes a statement all on its own, you can pair it with other flowers like delphinium, white lisianthus, roses and greenery to complement (but not outshine) the spiky blossoms.
12. Elegant Rose Wedding Bouquet
Light blue delphinium, thistle and dusty miller add soft blue tones to a timeless bouquet of white roses.
13. Blue Wildflower Wedding Bouquet
Yellow chamomile flowers, purple aster and blue delphinium stems give this bouquet a whimsical, informal look.
14. Pastel Wedding Bouquet with Delphinium
If you're getting married in the spring, you have plenty of pastel blue wedding flowers to choose from—we suggest pairing them with other pale pink and purple hues.
15. Light Blue and White Wedding Bouquet
Blue and white is a color combo that will never go out of style. This bouquet of lisianthus, delphinium and gooseneck is spot-on for a summer wedding at the beach.
16. Pink and Blue Bridesmaid Bouquet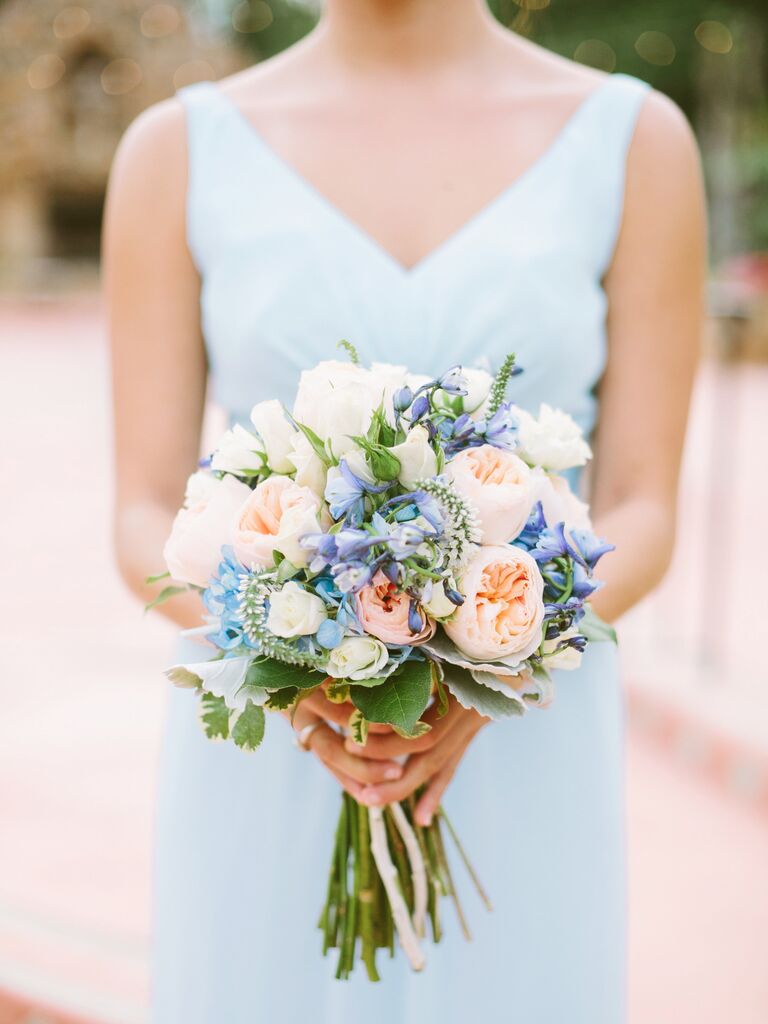 Here's another classic wedding color palette: blush and light blue. Juliet garden roses, hydrangeas and delphinium are a tried-and-true combination.
17. Garden Rose Wedding Bouquet
Airy and ethereal, this hand-tied bouquet has a barely-there hint of color from the light blue wedding flowers added to both ends.
18. Muscari Wedding Bouquet
Keep your blue bridal bouquet super-simple by carrying a tight bundle of muscari.
19. Blue Hydrangea Wedding Bouquet
Add greenery to a bouquet of white and blue hydrangeas or leave it as-is for a more streamlined effect.
Other Blue Wedding Flower Arrangements
Looking for even more ways to use blue wedding flowers as part of your decor? From ceremony backdrops and centerpieces to other decorative florals, here are some of our favorites.
20. Blue Wedding Ceremony Arch
This arch of blue wedding flowers is made even dreamier with the help of amaranthus cascading down the front.
21. Blue Muscari Wedding Boutonniere
A tiny bundle of muscari was used for this petite, understated boutonniere—perfect if you're dressing slightly more formal on the big day.
22. Blush and Blue Wedding Flower Installation
Adorn the entrance to your wedding venue with a pale blue and blush floral archway that captures guests' attention.
23. Wedding Fireplace Decor with Blue Hydrangeas
If your wedding venue has a fireplace, don't forget about decorating the mantel. Tall blue and purple delphinium stems, hydrangeas and trailing ivy vines are just one way you can do it.
24. Low Centerpiece with Blue and White Flowers
Low wedding centerpieces are great for casual dinners and encouraging conversation, but you don't have to skimp on the flowers. This arrangement is filled with blue delphinium, viburnum berries, roses, lisianthus and just the right amount of greenery.
25. Wedding Cake with Blue Flowers
Decorate your wedding cake with flowers to add color and visual detail. Small flowers, like these blue and purple blossoms, can be spaced throughout the design for more impact.
26. Blue Chinoiserie Wedding Centerpiece
Use patterned chinoiserie vases to double-down on the pop of color that blue wedding flowers will bring to your tablescapes.
27. Wedding Chuppah with Blue Hydrangeas
Need to hide the base of a wedding chuppah or other decorative structure? Accent the poles with clusters of blue hydrangeas and tall stems for a garden-like illusion.
28. Tall Purple and Blue Wedding Centerpiece
Take your tall wedding centerpieces to the next level (literally) by adding flowering branches or greenery that extends above the rest of the arrangement.
29. Blue and White Hydrangea Backdrop
Exchange your vows in front of a stunning wedding flower wall made from white and blue hydrangeas. Depending on your venue and how the wall is designed by your florist, you can repurpose it for your reception decor.
30. Blue Delphinium Wedding Centerpiece
This low-key blue wedding centerpiece includes hydrangeas, eucalyptus and royal blue delphinium for a splash of color.
31. Wedding Welcome Table with Blue Flowers
When you're planning your list of wedding flower arrangements, remember to include one-offs such as your welcome table, the bar or wedding favor display.
32. Blue Thistle Wedding Boutonnieres
You won't need to add much else if you choose blue thistle for your wedding boutonnieres. These boutonnieres are encased in shotgun shells for a rustic theme, but you could simply use ribbon or fabric to wrap the stems instead.
33. Tall Wedding Centerpiece with Dark Blue Flowers
Elevate dark blue and royal blue flowers with tall gold centerpiece stands to really make the jewel tones stand out.
34. Small Purple and Blue Wedding Centerpiece
Use petite bundles of blue and purple flowers to decorate tall cocktail tables or lounge areas at the venue.
35. Blue Hydrangea Wedding Centerpiece
If you're looking for ways to amp up your reception tablescapes without resorting to tall centerpieces, add candles in varying heights. They'll showcase the smaller arrangements while adding an extra layer of detail.
36. One-Tier Wedding Cake with Blue Flowers
Even a simple one-tier wedding cake is deserving of a little embellishment. A halo of blue hydrangeas is a tasteful finishing touch.