Everything You Need to Know About Getting Married in North Dakota
Look to The Knot for local details about getting married in North Dakota, from choosing your wedding venue to getting your marriage license.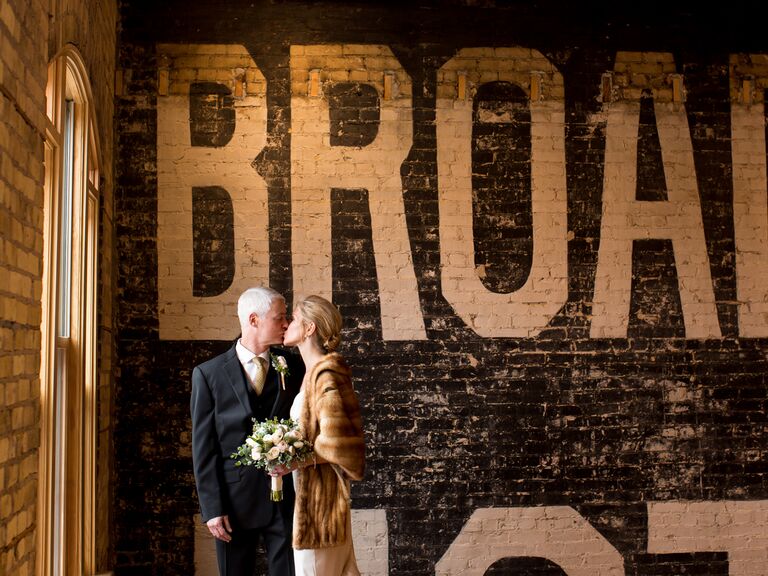 Abby Anderson
Ultimate Guide to Getting Married in North Dakota
Whether you're a homegrown couple from the Great Plains or out-of-towners who fell in love with the picturesque parks and charming towns of the Roughrider State, here you'll find the information you need—from North Dakota wedding venues to Fargo wedding dress shops—to plan your North Dakota wedding. Find wedding trends in the state, tips for making sure your guests enjoy their stay and fun ideas for tying the knot in some of the state's largest cities.Follow along with your wedding checklist to make sure everything is done on time.
Top Wedding Trends in North Dakota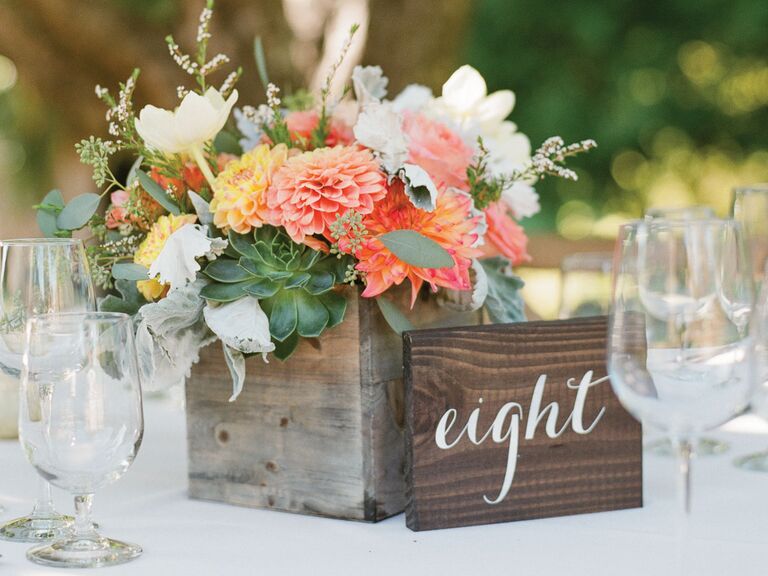 It's no surprise that weddings held in North Dakota share several similarities. Although outdoor ceremonies are popular in other parts of the country, traditional ceremonies reign supreme in the Great Plains. According to The Knot 2015 Real Weddings Study, 78 percent of North Dakota couples exchanged vows indoors—and more than half of these took place in a religious institution—before moving on to a hotel ballroom or banquet hall for the reception. Despite its rural reputation, North Dakota hosts plenty of formal events, and 70 percent of couples hosted semiformal or formal affairs.
North Dakota Marriage Rates and Wedding Costs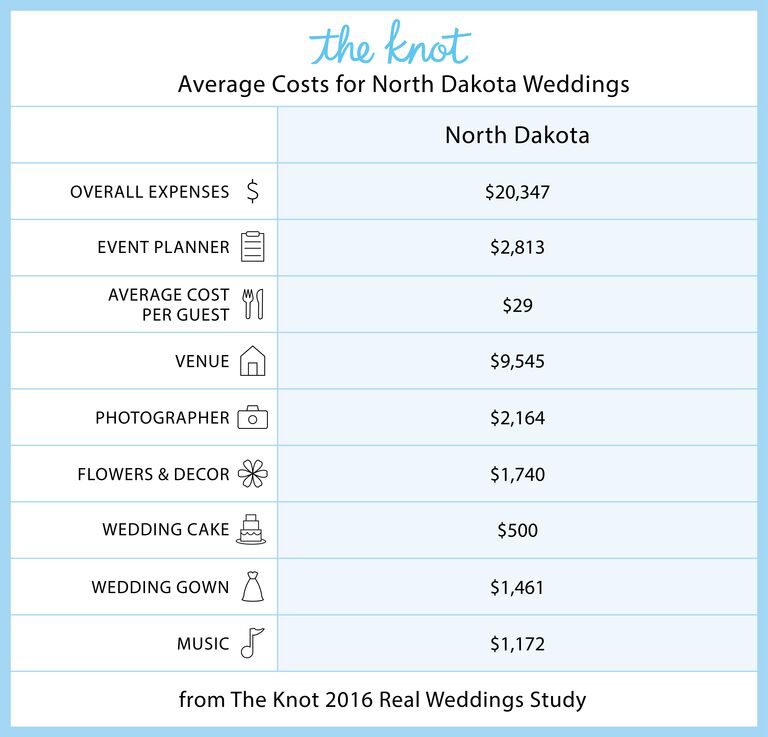 Marriage rates in North Dakota are near average, with 6.3 marriages per 1,000 people. And knowing what couples paid on average for their wedding expenses can help you set a budget for your own wedding day.

Average Costs for North Dakota Weddings
According to The Knot 2015 Real Weddings Study, the average cost of a North Dakota wedding was $20,211. Couples were engaged for an average of 12.7 months and spent 11.3 months planning the event. Use these figures as a guide and work with The Knot Budgeter to help you stay in control of your budget.
Top Cities in North Dakota to Tie the Knot
North Dakota has several vibrant communities where couples choose to exchange vows and celebrate with family and friends. Popular cities have an assortment of local vendors to assist with preparing for the wedding day and offer a plethora of cultural and recreational activities for guests to enjoy.
Make It Legal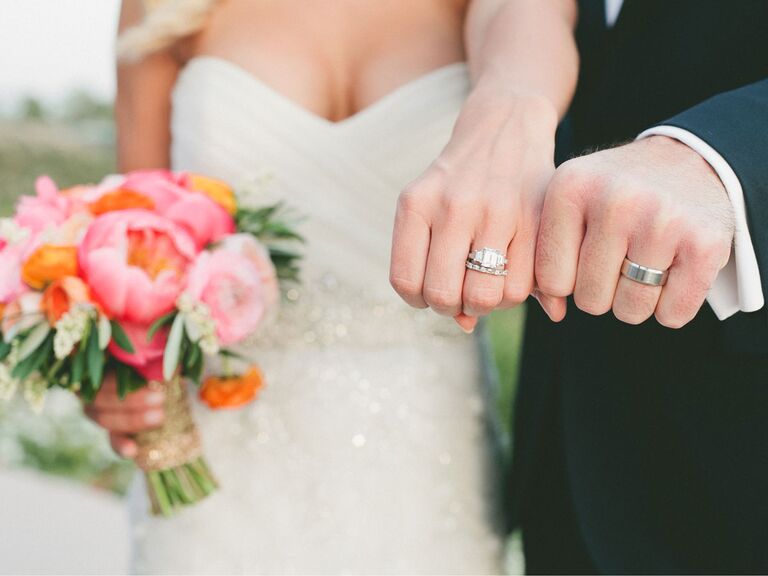 Before tying the knot in the Roughrider State, you need to take care of a few legal matters such as applying for a marriage license, securing permits for sites and changing your name after the wedding.
Applying for a Marriage License: What You Need to Know
The Clerk of Court in each North Dakota county issues marriage licenses to couples who plan to marry there. In order to apply for a license, you and your future spouse must appear in person with valid photo IDs and pay a $65 license fee. The clerk will also ask for your Social Security numbers. Be prepared to pay in cash, as some counties do not accept other forms of payment.
If you're a North Dakota resident, you may apply for a marriage license in the county where you live, even if you plan to marry in a different municipality. However, if you're not a resident, you must apply for a marriage license in the county where you want to marry. The marriage license is valid for 60 days, and this time period begins on the application day. North Dakota does not require a blood test or waiting period.
North Dakota law has a few restrictions for who can marry in the state. If you or your fiancé is divorced, you must present a certified copy of the most recent divorce decree. The state also requires that individuals must be at least 16 years old to marry. Anyone younger than 18 years old must have written parental consent and at least one parent must appear with the couple when they apply for the license. State law does not allow anyone under the influence to apply for a license, and officiants must agree to not perform a marriage for anyone under the influence on the wedding day.
In addition to the marriage license, you need an authorized officiant to solemnize the union. Approved officiants include:
Judges
Recorders
Ordained ministers
Anyone authorized to perform rituals and practices of any religious persuasion
Permits for North Dakota Weddings
Despite the popularity of traditional indoor weddings, the picturesque landscape of outdoor Fargo and Grand Forks wedding venues are also popular. If you decide to marry in a state or national park like Scandinavian Heritage Park, you need to apply for a permit. Most parks charge the standard entrance fee for guests and restrict the use of amplified music, confetti, birdseed and balloons on the premises. Contact a park representative for information that specifically applies to the venue.
Name Change Info for North Dakota
North Dakota law lets either or both spouses change their last name after marriage. This includes changing to a spouse's current or former surname, combining both names to create a new one, or converting a current last name to a middle name before taking your spouse's last name. The process for completing the name change in North Dakota is standard and can be done by following the steps listed in our name change guide, or through the help of a service like HitchSwitch. In addition, couples need to notify the Clerk of Court when they apply for the license if they plan to change their names.
It's All About Timing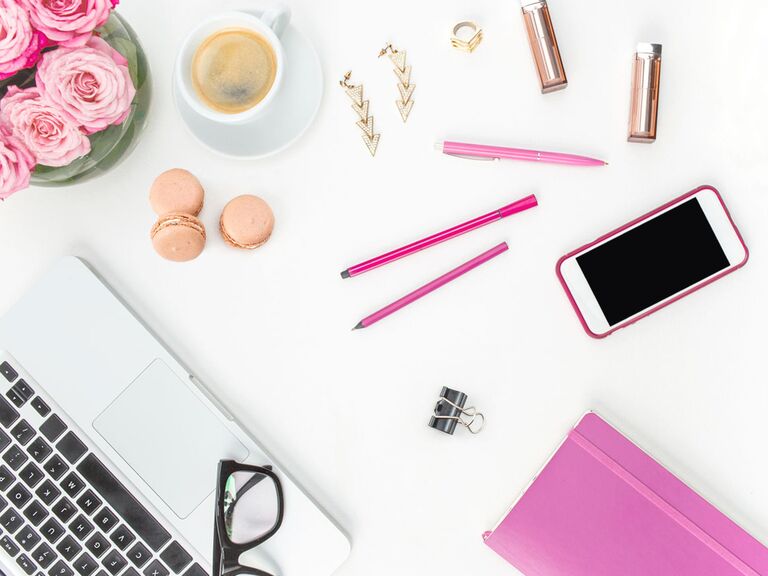 With warm, sunny days that last from 6 a.m. until 9:30 p.m., summer is a busy season in North Dakota. In addition to festivals and carnivals, the months of June, July and August is peak wedding season. Of the couples who responded to The Knot 2015 Real Weddings Study, 54 percent chose to exchange vows during the summer in 2015, while 24 percent opted for a fall wedding and 19 percent tied the knot in the spring.
The Four Seasons in North Dakota
When the North Dakota temperatures rise to an average of 82 degrees in the summer, locals head out to enjoy the great outdoors. This season is ideal for an outdoor wedding at a rustic barn or in a scenic park, as temperatures remain comfortable well into the evening. In mid-September, the first frost appears, but guests can still enjoy the pleasant temperatures when the mercury dips to the mid-60s. While only 3 percent of North Dakota couples selected the winter months for their wedding day, it's still a beautiful time of year with its snow-covered fields. The beginning of spring in March and April brings new life to the region, along with an average daily high of 52 degrees.
Dates to Avoid
When selecting a wedding date, choose one that's convenient for you and your guests. During busy travel seasons, guests may have trouble finding affordable tickets or hotel rooms near the venue. (Check out our comprehensive guide for more information on 2016–2018 dates to avoid.) At the same time, local festivals and fairs offer guests something to do during their stay. Keep the below dates in mind when people from around the country flock to see what North Dakota has to offer:
KMOT Ag Expo, Minot (late January)
Grand Cities Art Fest, Grand Forks (early June)
McQuade Charity Softball Tournament, Bismarck (mid-June)
Mandan Rodeo Days Celebration (mid-July)
North Dakota State Fair, Minot (late July)
Motor Magic (Labor Day weekend, Minot)
United Tribes International Powwow, Bismarck (early September)
Big Iron Farm Show, West Fargo (mid-September)
Great Guest Experiences
You want your guests to enjoy the wedding day, especially if they travel to attend the event. From sampling the local arts scene to taking part in outdoor recreational activities, there's plenty to do in North Dakota. Help your friends and family discover the wonders of North Dakota with a wedding website, where they can find important details such as the dates and times of wedding events, driving directions and special reminders.
Around Town: What to Do and See in North Dakota
From the charming Midwestern towns to the majestic parks and recreational areas, North Dakota offers guests plenty to do during their stay. Try your luck at a local casino, explore the outdoors on a hiking trail, scenic drive or kayak tour, or discover fun historical facts at a museum or historic site.
Top tourist attractions in the state include:
Devils Lake
Fort Buford State Historic Site, Williston
International Peace Garden, Dunseith
Lewis & Clark Riverboat, Bismarck
North Dakota Museum of Art, Grand Forks
Theodore Roosevelt National Park
Scandinavian Heritage Park, Minot
World's Largest Buffalo, Jamestown
Finding Your Way Around North Dakota
For many out-of-town guests, flying is the preferred way to travel for the wedding festivities. Depending on the departure city and choice of airline, guests can arrive at one of the state's eight airports. Major and regional carriers offer service into Bismarck, Devils Lake, Dickinson, Fargo, Grand Forks, Minot and Williston, and Jamestown Municipal Airport provides jet service to Minneapolis.
Guests who prefer to keep their feet on the ground have the option of taking the train or using a bus or shuttle service. Bismarck, Fargo and Minot offer public transit buses throughout the city, while shuttle services also connect the cities. A ride on Amtrak's Empire Builder line with stops in Devils Lake, Fargo, Grand Forks, Minot, Stanley, Williston and Rugby gives guests a look at the state's beautiful scenery. I-29, I-31, I-94 and I-194 cross the state along with US highway 2, 10, 12, 52, 59, 81, 83 and 85 and several state highways.
Go Local: Food & Favors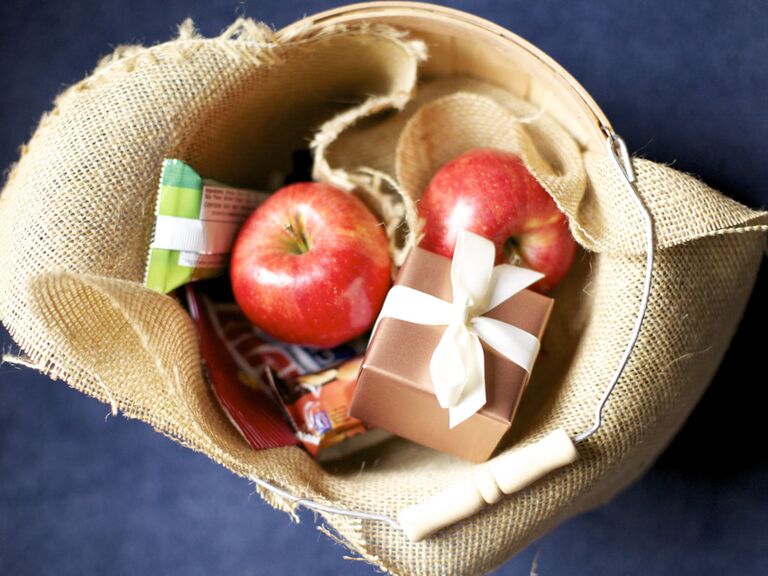 From its fields of grain to prairies filled with bison, food is big business in North Dakota, and no visit to the state is complete without a sample of the region's varied cuisine. Influenced by American Indians Sioux, Mandan and Chippewa as well as Norwegian, Swedish and German descent, the regional cuisine is varied and filled with interesting flavors. Consider serving dinner in the Norwegian tradition—smorgasbord style—with a spread of sweet and savory traditional treats like potato crepes called lefses, summer sausage, krumkake or fleischkuekle flatbread. To finish, send guests home with an assortment of German and Scandinavian cakes or pies known as kuchen.
Do Your Guests a Favor
From iconic images of bison and other prairie wildlife to sunflowers and charming buildings, it's easy to add simple reminders of the beauty and charm of North Dakota. Local foods like locally produced pemmican (a dried mixture of ground bison meat, choke cherries, cranberries or blueberries) or choke cherry pies travel well and are a delicious addition to welcome bags. Since North Dakota produces the majority of the United States' sunflowers and honey, a package of sunflower seeds in a starter cup or a sample size container of locally harvested honey are two excellent favors your guests are sure to appreciate.
Check out The Knot Shop for other personalized favors.
North Dakota City Guides
Whether you get married on the east or west side of the state, there are plenty of unique venues in North Dakota that fit any personality and budget. The following cities have some of the most popular sites for memorable weddings, along with local vendors who can help you create the ambience you want for the ceremony and reception. After you choose a city, connect with vendors through our vendor marketplace.
Containing 15 percent of North Dakota's population, Fargo is one of the fastest growing small cities in the United States. Nestled by the Red River along the Minnesota border and loaded with restaurants, breweries and cultural exhibits, Fargo claims it's "a little off center" and "north of normal." Fargo wedding venues celebrate the vibrancy of the community and is a hot spot for Fargo wedding shows.
Check out these local Fargo vendors to help with your wedding plans: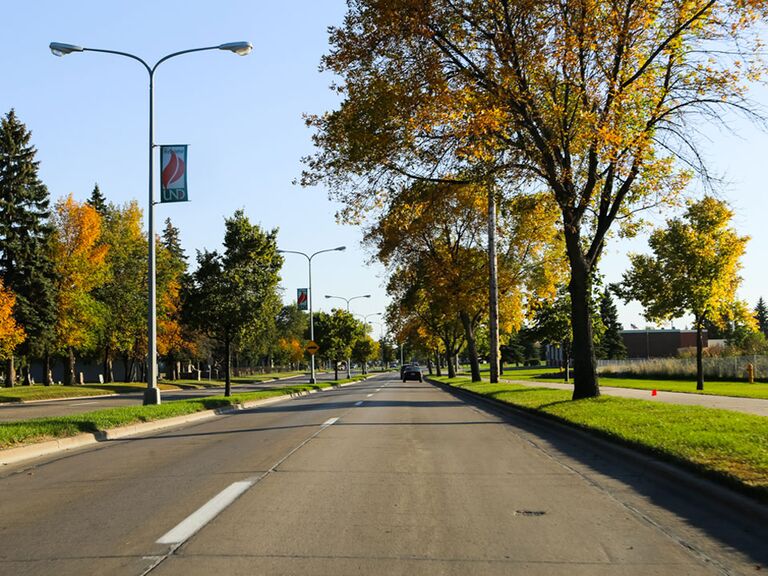 With a vibrant arts scene and plenty of scenic outdoor locales, Grand Forks is the third largest city in North Dakota and home to the University of North Dakota. Settled on the highway between Fargo and the Canadian border, this city offers interesting venues and plenty of local restaurants for you and your guests to enjoy.
Here are a few local Grand Forks vendors who can assist with planning your wedding:
Check out more North Dakota wedding inspiration here.
Don't forget to download The Knot Wedding Planner app—it's a must-have for on-the-go planning.
Download for iOS: Wedding Planner App by The Knot
Download for Android: The Knot Wedding Planner