Here's Why You'll Love an Unplugged Ceremony, But a Plugged-In Reception
Get the best of both worlds with this hybrid plan.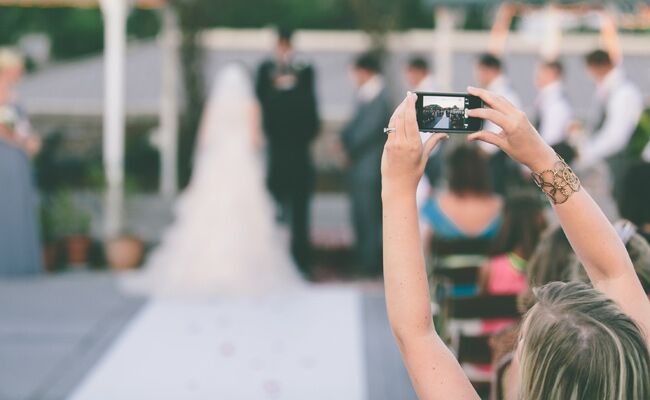 Patrick Remington Photography
Thinking about asking guests to turn off their phones during your wedding ceremony? We think it's a great idea. The best part is it doesn't have to be the whole wedding—you can have an unplugged ceremony, then let guests hop on their phones during the reception. (By the way, your wedding website is the perfect place to let your guests know you'd prefer them to put their phones away for your vows.) Here's why having an unplugged ceremony, but a plugged-in reception strikes the perfect balance.
The Pros of an Unplugged Wedding Ceremony
Your guests will be more present and in the moment.
Be warned: Your guests may first be taken aback they can't use their phones during the ceremony, but it's not for long. Not only will they survive, they'll probably end up loving it. With everyone so caught up with technology, a break from the plugged-in world gives them the chance to connect and enjoy this incredible moment. You don't want your friends tweeting about the score of the big game while you say your vows, do you?
Your photos will be better.
Your wedding photographer will be grateful you've asked guests to enjoy the ceremony sans phone. Nothing ruins a professional photo op like a phone waving in the air, and a wedding album full of photos of people on their phones probably isn't what you'd envisioned. Your photographer won't have to worry about shooting around any guests using their phones, and you'll have more images to choose from when making your wedding album.
You'll really connect with your guests.
Asking your guests to put away and silence their phones during the ceremony will allow you to see their loving faces—not their phones snapping photos.You'll be able to lock eyes with your closest friends and family as you make your way to your partner, and you won't be distracted by any random flashes or noises throughout your ceremony.
The Pros of a Plugged-In Wedding Reception
Your loved ones can capture their own moments.
Your photographer(s) will get to take some photos of your friends and relatives, but they'll mostly be focused on you two. But your guests will want to take photos of each other and make memories of their own. How often do they get to dress up and hang out at a beautiful venue sipping signature cocktails? Your party is definitely worth a Boomerang or two. More practically though, your guests should be able to look at their phones at some point during the night (they may have a crazy work deadline or kids to check on at home). It's your day, but it's not realistic for you to ban them from electronics for an entire evening.
You'll have so many more photos.
Letting your friends use their phones at the reception will ensure tons more photos you never would have had otherwise. Think of all the memories they can capture from every corner of the room. Which brings us to...
Your guests can be where you photographer can't.
Your photographer should have free reign to capture professional shots of your ceremony and portraits—but once the party gets going there will be so many things happening at once, you'll be glad to have your friends and family snapping away on the dance floor, at the bar and by the dessert table. Invite your guests to download The Guest app, a super-simple photo sharing app that instantly uploads, shares and aggregates photos with everyone the moment they're taken. The best part? You won't have to wait weeks to get photos back. You can wake up and relive the best night ever on your way to brunch.