3 Reasons Why It's Okay to Ban Phones at Your Wedding
Your photographer will thank you.
by Maria Bouselli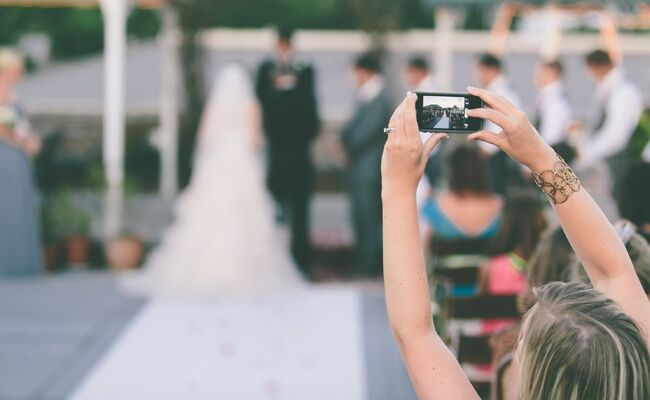 photo by
Patrick Remington Photography
Thinking about asking guests to turn off their phones during your wedding? We think it's a great idea. And it doesn't have to be the whole wedding—you can have an unplugged ceremony and then encourage guests to take photos and use your wedding hashtag during cocktail hour and the reception. Here are three reasons why it's more than okay to ask guests to put the phones down for your wedding day.
1. Your guests will be more present and in the moment. 
While guests may first be taken aback that they can't use their phones during the ceremony—or even your entire wedding, if you like—they're going to end up loving it. With everyone so caught up with technology nowadays, a break from the plugged-in world and the chance to connect with everyone around them may be just what they need. Plus, if they're not glued to their phones all night, they'll be able to really enjoy the moment, and maybe make a few new friends.
2. Your photos will be better.
The photographer will be grateful you've asked guests to enjoy the day sans phone. Nothing ruins a photo like a phone waving in the air. Your photographer won't have to worry about shooting around any guests using their phones, and you'll have more images to choose from when making your wedding album.
3. You'll really connect with your guests.
Walking down the aisle, you want to see all of your guests faces—not their phones snapping photos. Asking your guests to put their phones away (and silence them) during the ceremony will allow this to happen. You'll be able to lock eyes with your closest friends and family as you make your way to your partner, and you won't be distracted by any random flashes or noises throughout your ceremony.