See The Knot Editors' Moms on Their Wedding Days (and Read Their Life Advice)
Meet the remarkable women who've inspired The Knot editors since day one.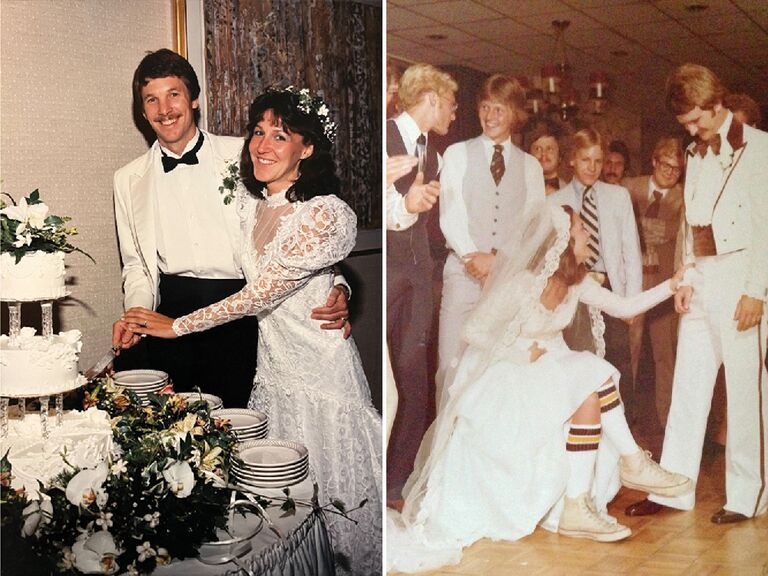 Courtesy
As wedding editors and propagators of love and joy, we pull inspiration from all over the place—but nowhere more so than from our fabulous mothers and grandmothers. Wise, generous, talented and down-to-earth (and don't forget gorgeous), these women have inspired and encouraged us since the very beginning.
Below, read the best wedding stories and life advice from The Knot editors' moms and grandmas—and don't miss their amazing wedding photos. (Warning: Puffy sleeves ahead.)
Lauren Kay, Executive Editor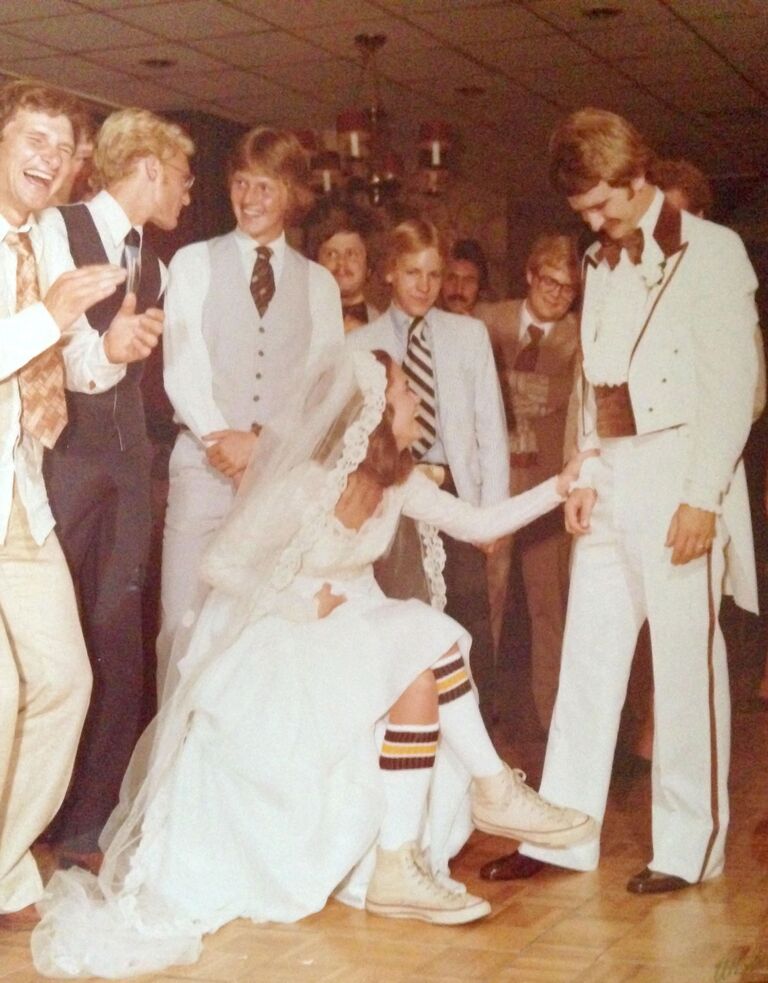 Mother's Name: Kris Kay
Wedding date: August 13, 1977
Wedding Location: Grace Episcopal Church, Kirkwood, Missouri (ceremony) and Westport Plaza and Chalet, St. Louis, Missouri (reception)
Memorable Wedding Moment: "As a joke, due to my husband stating, 'Everything doesn't have to be perfect,' I gave him a surprise. When he was reaching for my garter he felt athletic socks, then saw that I was also wearing his brothers converse shoes. It was difficult pulling this off since I had to lift my dress to walk and I didn't want to give away the surprise. It was well worth it to see his expression!"
Best advice Kris received from her mother: "Follow the golden rule: Do unto others as you would have them do unto you."
Kris's best advice to Lauren: "She taught me to always be kind and to do my very best. And now, as a mom, I appreciate the many sacrifices she's made for me over the years even more."
Morgan Gibson, Digital Content Director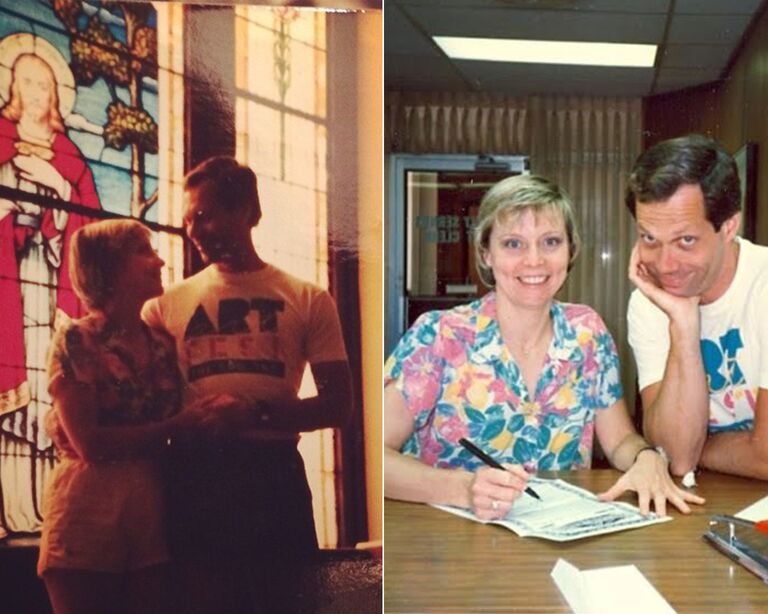 Mother's Name: Jan Gibson
Wedding date: June 5, 1987
Wedding Location: Durant, Oklahoma
Memorable Wedding Moment: "My parents eloped, which is pretty memorable in itself!" says Morgan. "They lived in Dallas, Texas at the time, but drove to Oklahoma to elope because Oklahoma doesn't have any residency requirements. They exchanged vows in a small church, where my mom walked down the aisle in khaki shorts and a Hawaiian shirt, my dad in a T-shirt."
Jan's best advice to Morgan: "Don't let other people drive your car." It's applicable in learning to drive, which is when she gave it to Morgan, but Morgan also finds it useful for in work and in life.
Esther Lee, Deputy Editor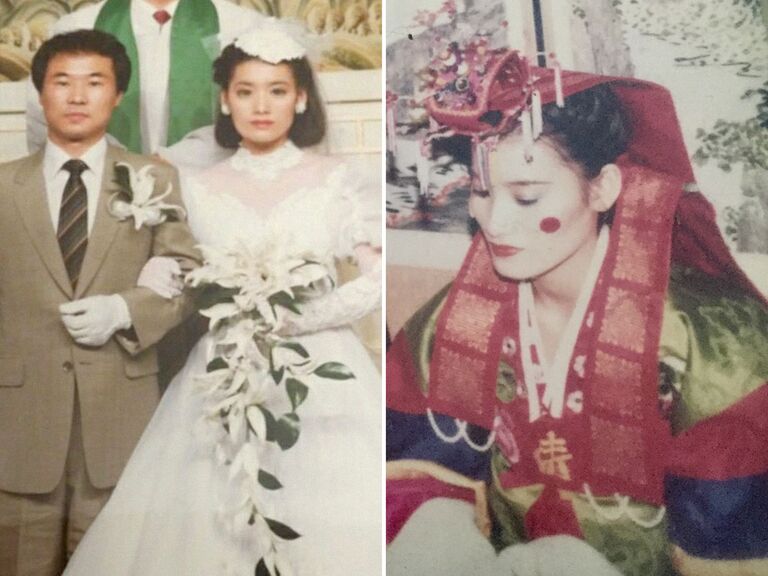 Mother's Name: Eunice Lee

Wedding Date: February 29, 1985
Wedding Location: Daegu Country Club, Gyeonsan-Do, South Korea
Memorable Wedding Moments: During the Paebaek ceremony, it's customary for the parents of the couple to give marriage advice first. Then, they toss acorns—to signify the number of children in the future—and the bride has to catch them with her skirt. "Ours was so funny," Eunice says. "My mother-in-law went first. She picked up five acorns and somehow, only three made it. Now, there's three of you!"
Best advice Eunice received from her mother: "Everything in life—whether it's getting an education or performing a job—should ultimately aim to help others."
Eunice's best advice to Esther: "Her lifestyle has been the best life advice. My mom's unwavering devotion to family, plus the local community, has made me better from simple observation. Actions really do speak louder than words."
Shelley Brown, Senior Fashion & Beauty Editor
Mother's Name: Marlene Brown

Wedding Location: Long Beach, California
Memorable Wedding Moments
Shelley: "My parents originally planned to have a big wedding, but when planning proved too stressful, they decided to elope. They got married at the courthouse in Long Beach and my mom wore a simple wrap dress she bought off-the-rack, accessorized with a flower crown she had made on the spur of the moment on the way to the courthouse—how cool is that?"
Marlene: "We told the florist, 'We're getting married in 20 minutes. What can you do for us?' They made me a flower crown. I just love that headpiece. There were all these people lined up at the judge's office taking care of their traffic tickets or whatever business at the courthouse. When we walked in all dressed up, everyone realized we were there to get married and started cheering for us and wishing us luck. It was a really neat moment."
Marlene's best advice to Shelley: "If you're dating someone who doesn't treat you well, don't waste time trying to figure out why. They're a loser. It's not you. If someone can't treat you the way you should be treated, they aren't worth your time."
MaryKate Callahan, Associate Director of Digital Content Strategy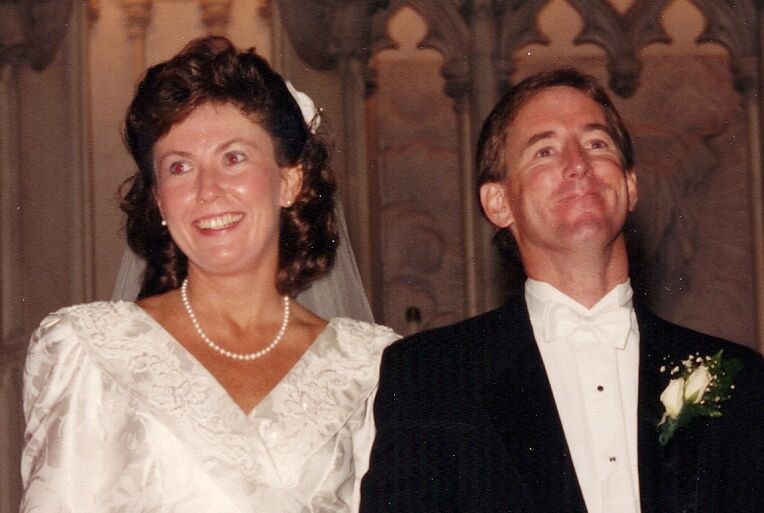 Mother's Name: Christine Callahan
Wedding Date: September 28, 1991
Wedding Location: Boston, Massachusetts
Memorable Wedding Moments: "I forgot my passport and had my maid of honor (my sister, who hadn't yet been to bed) bring it to the airport at 5 AM, so we could leave on our honeymoon!"
Best advice Christine received from her mother: "My mother is famous for dishing out different sayings with religious or Catholic undertones: 'God doesn't move a parked car.' 'In all things, give thanks.' 'Dance with who brought you…' There are so many, I can't remember all of them!"
Christine's best advice to MaryKate: "Concentrate on the little things and the big things will take care of themselves."
Hannah Nowack, Senior Editor, Weddings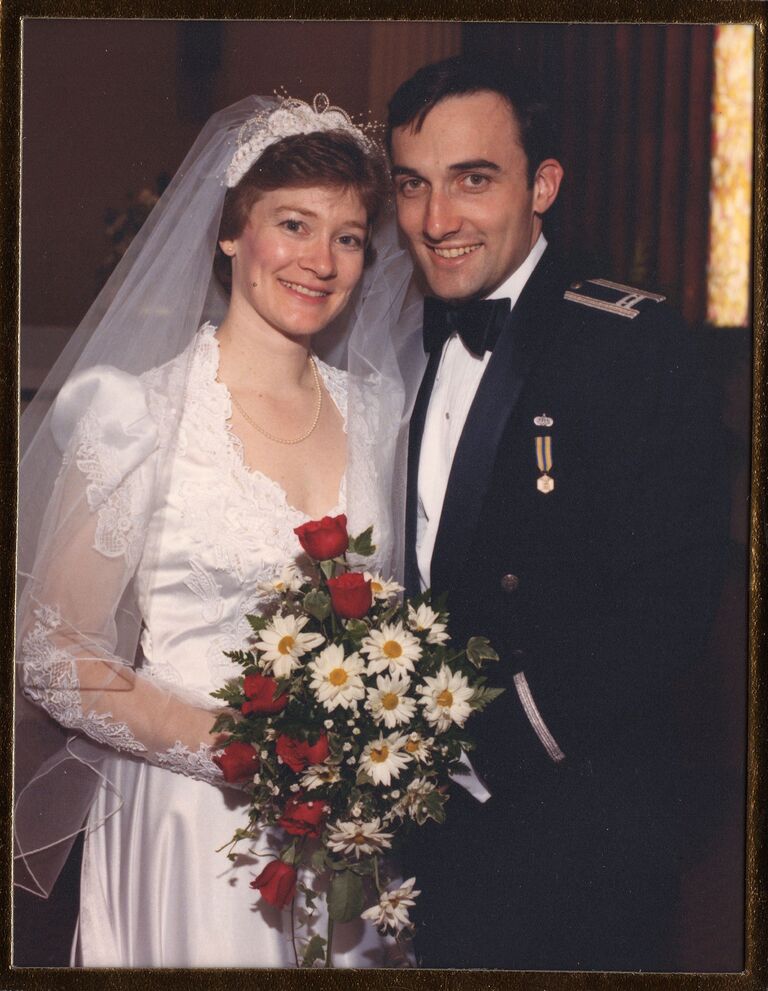 Mother's Name: Lori Nowack
Wedding Date: March 3, 1990
Wedding Location: Wright-Patterson Air Force Base, Ohio
Memorable Wedding Moment: "Seeing my husband-to-be waiting in uniform at the front of the chapel, ready to receive me as his bride."
Lori's best advice to Hannah: "Forgive freely and don't let the sun go down on your anger. But, when the day comes, and the day will come, when you want to kick your husband to Timbuktu—make bread."
Sarah Hanlon, Associate Editor, Digital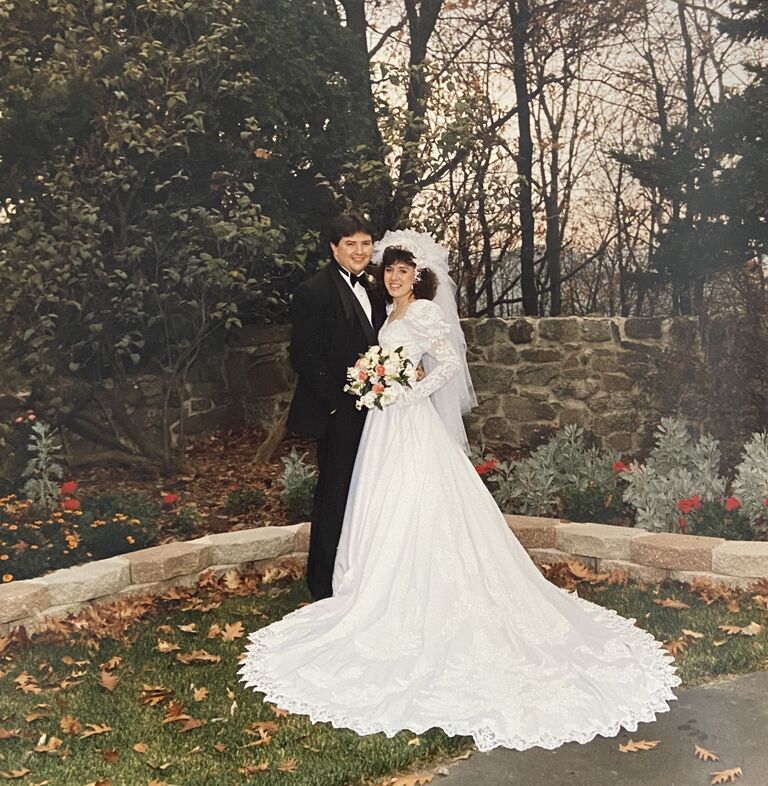 Mother's Name: Susan Hanlon
Wedding Date: November 2, 1991
Wedding Location: Mahanoy City, Pennsylvania
Memorable Wedding Moment: "The most memorable part of our wedding was the fun we had at our reception. Our DJ was playing such good music and we were dancing with our friends and family throughout the evening. I remember my mom telling me I had to go around to all the tables to see everyone and thank them for coming but I just wanted to dance and have fun! I also remember asking my dad if he'd pay the extra money to have the DJ stay an extra hour."
Best advice Susan received from her mother: "The best advice I received from my mom was not in her words, but in her actions. I have vivid memories of her always helping other people, whether we went to a birthday party and took an extra gift for a younger sibling or helped a family in times of need. Being kind and giving to other people is important!"
Susan's best advice to Sarah: "Always work hard and do your best. Go the extra step because you'll be rewarded. It matters and other people notice. Also, if you're not a little bit scared to do something new, then you're not sticking your neck out far enough!"
Jessica Kane, Associate Digital Photo Editor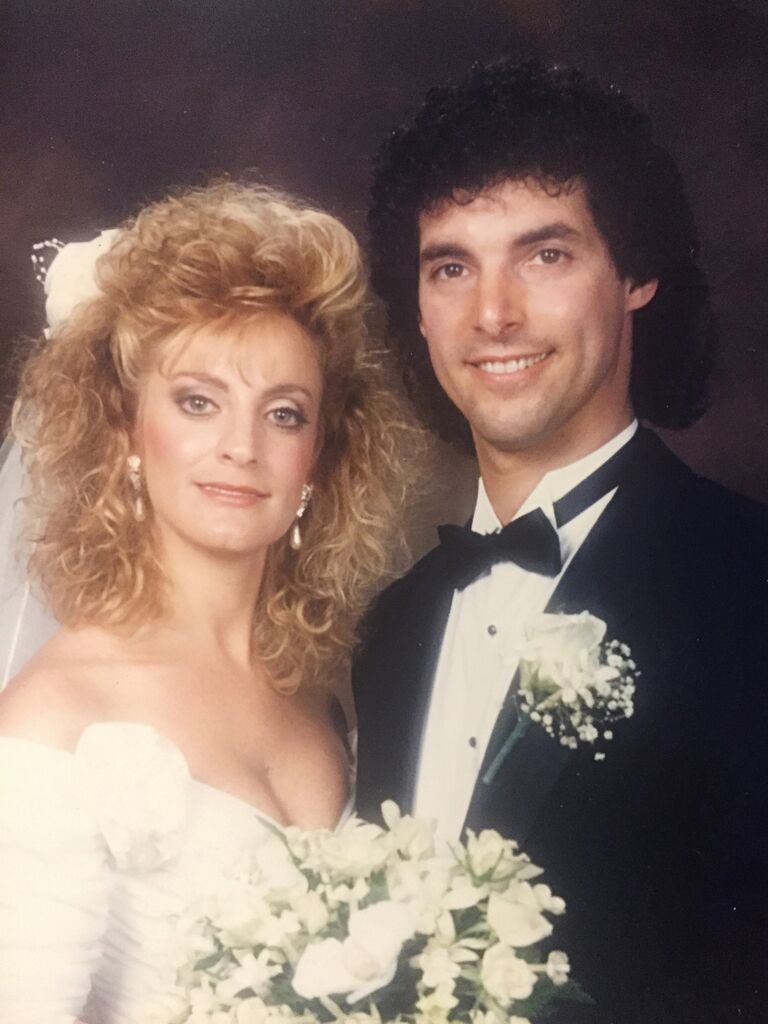 Mother's Name: Shari Kane
Wedding Date: November 11, 1990
Wedding Location: Headquarters Plaza, Morristown, New Jersey
Memorable Wedding Moments: "When your father came to see me for the first time, I was sitting with the photographer and your dad's jaw hit the floor. I knew right then and there I looked good. But most memorable was all the drama—my mom's cousin spilled white wine down my entire dress, my mom's aunt wore a denim dress with white men's sport socks and sandals to our black tie event and I also had a mishap with my vows."
Best advice Shari received from her mother: "The best advice I got from my grandma and my mother was, 'Never worry before you have to.'"
Shari's best advice to Jess: "My mom is always my go-to person for words of guidance. Her advice changes depending on the circumstance, but always reminds us that whatever decision we make, we are loved."
Whitney Little, Director of Social Media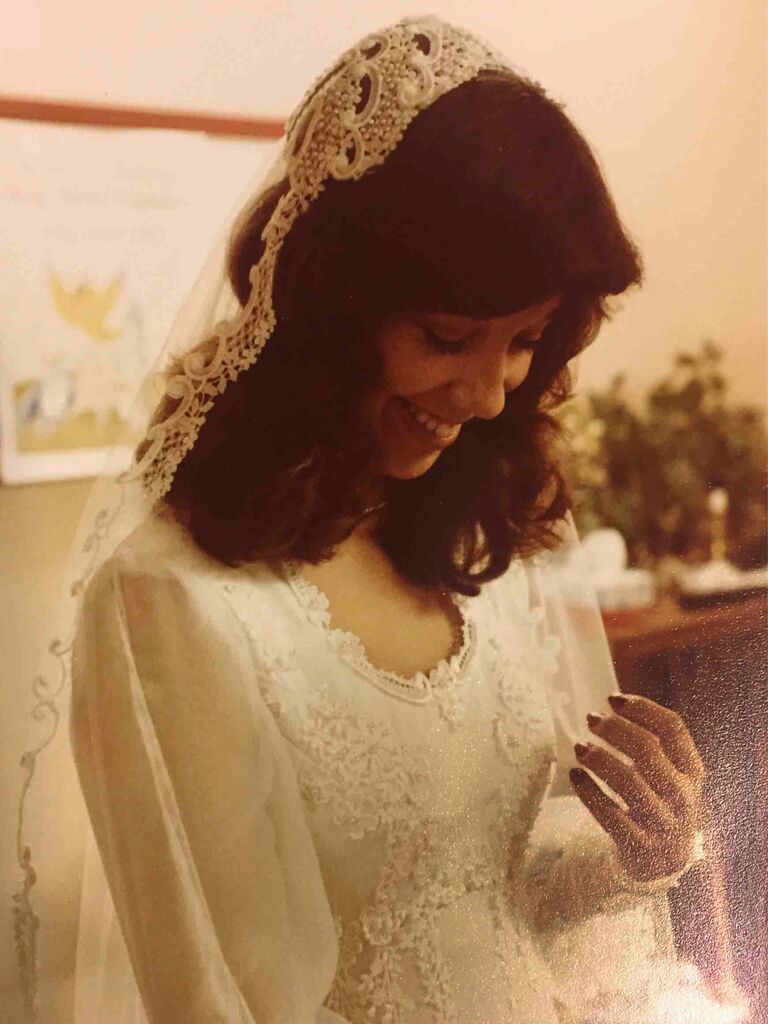 Mother's Name: Maxanne Little
Wedding Date: March 28, 1981
Wedding Location: Elmwood West United Methodist Church, Abilene, Texas (ceremony and reception)
Memorable Wedding Moments: "The day before the wedding, I was a wreck—I don't remember much about rehearsal or rehearsal dinner. The morning of the wedding, I woke up feeling calm and knowing this was the right man for me to spend my life with—no regrets. Tim (Whitney's dad) left his tux pants at his sister's house and his brother left to pick them up—but his sister had recently moved and he got lost! I was told we were running a little late, but no one said why. And the ladies I had hired to work the kitchen for the reception never showed. Tim's sweet aunt and uncle took over the job without my knowing."
Best advice Maxanne received from her mother: "[My] dad was more of the advice giver. The only thing I remember [my] Mom saying was, 'You are no better or less than anyone, we all put our pants on the same….one leg at a time.'"
Maxanne's best advice to Whitney: "I remember being so annoyed as a teenager because every time we left the house my mom would run into someone she knew—whether we were at the grocery store, bank or mall—and she would spend at least 10 minutes catching up with them (I just wanted to shop at Abercrombie in peace!). I now appreciate that so much, because she not only taught us that kindness was important, but she put it into action. My mom invests wholeheartedly in other people's lives—when she asks you how you're doing, she really wants to hear the answer. She's the friendliest, most genuine person I know and I'm lucky to have gotten a front row seat to that growing up."
Kimberly Brown, Influencers & Partnerships Specialist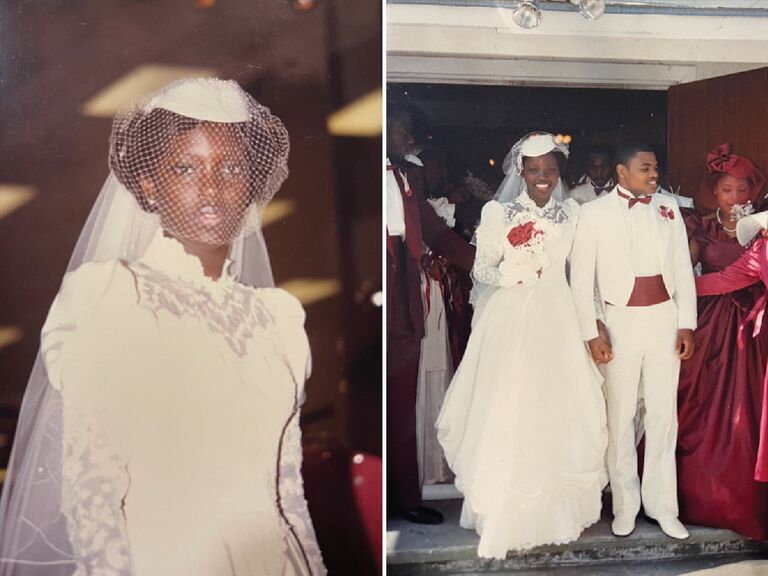 Mother's Name: Kimberly Moultrie Brown
Wedding date: May 11, 1985
Wedding location: Sarasota, FL
Memorable Wedding Moment: "Our favorite wedding memory was of our first dance with our favorite wedding song by Luther Vandross. Let the party begin! We were so young and were off to Germany after the wedding because my husband, King, was stationed in the military there. We wanted to enjoy it and dance all night!"
Best advice Kimberly received from her mother: "My mother loved to cook and showed her love through making meals for all the kids on my block. She would always say, 'Never let someone go hungry, even if they aren't your friends or family.' She always welcomed everyone."
Kimberly's best advice to Kimberly: "Be kind to everyone you meet because you never really know what kind of day someone is having. People will always remember the way you make them feel."
Kerre Jo Lattanzio, Social Media Coordinator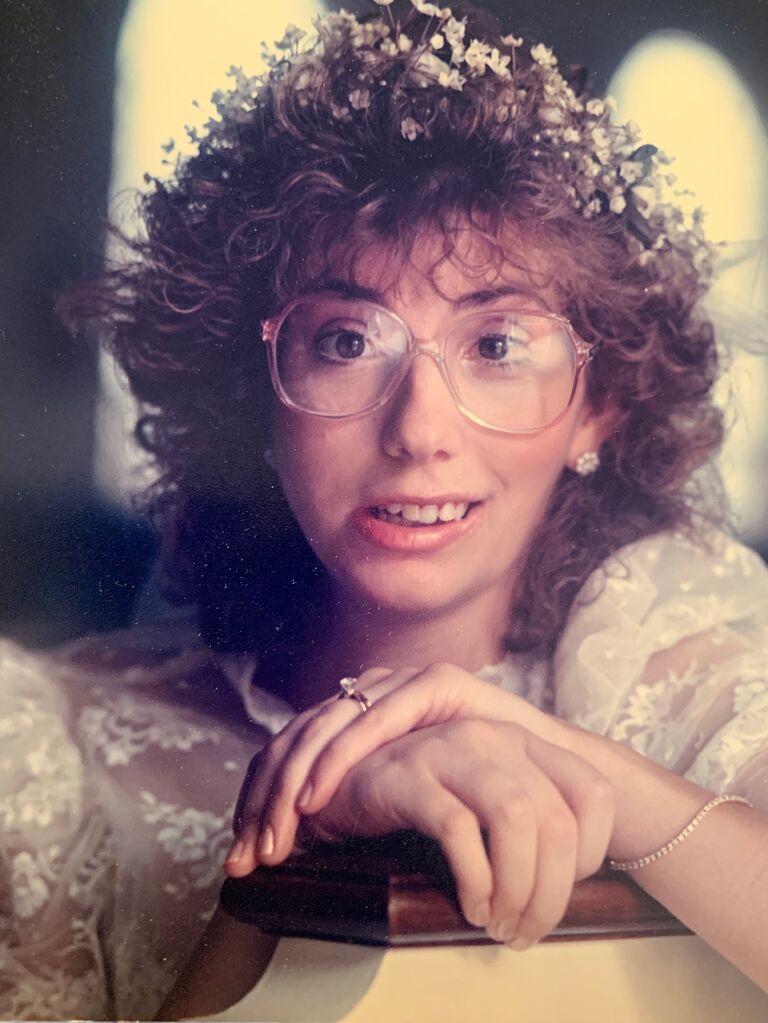 Mother's Name: Beth Lattanzio
Wedding Date: June 1, 1991
Wedding Location: Corpus Christi Church (Wethersfield, CT)
Memorable Wedding Moment: "Taking wedding photos outside after the ceremony with my husband and both of our families is one of my favorite moments! The wedding was a long time coming, so seeing the group take photos together made me so happy that the marriage was now official."
Best advice Beth received from her mother: "Don't forget to stop and smell the roses."
Beth's best advice to Kerre Jo: "Find a balance between being your own person and acting as a team, especially when it comes to making important decisions."
Clair Belleveau, Senior Social Media Manager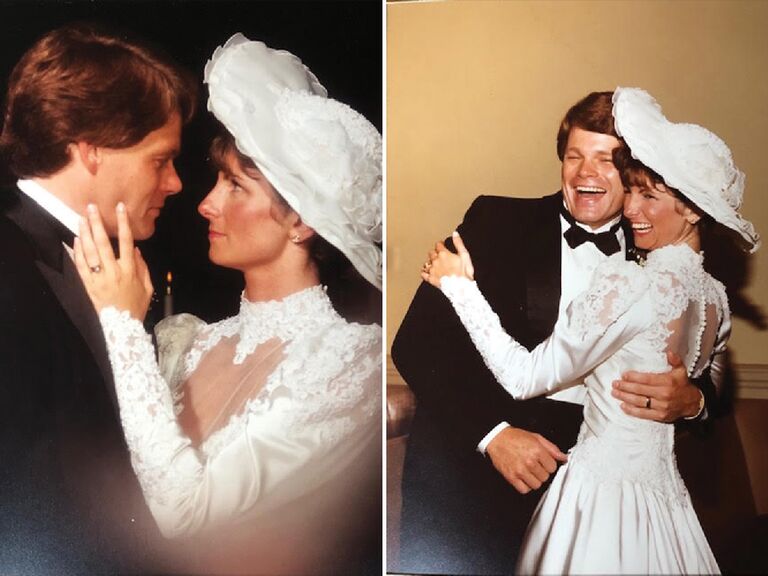 Mother's Name: Stephanie Belleveau
Wedding Date: September 29, 1984
Wedding Location: Long Beach, California
Memorable Wedding Moment: When her Alpha Phi sorority sisters put her in the center of the dancefloor and sang their chapter song to her.
Best advice Stephanie received from her mother: "You'll never know how much I love you until you have a child of your own."
Stephanie's best advice to Clair: "There is always going to be someone smarter than you, richer than you, prettier than you, more 'successful' than you—but no one can ever have 'it all.' Being you is more than enough and all we can do is make that the best version of you by your standards alone."
Samantha Iacia, Editor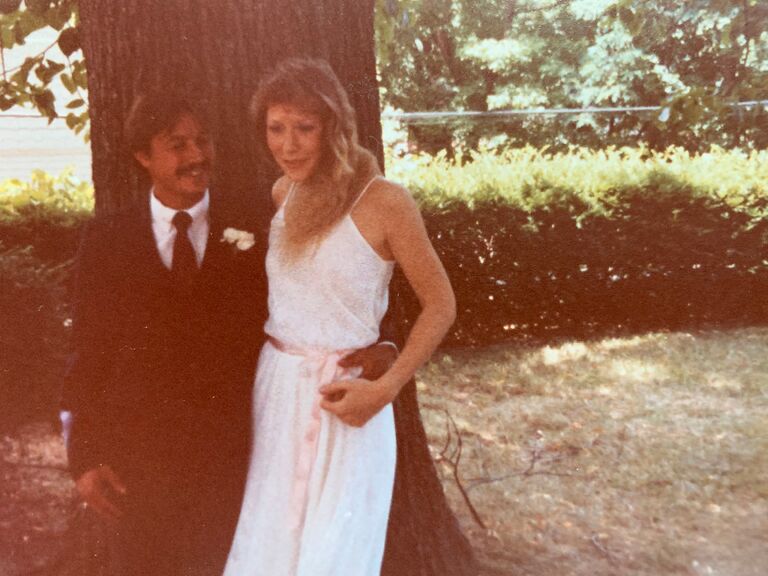 Mother's Name: Diane Iacia
Wedding Date: July 22, 1983
Wedding Location: Howard County Courthouse, Ellicott City, Maryland
Memorable Wedding Moment: "My favorite wedding memory was the calmness of the day, knowing it was right. Seeing my parents before we went to get married, then stopping by to see my husband's parents after our courthouse ceremony. Two of our best friends stood as witnesses and we were all treated like royalty at our favorite restaurant later that day."
Best advice Diane received from her mother: "My mom wasn't big on pushing advice or lectures and always seemed to accept our choices in life. She was happy when we were happy. We of course always knew she was there if we needed her, and we certainly did as the years went on, buying a sports car, buying a house, etc."
Diane's best advice to Sam: "I want her to know how proud I am of her—her choices, her integrity, her patience, her dreams. Above all, she should trust herself! And like my mom said to me, her happiness is my happiness."
Emily Rumsey, Assistant Updates Editor, Performance Content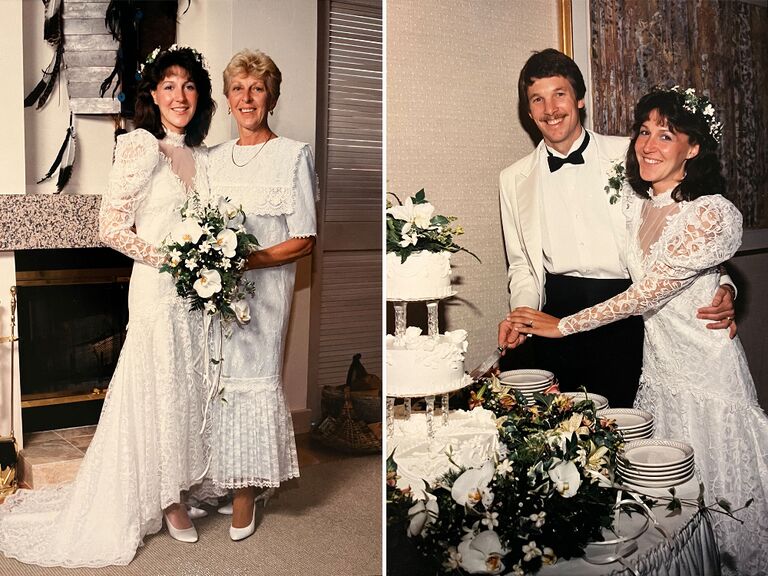 Mother's Name: Sheila Rumsey
Wedding Date: July 4, 1987
Wedding Location: St. Odilia Catholic Church (ceremony) and La Paloma Resort & Spa (reception) in Tucson, Arizona
Memorable Wedding Moment: "I think my fondest memory is at the ceremony; I had my parents walk me halfway down the aisle, then Brent [my husband] and I walked the rest together. We were both so nervous it was nice to hold each other. I felt a sense of calm and security walking up to the altar with him. During the vows, Brent couldn't even get the words out he was so emotional. After several attempts, the priest said 'It's okay, you can tell her later.' It was the Fourth of July, but it was a morning wedding. By the time night fell for the firework show, only our family and closest friends who were staying at the resort were still around. We all came together again to watch the fireworks over the mountain. It was very special."
Best advice Sheila received from her mother: "I don't remember her giving me any specific wedding or relationship advice. What she did always say though was 'Single mingle.' To her, and to us, it meant that you have to be confident in who you are. You have to be comfortable and take joy in doing things on your own."
Sheila's best advice to Emily: "Always be humble and kind."
Happy Mother's Day to all the incredible moms out there!