See The Knot Editors' Moms on Their Wedding Days (and Read Their Epic Life Advice)
Meet the remarkable ladies who've inspired The Knot editors since day one.
by Maggie Seaver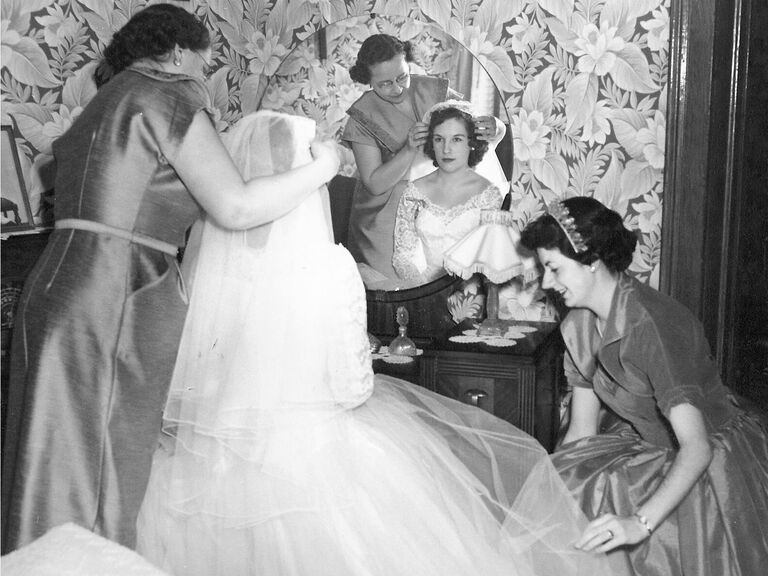 As wedding editors and propagators of love and joy, we pull inspiration from all over the place—but nowhere more so than from our fabulous mothers and grandmothers. Wise, generous, talented and down-to-earth (and don't forget gorgeous), these ladies have inspired and encouraged us since the very beginning. Below, read the best wedding stories and life advice from The Knot editors' moms and grandmas—and don't miss their amazing wedding photos. (Warning: Puffy sleeves ahead.) 
Becky Murray, Real Weddings Editor

Mother's Name: Stephanie Mickel

Wedding Date: May 8, 1982

Wedding Location: New Orleans, Louisiana
Memorable Wedding Moment: "Back then, we didn't do 'first looks.' When your dad and I finally met at the altar, right away he mouthed,  'I love your dress.' I'll never forget that."
Best advice Stephanie received from her mother: "My mom was known for dishing out succinct, old adages that really stuck with you. One saying she used repeatedly is, 'You made your bed, now lie in it.'" 
Stephanie's best advice to Becky: "My mom tends to think most of her advice is the best advice, but I know to listen up when she starts with the line, 'A mother's pearl.' She uses that phrase to lead into whatever nugget of wisdom she's about to share. For example, 'A mother's pearl: Pretty is as pretty does.'"
Emma Gray Pitt, Junior Designer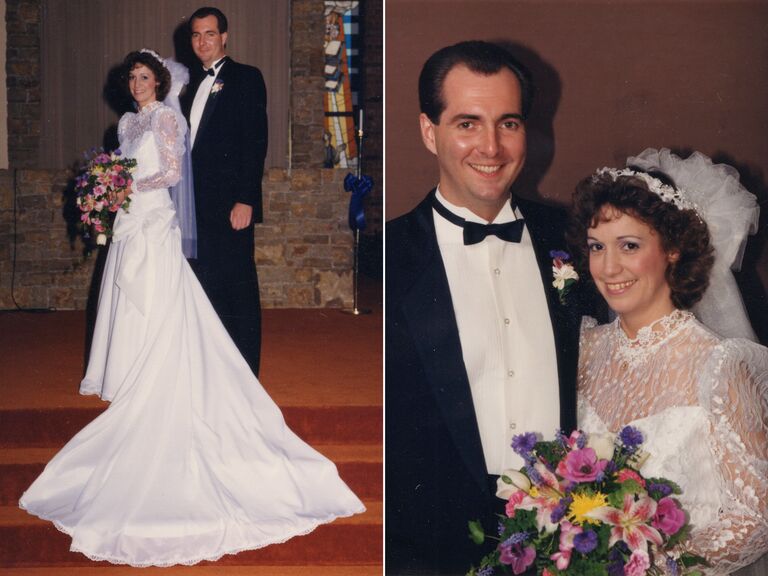 Mother's Name: Candace Albro Gray

Wedding Date: April 9, 1988
Wedding Location: Lee's Summit, Missouri
Memorable Wedding Moments: "We were married in the evening, and in my house as a teen, 9 p.m. was ice cream time, so for the reception we had an ice cream sundae bar. Everyone who knew my family totally got this!"
Best advice Candace received from her mother: "My mom didn't give much verbal life advice, but she lived a life of faith, kindness, grace, intelligence, independence, service and humor. Her best marriage advice: 'In the beginning, when he asks if he can help you with something, say yes and find a way for him to help. If you don't, he will stop asking.'"
Candace's best advice to Emma: "I think the best advice I've ever gotten from my mom is to try everything once, whether it's a new food or a new city. Give every experience a chance before deciding if it's not for you."
Esther Lee, Senior News Editor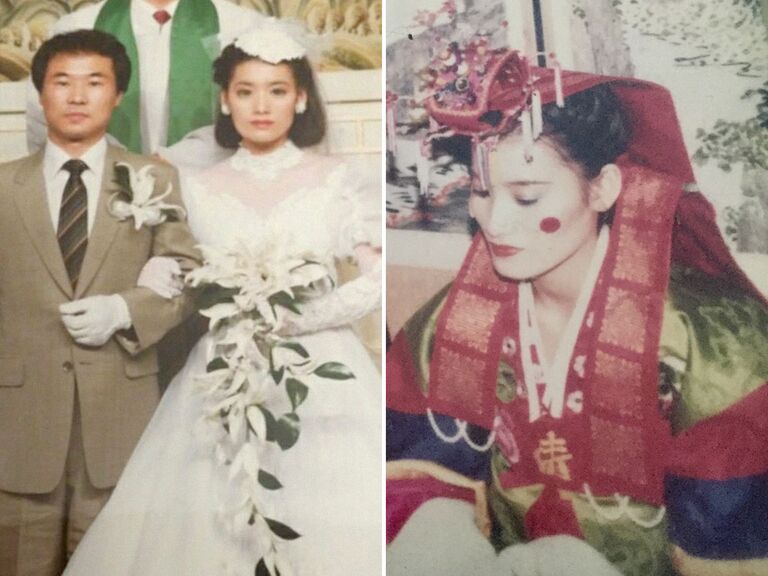 Mother's Name: Eunice Lee

Wedding Date: February 29, 1985

Wedding Location: Daegu Country Club, Gyeonsan-Do, South Korea
Memorable Wedding Moments: During the Paebaek ceremony, it's customary for the parents of the couple to give marriage advice first. Then, they toss acorns—to signify the number of children in the future—and the bride has to catch them with her skirt. "Ours was so funny," Eunice says. "My mother-in-law went first. She picked up five acorns and somehow, only three made it. Now, there's three of you!"
Best advice Eunice received from her mother: "Everything in life—whether it's getting an education or performing a job—should ultimately aim to help others."
Eunice's best advice to Esther: "Like most mothers, my mom also dishes those life lessons on a heaping platter, but it's her lifestyle that serves as the ultimate guideline for how to navigate matters in my own personal life. Her unwavering devotion to my dad, to us—the kids—and to her loved ones, plus the local community, have made me better as a result of simply observing her. She's my hero."
Ivy Jacobson, Senior Digital Editor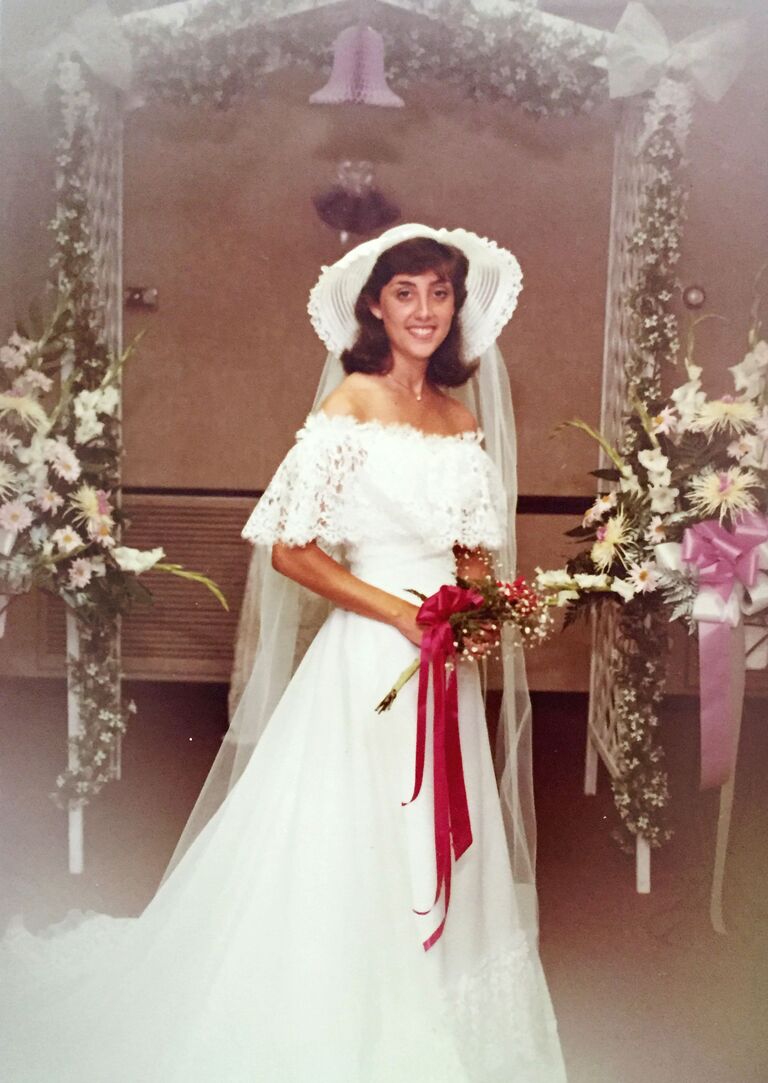 Mother's Name: Ellen Holcomb

Wedding Location: Woodmont Clubhouse (ceremony), Temple Terrace Golf & Country Club (reception), Temple Terrace, Florida
Memorable Wedding Moments: Ellen's mother attached the tulle to the hat for a train, and her brother decorated their golf cart to ride in from the ceremony to the reception. Her florist also called on Saturday wondering why nobody was setting up yet. She had to remind them the wedding was on Sunday and they had to redeliver the flowers the next day—thankfully, they still looked good!
Best advice Ellen received from her mother: "Always follow the Golden Rule, and don't borrow trouble."
Ellen's best advice to Ivy: "My mom and I always laugh over her signature phrase, because I always know it's coming to me before she even says it. When she tells me to 'keep the control,' she's not telling me to be selfish. It's a subtle but impactful reminder to always be the person in charge of your own life and the things you can control, since so much of life is adapting to the things you can't."
Jessica Kane, Associate Digital Photo Editor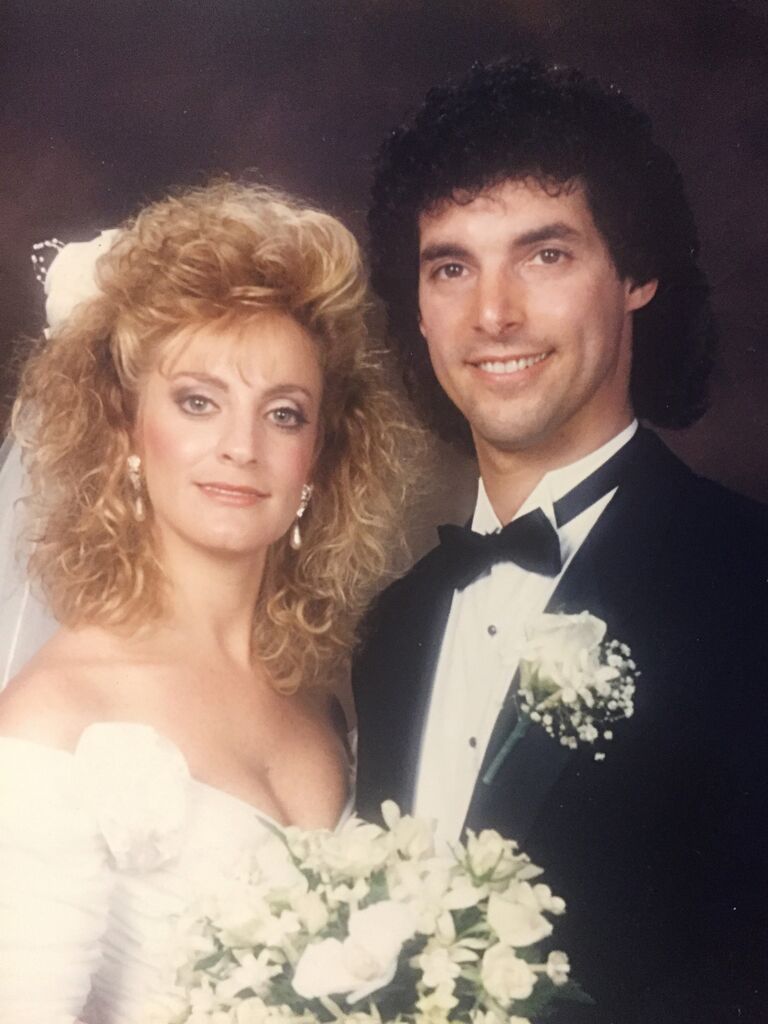 Mother's Name: Shari Kane

Wedding Date: November 11, 1990
Wedding Location: Headquarters Plaza, Morristown, New Jersey
Memorable Wedding Moments: "When your father came to see me for the first time, I was sitting with the photographer and your dad's jaw hit the floor. I knew right then and there I looked good. But most memorable was all the drama—my mom's cousin spilled white wine down my entire dress, my mom's aunt wore a denim dress with white men's sport socks and sandals to our black tie event and I also had a mishap with my vows."
Best advice Shari received from her mother: "The best advice I got from my grandma and my mother was, 'Never worry before you have to.'"
Shari's best advice to Jess: "My mom is always my go-to person for words of guidance. Her advice changes depending on the circumstance, but always reminds us that whatever decision we make, we are loved."

Katie Kortebein, Assistant Editor, Research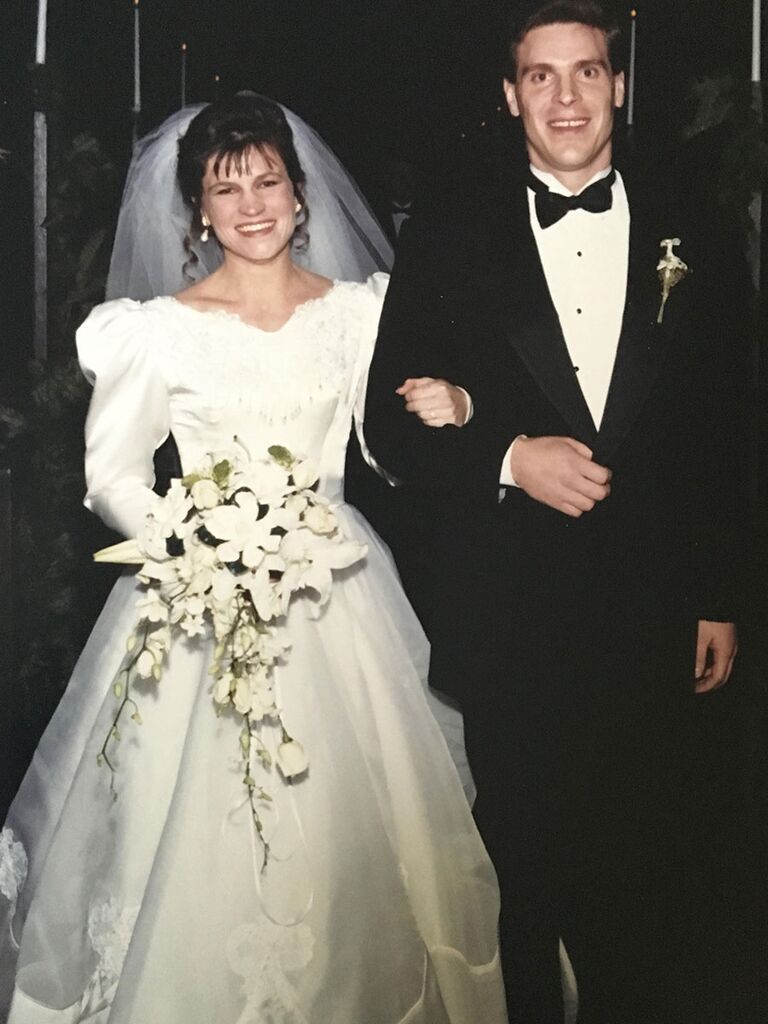 Mother's Name: Betsy Kortebein

Wedding Date: December 29, 1990

Wedding Location: Pasadena, California
Memorable Wedding Moments: "As UCLA grads, we had the UCLA marching band play the fight song as we exited the reception. But our wedding planner didn't show up to the wedding or, more importantly, the reception. I remember my mother was a bit frazzled but I was oblivious to the inconvenience. My focus was that I was now married to the love of my life and there was cake."
Best advice Betsy received from her mother: To encourage Betsy to ask her now-husband out on a first date the week before he moved across the country. Her mother told her: "Just go for it, don't wait around— you'll never know unless you try."
Betsy's best advice to Katie: "Don't worry about everyone else. There's always going to be someone who seems better, but focus on yourself and what you can do. That's when you'll shine."
Kristen Maxwell Cooper, Editor in Chief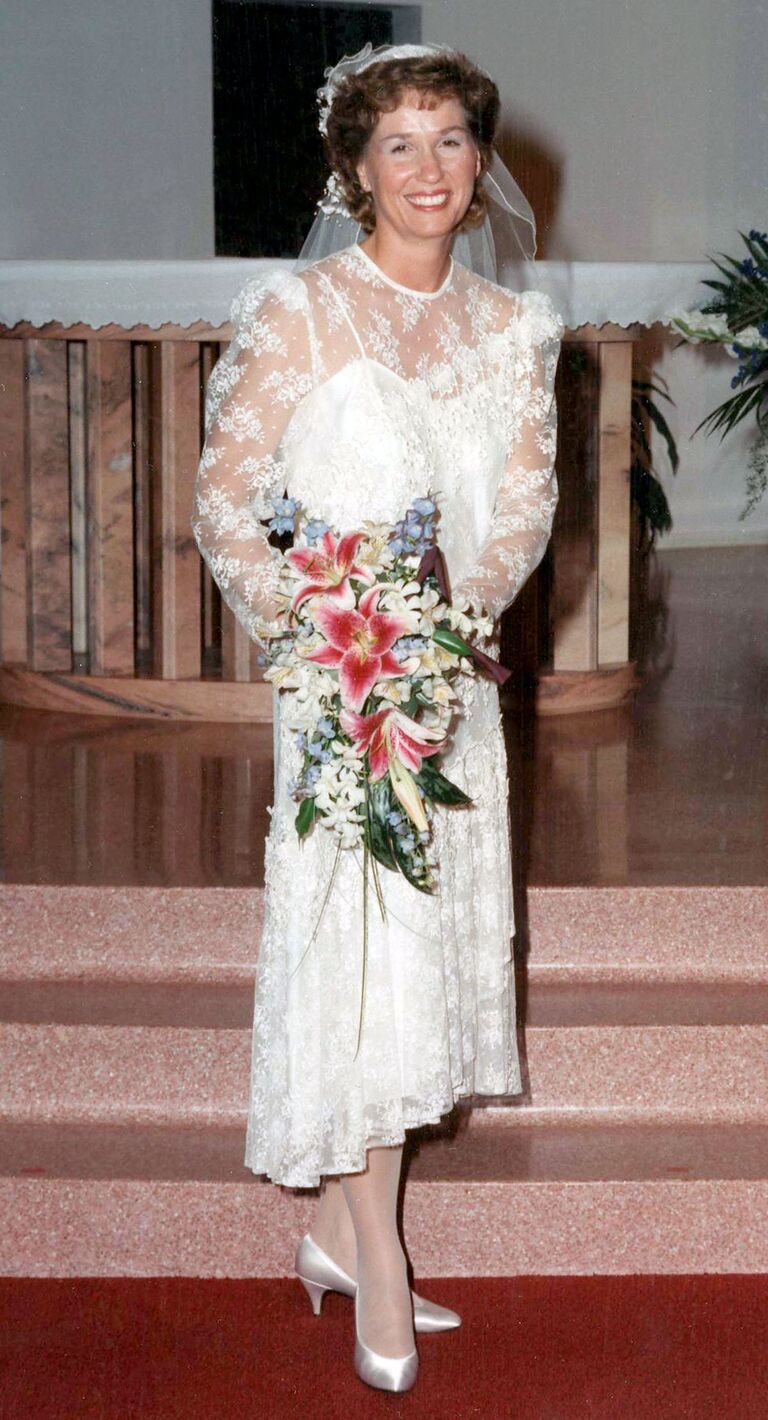 Mother's Name: Pam Freiberg

Wedding Date: August 18, 1989
Wedding Location: St. Louis, Missouri

Memorable Wedding Moment: "I had already had one wedding—the traditional one to my college boyfriend. That didn't work out too well and I was left with three children to raise. Most choices were made fairly quickly as I didn't have the time to pore over magazines making the perfect decision. I did carefully choose a ring—something you wear forever—and I still love it.We did have a receiving line, and all of a sudden one of the 'cute flower girls' (Kristen!) was clinging to the back of my dress crying. As we talked to her to find out the problem, we learned she'd taken a little swipe of frosting from the cake and that my aunt had yelled at her. She still doesn't like that aunt!"
Best advice Pam received from her mother: "One quote from mom that I always remember is, 'Yes, you can! The end of American is -ICAN, and you can!'"
Pam's best advice to Kristen: "My mom is a treasure trove of great advice. But if I had to pinpoint the best, it's probably something my mom says over and over: 'Above all, trust your gut. If your gut is telling you something doesn't feel right, it probably isn't.'"
Lauren Kay, Deputy Editor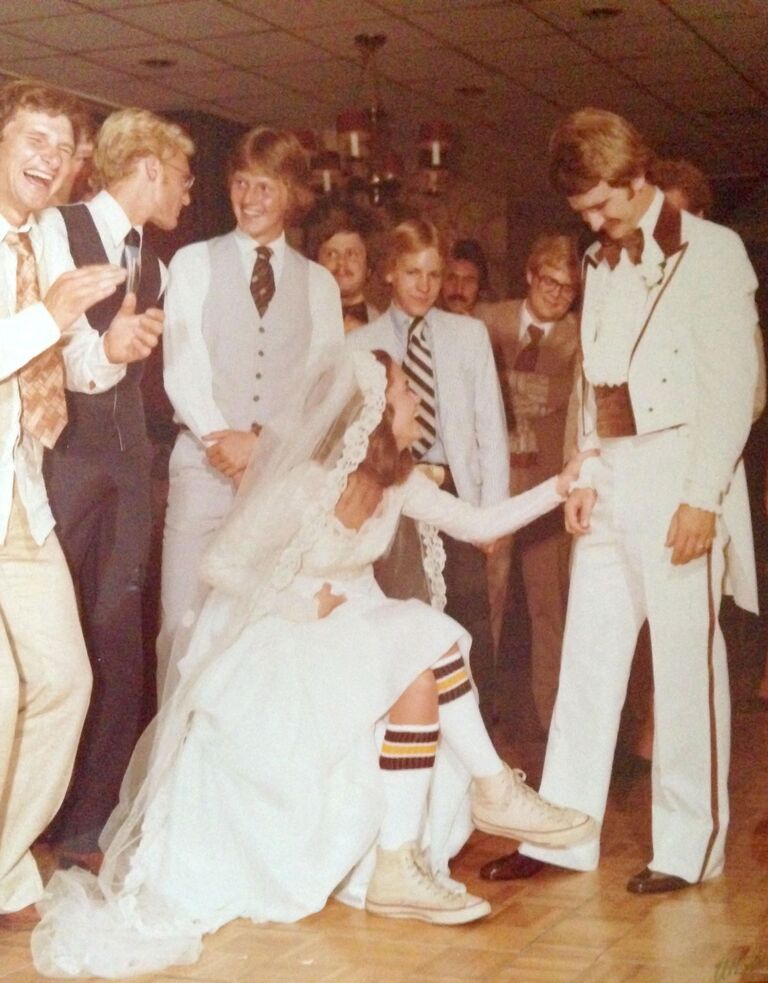 Mother's Name: Kris Kay

Wedding date: August 13, 1977
Wedding Location: Grace Episcopal Church, Kirkwood, Missouri (ceremony) and Westport Plaza and Chalet, St. Louis, Missouri (reception)
Memorable Wedding Moment: "As a joke, due to my husband stating, 'Everything doesn't have to be perfect,' I gave him a surprise. When he was reaching for my garter he felt athletic socks, then saw that I was also wearing his brothers converse shoes. It was difficult pulling this off since I had to lift my dress to walk and I didn't want to give away the surprise. It was well worth it to see his expression!"

Best advice Kris received from her mother: "Follow the golden rule: Do unto others as you would have them do unto you."
Kris's best advice to Lauren: "She taught me to always be kind and to do my very best. And now, as a mom, I appreciate the many sacrifices she's made for me over the years even more."
Maggie Seaver, Assistant Editor, Digital 
Mother's Name: Christine Seaver

Wedding Date: June 21, 1986
Wedding Location: Basilica of the Sacred Hearts of Jesus and Mary, Southampton, New York (ceremony) and Westhampton Country Club, Westhampton Beach, New York (reception)
Memorable Wedding Moments: "Our wedding date was both the Summer Solstice (the longest day of the year) and a full moon, so a very auspicious day. We're a dancing family and no holiday or celebration is complete without plenty of time on the dance floor. For our reception, we hired an all-female swing band, and my older brother gave me and my three sisters each a pair of pink Converse Chuck Taylor high-top sneakers. They were the hit of the party—I still have them."

Best advice Christine received from her mother: "You should marry someone who adores you completely. You deserve that kind of love and will respond in kind all your life."
My mom's best advice to me: "My mom has always encouraged me to practice empathy and be as helpful as possible. There's no such thing as, 'That's not my job,' or, 'That's not my mess.' Life is an all-hands-on-deck affair."
Maria Bouselli, Managing Editor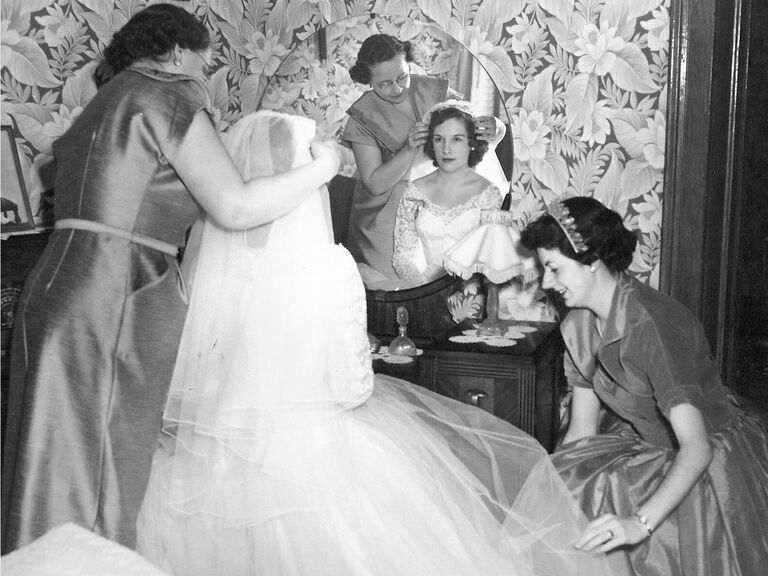 Grandmother's Name: Rose Marie Zuba

Wedding Date: December 31, 1955
Wedding Location: Scranton, Pennsylvania
Memorable Wedding Moments: "Since it was a Polish wedding, we got married at 9 a.m. An accordion player came to the house and played outside as I got into the car on my way to the ceremony. We had breakfast at the hall for the bridal party and ceremony attendants, went to the studio for photos, then went back to the hall for the reception at 5 p.m. At the reception, we were greeted with bread, salt and wine. Bread: so we never go hungry; salt: to give flavor to our marriage and help cope with any difficult times in our life; and wine: so we never go thirsty, and to toast to good health and the company of many great friends."
Best advice Rose Marie received from her mother: "My mother told me always to be on the same page as your husband. You have to come first to your husband, and your husband has to come first to you."
Rose Marie's best advice to Maria: "My nana always says that you should have lots of things to look forward to; she and my grandpa did so much together—traveling and hosting holidays at their house. So I'm always planning fun trips and get-togethers with my friends and family. She also says, 'Every pot has its lid'—and now that I'm older, I've seen that definitely proves to be true."
Rachel Sylvester, Real Weddings Editor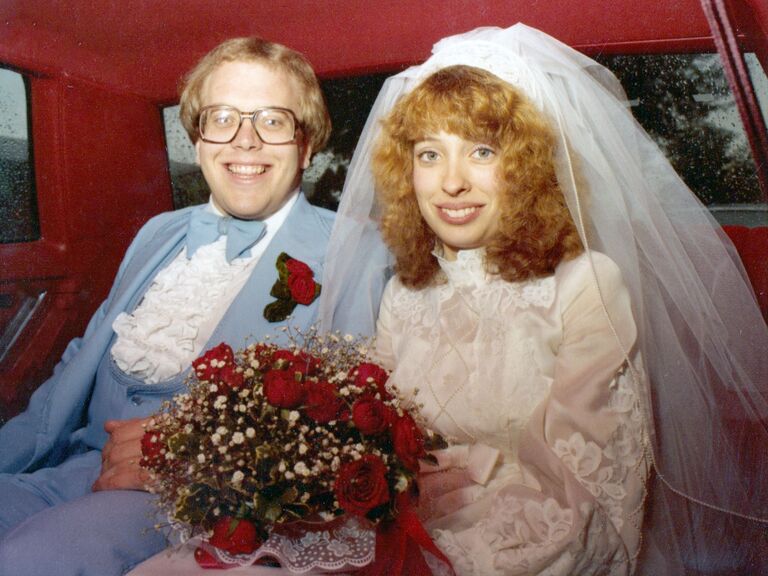 Mother's Name: Eva Griffin

Wedding Date: October 6, 1979
Wedding Location: Roma Hall, Madison Heights, Michigan
Memorable Wedding Moments: "We were young and didn't have any money, but we paid for the wedding ourselves. I borrowed my dress, and my bridesmaids wore electric-blue gowns with a removable tier for dancing. It was the end of the disco era, so Gary (Rachel's dad) was right on trend in his baby-blue tux. One of my favorite memories was watching him throughout the evening. We literally danced the entire night until the owner of the hall had to shut it down in the early morning hours."
*Note from the groom, Gary Sylvester: "I remember telling [Rachel's] mom, 'Enjoy the night because it'll go by quickly.' But I kept thinking to myself, 'Marry that girl before she gets away.'"
**Note from Rachel: "I'm convinced that a baby-blue tux is the key to a successful marriage. They've been going strong since they first met more than 40 years ago."
Shelley Brown, Fashion & Beauty Editor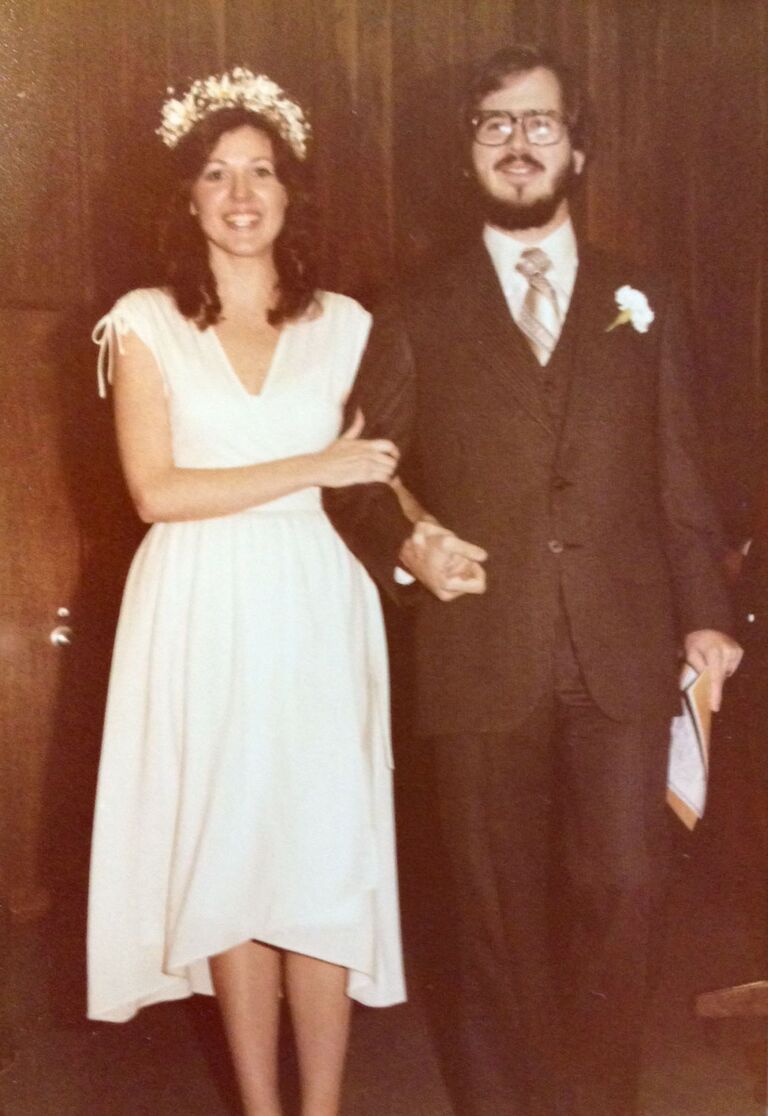 Mother's Name: Marlene Brown

Wedding Location: Long Beach, California
Memorable Wedding Moments
Shelley: "My parents originally planned to have a big wedding, but when planning proved too stressful, they decided to elope. They got married at the courthouse in Long Beach and my mom wore a simple wrap dress she bought off-the-rack, accessorized with a flower crown she had made on the spur of the moment on the way to the courthouse—how cool is that?"
Marlene: "We told the florist, 'We're getting married in 20 minutes. What can you do for us?' They made me a flower crown. I just love that headpiece. There were all these people lined up at the judge's office taking care of their traffic tickets or whatever business at the courthouse. When we walked in all dressed up, everyone realized we were there to get married and started cheering for us and wishing us luck. It was a really neat moment."
Marlene's best advice to Shelley: "If you're dating someone who doesn't treat you well, don't waste time trying to figure out why. They're a loser. It's not you. If someone can't treat you the way you should be treated, they aren't worth your time."
Sophie Ross, Assistant Editor, Digital
Mother's Name: Amy Ross
Wedding Date: September 6, 1987
Wedding Location: Adath Israel Synagogue, Cincinnati, Ohio
Memorable Wedding Moments: "I found out shortly before our wedding that Genie Francis, aka 'Laura' from my favorite soap opera General Hospital had gotten married in the same exact wedding dress as mine—we have such great taste! Also your father was so worried I wasn't going to show up he opened the door to the bridal room to check if I was there. And immediately after we were married, Nana Ginny (Sophie's grandmother) pulled me aside, hugged me and said, 'Oh, Amy, we never thought we would find anyone to marry our Dougie (Sophie's dad).' Okay, so now she tells me that?"
Best advice Amy received from her mother: "If you have nothing nice to say, don't say anything at all."
Amy's best advice to Sophie: "'Guilt is a useless emotion' is pretty much her catchphrase. I always pine over things I feel bad about, regret or wish I could change, and it's a helpful reminder that there's no point in looking back. Forward is the only direction that matters."
Trisha Tucker, Social Marketing Manager
Mother's Name: Suzan Tucker

Wedding Date: September 18, 1981
Wedding Location: St. Joseph Roman Catholic Church (ceremony) and Greate Bay Country Club (reception), Somers Point, New Jersey
Memorable Wedding Moments: "The priest who married us was Gene's (Trisha's dad) uncle and he was so nervous about the wedding that Gene's dad was feeding him Scotch all afternoon. By the time we got married, around 5 p.m., he couldn't even stand up – the altar boys had to hold him steady the whole time. He was going through the mass painfully slowly, forgetting key lines and telling family stories. The ceremony took almost an hour and a half in total—we were dying!"
Best advice Suzan received from her mother: "My mom told me how important it was to have the difficult discussions up front before getting married—whether it be about money, religion or raising children. The sooner you find out if you're on the same page or not, the easier it will be to talk it over, compromise and move forward together in your relationship (and your life) together."
Suzan's best advice to Trisha: "My mom always knows the right thing to say, or the perfect life story to give new perspective to a situation. She looks at life as a journey and often says how important it was for her to marry her best friend. She reminds me the value of patience and says, 'Love is work—it's not always going to be easy. There may come a time you'll have to fight for it, but the only love worth having is the one worth fighting for.'"
Whitney Little, Associate Director, Social

Mother's Name: Maxanne Little
Wedding Date: March 28, 1981
Wedding Location: Elmwood West United Methodist Church, Abilene, Texas (ceremony and reception)
Memorable Wedding Moments: "The day before the wedding, I was a wreck—I don't remember much about rehearsal or rehearsal dinner. The morning of the wedding, I woke up feeling calm and knowing this was the right man for me to spend my life with—no regrets. Tim (Whitney's dad) left his tux pants at his sister's house and his brother left to pick them up—but his sister had recently moved and he got lost! I was told we were running a little late, but no one said why. And the ladies I had hired to work the kitchen for the reception never showed. Tim's sweet aunt and uncle took over the job without my knowing."

Best advice Maxanne received from her mother: "[My] dad was more of the advice giver. The only thing I remember [my] Mom saying was, 'You are no better or less than anyone, we all put our pants on the same….one leg at a time.'"

Maxanne's best advice to Whitney: "I remember being so annoyed as a teenager because every time we left the house my mom would run into someone she knew—whether we were at the grocery store, bank or mall—and she would spend at least 10 minutes catching up with them (I just wanted to shop at Abercrombie in peace!). I now appreciate that so much, because she not only taught us that kindness was important, but she put it into action. My mom invests wholeheartedly in other people's lives—when she asks you how you're doing, she really wants to hear the answer. She's the friendliest, most genuine person I know and I'm lucky to have gotten a front row seat to that growing up."
Happy Mother's Day to all the incredible moms out there!