Should You Let Your Wedding Party Bring Plus-Ones?
So, you're on a tight budget—but shouldn't your bridesmaids and groomsmen still get to bring a date? Here's our take on the subject (then tell us what you think).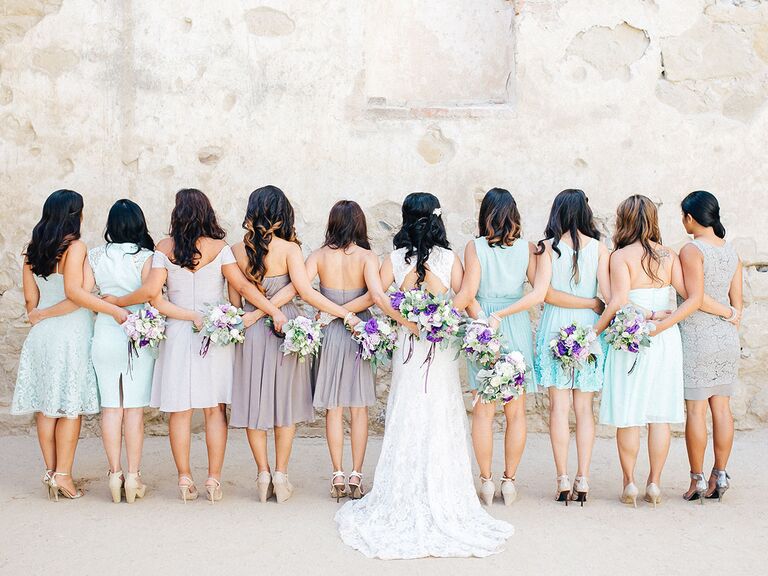 Shutterstock
No one understands better than we do about the stress and nuances of planning a beautiful, personal wedding within your particular budget. Splurge on lighting and save on flowers? Treat everyone to an open bar, but cut back on the guest list? The decisions can be overwhelming.
But there is one important extra we highly encourage you to include: Let your wedding party bring plus-ones. It's a bit of a hot-button topic, especially if you're not including plus-ones for the rest of your guests, but it's a courteous move your wedding party members will appreciate. This doesn't mean you have to force each bridesmaid and groomsman (or bridesman and groomswoman) to tote a date to your wedding if they don't want to (there's a chance they'll decline anyway), but it's important make the offer—and here's why.
They've been there from the start.
Dress shopping, planning your bachelorette party, fastening the 150 buttons down your wedding dress before the ceremony, ushering your great-aunts and uncles down the aisle, supervising the flower girls and ring bearers, calling the limo company last minute—the list is endless, which proves these friends have been your steadfast support group and source of fun throughout the entire wedding prep process. It's important to remember that they've not only given you their time, love and energy, but they've also spent a lot money out-of-pocket on everything from attire to lodging and transportation. They deserve a date.
They don't want to be set up with their ceremony procession partner.
The person each wedding party member walks down the aisle with probably isn't their date or significant other, and while you may think they make the perfect pair, there's nothing more awkward than having a setup happen on display. And it's especially low if you just want the pairing to work so you can sweep the whole no plus-one thing under the rug.
Going to a wedding by yourself can be super awkward.
Imagine you're the only bridesmaid from out of town and all the other bridal party members are close, related, married, a completely different age—you get the idea. Sure, some people love to fly solo, but oftentimes hitting a wedding by yourself can be lonely, awkward and unpleasant. Thank your girls and guys for all they've done by alleviating some of that discomfort and letting them bring someone they know and like. Plus, what's less enticing than being a bridesmaid when your long-term boyfriend isn't invited to the wedding? Just trust us on this one, and offer your wedding party the option of a plus-one.
Now it's your turn to weigh in: