Grab The Knot Texas Weddings Magazine, On Newsstands Now!
Want to see some of the prettiest real weddings in Texas and get the scoop on the trendiest reception venues? Pick up The Knot Texas weddings magazine today to catch the latest.
by Shelby Simon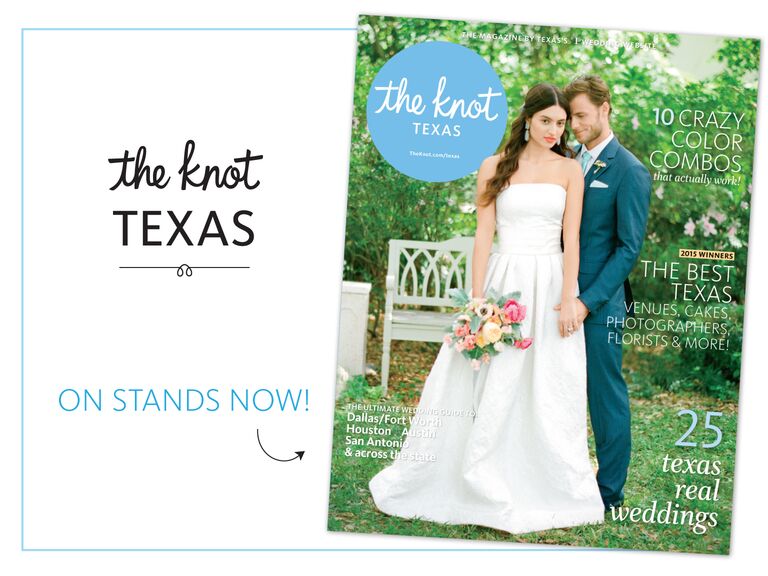 Today's the day, Texas Knotties! Saddle up and grab a copy of The Knot Texas—on newsstands now! Our Fall/ Winter issue is filled with all the latest trends and prettiest real wedding inspiration tailored to Texans so you have all the tips and tricks to plan your perfect wedding.
Don't miss expert advice from wedding cake baker Paloma Efron of Coco Paloma Desserts on how to choose the right cake for your wedding (with local flair!) and the latest scoop on the coolest Texas ballrooms with a twist, from Dallas to Lubbock, Austin to San Antonio and everything in between!
Looking for fresh ideas for your own wedding? Check out some of our favorite real weddings of the season, such as this ethereal luxe wedding that looks like a scene straight out of 'A Midsummer Night's Dream' or this DIY rustic ranch wedding with modern geometric touches and awesome air plants in the floral arrangements!
All this and more in our Texas issue! Can't wait to get your hands on it? Click here or go to Barnes & Noble or Zinio to get the digital issue!