Everything You Need to Know About Getting Married in Utah
Look to The Knot for local details about getting married in Utah, from choosing your wedding venue to getting your marriage license.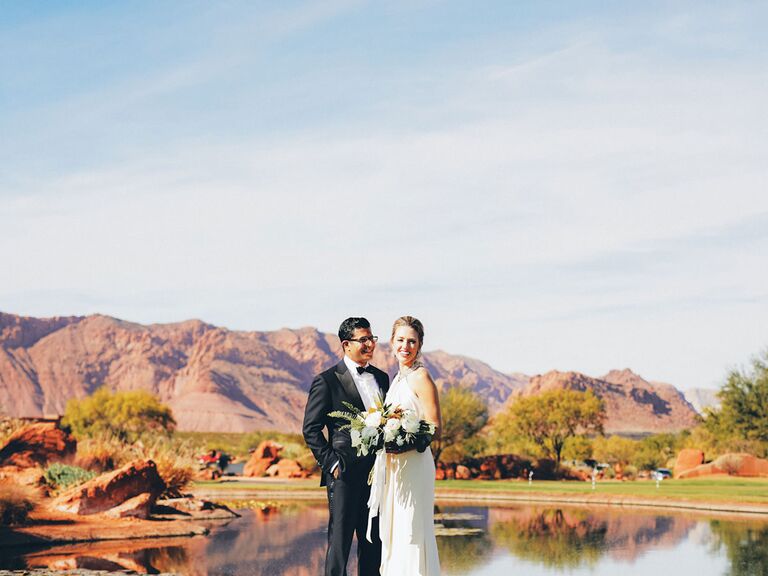 Gideon Photography
Ultimate Guide to Getting Married in Utah
Utah's name, taken from the Ute Indians whose name means "people of the mountains," couldn't be more appropriate for a state that's home to the central Rockies, the Colorado Plateau and sprawling Wasatch Mountains. With five national parks, nine ski resorts, colorful canyons, evergreen forests, deserts and natural attractions like the vast Bonneville Salt Flats and the Great Salt Lake, Utah is infused with natural beauty and an adventurous spirit.
Recreational activities such as fishing, hunting, hiking, rafting, skiing and simply enjoying the outdoors are cornerstones of Utah's culture. But that's not all—there's also plenty of rich Native American, Old West and Jurassic history to explore, as well as a thriving arts culture throughout the state. Wedding venues in Utah vary as much as its diverse landscapes, from ranches and resorts to event halls with impressive outside spaces and views. Along with practical information such as how to create your wedding budget and obtain your marriage license, this guide also includes fun ideas and insider tips to help you plan a gorgeous Utah wedding. Follow along with your wedding checklist to make sure everything is done on time.
Top Wedding Trends in Utah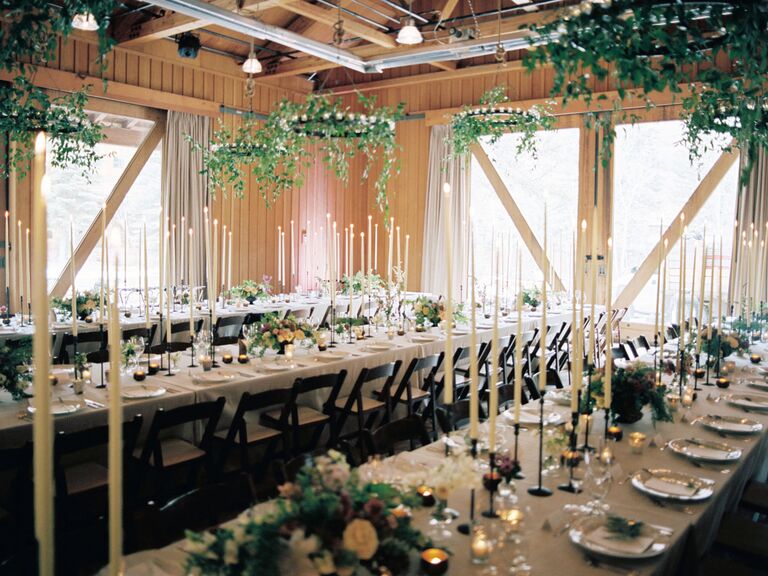 Thousands of years of wind, water and weather have made their imprint on Utah's landscapes, creating an array of gorgeous wedding venues for couples to choose from.
According to The Knot 2015 Real Wedding Study, 39 percent of couples have an outdoor ceremony and 22 percent have an outdoor reception. Thanks to Utah's breathtaking views, couples who choose to have an indoor wedding ceremony or reception can still enjoy Utah's unique beauty. Resorts, private gardens, historic homes and banquet halls are some popular places for Utah couples to marry.
Many Utah weddings are fairly traditional, with a small percentage choosing a more laid-back celebration. Eighty-four percent of couples opted for a formal/black tie and 69% opted for a semi-formal affair, while just 14 percent preferred a more casual celebration, as reported by The Knot 2015 Real Weddings Study.
Utah Marriage Rates and Wedding Costs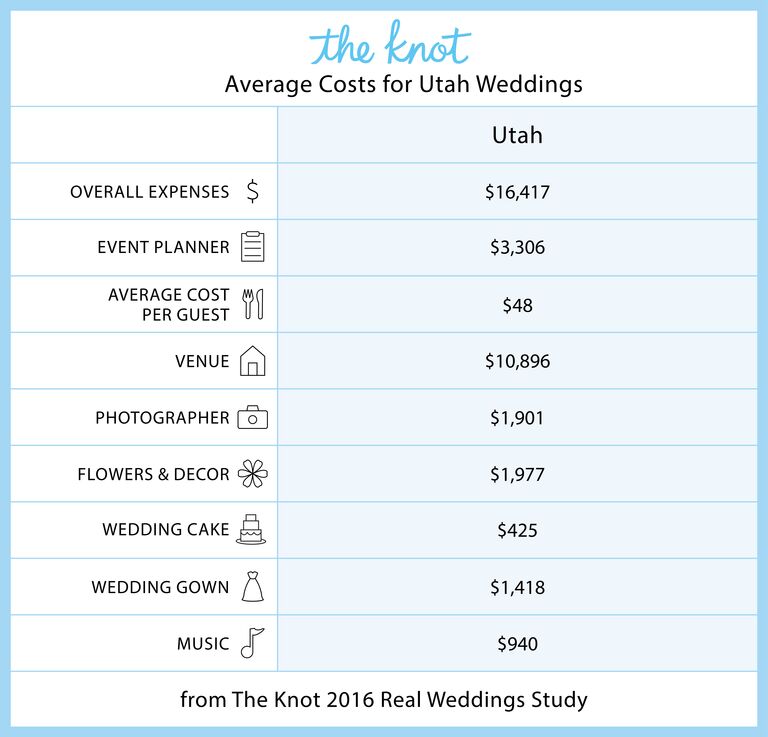 While cake tasting and scouting wedding venues trumps making a budget any day, it's important to make sure you know how much you can spend on your wedding. If crunching numbers isn't your cup of tea, don't worry. The Knot Budgeter helps calculate your budget and track expenses, so you can have the day you've always wanted without overspending. Getting an idea of what an average Utah wedding costs can also help you create your budget as you start the planning process.

Utah Marriage Stats
With 7.3 per 1,000 people getting married each year, and Utah is a popular state for weddings. As for wedding costs, Utah couples can expect to spend about $18,000, according to The Knot 2015 Real Weddings Study. While more people are getting married in the Beehive State compared to the national average, these to-be-weds are spending significantly less than average wedding cost of $26,770.
Budget Breakdown: Average Costs for Utah Weddings
Getting a sense of what you'll pay for your wedding day expenses will make it easier to budget and negotiate with vendors. Below you'll find average costs for some of the more common wedding categories:
Top Cities to Tie the Knot in Utah
One of the top cities in Utah to tie the knot is the state's capital, Salt Lake City. As Utah's most populous city, Salt Lake City has a slew of wedding venues and vendors available to make your wedding day a memorable one.
Make It Legal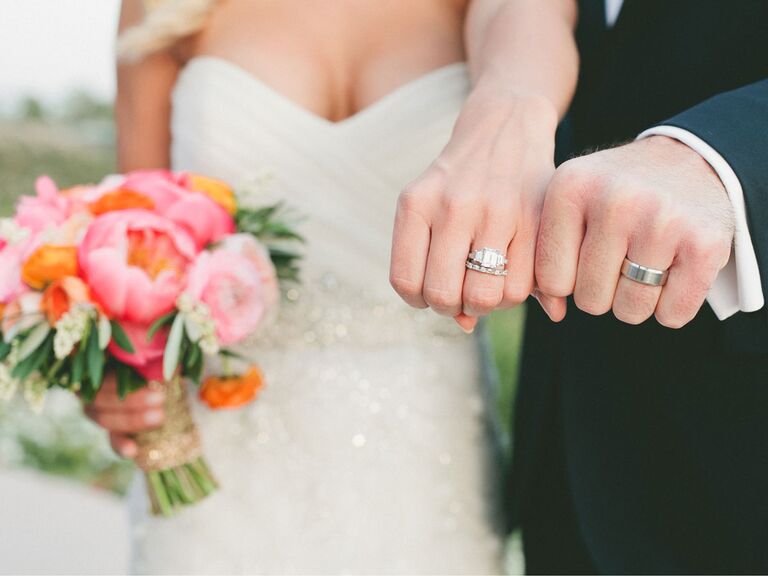 Saying "I do" isn't the only thing you need to do to make your marriage official. You need to make sure your officiant is legally authorized to perform marriage ceremonies, get your marriage license, and if you choose to, change your name(s). It may sound daunting, but it's all very straightforward.
Getting Your Utah Marriage License: The Basics
To get your marriage license in Utah, you need to go to any county clerk's office in the state. While you don't have to be a Utah resident, both to-be-weds must be present and the following steps are required:
Pay a fee ($40-$45 on average, but it depends on the county.) If you'd like additional copies of the marriage license, there may be an additional fee.
Provide one form of ID such as a valid driver's license, passport or original birth certificate. If a birth certificate is used, a photo ID is also required.
Provide both of your social security numbers as well as the names and birthplaces of both sets of parents, including each mother's maiden name.
There is no waiting period, meaning you can get married as soon as you receive the marriage license. It's valid for 30 days, and at least two witnesses over the age of 18 must be present at the wedding ceremony.
A minister, rabbi, priest, mayor, judge, county clerk, Native American spiritual adviser, the Governor, court commissioners and judges as well as particular members of the legislature may perform wedding ceremonies. After the wedding, your officiant is required to sign the certificate of marriage and file it.
Permits & Other Legal Requirements for Utah Wedding Venues
Depending on where you want to get married, you may need to obtain special permits. For example, if you choose to have an outdoor wedding in one of Utah's public parks, you need to complete an application to get a permit and adhere to other regulations, such as making sure any tents or canopies you use are within certain size parameters. The state's national parks require special use permits and have rules regarding music, and guest maximums. Indoor wedding venues may or may not require additional permits, so be sure to check with the venue's wedding coordinator to make sure you meet all requirements well before your wedding date.
How to Change Your Name in Utah
If you choose to change your name, the first step is to get a new Social Security card. Submit the following documents to your Social Security office either in person or by mail:
A copy of your Utah marriage certificate
Driver's license or passport
US birth certificate or US citizenship certificate
Once you obtain a new Social Security card, you can then apply to change your name on your driver's license.
Utah requires you change your name in person at the local Department of Public Safety (DPS) Driver License Division. You also need to present the following:
Marriage certificate
$18 fee for a new license
You also need to complete an application for a new license, which you can complete beforehand or in person at the driver license office.
Whether you do it on your own or use a name-change service like HitchSwitch, make sure to update your name on all of your important accounts once a new Social Security card and driver's license have been issued to you.
It's All About Timing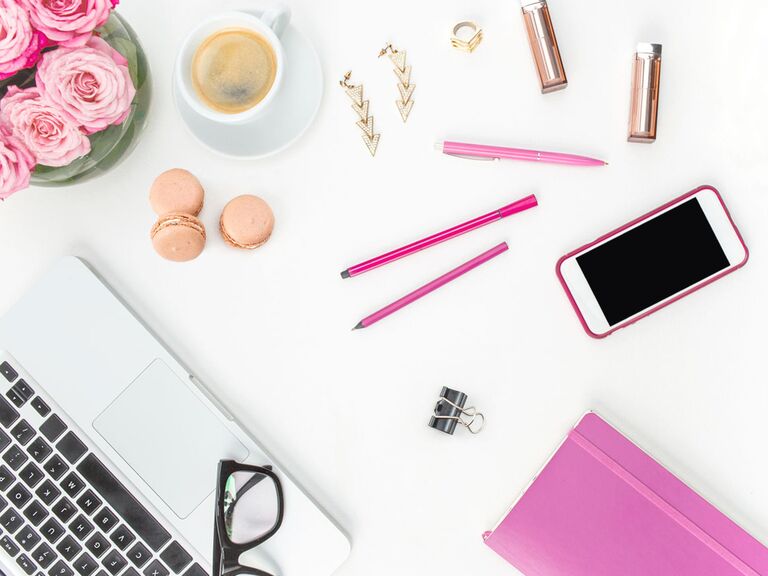 According to The Knot 2015 Real Wedding Study, 39 percent of Utah couples marry in June, July or August. Utah summers are warm, with typical temperatures in the high-80s during the day, but with cooler evenings in the 60s. September, October and November are the next most popular months to get married, with 31 percent of couples taking advantage of the vibrant fall colors and cooler temperatures.
The Four Seasons in Utah
With Utah's dry, arid climate, there really isn't a bad season to exchange vows. While only 10 percent of couples marry in December, January or February, the winter is the perfect time of year for those who enjoy the cold season. Utah winters are fairly mild, with high temperatures in the 30s and 40s, with lows in the 20s. Spring blooms make an appearance in March and April as temperatures warm up to the 50s and 60s, and desert wildflowers are particularly beautiful this time of year.
Utah Wedding Dates to Avoid
You don't want any surprises on your wedding day, so before you settle on a date, check to see if there are other major holidays or events happening simultaneously in your area of Utah. Depending on what else is going on, venue rentals and accommodations for guests might be more expensive, and traffic and parking may also be impacted. Use our comprehensive guide for dates to avoid, and should your wedding happen to coincide with another event, your wedding planner and/or venue should be able to help you work around any inconveniences that may arise.
Take note of some major annual events in Utah:
Sundance Film Festival, Park City (mid-late January)
Tulip Festival, Thanksgiving Point (April - May)
Utah Arts Festival, Salt Lake City (late June)
Lehi Round-Up Festival, Lehi (late June)
America's Freedom Festival – Stadium of Fire, Provo (early July)
Payson Scottish Festival & Highland Games, Payson (mid-July)
Park City Kimball Arts Festival, Park City (mid-August)
Moab Music Festival, Moab (early September)
Utah State Fair, Salt Lake City (early-mid September)
St. George Marathon, St. George (early October)
Great Guest Experiences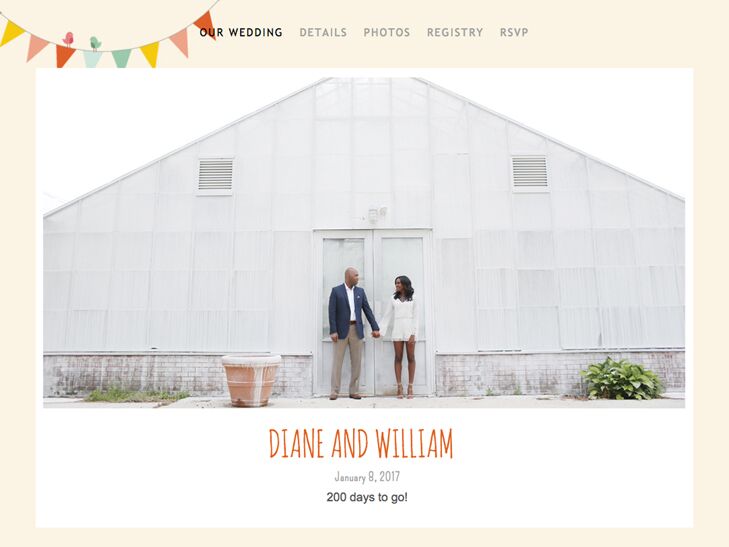 Your guests will make treasured memories at your wedding, but what about the rest of their time in Utah? Some may not be familiar with the area, so in addition to providing important details such as directions and a schedule of events, make sure to give guests plenty of recommendations for restaurants, things to do and area attractions. The Knot makes it easy to create your own customized wedding website, which allows your guests to easily access all important information surrounding your wedding in one place.
Finding Your Way: Utah Travel Info
With several airports located throughout the state, Utah is easy to travel to and from. Salt Lake City International Airport, located just five miles from the city's downtown, is Utah's largest airport and is the only international airport in the state. Provo Municipal Airport serves the northern part of the state, while St. George Regional Airport serves the southern region.
For those driving to your wedding, there are several interstates travelers can use to get around Utah. I-15 runs north to south and covers the entire state of Utah. I-70 from the east intersects with I-15 in the southern part of the state, while I-80 and I-84 intersect with I-15 in the northern part of the state.
Around Town: What to Do and See in Utah
With an abundance of national parks and stunning landscapes, Utah is known for its outdoor recreation opportunities. In addition, the state's restaurants, music venues, museums and galleries give guests plenty of culture to soak up year-round.
Here are some of the top attractions Utah has to offer:
The Mighty 5 National Parks, including Canyonlands National Park and Bryce Canyon National Park
Great Salt Lake
Natural History Museum of Utah
Temple Square
Moab
Park City Mountain Resort & Canyons
Utah Museum of Fine Arts
Red Mountain Resort & Sagestone Spa & Salon
Go Local: Food and Favors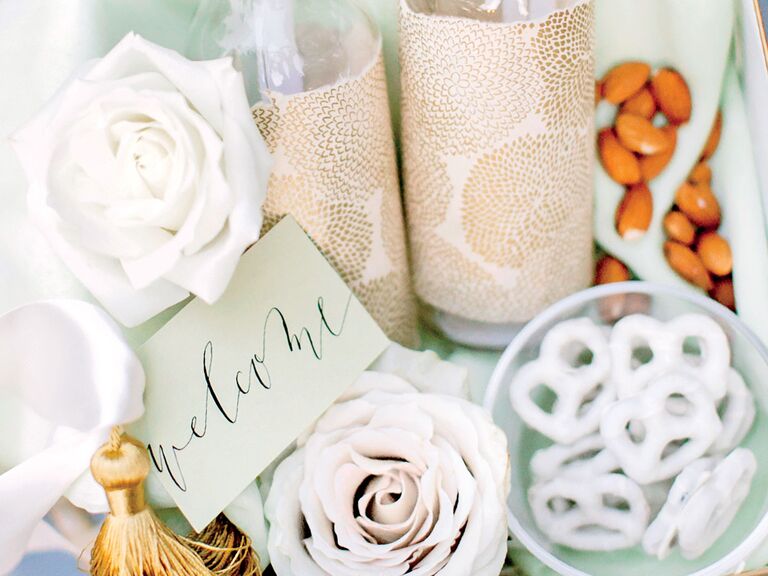 While your wedding is a reflection of you and your significant other's distinct tastes and interests, you can make your wedding day even more memorable by adding elements from Utah's culture that guests won't get anywhere else. Check out The Knot Shop for other personalized favors.
Utah Flavors: Unique Regional Foods for Your Wedding
If you have the chance to eat a bona fide Utah scone, don't pass it up. These light, golden-fried pastries aren't your traditional English tea scone. Utah's rich Native American history still has its influence on the state today, as these decadent treats closely resemble Navajo fry bread. Many couples also treat their guests to a late-night snack of fries served with Utah Fry Sauce, the perfect pick-me up after a night on the dance floor.
There's plenty of local honey in the Beehive State, which can be a fun flavor to incorporate into your wedding cake or other desserts. For those who aren't serving alcohol at the wedding reception, apple beer is a tasty non-alcoholic beverage similar to apple cider that's produced in Salt Lake City.
Do Your Guests a Favor: Utah-Inspired Take Home Treats
Give your guests a little piece of your big day to take home with them. These ideas for interesting favors capture Utah's essence—earthy, beautiful and unforgettable.
A candy bar with take home bags, featuring local favorites like Taffy Town salt-water taffy and Utah Truffles
Small jars of local honey from Sidney B's Honey
Utah's own Apple Beer is all-natural and gluten-free, making it a refreshing and healthy take-home treat
Utah City Guide
Featuring some of the most impressive landforms in the U.S., Utah also has family-friendly and endearing cities to live in or visit. Salt Lake City is the place that stands out the most for its attractions, diverse culture and convenient proximity to the state's many national parks and resorts. Check out The Knot Marketplace for more venue inspiration.
Salt Lake City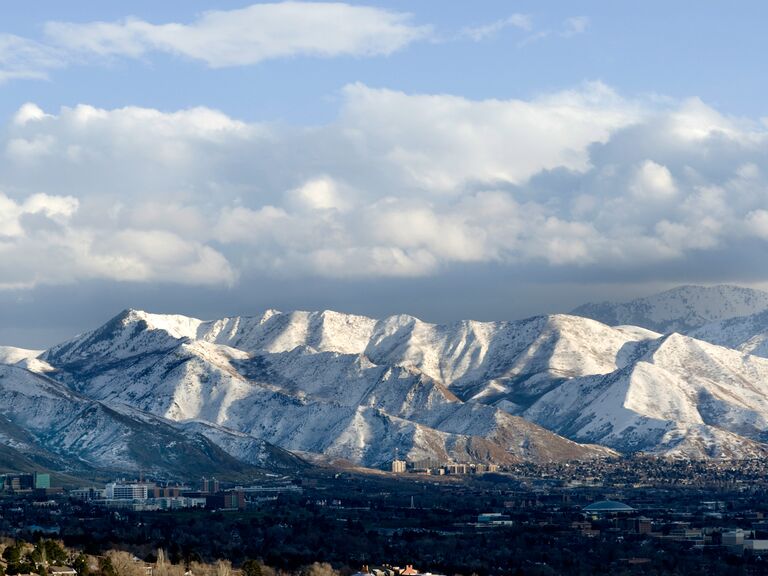 Utah's capital of Salt Lake City is the most popular wedding destination in the state, according to The Knot 2015 Real Wedding Study. Home to the famous Great Salt Lake, the largest saltwater lake in the Western Hemisphere, and nestled in the valley of the Wasatch and Oquirrh Mountains, Salt Lake City is literally surrounded by natural beauty.
With a population of close to 200,000 people, Salt Lake City offers a variety of wedding venues and things to do while maintaining its mountain town charm. In fact, Travel + Leisure ranked Salt Lake City the second friendliest city in the US.
Whether you're planning a rustic wedding at one of Salt Lake City's many gardens, public parks or farms, or you're envisioning a glamorous affair at an upscale resort, lodge or ballroom, Salt Lake City has no shortage of wedding venues to choose from.
Thanks to Salt Lake City's thriving local economy, you have your pick of florists, wedding photographers, DJs and other wedding vendors to bring your wedding to life. Here's a list of some of the top wedding vendors available in Salt Lake City:
Check out more Utah wedding inspiration here.

Don't forget to download The Knot Wedding Planner app—it's a must-have for on-the-go planning.
Download for iOS: Wedding Planner App by The Knot

Download for Android: The Knot Wedding Planner