29 Vintage Wedding Hairstyles That Will Take You Back in Time
From the sleek twists of the '50s to the free-spirited waves of the '70s.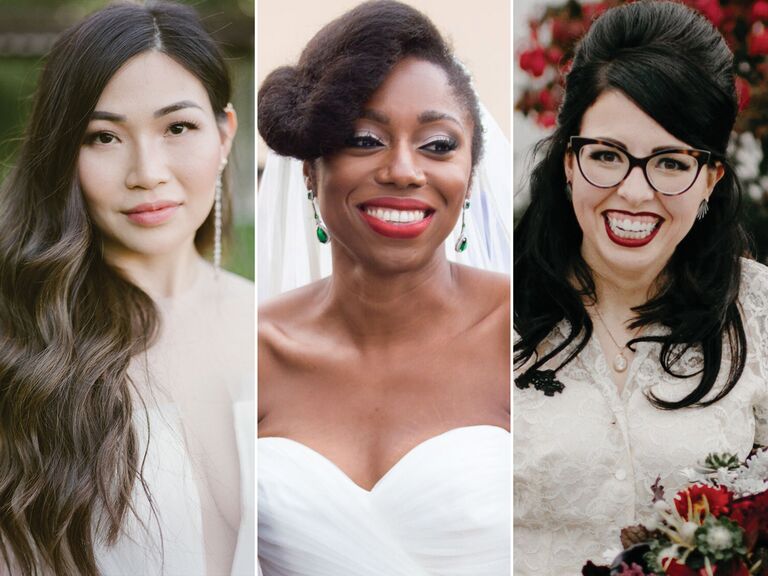 While some to-be-weds pull inspiration from current wedding hair trends, others are drawn to styles from the past. If you're feeling nostalgic, we rounded up 29 vintage wedding hairstyles that will take you back in time. Whether you're obsessed with the beaded headbands from the 1920s, the voluminous updos from the 1950s, or the loose waves from the 1970s, we have something for everyone. Plus, we included a few modern takes on the retro trends.
When it comes to vintage wedding hairstyles, accessories are key. Scroll through our roundup of wedding hair pieces to find the perfect headband, hair pin or barrette for your look. After booking your day-of hairstylist, schedule a trial (since tapping a pro is the best way to go about pulling off a vintage hairstyle). Psst: Don't forget to bring your hairpiece to your wedding hair trial. Your hairstylist will be able to fully practice the look—and can make any adjustments you want before the big day. Ready to get inspired? See our favorite vintage wedding hairstyles, below.
1920s Wedding Hairstyles
Welcome to the Roaring '20s. Hairstyles during the Great Gatsby era were characterized by deep side parts, low buns, beaded headpieces and finger waves. See our favorite hair ideas from the decade here.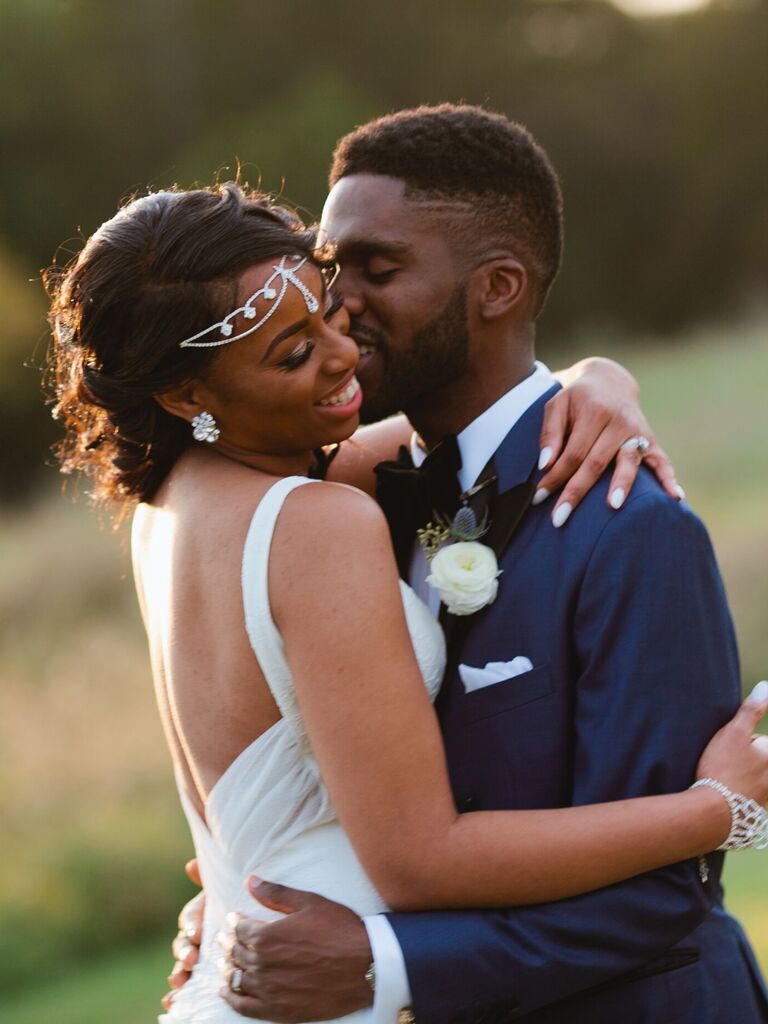 Unleash your inner flapper. Twist your curled hair into a low bun and top with a sparkly wrap headband.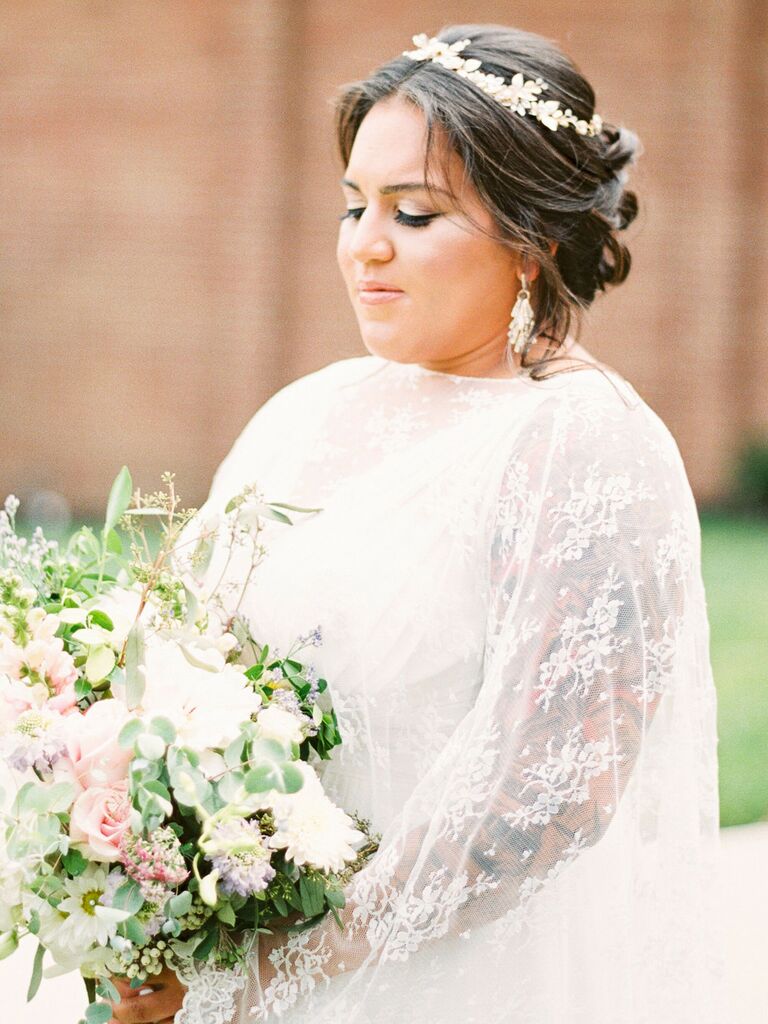 This pretty chignon has everything we love about the '20s: gorgeous twists and a beaded headband.
For a vintage-inspired look, rock signature s-shaped waves on your wedding day. It's a modern spin on the retro style.
Pull your hair back into a low bun, and then sweep the front of your hair over for a classic 1920s wedding hairstyle. Add a birdcage veil for an extra-special touch.
Wedding headbands may be popular now, but they were also huge in the '20s. Top your messy low bun with a pretty beaded headpiece (or a tiara) for a retro touch.
Go full-on glam with a statement headband. Place it over your curls for a style that's fit for a 1920s jazz club.
We love this vintage wedding hairstyle because it's so unique. Weave strings of pearls into your curly low bun for a stunning 1920s wedding hairdo.
1930s Wedding Hairstyles
Calling all to-be-weds with short hair: 1930s wedding hairstyles are for you. Short, cropped 'dos with tight s-shaped curls were everywhere during this decade. Pull wedding inspiration from our favorite looks, below.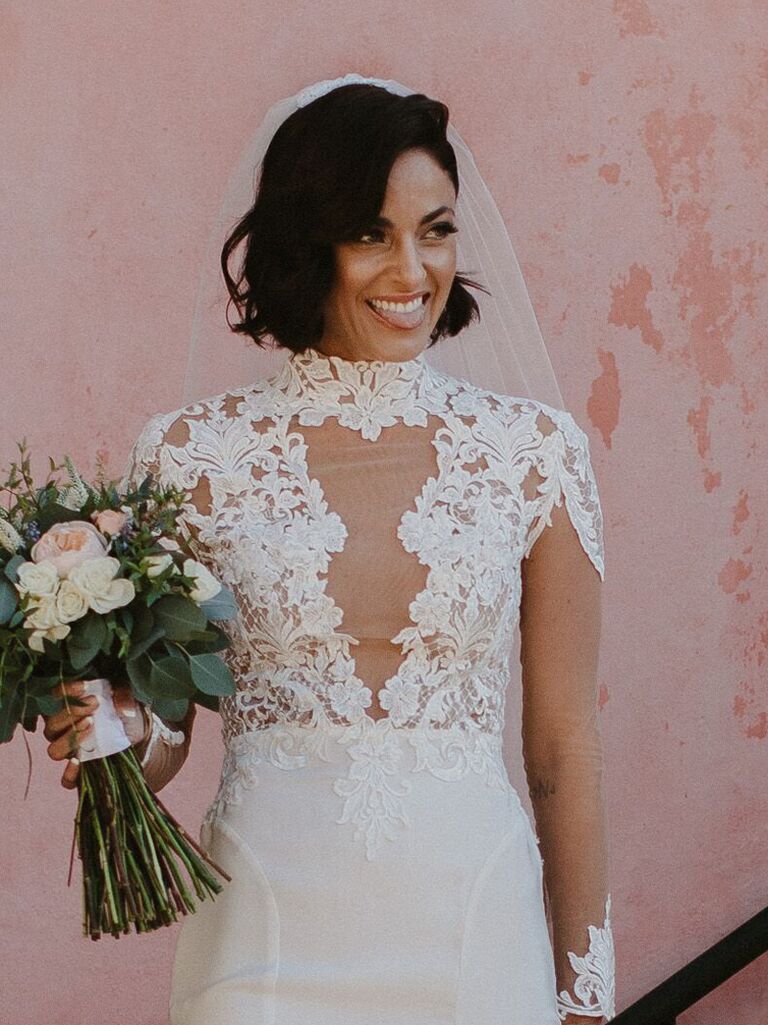 Copy this look to nail the decade's style. Create a deep side part and tightly curl your hair. When the curls have cooled, brush them out and accessorize them with a veil.
Find your kind of venue
From barns to ballrooms, discover reception venues that feel like you.
Have you seen a more beautiful curly hairstyle? Have your stylist create these retro s-shaped waves, and add a hairband on top for extra sparkle.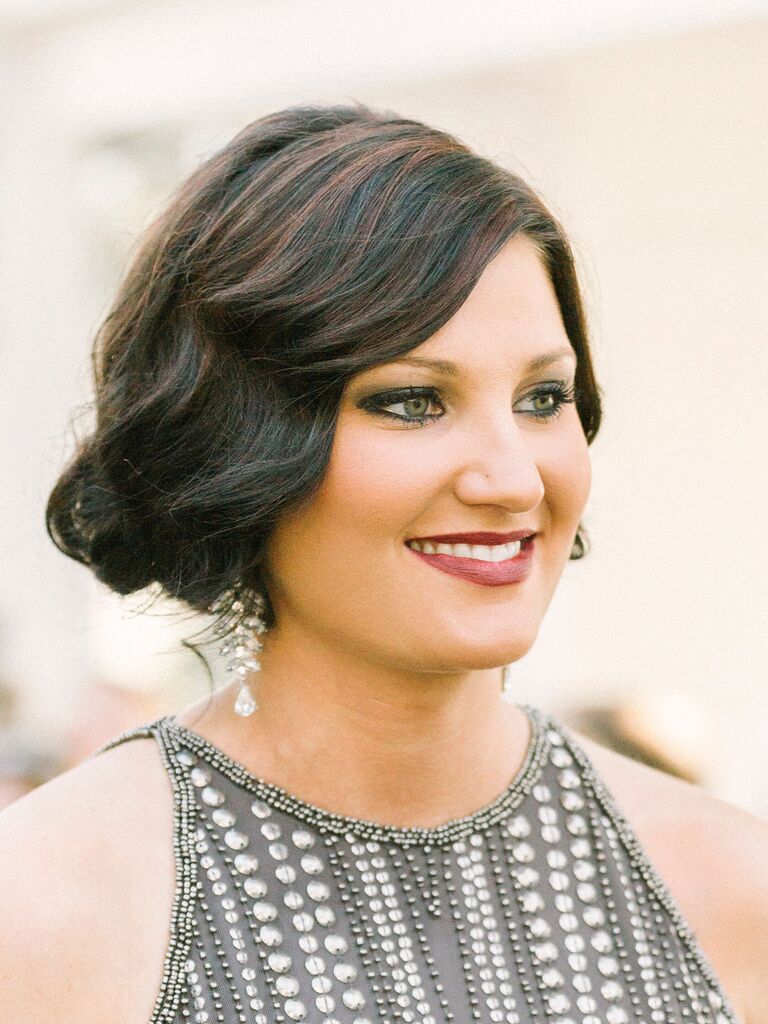 You'll travel back in time with this gorgeous vintage wedding hairstyle. Make s-shaped waves, create a deep side part and then sweep your hair back into a low twist. It's the ultimate 1930s wedding hairdo.
Here's a modern take on a 1930s wedding hairstyle. Part your hair to the side and curl into tight, piece-y waves. Add texturizing spray or dry shampoo for an effortlessly chic vibe.
1940s Wedding Hairstyles
The 1940s were all about big, bold curls. Women during this time period wore sleek, oversized ringlets paired with Victory Rolls (a voluminous twist on the top of the head). If you're hoping to make a statement on your wedding day, consider one of these 1940s-inspired hairstyles.
We couldn't think of a more perfect 1940s wedding hairstyle. Twist your hair into a low updo, and then roll the front of your hair up and over to achieve the perfect Victory Roll.
If a full-on twist isn't your style, try this look instead. Create large curls with a thick barrel, part your hair to the side, and gently pin the side of your hair back.
Or, skip the twist entirely and focus on your curls. Use a large curling iron to achieve that iconic old-Hollywood glamor (don't forget to use hair oil for extra shine).
A sleek low bun with swooping front bangs is the perfect combination of vintage and modern.
1950s Wedding Hairstyles
When you hear the word "retro," 1950s-inspired styles likely come to mind. That's because this decade was defined by the iconic "pin-up" style, which included voluminous updos, ponytails and smooth curls.
Nail the pin-up trend with this flirty updo. Create a deep side part, and then tightly pull your hair back into a chignon. Leave a large piece out front so you can sweep it up and over to the side.
For a unique 1950s wedding hairstyle, try this updo. Twist your braids up and over to one side for a creative and classic look.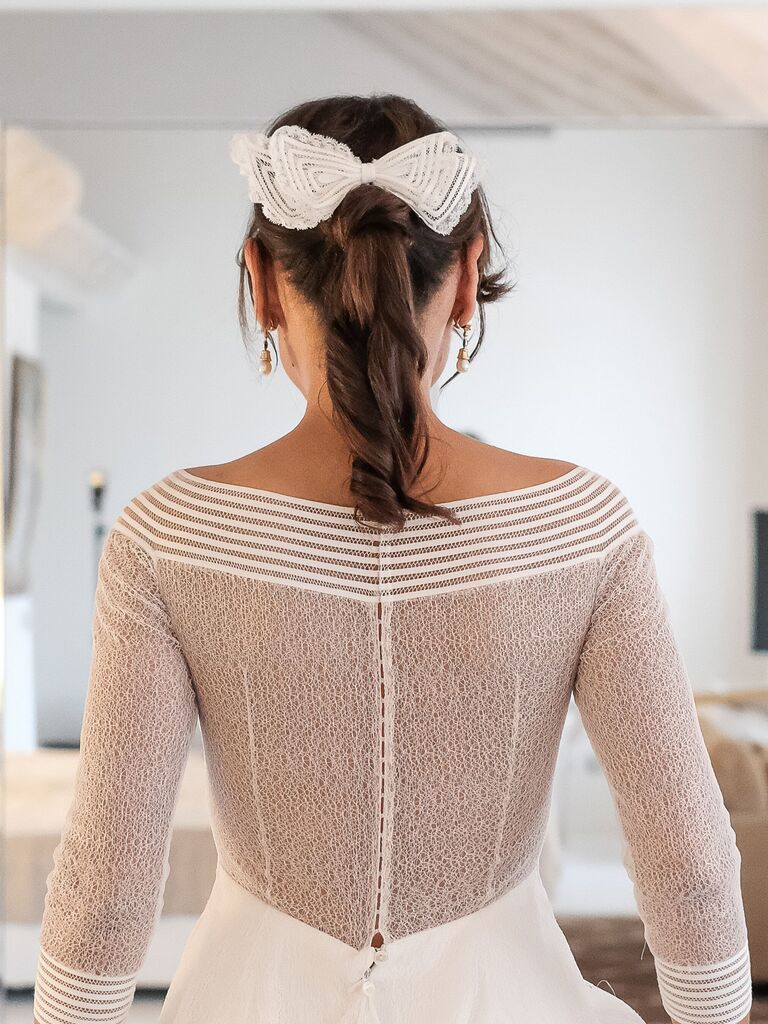 If Audrey Hepburn is your style icon, look no further than this pretty ponytail. Sweep your hair up and secure with an elastic (but leave one small piece out in the bottom). Wrap the stray hair around the elastic and add a bow on top for a sweet and simple hairdo.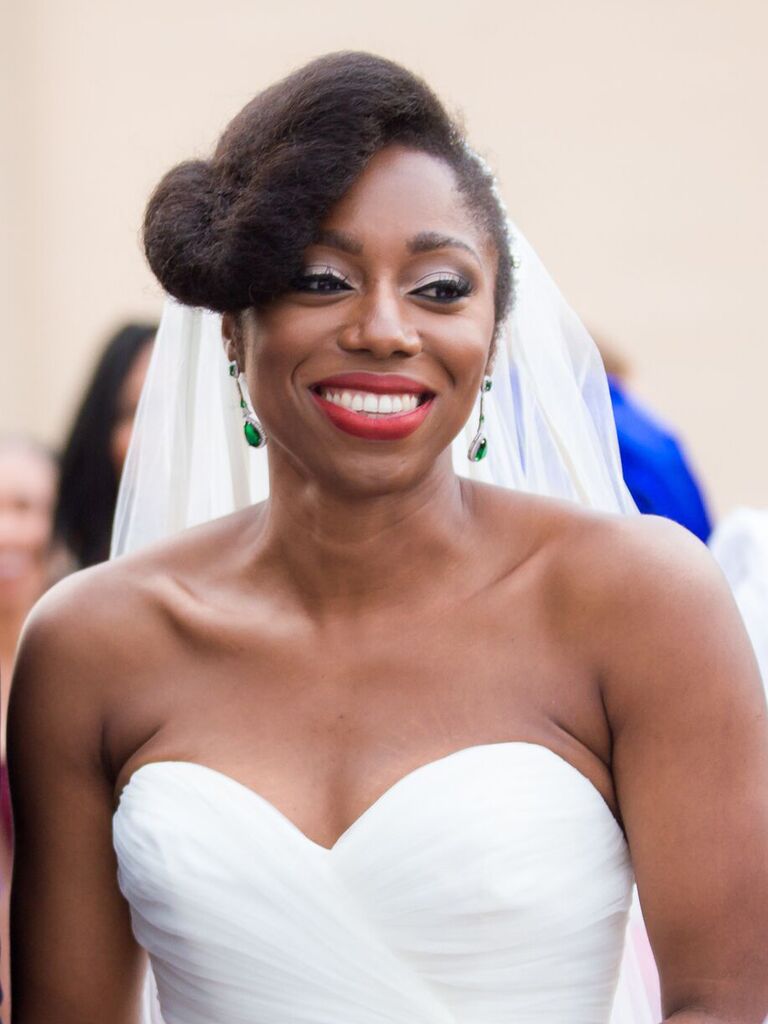 Nothing screams the '50s like a voluminous updo. Sweep your hair up and over to the side for a softer take on the 1940s style.
1960s Wedding Hairstyles
In the '60s, volume was the name of the game. During this decade, people were teasing their hair to new heights (think: Amy Winehouse, Pricilla Presley and Patti Labelle). Steal the style with these gorgeous 1960s wedding hairdos.
Welcome to the 1960s! Tease the top of your hair up and then smooth it back into a pretty half-up bouffant that's undeniably retro.
If you're hoping to rock a vintage updo for your wedding, consider this style. Tease the crown of your head, smooth your hair back into a low bun—leaving two pieces out—and set it all with hairspray. It's a classy take on the popular beehive.
For a more subtle take on 1960s hairstyles, consider just teasing your hair a little bit. It's a small touch that'll make a big difference.
Or, lean fully into '60s volume trend by teasing extra hair in the back of your head.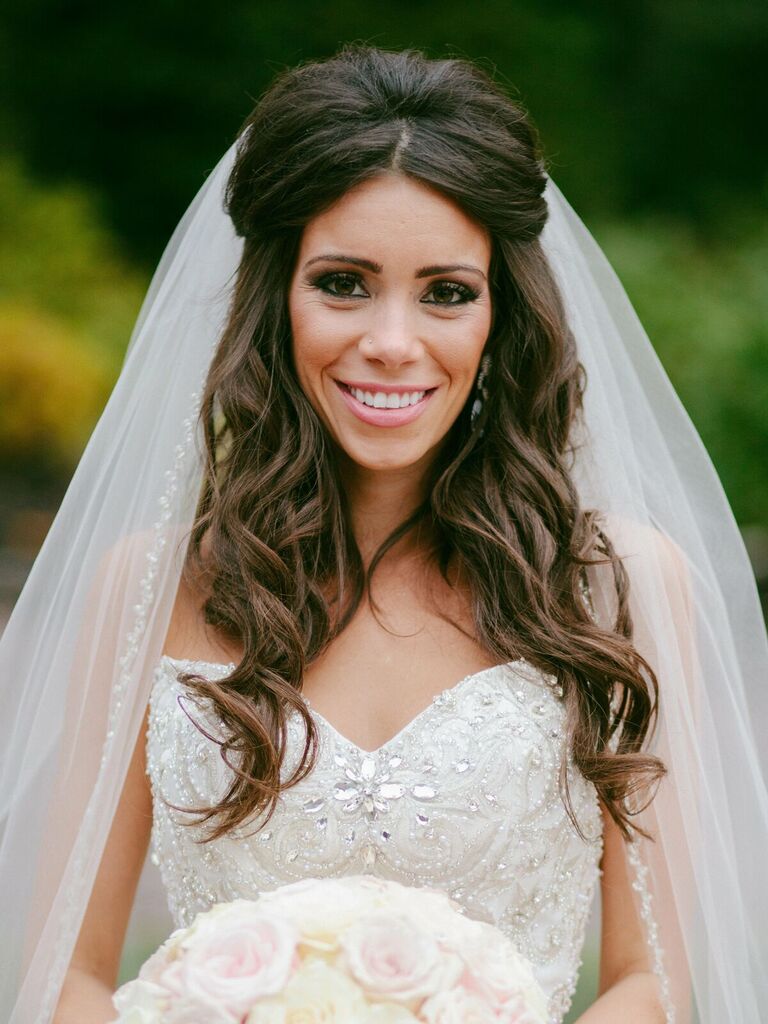 For a modern take on the '60s-inspired styles, tease your hair, create a center part and sweep the sides of your hair back into a pretty half-up style.
1970s Wedding Hairstyles
If you would describe yourself as a "flower child," the 1970s will provide you ample wedding hair inspo. The decade was filled with styles that are perfect for free-spirited to-be-weds: curtain bangs, feathery long hair, boho braids and big curls.
Relaxed, glossy waves are so '70s. Ask your stylist to use a larger barrel to create these cascading waves and add hair oil for soft, smooth tresses.
Looking for the perfect wedding updo? A sleek, oversized twist is just the right balance of playful and elegant—perfect for fans of the decade.
Embrace your inner flower child (literally) by weaving a pretty hair vine into your long, cascading waves.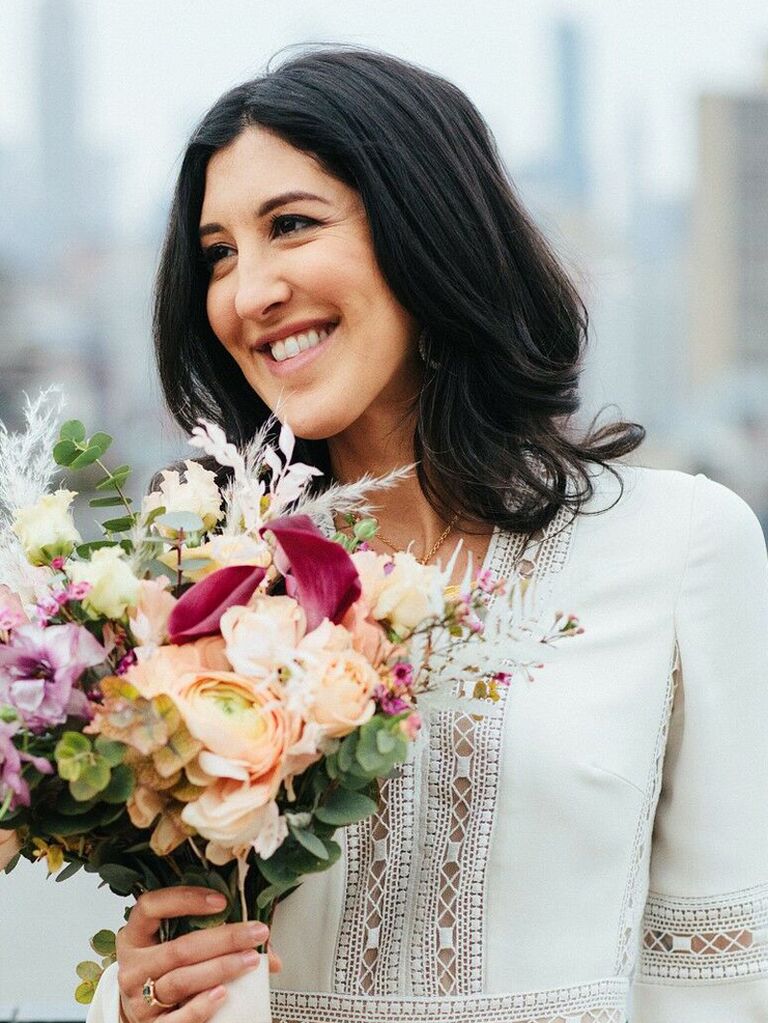 Nail curtain bangs (also a 2021 wedding hair trend) by creating a center part and curling the front parts of your hair back into the rest of your hair.
Center-parted waves are equal parts boho and glam—just like many of the hairdos from the '70s. (Flower crowns are optional but encouraged for this style.)