16 Beautiful Ketubah Designs You Can Buy Online
Plus, the meaning behind this special Jewish tradition.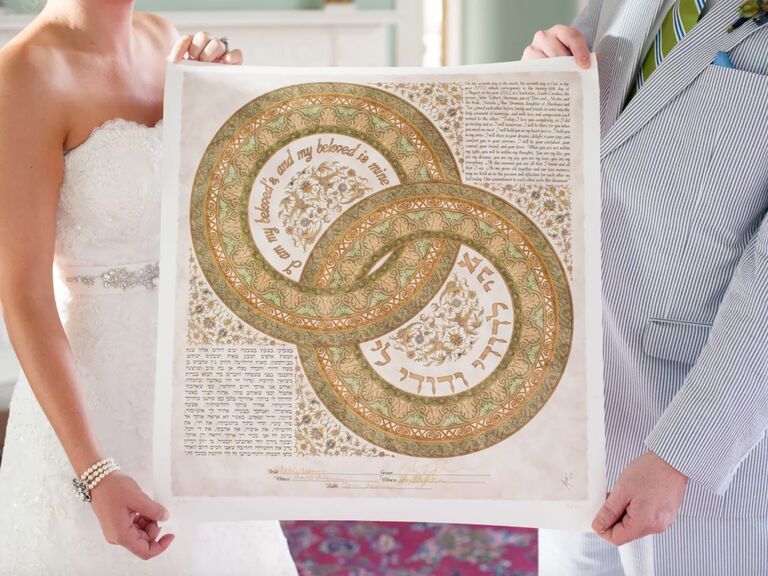 Marni Rothschild Pictures
We have included third party products to help you navigate and enjoy life's biggest moments. Purchases made through links on this page may earn us a commission.
For couples having a Jewish wedding ceremony, there are a few additional details they need to plan for. In addition to picking out kippot and designing a chuppah, there's also the ketubah to consider. Whether a loved one purchases it as a wedding gift before the ceremony or the soon-to-be newlyweds pick it out together, meaningful keepsake is central to a traditional Jewish wedding.
What is a ketubah?
The word ketubah in Hebrew translates to marriage contract, explains Rabbi Barry Altmark. The text can be written in both Hebrew and English and outlines the responsibilities between the groom and his bride. "In Judaism, we get married twice, once legally and second under the chuppah — with God," he says.
Why is the ketubah important in Jewish wedding ceremonies?
The ketubah is the legal document between the couple, their parents, and two witnesses who also sign the document. The ketubah is also the origin of the modern marriage license required by the government and showcases the agreement both the bride and groom are making to each other.
The signing is done during a separate Jewish law ceremony before the bigger ceremony and is more intimate with just the couple, rabbi, immediate family, and the non-relative witnesses. Most ketubahs are pieces of artwork in themselves and can be framed and displayed in the newlyweds' home following the wedding.
Who signs the ketubah?
The bride and her witness, groom and his witness, and rabbi sign the ketubah. This sacred tradition isn't done under the chuppah and instead the marriage contract is signed before the main wedding ceremony. The two witnesses are typically of Jewish decent and not related to the bride or groom, so there's no family bias. They can be loved ones from the wedding party or close family friends, but are usually someone of significance to the bride and groom.
Where do you buy a ketubah from?
In todays' world the internet is the place to go for purchasing a ketubah, says Altmark. Although you can shop at local Judaica stores, he prefers an online service called Ketubah.com. "They have many styles, artwork, and text to choose from," he says. "I have also seen great ketubahs from services like Etsy and private Judaic artists."
Prices range on ketubahs depending on if the artwork is reprints or custom art and the material it's printed on. Although you can find simple reprints around $150 online, Altmark says to expect to pay at least $300 for a small or simple ketubah that's personalized. If you opt for one that can be printed with custom text as well names, date, and location, Altmark suggests couple send a proof over to your rabbi to make sure the Hebrew and text are "kosher" to avoid any accidental typos or need for reprints.
Once you and your partner pick the design and wording you both like best, it's important to give the artist enough time to design, proof, print, and delivery your ketubah so it's one less thing you have to worry about in the days leading up to your wedding.
Wedding Ketubahs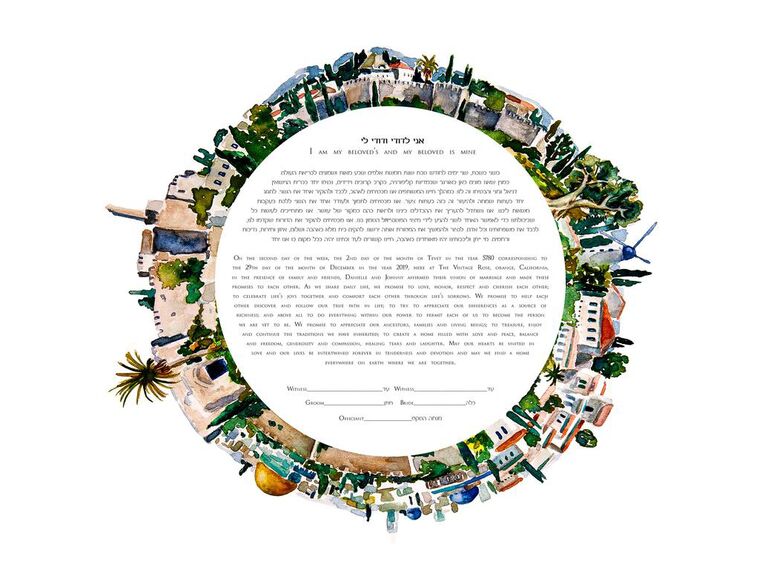 With the option to add hand-painted gold leaf details for an added luxe dimension, this artistic ketubah captures the beauty of Jerusalem and will be a treasured keepsake.
KetubaHome Jerusalem Of Gold Ketubah, $190, Etsy.com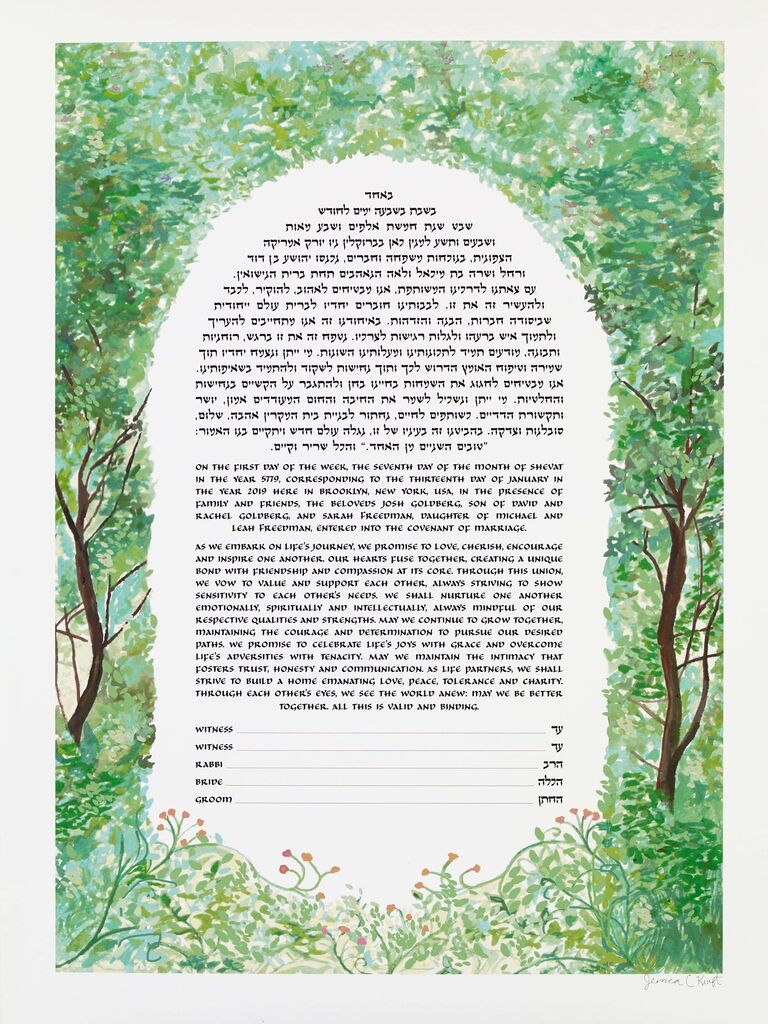 Not only is this romantic ketubah soft with a natural and organic feel but it's also meaningful: two trees arch around the meaningful Hebrew as their foliage interlocks and becomes one.
Ketubah.com Forest By Jessica Kraft, $175, Ketubah.com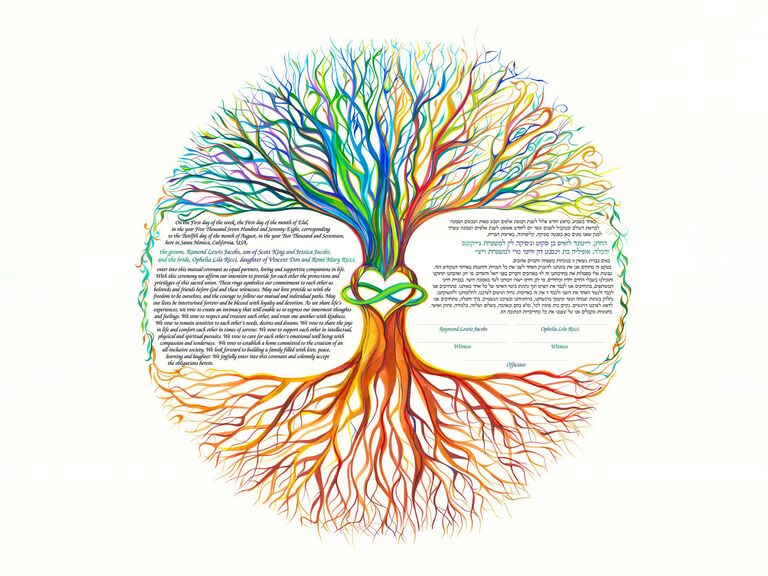 This vibrant ketubah tree of life marriage contract celebrates Jewish tradition with intertwining roots to showcase your strong as base and blossoming branches blooming from your love together.
1800KetubahCom Nava Shoham Tree of Life Ketubah, $150, Etsy.com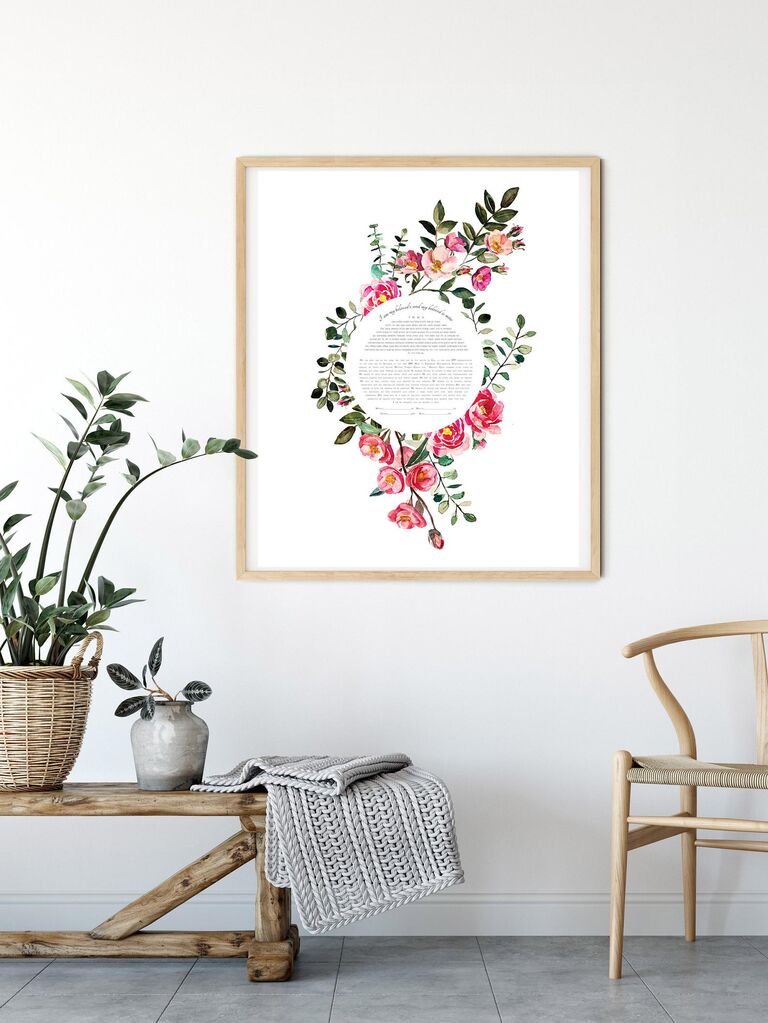 For a romantic yet modern Jewish marriage contract, this floral watercolor print with Hebrew and english ketubah text will make you swoon.
KetubaHome Modern Flower Ketubah Watercolor Print, $149, Etsy.com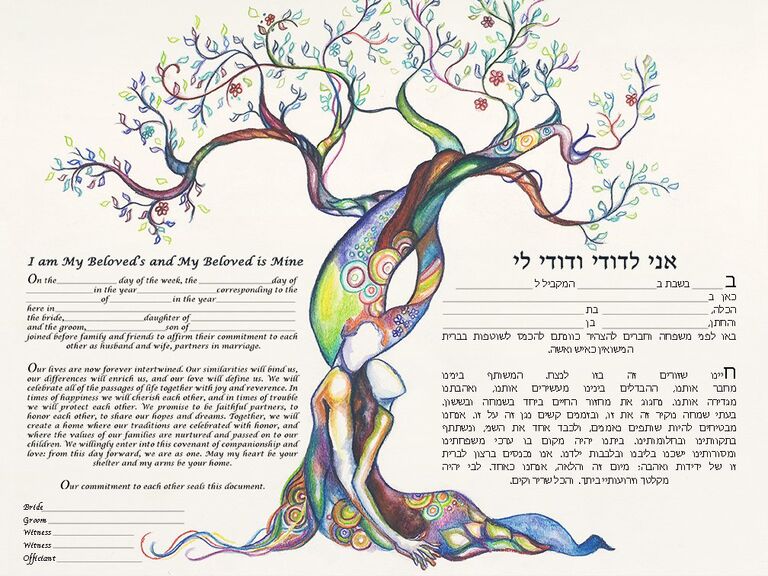 This joyful marriage contract incorporates the tree of life with a contemporary feel for a modern ketubah.
Anna Abramzon Studio Love Tree Ketubah, $239, Amazon.com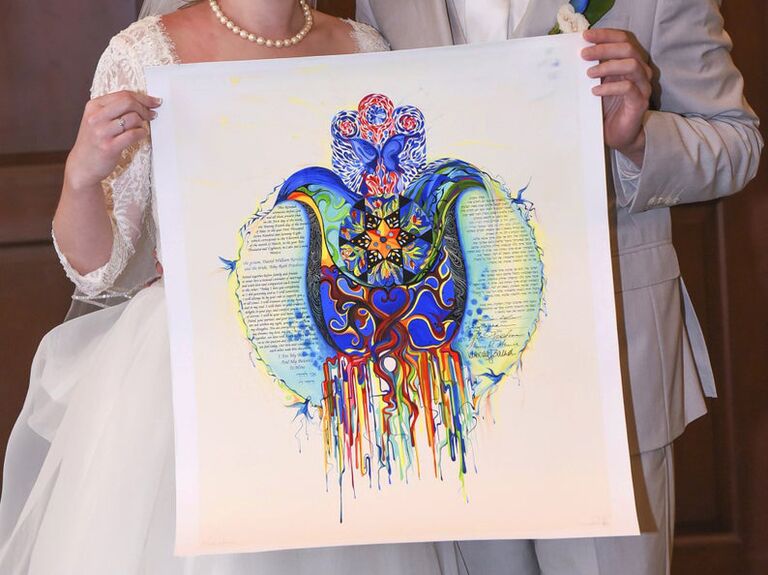 Whether you're looking for an interfaith ketubah or one with both English and Hebrew text, this hamsa wedding contract is loaded with meaning. From the star of David to the birds that signify enduring love, this vibrant option stands out in the sea of judaica.
1800KetubahCom Nava Shoham Chamso Juniper Tree, $200, Etsy.com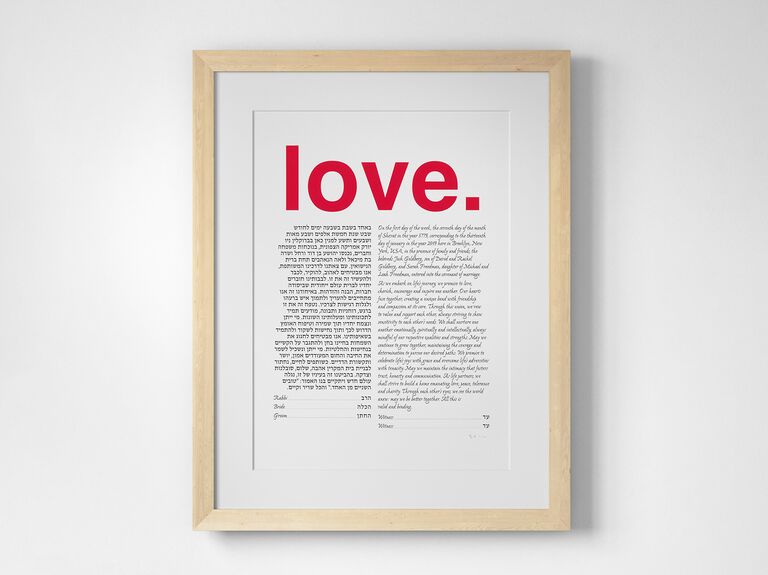 Contemporary couples looking for a modern ketubah will love this graphic and minimalist option. Unlike a traditional ketubot, this sleek option's design is understated and simple.
Ketubah.com Love Period By Baruch Sienna, $300, Ketubah.com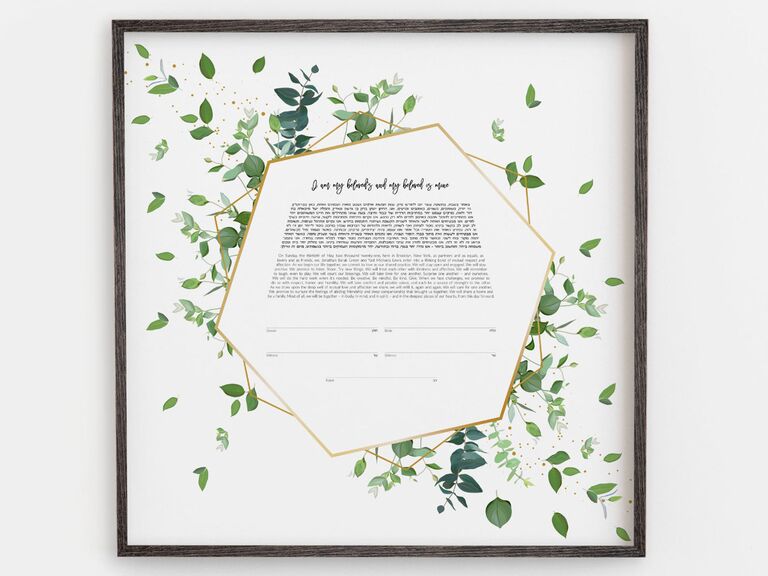 Another modern ketubah option is this geometric Jewish marriage contract complete with herbal greenery. The minimal design can be personalized with custom text and is printed on 100% cotton fine art paper.
SweetKetubah Minimalist Herbal Geometric ketubah, $150, Etsy.com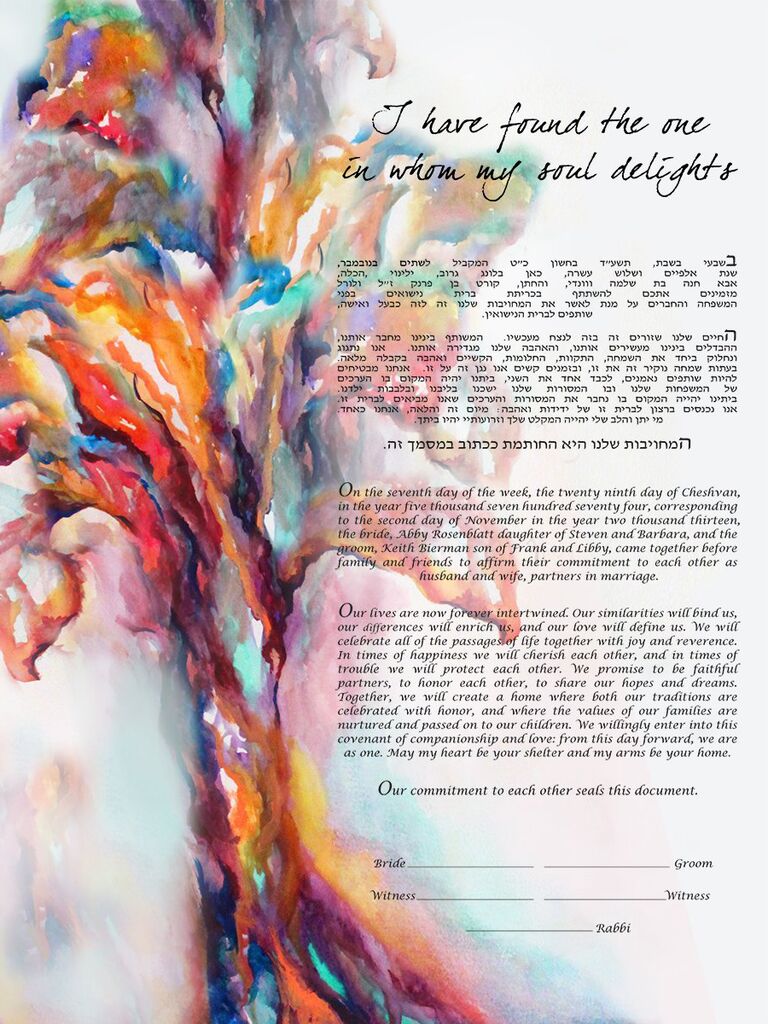 A more whimsical take on the tree of life, this vivid ketubah is bursting with colorful. The painting was inspired by the quote, "I have found the one in whom my soul delights" from the Torah.
Anna Abramzon Soul Tree Ketubah Marriage Contract, $250, Etsy.com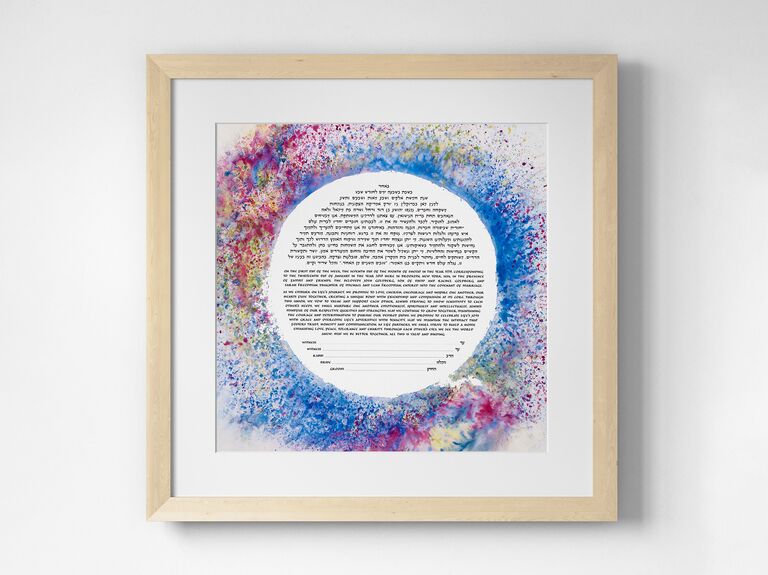 This cheery keepsake is described as watercolor meets the cosmos for a marriage made in the heavens and it's hard not smile when you see it.
Ketubah.com Supernova Confetti by By Susanne McGinnis, $250, Ketubah.com
Honor your connection to Israel with a watercolor print Jewish marriage contract that incorporates both New York and Jerusalem for a unique piece of art.
KetubaHome Jerusalem & New York Ketubah, $190, Etsy.com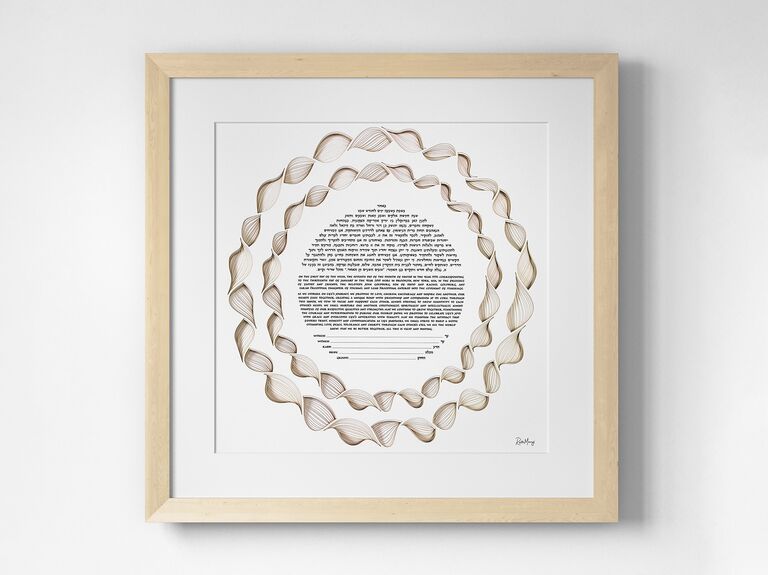 In judaism, the number 18 has a special meaning: life. This luxe ketubah incorporates that sentiment by incorporating 18 layers of precision-cut paper to create breathtaking depth.
Ketubah.com Revelry 18 Layer Papercut Luxe By Ruth Becker, $1,800, Ketubah.com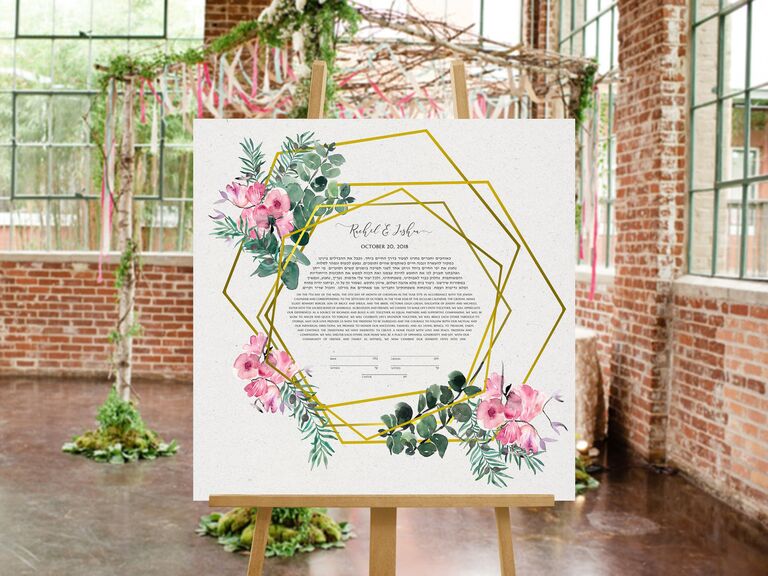 Match your ketubah to the overall look of your wedding by going with a print that complements your stationery. This floral-meets-geometric option has a calligraphy feel and frames the ketubah text with gold.
OnceUponaPaper Geometric Illuminated Ketubah, $140, Etsy.com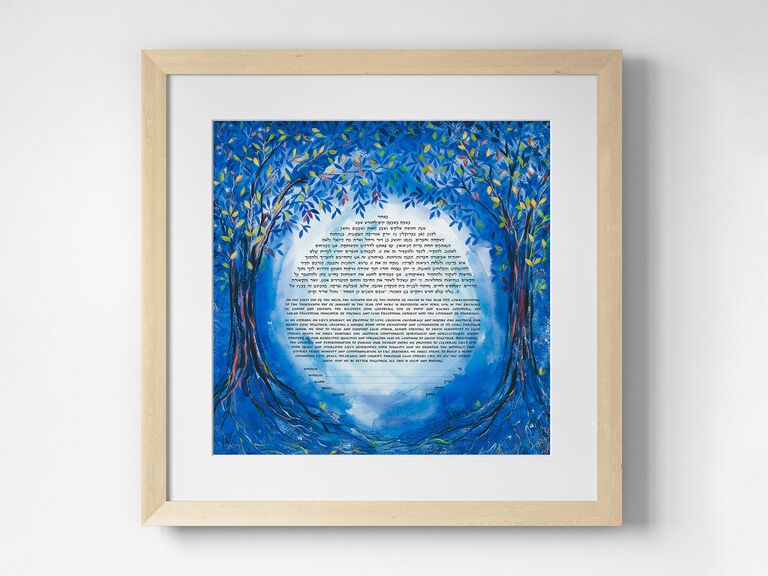 Let the romance of this watercolor forest sweep you away. Two majestic trees frame the ketubah text as the conjoining branches for a chuppah under the night sky.
Ketubah.com Blue Forest Square By Judith Joseph, $275, Ketubah.com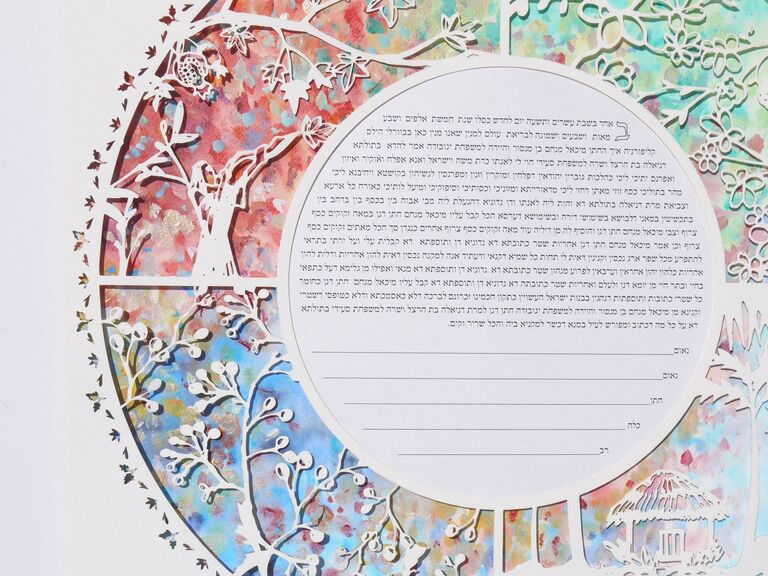 This circular papercut ketubah highlights the four season with a laser cut layer that sits atop a painted backdrop.
Illustrationsbymm Four Seasons Circular Papercut Ketubah, $515, Etsy.com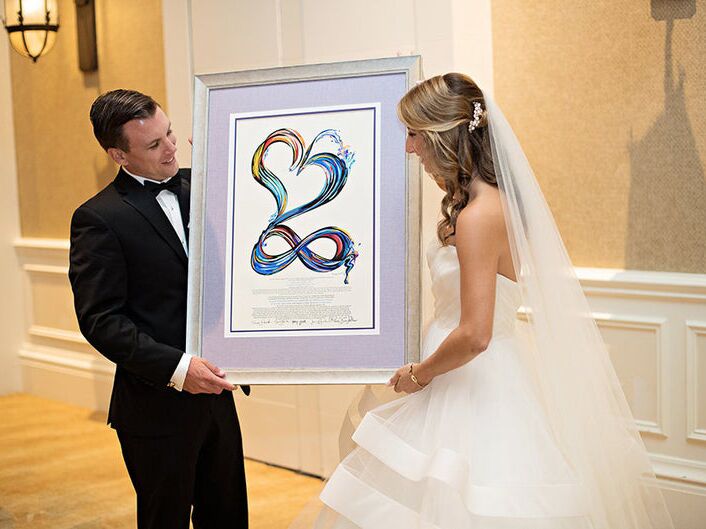 Showcase your never-ending commitment to one another with this painting inspired by infinite opportunities and everlasting love.
1800KetubahCom Nava Shoham Infinite Love Ketubah, $200, Etsy.com