24 Beautiful Ketubah Designs That You'll Want for Your Jewish Wedding
Plus, the meaning behind this special Jewish tradition.
If you're having a Jewish wedding ceremony, there are a few additional details you and your partner need to plan for. In addition to designing your chuppah, you have to make a final decision on your ketubah. Whether a loved one purchases it as a wedding gift before the ceremony or the soon-to-be newlyweds pick it out together, this meaningful keepsake is central to a traditional Jewish wedding. So if you need inspiration for your ketubah design, check out our round-up of the most beautiful ketubahs from real weddings.
What Is a Ketubah?
The word ketubah (plural ketubot) in Hebrew translates to a marriage contract, explains Rabbi Barry Altmark. The ketubah text, which may include excerpts from the Torah or Talmud, can be written in Hebrew and English and outlines the responsibilities of the to-be-weds. "In Judaism, we get married twice, first legally and second under the chuppah with God," Rabbi Altmark says. In Orthodox Judaism, the ketubah will likely be written in Aramaic.
The ketubah is the legal document between the couple, their parents, and two witnesses who also sign the document. The ketubah is also the origin of the modern marriage license required by the government and showcases the agreement the couple makes with each other.
The ketubah signing is done during a separate Jewish law ceremony and is more intimate since it involves only the couple, rabbi, immediate family and non-relative witnesses. Most ketubah designs are pieces of artwork in themselves and can be framed and displayed in newlyweds' homes following the wedding.
What Is the Meaning of the Ketubah Signing?
The couple, their witnesses and the rabbi (who is generally the officiant for a Jewish wedding) sign the ketubah. This sacred tradition isn't done under the chuppah, instead, the marriage contract is signed before the main wedding ceremony. Typically, the two witnesses are of Jewish descent and not related to the couple, so there's no family bias. They can be loved ones from the wedding party or close family friends, but usually someone of significance to the to-be-weds.
Where Do You Buy a Ketubah?
In today's world, the internet is the perfect place for purchasing a ketubah, says Rabbi Altmark. Although you can shop at a local Judaica store, places that sell items specific to the Jewish community, he prefers an online service called Ketubah.com. "They have many styles, artwork and text to choose from," Rabbi Altmark says. "I have also seen great ketubahs from services like Etsy and private Judaic artists."
Ketubah prices depend on if the artwork is a reprint or custom art and the material it's printed on. Although you can find simple reprints for around $150 online, Rabbi Altmark says to expect to pay at least $300 for a small or simple personalized ketubah. If you opt for one printed with custom text, like your and your partner's names, wedding date and location, Rabbi Altmark suggests you send a copy over to your rabbi. This way your rabbi can ensure the Hebrew and text are "kosher" to avoid any accidental typos or need for reprints.
Once you and your partner pick the ketubah's design and wording, you must give the artist enough time to create, proof, print and deliver your ketubah, so it's one less thing you have to worry about in the days leading up to your wedding.
Find your kind of venue
From barns to ballrooms, discover reception venues that feel like you.
Beautiful Ketubah Designs for Any Wedding Theme
No matter if you want a simple and traditional ketubah design or a vibrant and abstract one, we've rounded up 24 perfect ketubah designs from real weddings to inspire your marriage contract. Don't be afraid to combine some of the ideas you see below.
Floral Ketubah Design
The couple chose a bright floral wedding ketubah design with striking gold trees to frame the document's text. The color palette of the blooms on the ketubah matches the bouquets used throughout the wedding. So if you're unsure how to design your ketubah, use your wedding decorations as inspiration.
Yellow-and-Black Abstract Ketubah Design
Make your ketubah stand out as this couple did with their unique ketubah design. The couple had an outdoor wedding, so they used nature motifs like birds and flowers in their design.
Simple Gold Ketubah
A simple and modern ketubah is a great option for couples who want something unconventional but not gaudy. The marriage contract is surrounded by a gold foil circle which is the same shape as the couple's ceremony seating. To-be-weds often include circles in their weddings because they represent unity and infinite love.
Bohemian Jewish Ketubah
Another ketubah example is this beautiful bohemian one with succulents and eucalyptus around the contract's borders. The succulents and eucalyptus were also in the bride's bouquet and used for the couple's greenery wedding centerpieces.
Ketubah With Colorful Cityscape Background
Honor your connection to your and your partner's hometown with a hand-painted watercolor Jewish marriage contract. Some couples even combine their city with an image of Jerusalem to give a nod to their cultural background and create an even more unique piece of art.
Ornate Painted Ketubah Design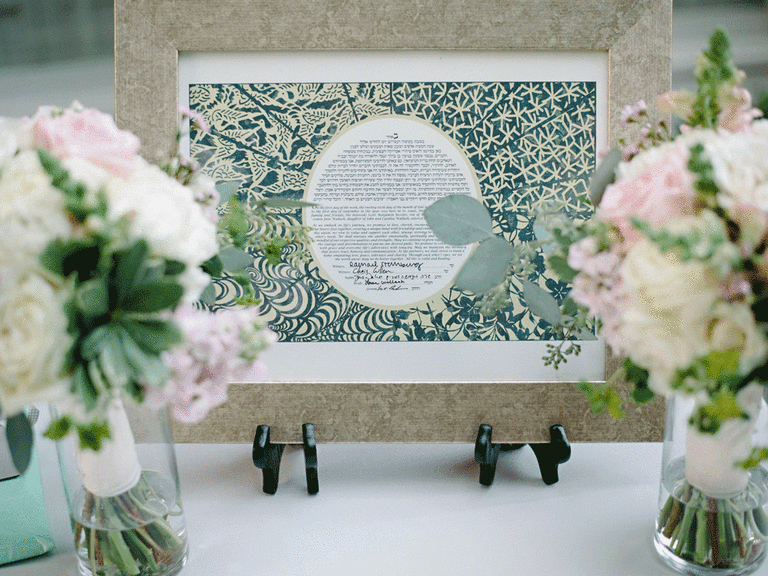 Your wedding ketubah design can be as unique as you and your partner would like. The couple decided to stray from their soft mint, gray and ivory color palette by having a deep green and neutral-colored ketubah.
Dramatic Navy Blue Ketubah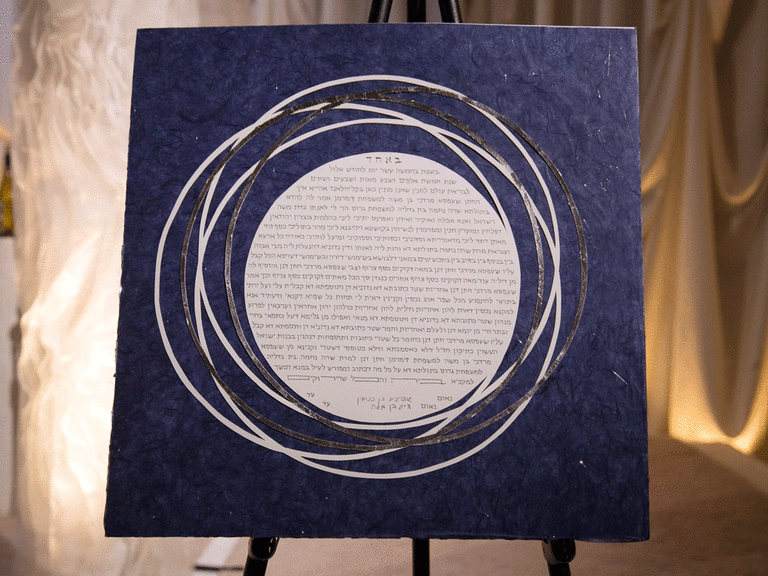 Want another way to personalize your ketubah? Then you and your partner should write your promises to one another by hand. This creates an intimate and sentimental activity for you and your partner before the wedding and allows you to practice your Hebrew calligraphy skills. Just make sure to practice on loose leaf and have an expert proofread it before writing on the final ketubah.
Rainbow Colored Tree of Life Ketubah
This vibrant ketubah tree of life marriage contract celebrates Jewish tradition with its symbols of rebirth and growth. The tree's intertwining roots showcase a couple's strong base, while the blossoming branches represent a couple's blooming love for one another.
Ketubah With Intricate Paper-Cut Overlay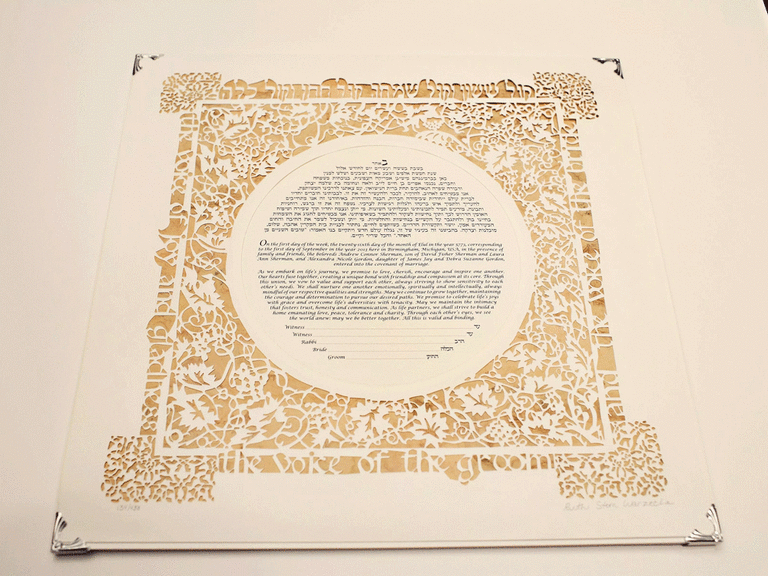 This ketubah is a laser-cut layer of leaves and vines that sits atop a brown-painted backdrop. The lace-like pattern makes this custom ketubah worth displaying like a piece of art.
Blue-and-Yellow Kaleidoscope Ketubah Design
The couple's wedding ketubah was decorated in a kaleidoscope of blue and yellow colors. The design looks similar to an iris, so if you want to use this design, consider combining the colors of your and your partner's eye color and using that for the color scheme.
Brown-and-Blue Tiled Pattern Ketubah
After the ketubah signing, put your marriage contract on display to show off its gorgeous layout. Treat your ketubah like a work of art that your guests can look at during the reception.
White Ketubah With Hamsa Hand Design
Whether you're looking for an interfaith ketubah or one with both English and Hebrew text, this Hamsa wedding contract is full of meaning. The Hamsa hand is an image of a palm of an open hand that's universally known for unity, bringing about positive energy, and protecting people from negative spirits.
Unique Gold-and-Green Ketubah
This Jewish wedding ketubah features two gold and green circles interlocking representing the couple's love and commitment to one another. The ketubah's text is in Hebrew and English. One of the English phrases says, "I am my beloved's, and my beloved is mine."
Romantic Purple Jewish Wedding Ketubah
A more whimsical take on the tree of life, this vivid ketubah is bursting with color. The hanging pink and purple florals accent the couple's ketubah perfectly.
Elegant Watercolor Ketubah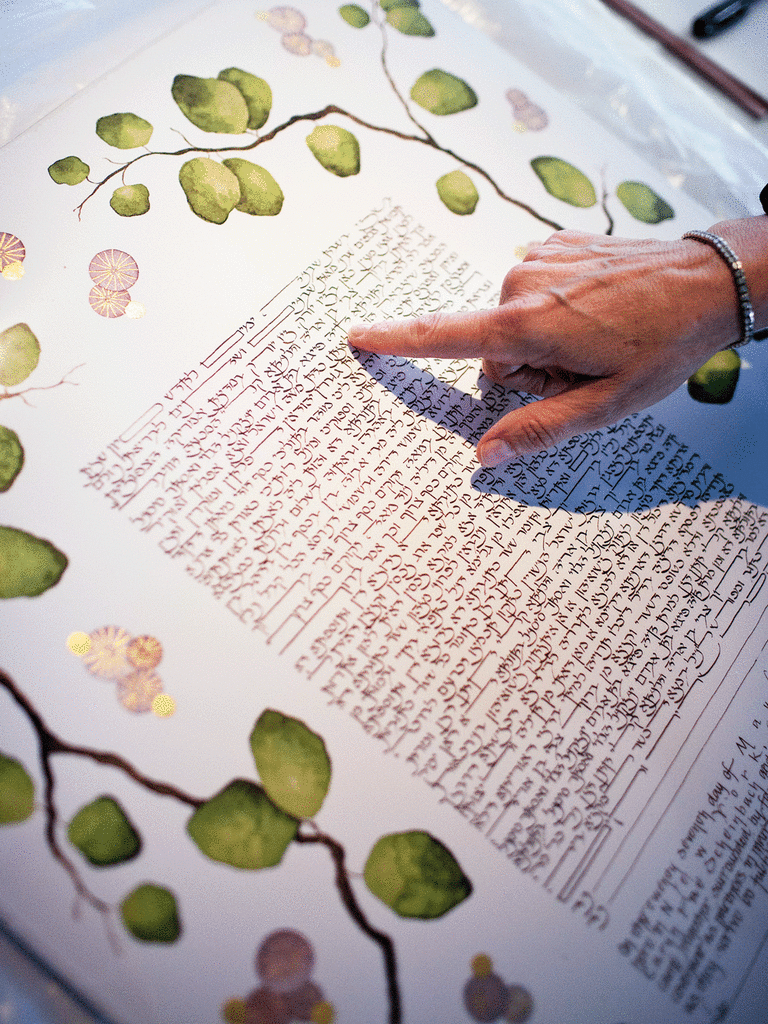 If you just finished sending out your watercolor wedding stationery suites, continue the painted theme for your ketubah. We guarantee adding watercolors throughout your wedding will give your special day its own ethereal beauty.
Ketubah With Colorado Mountain Details
The bride wanted to incorporate her Jewish heritage and Colorado's natural beauty into her wedding day and ended up with this stunning ketubah design. If you're having an outdoor wedding, consider using the venue's natural elements in your ketubah.
Antique Traditional Ketubah
Being unconventional is fun, but don't think that going the simple route doesn't make your ketubah special. This traditional ketubah design uses a blue and yellow color palette with a painting technique that makes the ketubah look aged. (It'll look like you and your partner have been married longer than you've actually have.)
Jewish Ketubah With Nature Geometric Design
Another modern ketubah option is this geometric Jewish marriage contract complete with the Star of David. The couple found an artist who custom-designed their ketubah with elements from their relationship and the summer camp they went to together.
Earthy Blue-and-Brown Ketubah Design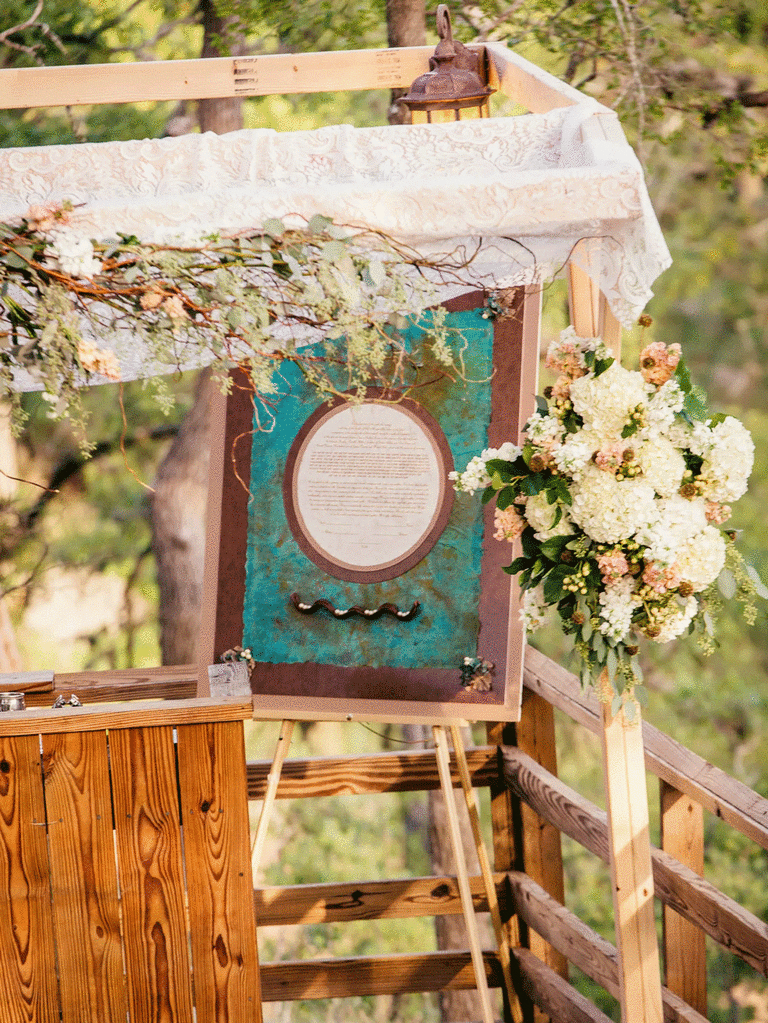 A blue and brown color scheme is perfect for couples planning a rustic or bohemian wedding. This couple's ketubah matched fluidly with the rest of their decorations at their natural summer camp wedding.
Elaborate Laser-Cut Ketubah
For their interfaith wedding, the to-be-weds had an intricate laser-cut ketubah. The design, full of vines, frames the bride and groom's promises to each other and is accented with gold foil. The difference between a paper-cut ketubah and a laser-cut ketubah is that the paper-cut one is done by hand, while the laser-cut one is typically done by a machine.
Royal Blue Tree of Life Ketubah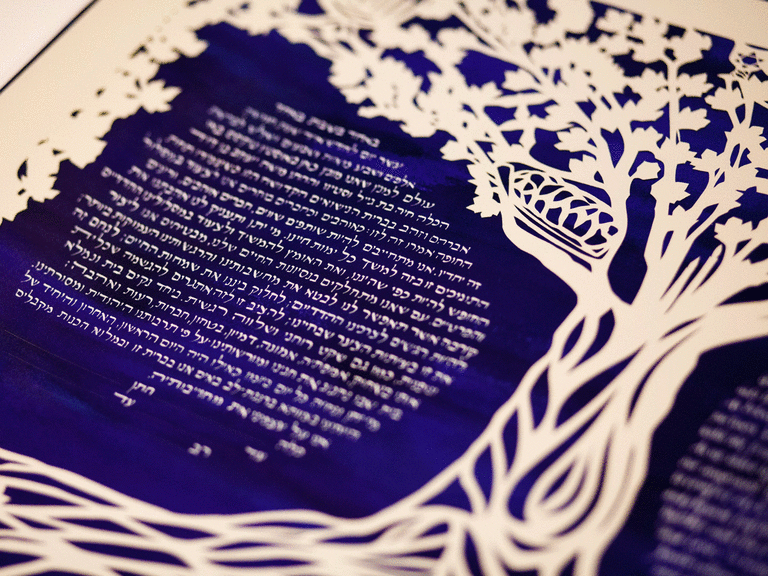 This marriage contract incorporates the tree of life with a contemporary feel for a modern ketubah. The bride and groom's ketubah complemented the large trees surrounding the outdoor wedding ceremony.
Colorful Multicultural Ketubah
To blend their cultures, the grooms had a ketubah with a Kente cloth, a traditional Ghanaian fabric, pattern bordering the document. This is a prime example of how you can highlight your and your partner's backgrounds throughout the wedding.
Ombré Blue-and-Purple Ketubah Design
We argue that ombré can never go out of style. If you can't choose just a few colors for your ketubah design, opt for an ombré color scheme.
Ketubah Designed Like Ceremony Venue
The couple had a garden wedding ceremony at Mission Rose Garden and used the outline of the venue's structure for their ketubah design. No matter if you're doing an indoor or outdoor wedding, take inspiration from your wedding venue for your ketubah.