What Your Favorite Girl Scout Cookie Says About Your Wedding Style
Thin Mint fans, you might be surprised.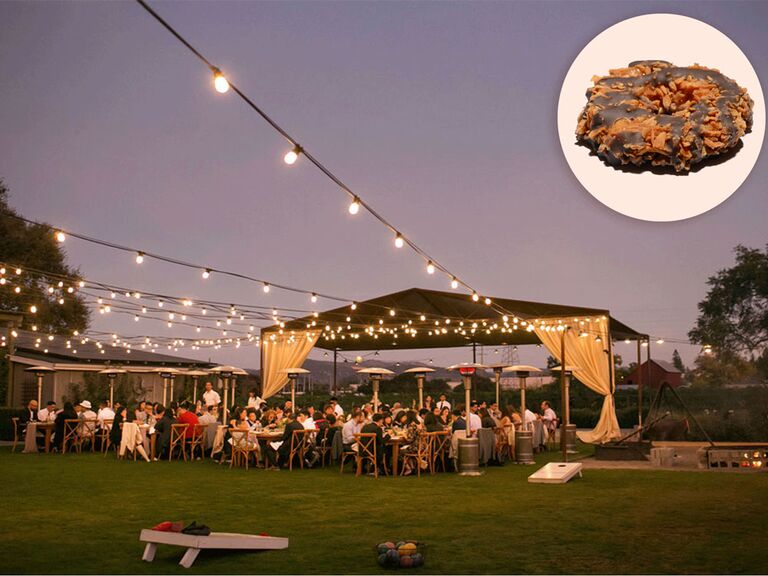 Sabine Scherer Photography; Farmstead at Long Meadow Ranch; Getty Images
It's no secret that spring is unofficially known as Girl Scout cookie season. For about eight weeks every year, Girl Scouts sell over 200 million (yes, million!) boxes of cookies across the United States. Popular flavors like Thin Mints, Samoas and Tagalongs have amassed cult followings, and they inspire yearly heated debates about which flavor reigns supreme. It's fair to say your favorite girl scout cookie is a defining character trait, just like your zodiac sign or love language. And, believe it or not, your go-to box reveals a lot about you, like what your ideal wedding style is. So, whether you're a fierce defender of Trefoils or you're a S'mores superfan, we've got the scoop on what your big day should look like. Below, we break down what your favorite Girl Scout cookie says about your wedding style. Grab a box of your favorite cookies and start planning—we've got all the inspiration you need right here. 
Thin Mints: Glam
Thin Mint fans, you have exceptional taste—and that's a fact. (No, really: the Girl Scouts confirm that Thin Mints are their most popular flavor.) If you stock up on this minty treat every year, your wedding style is glamorous. You won't settle for anything less than the best, and your nuptials will reflect that. We recommend choosing a swanky venue, like an elegant ballroom or a chic rooftop with unbeatable views. Decorate your space with lush flowers, towering centerpieces and a sky-high tiered wedding cake. Don't forget to read up on the latest wedding trends, because you'll want to include as many as possible at your trend-setting nuptials. 
Samoas: Boho 
Also known as Caramel deLites, Samoas have a little bit of everything (think: caramel, chocolate and coconut), just like the bohemian aesthetic. The popular style combines a variety of eclectic colors and materials, just like your favorite cookie combines flavors. Samoas fans should consider saying "I do" outdoors; a secluded desert, an earthy forest or a tropical beach are all suitable locations. Dried florals and leafy plants like palm leaves, pampas grass and spiky cacti are a must for your venue. Eclectic accents like layered rugs, mismatched lounge areas and macramé decorations will carry out your boho vision. Stick with a neutral color palette, much like the kind you'll see on a Caramel deLite cookie. 
Tagalongs: Romantic
Chocolate and peanut butter belong together, just like you and your S.O. If you're a Tagalong fan, a romantic wedding is right for you. This wedding style is all about personalization, so there aren't too many rules when it comes to hosting a romantic soirée. Focus on weaving your love story and your personalities in small wedding details. That way, guests will leave your wedding thinking, "That was so them." Perhaps your dinner menu will be inspired by what you ate on your first date, or maybe your signature cocktails will be named after your pets—the options are endless. (Need help getting started? Check out our guide on the best ways to personalize your wedding.) Opt for a light and airy color palette with accents of pink and red, as well as lush floral arrangements. Scatter candles throughout your venue to cast a cozy glow over the space. Guests will leave your wedding with all the romantic feels. 
S'mores: Rustic 
S'mores cookie fans spend a lot of time in the great outdoors. (Summer bonfires, anyone?) You have a soft spot for the simple pleasures in life, which is why you should have a rustic wedding. Over-the-top spectacles aren't for you. Instead, opt for laidback details like neutral flowers, a naked rustic cake, and lots of romantic string lights. We recommend hosting your big day in a barn or on a scenic country farm—even your backyard can serve as the perfect spot for your casual vision. And, let's be real, your big day won't be complete without a build-your-own S'mores bar. 
Trefoils: Vintage
Trefoils (also known as Shortbreads) made their debut in the 1930s. If the original Girl Scout cookie is your favorite, a vintage wedding is right up your alley. Take guests back in time with mismatched crystal chandeliers, baroque mirrors and frames, antique candlesticks and a jewel-tone color palette. Shop for wedding decorations at local thrift stores, or raid your grandparents' attic—you never know what family heirlooms you'll find. For a modern approach, opt for a '60s- or '70s-themed wedding with bright colors, velvet textures and retro fashion. The beauty of a vintage wedding is that it can be designed to fit your interpretation. Start by picking your favorite decade, and work with your team of wedding pros to incorporate its defining elements into your big day. 
Do-Si-Dos: Casual
As a Peanut Butter Sandwich fan, you don't need an over-the-top theme to make your big day feel special. Do-Si-Do cookies feature a thin layer of peanut butter within two oatmeal cookies—it's simple, but it's always satisfying. If this is your favorite flavor, you should have a casual wedding. You're all about spending quality time with friends and family, and a casual theme will help you focus on what matters most: the people you love. Go for a laid-back outdoor venue with cozy ambiance and a hearty, family-style dinner. Focus your budget on wedding experiences, like welcome drinks, a great band or DJ and an after-party to keep the celebration going long into the night. This will help you make unforgettable memories with your guests, which is what getting married is all about. 
Lemonades: Whimsical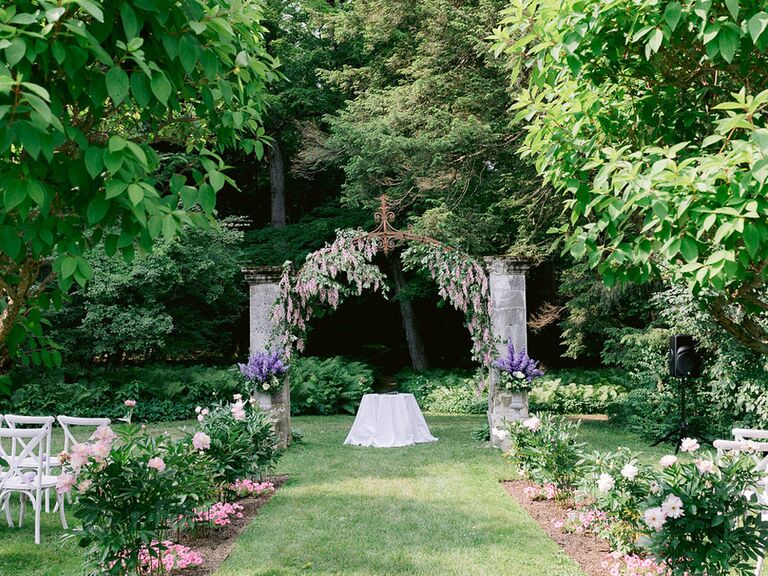 If you love the tangy burst of citrus icing in a Lemonade cookie, a whimsical wedding is perfect for you. Lemonades are light, playful and unique, which is exactly how we'd describe a whimsical wedding. To bring this theme to life, book a fairytale-worthy venue like a lush garden, a rustic castle or villa or an enchanting forest. Whimsical weddings are all about light colors, so choose a palette that includes soft white and pastel hues. Decorate your space with airy flowers like wisteria, baby's breath and willow leaves. Guests will feel like they've been transported to a different universe, and they'll never stop talking about your big day.