19 Yellow Diamond Engagement Rings to Brighten Your Ring Finger
These yellow diamond engagement rings are bright, bold and guaranteed to make a statement.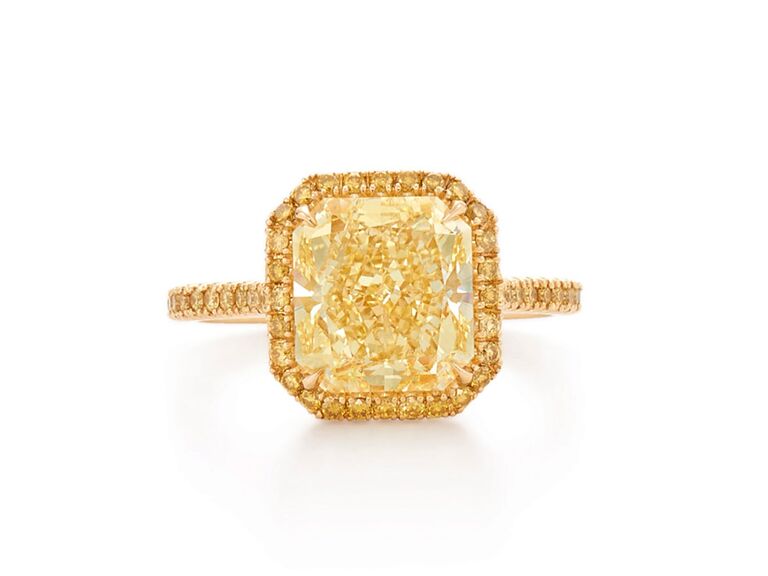 We have included third party products to help you navigate and enjoy life's biggest moments. Purchases made through links on this page may earn us a commission.
White diamonds are a true classic, but yellow diamonds are just the ticket for the to-be-wed looking for a splash of color and something super unique. A vibrant yellow diamond engagement ring will always stand out in a room full of colorless diamonds. Read on to learn what to look for in a yellow diamond engagement ring—plus shop editor-approved picks you can add to your cart right now.
What Is a Yellow Diamond Engagement Ring?
Yellow diamonds, also known as canary yellow diamonds, are fancy colored diamonds that form naturally in a range of yellow hues. These colored diamonds most often originate in South Africa, though they've been known to come from Australia and Central America as well.
Natural yellow diamonds get their brilliant color due to the presence of nitrogen during the crystallization process as they form. The nitrogen trapped in the diamond subsequently absorbs blue light and reflects back as a yellow hue. The color intensity of yellow diamonds can vary greatly, so much so that the Gemological Institute of America or the GIA developed a color grading scale for them. GIA-certified diamonds are assigned one of six color grades ranging from Fancy Light, Fancy, Fancy Dark, Fancy Deep, Fancy Intense and Fancy Vivid.
Yellow diamonds also tend to be pricier than white diamonds, due to their rarity. Fun fact: There's approximately one yellow diamond for every 10,000 white diamonds.
What to Look For in a Yellow Diamond Engagement Ring
Clarity
Like with any diamond, it's important to check the clarity of your stone before purchasing. Ideally, your yellow diamond of choice should be free of inclusions and blemishes. If you're working with a tighter budget, a yellow diamond with a grade of SI2 clarity or higher will still give you a stunning yellow diamond without breaking the bank.
Color Grade
Paying attention to the color grade of your yellow diamonds is important because it ultimately affects the hue of your ring. A fancy colored yellow diamond are those that fall outside the traditional D-Z color grade scale. GIA grades colored diamonds one of six color grades: Fancy Light, Fancy Yellow, Fancy Dark, Fancy Deep, Fancy Intense and Fancy Vivid. These grades indicate how intense the yellow color is. If you prefer a light yellow hue, then you may want to stick to a color grade of somewhere between Fancy light to Fancy. For deeper yellow hues, Fancy Intense or Fancy Vivid might be a good color grade choice. There is no right or wrong answer when it comes to color grade; it's really a matter of personal preference.
Ring Style or Setting
While color grades are important for the overall look of your yellow diamond, keep in mind that the ring setting you choose and your choice of metal plays an important role. Yellow gold makes the color of a yellow diamond look more intense. If you want a pale yellow ring, you might want to stick to white gold or platinum ring settings. Otherwise, you may inadvertently end up with a yellow diamond in a hue that's deeper than you envisioned. Another thought: Yellow diamond engagement rings in rose gold are rare, given the pink hue of rose gold can clash with with the yellow hue of some yellow diamonds. If you have your heart set on rose gold, opt for a yellow diamond that's more orange than true yellow.
Why Choose a Yellow Diamond Engagement Ring?
While some colored gemstones can be less durable than diamonds, yellow diamonds offer the unique feel of a colorful center stone plus the durability of a diamond. If you have an active lifestyle and plan to wear your engagement ring every day, a yellow diamond sparkler won't scratch or chip easily, or otherwise show signs of wear and tear (unlike, say, citrine or yellow topaz). Diamonds are also more naturally brilliant than colored gemstones. So if you're in the market for a colorful center stone with megawatt shine, a yellow diamond will bring the bling.
19 Yellow Diamond Engagement Rings You Can Buy Now
Feeling a yellow diamond engagement ring right now? Shop some of our faves below.
Jemma Wynne Bespoke East-West Canary Emerald Cut Diamond Ring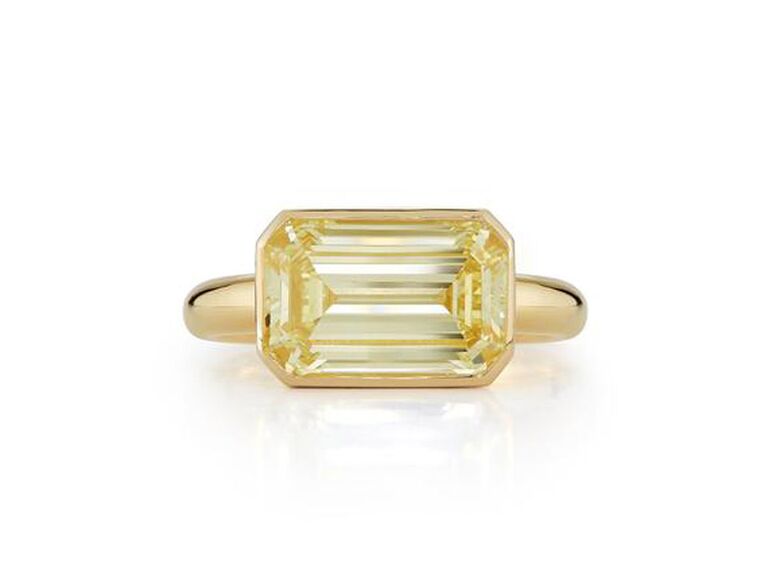 Modern brides, take note. An east-west bezel setting gives a classic emerald-cut canary diamond a fashion-forward feel.
Kwiat Yellow Radiant Cut Diamond and Pavé Engagement Ring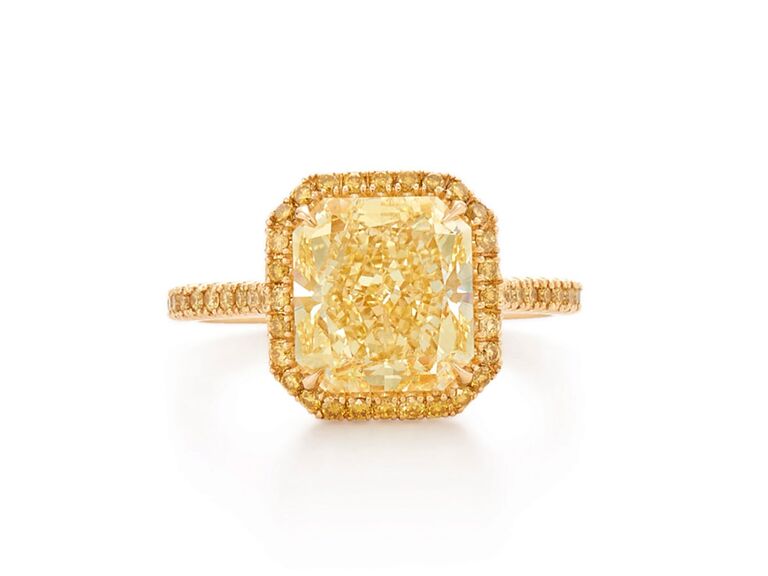 One word: Stunner. A yellow diamond-encrusted yellow gold setting plays up the striking hue of a radiant-cut yellow diamond center stone.
Le Vian Sunny Yellow Diamond Ring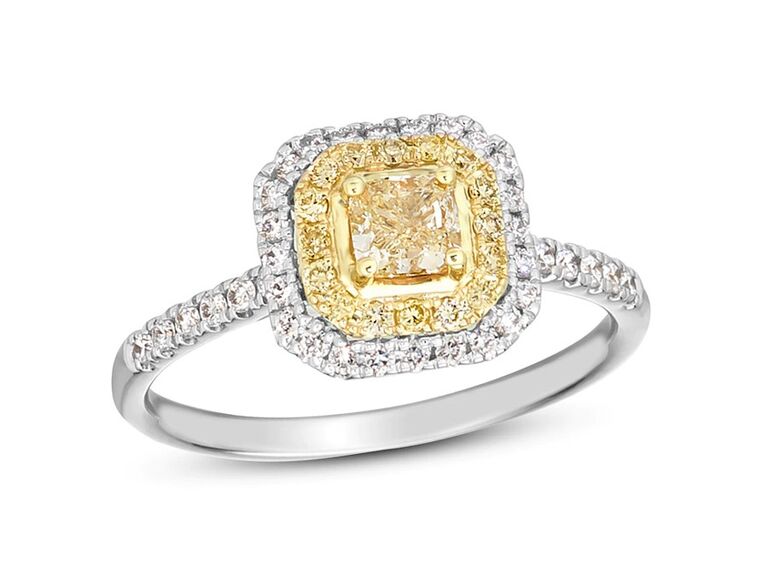 Want the look of a center stone with an impressive carat weight but not the hefty pricetag? This sparkler features a dainty yellow diamond framed by a halo of complementary stones, giving the illusion of an impressive center diamond—without the added cost.
Tiffany & Co. Classic Solitaire Yellow Diamond Ring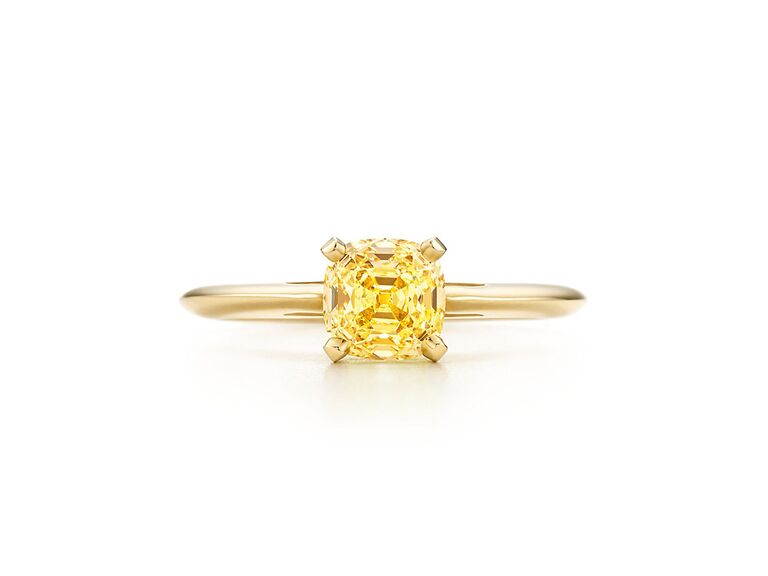 With this classic solitaire, less is certainly more. A fancy intense yellow diamond sits majestically in the center of a minimalistic yellow gold setting.
DB Classic Pavé Fancy Yellow Cushion-Cut Diamond Ring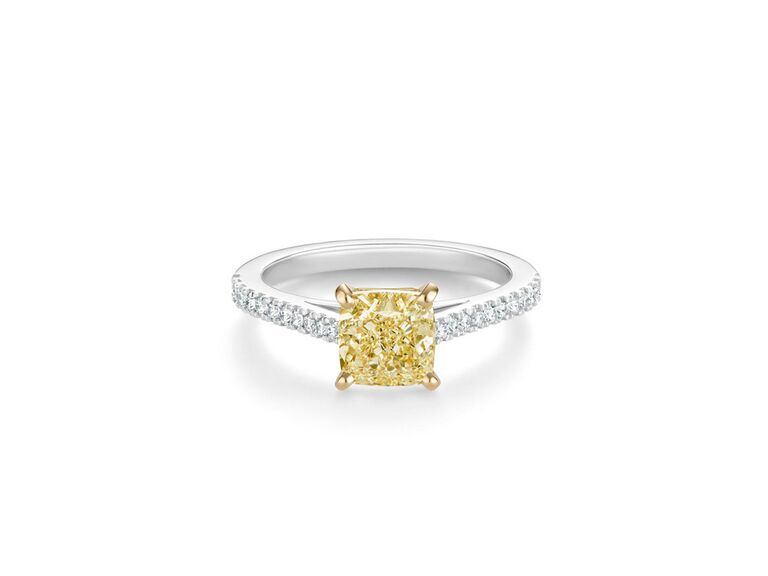 The best of both worlds, this fancy yellow cushion-cut diamond ring offers the fun flair of a colorful center stone plus the timeless elegance of a white metal solitaire setting.
Le Vian Sunny Yellow Three-Stone Diamond Ring With Two-Tone Gold
You can't go wrong with a time-honored ring setting. A trio of diamonds give this traditional three-stone setting a modern update.
Neil Lane Yellow Diamond Engagement Ring in 14K Gold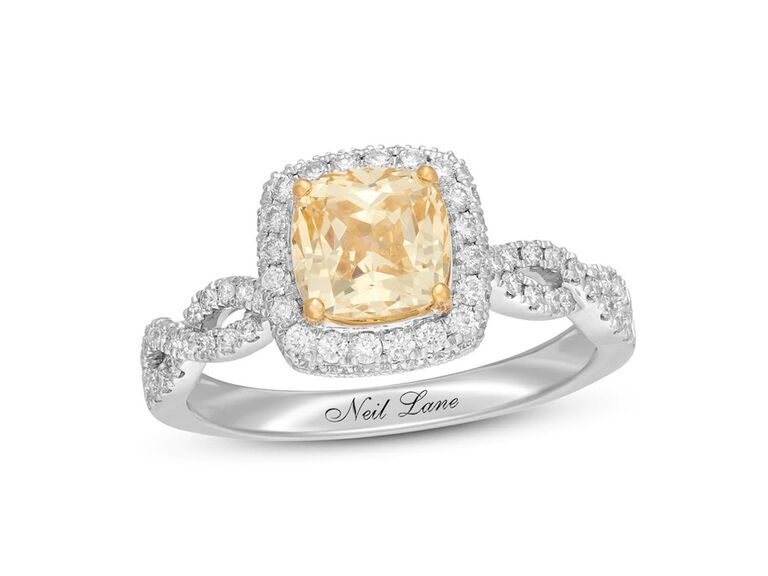 If you want a ring that makes a bold statement, this could be the one for you. This ring features a yellow natural diamond framed by a diamond halo and a whimsical twisted shank.
Zales Cushion-Cut Yellow and White Diamond Triple Frame Engagement Ring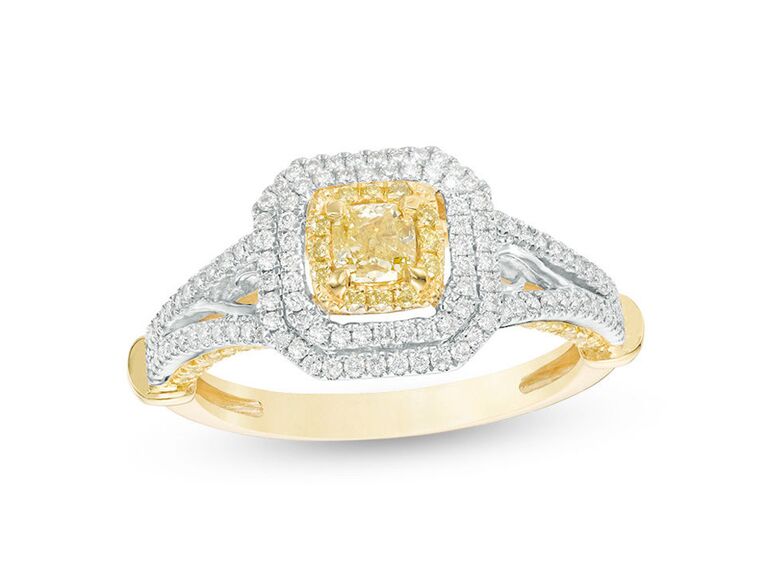 This stunning engagement ring features a cushion-cut yellow diamond that's bound to be a conversation starter. A white diamond-encrusted split shank setting puts all the focus on the striking center stone.
Neil Lane Yellow Diamond Engagement Ring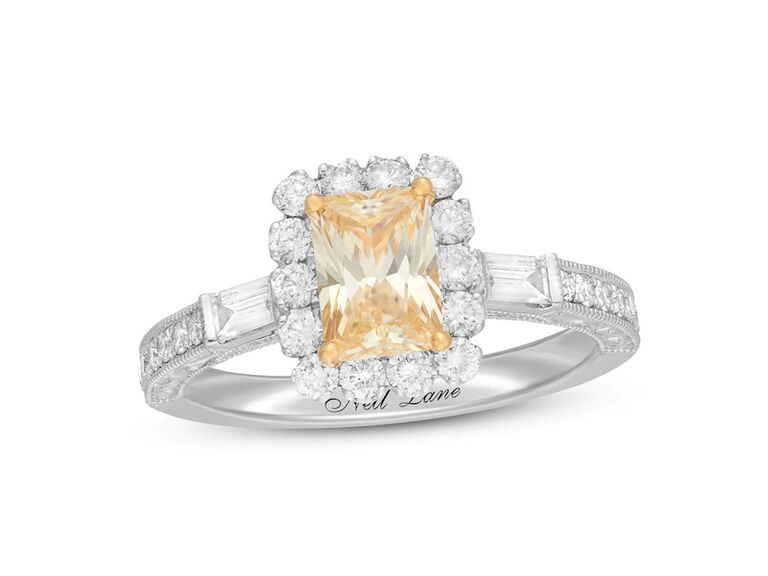 Pastel lovers, this one's for you. A white diamond halo plus baguette side stones play up the pretty light hue of this yellow diamond center stone.
Tiffany Enchant Cushion-Cut Yellow Diamond Ring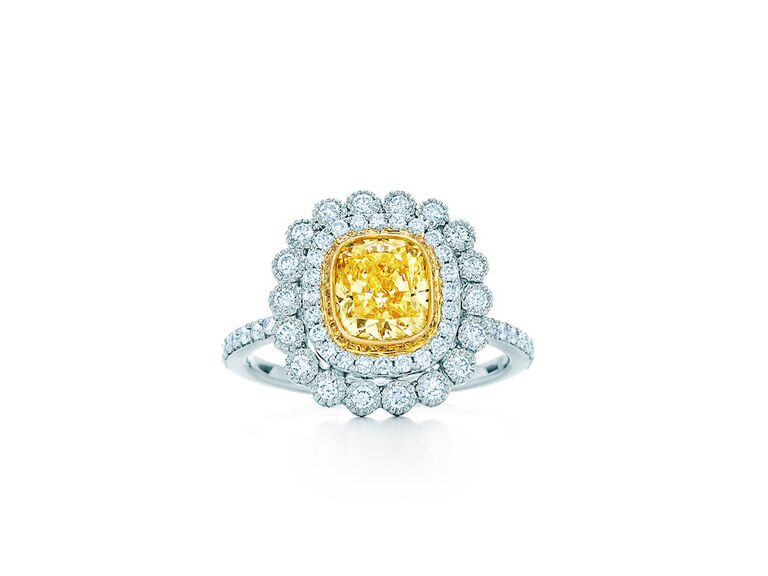 If there's ever a time to indulge in some romance, your wedding is it. It doesn't get more romantic than this stunning sparkler with a floral-inspired setting.
Jared Fancy Vivid Yellow Diamond Ring in Two-Tone Gold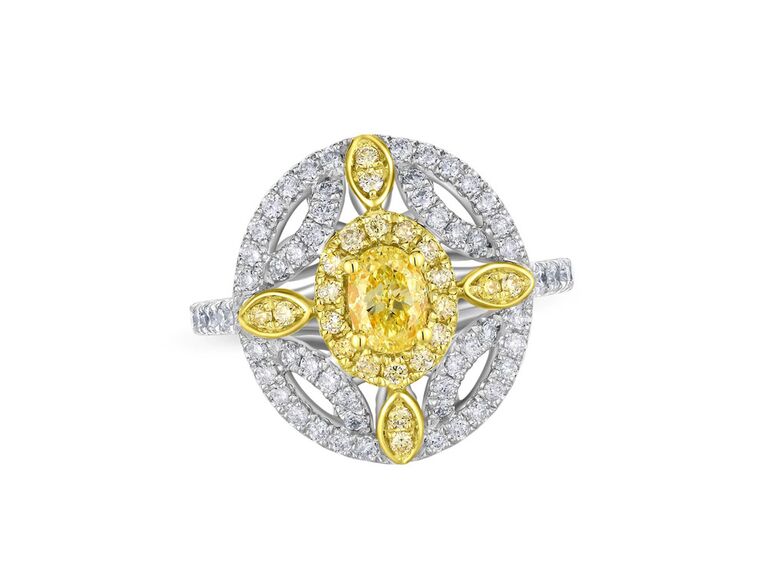 If you're on the hunt for a dramatic look, this is the ring for you. Beautifully intricate and bold, this cocktail ring-inspired sparkler features a fancy vivid yellow diamond flanked by more yellow diamonds, plus a white diamond trim.
De Beers Aura Fancy Yellow Cushion-Cut Diamond Ring
A yellow diamond engagement ring with a classic setting will stand the test of time. The simple yet breathtaking design of this sparkler beautifully highlights the fancy yellow diamond center stone.
Radiant-Cut Fancy Yellow Diamond Frame Engagement Ring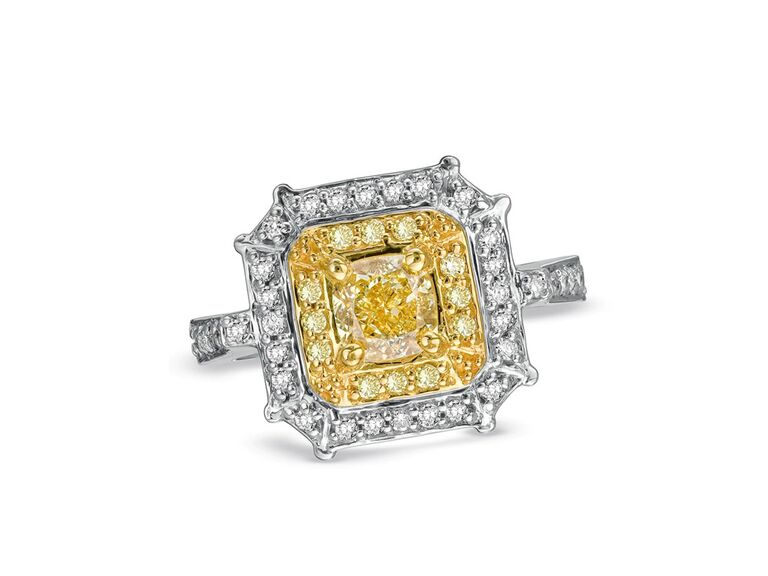 Calling all old souls. This vintage-inspired sparkler features a radiant-cut fancy yellow diamond surrounded by an intricate double halo of both yellow and white diamonds.
Jared Two-Tone Gold Diamond Ring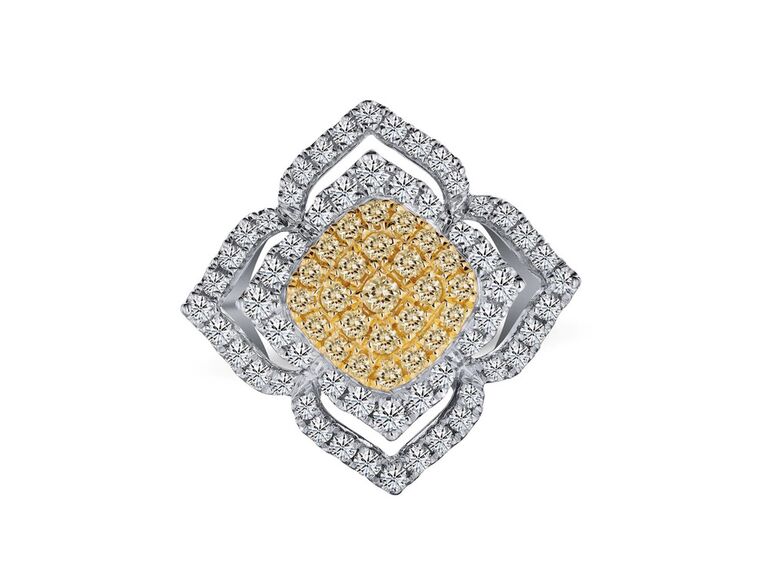 Who says you need a center stone to make a statement? This floral-inspired cluster ring is made up of dozens of small diamonds but it still makes quite the sparkly statement.
Anna Sheffield Bea Halo Ring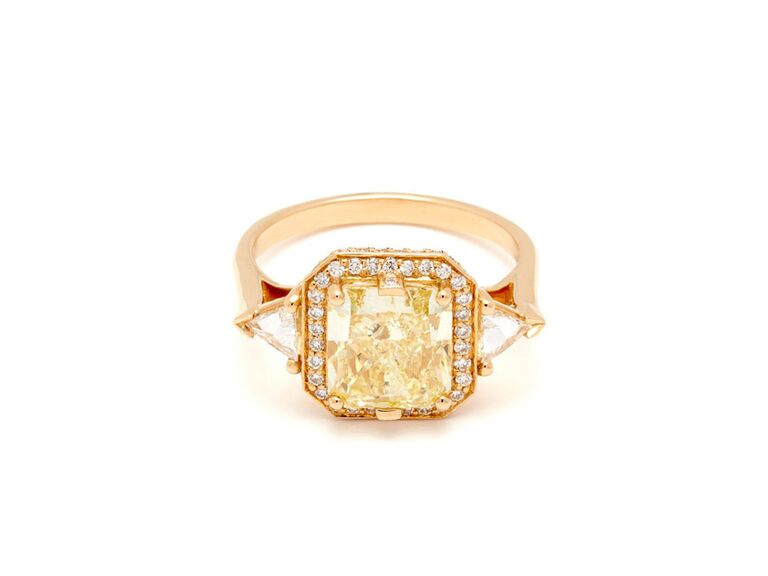 This ornate ring is all about special details. A setting with white diamond trillions plus a white diamond halo give this sparkler a one-of-a-kind feel.
Bloomingdale's Cushion-Cut Yellow and White Diamond Ring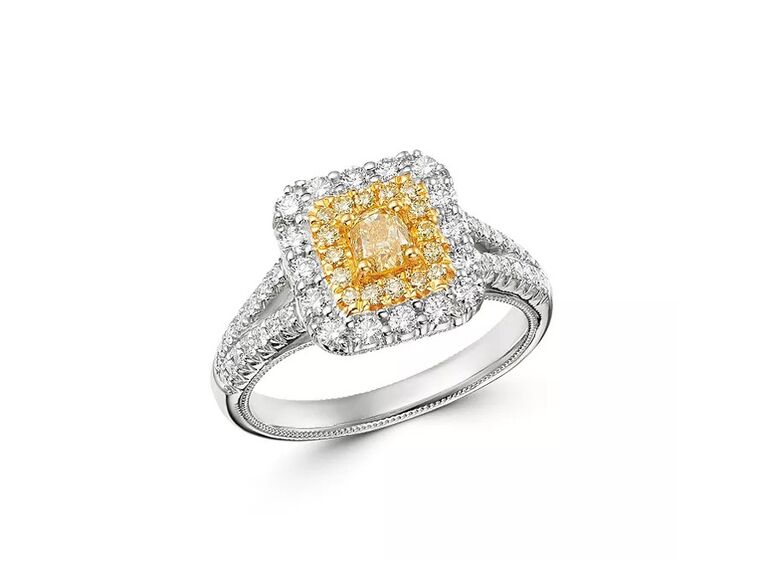 A totally diamond-encrusted sparkler? Yes, please. Crafted in a beautiful blend of white and yellow gold, this fab ring features a yellow cushion-cut center stone with gorgeous yellow color. Round diamonds and milgrain details adorn the shank for an extra-glam finishing touch.
Barkev's Radiant Cut Fancy Yellow Diamond Engagement Ring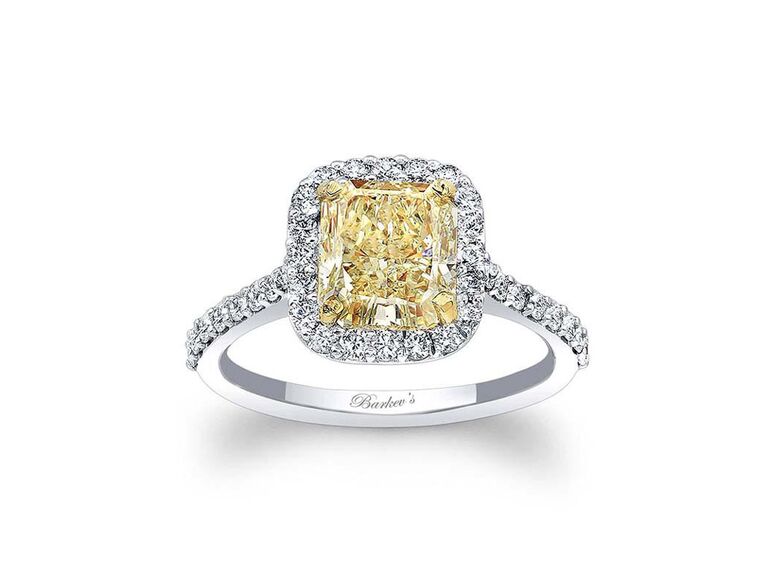 You can never have too much sparkle. This beauty features a radiant-cut fancy yellow diamond framed by a halo of sparkling diamonds plus a diamond pavé setting.
Zales Radiant-Cut Yellow and White Diamond Engagement Ring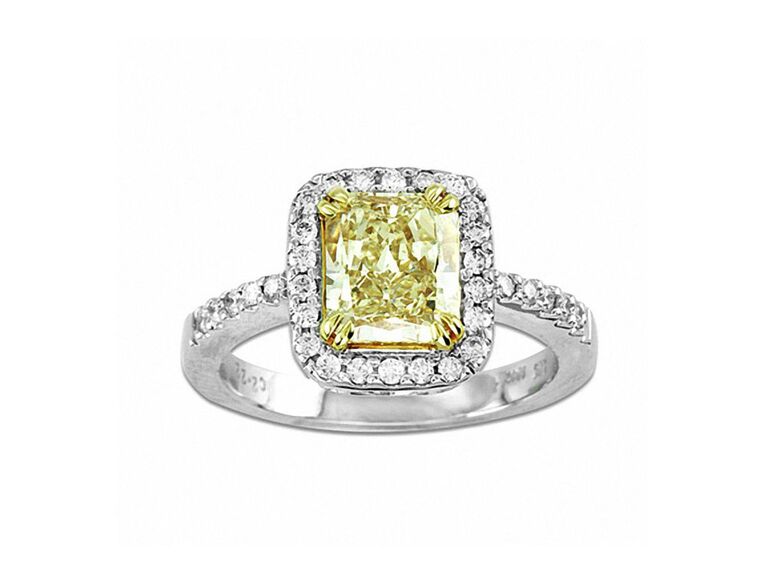 An ode to Art Deco, this ring features a dazzling yellow diamond surrounded by a delicate halo of white diamonds. The end result? A sparkler with major heirloom appeal.
Bony Levy Cushion Yellow Diamond Ring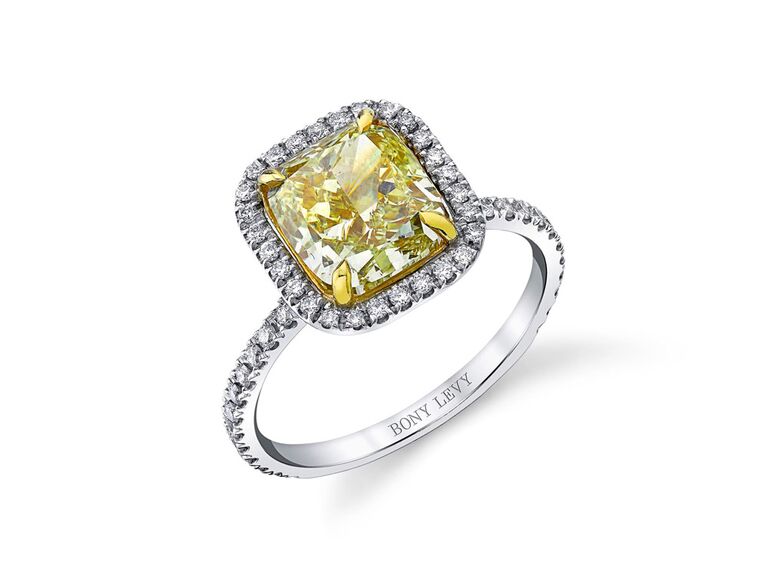 Simple yet stunning, this beauty features a yellow cushion-cut diamond framed by a white diamond halo. Bonus: Yellow gold prongs blend into the center stone for a more seamless look.