The Best 31st Anniversary Gifts to Celebrate Another Happy Year Together
We've found the top symbolic and alternative gifts to commemorate 31 years of marriage.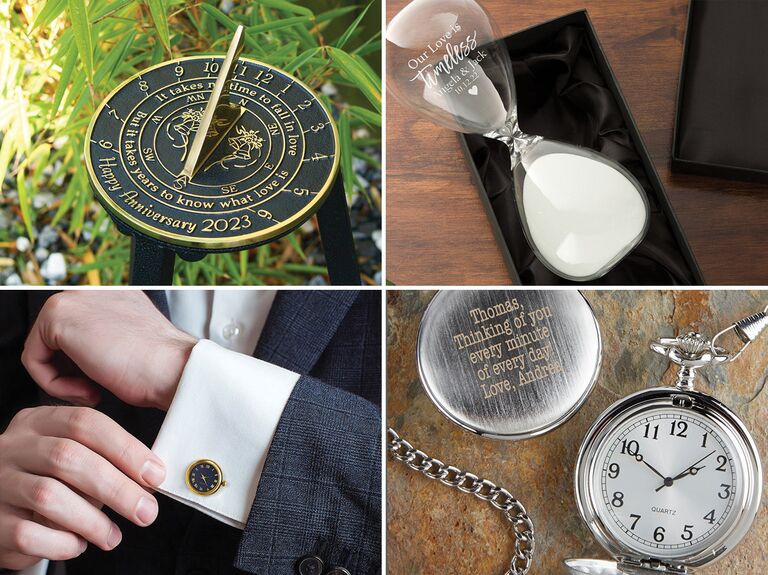 Photo: Etsy, Personalization Mall
We have included third party products to help you navigate and enjoy life's biggest moments. Purchases made through links on this page may earn us a commission.
While your 30-year milestone probably grabbed a lot of attention, we think the 31st anniversary is just as special. Every year of marriage deserves to be recognized, and choosing a thoughtful 31st anniversary gift is a great way to celebrate another happy year with your spouse. If you're struggling to come up with a great gift idea, don't panic—we've done the hard work for you, picking out our top 31st anniversary presents for every type of couple. Whether you're looking for a symbolic anniversary gift or something a bit more unusual, we're here to help you find a really special present for your husband, wife or favorite duo.
In this article:
Traditional 31st Anniversary Themes
Unlike many other marriage milestones, the 31st wedding anniversary doesn't have a traditional gift theme, but it does have a modern one: a timepiece. Watches and clocks are symbolic of all the time a couple has spent together, nurturing their relationship and building a strong bond that lasts for decades. Incorporating the modern anniversary theme into your gifting should be relatively easy, given the amount of really cool timepieces available. While there isn't an anniversary flower, gemstone or color associated with the 31-year anniversary, you can still surprise your spouse with a beautiful bouquet or some dazzling jewelry if you want to.
Symbolic 31st Anniversary Gifts
If a thoughtful timepiece sounds like a gift your spouse will love, you've come to the right place. We've included everything from personalized clocks to fashionable watches in our round-up, with a few really unique pieces that keep time in an interesting way. Read on below to discover our favorite symbolic gifts to commemorate the 31st wedding anniversary.
Personalized Map Clock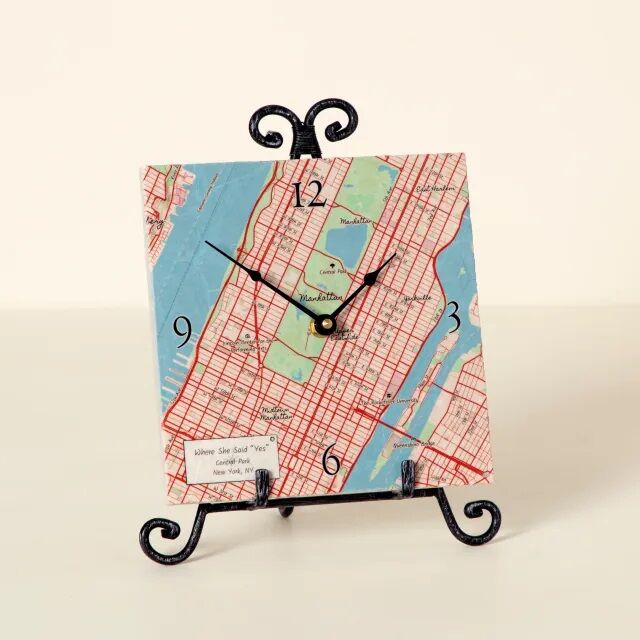 If you're looking for a unique timepiece to celebrate your 31st wedding anniversary, look no further than this personalized map clock. It features a map of three square miles of your chosen location displayed on rustic marble with a cast iron stand. Pick the place where you got married, had your honeymoon or anywhere else that is meaningful to you to create a sentimental keepsake that'll remind you of one of your favorite memories.
Engraved Silver Pocket Watch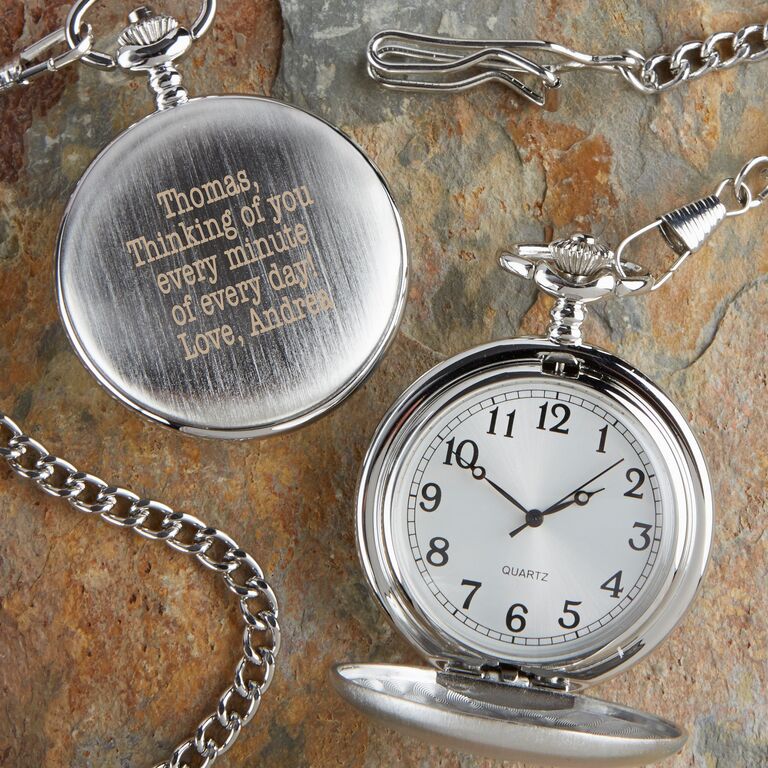 Looking for an inventive way to incorporate the modern 31st anniversary theme into your gift? Try a personalized pocket watch. This vintage timepiece is made from silver-plate with a brushed metal finish and a classic white face inspired by a bygone era. Have it engraved with your partner's monogram on the front and a sweet five-line message on the back for a thoughtful trinket they'll always want to carry around with them. Bonus: The watch comes in a beautiful gift box for an impressively stylish presentation.
Outdoor Gear Clock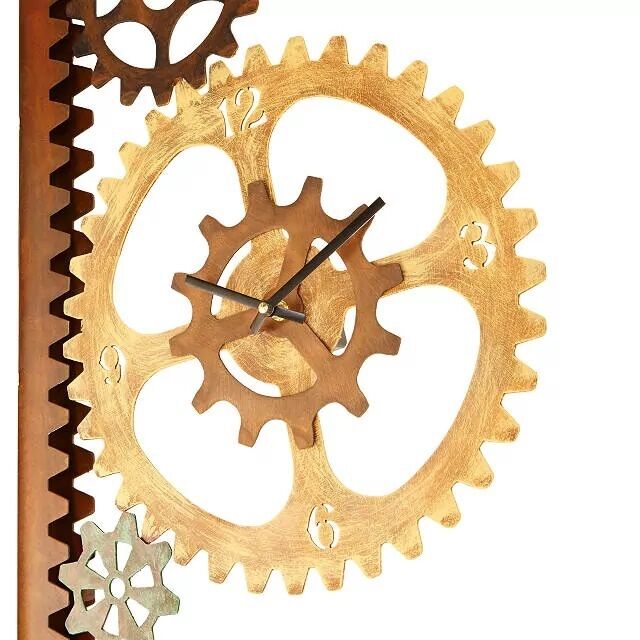 If your spouse loves to spend time in the garden, here's a cool and quirky timepiece they'll appreciate. Made from hand-finished steel, this outdoor clock looks like a set of working gears and is a great way to bring an industrial-chic touch to your backyard. The rustic hardware can be hung in two ways—mounted on a wall or secured to a post—in a sheltered spot that protects it from the rain.
Crystal Watch Gift Set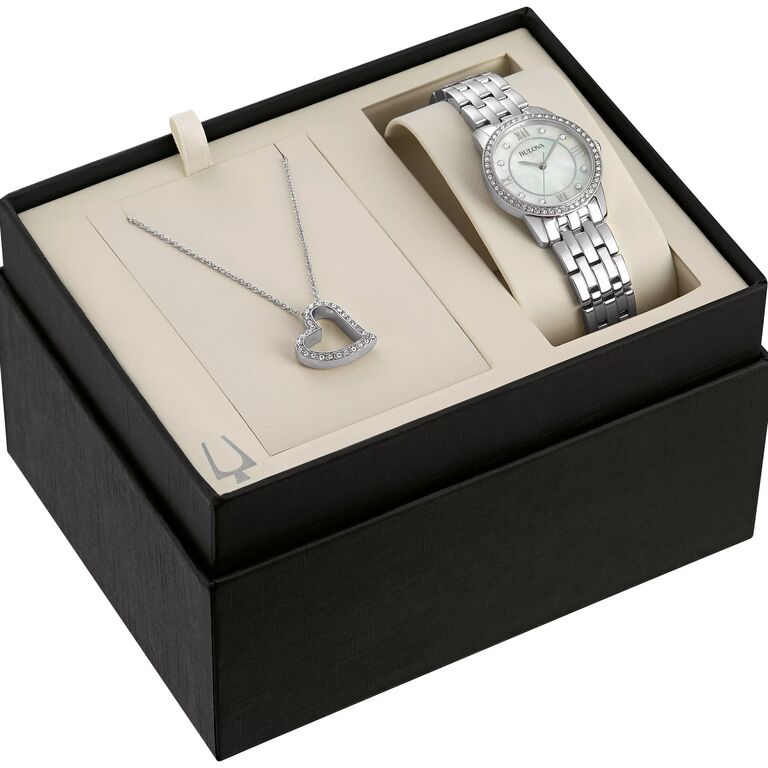 Can't decide between a watch or a piece of jewelry for your stylish spouse? With this elegant offering from Bulova, you'll get both items in one gift set. A crystal-accented watch and heart-shaped pendant are paired together to create a dazzling duo that'll wow anyone who loves timeless accessories. The watch has a stainless steel bracelet and a mother-of-pearl dial surrounded by 58 shining crystals, while the necklace also features 28 sparkly stones for a coordinated set that works well together or separately.
Personalized Hourglass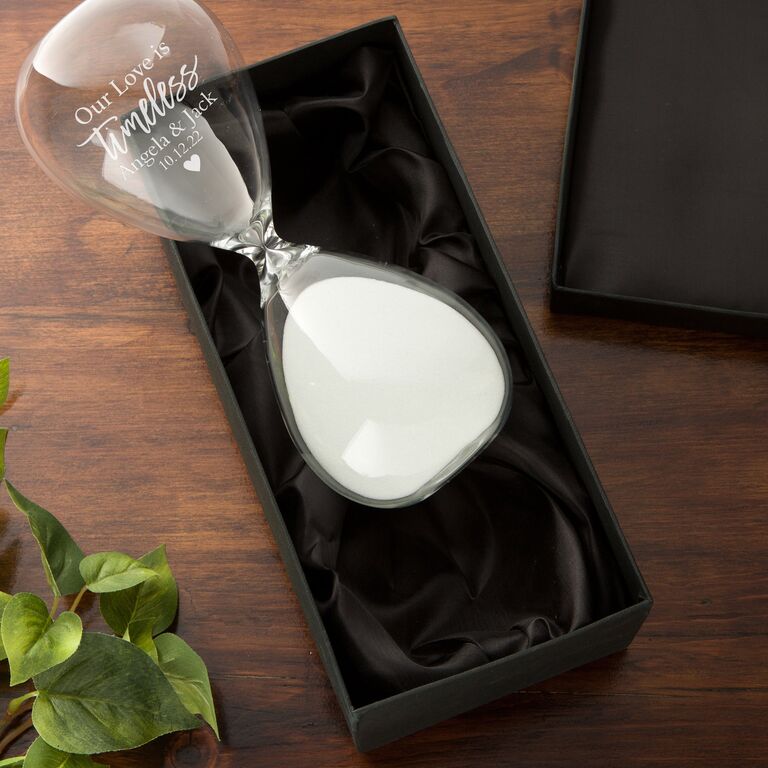 Show off your sentimental side with a personalized anniversary gift that honors your timeless love. This custom-engraved hourglass is a real showstopper, not to mention a thoughtful (and on-theme) gift to give your spouse on your 31st wedding anniversary. It's filled with beautiful white sand and measures time to approximately one hour. Your names and anniversary date are etched on the glass under a sweet message that reads: "Our Love is Timeless."
Wedding Anniversary Sundial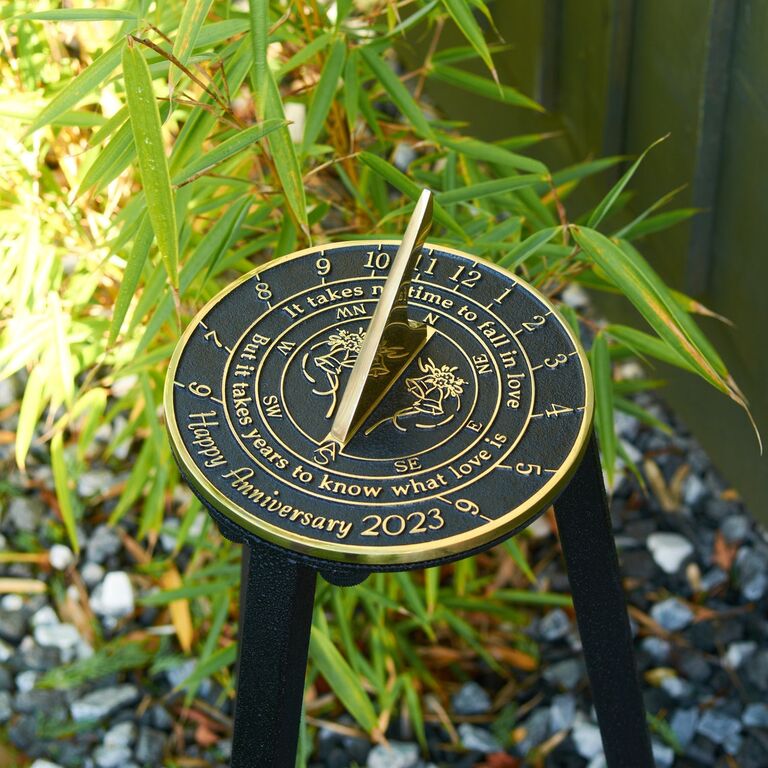 If you're married to someone with a passion for ancient history, here's a thoughtful timepiece that'll grab their attention. Sundials are the earliest household clocks known and are thought to date back as far as 1500 BC. (How cool is that?). This modern take on an old timepiece is a lovely way to celebrate your partner's interests and the love you two share. It's made from recycled scrap metal and displays a romantic verse that reads: "It takes no time to fall in love, But it takes years to know what love is, Happy Anniversary 2023."
Elegant Apple Watch Band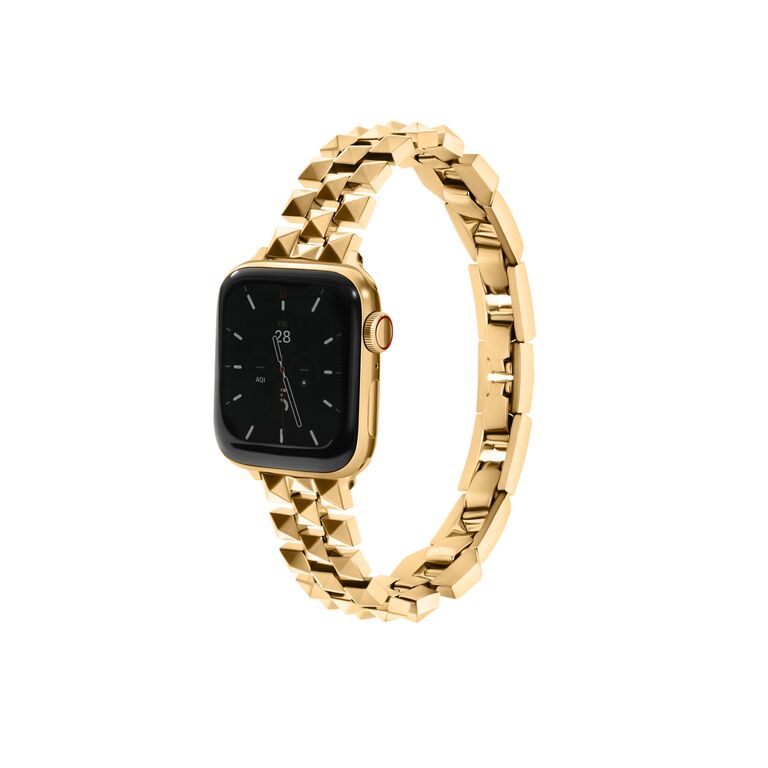 While a new timepiece might not seem like the best choice for someone who always wears a smart watch, we've found a gift to make you reconsider. Designed to fit an Apple watch, this gorgeous stud band will elevate your partner's day-to-day accessory to a whole new level. Whether they wear it to the office or out on a romantic walk (for your 31st anniversary, perhaps?), they're sure to feel glamorous while getting their steps in. Choose from several color and size customization options to fit your spouse's style and watch model.
Personalized Anniversary Clock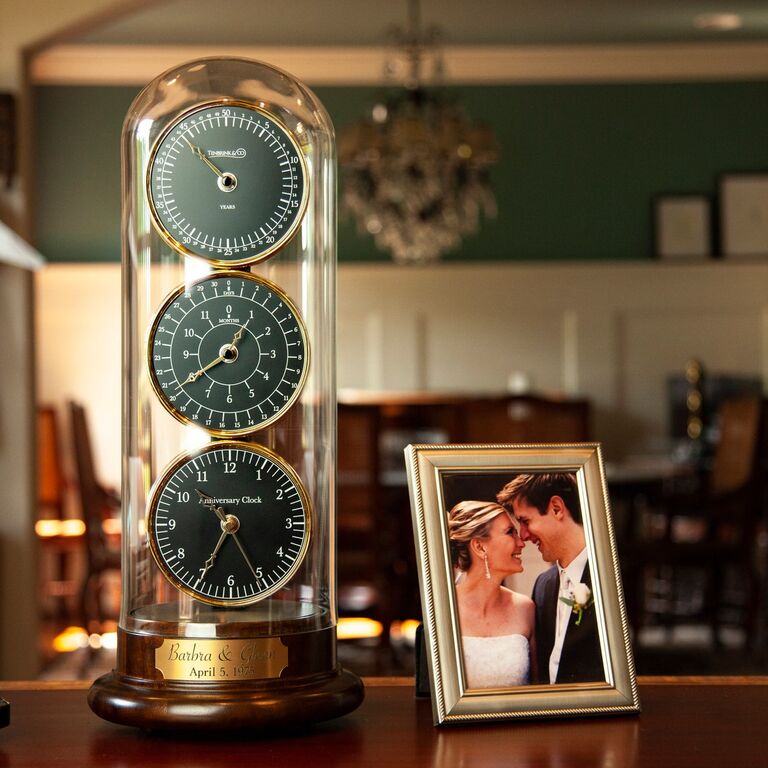 If you're going to splurge on a fancy clock for your 31st anniversary, make it this one. This personalized gift counts the years, months, days, hours, minutes and seconds since your wedding day—but that's not all. To top it all off, this sentimental timepiece automatically plays your chosen song every year on your anniversary (or any time with the push of a button), thanks to a built-in MP3 player. Have the base engraved with your names and wedding date to add the perfect finishing touches.
Women's Dragonfly Watch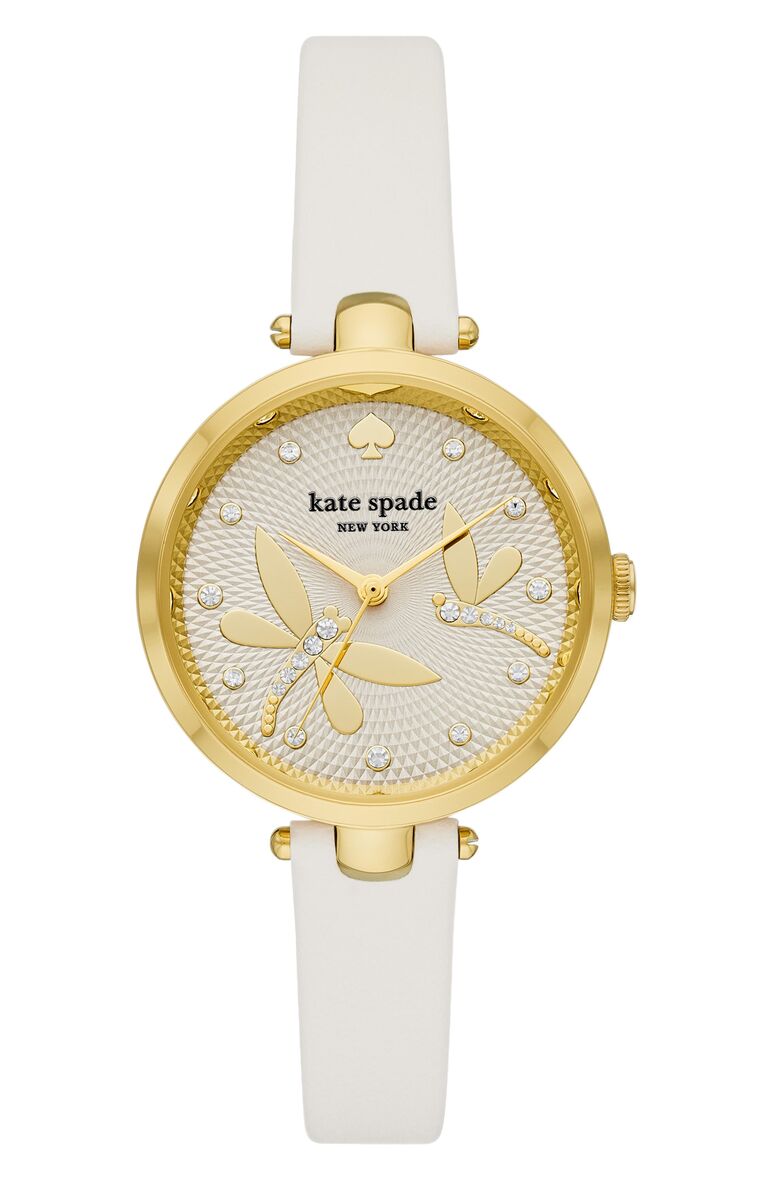 Oh, how time flies when you're having fun with the love of your life! If you're looking for a thoughtful and stylish gift that pays tribute to your 31-year marriage, this elegant watch from Kate Spade fits the bill. The textured dial is embellished with two polished gold dragonflies and sparkly crystals for a statement accessory that's destined to wow. The combination of the cream leather strap and gold hardware is luxurious yet subtle enough to wear every day. Plus, dragonflies are a symbol of good luck, so you can send your spouse all the positive vibes with this thoughtful gift.
Taylor Guitar Wood Watch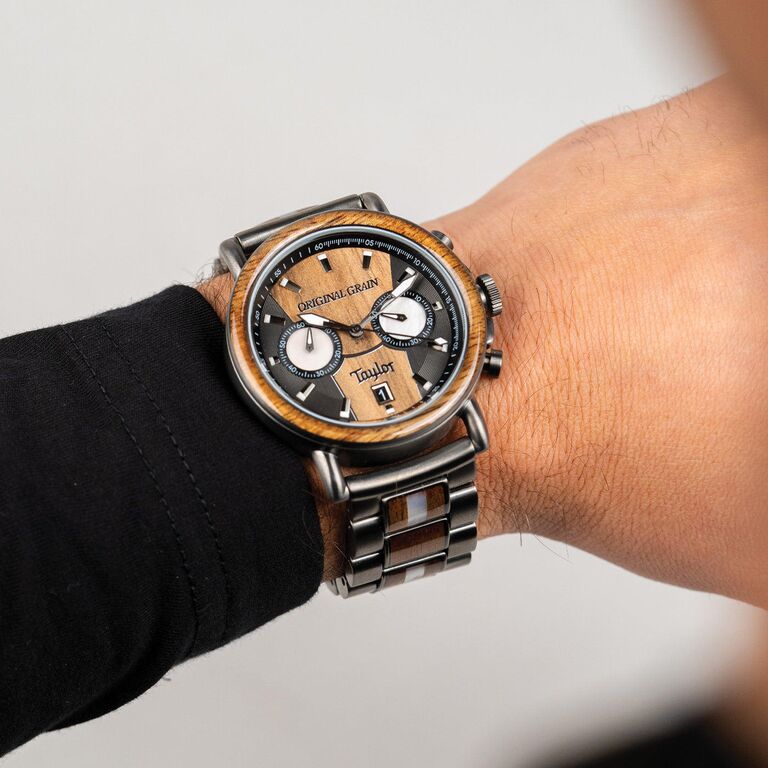 If your spouse is a dedicated music lover, this wood-accented watch from Original Grain will hit all the right notes. The striking design is made from gunmetal steel and Hawaiian koa wood from a reclaimed Taylor guitar, which is guaranteed to impress your other half. This stylish accessory will complete any outfit, whether they're getting dressed up for the day or keeping things casual. Have it engraved with their name or a sweet message for a thoughtful touch. Bonus: It has a calendar function, so your partner can keep track of any important dates coming up (like your anniversary).
Sunrise Bedside Clock
Help your spouse wake up feeling refreshed with this sunrise alarm clock from Hatch. It's thoughtfully designed to mimic the sunrise with a gentle light source that gets gradually brighter for a natural awakening. Your other half will feel much more relaxed after ditching their typical noisy alarm in favor of one that matches their body's circadian rhythm. The clock also plays sleep sounds to help them wind down and drift off to sleep after a busy day.
Clock Cuff Links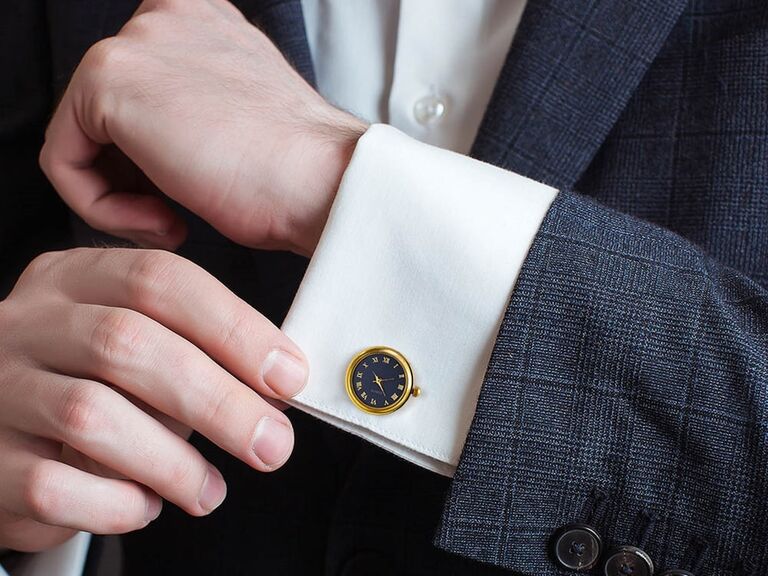 If you want to honor the modern 31st anniversary theme without picking a conventional wristwatch, we've found the perfect solution. While these clock-inspired cufflinks certainly look the part, they also tell the time. They're ideal for adding an unexpected finishing touch to your partner's formalwear and helping them keep track of every hour and minute that passes. Plus, with two timepieces on them, they'll have no excuse for showing up late!
Modern Art Clock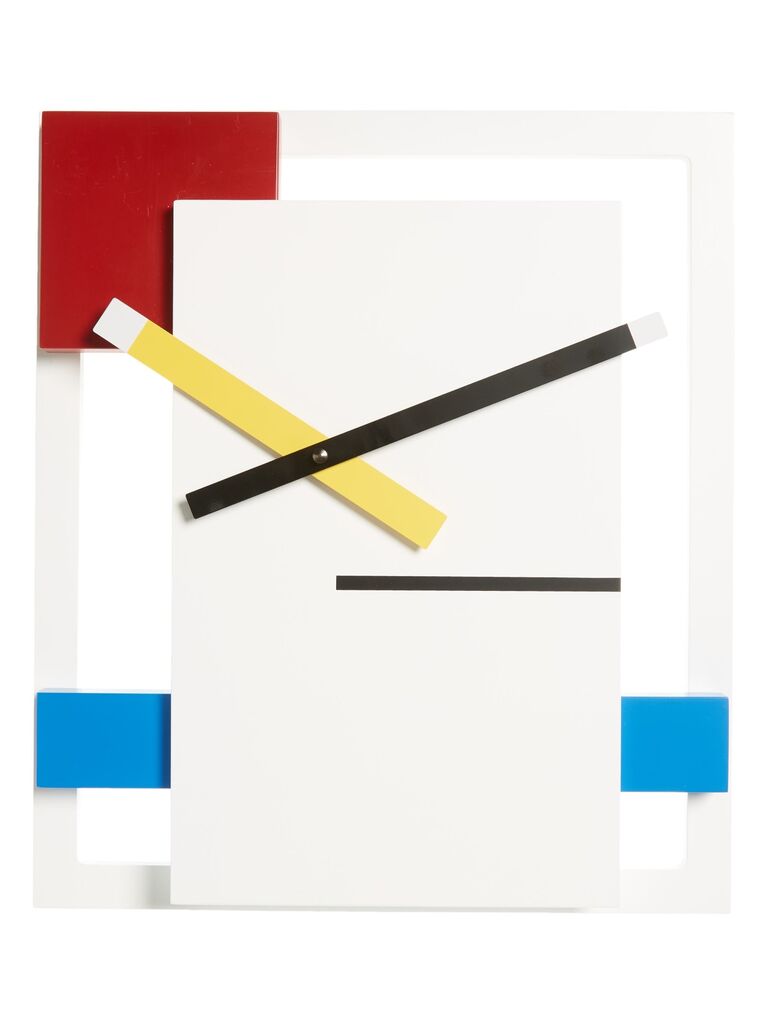 If your partner considers themselves an art connoisseur, this colorful clock will really make them tick. The square face is inspired by the abstract modern aesthetic of the De Stijl art movement, which originated in the Netherlands. With geometric shapes and bold primary colors, this statement piece will make really make an impact on their nightstand or mantle.
Custom Photo Clock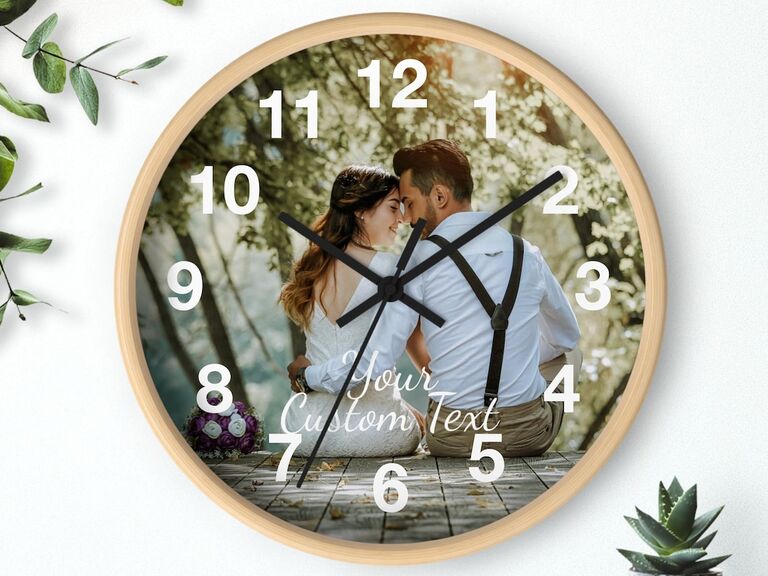 Take every opportunity to put your love on display in your home with a custom photo clock. This made-to-order timepiece displays your favorite snapshot at the center of the round face encased in a wooden frame. Pick a photo from your wedding day or a more recent image of the two of you for a sentimental 31st anniversary gift you'll be proud to show off.
Singing Egg Timer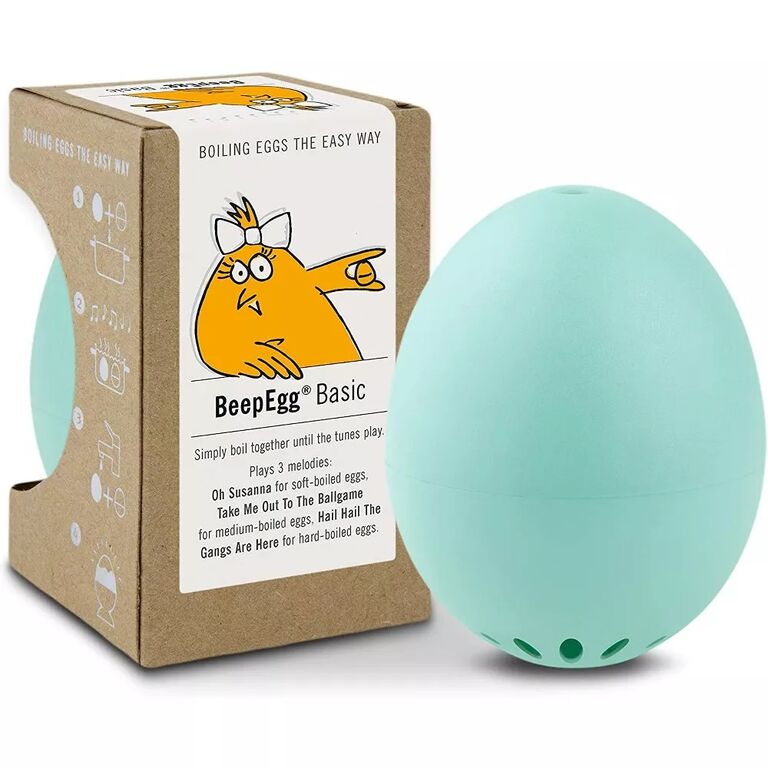 While boiling an egg may seem like the simplest cooking task out there, it can be more challenging than it looks. Whether your partner loves soft, medium or hard-boiled eggs, this clever timer will help them get it right every time. All they have to do is put their egg into the device, pick their cook preference to set the time and add it to the water. When the egg is cooked, it'll play a tune to let them know it's ready to eat. It's a practical and fun way to incorporate the modern timepiece theme (and improve your spouse's cooking, perhaps?).
Alternative 31st Anniversary Gifts
A themed anniversary gift isn't your only option this year, so feel free to pick something completely out of the box to surprise your partner. If you're looking for an awesome alternative anniversary gift, we've found a ton of great options, from woven picnic blankets and novelty mugs to elegant jewelry and baking equipment. Whether your spouse has a sentimental, creative or fashionable side, you're sure to find something special for them in our carefully curated list of gifts.
Grilled Pizza Maker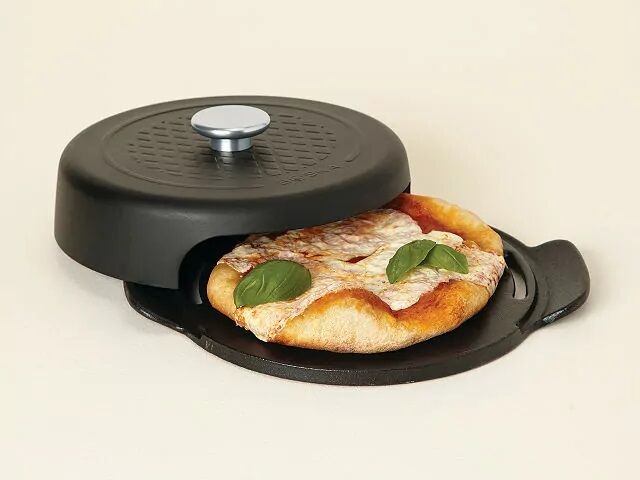 Think you can't make delicious pizza on a barbecue? Well, think again. This clever little device from Uncommon Goods is all you and your partner need to make crispy pizza on the grill. Simply add your toppings to the crust and place it in the mini-oven with the lid on before putting it on the barbecue. In less than 10 minutes, the two of you will be able to feast on your own personal-size pizza. Best of all, the pizza maker is compact in size, so you can bring it with you on your next outdoor adventure or cookout.
Herbal Tea Grow Kit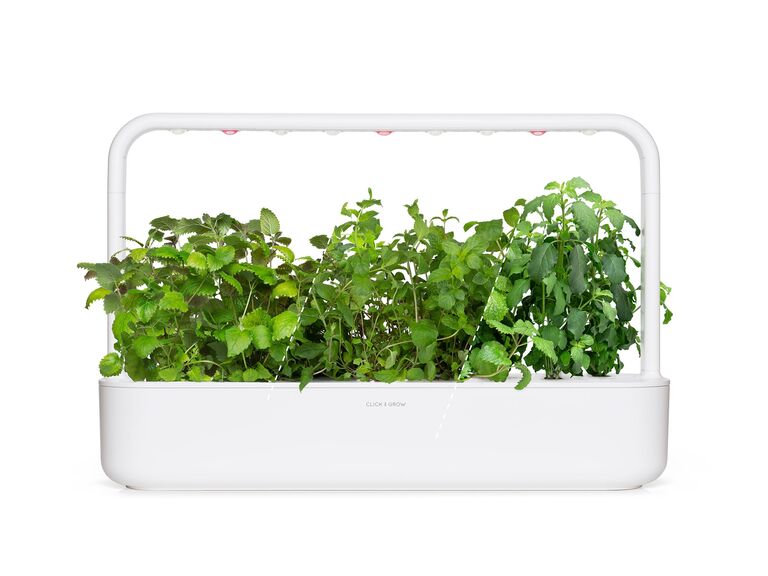 If sipping on tea is part of your partner's daily lifestyle, they'll love this kit that allows them to grow herbs to make their very own special brew. It includes a smart garden that automates light and watering, along with peppermint, lemon balm and holy basil plant pods. Once the herbs have grown, all they have to do is take a fresh clipping to make their one-of-a-kind herbal tea.
Earthenware Batter Bowl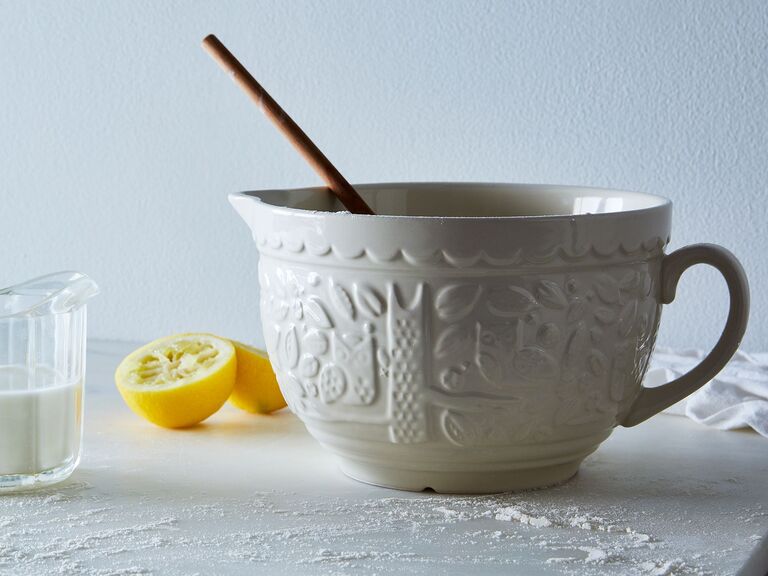 If you're lucky enough to be married to a talented baker, here's a practical 31st anniversary gift that'll inspire them to whip up something delicious. This earthenware batter bowl is thoughtfully designed to make mixing up cake batter a breeze. The animal-inspired pattern embossed on the sides allows for easy gripping of the bowl, while the spout and handle grant a smooth pour. We bet your spouse will love it so much, they'll be reaching for their recipe book right away.
Black Onyx Bracelet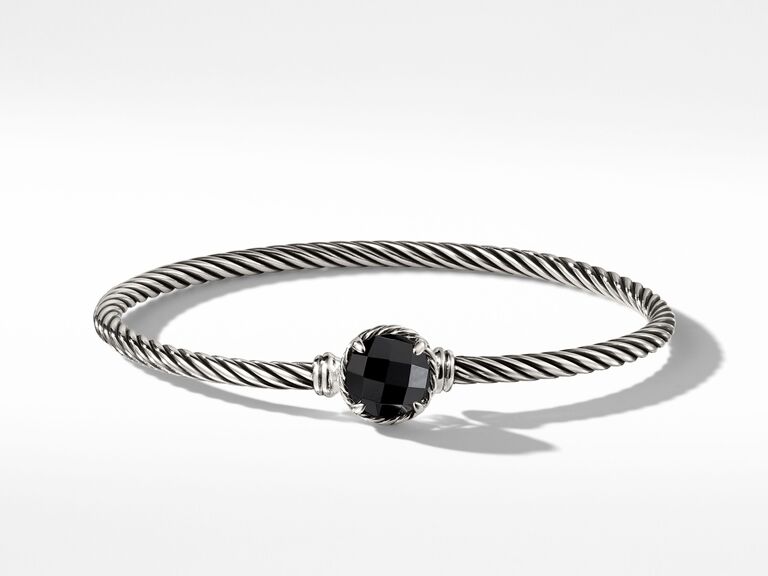 While there isn't an official gemstone tied to the 31st wedding anniversary, you can still spoil your spouse with some new jewelry for the occasion. This sterling silver and black onyx bracelet is bound to impress anyone who loves accessories with a bit of an edge. A striking departure from lighter jewels, the moody black stone will add a sophisticated touch to any evening ensemble.
Love Letter in a Bottle
Even after 31 years together, it's hard to go wrong with a really sweet and romantic gift. Show your spouse how much you still adore them with this personalized love letter in a bottle. Add their name and pick from three poetic verses to be printed on stylish parchment paper. The rolled scroll comes tied with a red ribbon and is presented in a corked glass bottle filled with decorative rose petals. Cue the happy tears when your love unwraps this on the morning of your 31st wedding anniversary.
Kissing Coffee Mugs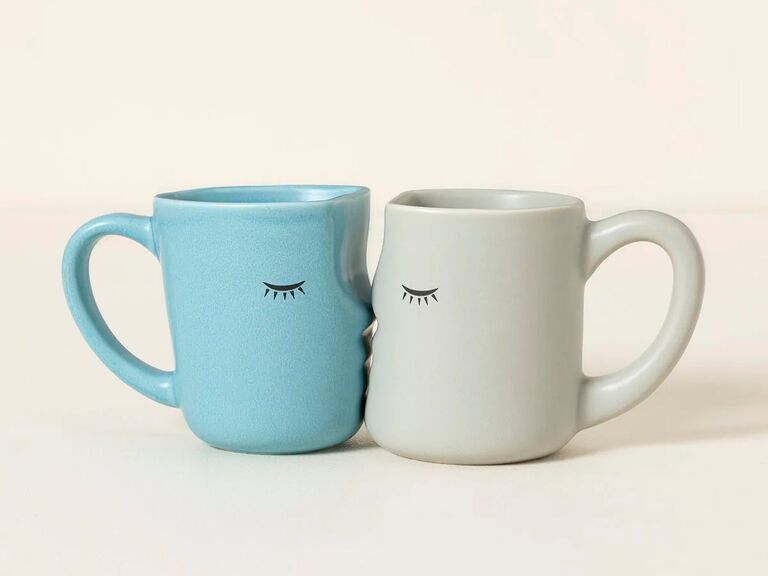 If your spouse is a romantic at heart, they'll love drinking coffee from one of these super cute kissing mugs. The two porcelain mugs are designed to look like faces sharing a kiss, while the handles form a heart. It's a sweet and thoughtful 31st anniversary gift that'll bring a romantic touch to your shared morning routine (and may just earn you a kiss for real!).
Waxed Barn Jacket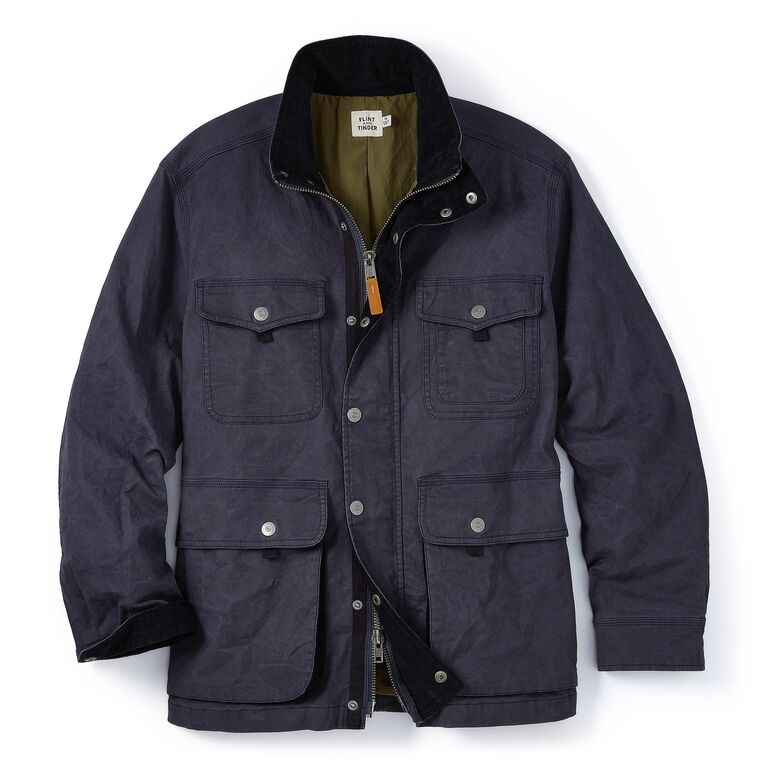 A wearable anniversary gift is always a great idea, especially if your spouse doesn't shop for themselves very often. This waxed corduroy jacket is a wardrobe essential they'll get tons of wear out of, whether they pair it with jeans, chinos or their favorite flannel shirt. It's got plenty of pockets for storing all their essentials, including four exterior snap pockets and an interior one for stashing their cell phone or wallet.
Woven Plaid Throw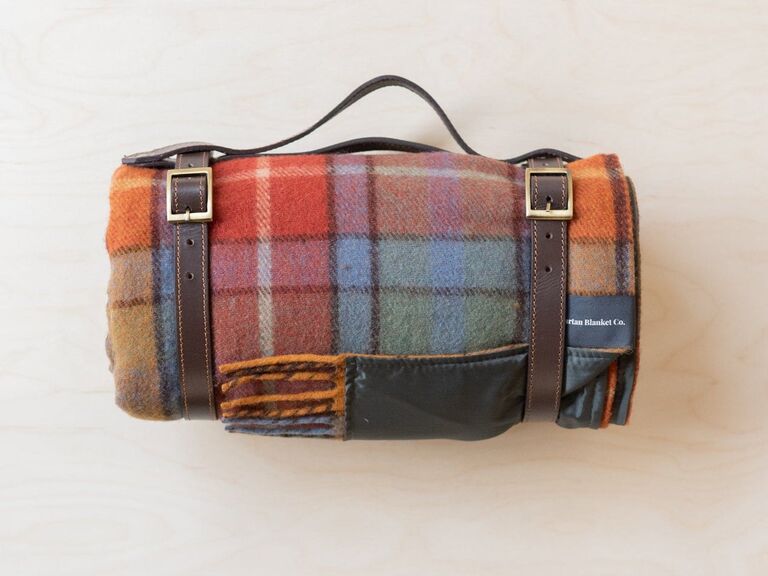 What better way to mark your 31st anniversary than going on a romantic picnic? With this classic plaid blanket, you can stay warm and cozy while you enjoy a fun outdoor date with your other half. It's made from 70% recycled wool fibers and is estimated to prevent six garments from reaching landfill, making it an eco-conscious and stylish choice. It comes with a handy leather carry strap, and there's even an option to add a custom embroidery detail for a personalized finish.
Trendy Travel Mug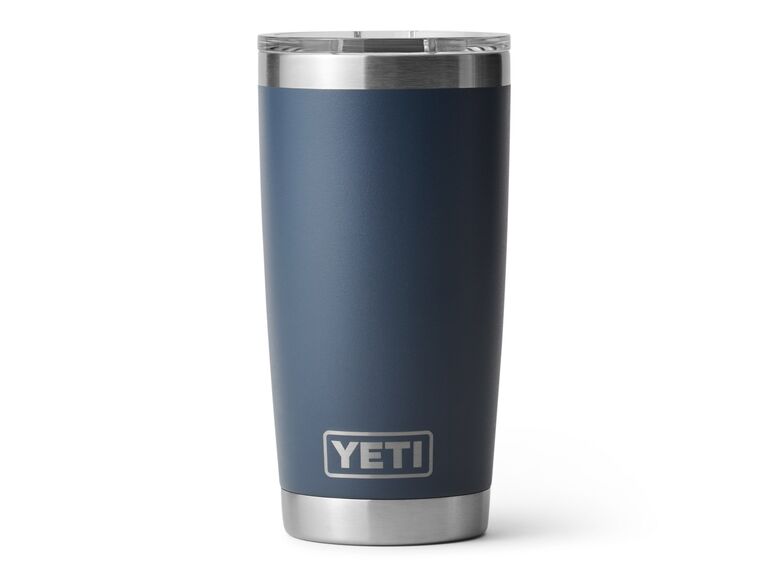 If your spouse is always on the go, a decent travel mug is a practical gift they'll really appreciate. This highly-rated cup from YETI is double-wall vacuum insulated to ensure their brew stays hot while they commute to work or enjoy a leisurely stroll in the local park. It's compatible with most cupholders and comes in 10 fashionable colors, so you're sure to find one that suits their style. Have it customized with their name for an extra personal 31st anniversary gift they'll use daily.
Bread Proofing Set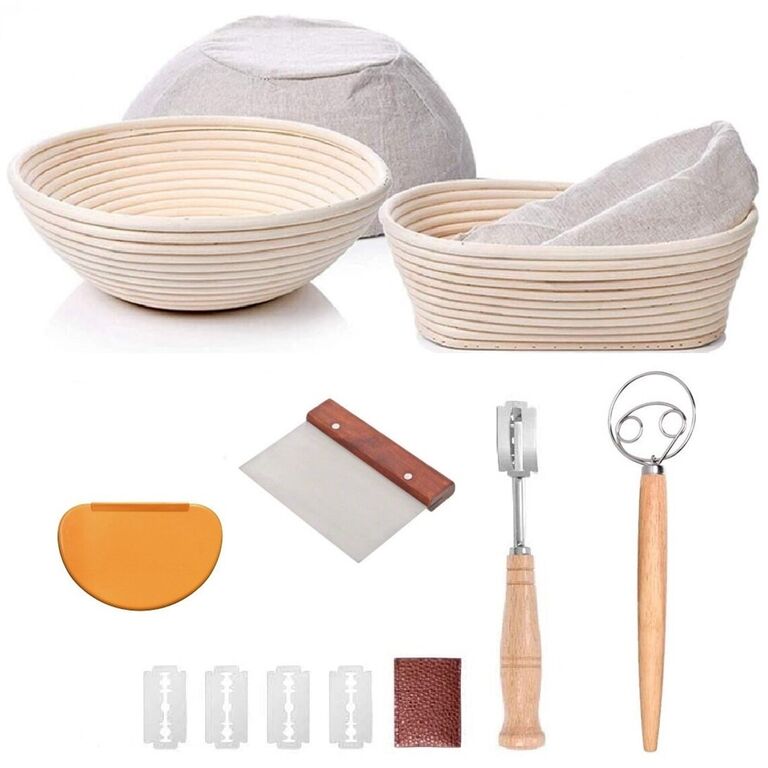 Looking for a new pastime to help you and your partner relax together? Making bread is a mindful activity that's said to reduce feelings of stress and anxiety. If you've always wanted to bake your own sourdough, this breadmaking kit will help you embrace a new shared hobby. It includes all the tools you need to make your own bread, including two rattan proofing baskets, a dough whisk, a stainless steel scraper, a scoring lame to expand dough and two protective cloth liners for each basket. We suggest trying them out right away for a fun 31st anniversary date at home.