The Best 60th Anniversary Gifts for Your Parents, Friends or Spouse
Celebrate the diamond jubilee with one of these thoughtful and memorable gifts.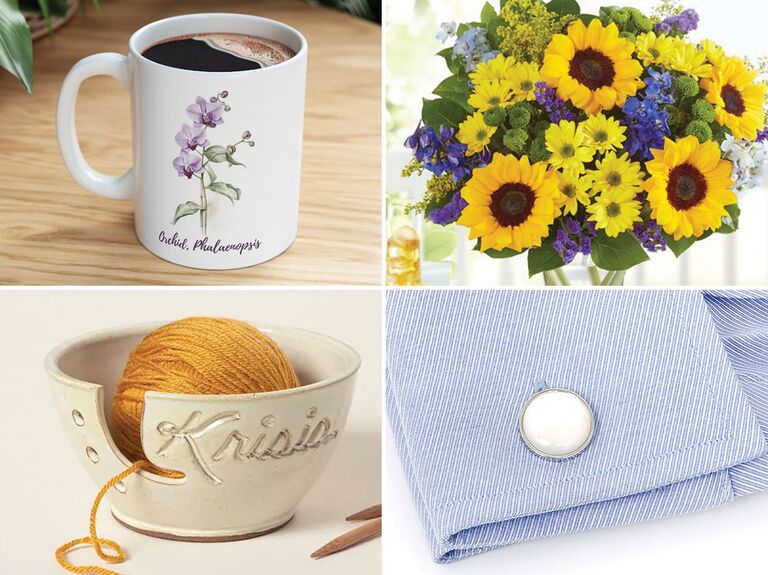 Photos: Etsy, 1-800 Flowers, Uncommon Goods, Nordstrom
We have included third party products to help you navigate and enjoy life's biggest moments. Purchases made through links on this page may earn us a commission.
Six decades of marriage is a truly phenomenal milestone to hit—and one that is clearly worthy of an amazing 60th anniversary gift. After 60 years of wedded bliss, the happy couple deserves something really special to celebrate a lifetime of love and joy. Whether you want to spoil your spouse, treat your parents or surprise your friends, we're here to help you find a standout gift in honor of the occasion. From traditional themed gifts to awesome alternative picks, our round-up includes a ton of options for your partner or favorite pair. Keep reading to learn more about what's known as the diamond wedding anniversary.
In this article:
Traditional 60th Anniversary Gifts
Diamonds are the traditional and modern gifting materials for the 60th wedding anniversary, which is why this milestone is also called the diamond jubilee. These precious gems are one of the strongest materials on earth, making them the perfect stone to represent a love that has lasted for 60 years (and counting!). They also symbolize light and faithfulness—two key ingredients for a relationship that has successfully navigated a lifetime of ups and downs. Besides being the traditional and modern materials, diamonds are also the 60th anniversary gemstone and the inspiration behind the official color, diamond white. This milky, opalescent hue represents eternal love and devotion, which is especially fitting for a marriage that has lasted so long. If you're looking for a traditional anniversary gift for your friends, parents or partner, we've found plenty of great presents to commemorate the 60-year wedding anniversary.
Diamond Anniversary Sign
What do you get parents for their 60th wedding anniversary? While it may seem like a tricky question, a personalized anniversary gift is always a good solution, as it shows the thought behind your choice. This gorgeous metal sign is modeled off a silhouette of a couple sitting on a bench surrounded by a leafy tree and a heart. Your parents' names and anniversary date appear alongside a sweet message that reads: "60 Years of Love." It's a thoughtful keepsake they'll be proud to display in the hallway or living room of their happy home.
Diamond Decanter Set
Raise a toast to 60 blissful years with this elegant diamond glassware set. It includes a glass decanter and two whiskey tumblers engraved with the couple's names and wedding date. The etched diamond motif is a subtle nod to the traditional 60th anniversary theme and a perfect way to add a dash of style to their nightcap. Have the set packaged in a wooden display box for an extra special presentation.
Meaningful Star Map
We like to think of stars as the diamonds of the sky, so we've decided to stretch the theme a little with this custom star map as a 60th anniversary gift for your parents or grandparents. The canvas displays a map of a starry sky from a meaningful date and location (we suggest the couple's wedding day) alongside the printed text of their wedding vows or first dance song. It's a stellar keepsake that'll have them instantly reminiscing about their wedding night all those years ago.
Diamond-Patterned Blanket
Looking for a diamond wedding anniversary gift that's on-theme and practical enough for everyday use? This diamond-patterned knit throw is a present that's destined to delight anyone who loves a cozy night in. The raised chevrons and fringing details add texture to the design, while the lightweight fabric is suitable for any season. Choose from two different sizes and eight colors to find a style that suits your spouse or a lucky couple in your life.
Diamond Hoop Earrings
If you want to spoil your spouse with real diamonds, how about some dazzling jewelry? These dainty hoop earrings are adorned with round diamonds set in 14K white gold that'll add just the right amount of sparkle to their look. Whether they wear them daily or keep them for special occasions, these glamorous accessories will make them feel like a million dollars. They're also available in yellow or rose gold if your love prefers their jewelry with a little more color.
Diamond-Shaped Photo Crystal
Finding a meaningful 60th anniversary gifts for parents isn't an easy task, particularly if they already have everything they need. This personalized photo crystal is a thoughtful way to honor their special milestone and the traditional anniversary theme at the same time. Your chosen photo of the happy couple is displayed on a diamond-shaped crystal with a light-up base that illuminates their special snapshot.
Blue Dial Diamond Watch
Oh, how time flies when you're whiling away the years with the love of your life! Celebrate your lasting love by treating your spouse to a sleek new watch. This stunning timepiece features a stainless steel band and a deep blue face bejeweled with diamonds. Every hour marker on the octagonal face is studded with a dazzling stone for a statement accessory they'll be proud to show off. This watch even has a date-tracking device (so they'll have no excuse for forgetting your anniversary).
Diamond Pattern Cardigan
Whether you're shopping for a stylish spouse or one-half of your favorite couple, this timeless cardigan is sure to be appreciated. With a crew neck and a simple button-down design, it can be worn open or closed to add an extra layer to any outfit. The argyle diamond-shaped pattern is a creative take on the 60th anniversary theme, while the soft mauve color is flattering on pretty much every skin tone.
Enchanted Diamond Rose
A love that lasts for 60 years is like something out of a fairytale and deserves to be recognized with an equally magical gift. Give your spouse (or the happy couple) this beautiful preserved rose to commemorate their unwavering devotion to one another. It's a real white rose encased in a sparkly, high-gloss lacquer reminiscent of the 60th anniversary color, diamond white. The glass dome is inspired by Beauty and the Beast, while the wooden base can be custom engraved to make this 60th anniversary gift even more enchanting.
Cushioned Lap Tray
You don't always have to spend a fortune to show your loved one how much you care. If your partner or parents take a leisurely approach to meals, this cushioned lap tray is an essential they'll use daily. The flat laminated surface features a geometric diamond-inspired pattern, while the cushioned base holds the tray comfortably in place on their lap. It's ideal for anyone who enjoys breakfast in bed (hint, hint) or wants extra support for reading the newspaper, doing puzzles or crafting.
Pearlescent Cuff Links
If you and your spouse are having a party for your 60th wedding anniversary, here's a gift that'll help your other half get all dressed up. These mother-of-pearl cuff links come in the 60th anniversary color (diamond white) and are a great way to update your partner's formalwear. Whether you two are celebrating at home or going out for the evening, these shiny accessories will add an extra special touch to your partner's ensemble.
Raw Diamond Necklace
When it comes to great gifts with a unique touch, it's hard to beat something from Uncommon Goods. This unusual necklace is probably a bit different from anything your spouse already has in their jewelry box, so you can still surprise them even after 60 years of thoughtful gifting. The simple rectangular pendant is made from sliced raw diamonds hand-set in silver resin within a gilded 18K gold vermeil frame. It's a striking accessory they can layer over sweaters, tops or dresses to add a little sparkle to their favorite ensemble (and their eyes).
Diamond Patterned Robe
A soft, warm robe is a lovely gift for anyone who loves relaxed mornings (or evenings) chilling out on the sofa. This gorgeous full-length knit comes with a satin tie sash to keep them bundled and is super cozy when layered over pajamas or loungewear. The attractive diamond pattern adds a luxe touch, while the floral antique-style trim gives the design a more vintage feel. It's a practical 60th anniversary gift they'll surely get lots of wear out of all year round.
Geometric Bedding Set
If your parents' bedroom is in need of a makeover, this luxurious bedding set is a good place to start. Made from soft, breathable cotton, it includes a comforter, two shams and two decorative pillows, all with a geometric diamond jacquard pattern. It's a thoughtful and practical 60th anniversary gift that'll help them get a great night's sleep. Choose from two soothing colorways (pale gray or indigo and white) to turn their bedroom into an oasis of calm.
Diamond Hurricane Vases
Still stuck on what to get your favorite couple? This set of hurricane vases is an excellent pick for anyone who loves decorating their home. These cylindrical vessels are crafted from mercury glass and have an abstract diamond pattern etched into the surface for a contemporary finish. Whether they use them to display candles on their coffee table or to add style to their mantle, they'll love this interpretation of the diamond anniversary theme.
Unique 60th Anniversary Gifts
While diamonds are a great starting point for 60th wedding anniversary gift ideas, they aren't the only option to consider. If a themed gift is still on your radar, you could draw inspiration from the 60th anniversary flower, the orchid, to surprise your loved one. This distinctive petaled bloom symbolizes rare beauty, strength and admiration—something a 60-year union has got in spades. Feel like breaking with tradition altogether? No problem. We've included some excellent alternative anniversary gifts that don't fit into any theme. With everything from sentimental wall art and retro-inspired devices to fun activities and stylish accessories making the cut, there are lots of ways to be more inventive with your gifting.
The New York Times Anniversary Book
If reading the newspaper is part of your parents' daily routine, they'll love this creative 60th anniversary gift. This leather-bound book is filled with the front pages of The New York Times from their wedding date every year through their most recent anniversary. With 60 pages of history to comb through, they'll have hours of fun reliving old news stories, remembering popular events and thinking about all that has changed over the years. P.S.: If you're worried about the text being too small, you can add a magnifying glass to your order, so they can focus on every last detail.
Custom Family Storybook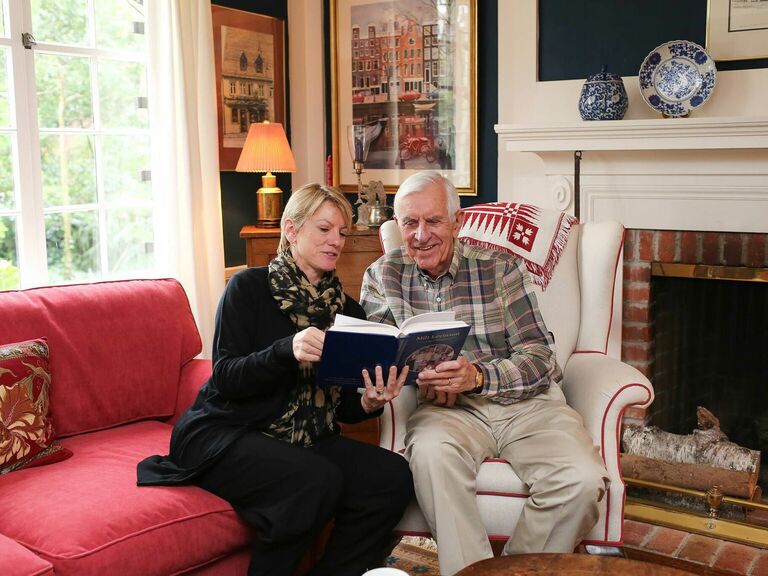 No matter how often you talk to your parents or grandparents, there's probably at least one story you haven't heard before. If you always thought about writing their words down to remember forever, StoryWorth can help simplify the process. Every week for a year, the company will send an email with unique questions for your parents to answer. (You can also write your own prompts to really get to the heart of their lives and love story.) At the end of the year, all their responses will be bound into a memory book for a cherished keepsake and touching anniversary gift.
Personalized Family Tree Sculpture
Honor the family your parents have raised over the last six decades with this personalized wall sculpture. Twisted copper wire forms the body and branches of this tree, while green beads serve as the leaves. Each family member's name is molded out of wire and hung from the branches, with the family name wrapped around the trunk. It's a gorgeous and meaningful 60th anniversary gift for parents who consider their family their world.
Custom Home Portrait
If you've lost count of how many years your parents or grandparents have lived in the same house, commemorate their home sweet home with a custom watercolor portrait. Original photos are digitally remastered and then printed on archival paper or stretched on a canvas. Feel free to have all the kids and grandkids who grew up in the house sign it for an extra sweet touch. Be warned: This sentimental gift may provoke a few happy tears!
Personalized Anniversary Hourglass
A marriage that has grown and flourished over 60 years is truly incredible, not to mention a testament to all the great times a couple has shared. This personalized anniversary hourglass is a sweet way to reflect on the six happy decades your parents or grandparents have spent together. The beautiful glass timepiece is filled with white sand and displays the message "Our Love is Timeless" etched above the couple's names and wedding date. Wherever they choose to display it, the joyful duo will be reminded that true love never fades.
Colorful Printed Scarf
Add a splash of color to your spouse's wardrobe with this unique printed scarf. The abstract painterly pattern is created by Jumper Maybach, an American artist who promotes love and inclusivity in his designs. Aside from looking really beautiful, this statement piece is made from recycled materials and a percentage of the net proceeds are donated to charity. It's a stand-out 60th anniversary gift that'll make them look and feel great, making it a big win in our book.
Personalized LP Record
Shopping for a couple who are mad about music? This personalized LP record is a unique 60th anniversary gift that'll hit all the right notes. An upcycled vinyl record is displayed between two panes of glass in a floating frame, with the couple's names, anniversary date and favorite songs at the center. You can add up to five tunes that resonate with the lovebirds (think: their wedding song, a family favorite or a smash hit from the year they got married).
Colorful Bouquet of Flowers
Even after 60 years of marriage, a bouquet of flowers is still a really romantic gift to give your other half. This bright and cheerful bunch is sure to put a smile on their face, thanks to its winning combination of sunflowers, blue delphinium, purple static, yellow daisy poms and green button poms. Not shopping for your spouse? We think these vibrant blooms will look equally wonderful at your parents' (or grandparents') 60th wedding anniversary party.
Fleece-Lined Slippers
There are few things more comforting than sinking your feet into a pair of cozy warm slippers, especially when temperatures drop. These fleece-lined UGGs are made from water-resistant suede, which is ideal for wearing around the house or going outside to check the mailbox. Finally, no more of their ice-cold toes bothering you on the couch!
Orchid Coffee Mug
Take inspiration from the 60th anniversary flower, the orchid, with this botanical-themed coffee mug. It is handmade from ceramic and features a watercolor sketch of the Phalaenopsis orchid, a single-stem variation known for its distinctive trio of petals. It's a great 60th anniversary gift for anyone interested in botany, gardening or beautiful flowers. Bonus: The affordable price point means you can easily pick up two to treat your favorite couple.
Personalized Yarn Bowl
Married to someone who loves to knit or crochet? We've found the perfect gift for the creative crafter in your life: a personalized yarn bowl. This glazed ceramic vessel features a hooked slot designed specifically to keep skeins of yarn from tangling while they're making their latest creation. It also has three holes to rest their needles so nothing gets lost when they're between projects. Have their name added to the bowl for an extra personal touch.
Custom Photo Playing Cards
If your parents or grandparents are adept at cards, here's a thoughtful gift that'll help them up their game. This deck of playing cards can be personalized with their family name and a special snapshot inside an art deco-inspired frame. The elegant gold and black design add a vintage touch which we think would look great with a throwback photo from their wedding day. We bet the happy couple will be so thrilled with these that they'll want to deal right away. Rummy or bridge, anyone?
Sensory Hand-Sized Pillow
Hand function diminishes naturally with age, which is why gentle exercises are so important to keep fingers flexible. This palm-sized sensory pillow is perfect for anyone who wants to keep their hands occupied while they watch TV, listen to music or just chill out. Soft and squashy, its gently weighted design works just like a stress ball, massaging reflex zones and activating muscles to provide instant stress relief. It's a thoughtful and practical anniversary gift that'll help your parents or friends feel more relaxed (and who doesn't want that?).
Retro Bluetooth Radio
After six decades of marriage, your favorite couple has seen their fair share of changes in fashion, technology and so much more. This retro Bluetooth radio will bring them right back to their youth, albeit with a modern twist. While the Mid-century design looks and operates like a vintage radio, it also connects to wireless devices by Bluetooth, so they can listen to their own personalized playlist at any time. We suggest setting it up to play their wedding song for a super sweet and nostalgic 60th anniversary gift that'll give them all the feels.
Puzzle Activity Box
If your parents or friends are passionate about puzzles, they'll get hours of enjoyment out of this thoughtful gift. This special box is bursting with fun activities to help them keep their minds (and hands) active, including crossword puzzles, word search books, coloring books, playing cards, colored pencils and other stationery items. Just don't be surprised if they start testing your general knowledge with a tricky crossword clue or two!