20 Sweet Anniversary Gifts for Your Grandparents
Celebrate the couple you aspire to be.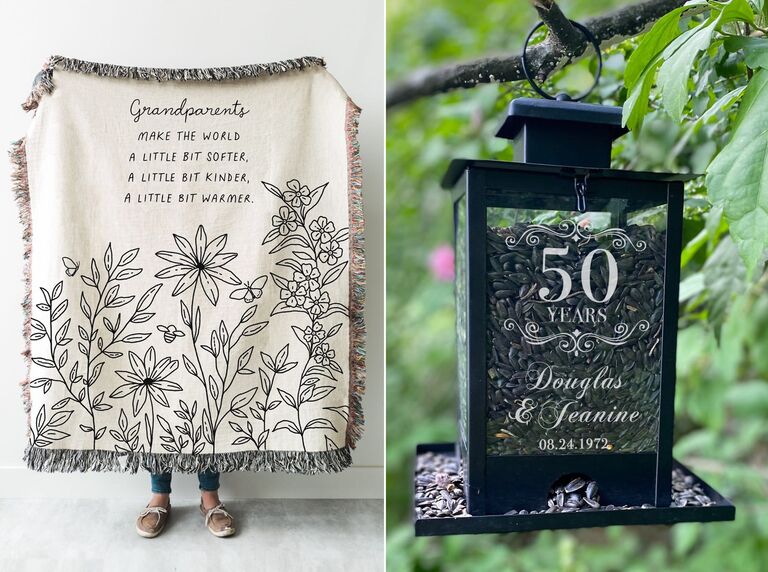 We have included third party products to help you navigate and enjoy life's biggest moments. Purchases made through links on this page may earn us a commission.
An anniversary celebration for grandparents is a big deal, whether you're celebrating your own grandparents or your kid's grandparents. They're hitting milestones like 30th, 40th and 50th anniversaries, after all. So if their special day is coming up, it makes sense you might be looking for anniversary gifts for grandparents.
This might sound like a difficult occasion to buy for, but in reality, it's not! We've rounded up tons of meaningful anniversary gifts for grandparents that you can choose from. Whether you're looking to get splashy for their celebration or keep things small, you're sure to find what you're looking for here.
1. Grandbox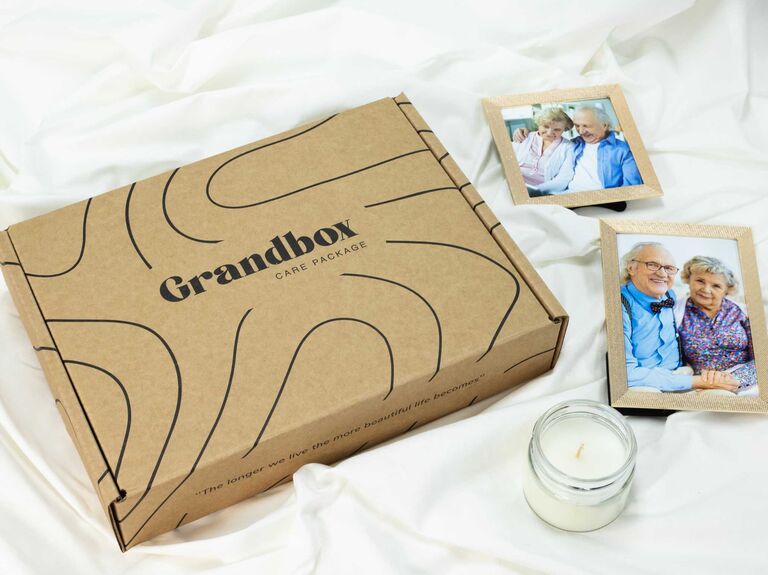 Your grandparents will love this curated gift box when their special day rolls around. No matter which anniversary they're celebrating, this box will arrive beautifully packaged with gifts of your choice. Choose from heart-melting, meaningful items like personalized letters and photos or a healthy collection of snacks and yummy treats.
2. Cozy Throw Blanket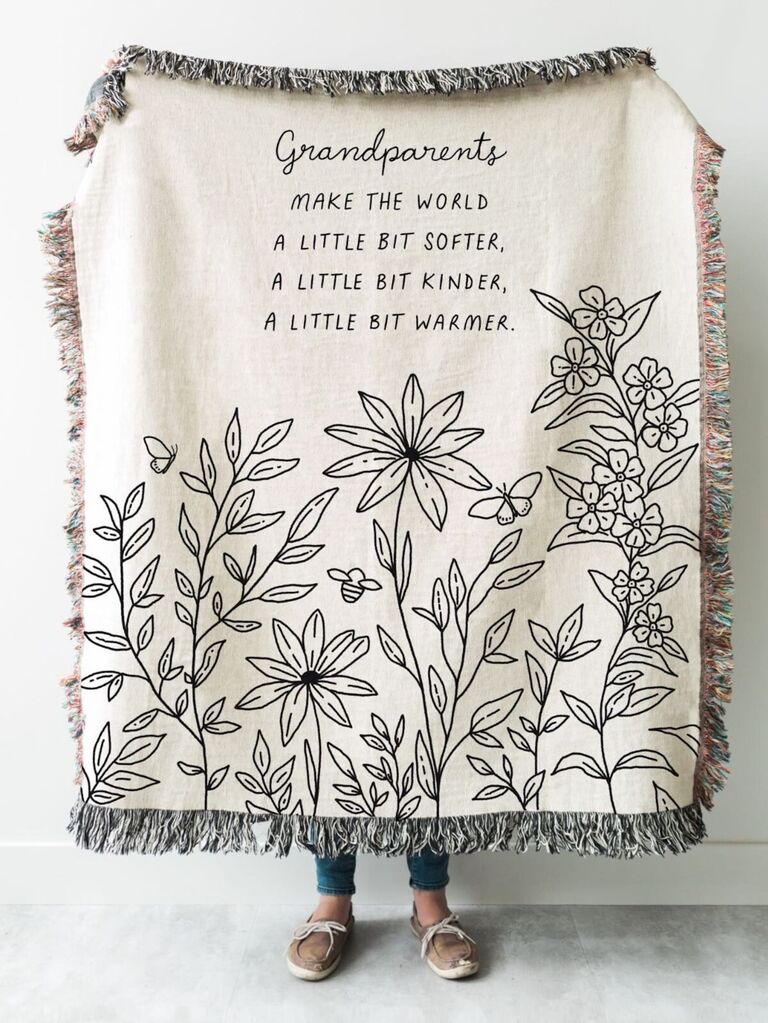 This throw blanket contains a sweet sentiment for your grandparents to enjoy on their anniversary. It's a reminder of just how important they are to the people who love them. And the pretty wildflower art makes for an attractive addition to an armchair or the back of their sofa.
3. Bluetooth Speaker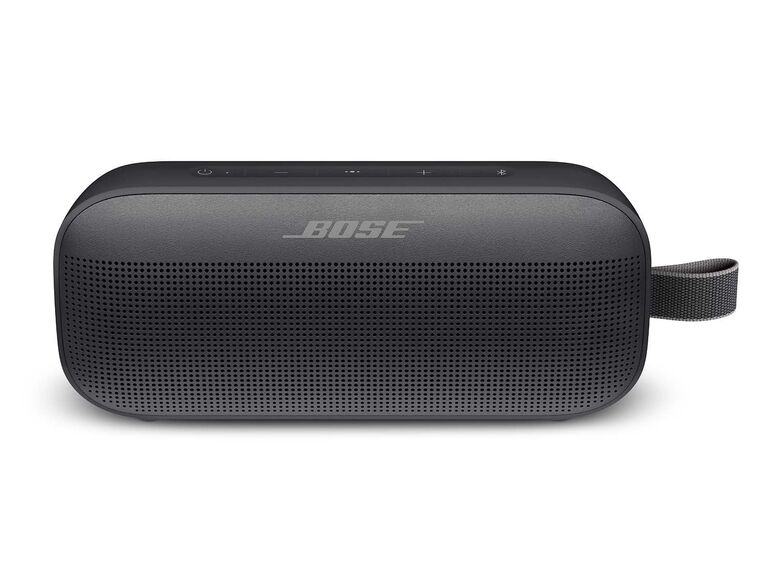 All the cool grandparents will love to have this ultra-portable speaker to have instant access to their favorite tunes. This wireless and waterproof speaker works just as well poolside as it does on the golf course. Available in four colors, this Bluetooth speaker comes with the charging cable, but can also operate using lithium ion batteries.
4. Personalized Wooden Sign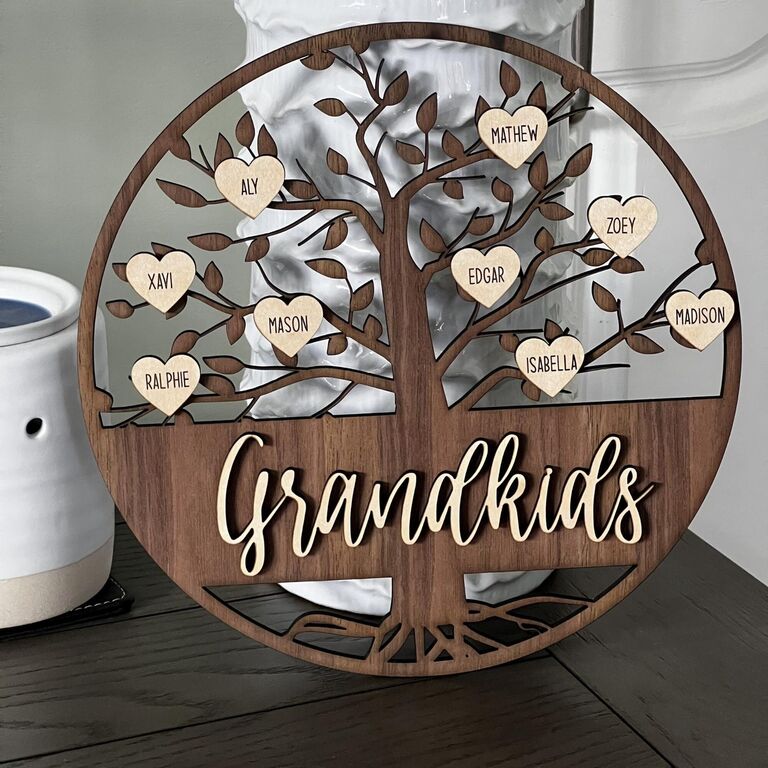 If you're looking for a meaningful anniversary gift to your grandparents, this wooden tree sign is a perfect choice. Here, you can display the family "tree," with each grandkid's name on a wooden heart. With customization options for up to 25 hearts, this is the perfect anniversary gift for grandparents with lots of grandkids.
5. 3D Photo Display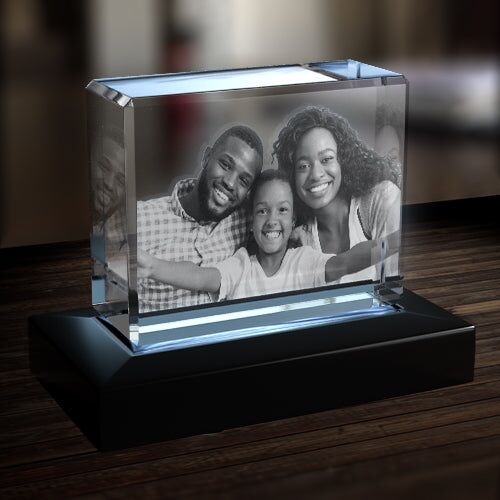 This anniversary, your grandparents will love seeing their favorite photo etched in glass when you give them this clever gift. Choose from a variety of different sizes and even an option for a base that lights up. This beautiful gift is one of the best anniversary gifts for grandparents.
6. Photo Watercolor Canvas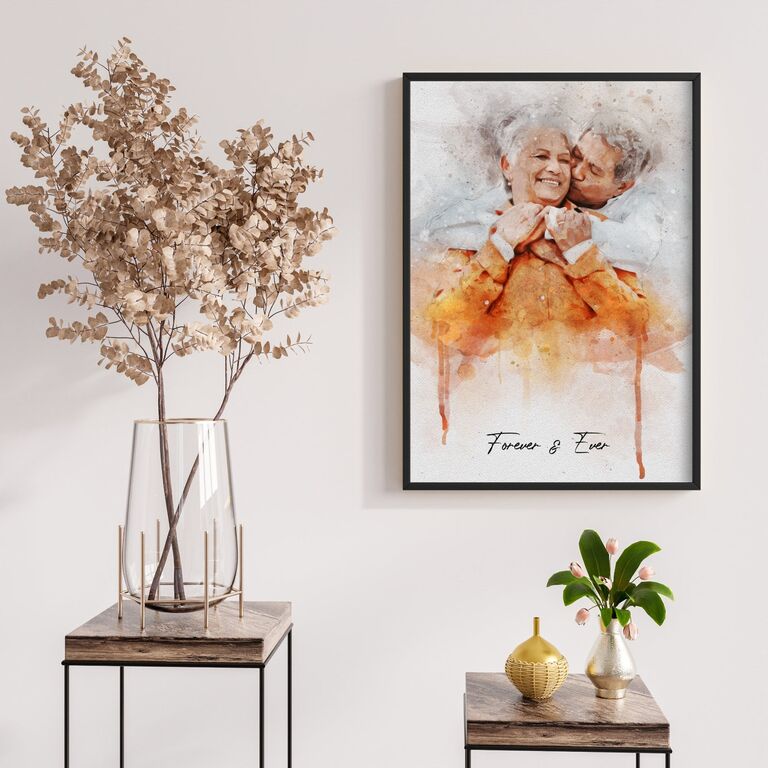 Looking for good anniversary gifts for your grandparents? Take their favorite family photo and immortalize it with a canvas painting. They're sure to love this touching gift. Choose from a host of different sizes to ensure a perfect fit for their space.
7. Custom Storybook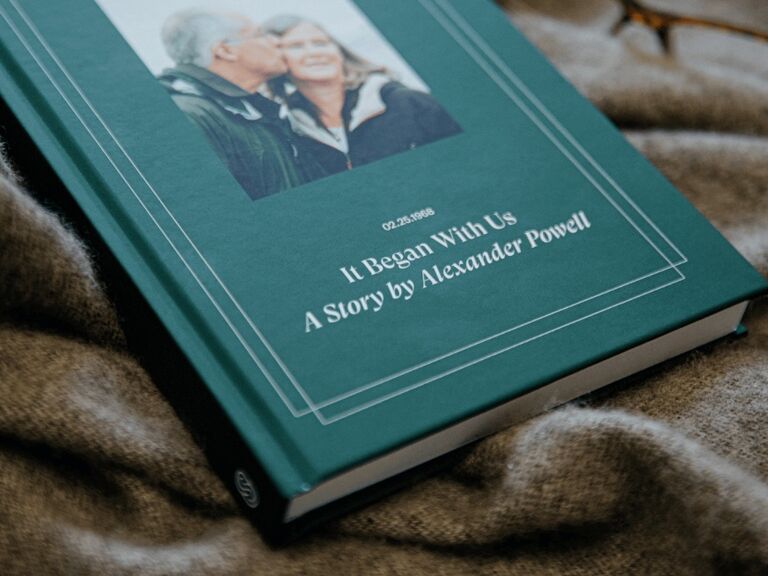 What do most grandparents love more than anything? Sharing their story, of course! That's why this clever and beautifully bound storybook from Storyworth makes our list of the best anniversary gifts for your grandparents. Collect a year's worth of personal stories from hundreds of question prompts sent to the couple via email, then they'll be submitted to the company over the course of one year. You'll receive a high-quality, hardcover book with priceless stories from your grandparents' lives—just in time for next year's anniversary!
8. Quality E-Reader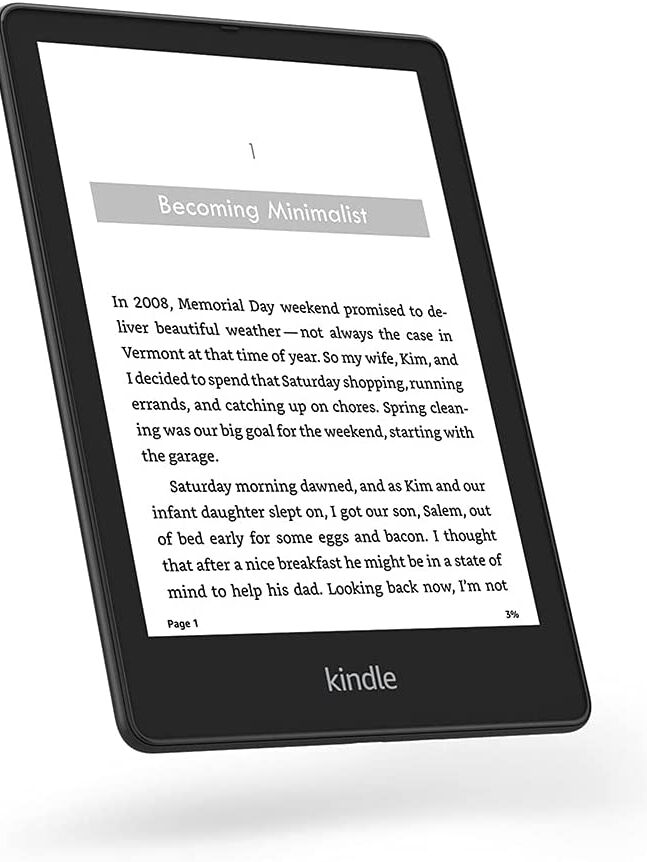 If your grandparents are avid readers, they're sure to love a pair of Kindles. Not only are they super handy and convenient to carry around and stow in a bag, but they're much easier to read than a paperback book. We just love its gentle backlit display and larger font options.
9. Digital Photo Frame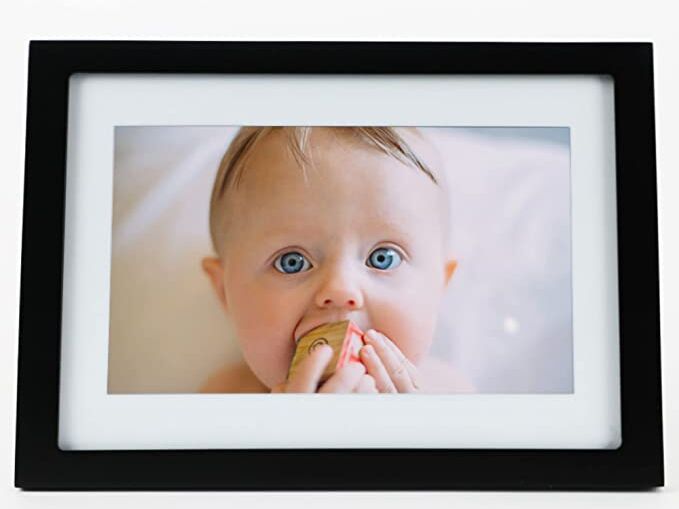 Share your favorite family photos with grandparents with the touch of a button when you gift them this digital photo frame. This frame is wifi enabled, but your grandparents don't have to be tech-savvy to use it: they simply need to set it up with your email address and you can then email photos directly to the frame. With a high-resolution 10-inch display, they'll have instant access to adorable photos of the grandkids.
10. Ice Cream Delivery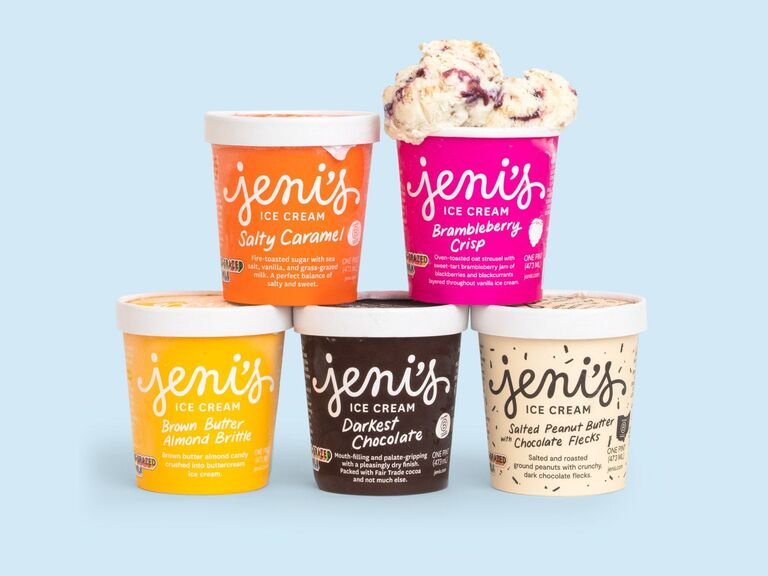 Who doesn't love ice cream? We're pretty sure this is a gift that no one would turn down, which is what makes it a good anniversary gift for your grandparents. This "best sellers" collection from Jeni's ice cream arrives with five of this popular ice cream brand's favorite flavors.
11. Pair of Fitbits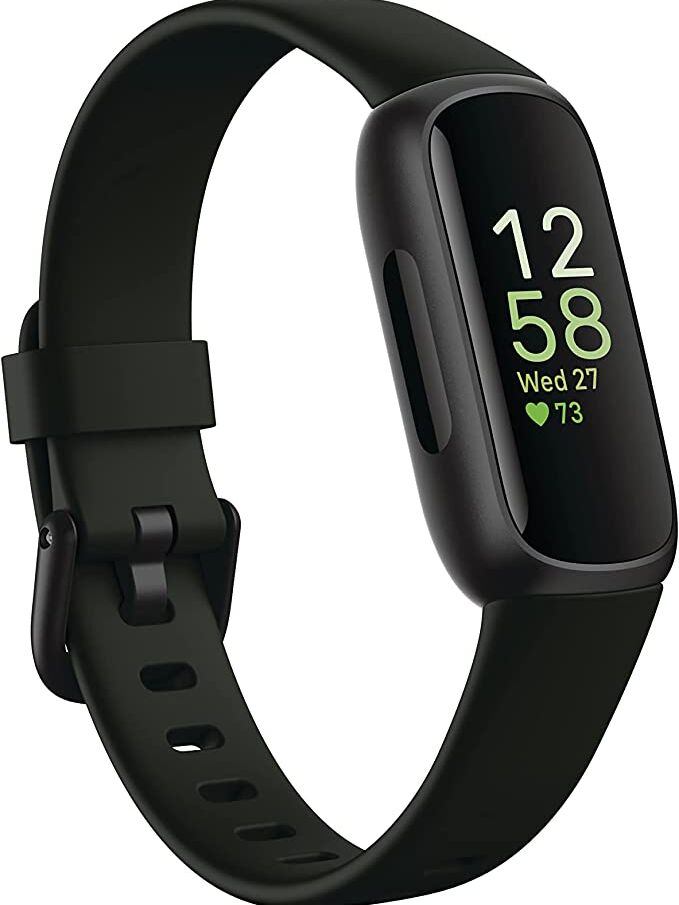 What's a better anniversary gift for your grandparents than twin Fitbits? Encourage your grandparents to get those steps in each and every day by tracking their stats. It works for people of all ages, so why not grandparents? Since it keeps them healthy, this is one of the best anniversary gifts for grandparents.
12. Smart Garden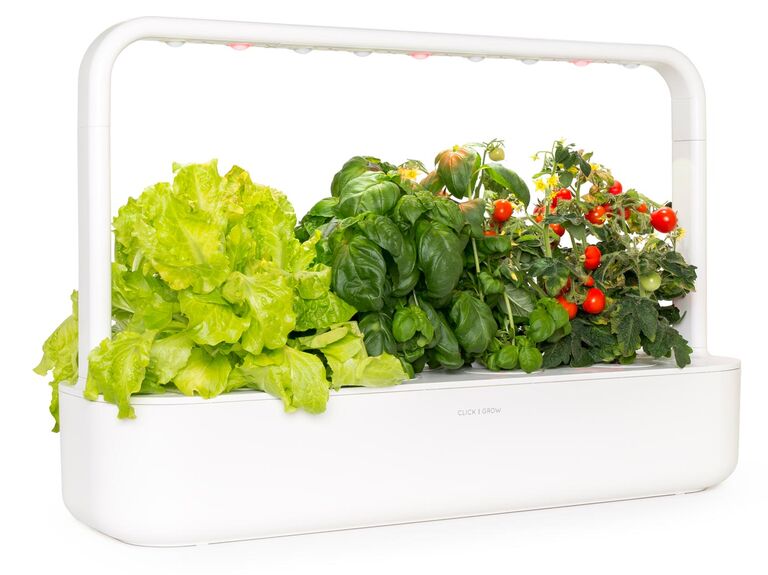 One of our favorite gifts for grandparents on their anniversary is this compact indoor smart garden. This innovative device allows them to grow fresh, beautiful produce right from the comfort of inside their home. It takes all the hard work out of gardening, while still delivering an abundance of healthy food. The Smart Garden 9 comes with everything they'll need to get started, including seed pods.
13. Record Player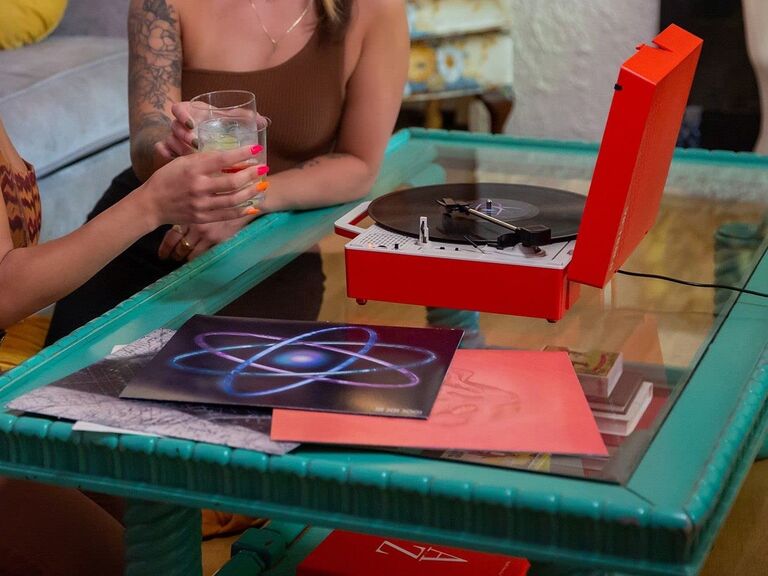 Record players are totally having a revival moment right now, but your grandparents probably have fond memories of using them growing up. This Victrola record player will have them dancing around their living room in no time. And it folds neatly into its own carrying case—a great feature if your grandparents happen to split time between a winter home and a summer home.
14. Personalized Bird Feeder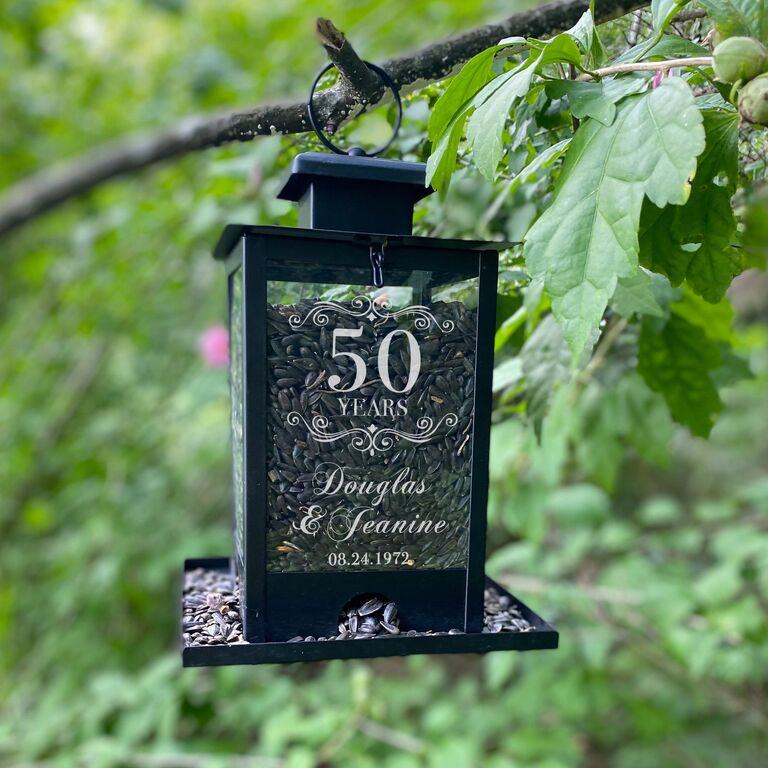 Help your grandparents elevate their daily bird-watching time when you gift them this personalized bird feeder. It proudly displays their names and the number of years they've been married. Now they can share a memory while they share one of their favorite activities: watching the happy birds enjoy their birdseed.
15. Electric Blanket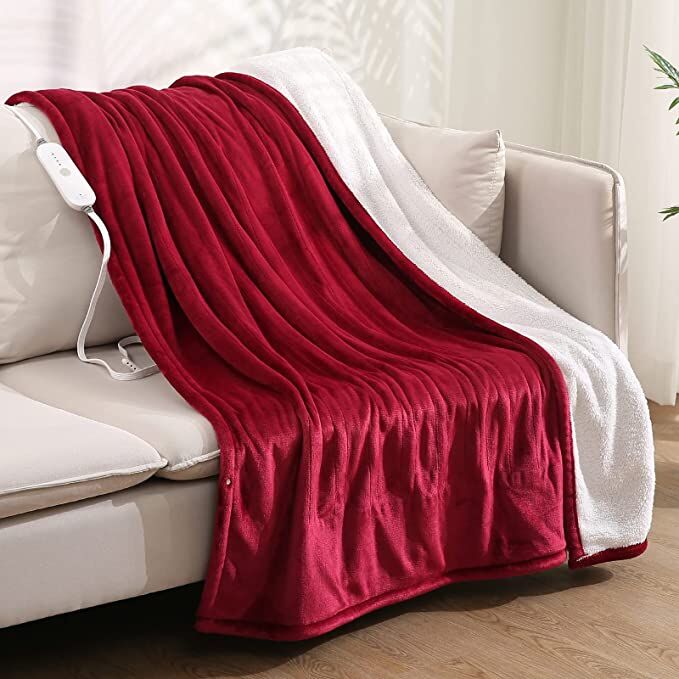 Warm blankets are a great way to soothe aching joints or simply enjoy some relaxing time with a favorite TV show. We love this one from Amazon, which comes in a variety of colors, and we're sure your grandparents will, too. Choose from several different blanket sizes with four levels of heat.
16. Handcrafted Soap Bundle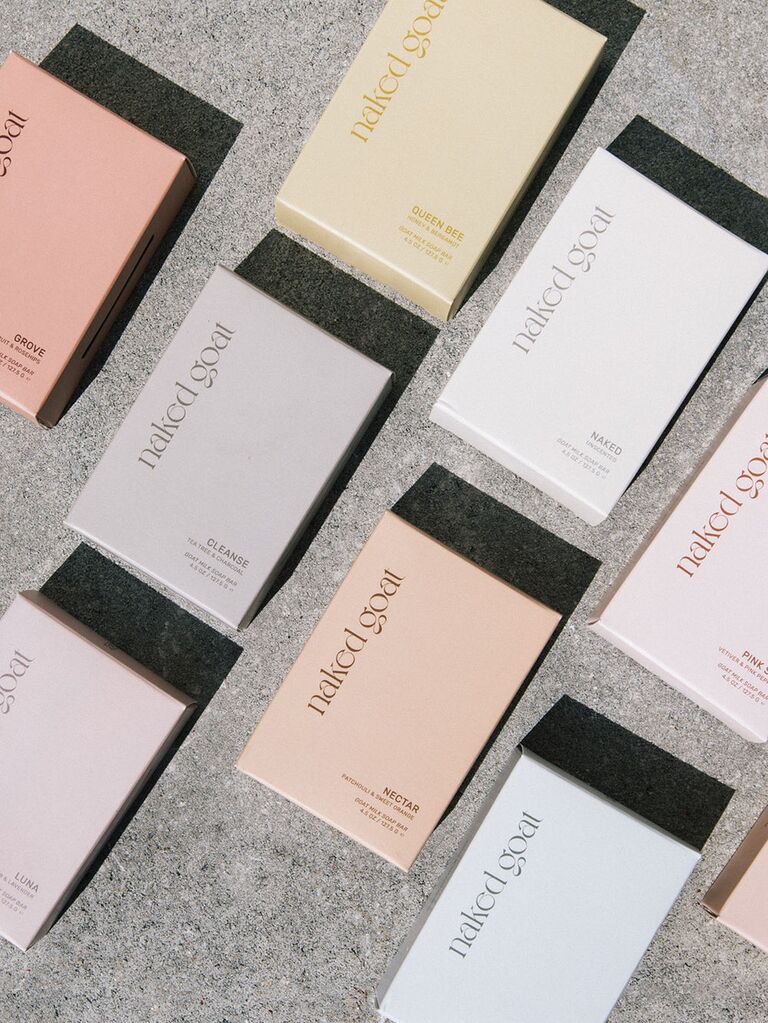 Looking for anniversary gift ideas for grandparents? This luxurious five-bar bundle from Naked Goat is a perfect option, either alone or paired with another gift. It's great because it contains a lovely variety of scents (along with an unscented option), is gentle and effective, and contains no harsh chemicals.
17. Amazon Echo Show
Help your grandparents stay in touch with family members when you give them an Echo Show as an anniversary gift. The 10-inch high-definition screen is the perfect way to do video chats, but also to display favorite recipes or even watch their favorite TV show. How thoughtful!
18. Wooden Wine Box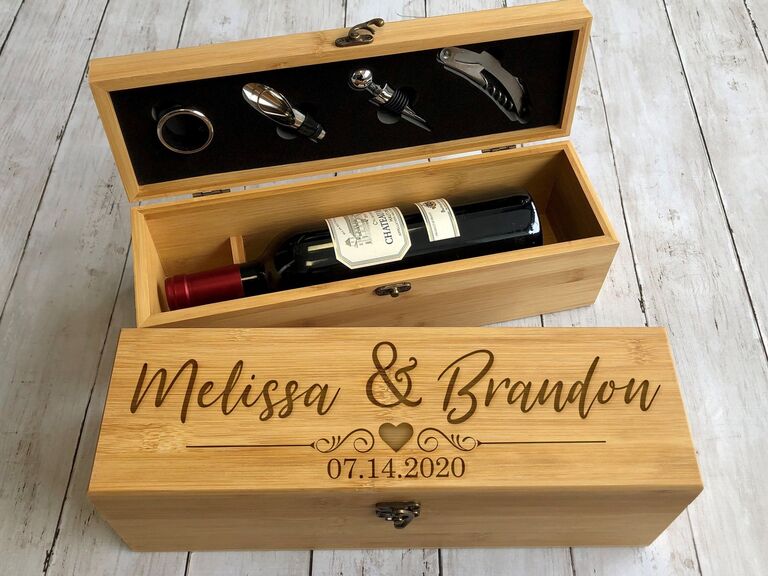 If you need wedding anniversary gifts for grandparents, consider this beautiful, high-quality wooden wine box. Along with the fully customizable wooden box, they'll also receive a silver corkscrew, stopper, pour spout and drip collar. Pop their favorite wine in there for an anniversary gift they'll never forget.
19. Roku Streaming Device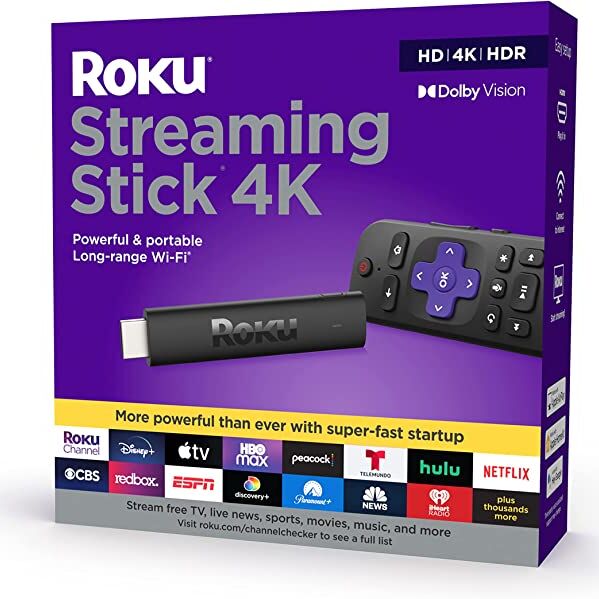 Chances are your grandparents are watching a good amount of TV these days. Bring all their favorite channels to their fingertips with this Roku streaming device. It sets up in minutes and prevents them from having to constantly juggle (and find!) all those remotes. They're sure to love this anniversary gift.
20. Weather Station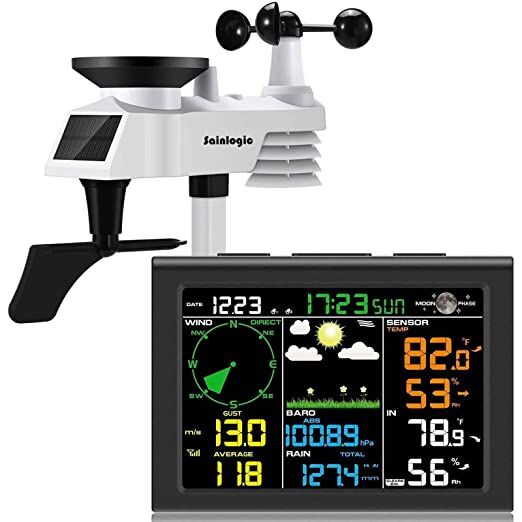 If you've ever heard your grandparents say, "What's the weather like today?" then they're sure to love this wireless weather station. This app-enabled smart device measures not only the outside temperature, but also humidity levels, wind speed and weather conditions. The information feeds to a six-inch, full-color display, too.