9-Year Anniversary Gift Ideas For Her, Him and Them
Help them honor their roots with these sentimental gifts.
by The Knot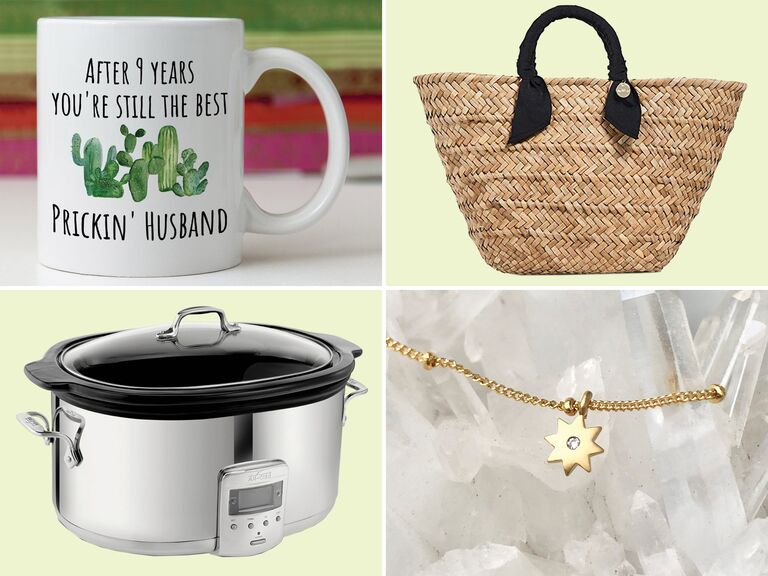 Congrats! You (or a loved one) has made it to nine years of marriage. Now comes the hard part: picking out the perfect 9-year anniversary gift. Despite being one year shy of the 10-year milestone, the ninth wedding anniversary is just as special, and should be celebrated accordingly. 
What is the 9-Year Anniversary Gift?
Traditional: Pottery and Willow
Traditionally, pottery and willow represent the 9-year anniversary. Water is the underlying theme of these materials because it's strong and enduring. It also flows and adapts to its surroundings, just like your marriage of 9 years. Pottery has historically been utilized as a vessel to carry water, and it represents home, hearth and family. Willow, on the other hand, is characteristically strong, durable and intertwined—symbolic of a stable and loving marriage.
Modern: Leather
Modernists have adopted leather to represent the 9th wedding anniversary too. Not only is it strong and flexible, the fabric is also durable—just like a successful relationship. Below, you'll find the best 9th wedding anniversary gift ideas, in addition to unique gift ideas that will make any couple happy.
In this article: