The Best 9-Year Anniversary Gifts for Your Partner or Favorite Couple
Celebrate nine years of marriage with a sentimental present.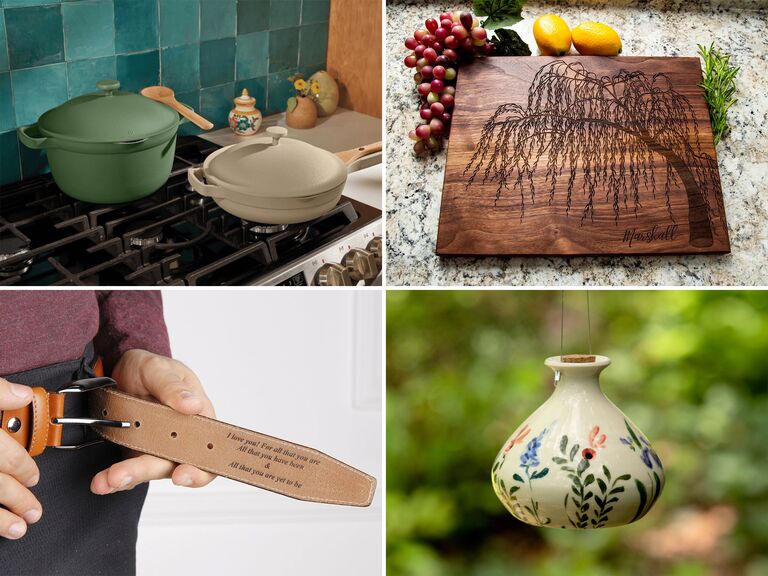 We have included third party products to help you navigate and enjoy life's biggest moments. Purchases made through links on this page may earn us a commission.
Yay! You (or two lovebirds you know) have made it to nine years of marriage. Now comes the hard part: picking out the perfect nine-year anniversary gift. Themes and symbols are helpful when thinking of ninth wedding anniversary gift ideas. If you're a traditionalist, stick to pottery or willow anniversary gifts. On the other hand, those opting for the modern ninth anniversary theme should look to leather. Besides these themes, you can also lean on the ninth anniversary's colors, gemstone or flowers for inspiration. Read on for our favorite gift ideas to celebrate the ninth anniversary.
In this article:
What Is the Nine-Year Anniversary Gift?
Traditional Ninth Anniversary Gifts
The traditional nine-year wedding anniversary gifts are pottery and willow. Pottery has historically been used as a vessel to carry water, which flows and adapts to its surroundings just like a marriage of nine years. Pottery also represents home, hearth and family. Willow, on the other hand, is characteristically strong, durable and intertwined—symbolic of a stable and loving marriage.
Modern Ninth Anniversary Gift
Modernists have since adopted leather to represent the ninth wedding anniversary. The material is flexible, yet sturdy—just like a successful relationship. That said, this gift idea isn't just symbolic; it's practical too. Leather gifts will stand the test of time.
Other Ninth Anniversary Symbols
If you're not sure about pottery, willow or leather, turn toward the other nine-year anniversary symbols. The ninth anniversary has three colors: terra-cotta, purple and green. The milestone's gemstone is the blue lapis, while its flowers are the poppy and bird of paradise.
Whatever your inspiration, we've compiled the best nine-year anniversary gifts to present to your spouse or favorite couple.
Pottery and Willow Anniversary Gifts
If you're stuck on what to get your partner or favorite couple for their nine-year anniversary, don't fret. We've done the hard work for you and found some stellar (if we do say so ourselves) willow and pottery anniversary gifts for him, her or them.
Willow Tree Stamped Pottery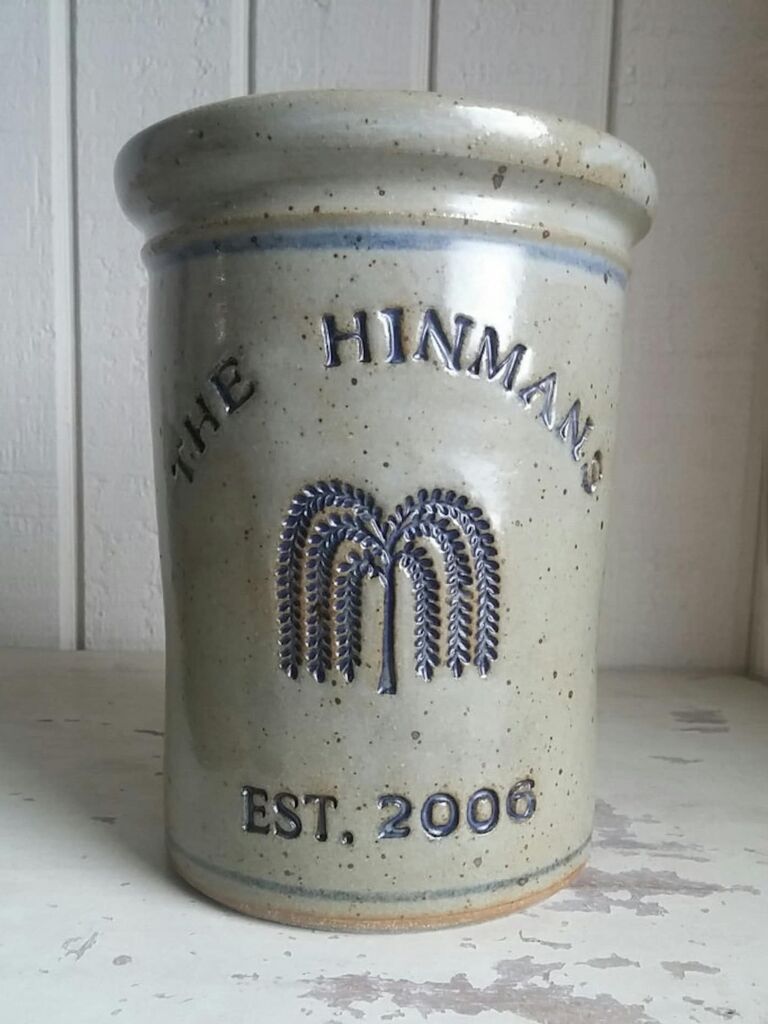 This multi-purpose pottery is stamped with a willow tree to honor both the traditional gifts that represent the ninth wedding anniversary. The handmade stoneware can be used as a vase, kitchen utensil holder or even a wine cooler. It's personalized with the couple's names and established date.
Willow Picnic Basket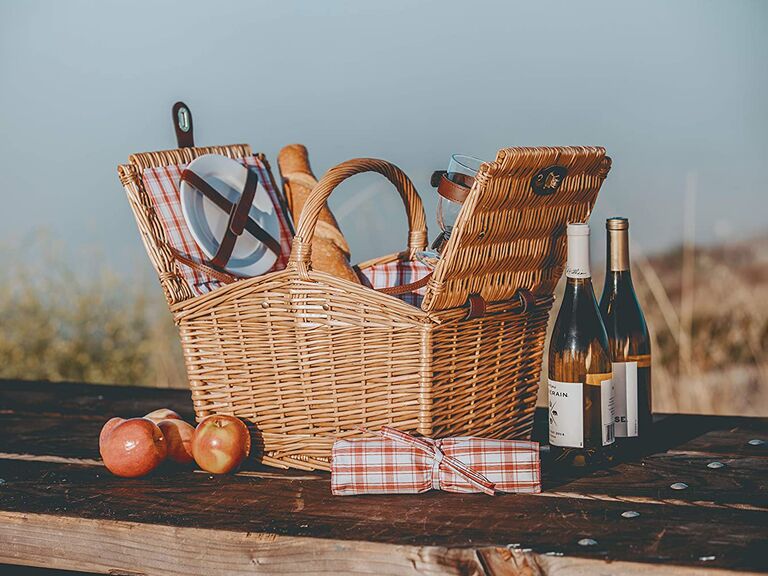 This handwoven willow picnic basket—purposefully designed for two—is a fitting gift for the ninth anniversary. The classic wicker design is lined with gingham fabric and finished with leatherette accents. Inside, you'll find melamine plates, acrylic wine glasses, two sets of flatware and a convenient corkscrew. Essentially, it's everything you need for a romantic outing with wine and cheese.
Ceramic Bacon Cooker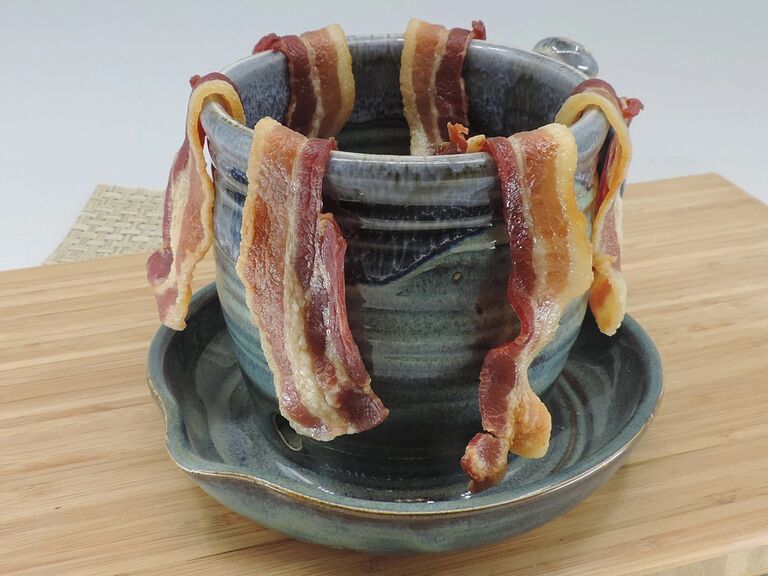 Who doesn't love bacon? This bacon cooker is a hassle-free way to crisp up everyone's favorite breakfast meat. Simply drape strips over the cup, then pop it in the oven or microwave. The integrated tray catches all the drippings; plus, there's a spout to pour out the grease while it's still hot. On top of that, it's dishwasher safe. It's a pottery anniversary gift they won't expect but one they'll definitely use.
Willow Tree Cutting Board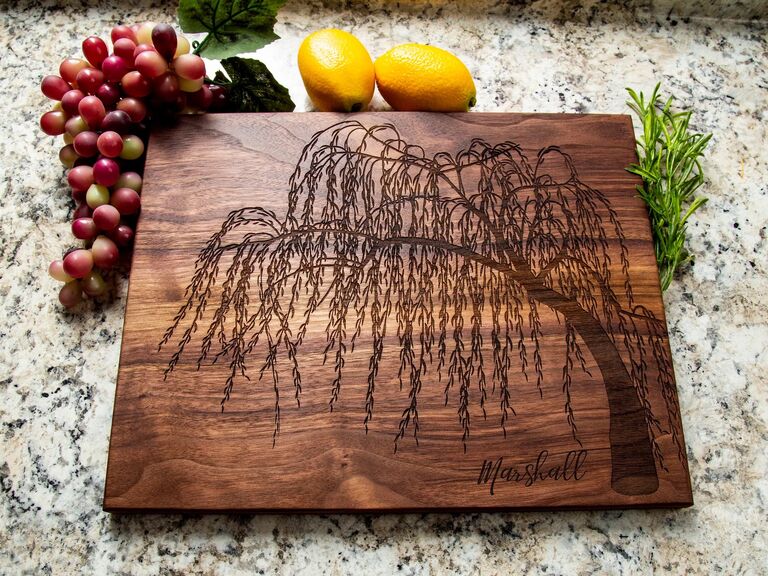 A chopping board is the perfect ninth anniversary gift for any foodie. While this cutting board is made from walnut, it's laser engraved with a beautiful willow tree. Plus, you can personalize the present with your names and anniversary date.
Ceramic Kissing Mugs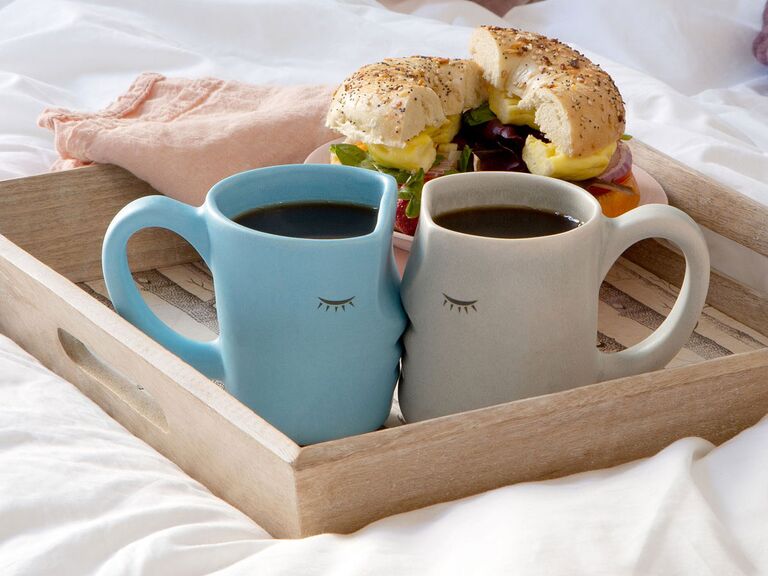 These mugs are one of our favorite pottery anniversary gifts for her, him or the happy couple. The ceramic set looks like two faces kissing and the handles form a heart. It's the sweetest way to start the morning.
Silver Willow Earrings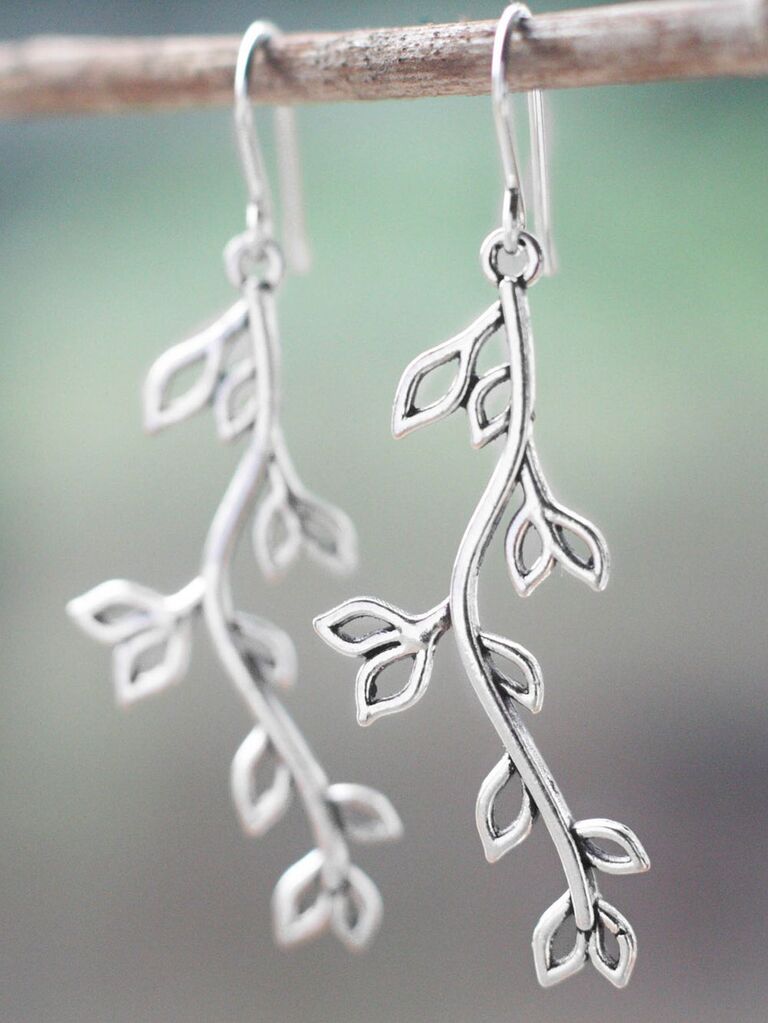 These antique silver dangle earrings are an unexpected willow anniversary gift. They're shaped like cascading willow branches, making them whimsical and symbolic accessories. Choose between sterling silver and stainless steel ear hooks.
Willow Wood Wreath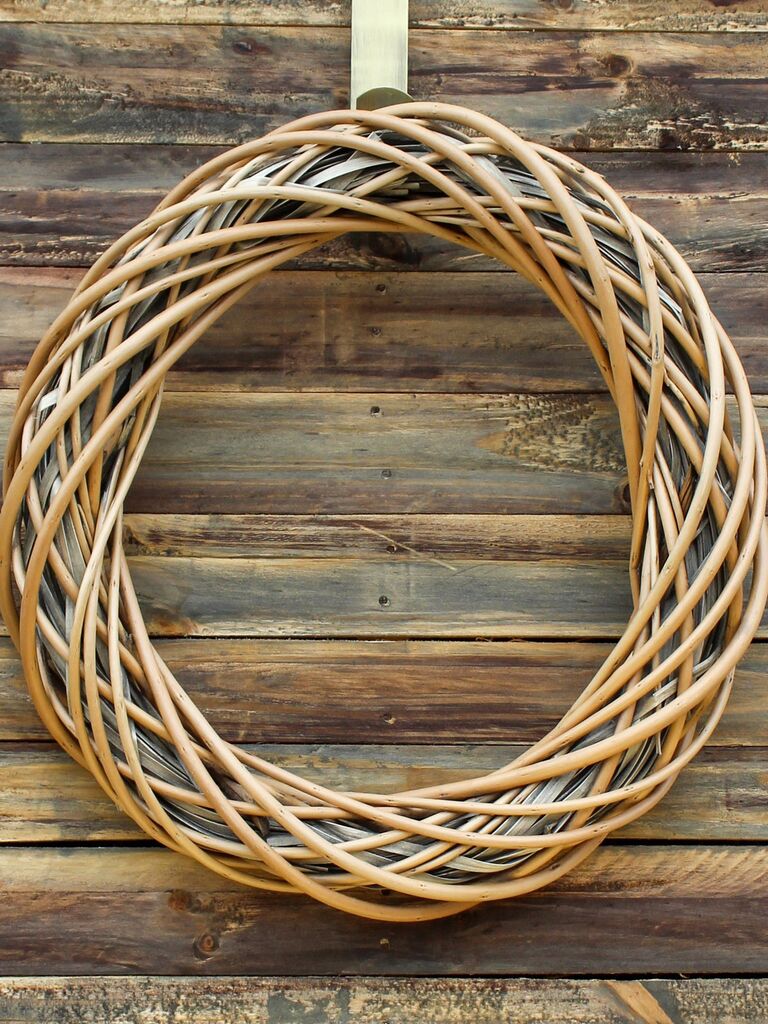 Welcome guests at the front door with this minimalist wicker willow wreath. It's a rustic home decoration for any season. Bonus: Wreaths often symbolize eternity, like the everlasting love of a marriage.
Porcelain Hummingbird Feeder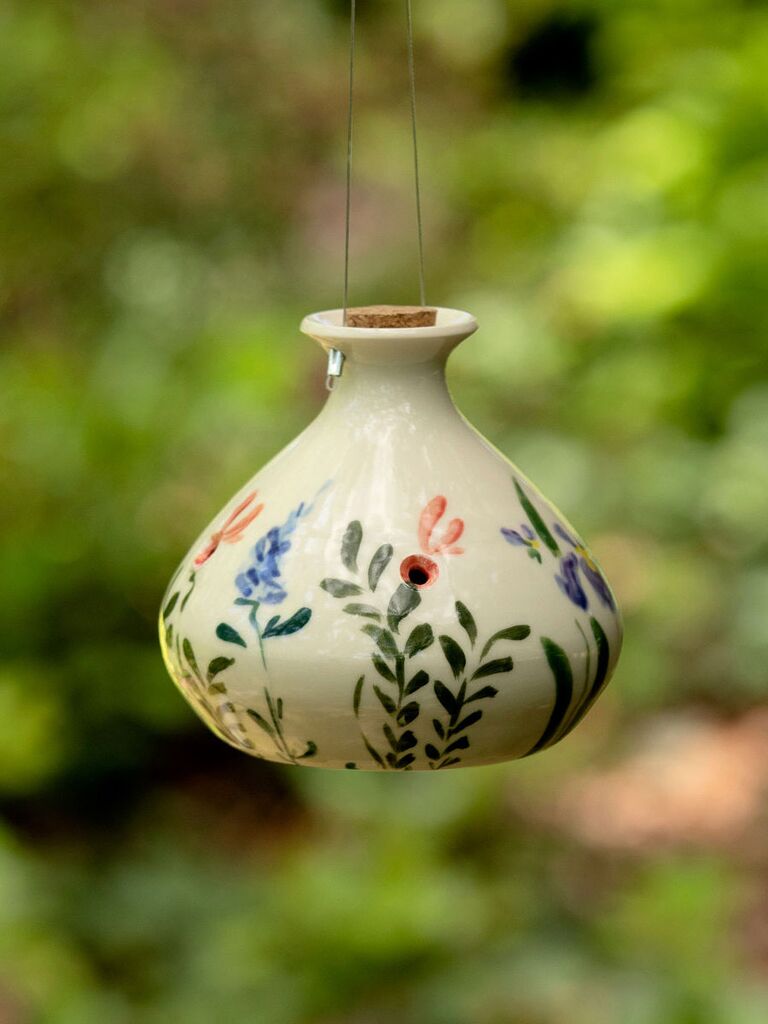 Shopping for a garden lover? Help them attract hummingbirds to their backyard with this adorable feeder. It's handmade from porcelain and painted with wildflowers for a colorful lawn accessory.
Botanical Ceramic Stool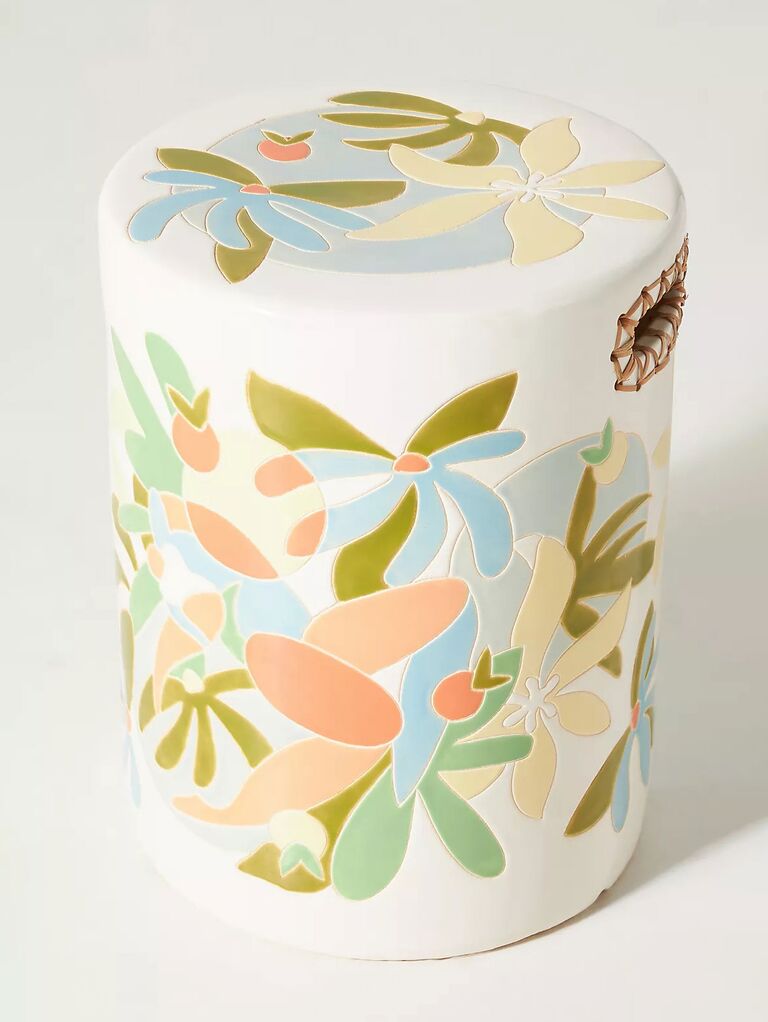 You've been together for nine years, so it's time to put your feet up and sail on into that decade milestone. These colorful, botanical patterned stools are designed by Florida-based illustrator Maggie Stephenson and will bring a European vibe to your abode.
Willow Wood Picture Frames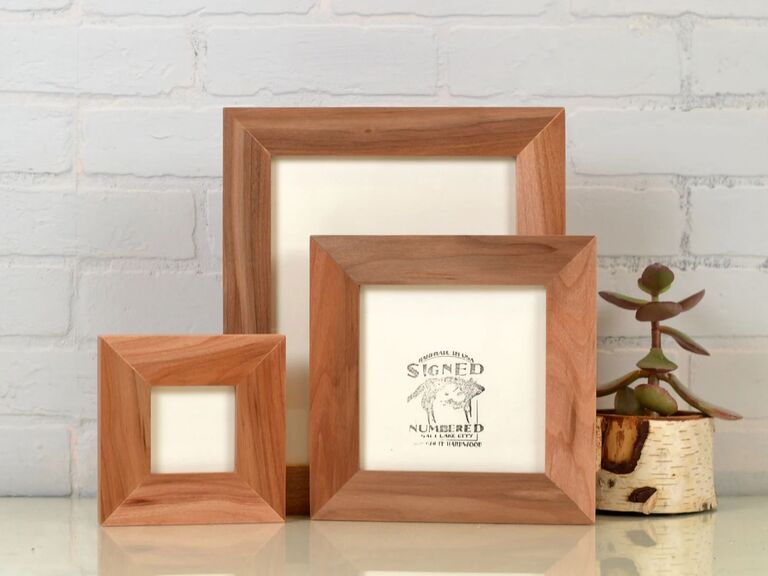 You don't need to go over the top for the ninth wedding anniversary gift. Picture frames are classic anniversary gifts and any photo will look great in a natural willow wood frame. These frames come in dozens of different sizes to fit one (or more) of your favorite snapshots of the two of you.
Leather Anniversary Gifts
The modern ninth wedding anniversary gift is leather. While chic accessories might be the first things to come to mind, there are many other creative ideas to choose from. Keep reading to discover our favorite leather gifts to give your spouse or the happy couple.
Leather Smart Wallet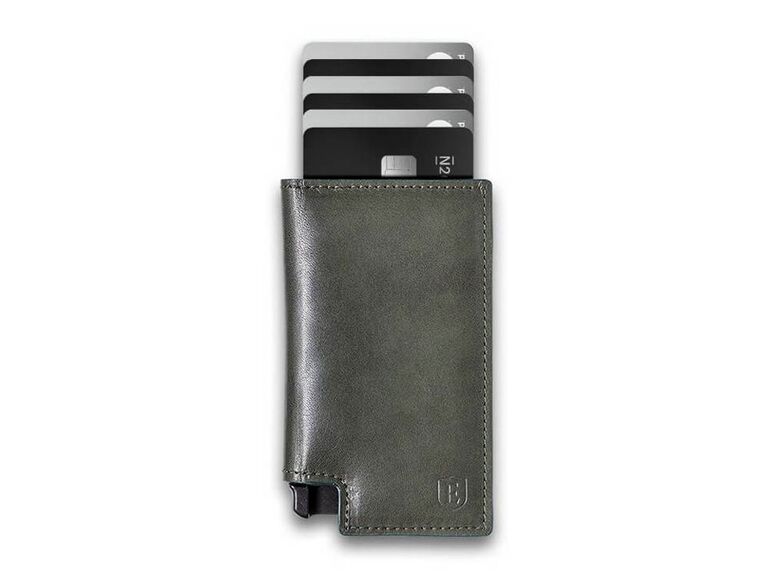 Combine two ninth anniversary themes with this green leather smart wallet. While Ekster's wallets have a classic look, they're designed with modern features. The built-in aluminum cardholder fans out cards with just the click of a button. The metal also helps protect against skimming.
Designer Leather Tote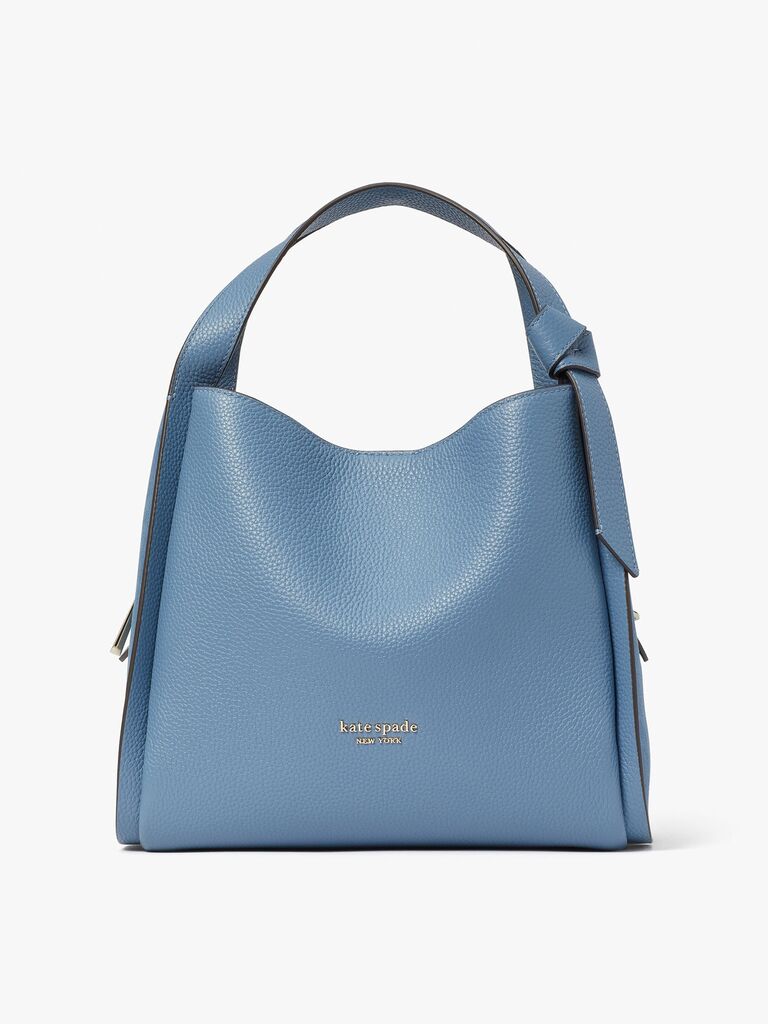 Gifts you know your spouse will really use are always great—and what's more practical than a purse? After nine years together, upgrade your partner's accessory game with a designer handbag. This fashionable tote from Kate Spade is perfect for all seasons. Plus, it has three interior pockets so it can carry all their everyday necessities in style.
Leather Map Art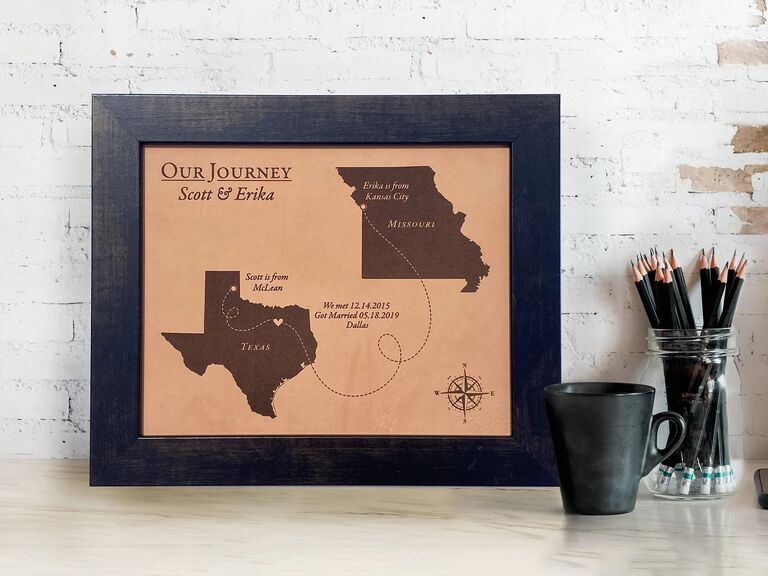 This leather print is a thoughtful nine-year anniversary gift for your wife or husband. It depicts your love story with maps of places that mean a lot to your relationship. For instance, you could showcase where you met, where you got married and your honeymoon destination.
Leather-Scented Candle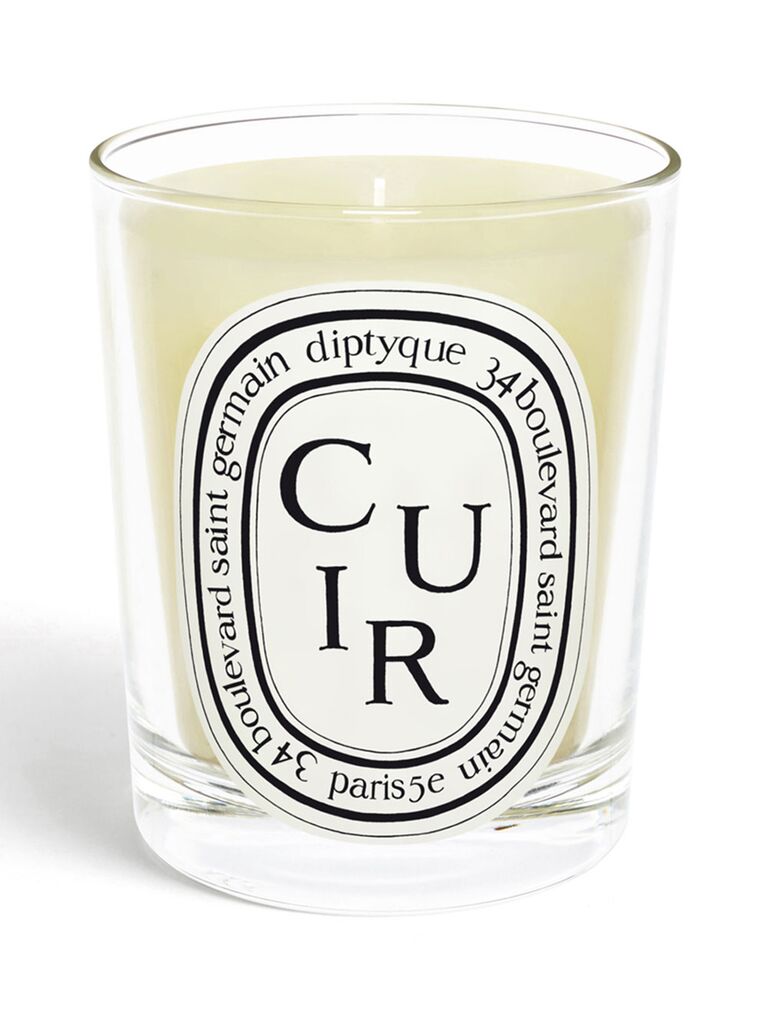 A leather anniversary gift doesn't have to be actual leather. Enter: this luxe leather-scented candle from Diptyque. The musky scent has spicy floral accents that'll fill the couple's home with a warm and welcoming aroma.
Custom Leather Belt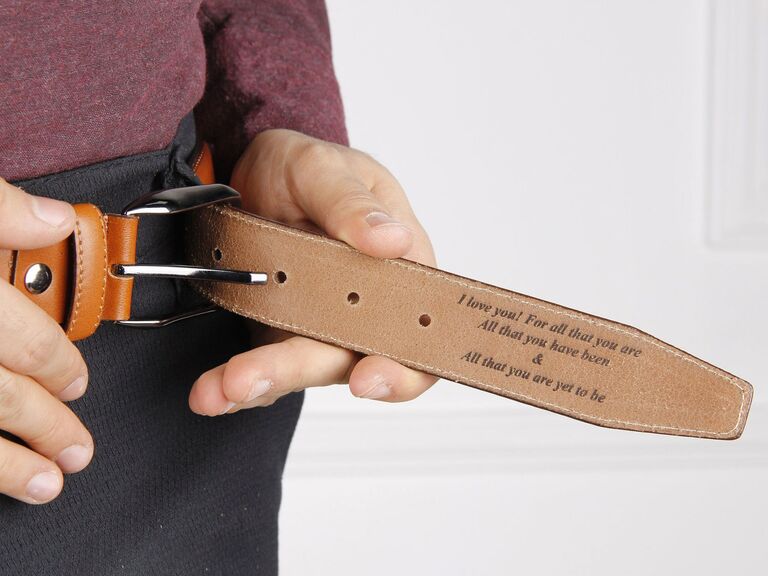 A personalized leather belt is anything but a boring anniversary gift. This particular belt comes engraved with a custom message on the inside or outside (or both) for a meaningful touch your spouse will love. It's available in four different colors, as well as multiple sizes.
Classic Leather Watch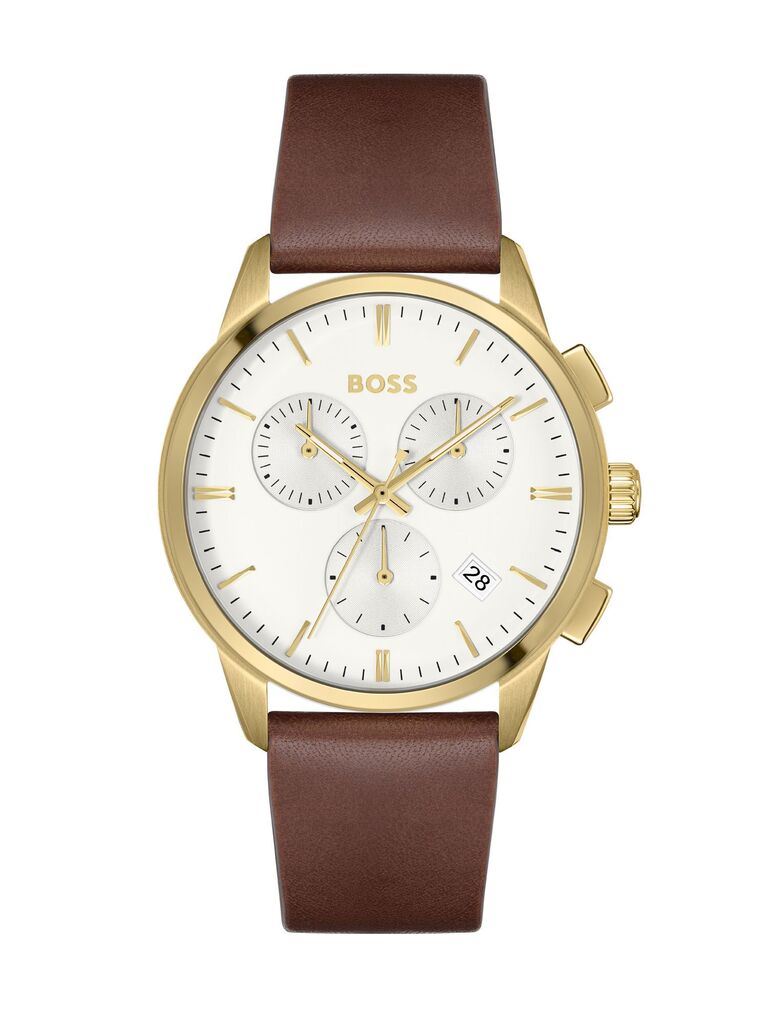 You can never go wrong with a sleek leather timepiece. This watch by BOSS has gold-tone plated steel, a matte white dial and a thick brown leather strap. It's a timeless accessory that'll make the perfect ninth anniversary gift for a collector.
Braided Leather Bracelet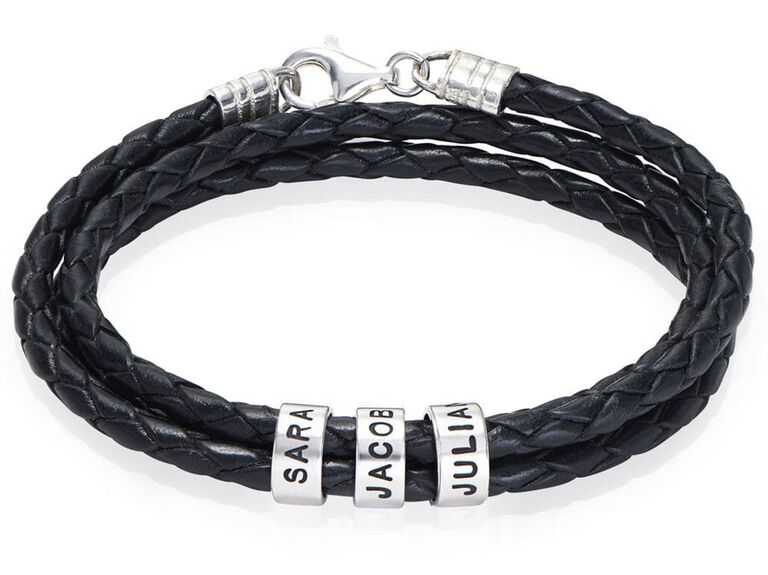 This leather anniversary gift is sure to cause happy tears. Braided leather is twisted into a simple bracelet adorned with sterling silver ring-shaped beads. Each bead is custom engraved with a name (think: your family's names—including pets!) so that your spouse can have their loved ones close no matter where they go. Ninth anniversary shopping for your husband? It also comes in men's sizes.
Monogrammed Leather Coasters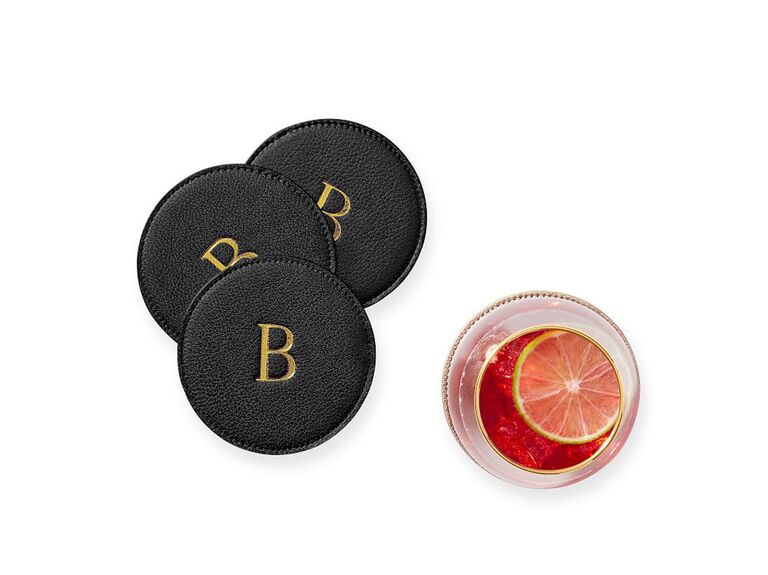 These round, black Italian leather coasters add a sleek and modern touch to any coffee table. They can be monogrammed in gold foil with up to three letters and they come in a set of four. One thing's for sure: They're a ninth anniversary gift that'll see plenty of use.
Multi-Device Wireless Charger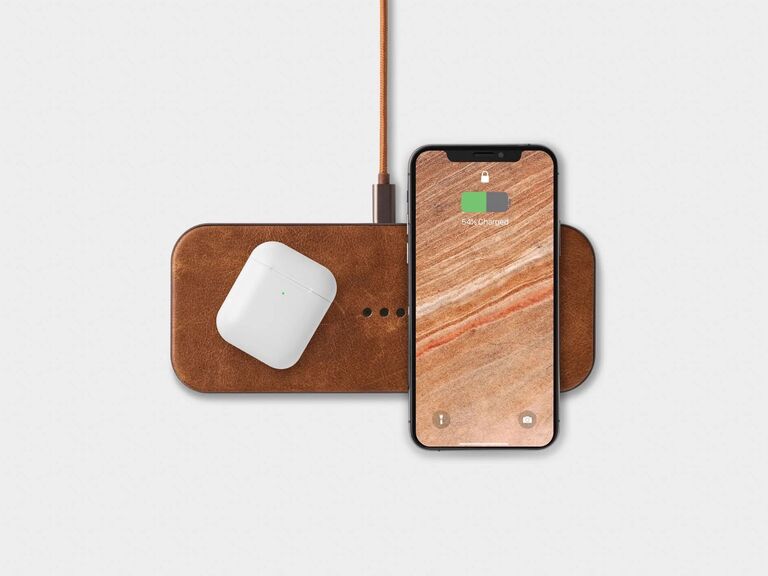 This wireless charger was literally built for two! Made from Italian-sourced leather, this multi-device wireless charger will clean up any desk or side table. It's compatible with a wide range of phones, as well as wireless earbuds. Talk about a practical gift for the ninth anniversary.
Leather Sheet Music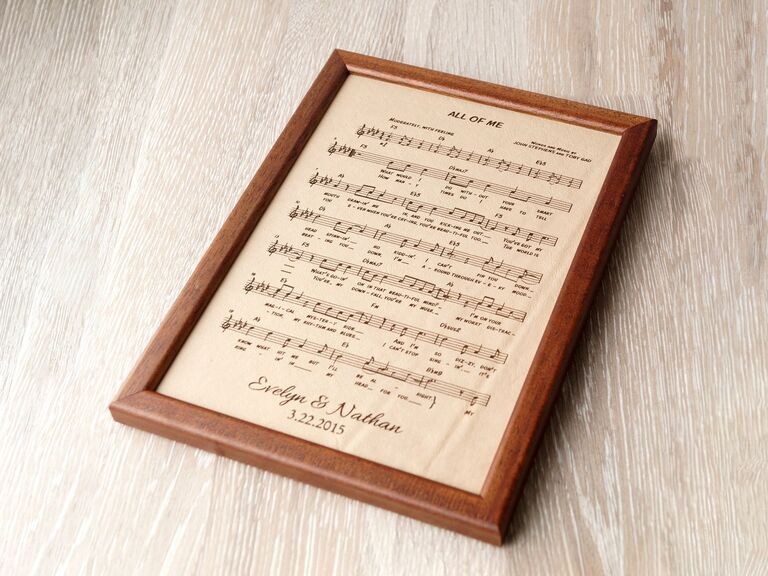 Your first dance will always be a special memory for you both; commemorate it while celebrating the nine wonderful years since that day with a leather-engraved music sheet of your wedding song. Your other half will smile with fond memories each time they look at this unique wall art.
Alternative Nine-Year Anniversary Gifts
Just because pottery, willow and leather are the traditional and modern ninth anniversary themes doesn't mean you have to stick to them. Get inspired by the ninth anniversary stone, colors or flowers—or find inspiration elsewhere instead. Below, we'll point you in the right direction with our favorite alternative gifts for the nine-year wedding anniversary.
Blue Lapis Drop Earrings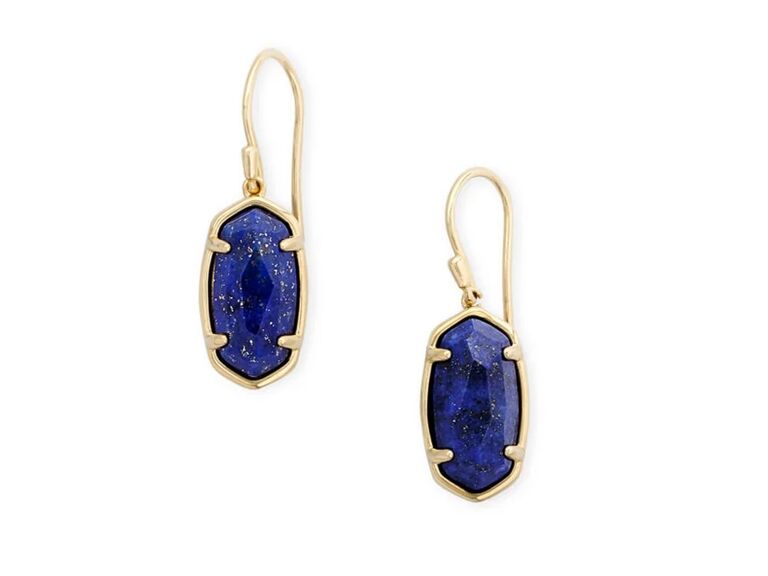 The blue lapis is the ninth anniversary gemstone. Like true love, it can be hard to find. It's believed to promote harmony and friendship—the foundations of a lasting relationship. These Kendra Scott drop earrings feature the brand's signature elongated hexagon shape with blue lapis stones. They're finished in 18K gold vermeil for regal ear accessories.
Traveler's Cork Globe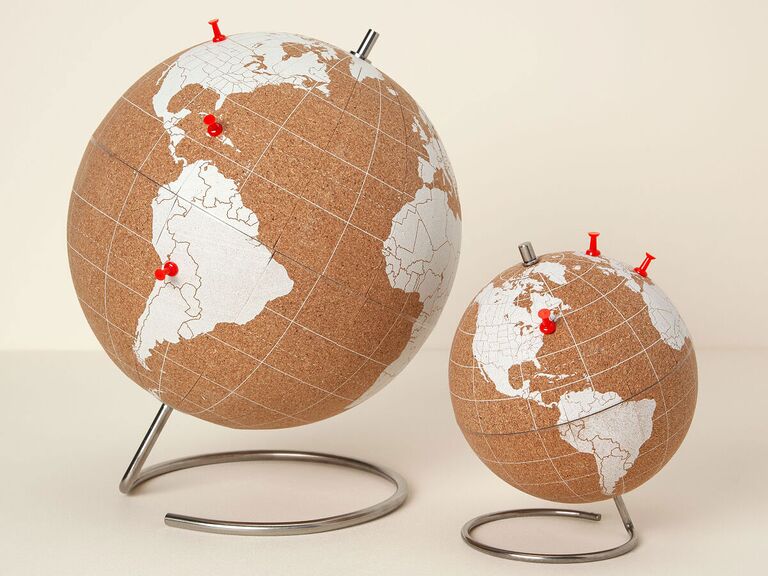 Almost a decade together means plenty of adventures. A cork globe is a sweet way for couples to highlight where they've been over the past nine years—and where they plan to go together in the future. It comes with five pushpins so they can mark their favorite destinations on the globe and even attach a photo from each trip.
Colored Glass Coupes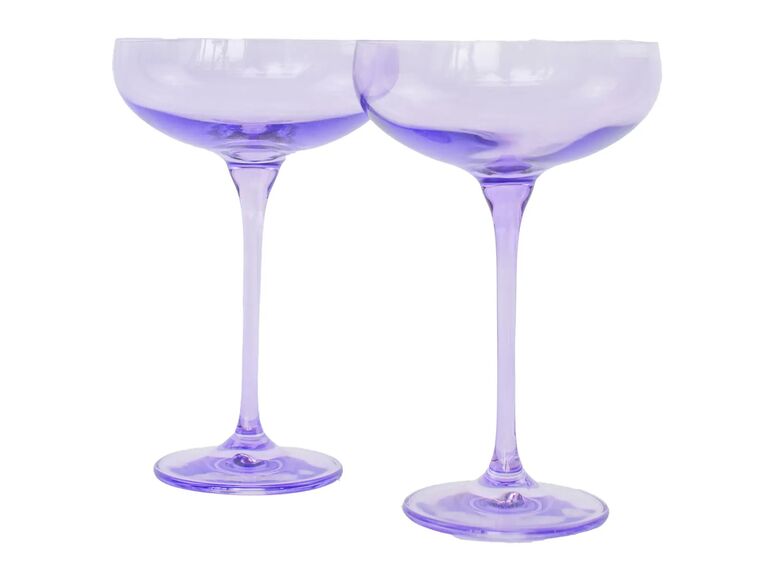 Hands down one of our favorite trends right now is colored glassware—and what better time to buy new champagne glasses than in celebration of the nine-year wedding anniversary? This pair of vintage-inspired tinted stem coupes pays perfect homage to the ninth anniversary color: purple.
Washable Silk Loungewear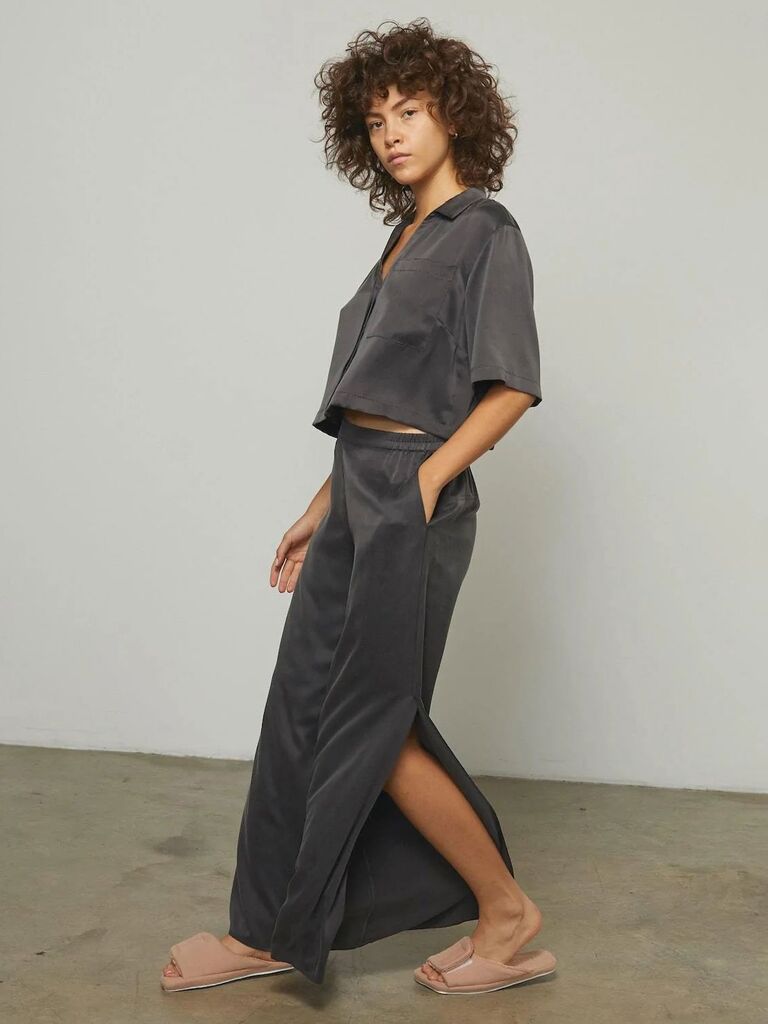 Your partner will find any excuse to stay in and wear this washable silk lounge set. The button-down top is slightly cropped with elbow-length sleeves, while the high-waisted pants feature stylish—and cooling—side slits. Use the code FOR-TK20 for $20 off your first order of $100 or more. (Shopping for menswear? Visit Lunya's sibling website, Lahgo, instead.)
Noise-Canceling Wireless Earphones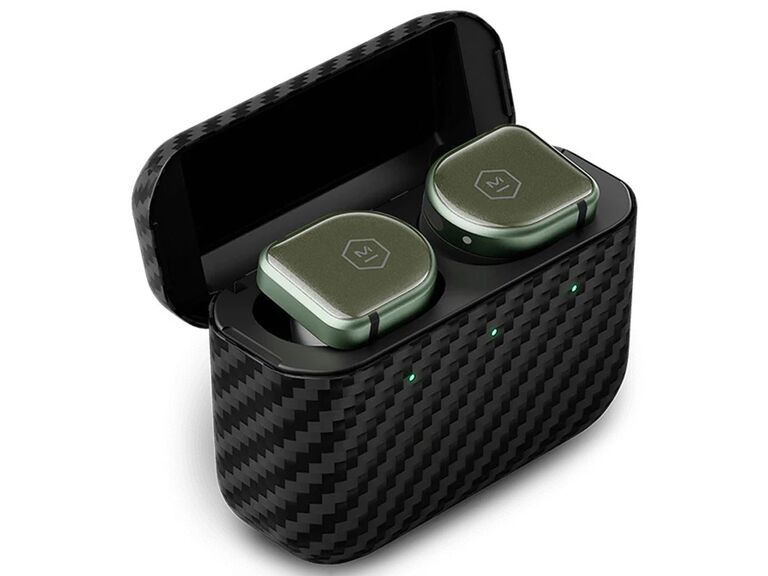 Does your spouse need a tech upgrade? Treat them to a pair of wireless earphones. These earbuds have a stylish, shatter-resistant green sapphire design to pay tribute to one of the traditional nine-year anniversary colors. But they're not just nice to look at—they offer crystal-clear sound with clever noise-canceling technology and a built-in wind-reduction microphone. Plus, the memory foam ear tips ensure a comfortable and secure fit.
Poppy Grow Kit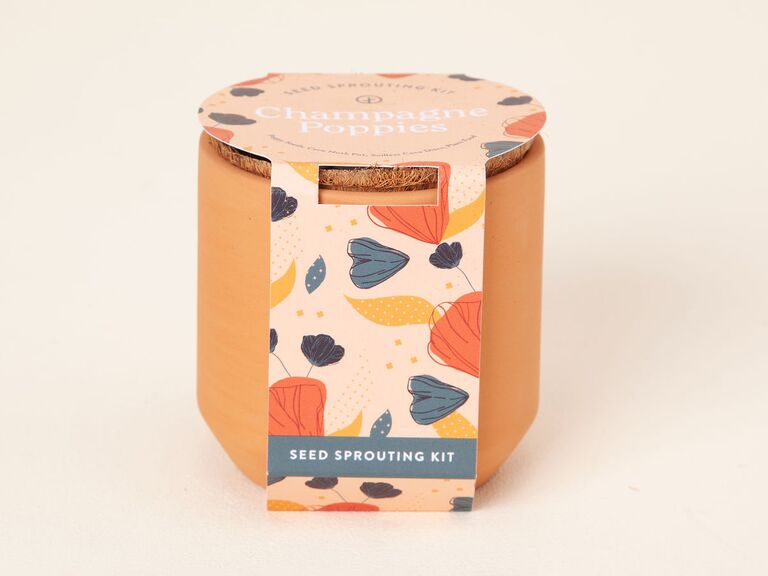 One of the flowers that represents the ninth wedding anniversary is the poppy. Poppies symbolize peace, much like the comfort and security you feel with your partner after years together. This flower grow kit checks off more than just one ninth anniversary symbol though. The red, pink and orange poppies sprout from a terra-cotta pot, representing one of the milestone's colors and the anniversary's traditional theme. The included coconut filter lets the plant self-water and drain, which makes it easy to grow. Soon, your partner or the happy couple will have gorgeous celebratory poppies decorating their windowsill.
Personalized Beer Growler
Beer growlers are a fun item to have on hand when you're entertaining. This two-liter growler is handmade in Germany. It can be custom engraved with the personalization of your choice, such as your love's initials. The ceramic flip top is a small nod to the pottery theme too.
Home Bar Set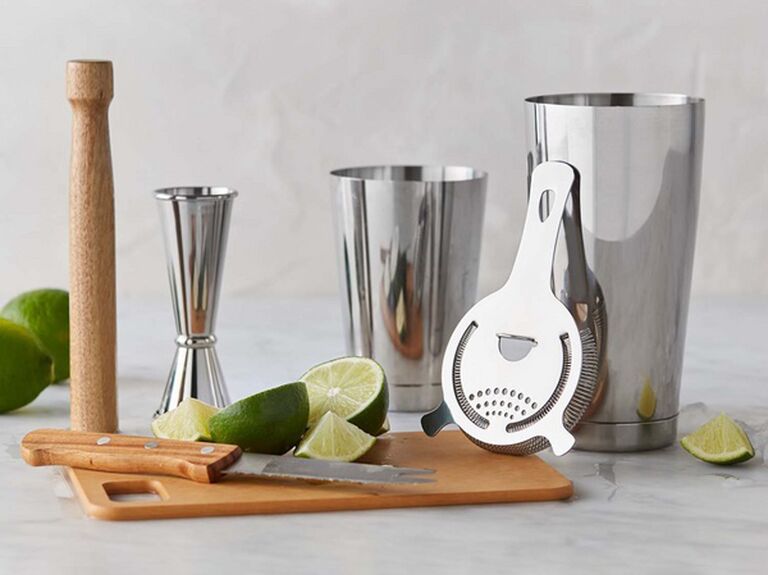 Cocktails are always a good idea, especially as a way to toast new milestones. If your other half or the couple are budding mixologists, further their hobby with fancy bar tools. This set includes six bar essentials so they can whip up any cocktail from the comfort of their home.
Bird of Paradise House Plant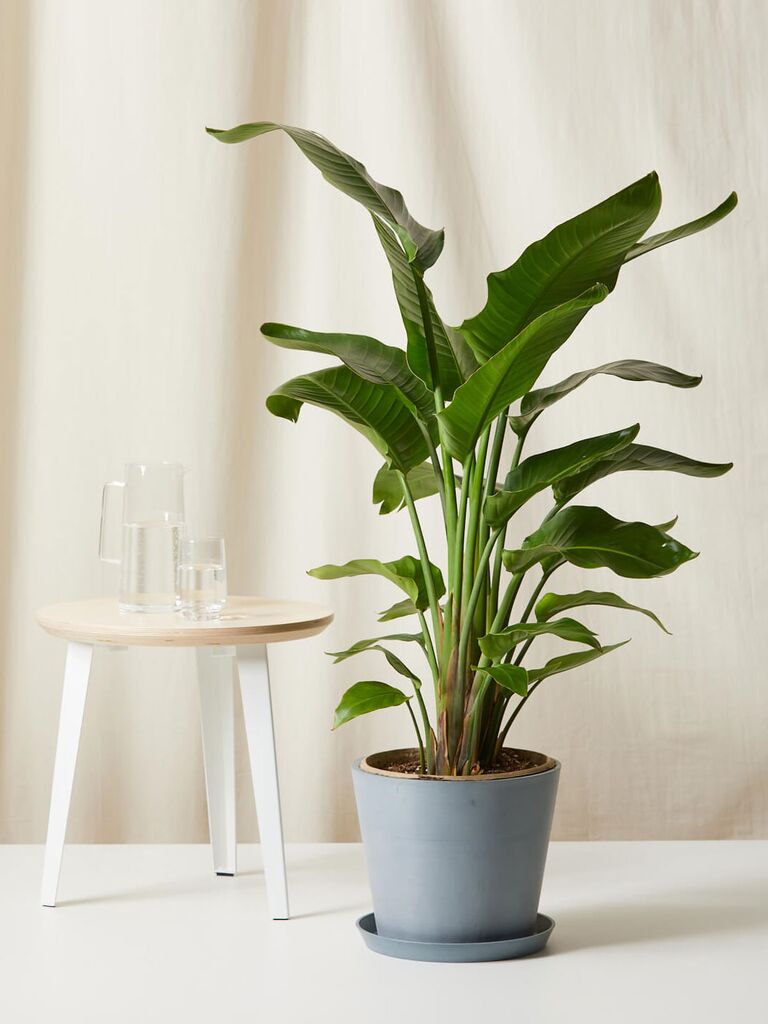 As one of the ninth wedding anniversary flowers, a bird of paradise symbolizes an exciting future—the best is yet to come. The flowering tropical plant is low maintenance and removes toxins from the air, making it a great house plant. Keep in mind though, it isn't a pet-safe plant.
Smart Indoor Garden
They don't need a backyard garden bed to cultivate homegrown produce. This indoor smart garden will help them grow herbs, fruits, veggies and even flowers all year round. The innovative technology automates light, water and nutrients so they can just sit back and enjoy the reward.
Multi-Purpose Pots and Pans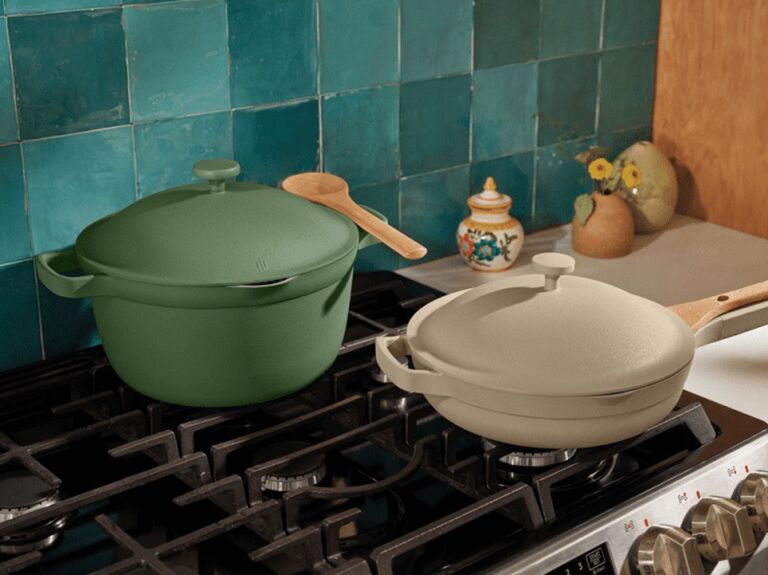 If you're looking for a ninth anniversary gift as perfect together as you and your spouse, gift them this kitchen duo. Our Place's Perfect Pot and Always Pan are designed to replace 16 traditional pieces of cookware. They can boil, bake, saute, steam…the list goes on and on! Choose from over a dozen different color combinations for cookware that's pretty enough to leave out.
Anniversary Cuff Links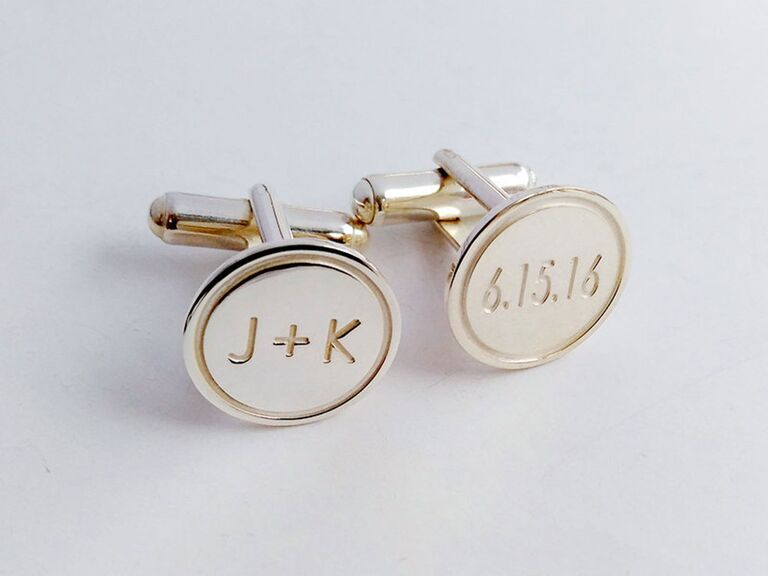 Whether your partner suits up for work or only for special occasions, they'll look extra dapper with these personalized cuff links. They come in white, rose or yellow gold-plated sterling silver and are engraved with each of your initials and wedding date.
Heart Ring Holder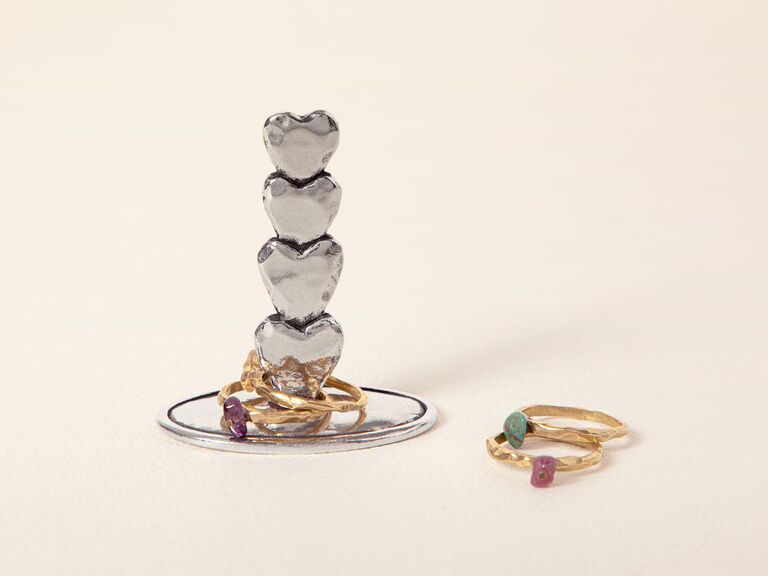 Ring care becomes even more important with age. Make sure your spouse has a special place to store their wedding band with this handmade ring holder. Forged from lead-free pewter, it's meticulously crafted to depict mini hearts stacked on top of each other. It's like saying "I love you" four times over.