28 Los Angeles Wedding Venues for Every Couple and Style
From romantic estates to modern lofts, the City of Angels has it all.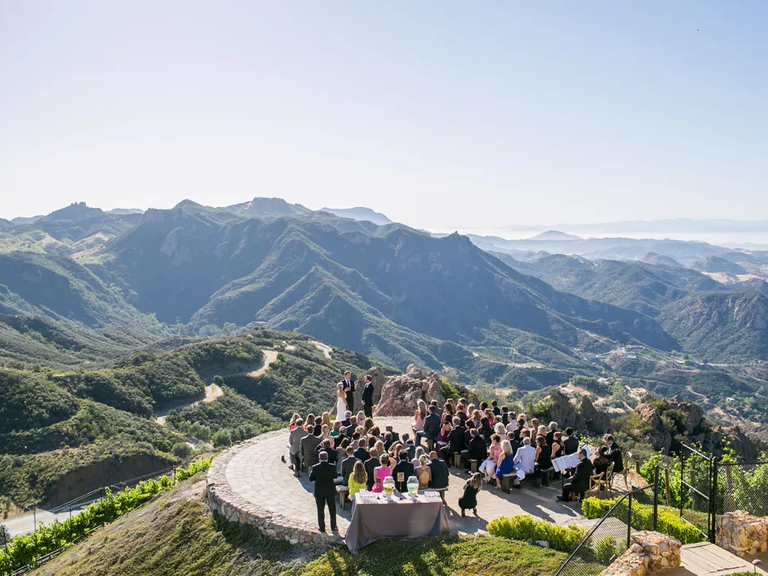 So you're curious about the best wedding venues Los Angeles has to offer. Don't fret, we've done the legwork for you and rounded up some popular places to get married in Los Angeles.
Here's the thing: there are lots of romantic, popular wedding venues in Los Angeles, California. But the best wedding venue in Los Angeles is subjective and depends on what you and your partner are looking for. What's your wedding style? Do you want an all-inclusive place? What is your wedding venue budget?
I still dream about my own childhood trip the City of Angels to visit Disneyland and that might be a perfect LA wedding venue for some, but others may prefer a sleek, modern spot or even something romantic like a European-inspired villa. (Don't worry, we discuss the pros and cons of all these types of wedding venues below). Still others might have the goal to identify the most romantic wedding venues Los Angeles can claim as its own. Either way, Los Angeles has something for everyone.
To help you figure out where to get married in Los Angeles, no matter what your dream wedding looks like, we've gathered a myriad of spots that need to be on your radar. Consider this the ultimate Los Angeles wedding venues guide. Here, you'll find everything from golf courses to castles, all waiting to play host to your special day.
The Pavilion in Los Angeles, California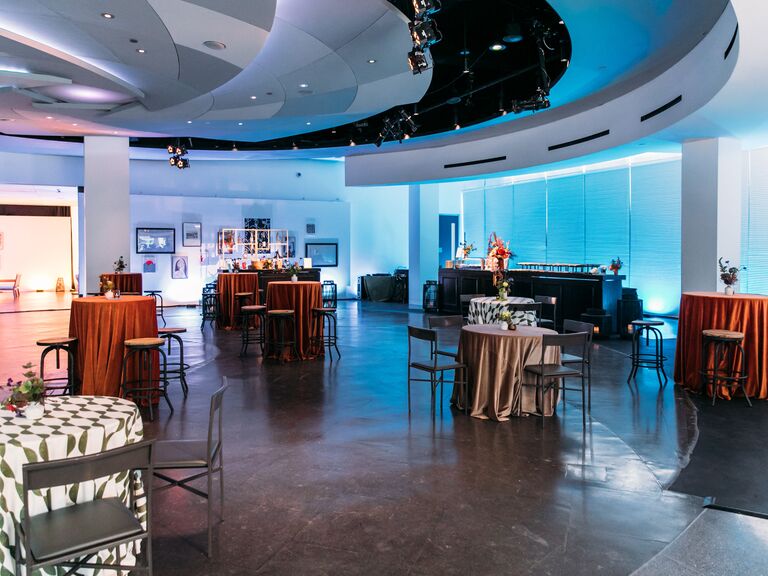 Located in the heart of Century City at Century Park, The Pavilion in Los Angeles, California, is a chic, modern wedding venue with 13,000 square feet of indoor event space, plus an additional 2,000 square feet of outdoor patio space. The sleek LA wedding venue can accommodate 495 guests and couples get access to the space for 12 hours when they book a wedding here. The minimalist architecture of this wedding venue makes it the perfect blank slate for any couple, no matter their style or aesthetic. No matter what unique wedding ideas you dream up, a simple space like this is a great place to bring them to life.
Disneyland in Anaheim, California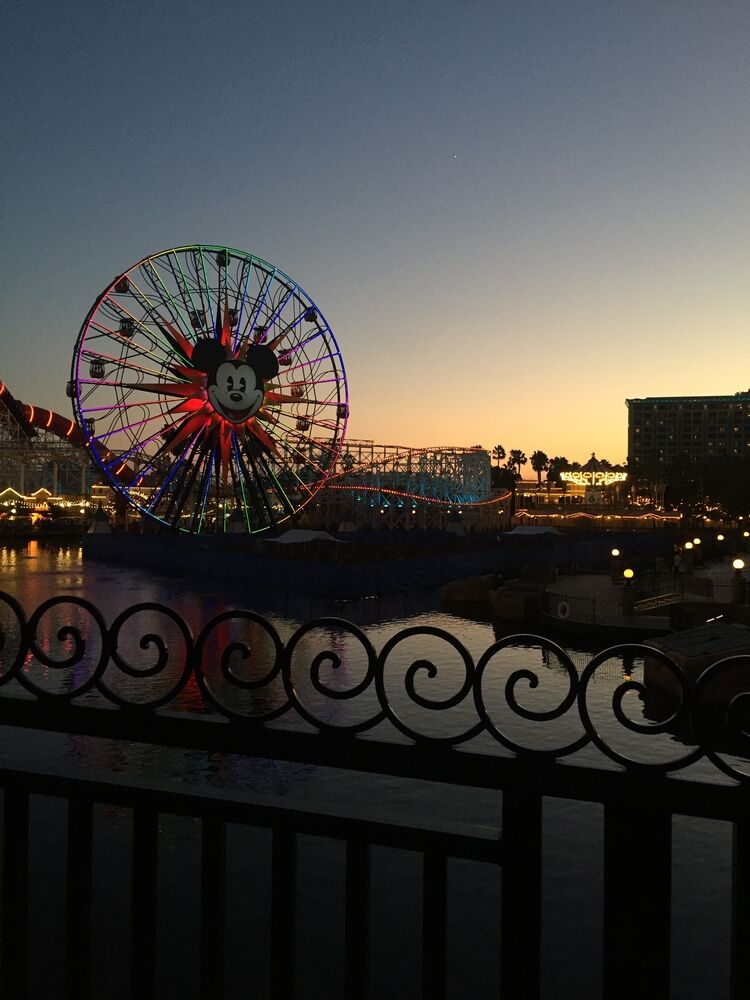 Disney, and it's characters, are beloved by many, so much so that Disney is a popular wedding theme. But what's better than merely decorating your wedding with Disney motifs? Getting married at one of the entertainment giant's amusement parks. Floridians may be partial to Epcot and Disney World, but we're here to tell you that California's Disneyland should be in your radar.
Wayfarers Chapel in Rancho Palos Verdes, California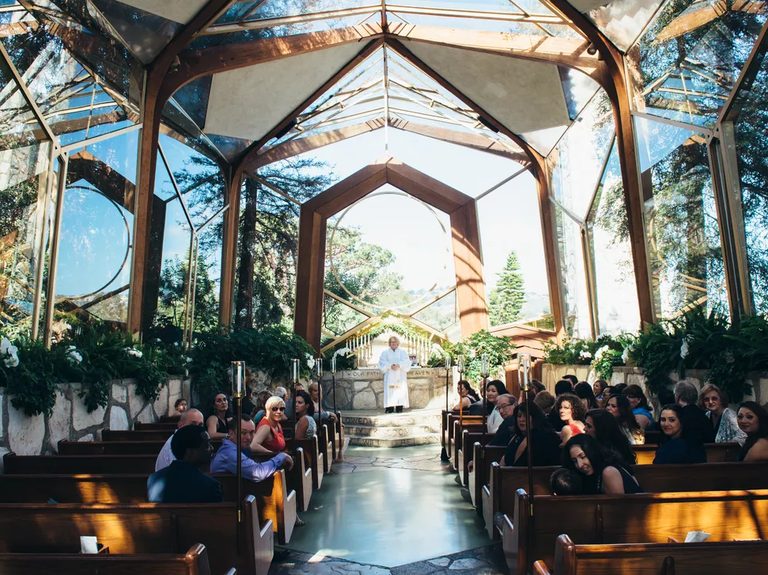 It's like something out of a J.R.R. Tolkien novel. Wayfarers Chapel in Rancho Palos Verdes, California, is a picturesque chapel made of glass and wood nestled amongst the towering redwood trees along the Pacific Coast. Designed by famed architect Frank Lloyd Wright, the chapel sits on three-and-a-half acres of land and can hold up tp 100 attendees. While this wedding venue is only available for ceremonies, its close proximity to Los Angeles, neighboring beach cities and Orange County means that you can exchange vows here before celebrating the reception elsewhere with ease.
Malibu Rocky Oaks Estate Vineyard in Malibu, California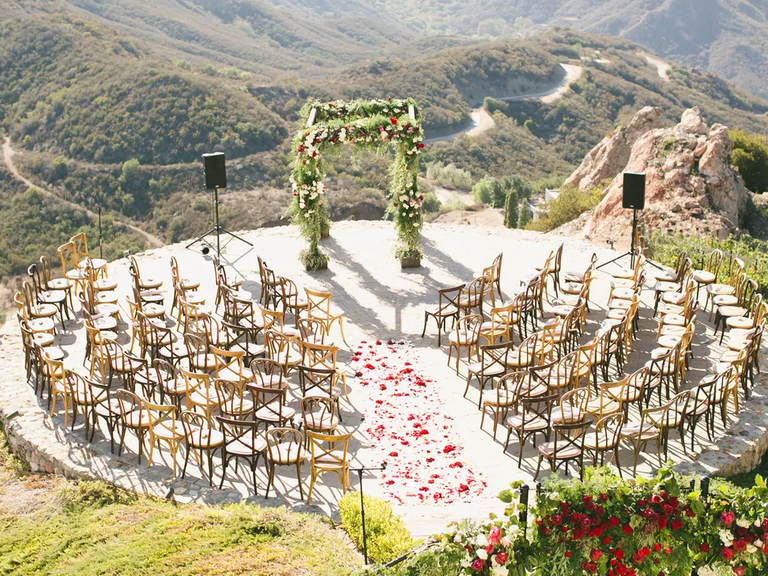 Picture this: You're standing on a helipad that's been converted to a cobblestone terrace in the middle of a vineyard with sweeping 360° views of the Malibu Mountains. Nope, that's not a dream—it's the reality for couples who book Malibu Rocky Oaks Estate Vineyard in Malibu, California, as their wedding venue. Founded in 2003, this Tuscan-style mansion wedding venue, which sits on 37 acres of land at 2,000 feet of elevation, can accommodate up to 180 seated or 400 standing. This is a great spot for oenophiles as you can enjoy wines made from the 10 different types of grapes the vineyard grows.
Lombardi House in Los Angeles, California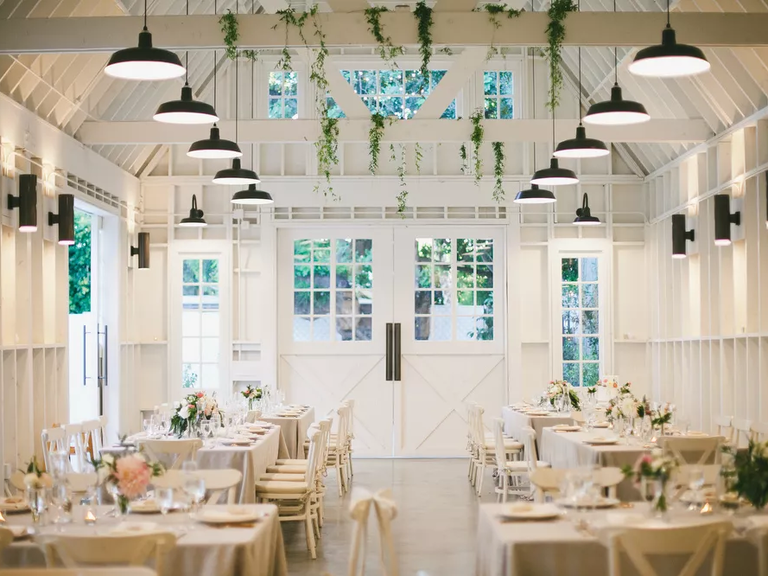 Amid the hustle and bustle of of the City of Angels it can be hard to find a cozy spot for a moment of respite. Thankfully, the Lombardi House in Los Angeles, California, is exactly that. The Victorian-style farmhouse in the heart of Hollywood offers 7,000 feet of event space tucked unassumjngly behind trees just steps from Franklin Village. The property can sleep 28 guests on-site and receptions can fit 250 guests among the grounds and the barn (which has beautiful 35-foot vaulted ceilings). This stylish wedding venue in Los Angeles is great for couples who want a refined rustic or country wedding.
Vibiana in Los Angeles, California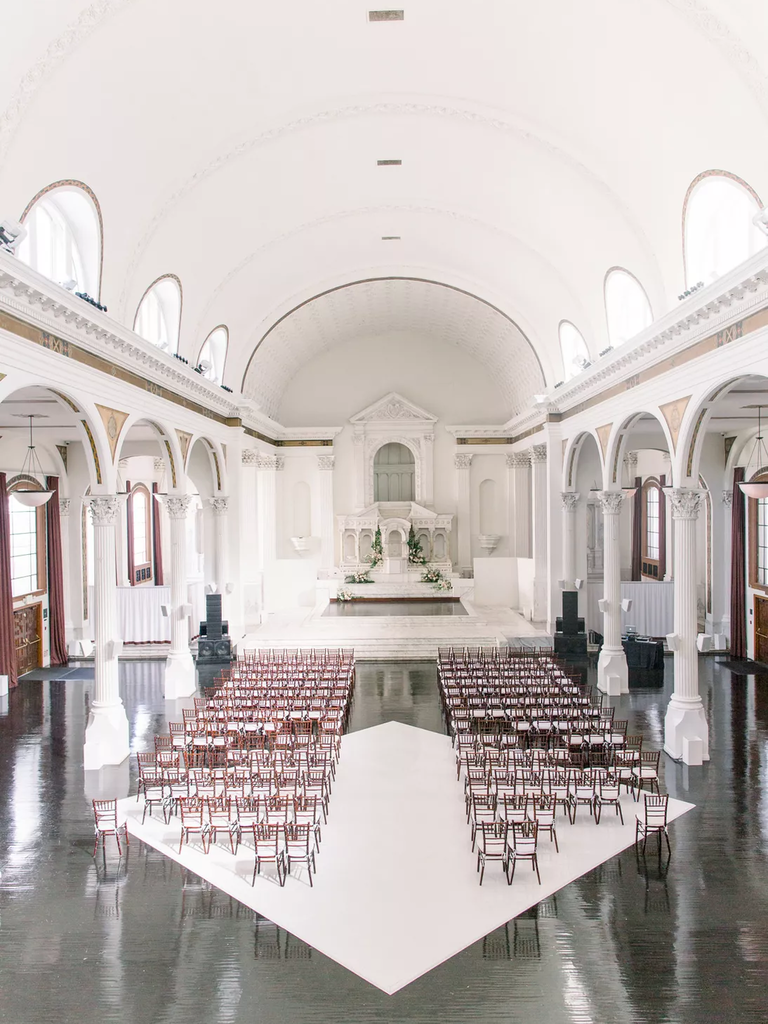 Want the drama and majestic architecture of a cathedral without actually getting married in a house of worship? Enter: Vibiana in Los Angeles, California. Built in 1976 and designed by Ezra F. Kysor, this building was originally The Cathedral of Saint Vibiana and the former cathedral church of the Archdiocese of Los Angeles. After being saved from demolition and renovated, the event space debuted in 2012. The space can accommodate up to 550 guests and is great for groups who want to party late into the night as musical entertainment isn't required to end uptil 2:00 AM.
The Fig House in Los Angeles, California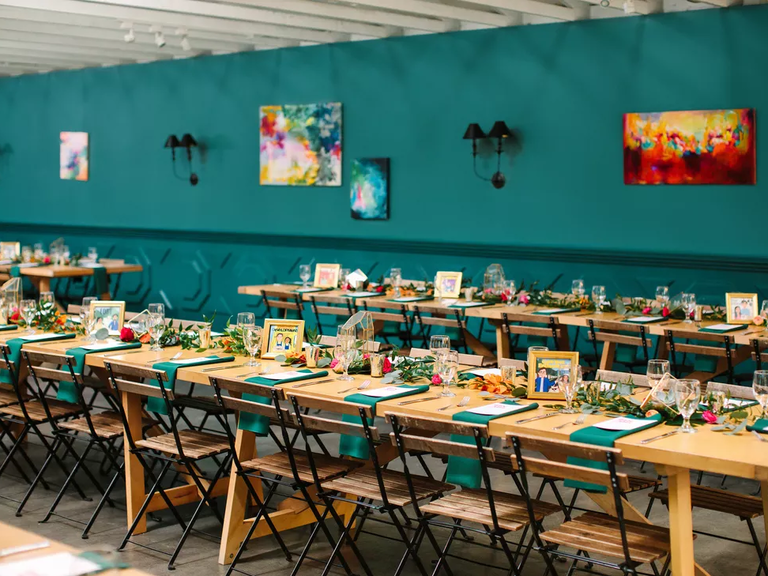 The Fig House is a top wedding venue in Los Angeles that is tucked into the trendy Highland Park neighborhood. Author and HGTV design expert Emily Henderson is the genius behind The Fig House's artistic design. The artsy mid-century modern feel of the venue is perfect for couples who don't want a traditional ballroom wedding, but would prefer an out-of-the-box event—we've even seen a wedding inspired by the TV show "Friends" hosted here. The space can fit 250 guests for a seated wedding reception and the event rental grants couples exclusive access to the venue for 10 hours.
The Beverly Hills Hotel in Beverly Hills, California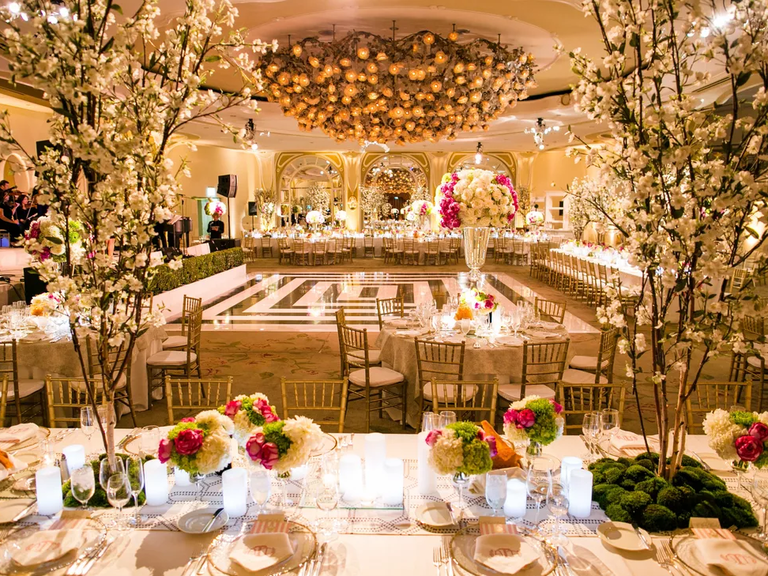 If you're partial to the glamour of Old Hollywood then take a trip down memory lane at this stories boutique hotel that's played host to the likes of entertainment greats like Marilyn Monroe, Elizabeth Taylor and Frank Sinatra. Located it Beverly Hills, as the name suggests, The Beverly Hills Hotel is perfect for couples who want to lean into a colorful maximalist aesthetic with their wedding. The hotel opened in 1912 and is colloquially known as the "Pink Palace" because of the property's rosy interiors. The hotel's largest ballroom can accommodate more than 800 guests and some of the smaller event spaces can fit 100-200 loved ones. There are also 210 guest rooms on-site at this storied LA wedding venue.
Valentine in Los Angeles, California
Where are my plant-loving couples? This concrete warehouse space is packed to the brim with lush flora that will transport you away from the smog and traffic of LA to an idyllic rainforest paradise. Valentine has 9,000 square feet of event space that can fit 500 guests. However, it also shares part of its greenhouse-like space with the adjacent venue Grass Room which is owned by the same company. For couples with extra-large guest lists they can consider renting both spaces to accommodate their needs. The same company (Marvimon) also owns Millwick around the corner. So couples who like the refined vibe of Valentine should keep all three venues in mind while searching for a place to get married in Los Angeles.
SmogShoppe in Culver City, California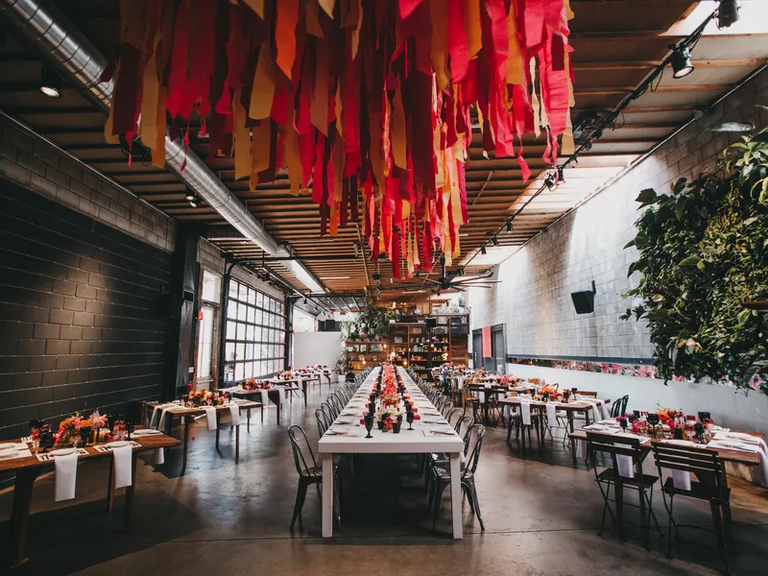 We need to clear the air on one thing—SmogShoppe is not, in fact, riddled with pollution the way other parts of the City of Angels may be. SmogShoppe in Culver City, California, is actually an absolutely lovely top wedding venue that got its name because in the 1980s it was a smog-check center before it was revitalized as an event space. Remarkabky, SmigShoppe is actually one of the most sustainable LA wedding venues with a Platinum LEED Certification. The space is also powered completely by solar energy and the 2,000 square feet of vertical greenery that encloses the space is comprised of drought—resistant plant varieties to help minimize water consumption. The 6,500-square-foot indoor-outdoor space can accommodate up to 250 for a cocktail-style event and 150 for a seated wedding reception. Here, you can paradoxically go green by saying yes to smog.
The Houdini Estate in Los Angeles, California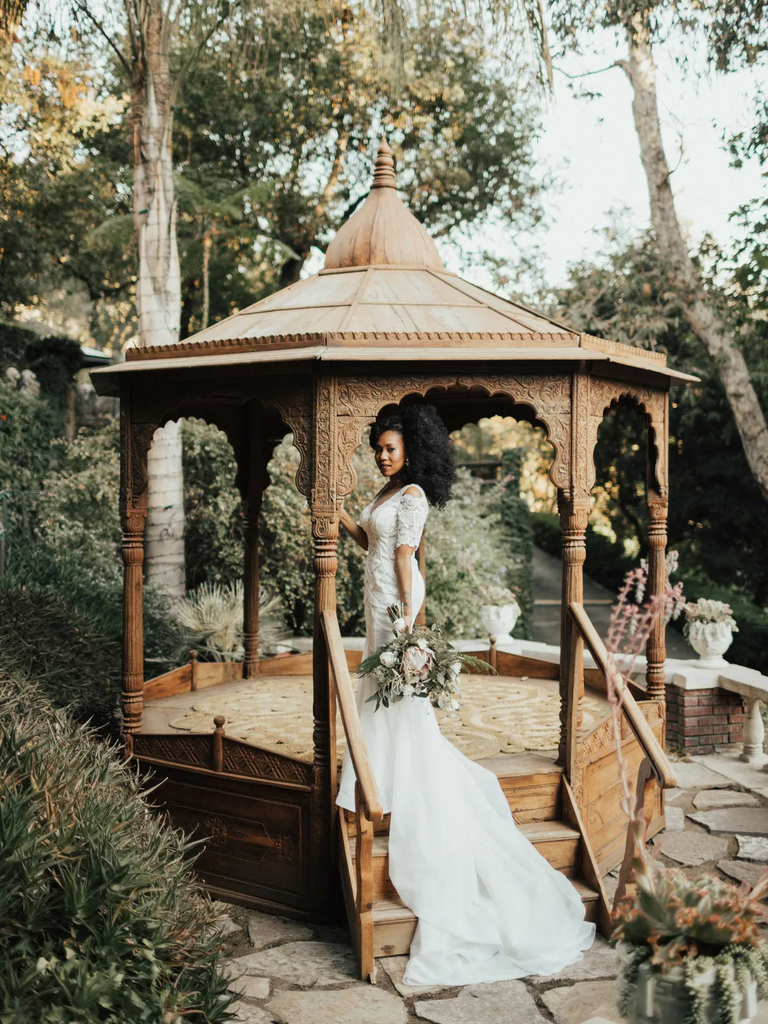 The name of this Laurel Canyon wedding venue is a bit misleading as the famous escape artist who shares a name with the estate never actually owned the Edwardian-style home that's located near the Sunset Strip. The history of the home is murky as some say the original owner and Harry Houdini were friends, but whatever the case may be, we know one thing for sure: The Houdini Estate is one of the best wedding venues in Los Angeles. The sprawling space can fit up to a whopping 1,000 guests and can park 80 cars on-site. There is also space for eight people to sleep on-site.
Big Daddy's Antiques in Los Angeles, California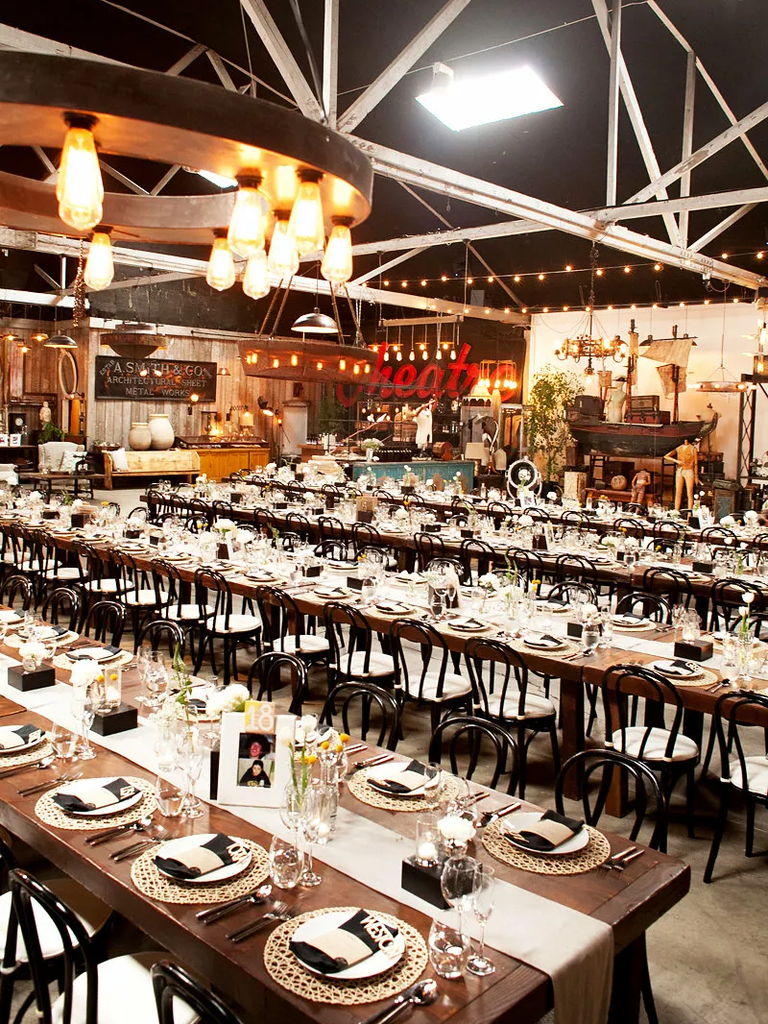 Here's an eclectic option for you: an antique store filled with assorted treasures. If you're on the hunt for a place to get married in Los Angeles that doesn't need a lot of extra decor, Big Daddy's Antiques, which opened in 1996, needs to be on your list. The venue, which can accommodate more than 200 friends and family members, says that it's the place you go for "something significant and statement making." Those are two words you should want to describe your wedding, so what's not to love? The fun thing about getting married here is that no two weddings are the same. Since it is an active retail store, the decor at your wedding day will be different from those who came before you and no one after you will have the exact same backdrop—talk about unique.
NeueHouse Hollywood in Los Angeles, California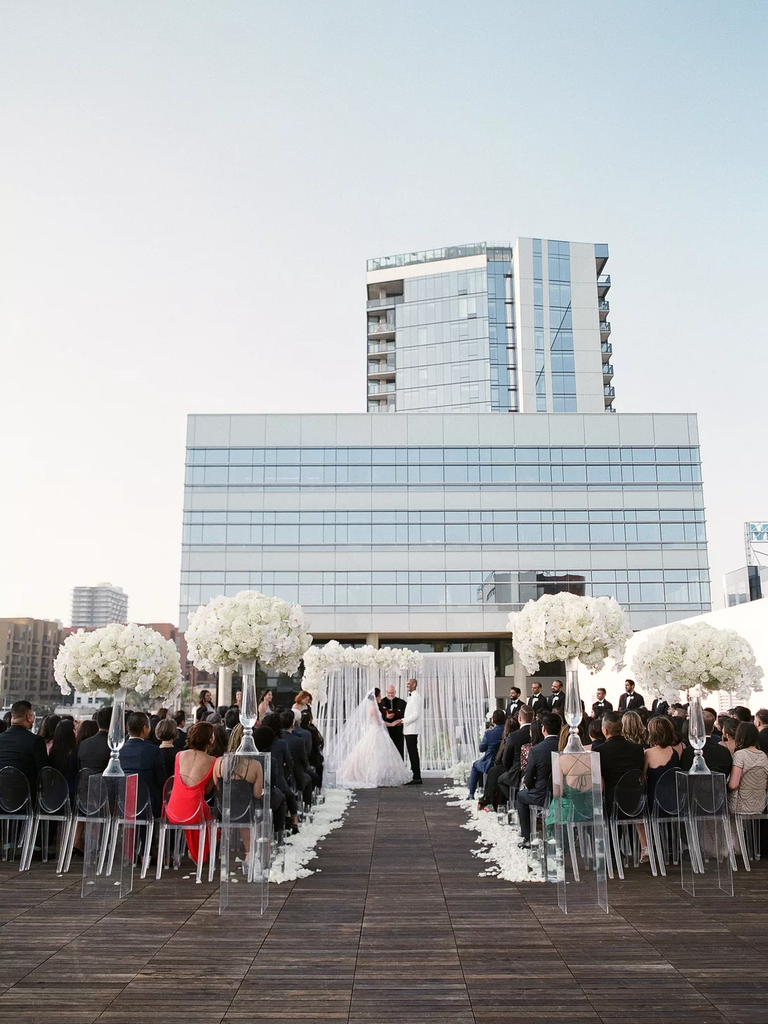 NeueHouse is a nationwide company with a series of chic working facilities that also allow for private event rentals. Their LA location is particularly notable and is worth consideration from engaged couples. The facility occupies the original CBS Studios building where the likes of Orson Wells, Lucille Ball and Janis Joplin walked the halls as they were building their careers. The wedding venue has eight distinct event spaces couples can rent. The capacities range from an 8,200-square-foot room that can accommodate 600 standing or 300 seated down to a small 200-square-foot conference room that fits 8 petiole and is good for getting ready. NeueHouse provides everything from food and beverage services to A/V and even signage.
Villa del Sol d'Oro in Sierra Madre, California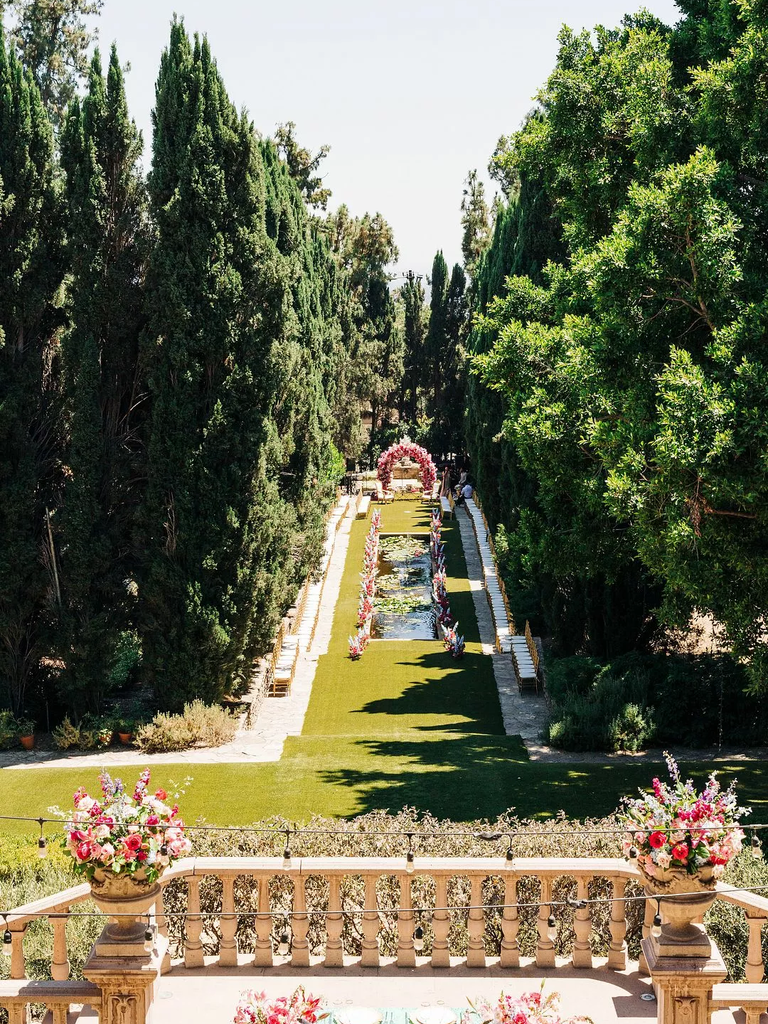 Are we still in California or did we mysteriously teleport to Tuscany, Italy? It's hard to believe that Villa del Sol d'Oro is actually in Sierra Madre, California, but it is. This picturesque estate can accommodate 200 guests standing, 150 for a seated dinner reception. The space was inspired by the design of Villa Collazzi near Florence, which is rumored to have been designed by Michelangelo. Not only do engaged couples love the space, but it's popular with movie producers as well. TV shows and movies like "Bones," "Beverly Hills 90210," "Legally Blonde," and "The Princess Diaries," have all used Villa del Sol d'Oro for filming. This spot is so great it pretty much sells itself.
La Venta Inn in Palos Verdes Estates, California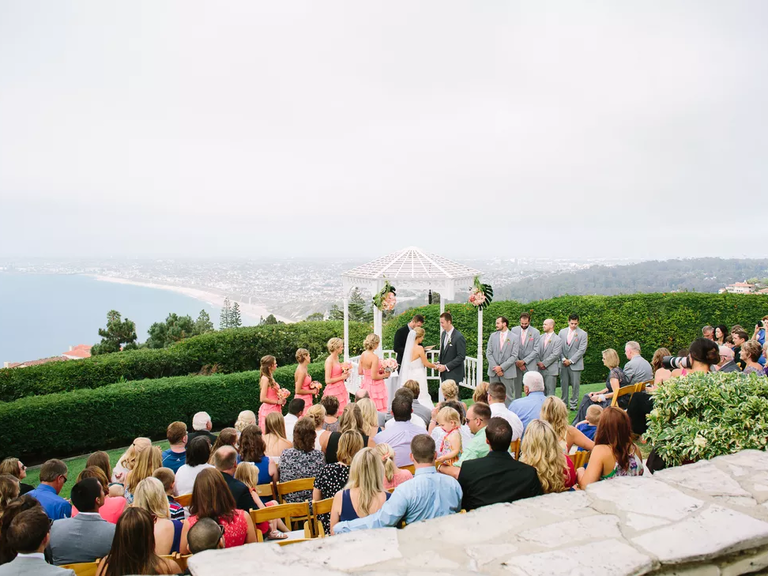 Looking for an idyllic oceanfront venue? You need to know about La Venta Inn in Palos Verdes Estates, California. This all-season full-service is considered one of the best LA wedding venues. A wedding here involves a peaceful soundtrack of a babbling fountain, postcard-worthy ocean views and beautiful architecture that immediately transports guests to another world. The hotel's ballroom is 930 square feet (ideal for 100 guest), the courtyard (perfect for cocktail hour) is 1,050 square feet and there are additional spaces that provide another 1,180 square feet of event space. One couple who wed here shares that they "fell in love with the venue's rich history as it was the first structure to be completed on the peninsula."
Castle Green in Pasadena, California
Calling all history buffs. For a wedding venue steeped in tradition, Castle Green in Pasadena, California, is the place for you. This stunning castle is a Nationally Registered Historic Monument. It's the perfect vintage chic backdrop for your ceremony or reception, and offers lots of special perks like the ability to bring your own alcohol to serve without a corkage fee. Plus, you can be sure you'll enjoy a private day; only one event is booked each day at this location. The venue holds 200 guests for a seated reception. With plenty of space for either an indoor or outdoor event (or a mix of both!) the Castle Green has something for everyone.
The Hollywood Castle in Los Angeles, California
Want to plan your own fairytale wedding, complete with a castle? Tie the knot in a Gothic castle nestled high in the Hollywood Hills. An outdoor patio is the perfect place for dinner and dancing under romantic string lights, and the beautiful castle interior will make for some seriously amazing wedding photos. A guest count of 150 is ideal for weddings here. The Hollywood Castle may be your dream castle wedding venue, but this venue seeks to keep prices low by allowing outside catering and shuttle bus service instead of steep parking fees. After the sun sets, you and your guests can take in the ethereal glow of the city below.
Brookside Golf Club in Pasadena, California
The perfect combination of nature and indoor elegance, Brookside Golf Club plays host to a variety of wedding vibes. Host your event inside the country club against the backdrop of an attractive stone fireplace in the main dining room (fits 250 seated), or for smaller parties, gathering spaces like the Rose and Arroyo rooms are just right. Once your party moves outdoors, you'll enjoy sweeping views of the golf course, along with native trees and flowers. Your package will include services like white ceremony chairs, a suite for getting ready before the ceremony, a one-hour rehearsal the night before, setup and cleanup, and six hours of professional service.
The Ebell of Los Angeles in Los Angeles, California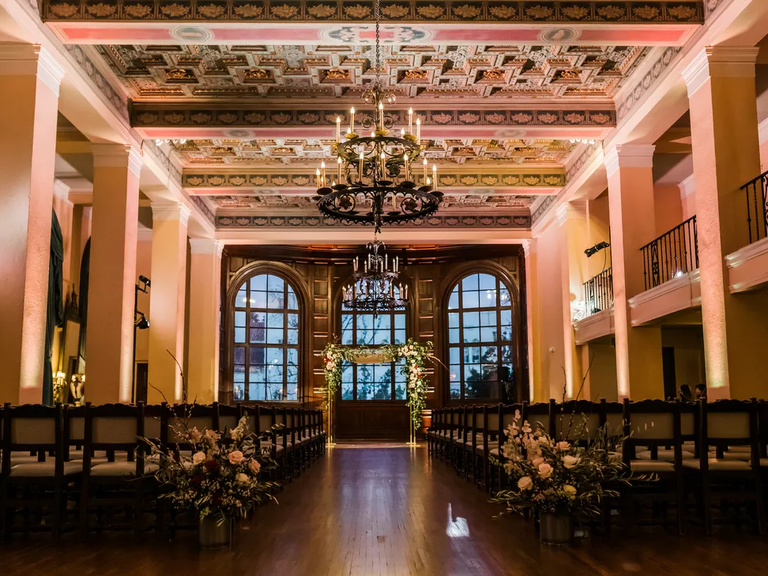 Built in 1927, this stately building serves as a beautiful backdrop for any kind of wedding you can dream up. Located in the heart of downtown Los Angeles, but cleverly secluded from the busy streets, The Ebell masters that Southern California vibe, with amazing, contemporary cuisine inspired by the area, as well as indoor and outdoor event space where you'll be surrounded by beauty. Whether it's a traditional indoor reception you're desiring, or a lush, floral outdoor event, The Ebell is one of California's favorite wedding venues. One couple who tied the knot at The Ebell selected the space because "my partner is a huge film and history buff. When planning the wedding, she really wanted the vibe to have a subtle nod to the Golden Age of Hollywood."
Sheraton Universal Hotel in Universal City, California
Want simple and straightforward, with great service? Consider this spot. If you're looking for the ultimate wedding venue that provides assistance with every task start to finish, look no further than the beautiful Sheraton Universal which can fit more than 300 guests. It's among the most popular Los Angeles wedding venues, which is easy to understand when you sit down with the event staff. Here, everything will be handled, from florals to music to catering for a stress-free wedding planning experience and big day you'll never forget. (Psst: Since you'll be saving yourself time and stress with this venue, you can concentrate on your partner. Here are some fun date-night ideas.)
Il Cielo in Beverly Hills, California
Looking for an enchanting Italian villa in the heart of Beverly Hills? You can't beat Il Cielo. It's brimming with Tuscan charm, with romantic lights and heady florals at every turn. Serving as a beautiful backdrop for any wedding, it's perfect if you're seeking a smaller venue with both charming outdoor space and indoor options in case the weather turns. The food is amazing, and service is top-notch as well. So if you're looking for an LA wedding that takes you to heaven and back in one day, Il Cielo (which can accommodate up to 150 wedding guests) should definitely be on your list.
City Cruises - Marina del Rey in Marina del Ray, California
When you dream of tying the knot, is salt water part of your vision? If you can't find a venue on land that you love, why not opt to exchange vows aboard a sleek yacht as you sail the waters of the Pacific Ocean? The staff and crew at City Cruises will wow you every step of the way on your wedding day. You and your guests will enjoy stunning views, mouth-watering food and great music. Choose from a fleet of vessels to suit your wedding size, from small gatherings to grand affairs. The staff will help you with every step of your wedding planning to ensure your perfect day is just that—perfect. Get ready to party at sea with all your pals—the capacity of these boats is 500.
University Club of Pasadena in Pasadena, California
For a large ceremony and wedding reception for up to 430 guests, the University Club of Pasadena is a Los Angeles favorite. Looking for an outdoor ceremony? Say I Do among lush florals and greenery on the grounds' garden. Fancy something stately and indoors? There are plenty of picturesque spots indoors where you can exchange vows and host your reception. You'll enjoy a nicely appointed bridal room and a separate groom's room, which will make your photographer's job a snap when it comes to those ever-important getting ready shots. What's more, yours will be the only event of the day, so you can enjoy the entire venue on your special day.
Palazzo Beverly Hills in Beverly Hills, California
Chic, snazzy, dazzling—that's what you're in for at this venue that needs to be on your radar. For the upscale wedding of your dreams, check out the Palazzo Beverly Hills. This up-and-coming bridal venue boasts a sprawling, Mediterranean-style mansion high above the hills of Hollywood. It's the creme de la creme event venue. The interior of this beautiful property is awash in white decor and plenty of natural light, allowing your wedding decor to stand out. Complete with a pool, a long, winding driveway and an escalator, you can't get more grand than the Palazzo. Want a big wedding? This space can hold 1,000 friends and family members.
NOOR in Pasadena, California
Since we're in The City of Angels, we're pretty sure an angel graced this ethereal wedding venue. There's a reason why NOOR has gained a reputation as one of the best wedding venues in the Los Angeles area. This unique space plays host to a collection of spaces perfect for literally any size wedding. From cozy, intimate spaces to grand ballrooms decked with dramatic chandeliers to swanky art deco rooms, you're sure to feel at home when you host your wedding at NOOR. One ballroom at NOOR can fit 120 guests while another ballroom in the space can accommodate 320 guests.
Mountain Meadows Golf Course in Pomona, California
For an outdoor wedding with sweeping views of the San Gabriel mountains, look no further than the aptly named Mountain Meadows Golf Course. This beautiful banquet hall venue offers indoor/outdoor space for your rehearsal dinner, wedding ceremony or your reception. The sought-after covered outdoor space allows you to plan an al fresco event without having to worry about weather. With a full catering menu and plenty of extras, you're sure to love this versatile venue. For a seated wedding reception, a 300-person guest list is ideal here. Bonus: If you're looking for even more golf-themed wedding ideas, check out these golf-centric groomsmen gifts.
Sonesta Redondo Beach and Marina in Redondo Beach, California
Looking for quintessential SoCal vibes? We've got 'em for you with this wedding venue you should check out. For one of the most stunning reception venues in Southern California, consider the Sonesta Redondo Beach and Marina. With an indoor ballroom large enough to host a guest list of 500, it's among the largest capacity venues around. Or, take things outside for a one-of-a-kind covered outdoor space replete with dazzling chandeliers and sweeping views of the marina in the background. This venue is close to Redondo Beach Pier, the James R. Armstrong Theatre and the Toyota Sports Center.
Carondelet House in Los Angeles, California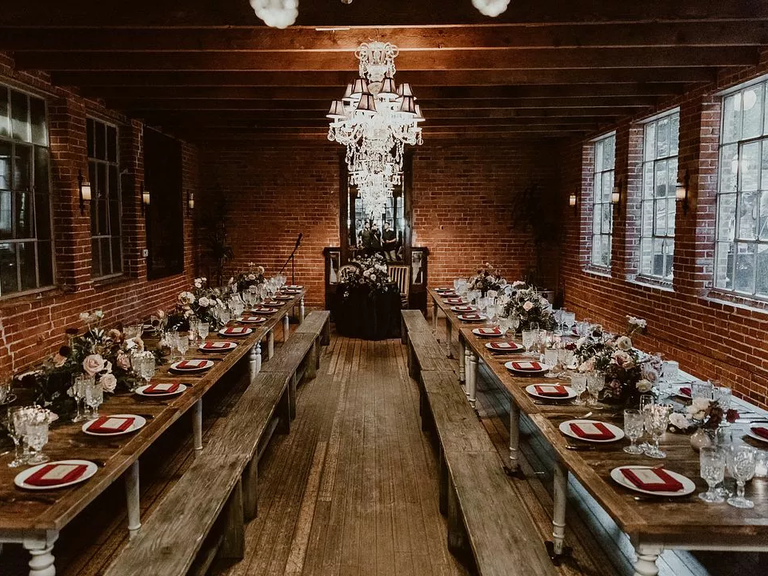 You might be thinking, "Haven't we seen all the great places in Los Angeles to get married?" Nope, there's more. Last, but not least, you need to know about this cozy-yet-stately Italian villa is located right in the heart of Downtown LA. It's the perfect gathering space for smaller groups up to 150 people. With plenty of attractive space indoor (think: photo opps galore!) and two peaceful outdoor courtyards, the Carondelet House in DTLA has something for every couple.
Christin Perry contributed to the reporting of this article.