20 Valentine's Day Cards to Show Your Fiancé They Have Your Heart Forever
They're going to love your card almost as much as they love you.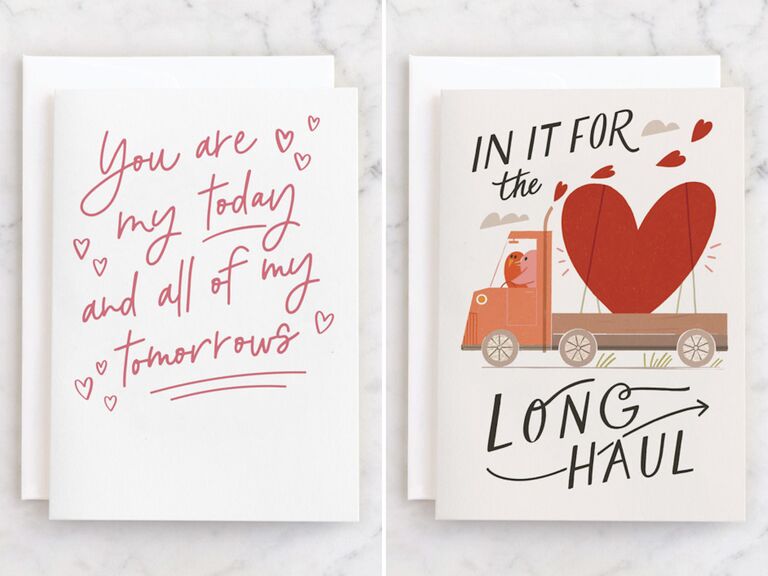 We have included third party products to help you navigate and enjoy life's biggest moments. Purchases made through links on this page may earn us a commission.
V-Day love confessions have come a long way since we were filling our classmates' cubbies with cards. (We'd give the best one to the object of our affection at the time.) Now, you can make your fiancé feel just as special as your childhood crush with one of these flirty fiancé Valentine's Day cards.
From counting down the days until you can call your S.O. your spouse to likening your love to pure magic, these are the foolproof fiancé-pleasing Valentine's Day cards you'll want to add to cart before Cupid's holiday comes to pass. And don't forget to include a knockout Valentine's Day message, too. (We've also got you covered when it comes to what to write in a valentine card.) Those sentimental wordsmithing skills are sure to come in handy if you have handwritten vows in mind for your wedding day.
1. XOXO Kristen Grow Old With Me Fiancé Valentine's Day Card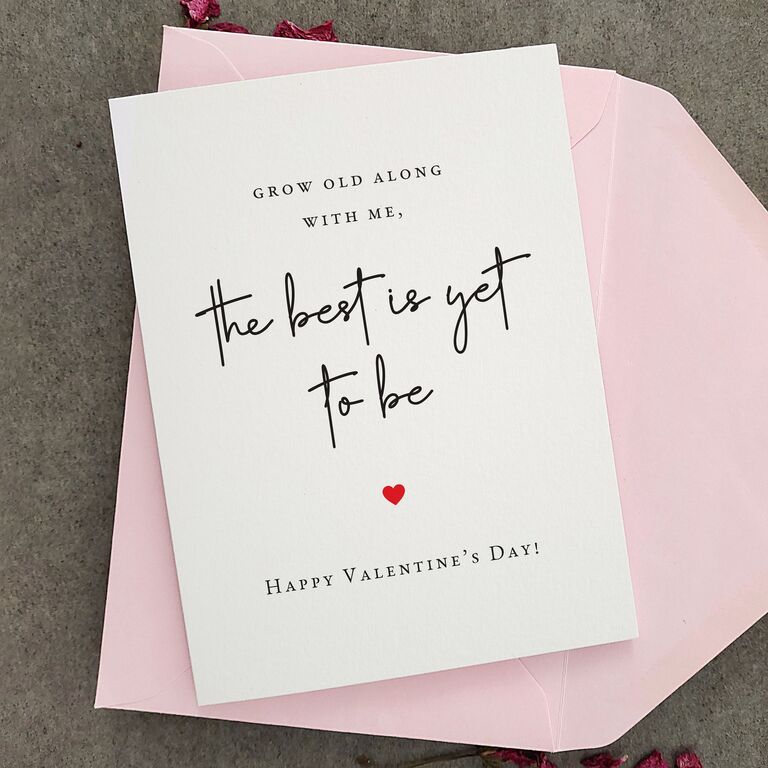 Happy Valentine's Day, fiancé edition. Those are the vibes we're getting from this simple, yet sweet card that hints toward your beautiful future together with help from a Robert Browning poem quote. The hand-lettered typeography is elegant and delicate—perfect for letting the heartfelt message shine. Choose from numerous festive envelope colors (we love the red and pink options, of course).
2. Oliver Bonas Frenchie and Pug Valentine's Day Card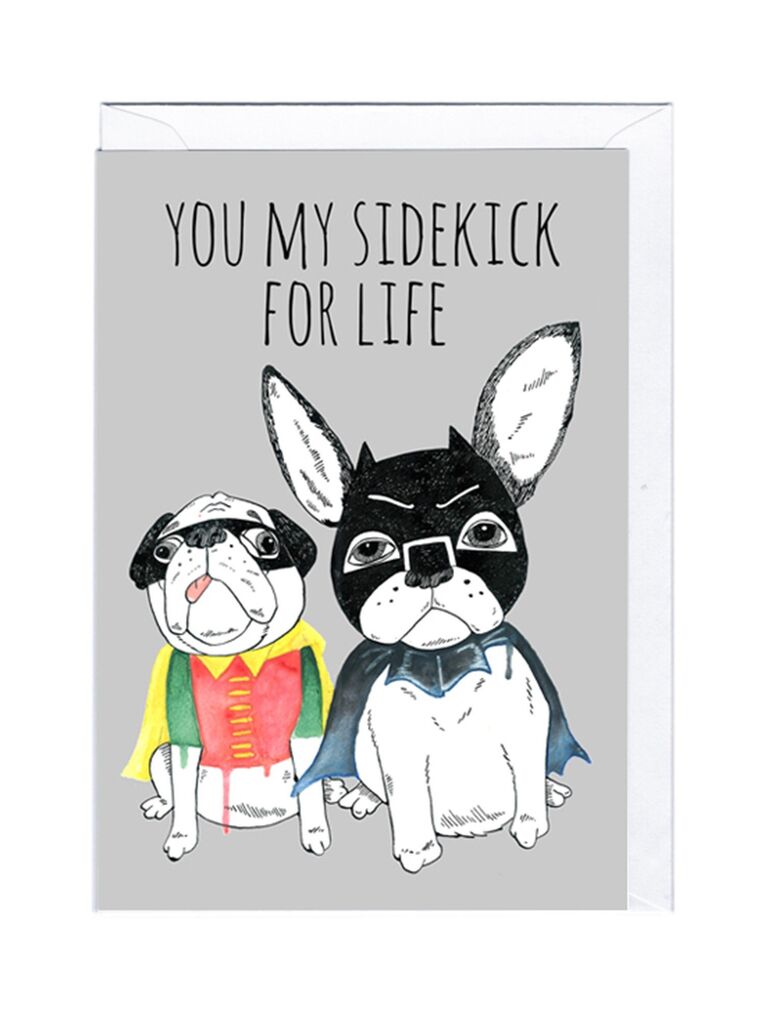 If you're planning on dressing up your pups for your wedding, then you'll probably love this Valentine's Day card for your fiancé. It features two pooch pals in superhero masks and capes below a modern typeface that says: "You my sidekick for life." While this isn't the most festive greeting card, if you'll be spending the night in, Netflix and chilling with your favorite four-legged friends, then it makes perfect sense. Use a red Sharpie to write their name on the envelope and call it a V-Day!
3. Caitlin Considine I'm yours. Card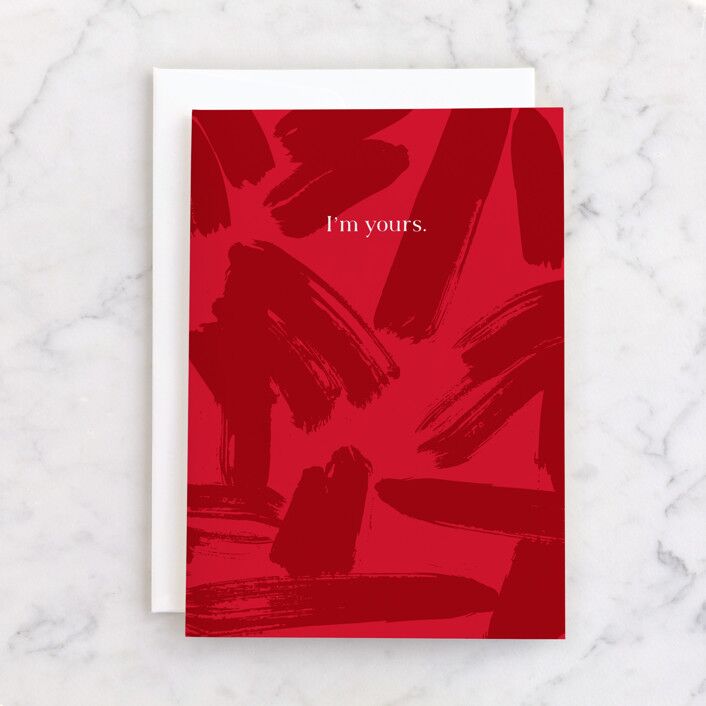 The thing about your partner asking you to marry them is, they've made a life-long commitment. So, you're well within your rights to say something like, "I'm yours. No returns," on Valentine's Day. The tone is sweet and cheeky and perfectly matched with the simple scarlet red card and cardinal brushstroke design. And you have the option to personalize your card with a heartfelt message ahead of time or receive an unsigned card that you can fill out at home.
4. Hallmark "I Do" Romantic Valentine's Day Card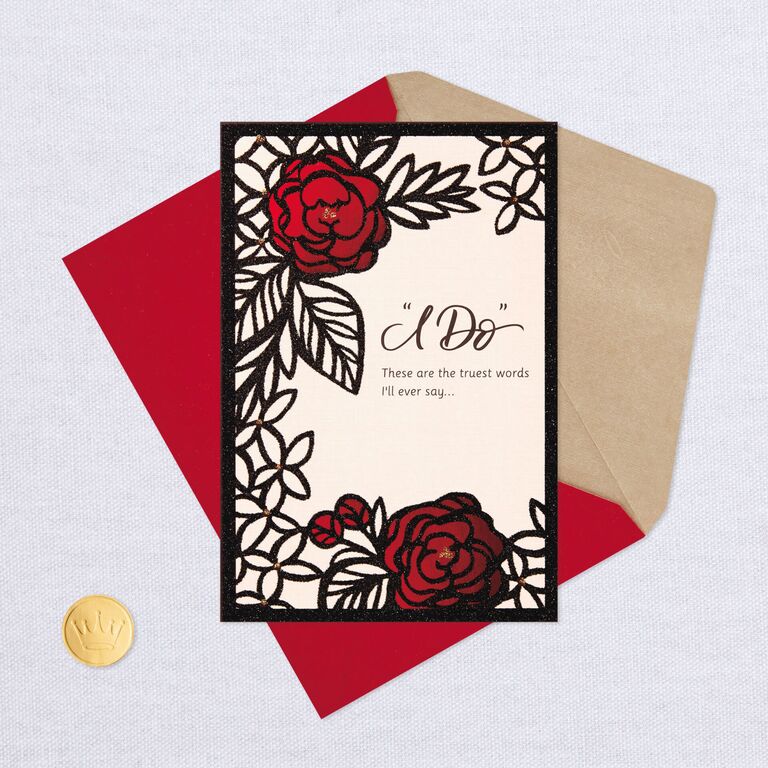 Even if your official "I do"s are still weeks or months away, you can start practicing your pledges with this deeply romantic Valentine's Day card. Once they've gotten through the "I do love you, want you, desire you, and need you. I do want to wake up to you each day, hold onto you at night—keep building this life and perfecting this love with you,'' part, your fiancé will be smiling from ear to ear. The red roses on the front, with flicks of glitter and foil, are especially eye-catching.
5. Erica Krystek My Everything Valentine's Day Card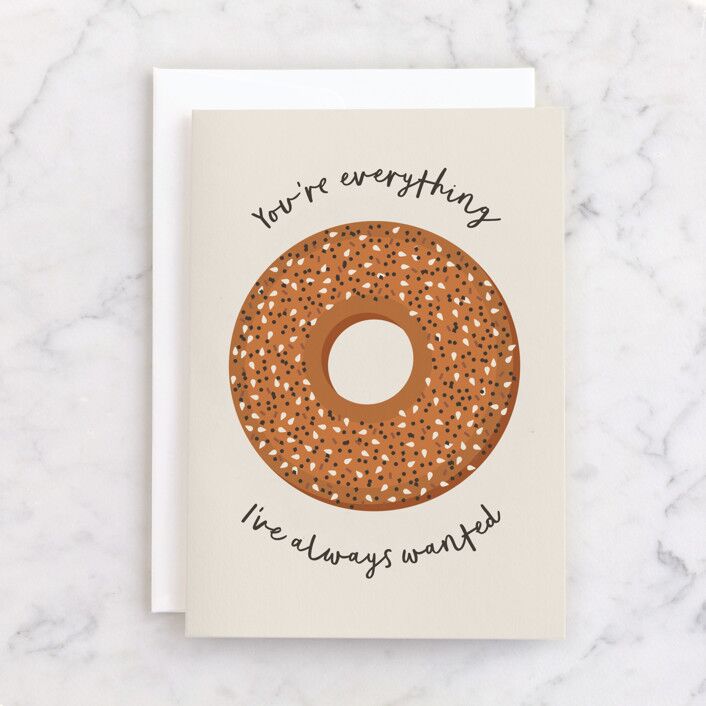 If your fiancé is your everything, show them some love with this everything bagel-themed Valentine's Day card that's sweet and a little silly. It's especially appropriate if you're an NYC-dwelling couple or your Sunday morning bagel runs are the highlight of your week. You can also add a custom printed message, if you'd like.
6. Papyrus Heart Beat Valentine's Day Card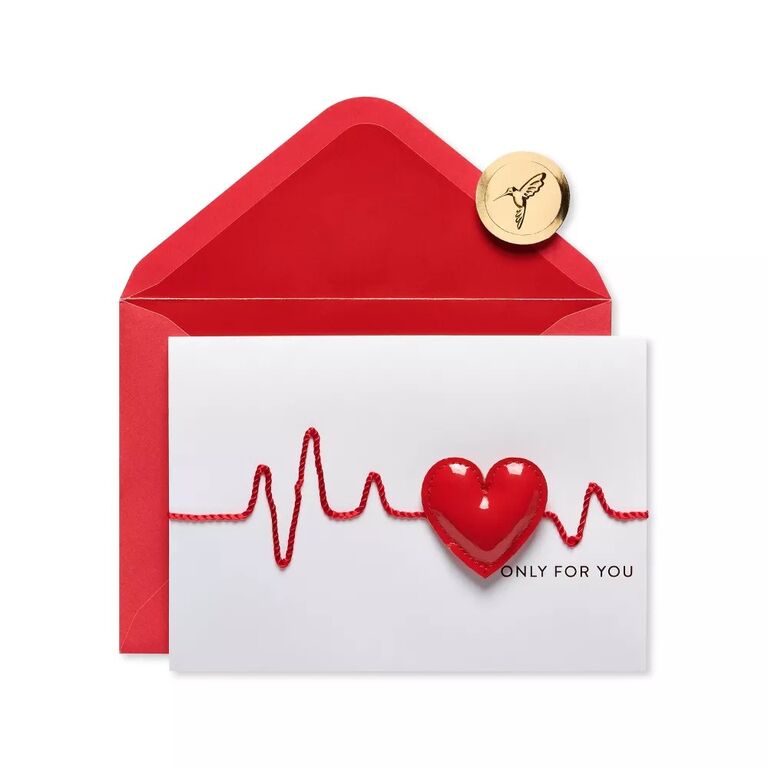 Sometimes a heart-shaped gift or card, in this case, is the most direct course to their heart. This creative design features a heart rate monitor cord stitched behind a glossy vinyl red heart and simple, yet heart-racing sentiments in metallic red foil and plain white typeface ("Only for you," and "My heart is yours," respectively) sure to make your sweetheart blush. If you fell in love in medical school or while you both were finding your specialties (cardiology, perhaps?), then this V-Day card is right on track.
7. Hannah Williams Permanent Card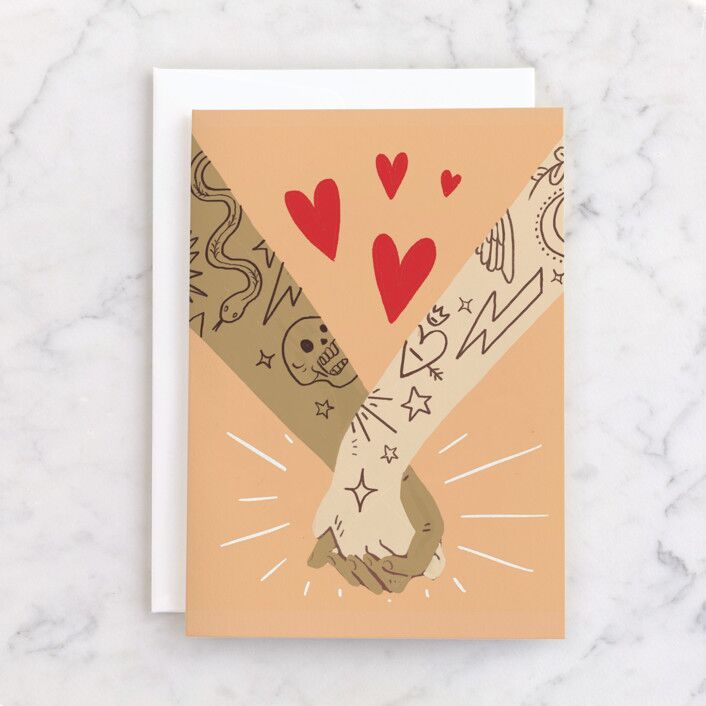 So getting matching tattoos on Valentine's Day doesn't have to be part of your plan, but you can still nod to the "permanence" and foreverhood of your engagement with this fun and playful card. The front features an illustration of an inked-up couple holding hands with red hearts dancing in the background. The inside reads: "Our love is permanent" in an attractive etched-looking typeface. Who knows, it might even inspire you to consider a wedding ring tattoo for the big day. We're here for it!
8. Hallmark Reveal Our Destiny Interactive Wheel Valentine's Day Card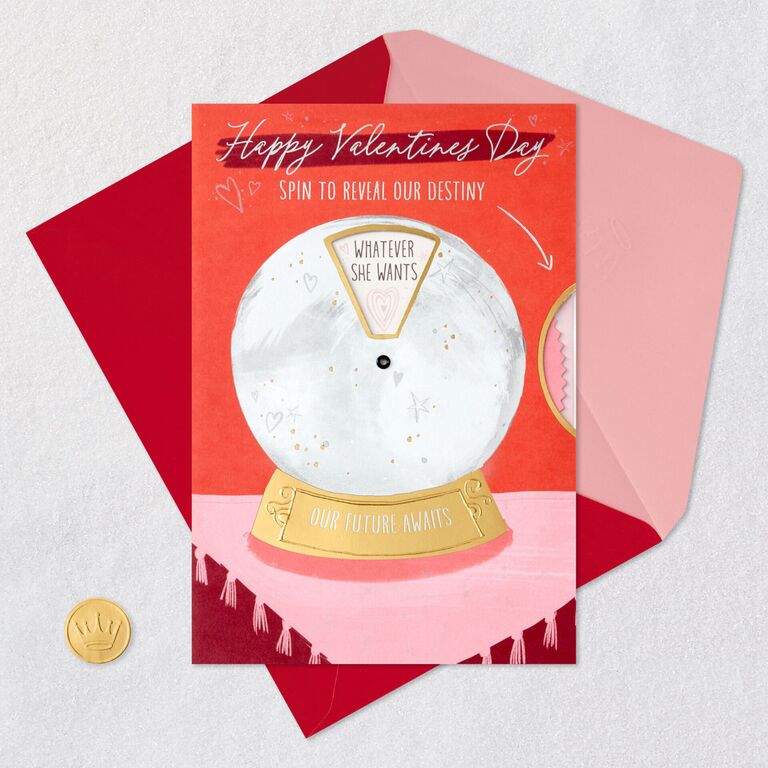 You know those Instagram reels with one partner letting the other pick their surprise? (New bag or new shoes? Starbucks or Dunkin'? Blowout or nails?) This cute crystal ball prediction card is kind of in that same vein. For a Valentine's Day date night, she can spin for a chance to "go out to dinner," "binge watch shows," "get takeout" or "whatever she wants." If you've been taking your time with the big-day preparations since the proposal, then that might be "stay in and wedding plan."
9. Pixel and Hank My Forever Card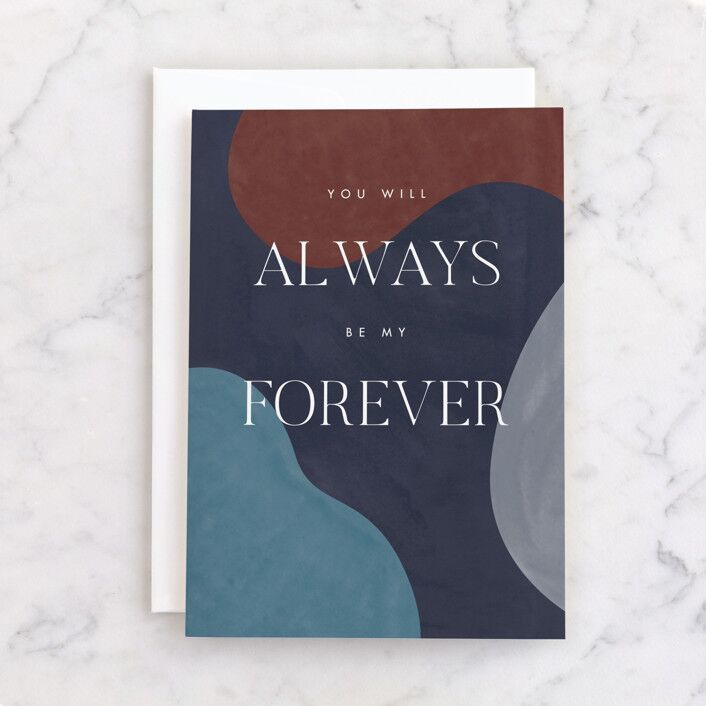 Take this to heart: Even though there's a whole lot of red, pink and white flying around on Valentine's Day, you can still be romantic and passionate without it. This card's textured navy-and-neutral background is bewitching, serving as the perfect canvas for a similarly intimate incantation: "You will always be my forever." And the white, all-caps typeface—which reads: "Happy Valentine's Day to the love of my life"—pops against the stormy gray tonality of the interior. Plus, since it's not overly themed, they can keep it up on the refrigerator for as long as they want.
10. Papyrus Butter Half Funny Valentine's Day Card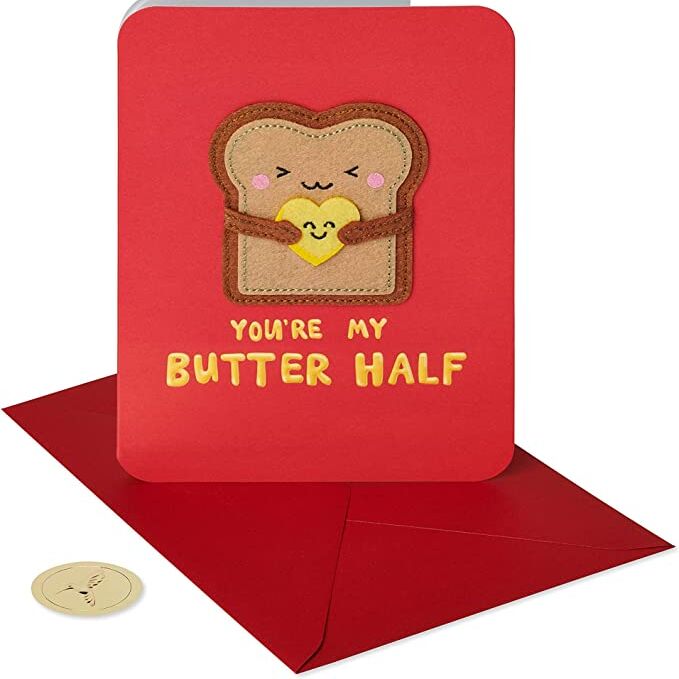 Puns make everything better. If you and your partner agree, then you'll eat this one up! The delicately hand-stitched, soft felt piece of toast bursts with excitement over the words, "You're my butter half." The warm tidings continue on the inside: "You make my heart melt, Happy Valentine's Day." Want to make it even butter? Place the card next to a plate of French or fancy toast and wake your fiancé up with breakfast in bed.
11. Coco Munchkin Studio Fiancé Valentine's Day Card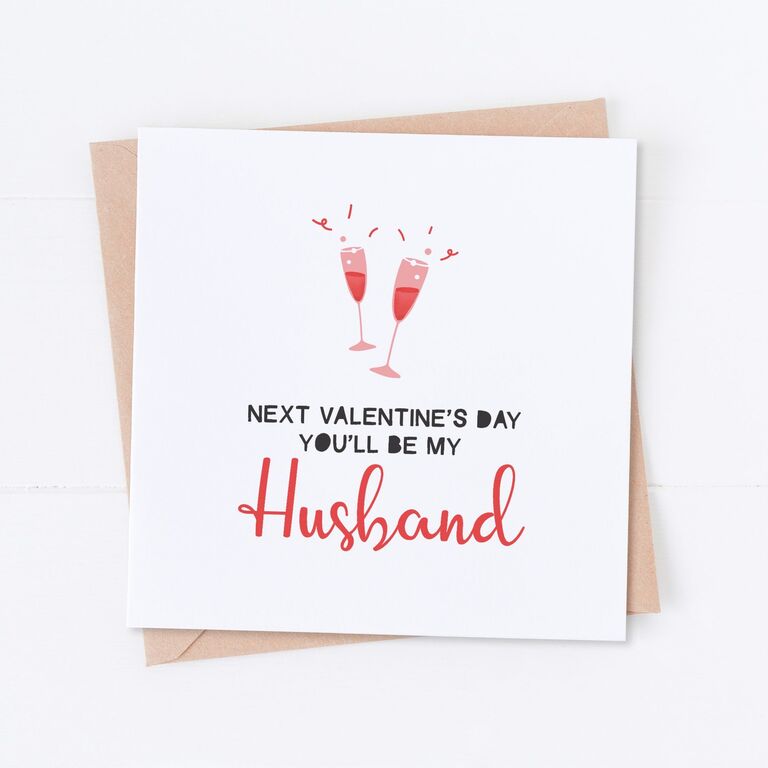 Boy, does this card give us butterflies. Two clinking glasses float above a message that reads: "Next Valentine's Day you'll be my husband." That's exciting enough, in our opinion, but you can also fill the inside with your own sweet inscription. Maybe something about all of the future events and special occasions you can't wait to toast to throughout your engagement, wedding and beyond?
12. Paper Source The Lovers Tarot Valentine Card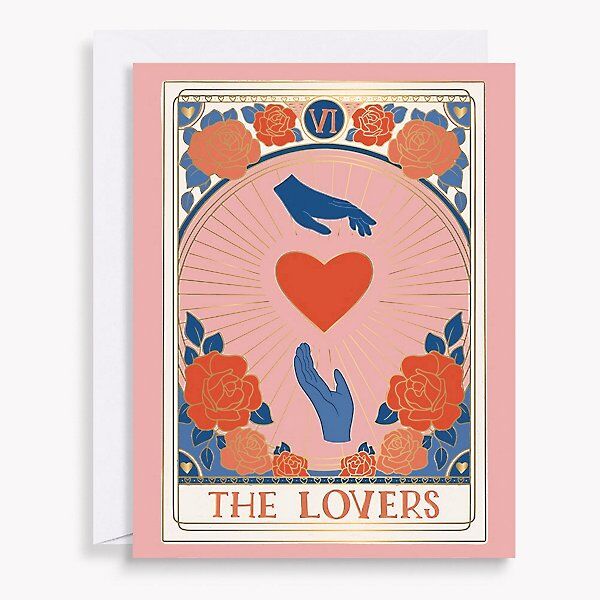 Pulling the Lovers card (especially upright) in a tarot deck means happy things are on the way for you. The same can be said about your engagement and the happily ever after that follows. So, grab a pen and fill the blank space inside this card with all of your hopes and dreams for you and your fiancé's future. If you've been toying around with some cool interactive elements for your wedding reception or after-party, like a tarot card reader for your guests, then maybe you could use this Valentine's Day card as a jumping off point for conversation!
13. Hallmark Heart Eyes Musical 3D Pop-Up Valentine's Day Card With Light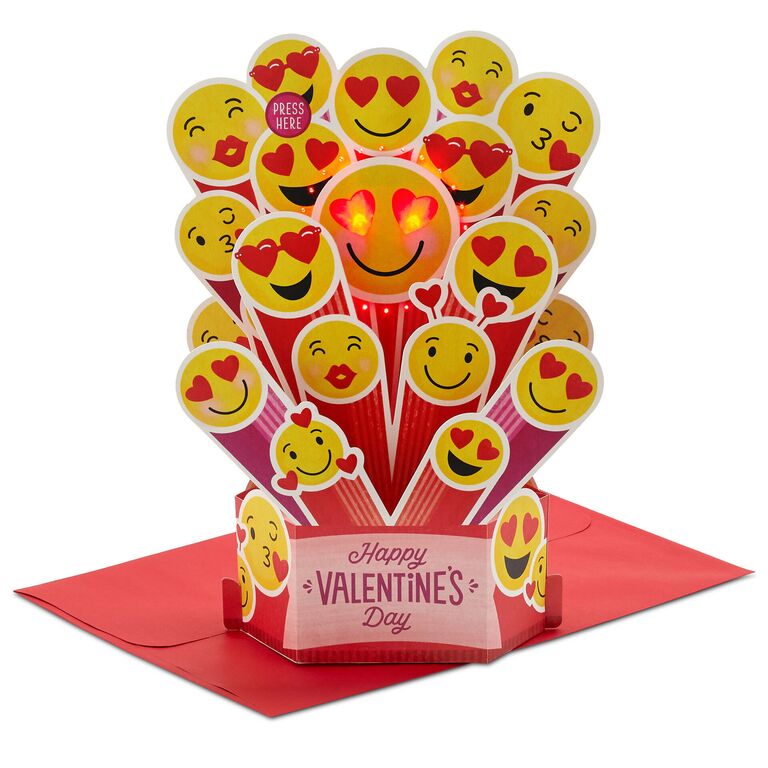 Assuming your fiancé is the recipient of many of your heart-eyes-emoji-filled texts, this musical pop-up Valentine's Day card is very on-point. When your partner presses the button on the front, the card lights up, illuminating a family of lovey emoticons while "You Make My Dreams [Come True]" by Hall & Oates plays through the card's speaker. "All the heart eyes, all for you," is written across the bottom banner.
14. Jessie Steury Today and Tomorrow Card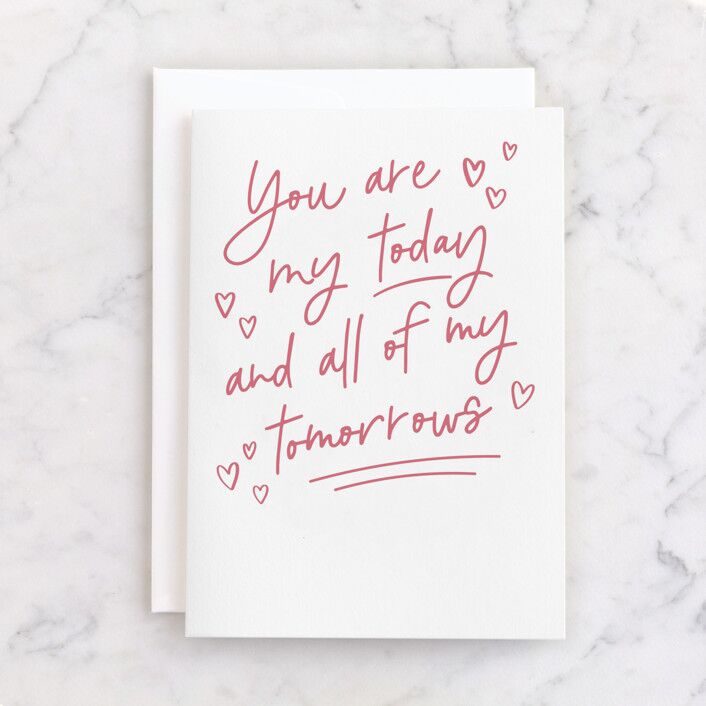 When you're engaged, your S.O. is not just yours on Valentine's Day, they're yours for all of the days to come. We're suckers for the sketched hearts surrounding the main message on this card. It feels like a real love letter, doesn't it? It just needs that sealed-with-a-kiss pout impression on the envelope.
15. Morgan Ramberg The Long Haul Card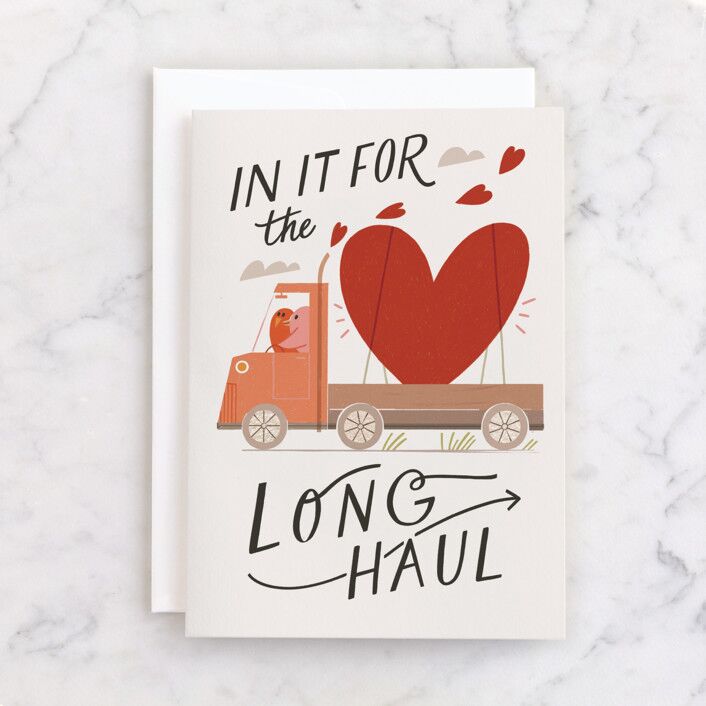 Are you moving in together ahead of your wedding? If so, then this Valentine's Day card with a moving truck and heart is such a great idea. Two little birdies sit up front in the cab, as the words "in it for the long haul" sprawl across the top and bottom and tiny hearts pipe out of the exhaust. Cohabitation has never looked cuter.
16. Hallmark I Freaking Love You Valentine's Day Card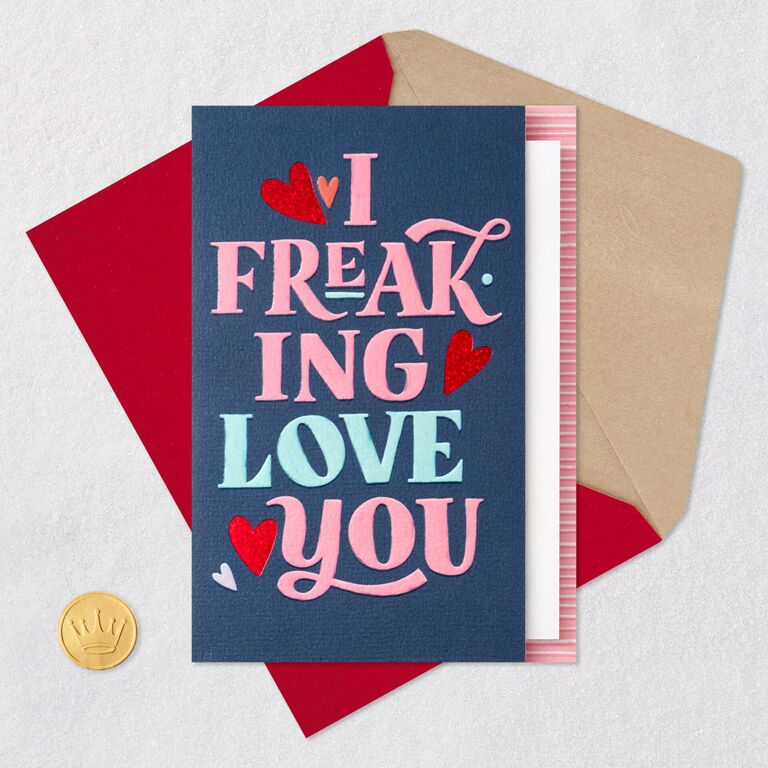 It goes without saying that if you're getting married, then you're probably head over heels for each other. But in the flurry of wedding planning, sometimes those words aren't said enough. This Valentine's Day, remind your favorite person in the world that you're their #1 fan with a card that quite literally says: "I freaking love you."
17. Vivian Yiwing Gray & Wrinkly Card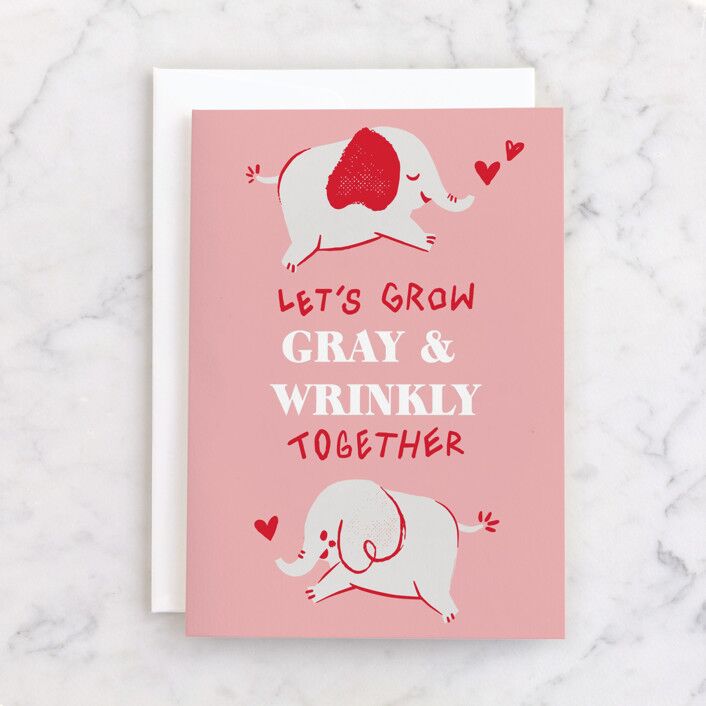 Make sure your fiancé knows you'll always think they're cute, even when you're old and gray, with this adorable card. The elephant couple makes us smile and the blushing pastel color scheme is perfect for V-Day. And the simple message inside is easy to add a personal touch to.
18. Paper Source Student Loan Debt Love Card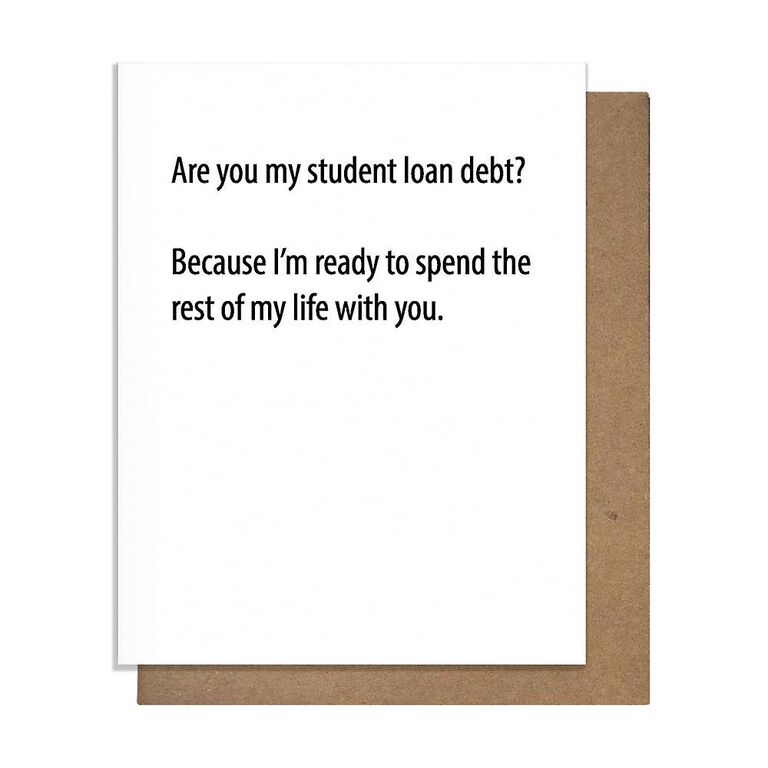 A little humor can go a long way when you've found your forever love. And especially if you and your fiancé met in college, this funny fiancé Valentine's Day card is sure to get a chuckle out of them. It's blank inside, so you can sweeten it up with your own message, if you'd like.
19. Hallmark You Mesmerize Me Romantic Valentine's Day Card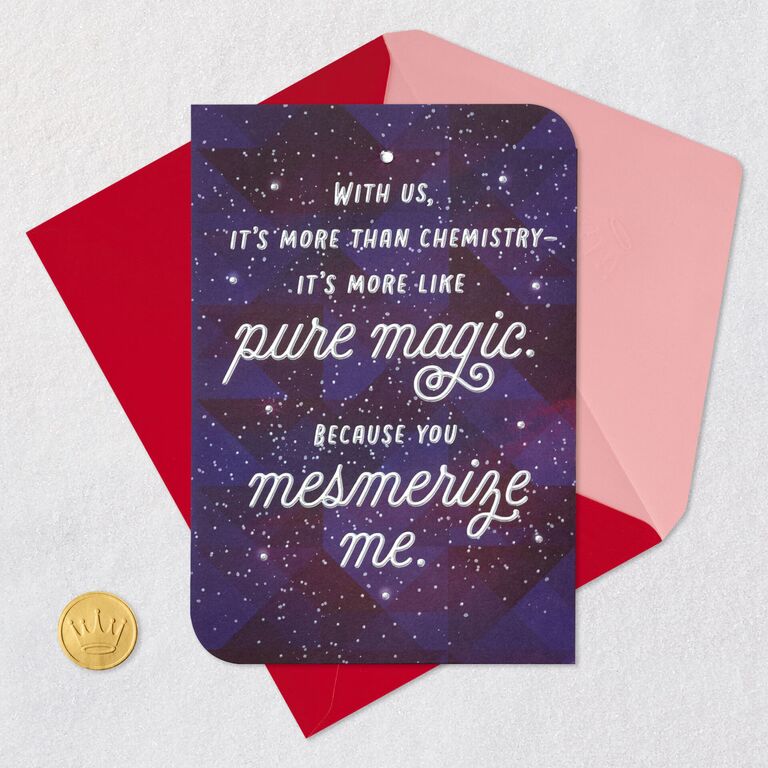 The starry night sky design, prismatic foil and embossed details bring a magical quality to this Happy Valentine's Day fiancé card. With florid turns of phrase and love mentioned more than once, it's the perfect card to express just how much your spouse-to-be means to you, especially if you're not lovey-dovey on the reg. Pass the envelope over during a romantic stargazing moment.
20. Hallmark You're Still the One Valentine's Day Card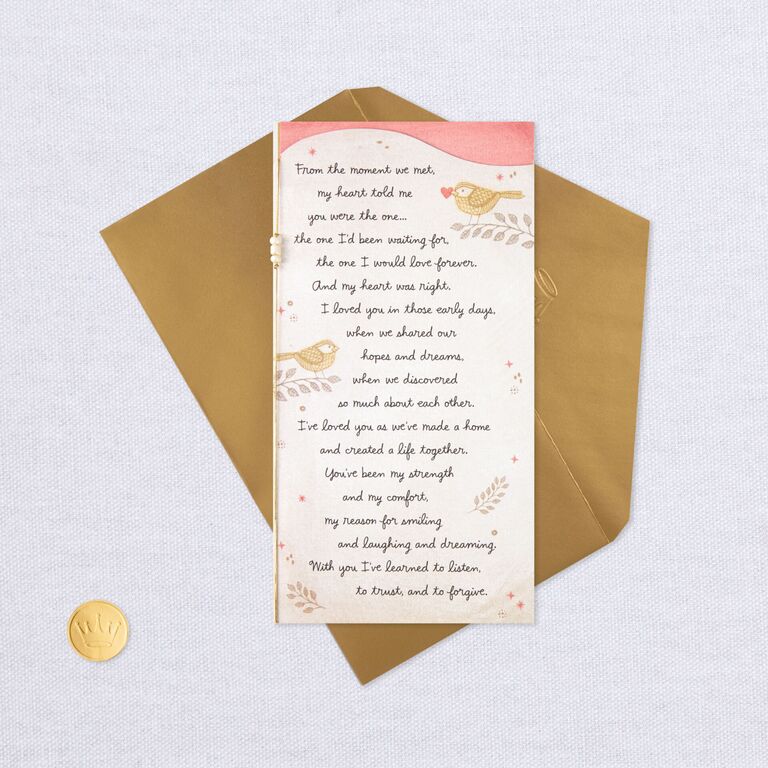 If your couple love language is words of affirmation, then you might like a long-winded Valentine's Day card—this one soars with two adorable lovebirds. The message covers everything from your formative years together to your latest ventures (your engagement, notably), all of which have had you smiling, laughing and dreaming. Our favorite part comes at the end, with the words: "Each time I hold you close, my heart still tells me you're the one, the one I'll love forever." This card is especially sweet for couples who've had a long engagement or have been together for many years before the ring.