19 Engagement Mugs for the Soon-to-Be Newlyweds
Yes, there's a wedding to plan. But first, coffee.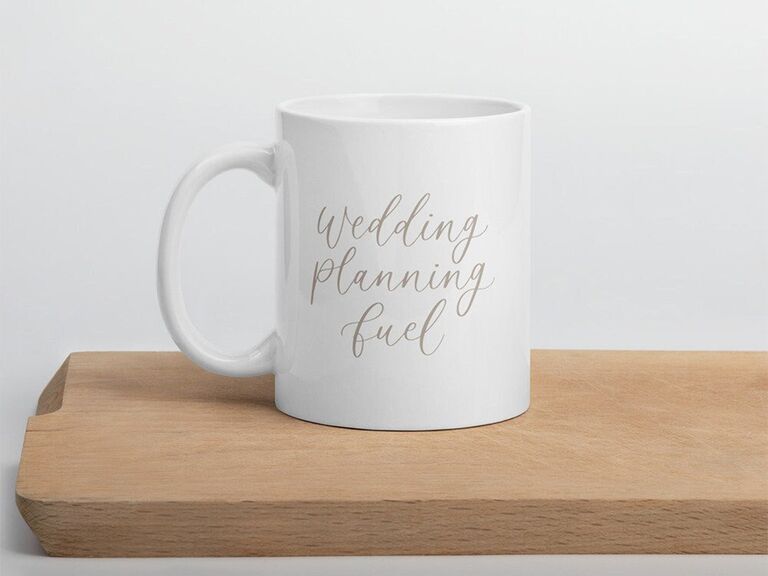 We have included third party products to help you navigate and enjoy life's biggest moments. Purchases made through links on this page may earn us a commission.
If you're looking for a gift to celebrate a newly engaged couple, it's hard to go wrong with engagement mugs. Before the registry is even a glimmer in a newly-engaged couple's eyes, these mugs can be a welcome addition to their homes. Whether you're shopping for yourself or a loved one, it's a fun and affordable way to flaunt a new relationship status. And besides, caffeine is a necessary part of the wedding planning process. If you're looking for an engagement mug, we've got you covered. Here are 20 coffee mugs for you or a friend.
Written By Jane Future Mrs. Coffee Mug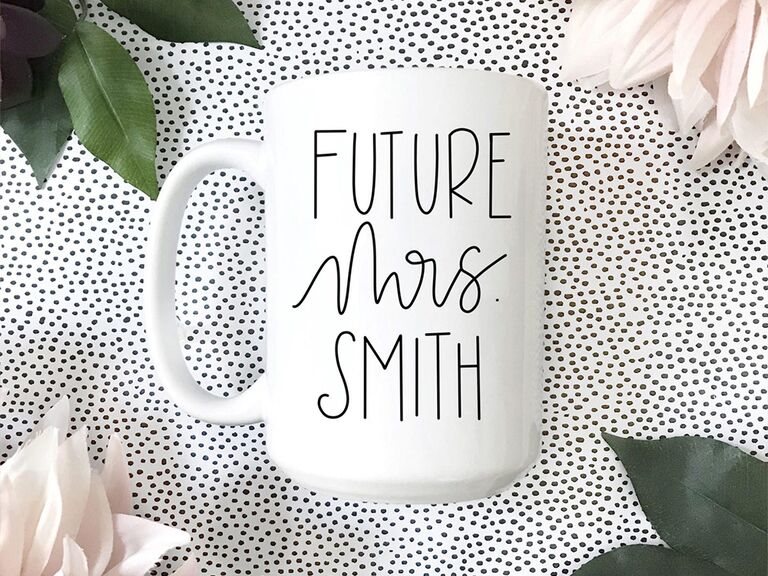 Delight and surprise a newly engaged friend (or just treat yourself) with this personalized "future Mrs." mug. Choose from two different mug sizes and color options for a fresh take on an engagement gift.
The Knot Shop Does This Ring Make Me Look Engaged Mug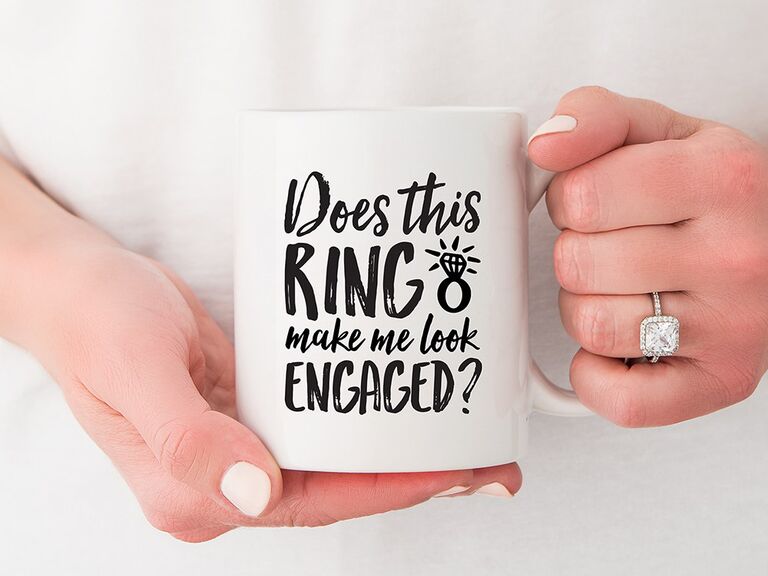 This cup was designed for showing off bling. Not only does it playfully call attention to a new ring, but it's also designed to be held left-handed so the diamond in question is on full display. On the back, personalize it with a future last name or engagement date.
Modish Outdoors Custom LGBT Engagement Camping Mug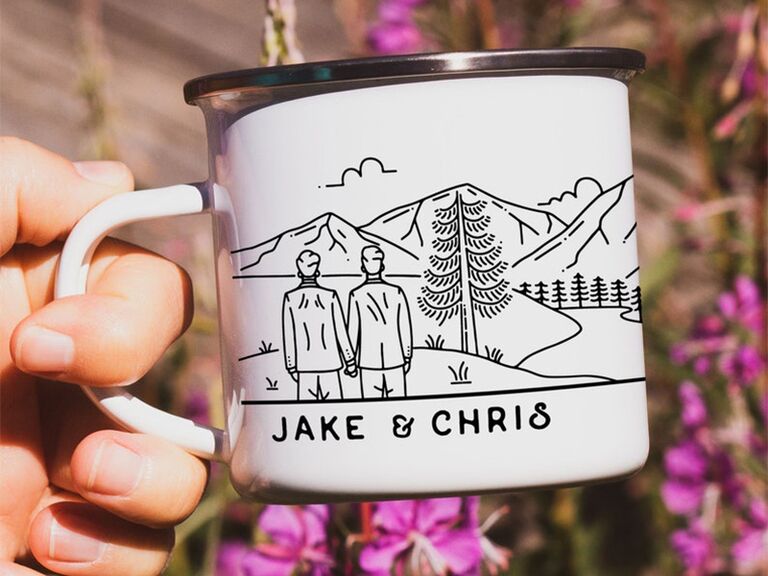 A personalized enamel campfire mug is the ideal gift for an outdoorsy couple. The mug features an adorable, hand-drawn illustration of a same-sex couple amidst a picturesque mountain scene. If you what a set, just make a note of it at checkout so they'll ship together, though you will have to order both separately.
Violin Events Made for Each Otter Coffee Mug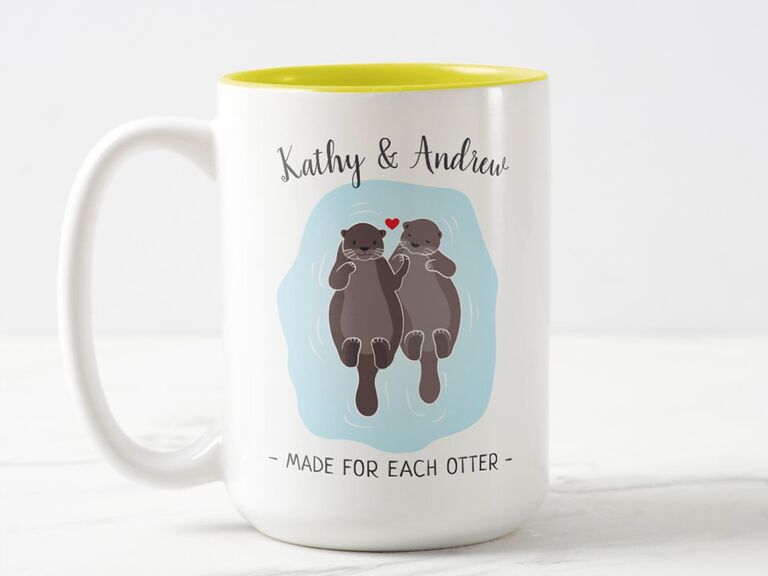 Any newly engaged couple knows the feeling of being made for each "otter." The phrase at the bottom can also be edited to include a date, location or inside joke. This mug doubles as a great Valentine's Day, anniversary or just because gift.
GraphiLove We Swiped Right Coffee Mug Set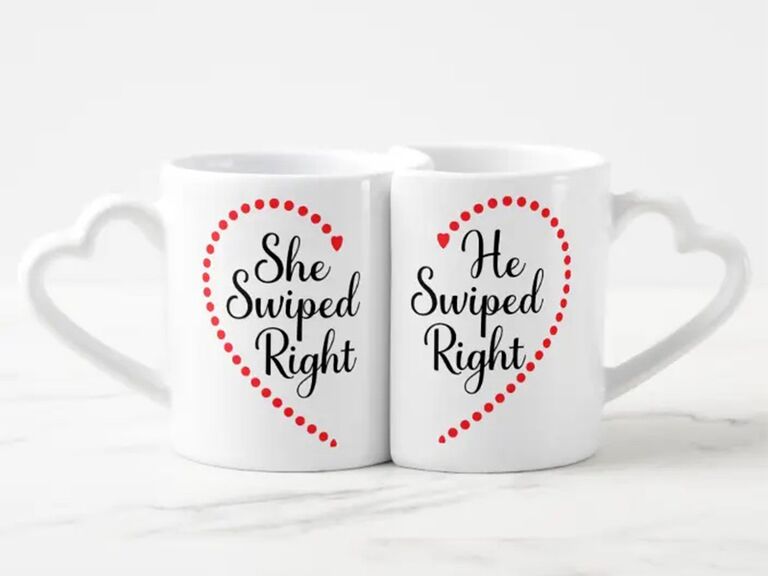 For couples who met online, these coffee mugs are a touching tribute to their real-life love. The set fits perfectly together: Not only do the two hearts complete each other, but the mugs nest together as well.
Pirouette Paper Shop Wedding Planning Fuel Mug
Jump right into wedding planning well-fueled with this coffee cup companion. Pair it with a coordinating "this is my wedding planning sweatshirt" to bring lots of comfort (and caffeine) to even the most stressful parts of the process.
Details Matter Studio Off the Market Mug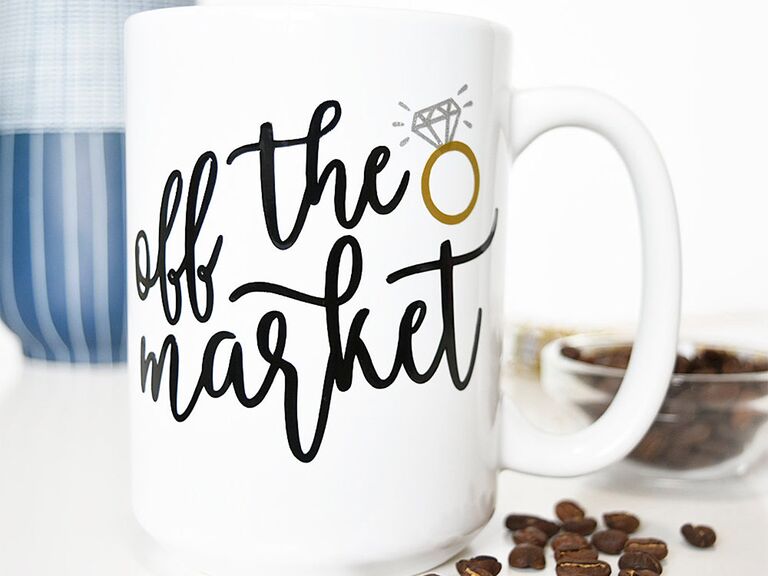 Whether you're looking for a gift idea or even just a way to subtly brag about your newly engaged status, this ceramic mug gets the job done. An eye-catching graphic engagement ring makes the mug stand out, but you can further personalize it with different font colors including glittery and metallic options.
Alex Anderson I Put a Ring on It Coffee Mug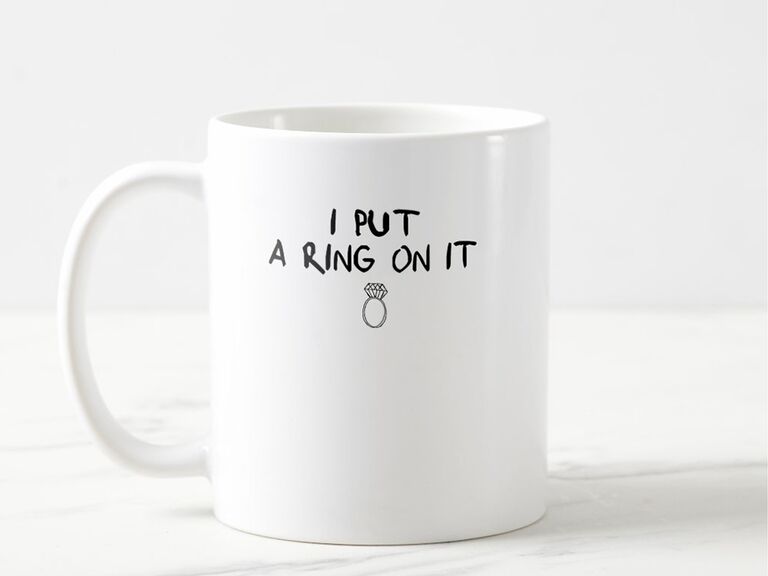 So many mugs celebrate the future Mrs. This mug lets the groom-to-be (or whoever popped the question) get in on the fun as well.
Coveted Gift Leveled Up to Fiance Mug
This fiance mug is a cheeky nod to the couple's newly unlocked achievement and is a great gift for gamers. It's also cute enough that it can be enjoyed long after the betrothed have leveled up again to being a married couple.
Personalization Mall We Go Together Like... Mug Set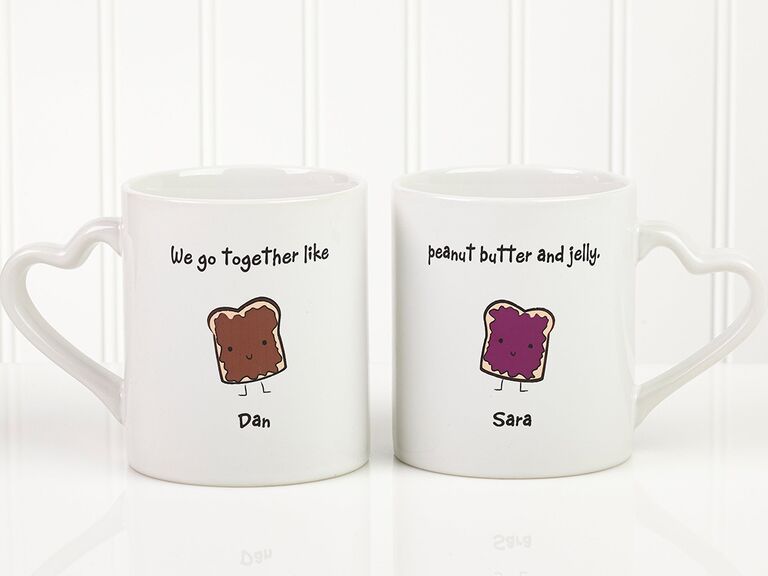 You're the perfect pair and everyone knows it! This mug set is for couples looking to celebrate their engagement with a twist. It also makes for a sweet gift from friends and family at an engagement or bachelorette party.
The Knot Bridal Party Love You More Coffee Mug Set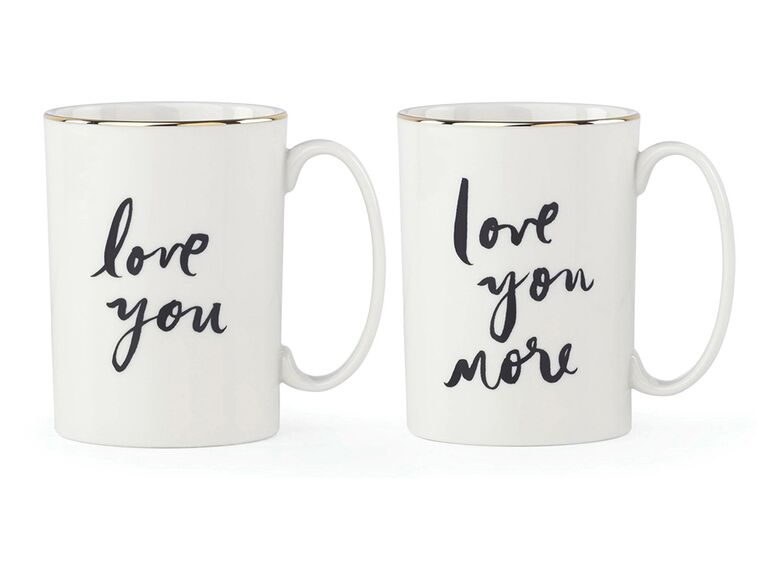 The sweet sentiment of this couple mug set can be given as a thoughtful engagement gift, wedding gift or anniversary present. And since either person can have either mug, you don't have to worry about keeping track of whose is whose. (Of course, you can probably expect plenty of good-hearted debates over who really loves whom more.)
Modernly Chic Designs Ring Finger Mug Set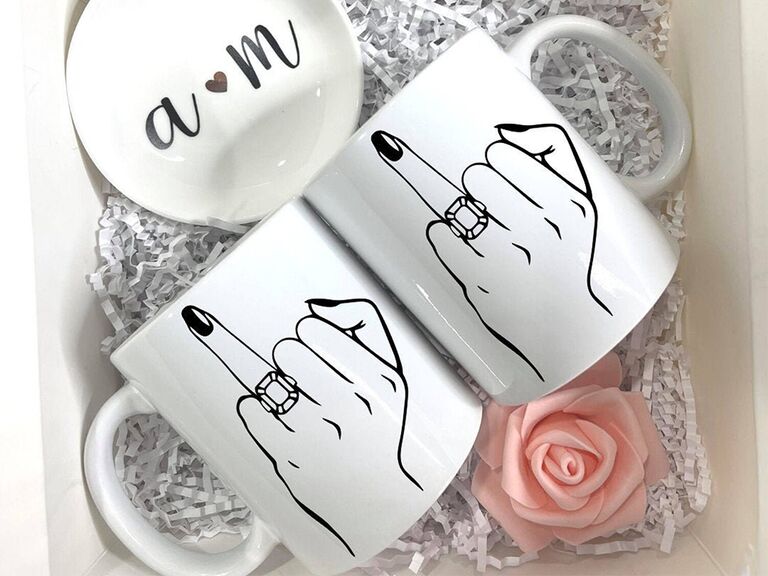 Two diamond rings mean twice the fun. This set lets both brides-to-be celebrate their engagement. Add a gift box and ring dish with their initials for an extra fee.
Digibuddha For Like Ever Coffee Mug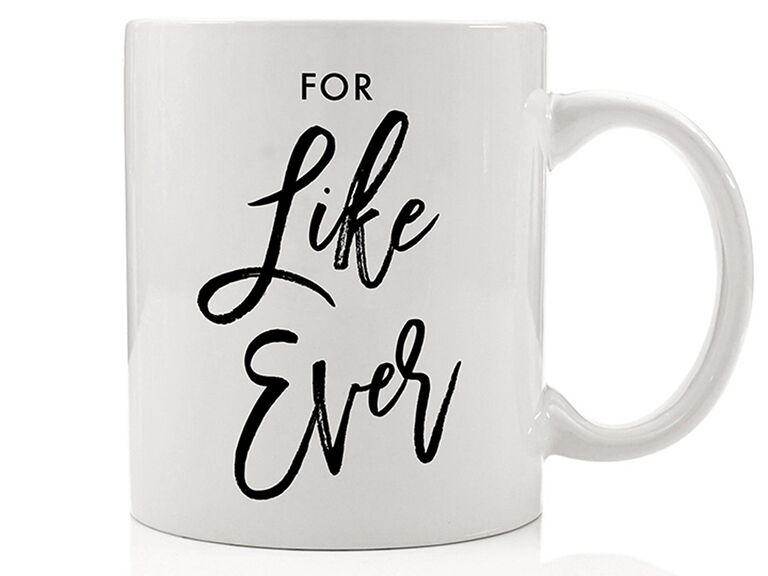 You don't have to be engaged to get behind the sentiment of this mug. Purchase it as an engagement gift, or give them out (filled with treats) as a bridal shower gift. They can be a testament to friendships and loves that last forever.
The Knot Miss to Mrs. Thermal Travel Mug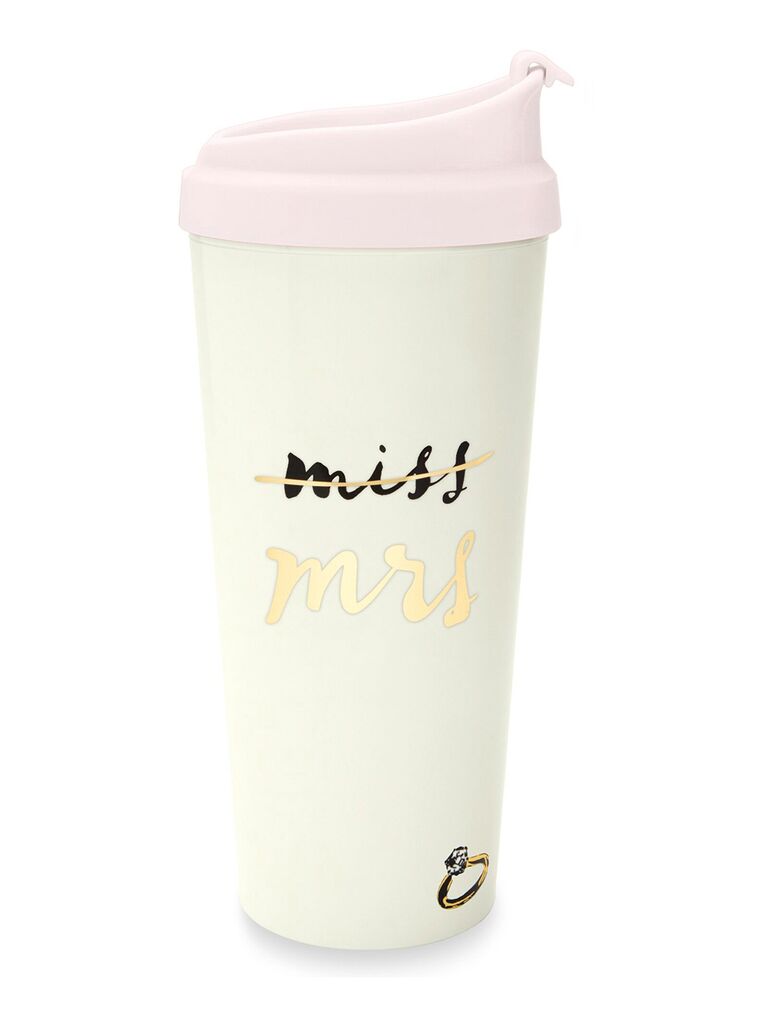 This travel mug can be by the bride's side wherever she goes before, during and after her wedding. Insulated to keep both hot drinks hot and cold drinks cool, it's also dishwasher safe and BPA-free. Fill it with wedding day essentials like a stain stick and gum for a clever and useful gift from the bridesmaids to the bride.
Lucid Customz I'm Getting Meowied Mug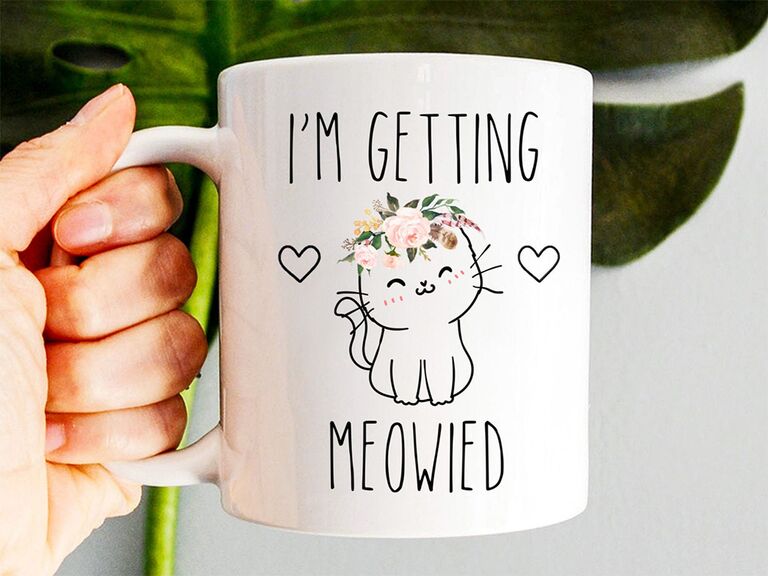 We love this adorable engagement mug for cat lovers. Choose from a variety of colors and mug styles to create the paw-fect coffee cup. While the ceramic options are dishwasher and microwave-safe, the metal and glass ones will have to be hand-washed.
Southern Paper And Ink Engaged Map Mug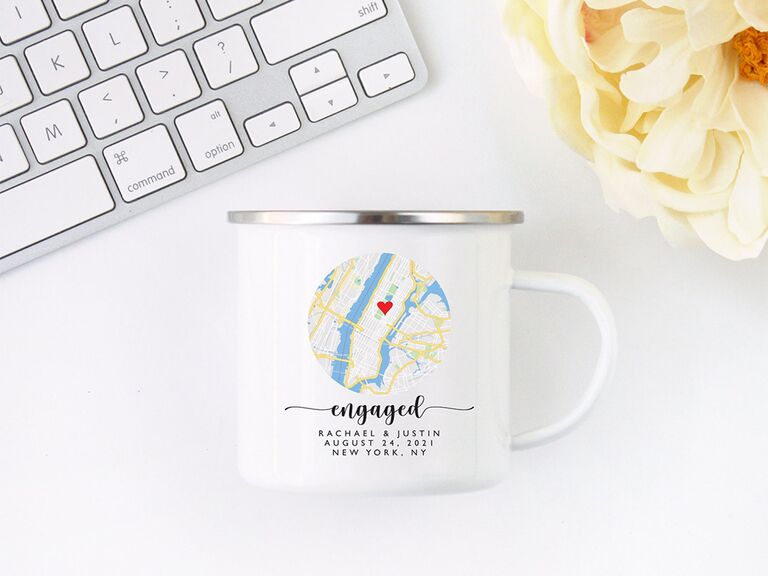 For a truly unique way to commemorate where you said "yes," this mug literally puts your love on the map. Any city can be included, and, if you want, a heart can be placed over the exact location. You can also customize it to say "married" instead of "engaged" for an equally thoughtful wedding mug.
Tiny Acres Gift Shop So Happy Together Mug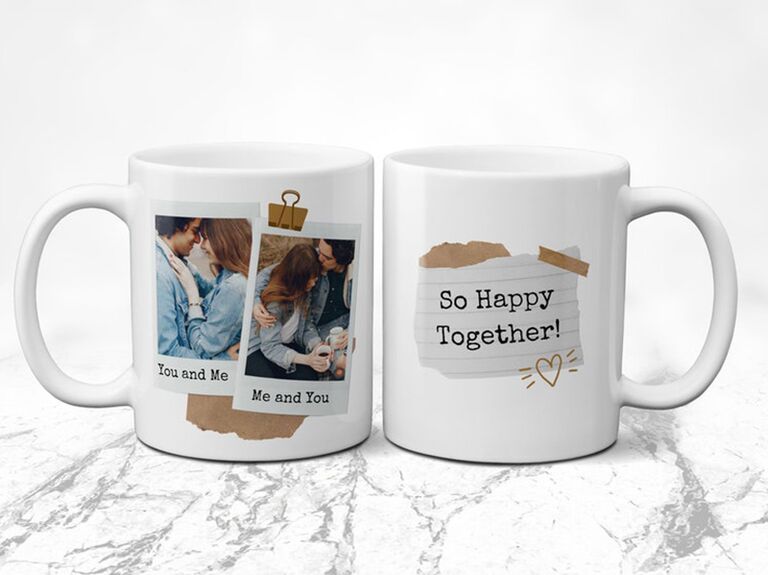 When you get your engagement photos back, you'll want to show them off everywhere—even on your coffee. This custom mug lets you pick out two favorite snaps so you can relive those memories again and again. This would also make a sweet Valentine's Day gift for your beloved.
Graceful Giftings Future Wifey Mug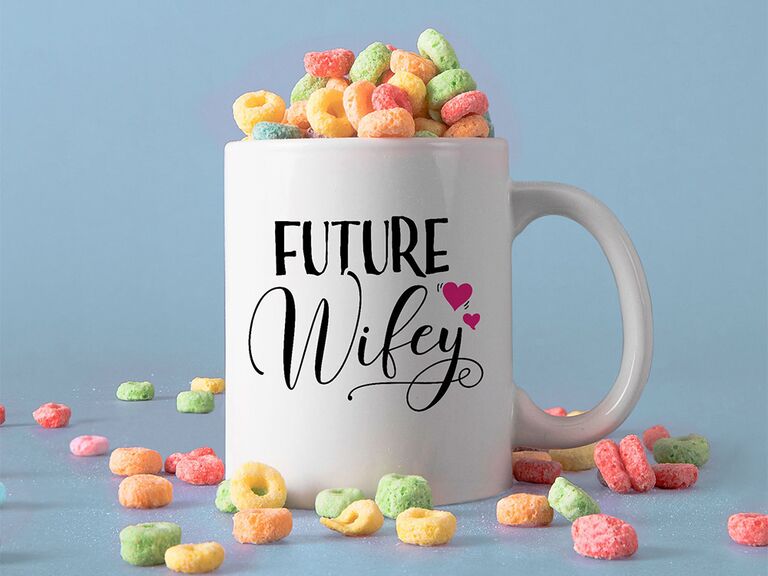 Give your newly affianced (that's engaged!) friend or loved one this "future wifey" mug and they'll enjoy many future cups of tea or coffee dreaming about the big day.
The Love Cluster Engagement Mug Set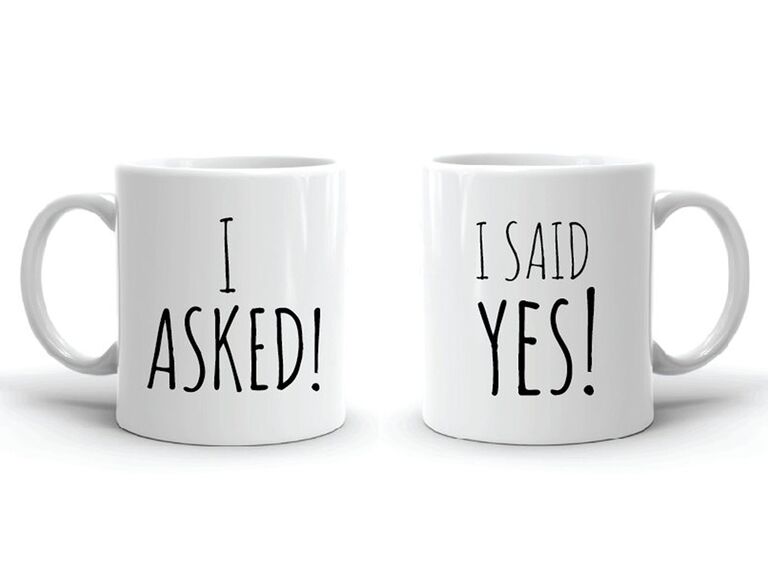 Perfect for an engagement announcement, the back of these mugs can also be personalized with the couple's name and engagement date. It will be a beloved keepsake long after the social media congratulations stop rolling in.