Everything You Need to Know About Getting Married in Indiana
Look to The Knot for local details about getting married in Indiana, from choosing your wedding venue to getting your marriage license.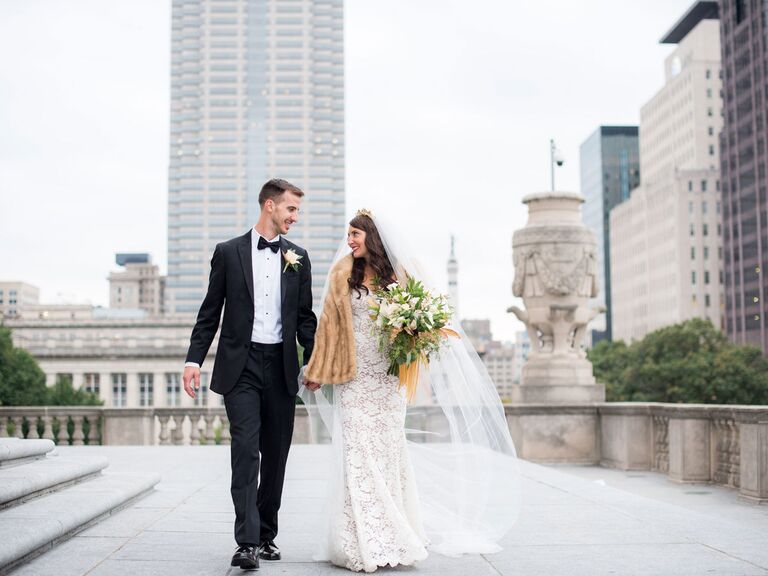 Sarah and Rachel Photography
Ultimate Guide to Getting Married in Indiana
Indiana's official motto, "The Crossroads of America," aptly describes the highways, rail lines and ports that sprinkle the state. Flat, rolling plains and rugged hills offer a pleasing contrast to the manmade structures. Over time, glaciers created a significant portion of Indiana's beautiful terrain. Multiple river systems and more than 900 lakes provide stunning water views for Hoosiers who appreciate the great outdoors. You could wed in front of Indiana's colorful gardens or take advantage of the simple beauty of a farm.
If you're a Hoosier who prefers an indoor event, select from historic homes, spacious banquet halls or traditional religious venues. Wedding venues in Indiana provide the supreme backdrop for your wedding day activities. Use our helpful guide to plan the wedding of your dreams. From casual affairs to elegant formal events, there's a spot that satisfies your expectations for your nuptials, and will help your guests experience all that Indiana has to offer. And be sure to make it legal by learning about the steps associated with procuring a marriage license in Indiana.
Top Wedding Trends in Indiana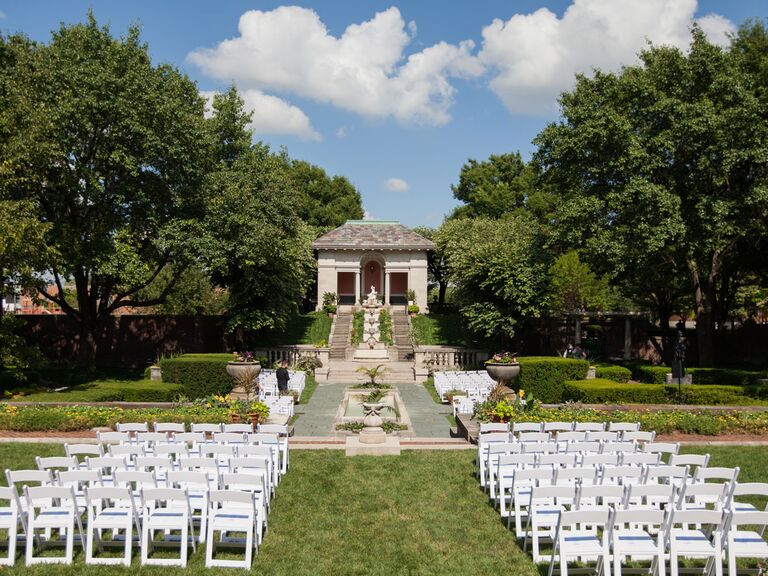 Indiana is home to a plethora of diverse wedding options, making it simple for you to plan an event that suits your preferences. When planning your wedding, consider what type of ambience you prefer for your ceremony and reception. According to The Knot 2015 Real Wedding study, 79 percent of couples opt for a semiformal or black tie event. Of this percentage, about 65 percent are semiformal, while 15 percent are black tie.
Couples who prefer a casual wedding day can easily find less expensive wedding reception venues in Indiana that meet their needs. About 19 percent of couples in Indiana prefer to host an informal wedding day.
When it comes to the wedding ceremony, the trend is to currently hold it in an interior location. Only 28 percent of couples hold their wedding ceremony at an outdoor locale, while 71 percent stick with the security of an inside venue. Religious buildings are the most popular interior spot, with historic buildings ranking second.
If you prefer to wed at an outside spot, barn wedding venues in Indiana are a rustic option. Other popular outdoor wedding venues in Indiana include private and public gardens. As you search for wedding sites, remember friends and family who have homes or businesses with lovely outdoor spaces, which could be turned into an extraordinary venue for your outdoor wedding events.
Hoosiers know that Indiana is a state that prides itself on its natural beauty, so include the enchanting scenery into your ceremony or reception by selecting sites with amazing landscapes. These landscapes provide gorgeous backdrops for your wedding day photos.
Indiana Marriage Rates and Wedding Costs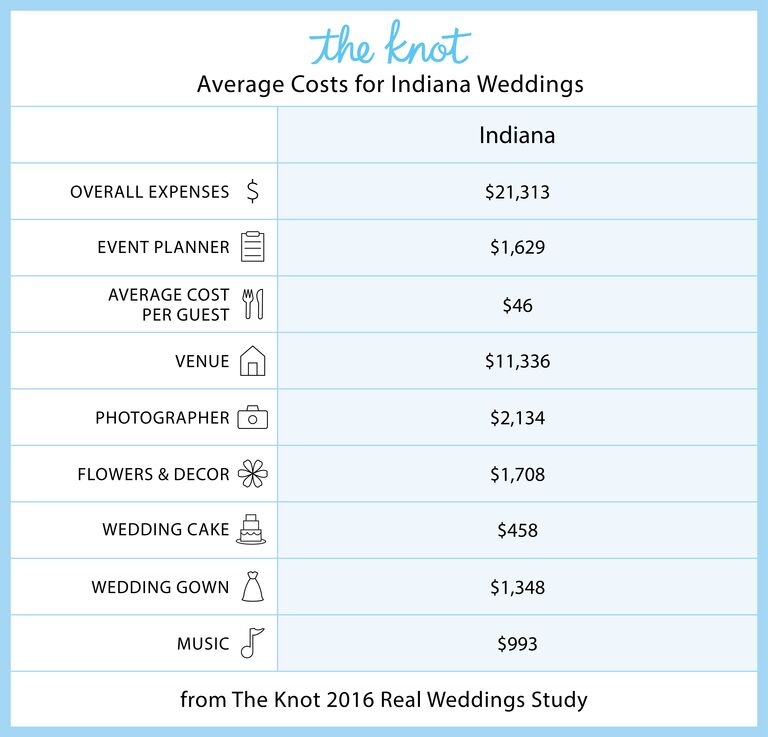 As you envision your wedding day, the numerous possibilities for your day are crowding your brain. Before you start making decisions, take a few moments to determine your budget. The Knot Budgeter is a useful tool to help you set and stick to your wedding budget. Once you know what you can afford and what typical wedding costs amount to, you're on the path to hosting a fiscally responsible wedding.

Indiana Marriage Stats

It may seem like everyone around you is newly married, planning a wedding or hoping to get married. In reality, the marriage rate for Indiana is only slightly above average, at 7.5 per 1,000 people. According to The Knot Real Weddings survey, couples in Indiana spend an average of $22,085 on their wedding (not taking into account the engagement ring or honeymoon). When you figure in their honeymoon, this amount rises to $27,481.
Budget Breakdown: Average Costs for Indiana Weddings
By researching wedding costs ahead of time, you relieve some of the sticker shock that occurs when you see a vendor's quote. The above chart includes the average costs for common wedding day expenses in Indiana.
This is just a fraction of common wedding day expenses. Other optional items include:
Transportation expenses
Costs to have makeup and hair done
Cost of gifts for the bridal party
Some brides find that an all-inclusive menu makes it easier to stick to their wedding day budget. Wedding packages in Indiana are a simple way to keep costs under control. You can even choose from different packages so you can customize your event specifically to your preferences.

Top Cities in Indiana to Get Married

Though the entire state of Indiana contains multiple spots ideal for an enchanting wedding, certain locales remain popular alternatives. From wedding venues in southern Indiana to outdoor wedding venues in Indianapolis, there's an exciting array of choices. Fort Wayne is another highly popular spot for memorable wedding day festivities.
Make It Legal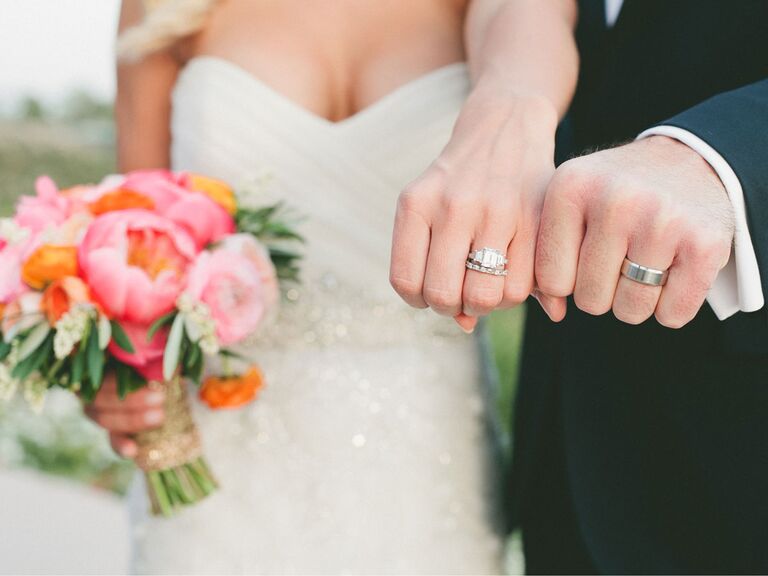 Wedding planning is full of fun events, such as cake tasting, picking out the tunes for your party and trying on wedding garb. Though the legal tasks of wedding planning aren't nearly as enjoyable, they're of the utmost importance to ensure your new union is legal.Follow along with your wedding checklist to make sure everything is done on time.
Getting a Marriage License: The Basics
In order to legally wed in Indiana, every couple must have a marriage license. You can apply for the license on the same day of your wedding, but this is not recommended. All it takes is one problem with your paperwork to delay your nuptials. Instead, apply for your marriage license up to 60 days before the date of your wedding. If you don't marry within the 60-day period, you must apply for a new marriage license.
If you or your partner is an Indiana resident, you may apply at the clerk's office located in the county that you or your partner resides. Nonresidents should apply for the license in the county where they plan to wed.
It's required that both members of a couple be present to apply for a marriage license.
To apply for a marriage license in Indiana, you must present one of the following forms of identification:
Driver's license
Passport
State ID card
Birth certificate
Check that your identification is current before applying, as expired forms of ID may not be accepted. If the identification is in a foreign language, you may need to have the information translated and notarized.
Other pieces of information that you should have on hand when you apply include:
Your Social Security number
Last known address, full name and birthplace for both of your parents
Date of the dissolution of any previous marriages
Bring cash to pay for your license. Most offices only take cash, though you can always check with your office to see if the accepted payment options differ.

A marriage license in Indiana is $18 if you or your partner is an Indiana resident. If you're both nonresidents, the fee is $60. Check with the county you're applying in for any additional fees. For example, some county offices charge a document fee of $2.
To expedite the process, see if your county clerk's office accepts the use of e-file for marriage certificates. You enter your information in an online form before heading to the clerk's office; your license is not officially issued until you go to the clerk's office.
Once you have your marriage license, you have to find a minister to officiate your wedding. Requirements for wedding officiants vary for each county. All wedding officiants must be 18 years of age and ordained by an acceptable organization. There are no restrictions concerning residency. You may be asked to present proof that you're ordained to perform marriages.
Restrictions Concerning Weddings

Before signing a contract for a wedding venue in Indiana, take a moment to get to know any rules concerning the use of the space. This includes both venue specific regulations and state laws.

If you plan to serve alcoholic beverages, check to see if you have to secure any permits. Indiana state law allows the issuance of temporary bartender permits. The permit is issued in conjunction with a temporary beer and wine permit. The permit must be secured at least 15 days before your wedding.
Research laws governing noise for your preferred spot. Indiana laws restrict noise between the hours of 11 p.m. and 7 a.m.
How to Change Your Name in Indiana

After your wedding, you may decide to change your name. The following steps make it simple to quickly complete all of the necessary steps to change your name:
Request an official copy of your marriage license (the copy with the seal).
Change your Social Security card by mailing in an application for a new Social Security card. You can also visit your local Social Security Administration office.
Visit the DMV to get a new driver's license. Bring your old driver's license, your marriage license and your new Social Security card
Once your name is officially changed, ensure all of your personal accounts reflect your name. Consider the following items:
Bank accounts
Credit cards
Loans
Utility bills
Retirement accounts
Professional associations
Insurance policies
Employer records
Legal forms
Passport
If it sounds daunting to change your name on every single account, consider using Hitchswitch Name Change. For a small fee, you can complete the name change process by filling out a single form.
It's All About Timing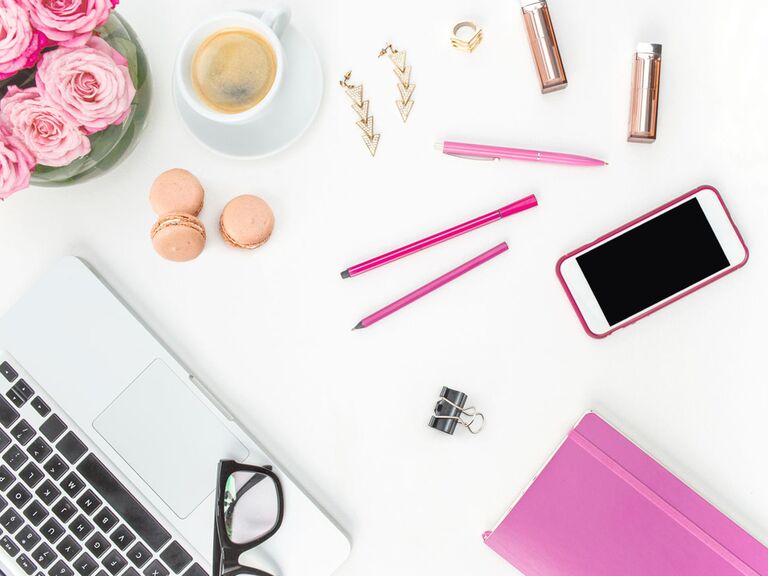 Indiana is a state with definitive seasons, so when you set the date, be ready for all the possibilities that a season can throw at you. Severe weather, harsh temperatures and hair-crushing humidity are just a few scenarios.
Indiana's Four Seasons

The frigid temperatures of Indiana's harsh winters make these months a less common time for weddings. Only 6 percent of weddings occur between the months of December and February.
Spring eventually brings pleasant temperatures that residents of Indiana enjoy. Unfortunately, the warm weather may also bring storms. About 15 percent of weddings take place between March and May.
By the summer season, humidity and hot weather abound. But if you're holding an indoor wedding, the conditions are quite favorable. Summer is the second most popular season for weddings, with 33 percent occurring between June and August.
Fall brings a lower level of humidity and clear, blue skies, making it the most popular season for a wedding in Indiana. Between the months of September and November, 46 percent of weddings take place.
Indiana's climate varies significantly based on the latitude, terrain and proximity to lakes. Northern Indiana is affected by Lake Michigan, and lake effect snow causes heavy snowfall. When searching for wedding venues in northwest Indiana, have a snow plan to get your guests and members of your wedding party safely to your wedding.
Indiana Wedding Dates to Avoid

As Indiana Festivals states, "In Indiana, there's always a reason to celebrate." Indiana is home to more than 640 events that occur throughout the entire year. Once you know the county of your wedding, take a few moments to see when popular festivals are being held. If possible, avoid holding your wedding during some of the larger festivals. By doing so, you avoid possible traffic snafus, lack of availability for your preferred wedding professionals and hotel shortages for your out-of-town guests.
The following dates mark some of Indiana's largest festivals:

National Maple Syrup Festival in Brown County (early March)
Music for All National Festival in Indianapolis (early March)
Nappanee Apple Festival in Nappanee (mid-September)
Indiana State Fair, Indianapolis (August) 
Indianapolis 500, Indianapolis (late May)
Late August and early September: Marshall County Blueberry Festival in Plymouth
Early September: Popcorn Festival in Valparaiso
Check athletic schedules as well, because Indiana is home to a thriving sports atmosphere. Schedules for college teams, the Indianapolis Colts, NASCAR races and the Indiana Pacers are just a few to take into account.
National holidays are other days you should avoid. Expenses, including those associated with wedding pros, are higher than average on these days. Check out this guide so you know what days to steer clear of.
Great Guest Experiences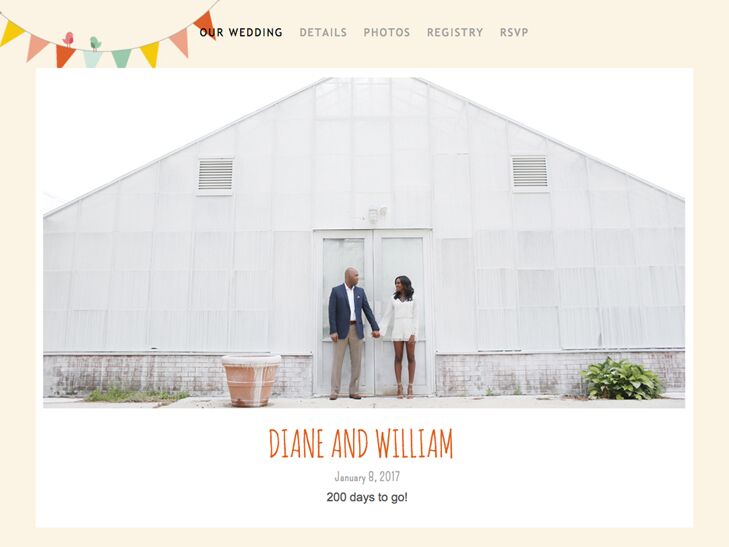 You want your guests to have an amazing experience during their stay in Indiana. Help them have a wonderful time by assisting with travel, dining and recreational plans. Regardless of your guests' tastes, there's something to keep them happy. Create a helpful wedding website packed with information and suggestions.

You've Arrived: Indiana Travel Info

Thanks to the extensive highway system, your out-of-town guests may easily drive into town, if they prefer. Guests who are traveling long distances have the option of flying into five major airports:
Evansville Regional Airport
Fort Wayne International Airport
Indianapolis International Airport
South Bend International Airport
Gary/Chicago International Airport
Amtrak also offers numerous bus and train routes that serve various cities in Indiana.
During their time in Indiana, public transportation, such as the South Shore Line, helps your guests see all of the state's sights.
What to Do and See While in Indiana

Hopefully, your guests have time for a bit of sightseeing. Indiana has a diverse array of offerings for your guests:
Holiday World & Splashin' Safari (Santa Claus)
Basilica of the Sacred Heart (South Bend)
Victory Field (Indianapolis)
University of Notre Dame (South Bend)
Parkview Field (Fort Wayne)
Indianapolis Museum of Art (Indianapolis)
Clifty Falls State Park (Madison)
Marengo Cave (Marengo)
Exciting outdoor adventures, historic experiences and awe-inspiring architecture are just a few things that await your guests.
Go Local: Food and Flavors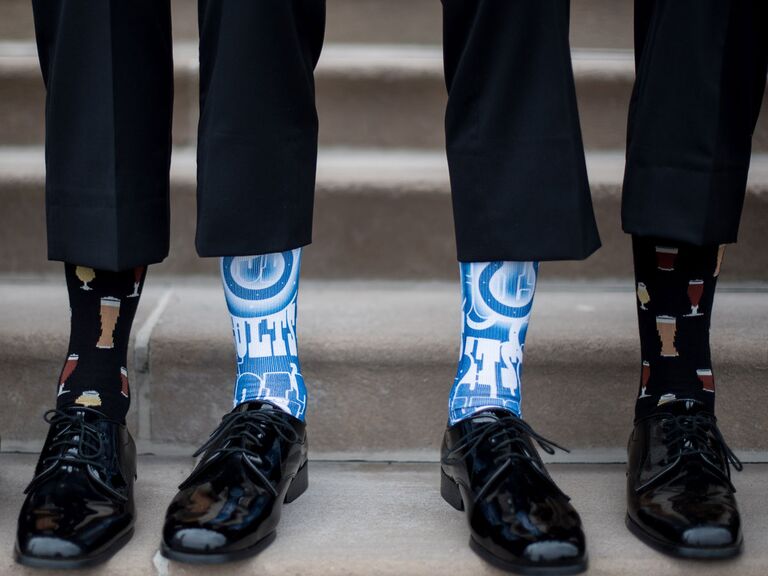 Before it's time for your guests to go home, help them take a bit of Indiana home with them. Incorporate items that represent the food and culture of Indiana into your wedding day activities.
Inspire Memories Through Taste

Even though Indiana doesn't have an official state food, it does have a couple noteworthy food items. A trip to Indiana is not complete until you have a plate of Hoosier pie. Hoosier pie combines cream, sugar, flour, eggs and delectable spices. Also referred to as sugar cream pie, it belongs at your wedding's dessert table.
Pork tenderloin sandwiches are another item you can find at practically every eatery in Indiana. Serve small pork tenderloin sliders during cocktail hour and your guests won't go home without sampling this hearty treat.
Wedding Favors Your Guests Want to Take Home

Your wedding favors shouldn't end up shoved in a junk drawer. Choose pieces that remind your guests of their time in Indiana.
If your wedding takes place in Indianapolis, an item inscribed with the city's trademark skyline can conjure fond memories. An aluminum coaster is both functional and versatile, matching practically every type of home décor.
A shot glass showcasing the beauty of Indiana is a terrific way to send a piece of the state home with your guests. This gift can be functional, or your friends and family can add it to their collection.
Indiana is known for its enthusiasm for sports. Pick out a favor that features the logo of your favorite sports team. Look for a piece of quality glassware decorated with the logo of the Indianapolis Colts. Even if your guests root for another team, your favor will encourage a bit of friendly competition.

A cookie cutter in the shape of Indiana is a simple, budget-friendly way to gift your guests a touch of the state. As they use the cookie cutter to cut their favorite cookies, they can remember the magnificent time they spent in Indiana while attending your wedding. Or gift them a wine stopper that shows a map of Indiana.Check out The Knot Shop for other personalized favors.
Indiana City Guides
From rustic wedding venues in Indiana to modern downtown spaces, there's an assortment of distinct wedding venues. Fort Wayne and Indianapolis are two of the most popular spots for couples to hold their weddings. The Knot ultimate vendor marketplace helps you find all the wedding professionals you need for your event.
Indianapolis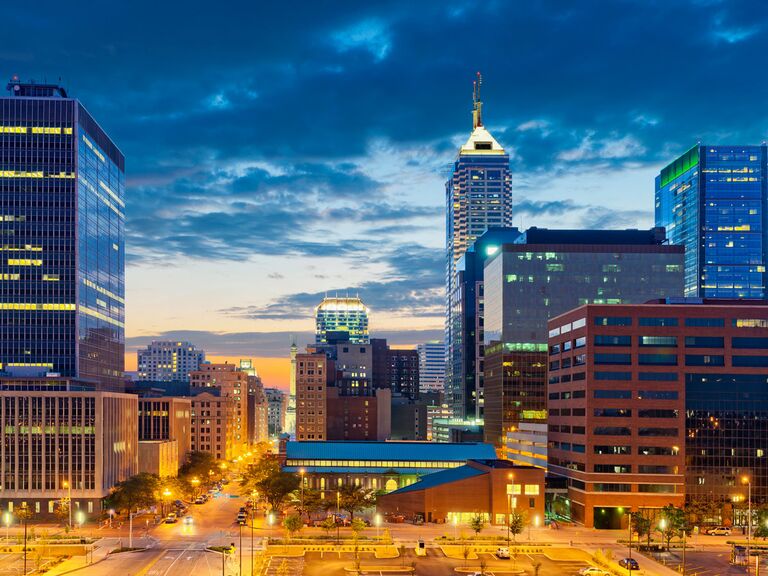 Indianapolis isn't just the capital of Indiana, it's also the largest city in the entire state. This established city has a flourishing downtown region, complete with numerous cultural institutions. Historic districts and areas with new construction give the city a distinct character.
Imagine exchanging your wedding vows in an Indianapolis wedding venue with the Indianapolis skyline as your backdrop.
Check out the following Indianapolis wedding vendors:

Fort Wayne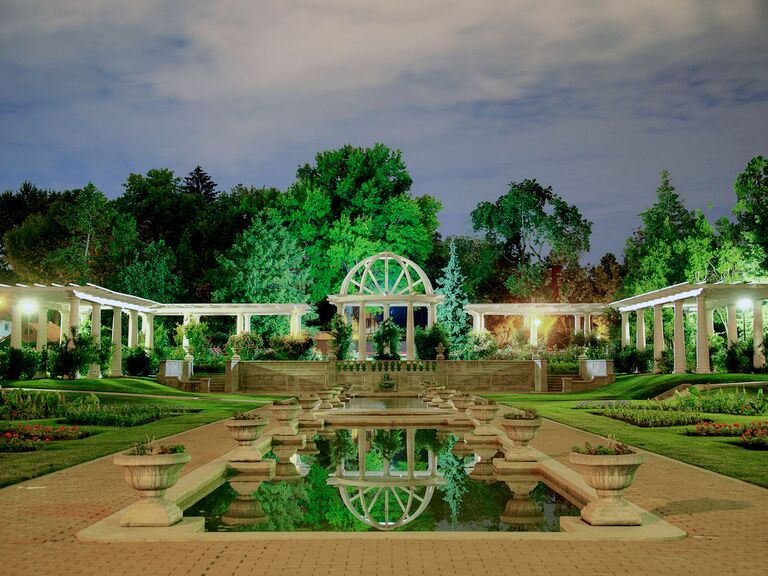 Comfortably nestled in northeastern Indiana, Fort Wayne is the state's second largest city. Fort Wayne originally served as a trading post for pioneers, and today it's a hub for service, health care, finance and defense industries.

A plethora of architectural styles comprises Fort Wayne, including Greek Revival, Gothic Revival, Modern architecture and Neoclassical construction. Cultural centers, more than 86 public parks and multiple museums make Fort Wayne a highly desirable spot.
Local wedding vendors in Fort Wayne include the following:
Check out more Indiana wedding inspiration here.
Don't forget to download The Knot Wedding Planner app—it's a must-have for on-the-go planning.
Download for iOS: Wedding Planner App by The Knot

Download for Android: The Knot Wedding Planner