Is an All-Inclusive Right for You?
by Lori Seto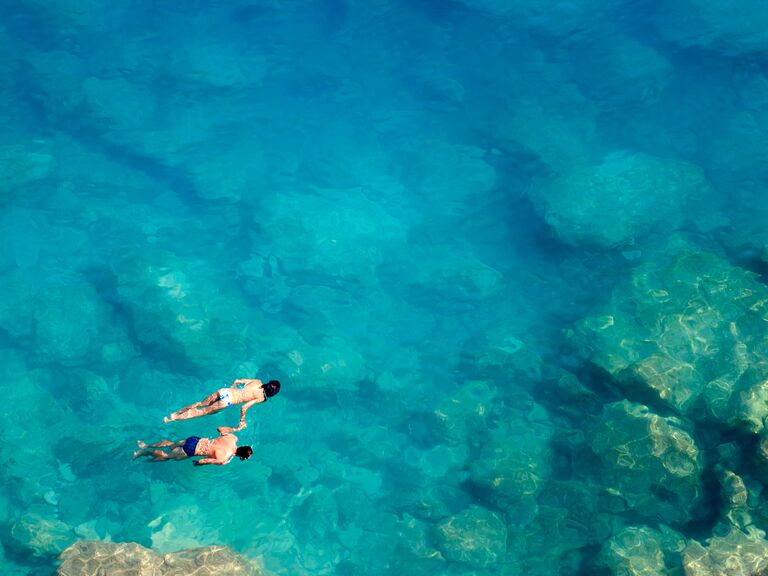 You've heard the term all-inclusive, but what does it really mean? Definitions vary, but a true all-inclusive rate is just that: One flat fee covers your room plus all meals, unlimited drinks, entertainment, tips, taxes, airport transfers, and a list of activities (most with instruction and equipment) as long as the train of a wedding dress. Some even include weddings! What's not included: airfare, gift shop goodies, departure taxes, and phone calls. (Cruises do not include soda, alcoholic drinks, or tips.) Off-site excursions, rental cars, and spa treatments are usually not included except as part of a package.
Pros
All-inclusive rates save you up to 25% off the cost of a vacation! All-inclusives in Mexico and the Dominican Republic tend to be cheaper than other Caribbean locales; resort rates in Asia, Africa, India, and the Pacific are relatively low for comparable services but the airfare may gobble up any savings.
No budget-busting surprise costs or charges.
No foraging in your pocket for a tip every two seconds (you won't even need a pocket).
You have the opportunity to try sports (or drinks!) you've always been curious about for free. Complimentary activities vary by resort and cruise, but some examples include snorkeling, windsurfing, sailing, waterskiing, kayaking, canoeing, volleyball, basketball, rock climbing, tennis, racquetball, squash, and lawn chess (ubiquitous on the islands).
Golf lovers and diving divas can putt and paddle to their heart's content. Rates that include golf often cover transfers, green fees, and instruction. Club rental, carts, and mandatory caddies are extra. Diving perks include resort certification, tanks, and transportation. Wet-suit rental may be extra. Read the fine print.
The dress code. In warm climes, all you'll need is a bathing suit and flip-flops. Shedding clothing, bulky bags, purses, and worries is positively uplifting.
Great gift-ability. Thanks to its neat-and-tidy price tag, an all-inclusive trip makes an easy gift.
Tying the knot couldn't be easier. Weddings are free at some resorts (minimum-night requirements apply); most have wedding packages and on-site wedding planners.
Cons
Keep in mind that if all your creature comforts are included in one price and satisfied on site, you will be less likely to venture out and experience unique island cuisine and culture (if you're on a remote coast, however, an all-inclusive plan will save you lots of time and trouble).
Then there's the potential boredom: The same restaurants day after day can get old. Look for resorts with room service, oodles of eateries, sister properties nearby (so you might enjoy both facilities), or dine-around programs with nearby resorts.
Last but not least, misanthropes should steer clear. All-inclusives offer secluded corners but encourage interaction.
Here's a sampling of one-price-buys-all options. Countless individual properties around the world also offer all-inclusive rates. Book through a travel agent, who can secure the same rates you'd be quoted if you booked direct and can often sweeten the deal with free upgrades and airfare discounts.
Couples-Only Resorts
Skip the seething singles scene and screaming kids: These adult playgrounds include tables for two, dancing and live entertainment nightly, plus king-size beds -- for a little love royale -- in every room. Ask about honeymoon suites and private plunge pools to rev your libido.
Sandals, which operates 12 resorts in the Caribbean, offers excellent value and distinct property personalities. Rates include everything (meals and drinks, spa, tennis, etc.) *plus* golf and scuba where available. (888) SANDALS
SuperClubs operates resorts in the Bahamas, Brazil, Curacao, the Dominican Republic, and Jamaica. Rates include all the creature comforts plus scuba diving, golf, and nude beaches at many locations. (800) GOSUPER
Couples Resorts operates four properties in Jamaica and one in Barbados. Rates are all-inclusive with some great added perks including shopping shuttles, sunset catamaran cruises, day trips, spas, and golf. (800) 268-7537.
Kids-Friendly All-Inclusive
If you're honeymooning with kids, this is the ticket: Not only do these resorts offer childcare and daily activities for teething tots to teens, but kids often enjoy a discounted rate -- if not free entree under a certain age -- for the same all-you-can-eat, sleep, and play privileges. Adults-only areas and in-room babysitters (extra charge) mean the happy couple can have their alone time, too.
Club Med is the original all-inclusive resort, started in 1950 by Gerard Blitz and Gilbert Trigano following their philosophy that vacations should be both exciting and rejuvenating. Unlike Sandals and SuperClubs, which also offer "true" all-inclusive rates in the Caribbean only, Club Med offers more than 80 resorts worldwide; from sunny Caribbean beaches to snow-capped ski slopes in the Alps; and rates that include airport transfers, full open bar with premium beverages and all taxes and gratuities. Annual membership fee is required.. Both resorts exclusively for adults and family-friendly options exits. (800) CLUBMED
Cruises
Cruises are (by necessity) all-inclusive deals with the added bonus of unique ports of call to investigate along the way. Rates include your cabin, up to eight meals a day, onboard sports (everything from basketball to ice skating and rock climbing), and entertainment (glitzy Las Vegas-style shows and discos). Many rates also include airfare, transfers from the airport to the ship, port charges, and taxes. Sodas, mixed drinks, tipping (except bar bills), and day trips are not included.
Cruising with the kiddies? Not surprisingly, Disney Cruise Line, (800) 939-2784, offers the ultimate in kids' cruises with all-day programs and separate activity areas for kids, teens, and adults on the ship and on Disney's own private Castaway Cay island. An alternate option is to spend half your trip at sea and half on land at the non-all-inclusive Disney World Resort. Other cruise lines that offer popular kids' programs include Carnival, (800) 327-9501, Norwegian Cruise Line, (800) 327-7030, Princess Cruises, (800) 774-6237, and Royal Caribbean, (800) 327-6700. Ask about kids' -- or third and fourth passenger -- discounts.
Adventure Tour/Multisport Alternatives
For restless romantics born to explore, you can enjoy the worry-free aspects of an all-inclusive -- if not the normal price breaks -- on a safari, an adventure or multisports trip, or at a dude ranch. Most tour operators include all meals, accommodations, sightseeing arrangements, and guides/instructors in their advertised price. Some tours include alcoholic beverages, others allow you to BYOB. Most also include transfers, tax, and equipment (or horses!), while others let you choose between bringing your own gear or renting for a nominal fee. Airfare and tips for the guides are usually not included.
Two Final Notes
Choose your all-inclusive wisely: A long list of complimentary activities means squat if all you want to do is sprawl on the beach. Also, bring some mad money for serendipitous splurges, such as a sunset cruise or Swedish massage (ask about costs before you go so you can plan ahead). You may be on a budget, but it is still your honeymoon.