The Pros and Cons of All-Inclusive Honeymoons
Is an all-inclusive honeymoon worth it, or too good to be true? Here's what you need to know.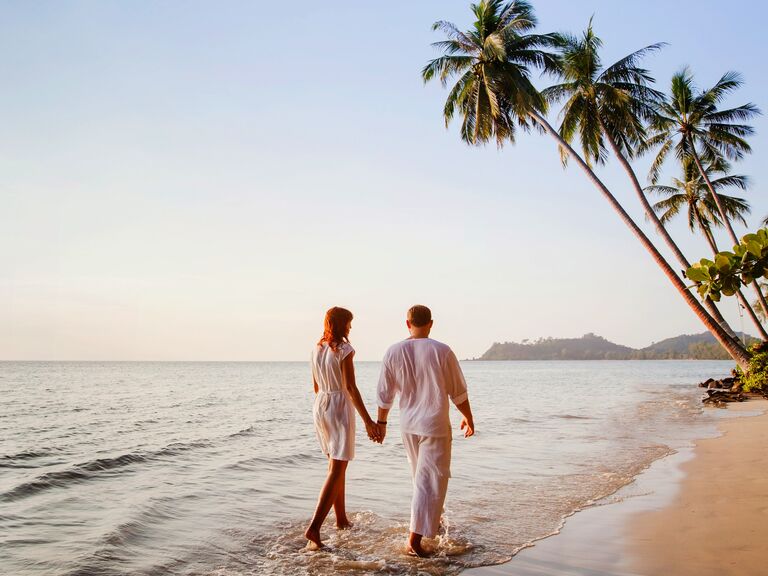 iStock
You've heard of all-inclusive vacations, but what does it really mean—and should you consider it for your honeymoon? A true all-inclusive rate is exactly what it sounds like: One flat fee that covers your room, all meals, unlimited drinks, tips, taxes, airport transfers and often a list of activities, entertainment and amenities. In fact, some properties even include weddings.
And yes, there are some expenses not included, such as airfare, gift shop goodies, departure taxes and phone calls. When booking, make sure what's included aligns with your idea of the perfect getaway. There's a chance alcoholic beverages aren't included in the deal—fine for non-drinkers, but not so fine for champagne-sipping honeymooners. Most cruises, for example, don't include soda, alcoholic drinks or tips. Off-site excursions, rental cars and spa treatments are usually not included, unless they come as part of a specific package (like a romance or honeymoon package).
5 Pros of Taking an All-Inclusive Honeymoon
1. Serious savings. All-inclusive rates can take up to 25 percent off the cost of a vacation, which is awesome. In general, all-inclusives in Mexico and the Dominican Republic tend to be cheaper than in other Caribbean locales, and resort rates in Asia, Africa, India and the Pacific are relatively low for comparable services, but always, always do your research to make sure you're getting the deal you think you are. And remember, the airfare to a farther-away hot spot could eclipse any potential savings.
2. You won't have to deal with surprise costs that tip your budget over the edge. It's all transparent and up front.
3. You can say goodbye to whipping out your wallet every time you buy a meal, ask someone to set up your lounge chairs or enjoy a spa treatment. In fact, you might barely even look at your wallet the entire time.
3. Try new activities or enjoy your favorites—for free. Complimentary activities vary by resort and cruise, but snorkeling, windsurfing, sailing, waterskiing, kayaking, canoeing, volleyball, basketball, rock climbing, tennis, racquetball, squash and lawn chess can be just the start to what you can do. And good news for golf lovers: Rates that include golf often cover transfers, green fees and instruction (club rental, carts and mandatory caddies can be extra though).
4. Thanks to its neat and tidy price tag, an all-inclusive trip makes an easy gift. You know what that means—let guests chip in on your dream all-inclusive by adding it to your The Knot Newlywed Fund or honeymoon registry.
5. Tying the knot couldn't be easier when you go this route. Weddings are free at some resorts when you book a minimum-night stay. Bonus: Most properties have wedding packages and on-site wedding planners to make the planning process even more seamless.
3 Cons of Taking an All-Inclusive Honeymoon
1. If everything you want to do is included in one price and satisfied on-site, you probably won't venture out to explore the local offerings. If you and your partner are the more adventurous type craving a culturemoon, an all-inclusive might not be the best option for you.
2. Speaking of being adventurous, if you'd never describe yourself as a creature of habit, the same restaurants and scenery of an all-inclusive stay could eventually get old. Look for resorts with room service, tons of restaurant options, sister properties nearby (so you might be able to use both facilities) or dine-around programs with nearby resorts.
3. Last but not least, many all-inclusives offer secluded corners, but also encourage interaction between guests (think: communal dining spaces, group activities and so on). If you're self-avowed introverts or simply want some understandable alone time (this is your honeymoon, after all), this is something to consider when researching options.
A Few All-Inclusive Options
Countless individual properties around the world offer all-inclusive rates. And if you book through a travel agent, they'll secure the same rates you'd be quoted if you booked direct and can often sweeten the deal with free upgrades and airfare discounts.
Couples-Only Resorts
Skip the screaming kids and really up the romance at an adults-only resort. For candlelit tables for two, dancing, king-size beds and nightly live entertainment and more, try options like Sandals, SuperClubs or Couples Resorts.
Kid-Friendly Resorts
Not only do these resorts offer childcare and daily activities for litte ones, but kids often enjoy a discounted rate for the same all-you-can-eat, sleep and play privileges. Adults-only areas and in-room babysitters (extra charge) mean you newlyweds can enjoy alone time too. Try Club Med, which lets you choose more than 80 resorts worldwide, from Asia to the Alps, and rates that include airport transfers, full open bar with premium beverages, and all taxes and gratuities.
Cruises
Cruises are (by necessity) all-inclusive deals with the added bonus of unique ports of call to investigate along the way. Rates include your cabin, up to eight meals a day, onboard activities and entertainment. Many rates also include airfare, transfers from the airport to the ship, port charges and taxes. Sodas, mixed drinks, tipping (except bar bills) and day trips typically aren't included.
Adventurous Alternatives
For restless travelers hoping to get out and about, you can still enjoy the worry-free aspects of an all-inclusive without feeling forced to bum it on the beach all day, everyday. Try an all-inclusive safari, multisport trip (think: rafting, kayaking, hiking and mountain biking) or dude ranch.