20 Luxury Gifts for Your Wife That'll Spoil Her Silly
And the award of the best spouse goes to…you!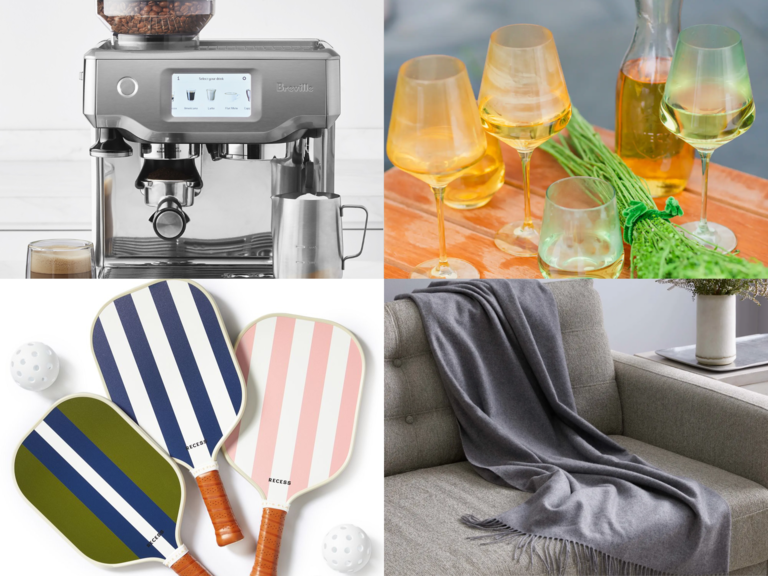 Photos, From Clockwise: Williams-Sonoma, Nordstrom, Mark & Graham, Quince
We have included third party products to help you navigate and enjoy life's biggest moments. Purchases made through links on this page may earn us a commission.
Shopping for your spouse is always fun—there's nothing like spoiling your favorite person, especially if you've decided you're going to splurge on a gift that'll really woo them. Whether it's her birthday, your wedding anniversary or a little holiday called Saturday, the best luxury gifts for your wife will simultaneously spoil her silly and bring a touch of decadence to her everyday life.
The best part? Luxury can mean so many different things to different people, making this gifting category surprisingly easy to shop. For some women, it's a soft cashmere blanket they can nap on the couch with; for others, it's a new cookware set that encourages them to experiment in the kitchen. Whatever gifting direction you choose, we're here to help, with wife gift ideas to suit every type of woman (and every type of budget).
1. Spa-Worthy Shower Head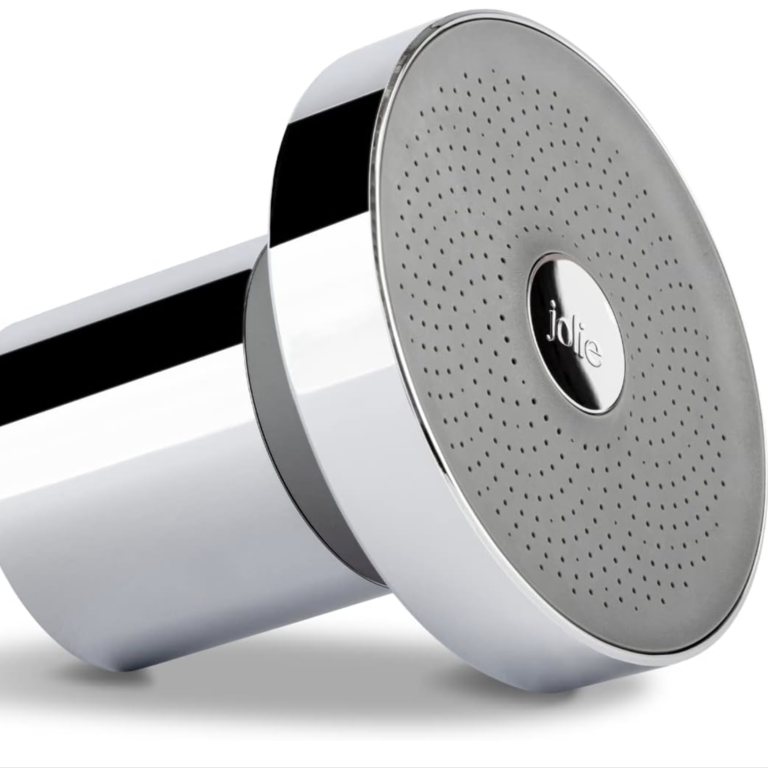 If your wife takes great pride in her mane, she's probably always on the lookout for ways to make her strands healthier, stronger and fuller. One avenue she may have not considered? Your tap water! It can have a surprising effect on hair, leaving mineral deposits and dulling its overall shine and health. Jolie aims to solve all that with their smart shower head attachment, which filters out chlorine, heavy metals and other contaminants that can damage hair and skin.
2. Cozy Cashmere Throw
Nothing says luxury like a lazy afternoon nap, especially when it's taken beneath a cozy cashmere blanket. This lightweight, yet warm blanket from Quince is the perfect elegant gift for your wife, made from 100 percent Grade A cashmere for an elegant and timeless toss. You can choose from several chic colors and patterns—including heather gray, camel and plaid—and two different sizes, one larger for those Friday evening cuddle sessions.
3. Gastronomic Getaway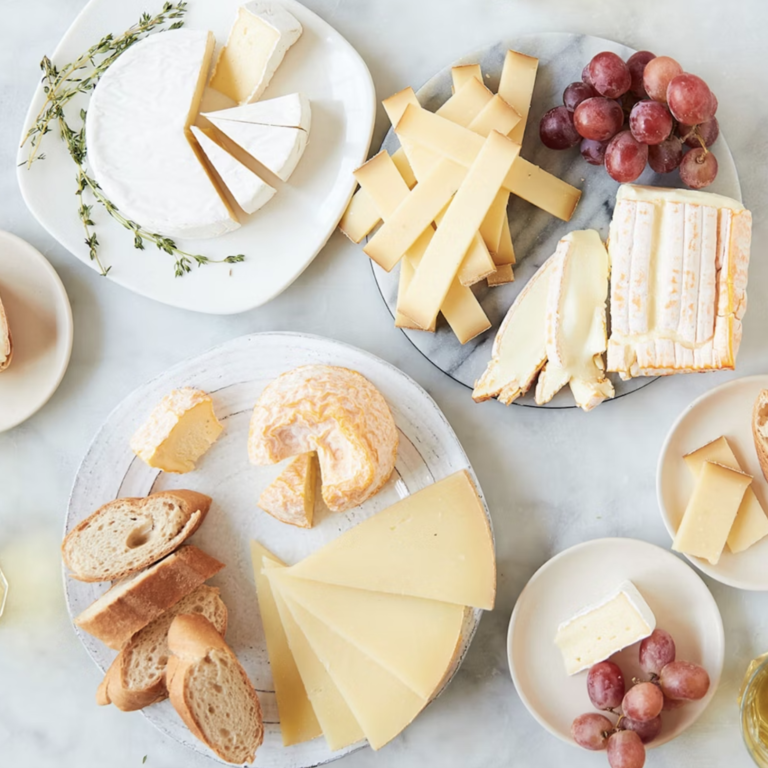 The next best thing to a trip to France: a meal that's just as good as one in the City of Light. This cheese sampler from New York City institution Murray's Cheese bundles all the best fromage from France, including traditional picks like brie and comté. It's a yummy treat your wife is sure to love, whether she's a Francophile or a turophile.
4. Sparkly Necklace
It's been years since you slipped that rock on her finger, so why not treat her to a sparkle of a different kind? This luxe necklace from VRAI features three different lab-grown diamond cuts—a marquise, a baguette and a round brilliant—arranged in a staggered row similar to a constellation. It'll sparkle brilliantly on her neck and is an elegant jewelry gift she won't soon forget.
5. Comfy Slippers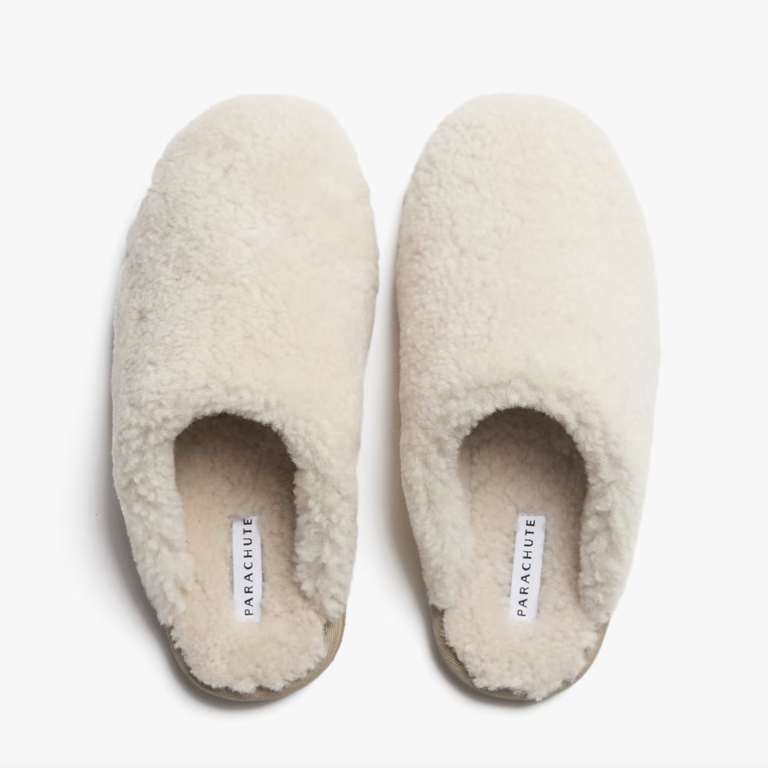 Stop cold feet in their tracks by gifting your wife a luxury pair of shearling slippers. This comfy pair from Parachute Home (known for their high-end bedding and bath selection) will be like clouds for her feet, with a warm wool construction and hard sole that makes quick trips to the mailbox or out to the garage a cinch. Bonus: They may even get her to stop warming up her icicle feet on your legs at bedtime—maybe.
6. Roomy Weekender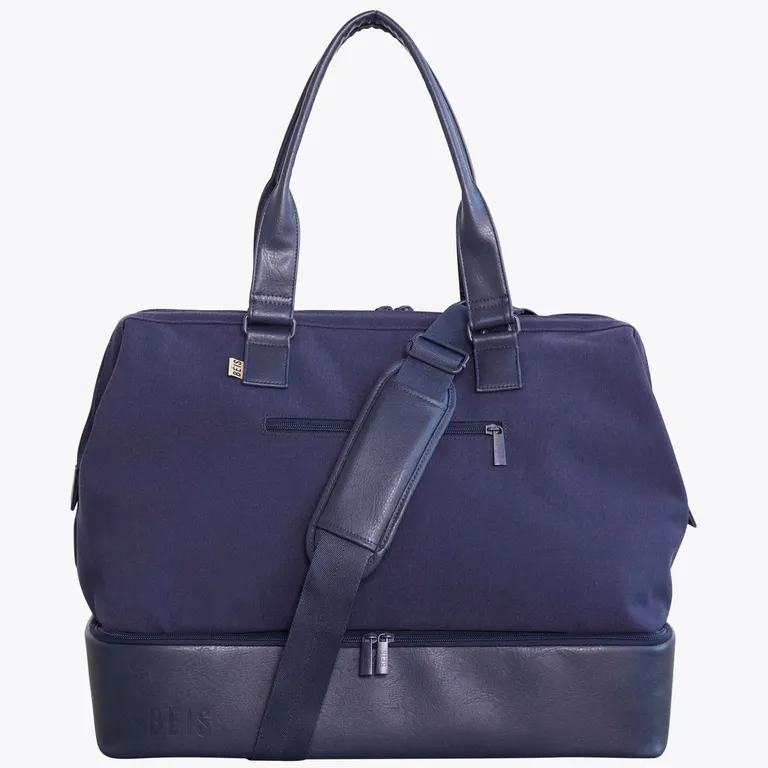 For a travel-loving spouse, there's no better gift than a weekender tote that can truly do it all. This bag is one such item—and it's stylish to boot. Designed to hold enough gear for a few days, this luxury gift idea for your wife is made of durable canvas, with plenty of pouches and compartments for organizing shoes, outfits and travel souvenirs. You can choose from a range of gorgeous hues, like rich navy or vibrant berry, for a design that'll surely stand out on the luggage carousel.
7. Smart Diffuser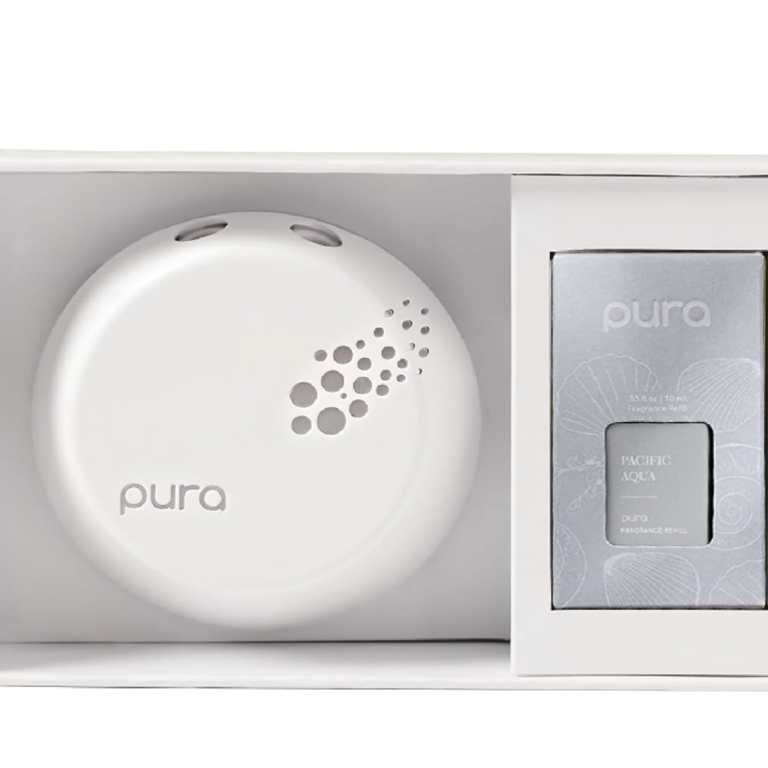 Think of every high-end hotel you've ever set foot in–what do they all have in common? If scent is the first thing that comes to mind, you're spot on. The right fragrance can make your home feel like a luxury escape, even if you're just in the middle of a WFH day. Snag your wife Pura's smart diffuser and watch her love for your home multiply with every puff. It works to expel just the right amount of scent particles throughout your home at steady intervals, ensuring that your abode always smells fresh and luxe. Bonus: She can choose from over 150 designer scents, so she's sure to find a favorite (or two).
8. Floral Jewel Box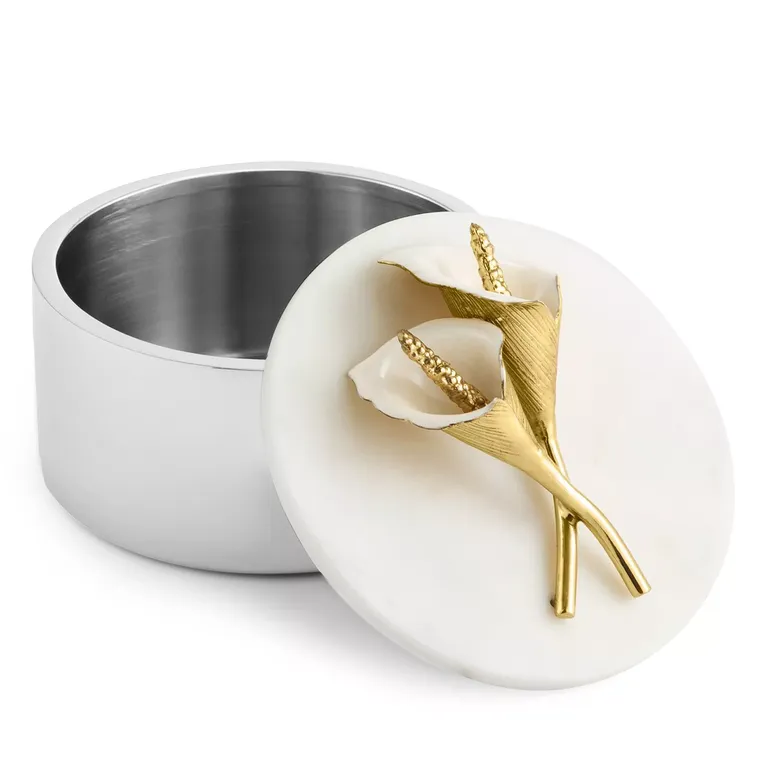 The best luxury gifts exist at the intersection of beauty and functionality, helping your wife bring elegance to her everyday life and simultaneously solving an issue. This trinket box from tabletop designer Michael Aram does both beautifully, with a sculptural Calla lily bloom on the lid that doubles as art. The inside of the marble canister boasts plenty of room for her to stash jewelry or other keepsakes. Bonus points if you place a note with some sweet holiday or Christnas wishes for your wife (or notes for whatever the occasion) inside.
9. Chic Coffee Machine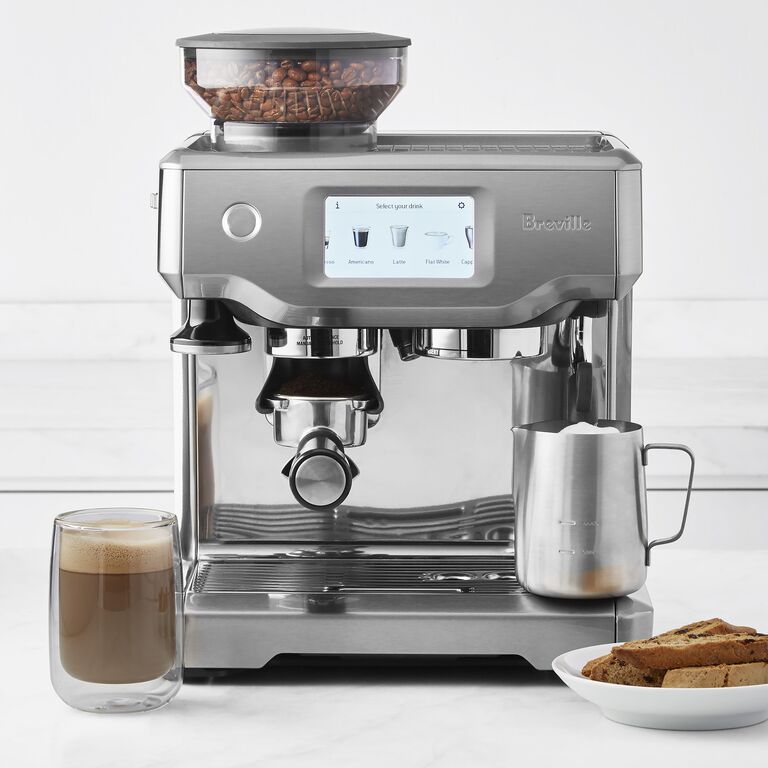 Sometimes, luxury can be as simple as a really good cup of coffee in the morning. If your wife is a caffeine lover, she'll go starry-eyed over this barista-worthy espresso machine from Breville. It touts all the features she'll need to pull an expert shot of espresso, as well as mix up sips like a flat white or latte. Want to really wow her? Pair it with a pack of her favorite coffee beans so she's ready to rise and grind. It's definitely an expensive gift for your wife, but she's so worth it.
10. Pair of Penny Loafers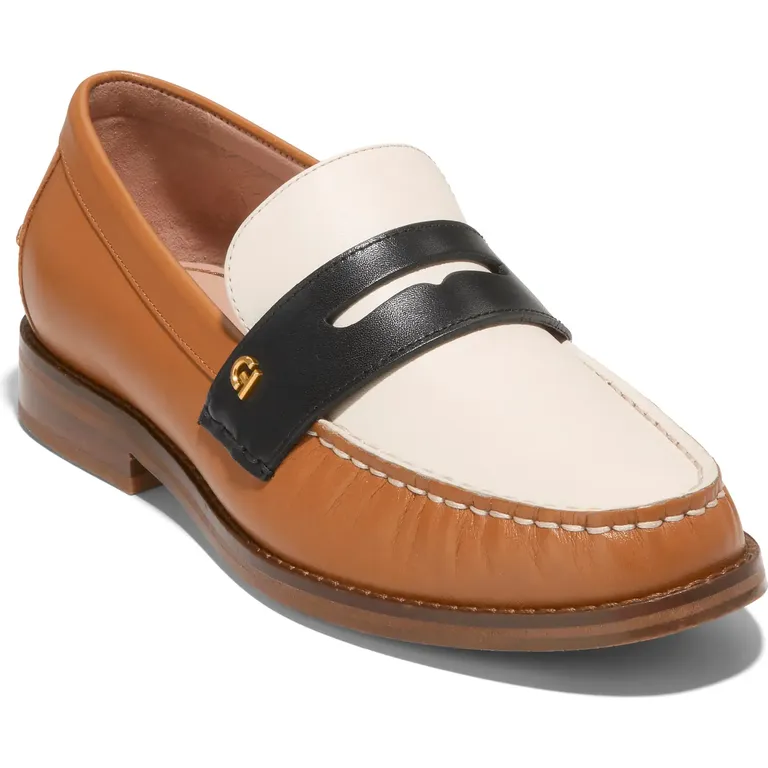 The fashionable powers that be have deemed loafers the shoe of the season. And you'll seem like a sartorial savant if you snag your wife a pair without her even asking. This style from Cole Haan is as classic as it gets, with luxe leather construction, polished hardware and a cushioned footbed for all-day comfort and style.
11. Magic Mask
Skincare fanatics will be blown away upon receiving this LED mask by skincare expert Dr. Dennis Gross. Contrary to its futuristic appearance, it actually promises to turn the clock back, reversing signs of aging like fine lines and sun spots. It'll basically bring a cutting-edge spa treatment right to her home—and that's a luxury any woman can appreciate.
12. Posh Paddle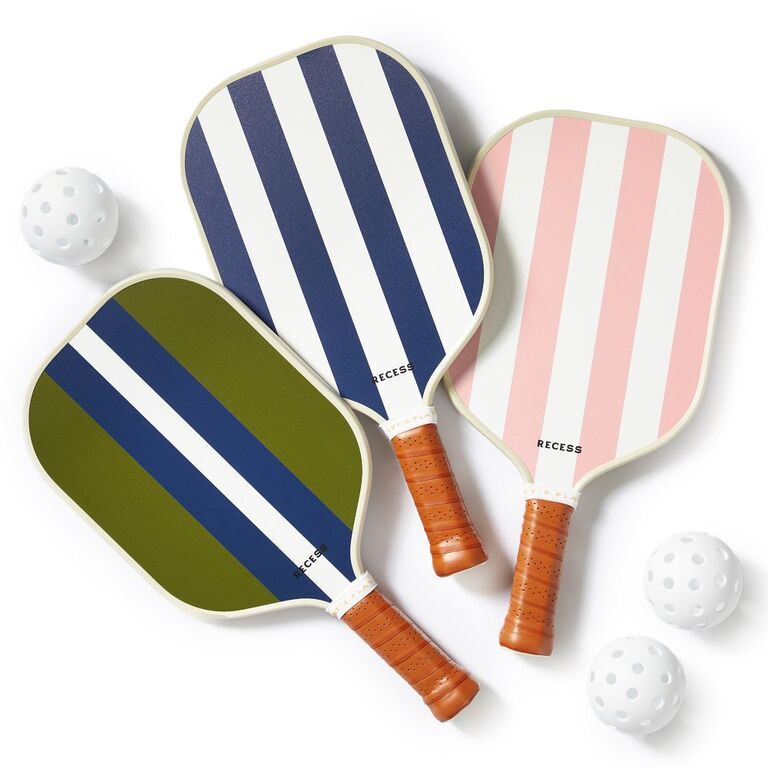 These days, it seems like everyone is playing pickleball. If your wife has been looking to take up a new hobby, encourage her athletic endeavors with a racquet from Recess. Their collab with custom homeware company Mark & Graham bottles the sport's preppy spirit, with an array of quirky stripes and a luxe leather handle that will keep her hands comfortable for hours. You can even snag a paddle of your own and offer to play doubles.
13. Classic Cookware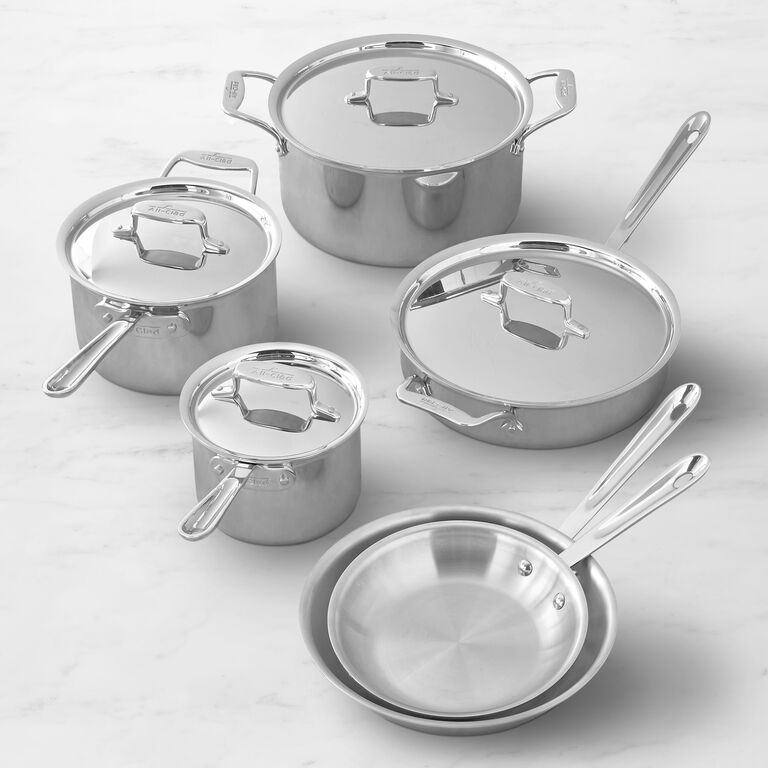 Your favorite home chef deserves the best of the best—and in many ways, the best of the best is All-Clad. Their stainless steel and aluminum cookware is lauded by pros and novice cooks alike, thanks to its impeccable quality and superior functionality. Each piece will deliver an impressively even cooking experience, helping to sear meats to perfection while handling delicate bites like eggs and fish with care. They're an everyday luxury she'll appreciate each time she plans a meal.
14. Spa-Worthy Robe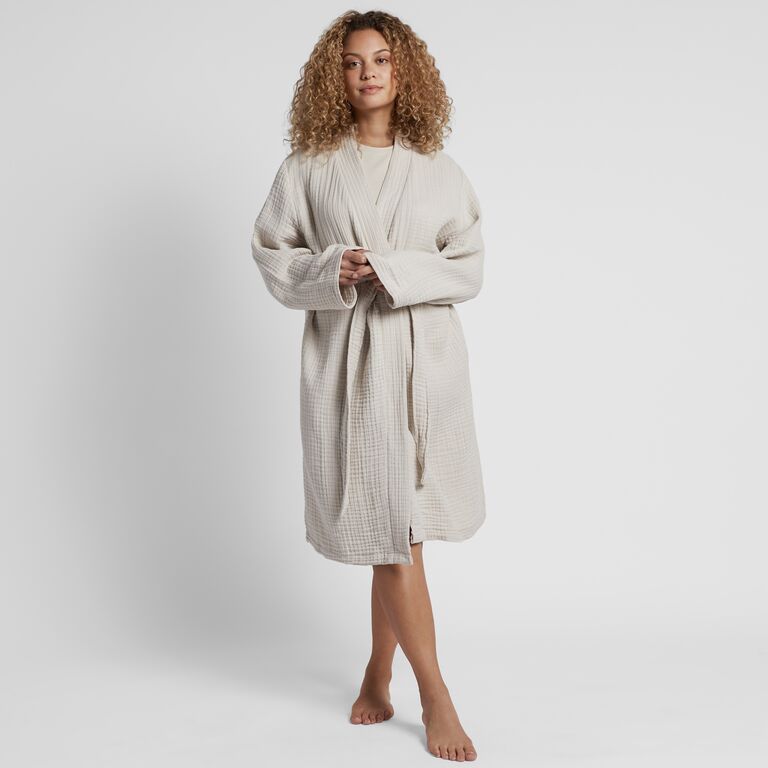 There are many ways your wife can work little moments of luxury into her day, and this robe is key to making the most of her R&R. Whether she wears it to prep for work in the morning or relax after her shower in the evening, this classic robe is sure to wow. It's made from luxury cotton. Choose from a range of hues for a color that suits her perfectly.
15. Bundle of Books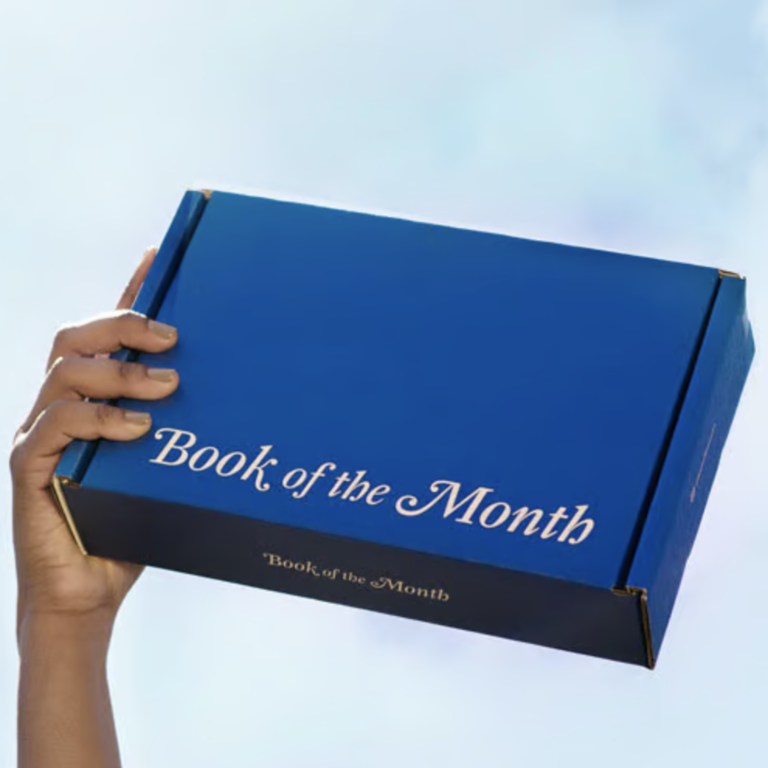 As anyone married to a bookworm knows, it doesn't matter how tall their TBR pile is—there's no such thing as too many books. A gift that indulges in that fact? Well, that's a luxury few bibliophiles would turn down. Spoil your spouse with a three-, six- or 12-month subscription (so cute if it's for a birthday) to the Book of the Month club, which will deliver a new read to their mailbox every 30 days. They'll get to choose from a range of titles and genres each time, so there's no way they'll get bored.
16. Timeless Purse
If you're going to invest in one piece of luxury fashion for your wife's wardrobe, make it a high-end, designer purse. This pick from The Row is as timeless as it gets, with a textured leather body and an optional shoulder strap for versatility and wearability. She can pair it with her favorite work ensemble or tote it to the farmer's market for a chic place to stash her phone, wallet and more.
17. Ambient Alarm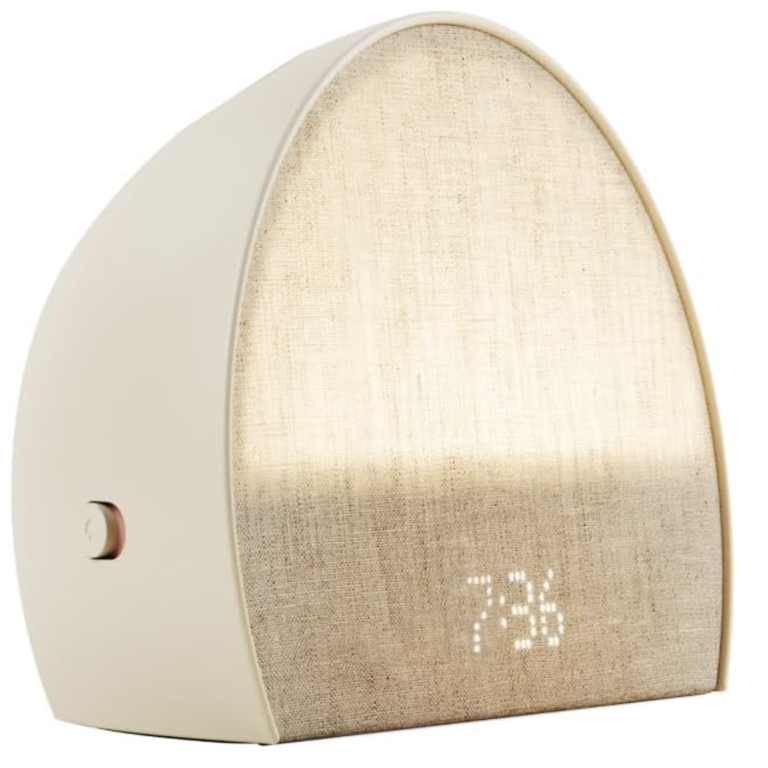 The light of your life deserves something that glows as much as she does, don't you think? This innovative Hatch alarm clock will add a subtle shine to her evening wind-down routine, whether that involves reading a book or scrolling on social. But that's not even the best part—it can be programmed to gently wake her up with light that mimics the rising sun for a relaxed and natural way to greet the day.
18. At-Home Sauna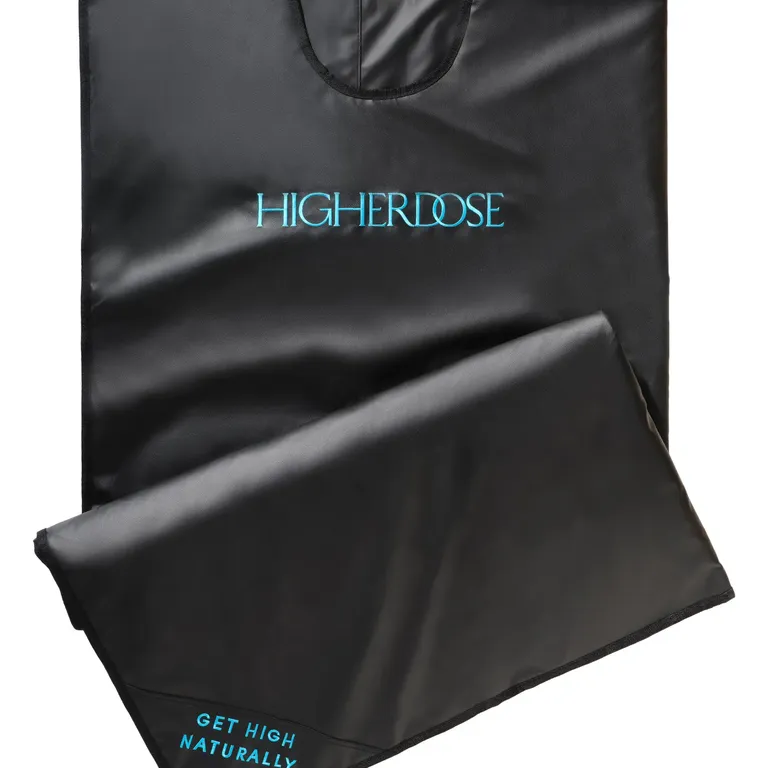 Recovery day just got a lot easier, thanks to this at-home infrared sauna blanket from HigherDOSE. Designed to help regulate the body's thermal energy, promote increased blood flow and enhance relaxation, it can be used in a home gym session or on the couch as she binges the latest Netflix release.
19. Signature Scent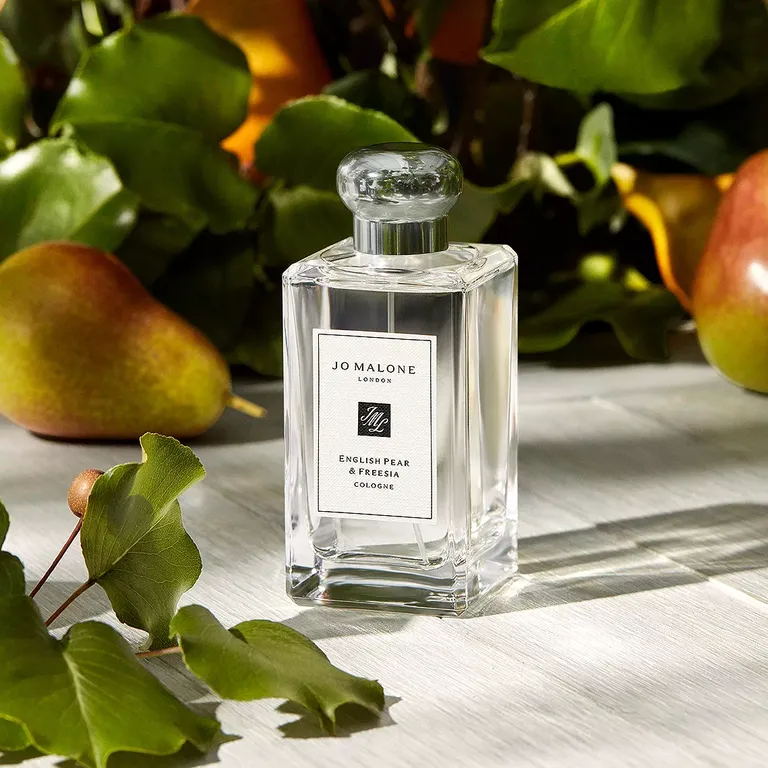 The next time a special occasion rolls around, treat your wife to a posh fragrance from luxury perfumery Jo Malone London. One of their best-selling bespoke scents, English Pear & Freesia, incorporates sophisticated notes of pear, delicate freesia and sensual patchouli for a new signature scent she'll be dying to spritz on daily.
20. Colored Glassware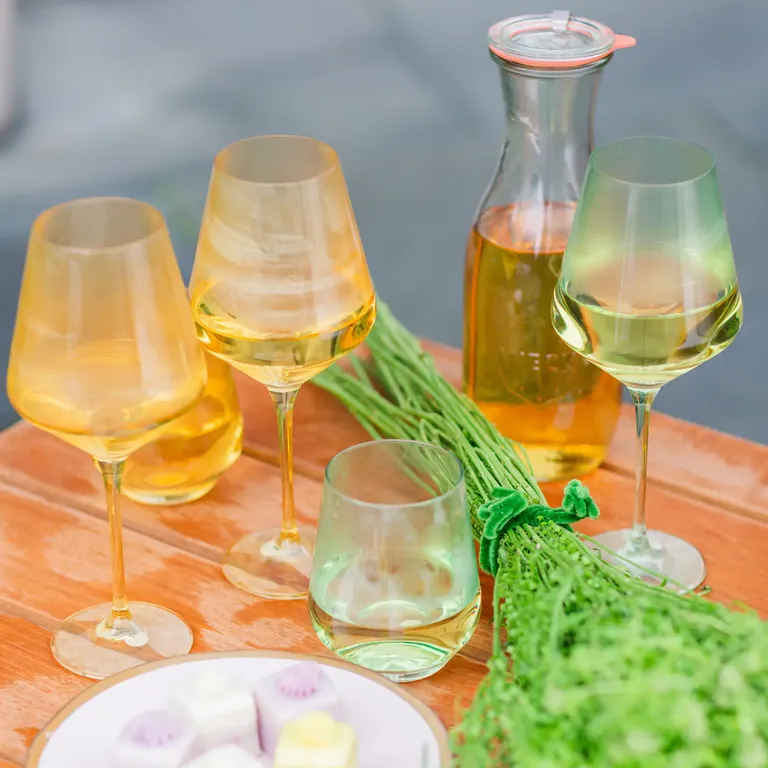 Handblown in Poland from stunning colored glass, these elegant wine glasses are an easy way to bring a touch of luxury to her weekend happy hour routine. They come in soft pastel hues and are the ideal shape for white or red wine, adding to their beauty and versatility. One thing's for sure—she'll be the toast of the neighborhood next time she breaks these out for book club.