9 Mansions With Historic Charm in Pennsylvania and Delaware
Enchant your guests by hosting a timeless wedding celebration at one of these grand mansions.
by Linley Sanders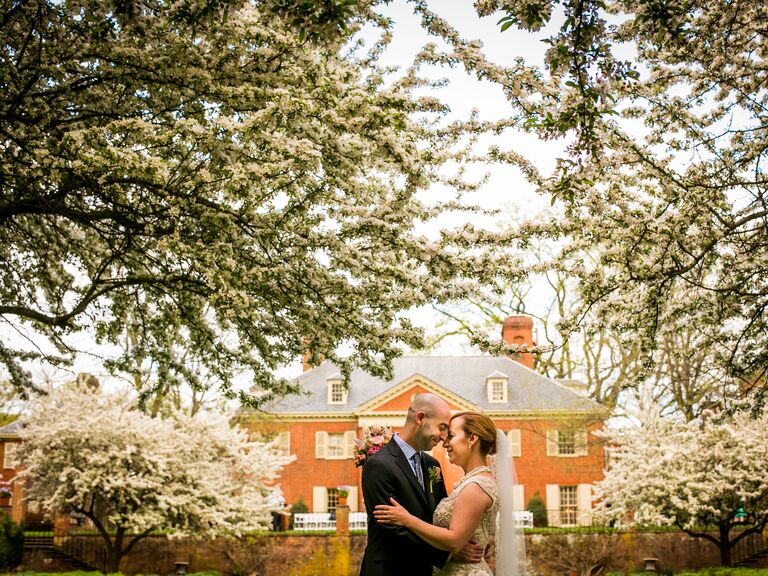 Aldie Mansion
85 Old Dublin Pike, Doylestown, PA;
(215) 348-3509; AldieMansion.com
Built in 1927, Aldie Mansion takes its cue from Victorian and Tudor architecture with old-world brickwork, leaded glass windows, soaring chimneys and gargoyles. Guests such as Groucho Marx, Isadora Duncan and the Von Trapp family were once entertained within its walls. Today, the 2,400-square-foot ballroom comfortably fits 220 guests, with plenty of space to dance the night away. The beautifully maintained grounds, preserved by the Heritage Conservancy, have fountains and terraces, which create picture-perfect ceremony spots. Our favorite? The 220-year-old oak tree, which provides a stunning botanical backdrop.
Brantwyn Estate at DuPont Country Club
600 Rockland Road, Wilmington, DE;
(302) 654-4435; DupontCountryClub.com
This Georgian-style manor was once a residence of the famed DuPont family. Situated in the Brandywine Valley amid 60 acres, Brantwyn Estate brings on the glam. Its opulently furnished halls can accommodate up to 170 guests for dinner, while the estate's grounds feature gorgeous landscaped gardens, which create a picturesque backdrop for an open-air ceremony or cocktail hour.
Buhl Mansion Guest House & Spa
422 East State St., Sharon, PA;
(724) 346-3046; BuhlMansion.com
This castlelike bed-and-breakfast, which was bought and restored to its original grandeur by a local couple, offers an experience fit for royalty. The venue has a tented courtyard that can host up to 120 guests, a greenhouse for parties of 50 guests, a carriage house for 60 guests, and gardens that can fit 120 guests. It also has state-of-the-art spa facilities that will have you relaxed and ready for your wedding day.
Cairnwood Estate
1005 Cathedral Road, Bryn Athyn, PA;
(215) 947-2004; Cairnwood.org
A National Historic Landmark, the Cairnwood Estate is so much more than a mansion. The venue has an array of rooms, terraces, courtyards and gardens large enough to hold parties of 275 or intimate celebrations of 30. Built in 1892, this Beaux-Arts style locale perfectly blends rustic elements with elegant style, making for a sprawling venue that's part French chateau and all sorts of chic. Plus, the mansion is located only minutes away from the beautiful Bryn Athyn Cathedral, the perfect spot for a breathtaking ceremony.
Glen Foerd on the Delaware
5001 Grant Ave., Philadelphia;
(215) 632-5330; GlenFoerd.org
With 18 acres of lush gardens, a vineyard and riverfront oaks, the Glen Foerd estate is a botanical dream. Located just 20 minutes from downtown, this venue is the only riverfront estate in Philadelphia still available to the public, making it truly one of a kind. Exchange vows by the water's edge in a wedding ceremony at the mansion's fully customizable pavilion before celebrating with a reception in the same space, which can easily accommodate up to 200 seated guests. Afterward, encourage guests to take a midnight stroll by the riverside pavilion for unparalleled views of the Delaware River.
Greystone Hall
1034 Phoenixville Pike, West Chester, PA;
(610) 696-1272; GreystoneHall.com
Gilded-Age glamour defines this century-old mansion, reminiscent of the grand estates in Newport, RI. Say "I do" in a ceremony on the outdoor patio, and then move to a custom-built tented pavilion, which holds up to 200. Postceremony, treat guests to a scenic cocktail hour within the conservatory—a space that overlooks the English gardens and includes a European-style pergola, fountains and statues. As for dinner and dancing? Retreat with guests to the tent pavilion for a view of the terrace gardens and south lawn.
Historic Shady Lane
475 Shady Lane, Manchester, PA;
(717) 855-4665; HistoricShadyLane.com
This 34-acre estate has a variety of venue options, including a glassed greenhouse, rose garden and tented reception court that comes equipped with elegant chandeliers, draping and enough room to fit up to 225 guests. As a bonus, the estate also includes a bridal cottage and rustic groom's den where the wedding party can suit up for the day. There are even shuttles to help guests easily move from the ceremony to reception.
The Mansion at Maple Heights
5516 Maple Heights Road, Pittsburgh;
(412) 427-2877; MansionMapleHeights.com
This Jacobean manor is perfect for a wedding celebration turned weekend getaway (mini-moon anyone?). The year-round bed-and-breakfast offers a bridal suite and five rooms that can be doled out to the wedding party or close family members for the night of the wedding. The mansion's backyard provides the perfect intimate ceremony space with ample trees, greenery and stone walls for an elegant touch. Postceremony, celebrate in a tented reception area that's capable of accommodating up to 150 guests.
Stotesbury Mansion
1923 Walnut St., Philadelphia;
(215) 567-2910; TheStotesburyMansion.com
Located just off of Philly's famed Rittenhouse Square, this mansion features a grand ballroom that was imported from England in the early 1900s and took 500 craftsmen to restore the space with crystal chandeliers, a marble fireplace and gold ceiling panels. Today, the ballroom can accommodate up to 110 guests with a dance floor and 200 guests without one. Having hosted the likes of Presidents Taft, McKinley and Theodore Roosevelt and numerous other notable figures, Stotesbury Mansion is the perfect place to welcome all of your own special guests.
Find your own historic space here!