21 Groomsmen Photos to Capture on Your Wedding Day
Save these frame-worthy ideas for future use.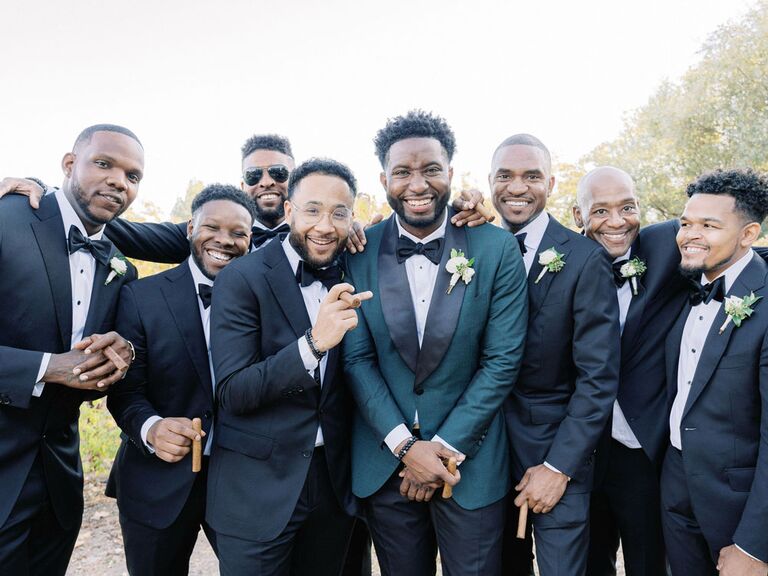 Allotting time for wedding party photos is essential when planning the timeline for your big day. While it's necessary to capture shots of the newlyweds and their family members, it's equally important to dedicate part of the photoshoot to the bridesmaids and groomsmen. After you've hired a wedding photographer, create a shot list of pictures you definitely want to have, including groomsmen photos.
The groom's crew plays an essential role on the special day. Not only is the best man traditionally responsible for transporting the wedding rings, the rest of the groomsmen can also give toasts during the reception and support the couple throughout the weekend. So, when it's time to take groomsmen pictures, plan for a variety of poses and candid moments that'll let their personalities shine. We've rounded up our all-time favorite groomsmen photos from real weddings below. Browse through this list and screenshot your favorites to share with your photographer for inspiration.
Getting Ready
Yes, the groomsmen often get ready together just like the bridesmaids—and it's a perfect photo opp. Coordinate the timing with your photographer so they're able to capture both the bridal party and the groomsmen as they prepare for the day.
Wedding Suit Details
You've likely spent months selecting tuxes and suits, so pose for a few close-up shots to highlight the fashion details.
Having a Chat
Don't stress about feeling awkward in front of the camera. To loosen up, sit with your crew and have a casual conversation before the ceremony. Not only will this ease everyone's nerves, it'll translate into natural-looking photos.
Prewedding Toasts
Raise a glass and toast to the groom before heading to the ceremony. This picture-worthy moment will be one to cherish.
A Glamour Shot
You'll be feeling worthy of a magazine cover in your wedding attire, so a glamour shot is an excellent photo idea. Your photographer will know how to bring your vision to life.
Groomsmen Sock Photos
Printed groomsmen socks are a great way to show off everyone's personal style while still matching the wedding dress code. If your crew will be upgrading their attire with fun socks, add this idea to your shot list.
Personalized Accessories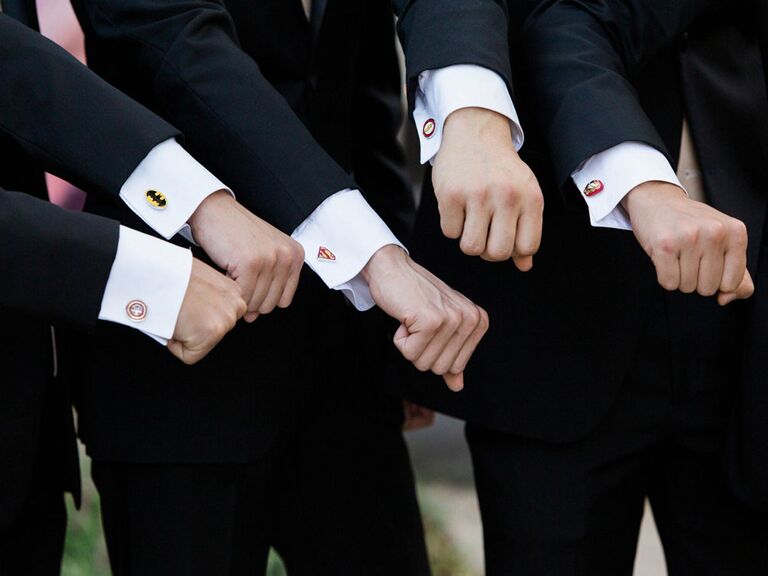 There are plenty of other groomsmen accessories beyond socks that'll elevate the attire. If you're splurging on luxe cufflinks or lavish boutonnieres, plan to snap a few closeup shots.
Funny Groom and Groomsmen Photos
Funny groomsmen photos are a necessary addition to your shot list. Whether you toss the groom in the air or throw on your best sunglasses, use these pictures to let everyone's personality stand out.
Candid Shots
Even with a planned shot list, some of the best groomsmen photos will be candids. Tell your photographer that candid pictures are a top priority and they'll make the magic happen.
With the Best Man
The best man deserves some solo time while taking groomsmen pictures. Pull your right-hand man aside to pose for pics that show off your strong bond.
Themed Undershirts
Another way to upgrade your groomsmen attire is to wear a fun undershirt. Whether you're all die-hard fans of the same sports team or your group owns corresponding superhero tees, wear something funky under your button-up as a creative way to customize your looks.
Outdoor Venue Shot
Utilize your venue to the fullest, whether it includes a lavish staircase or a sprawling lawn. Groomsmen photos that show off the special location should take top priority.
Groomsmen Selfies
Who can resist a good selfie? A picture of a picture is a fun way to remember the small moments throughout your big day.
With the Bridesmaids
Some of the best groomsmen photo ideas involve the bridesmaids. Wedding party snapshots are an absolute must, so gather the entire crew for a variety of photos.
Walking to the Ceremony
Your excitement will be noticeable as you walk to the ceremony, which will translate into amazing wedding pictures. Ask your photographer to document the moments just before you say "I do."
Custom Gifts
It's common for the groom to give groomsmen gifts before the ceremony. These are definitely worth capturing, especially if they're thoughtfully personalized.
With the Ring Bearer
Don't forget to include the kids in your photoshoot. Have the ring bearer and flower girl stand in for a few shots with the rest of the wedding party.
A Confetti Toss
A confetti toss is always a good idea for your wedding. Have your wedding party shower you in colorful confetti for a picture-perfect moment.
During the Ceremony
All eyes will be on the couple during the ceremony, but the photographer can still snap a few photos of the wedding party. You'll enjoy looking back on the moments you might have missed.
The Best Man's Toast
The best man's speech is one of the most anticipated events of the reception. Let your photographer know exactly when it'll happen so they can capture everyone's reaction.
Celebrating at the Reception
Your wedding isn't complete without a party. You'll be grateful to have photos of your groomsmen showing off their best dance moves and singing along at your wedding reception.
The Wedding Exit
Your wedding exit is the last chance to snap a few final groomsmen photos. This is an essential picture opportunity, especially if you're leaving under a bridge of sparklers or a spectacle courtesy of your wedding party.