The People You Don't Need to Include in Your Family Portraits
Here's the answer.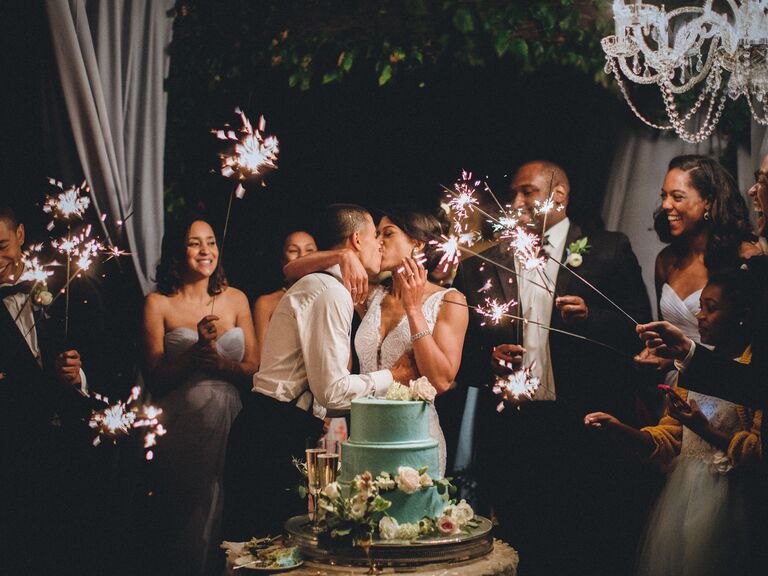 BRITTRENE PHOTOGRAPHY
It's important to be selective about who you include in your portraits not only for sentimental reasons, but also for timing purposes. Going overtime on pictures can make you late to your ceremony or your reception—and nobody wants that. If you're wondering who should be in your wedding photos, we have the answer. We put together a list of people you'll definitely want to snap a picture with and people you don't necessarily have to take a picture with. The short answer is you don't need to include anyone you don't have a personal relationship with. Of course, everyone is different. If you're close to your great aunt or you're best friends with your sibling's significant other, you should absolutely include them.
Once you have an idea of who you want to include (and who you want to exclude), Moesia Davis of Mo Davis Fine Art Photography says it's imperative that you have those conversations with your family. If you don't feel comfortable including your brother's brand-new S.O. or your great uncle or your long-lost cousin, you need to make sure everyone (your parents and other family members) is aware of it ahead of time. Explain why you feel this way, and offer some kind of compromise if things get heated. For example, maybe you can have one big group photo at the very beginning so nobody feels left out.
After you've had those conversations with your family, you'll need to speak with your photographer. Provide them with a wedding shot list so they can create a timeline that works for your event. Here's the good news: often photographers are willing to step in if uninvited guests try to crash your photos.
"I don't want to put the couple into a situation where they have to tell people 'no' because that can cause negative feelings on the day and down the line," she says. "My job is not to please your wedding guests. My job is to make sure the wedding day is seamless and to honor you—the couple—and your time."
If you're especially concerned about tension related to family photos, it's a good idea to bring it up during the interview process with your photographer, says Davis. "If you know you have an aggressive family and you have 50 cousins who are going to want to be in every photo, you have to make sure you have that conversation with your photographer," she says. "Choose a photographer who is willing to step in."
Who Should Be In Your Family Wedding Photos?
Davis recommends keeping your family wedding photo shot list simple. She usually starts with a big group photo (to make sure nobody feels left out) and then takes one with the grandparents if any are in attendance. Those additional family members are then dismissed and encouraged to return to the reception. Next comes your immediate family: parents and siblings. Of course, you should also include anyone additional with whom you share a special, family-like bond.
This brings up the sometimes sticky situation of your siblings' significant others. If they're dating, it's your call. If you're close, then include them. If you don't feel comfortable, you need to have that conversation before the fact so nobody has hurt feelings on the actual day.
People You Don't Need to Include in Your Family Wedding Photos
It's important to remember that this is your wedding and that these are your wedding photos. Davis suggests approaching this topic by thinking through your relationship with the individual(s) you're unsure about. "Having a personal connection is absolutely necessary," she says. "You shouldn't feel bad for not including people you don't know." This goes for anyone: your sister's new S.O., your distant cousin or your mom's close friend.
It may not be a comfortable conversation to have, but you're much better off clearing the air before the wedding day. Plus, you can always include people in one big group shot at the beginning if it's going to be too tricky. You're going to have your wedding photos for years to come, so you want to do them right, Davis says. "You want people who not only know your love story, but are a part of your love story."