Yes, It's Possible To Serve Sushi At Your Wedding (And Make It Look Pretty, Too!)
Move over sliders.

While sushi isn't necessarily top of the 'typical foods to serve at your wedding list,' that shouldn't stop you from offering it on your wedding day. The trick to making sure it works with your reception and doesn't conjure up late-night karaoke bar memories? Beautify the display. Changing the way the sushi is served makes the spread infinitely more appetizing (and make your guests that much more excited to try it). Below, some of the coolest ways to pull it off.
Colorful Sushi Roll Platter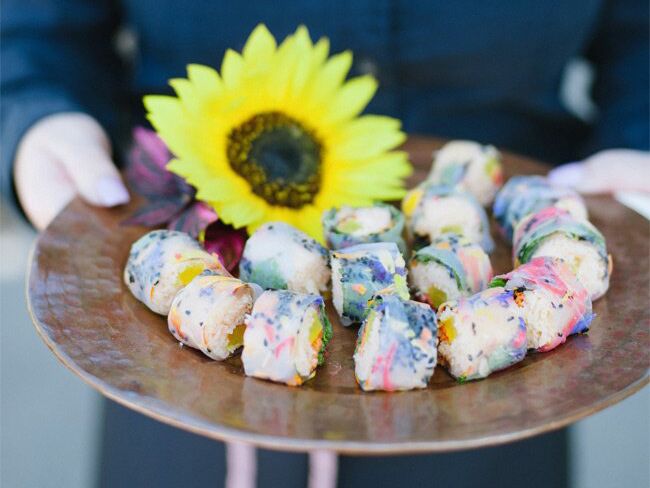 Brighten up your sushi serving tray with a few loose flowers. A sunflower adds a sweet pop of color to the already vibrant vegan rolls, while the golden platter adds an unexpected twist to the typical appetizer tray.
From the album: A Romantic Winery Wedding at Holman Ranch in Carmel Valley, California
Hand-Rolled Sushi Station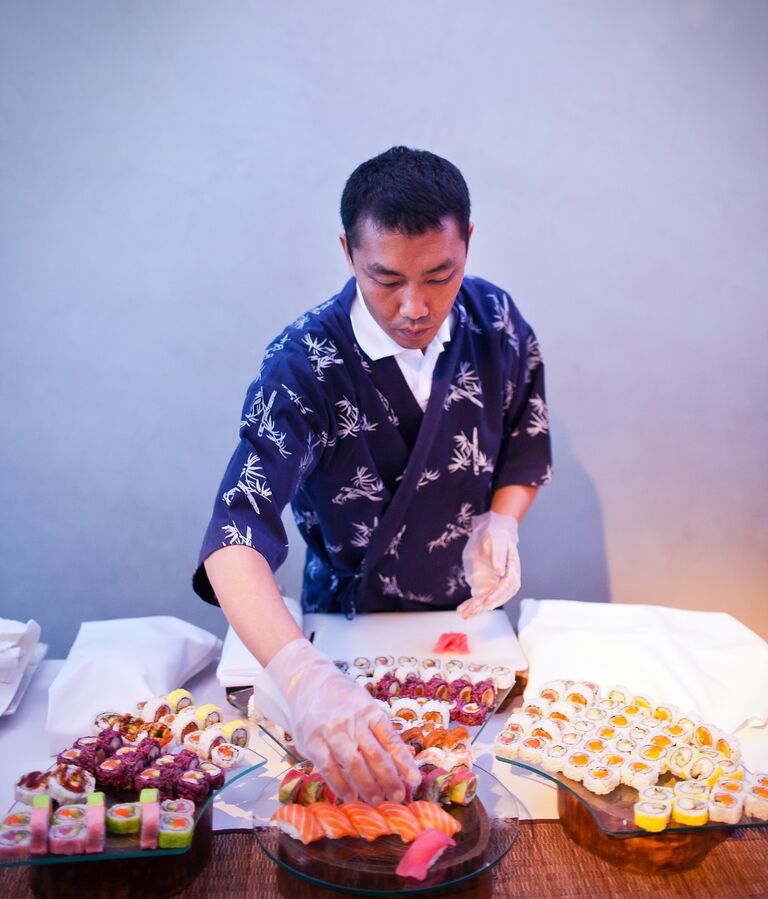 Nix the passed appetizers and roll out a make-your-own-sushi bar instead! Your guests will love the interactive element; plus the customizable roll options will make even the biggest sushi lover happy.
From the album: A Romantic, Jewish Wedding in New York, NY
Sushi Bowls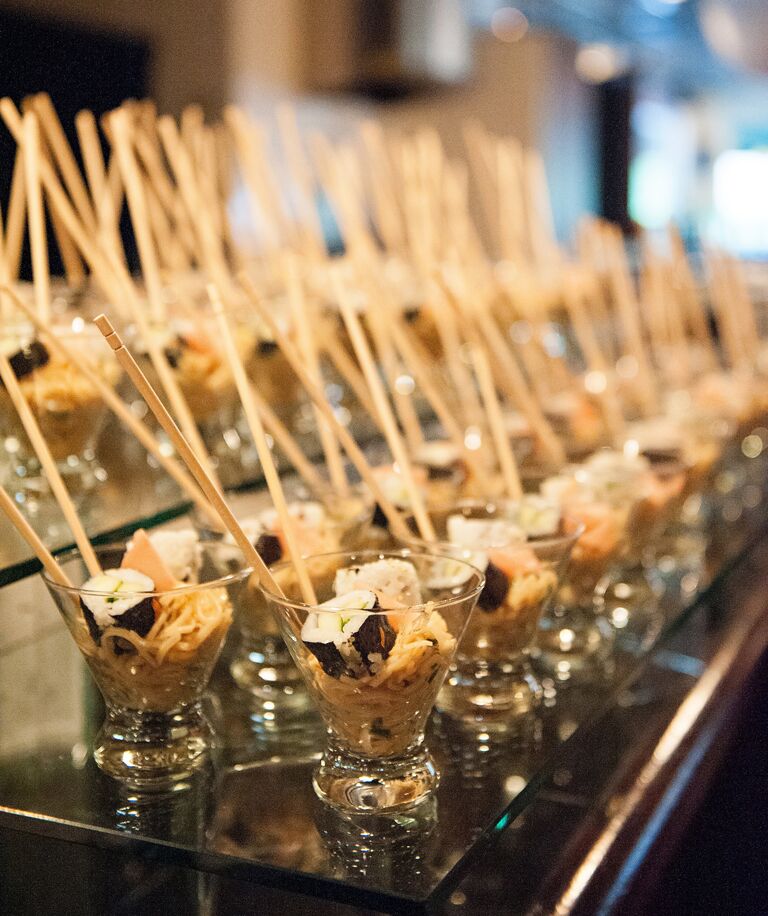 For the ultimate crowd pleaser, try adding a roll of sushi to your favorite Asian noodles, like pad thai or drunken noodles. Chopsticks keep the hors d'oeuvre hands free.
From the album: A Sophisticated Modern Wedding in Birmingham, AL
Sesame Cones
Go all out with the display and do something like these tuna tartare sesame cone shells. For their wedding, Katie and James served up these tuna appetizers alongside truffled mac and cheese and fig and goat cheese crostinis. "We wanted our wedding menu to reflect our favorite foods and offer our guests a variety of fresh, local ingredients," says Katie.
From the album: An Elegant Rustic Chic Wedding at Montage Beverly Hills in Beverly Hills, California
Deconstructed Sushi Bites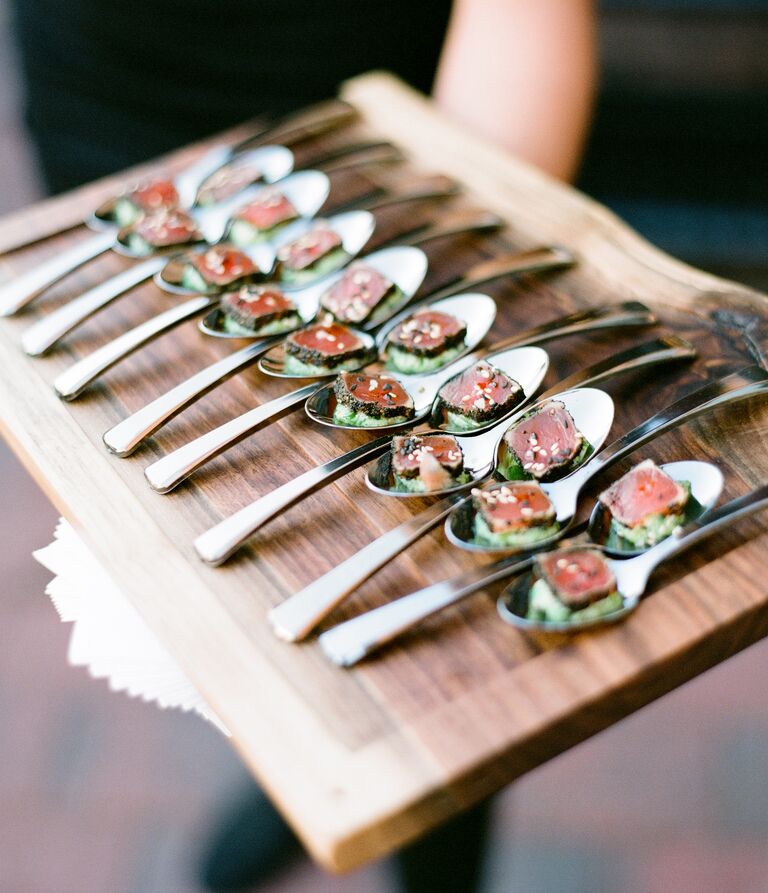 These appetizers are easy to grab and go, which makes them the perfect dance-heavy cocktail hour snack. Bonus: The deconstructed shape will really bring out each individual flavor -- like the wasabi!
From the album: A Romantic, Vintage Wedding at Liberty Warehouse in Brooklyn, New York
Crispy Sushi Cups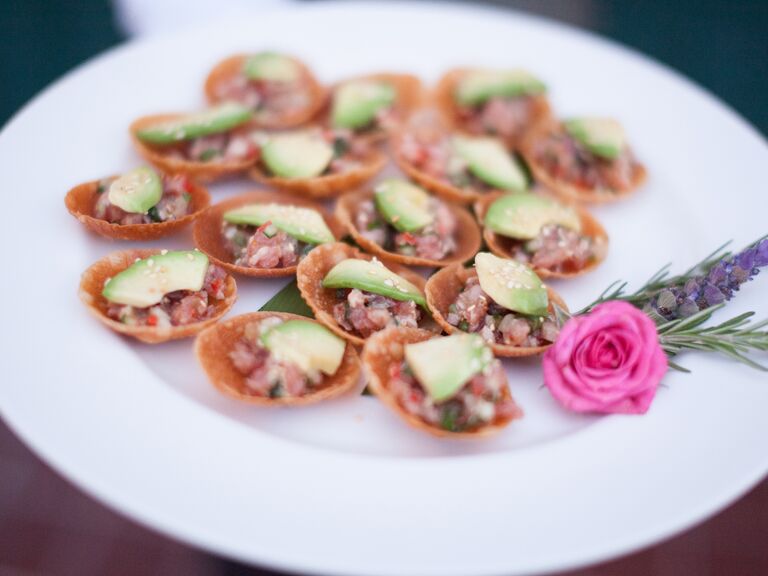 For a little bit of crunch, the raw fish was served in a wanton cup instead of a typical seaweed wrapper. A slice of avocado made the bites extra colorful!
From the album: A Neutral, Elegant Wedding in Ojai, CA