5 Ways Your Wedding Can Help Fight Breast Cancer
It's easier than you think to support breast cancer awareness through your wedding—we'll show you!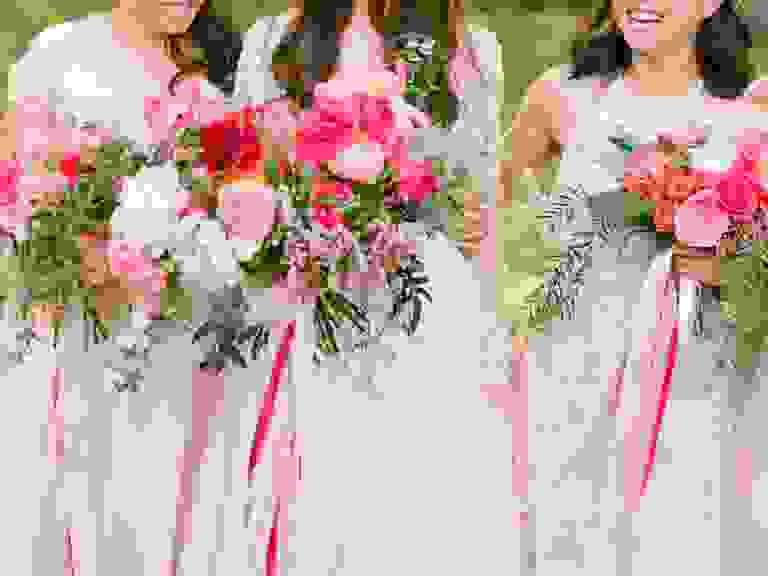 Dana Fernandez Photography

1. Celebrate for a cause through The Knot Gifts Back.
Support breast cancer awareness by choosing a charitable organization, such as Susan G. Komen, through The Knot Gifts Back charity program. For each qualified gift purchased off your registry on The Knot, we'll donate up to 3 percent to the charity of your choice—at no extra cost to you or your guests.
How to Do It: Head to The Knot Gifts Back registry page, choose a charity (or charities) near and dear to you and write a note letting your guests know about your cause. Your selected charity will automatically sync with your All-in-One Registry on The Knot and be super easy to locate on your wedding website. And don't worry, all donations will be made solely from us—not you or your guests. 
2. Participate in the Susan G. Komen Race for the Cure.
The 26-year-old foundation is the leading breast cancer awareness grassroots network of breast cancer survivors and activists working to cure breast cancer and raise awareness nationwide. Grab your bridesmaids, fiance and family and sign up to run or walk a national or local race to benefit Susan G. Komen Race for the Cure. 
How to do it: Go to Komen.org to find and register for one of the five sponsored Susan G. Komen Race for the Cure marathons taking place this year and commit to raising $2,200 for the cause, or sign up for a local race in your area. There are over 100 events annually, so you can be sure there's one going on near you.
3. Shop for wedding favors through The Breast Cancer Site.
The Breast Cancer Site gives free mammograms (one of the best early detection methods for breast cancer) to underprivileged women in low-income areas who can't afford an exam themselves. Proceeds from the site's store provide funding for these free mammograms. 
How to do it: Shop The Breast Cancer Site store and choose from a large offering of votive candles, bracelets and pins. Hand them out as favors at your wedding shower or for all your guests at your reception.
4. Send your wedding dress to Brides Against Breast Cancer.
The Brides Against Breast Cancer project is a part of Making Memories Breast Cancer Foundation, which works to grant wishes, fund "memory-making moments" for metastatic breast cancer patients, and raise breast cancer awareness across the country. 
How to do it: Go to the Brides Against Breast Cancer website and learn how to package and send your dress to the program after your wedding day. They'll sell it at one of many wedding dress sale events held across the country, and all the money will go to the Making Memories Breast Cancer Foundation fund. (A bonus: Your donation is tax-deductible.) Still on the hunt for the perfect wedding dress? Browse the racks at one of their sales. Check the calendar of events on their site to find out more.
5. Set up an Avon Breast Cancer Crusade Registry Tribute Fund.
Having raised over $525 million in more than 50 countries, the Avon Breast Cancer Crusade benefits educational programs, screening and diagnosis, access to treatment, research,and breast cancer support services worldwide.

How to do it: Visit the Avon website and set up an Avon Breast Cancer Crusade Registry Tribute Fund. Upload your picture, tell your wedding story and share your passion for breast cancer awareness. Once you've created your page, you'll be able to send out emails to your wedding guests and add a link to your wedding web page encouraging guests to donate to the cause.