24 Boutonniere Ideas to Wear on Your Wedding Day
Put your own spin on the staple.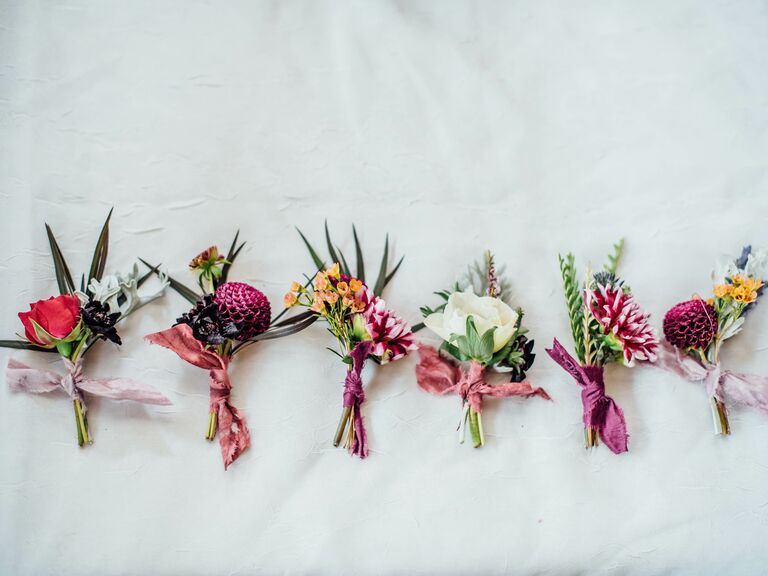 Cindy Lee Photography
When choosing your wedding flowers, there are many different elements to consider. You and your partner need to decide on your wedding décor, your table centerpieces and, of course, your personal florals (such as wedding bouquets, corsages and boutonnieres). But what is a boutonniere? It's a decoration traditionally worn on the lapel of a suit or tuxedo jacket. It's typically made of florals or greenery, but it can be made of any material you'd like. Try out a feather boutonniere, a wildflower boutonnière or a wreath boutonniere. You can also use your boutonniere as a way to personalize your wedding day by incorporating things you love. (Psst: check out the scrabble letter and the mini skis below).
Of course, you don't have to wear a boutonniere for a wedding. You should wear whatever makes you happiest. If you, your partner or your wedding party are going to wear boutonnieres on the wedding day but don't know what kind to get, we have all the inspiration you need. Whether you prefer a bold, bright bloom or muted, neutral greenery, there's a style below that will match your aesthetic. Once you find the style you like, work with your florist to bring your vision to life. See 24 creative boutonniere ideas for your wedding day, below.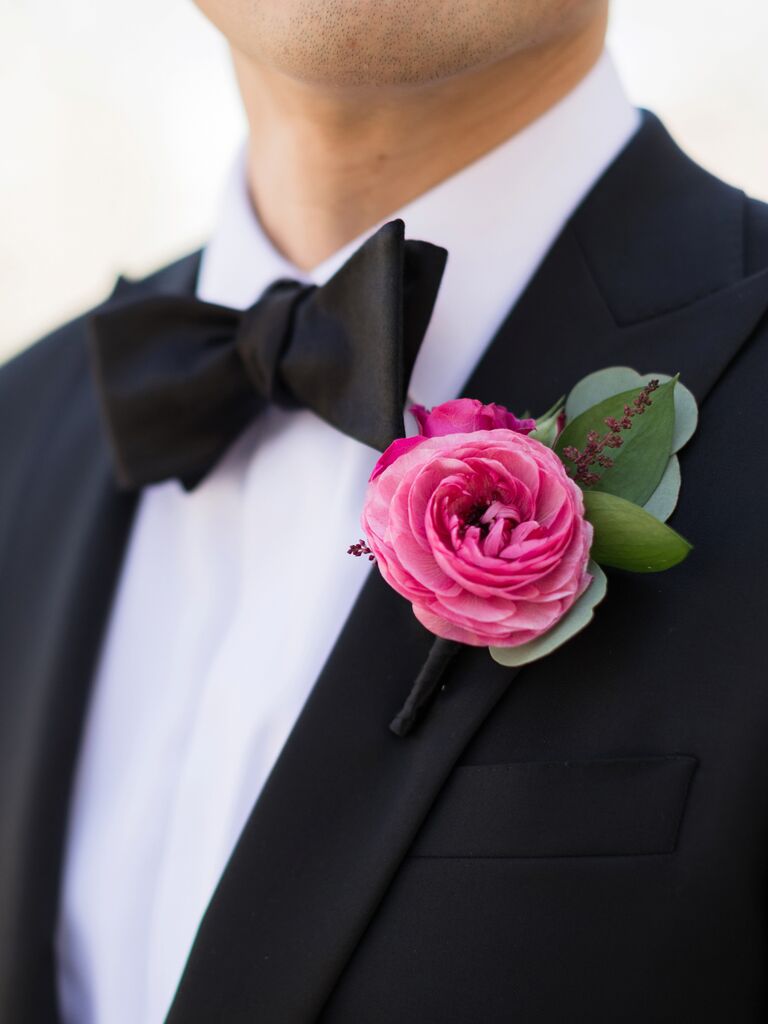 No fear of neon here. Add a pop of color to your wedding day outfit by opting for a bold bloom (we love this hot pink ranunculus) and add a bit of greenery to tone it down.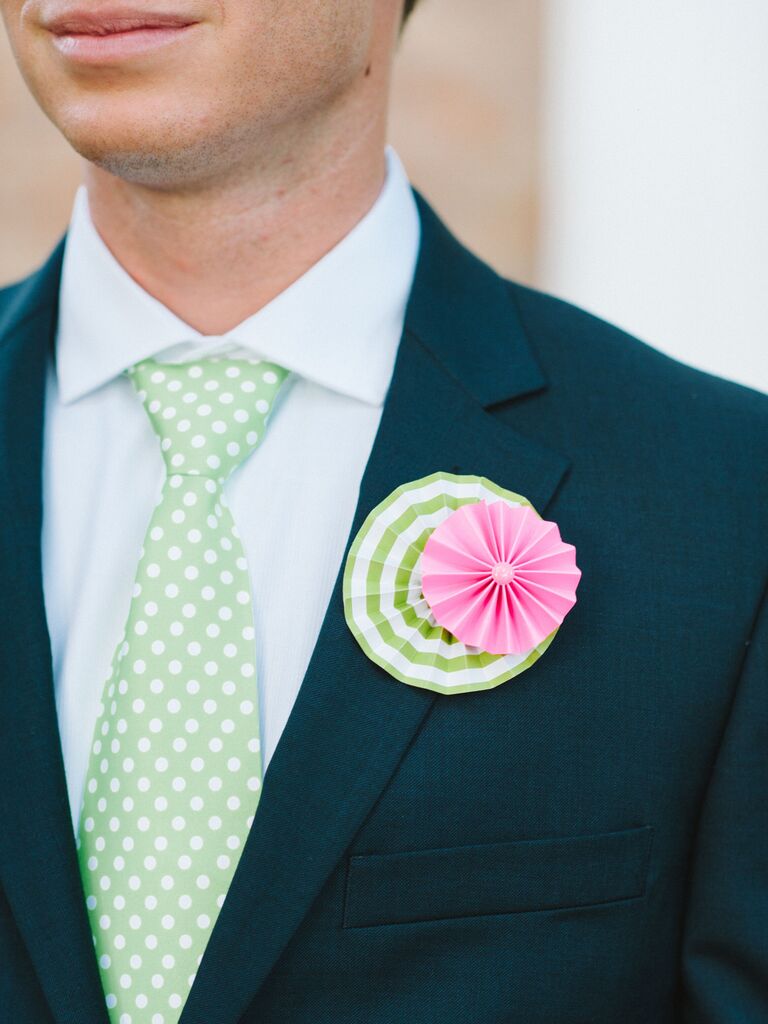 If flowers aren't your thing, consider a unique alternative. These pretty paper designs allow you to show off your personality and style.
Your boutonniere doesn't have to include traditional blooms. Try utilizing fruit and greens instead. It's a creative way to rock a bright color.
Play up a pretty pastel color palette by adding in cool-toned greenery. Your florist will be able to recommend complementary colors for your wedding outfit.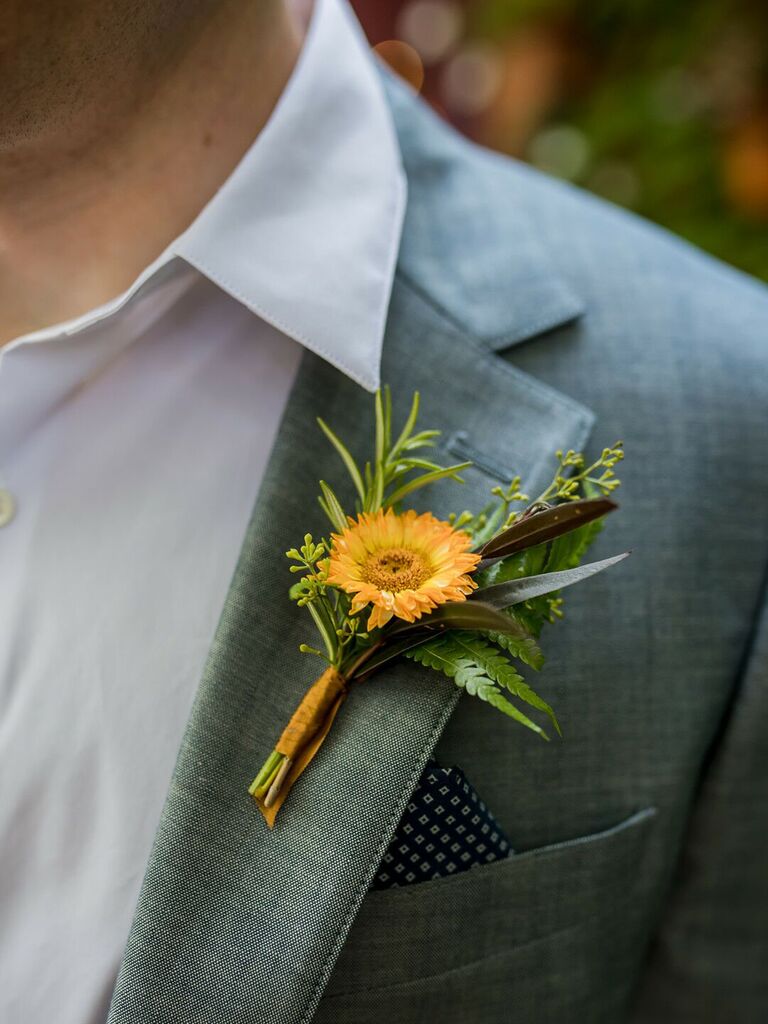 For an effortlessly cool vibe, consider a sunflower boutonniere. It adds a punch of color to your outfit without looking overdone.
You can still make a neutral-colored boutonniere playful. Consider different textures rather than colors for a unique spin on a classic palette.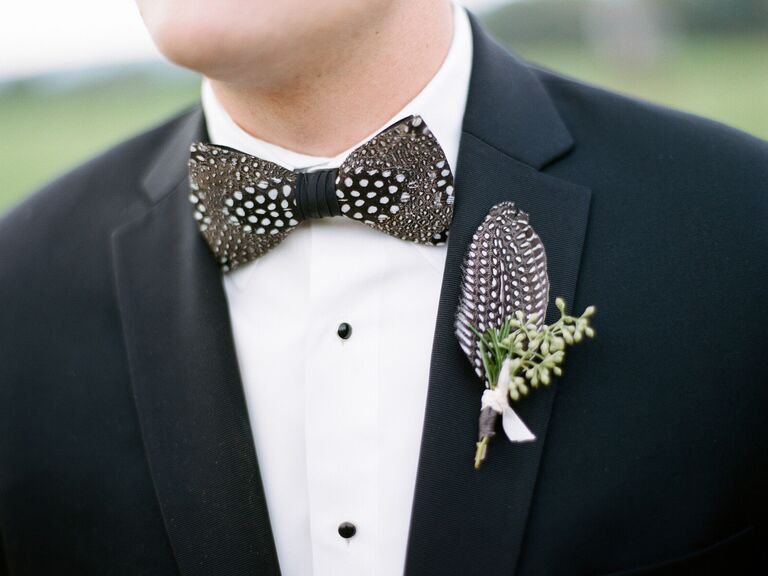 If you have an eclectic style, your boutonniere should reflect that. We love the idea of using a feather, as they showcase different patterns clearly (and they're the perfect size too).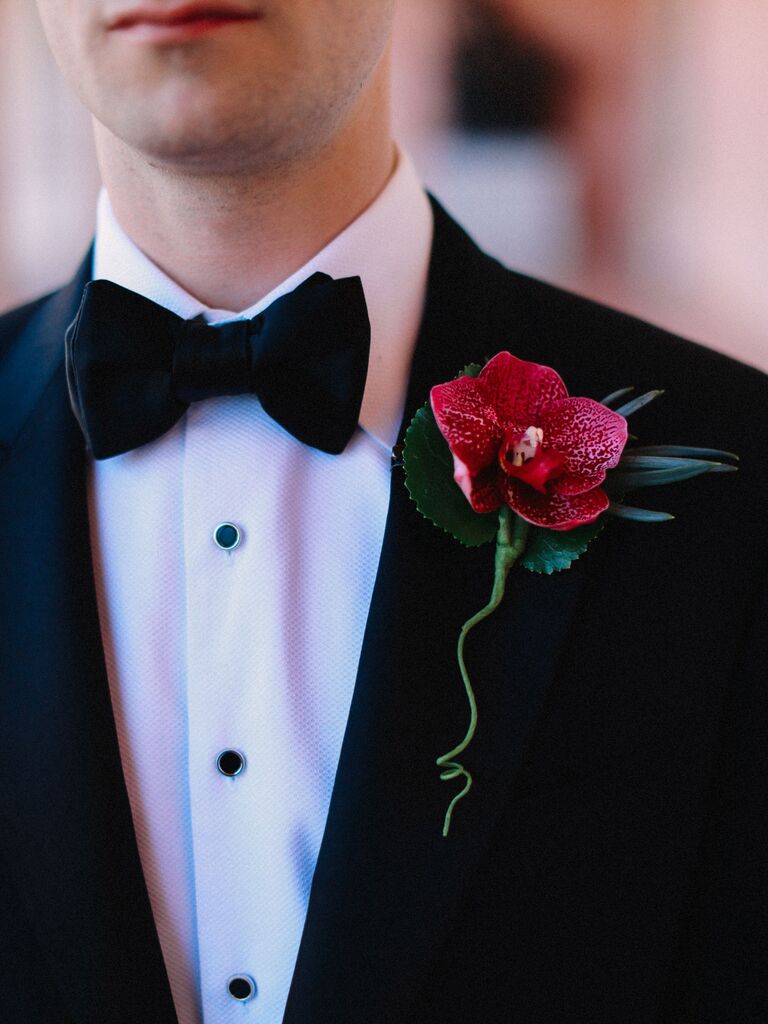 When it comes to boutonnieres, small details make a big difference. Showcase the flower's stem for an edgy twist on a classic look.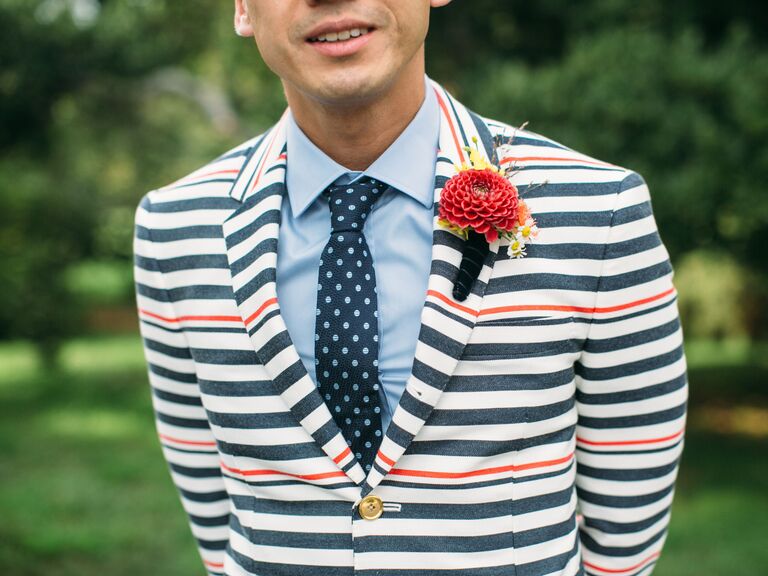 Bring out the colors in your wedding day outfit by coordinating the colors in your wedding accessory. We love this orange wedding boutonniere with a navy blue-wrapped stem.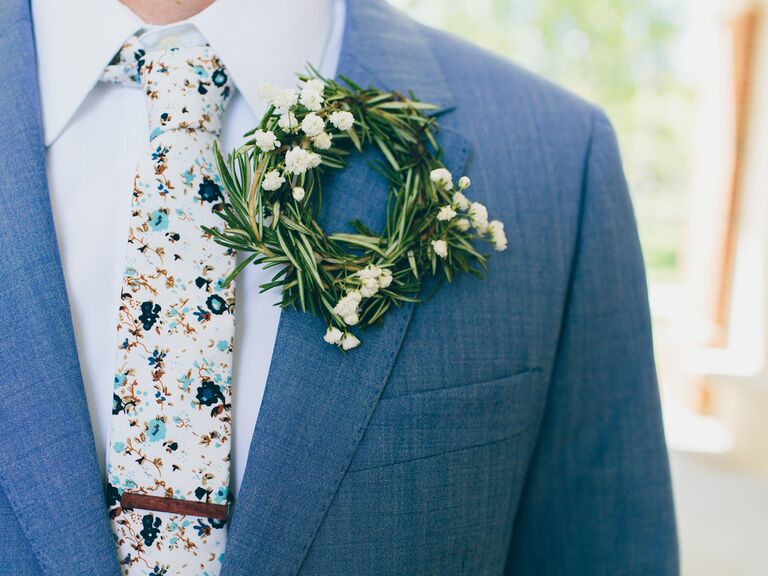 Not into cookie-cutter wedding boutonnieres? Skip the typical rose boutonniere and consider a mini floral wreath instead. It's a unique spin on the age-old tradition—and it will look amazing in photos.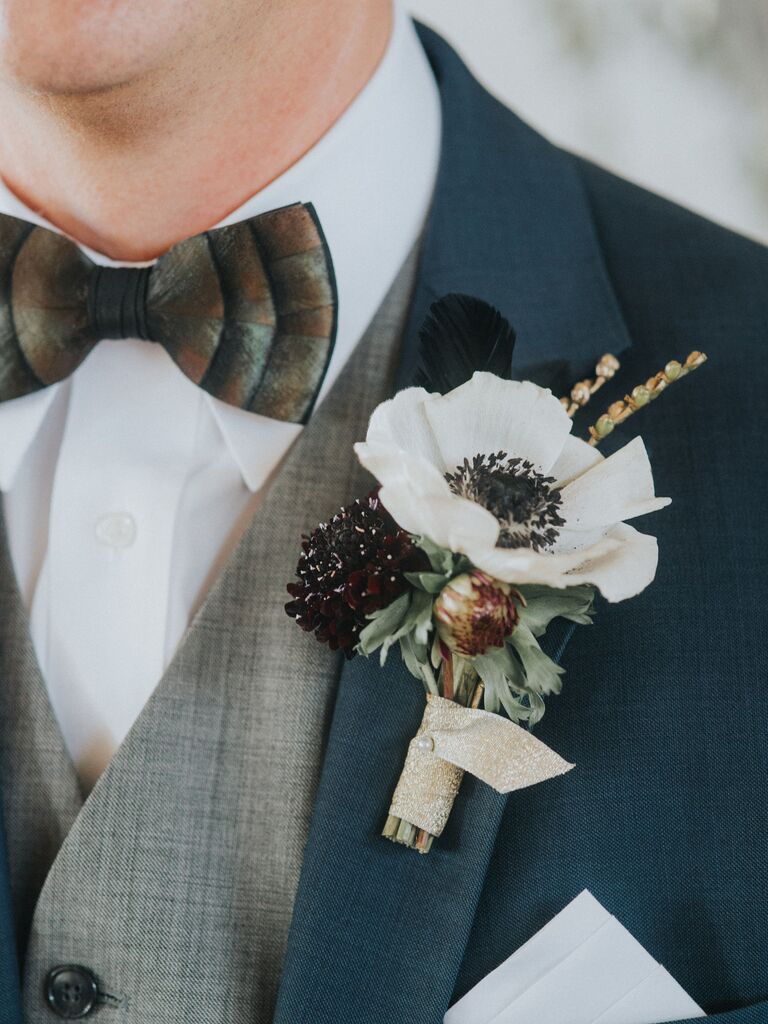 Going dark and moody for your fall wedding or winter wedding? You don't have to use inky-colored flowers. Consider rocking lighter florals with darker accents.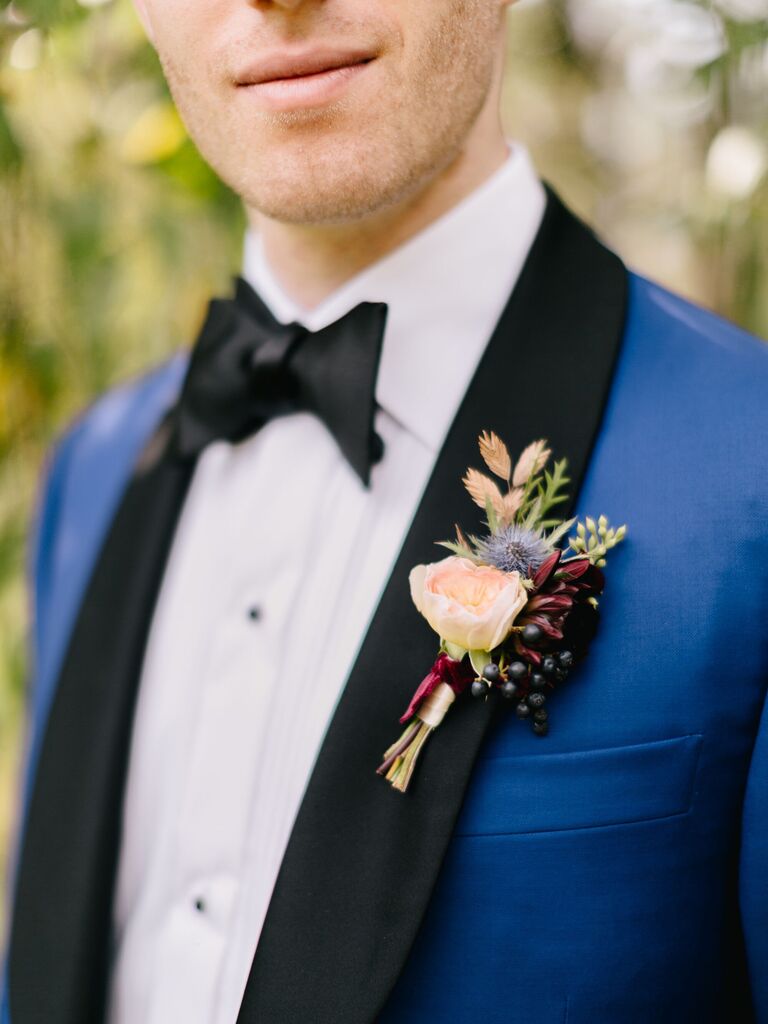 Just because your wedding day outfit is colorful doesn't mean your boutonniere needs to be neutral. Complement the hues of your attire with a mix of soft and bold-colored florals.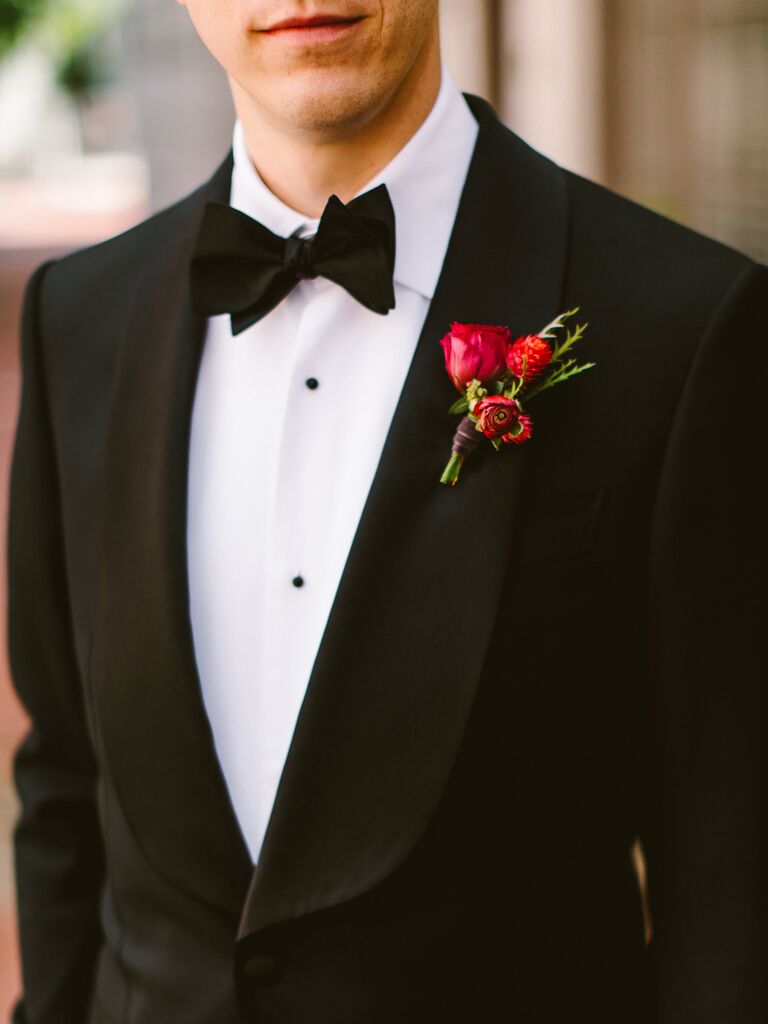 Spice up a classic red boutonniere by wrapping three small flowers together. It will give you an elegant look with a modern touch.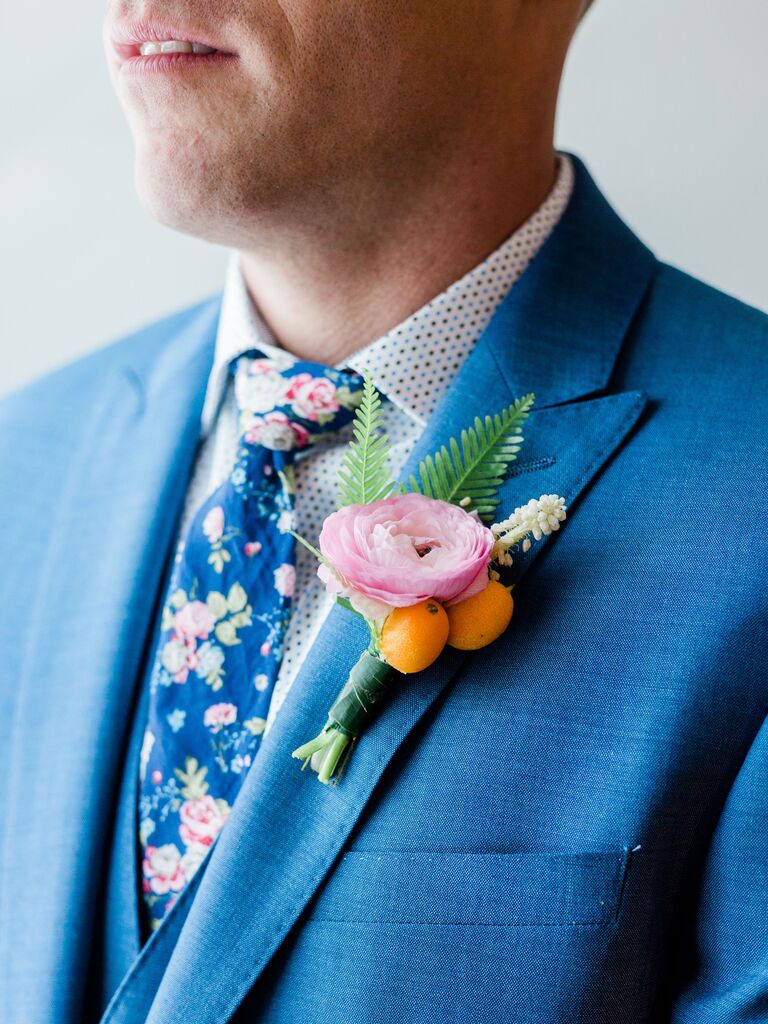 Brighten up your outfit by mixing bright citrus colors together for your wedding boutonniere. It's a simple way to match your spring or summer wedding palette.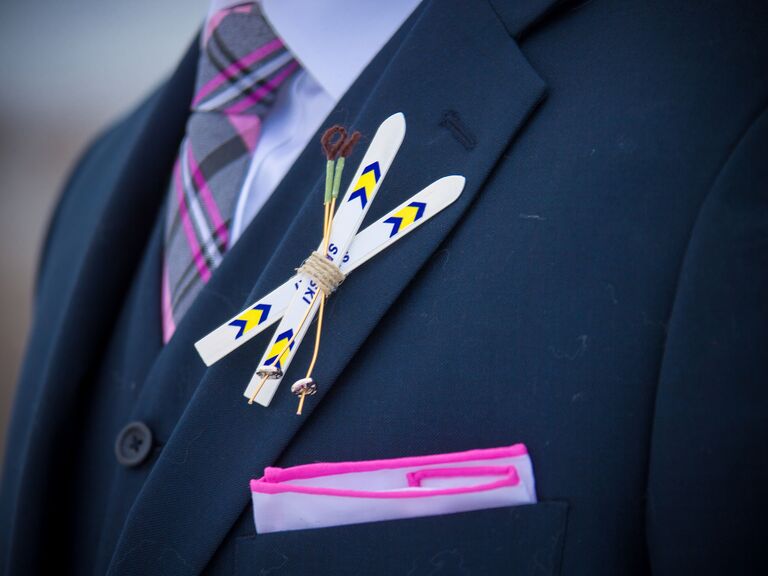 Who says wedding boutonnieres have to be florals at all? DIY and personalize your day-of attire by paying homage to a hobby you both love (like skiing, for example).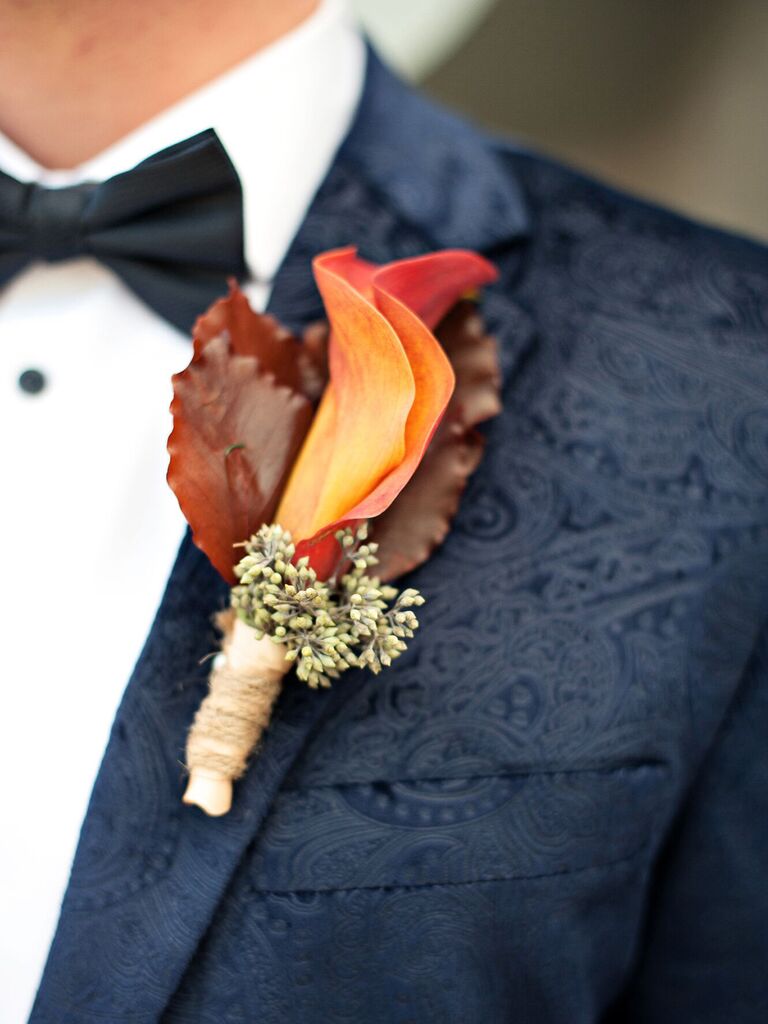 Another creative alternative to florals is leaves. We love the idea for fall weddings especially, as leaves are usually gorgeous tones of red, orange and yellow.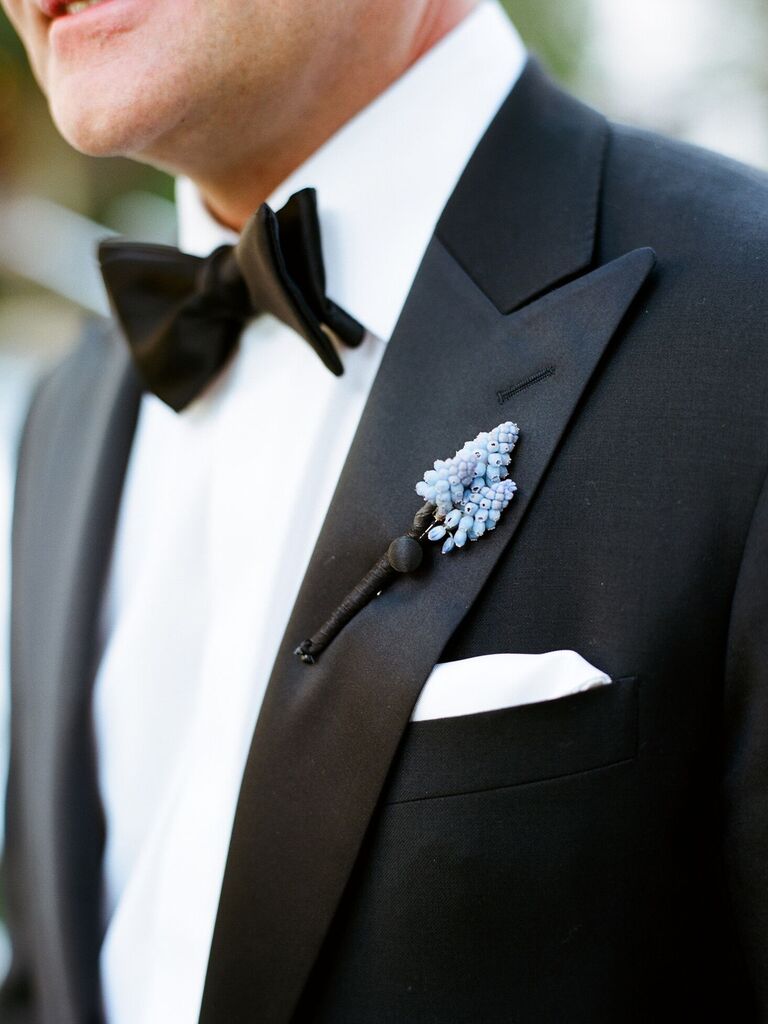 Your boutonniere doesn't have to be big to make a statement. A petite, bold-colored floral piece will accent a solid suit beautifully.
If you're not a huge fan of florals, go for greenery instead. Mix different colors and textures together for a visually stunning accessory. Wrap the ends in natural fabric to complete the laid-back vibe.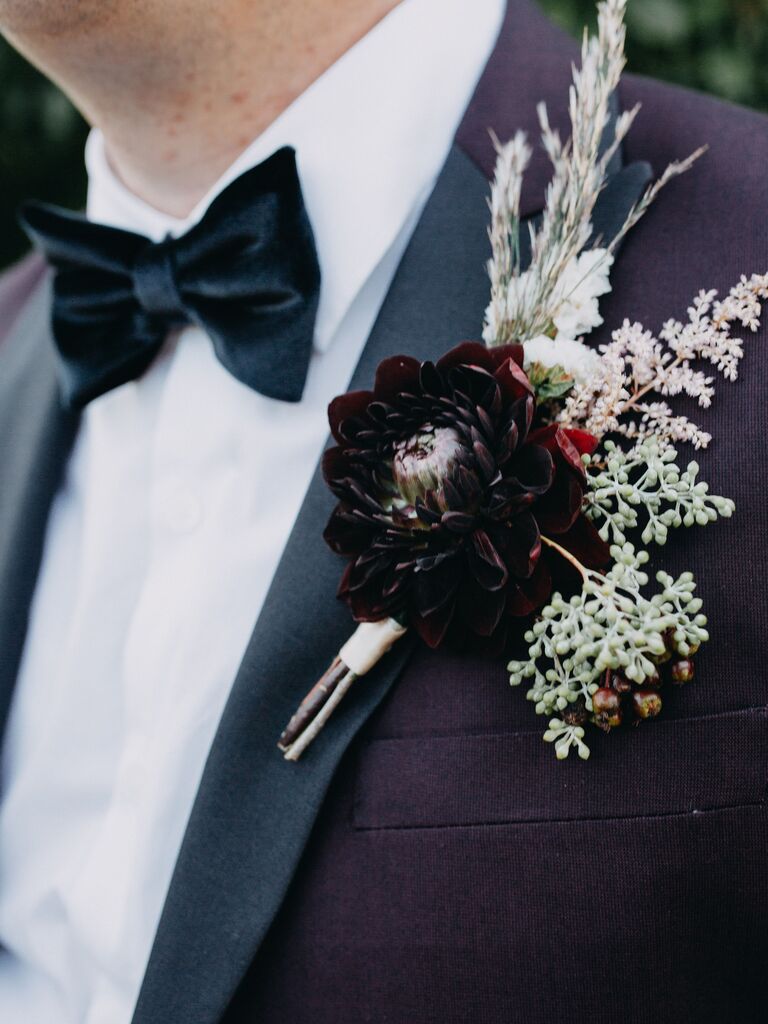 If you personally like darker colors, embrace that on your wedding day. Pair a deep-hued bloom with some lighter greenery for a stunning contrast that will look amazing in photos.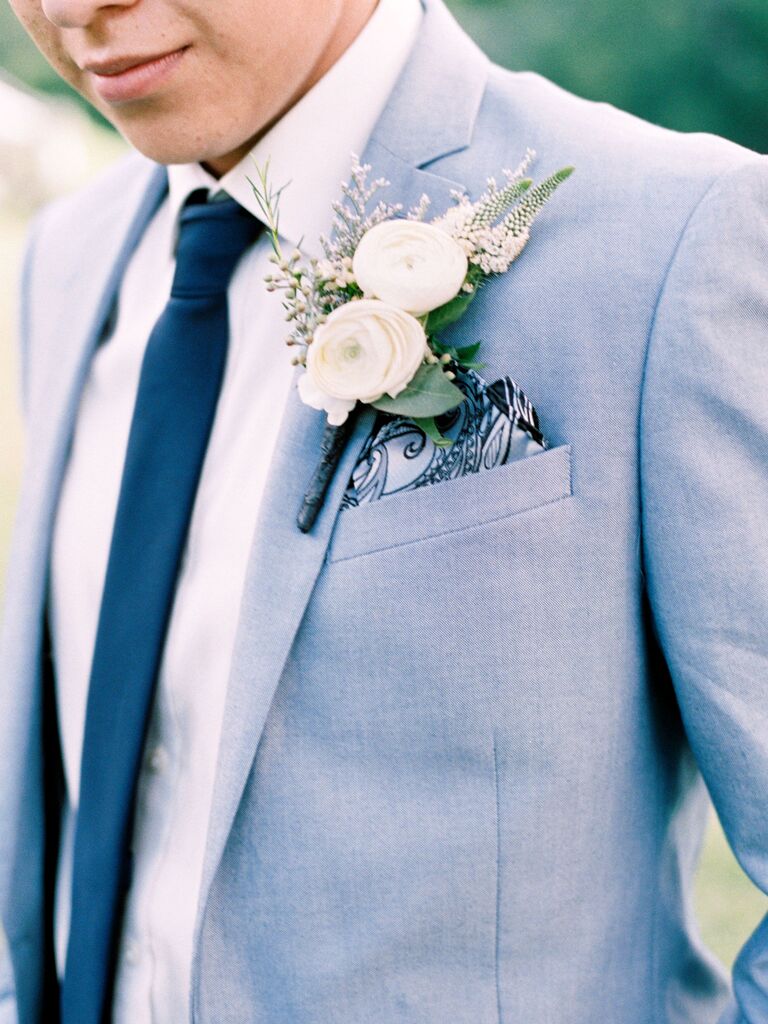 Green and white is a boutonniere classic for a reason: it goes with everything. It works for any wedding color palette, season or style. Plus the crisp, clean effect will draw attention to your smiling face.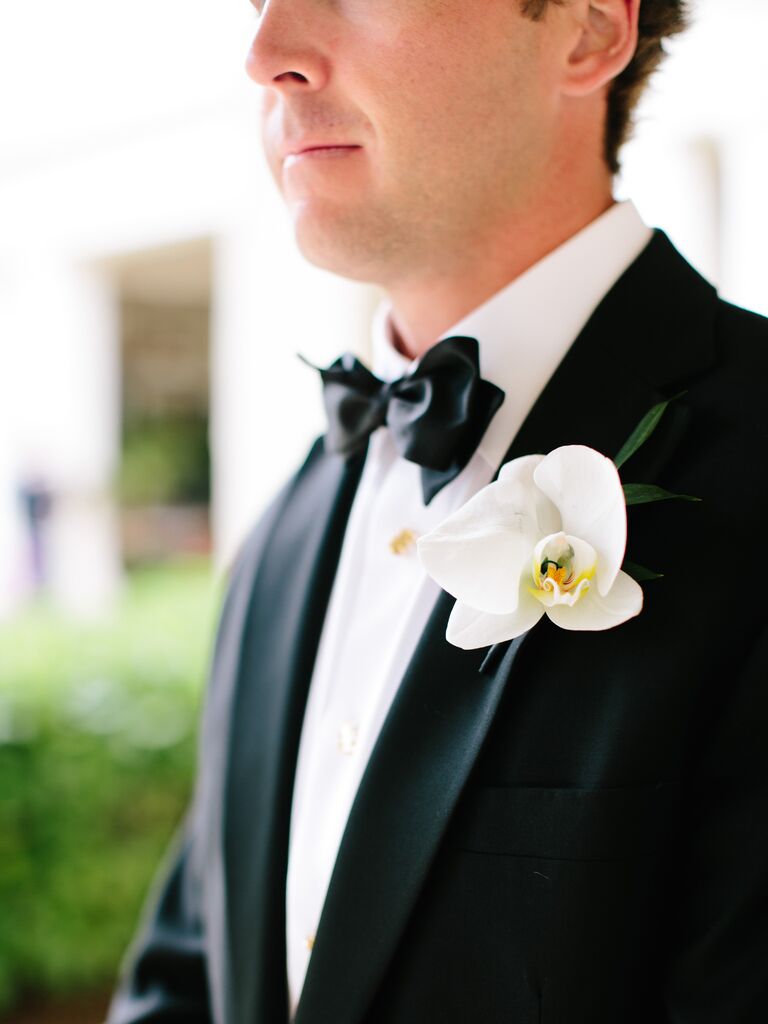 Get all the drama without any color. An oversized flower (like this orchid boutonniere) will make a serious statement on your wedding day. A calla lily is also a great choice for this aesthetic.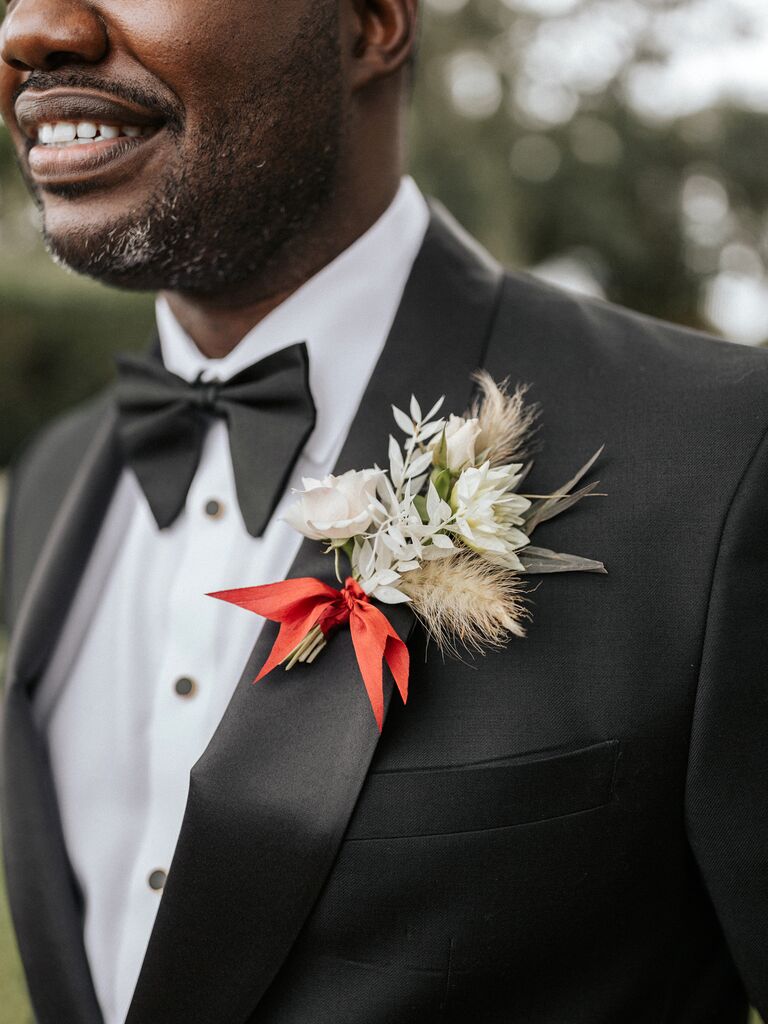 We love dried flowers because they add unique texture and dimension to any arrangement. (Psst: they're also an eco-friendly option, as they can easily be reused.)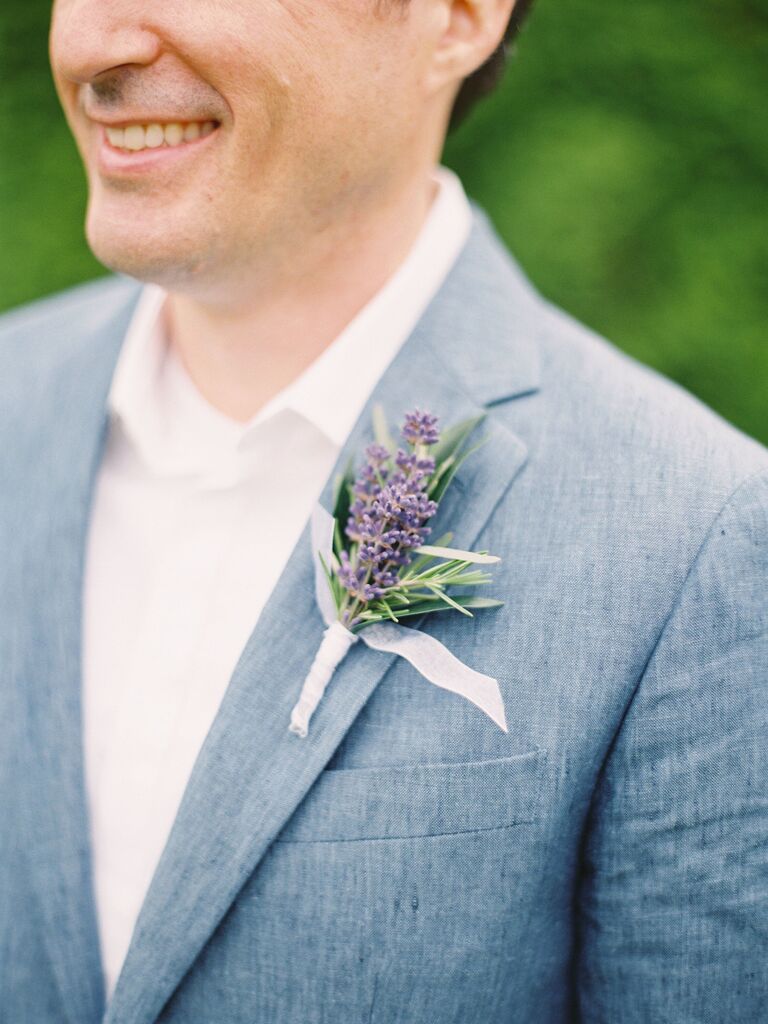 Keep things simple by rocking a boutonniere made out of lavender at your wedding. Not only will it add a soft touch of color to your outfit, it will also smell amazing throughout the ceremony.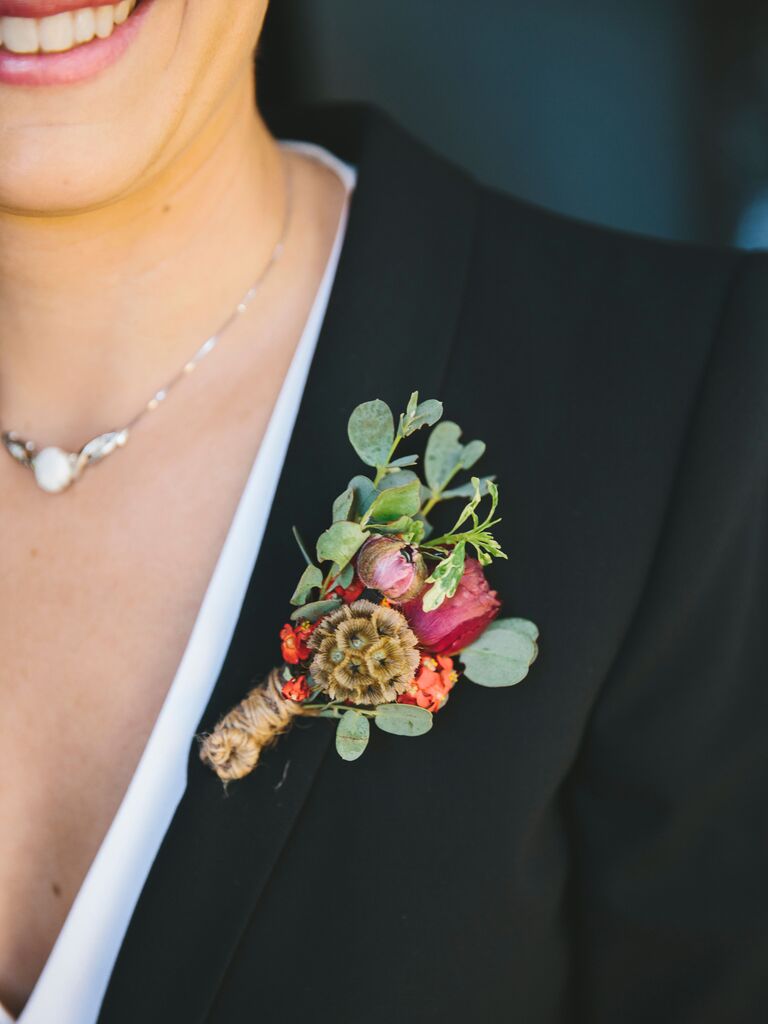 If you prefer a whimsical aesthetic, consider mixing different colors and textures for a "done-undone" look. The final product will create an eye-catching boutonniere that will stand out in photos.