The Knot Editors' Absolute Favorite Wedding Bouquets
Our team's all-time faves might surprise you.
As a wedding editor, picking a favorite wedding bouquet feels like a parent picking a favorite child—I know you're not supposed to have one, except that you kind of do. While I hope, for my self-esteem's sake, that my parents keep their golden child a secret from me (but I guessing it's my little bro who had a sweet taco bar at his wedding), I got The Knot team to spill their secrets and dish on their absolute favorite wedding bouquets.
But here's the thing, the team sees hundreds of wedding bouquets on the reg filled with every popular wedding flower under the sun, so we're picky. Not just any old bouquet will do. Because of that, some of these expertly crafted wedding bouquets might surprise you. Whether or not you saw these hot picks coming, we know you're about to be obsessed with them.
In this story:
The Knot's Favorite Wedding Bouquets
All my colleagues, both married and unwed, get this question non-stop: What's your definition of a perfect wedding? Our whole team sees plenty (read: lots!) of trendy weddings and so we've got a good feel for our dream wedding elements, from wedding bouquets to invitations and beyond. But here's the thing—there's no one perfect wedding bouquet. Color, seasonality, themes and style, among other things, influence what makes a wedding bouquet great. Each of our team members had a different favorite wedding bouquet and some of their picks are going to surprise you. Here are the wedding bouquets the team loves right now.
1. Ethereal Peach-Hued Cascading Bouquet
Peach is a great wedding flower color is you love shades like pink and orange, but want something subtle and refined. The cascading style of this bouquet only enhances the dreamy vibes it's serving.
Why We Love This Bouquet: Sarah Hanlon is The Knot's Entertainment & Celebrity Editor and is dialed in not only on which A-listers are engaged, but which dress designers the rich and famous are loving these days (spoiler: Vivienne Westwood is having a moment) and how they're celebrating their bach parties. "Does it get any dreamier than this?" asks the editor. "I love the combination of pale and peachy pink dahlias and roses in this whimsical bouquet. Layered with charming butterfly ranunculus and white blooms, this makes for the perfect spring or summer bouquet."
2. Wildflower Wedding Bouquet With Orange Icelandic Poppies
Icelandic poppies in a variety of shades of orange take center stage in this wildflower wedding bouquet.
Why We Love This Bouquet: Mina Garagozlo is the Senior Social Media Manager at The Knot. Whether it's a new trend on TikTok or a creative wedding concept on Pinterest, Mina has her pulse on the latest wedding must-haves inspired by social media. "This whimsical bouquet is the perfect touch of color for a spring wedding," says Mina. "The contrasted lengths and textures of the florals along with the bright oranges and yellows against the delicate pale pinks give it a unique and eye-catching look. It's reminiscent of a field of wildflowers in full bloom, making it the perfect bouquet for a spring bride."
3. Whimsical Peach Rose Wedding Bouquet
Sprigs of white astilbe and scabiosa add texture and dimension to this whimsical peach rose wedding bouquet.
Why We Love This Bouquet: Arielle Balot is the Senior Manager, Affiliate & Revenue Operations at The Knot. From wedding favors to bachelorette party supplies, Arielle is the team's go-to expert on what couples are shopping for and which stores have the freshest offerings. "This pastel dream of a bouquet is both stylish and sophisticated. I love the blend of plush roses alongside the whimsical stems of wildflowers. The pops of green amongst the softer hues of the petals also make it feel more dimensional," says Arielle.
4. Colorful Poppy and Anemone Wedding Bouquet
Since the poppy and ranunculus blooms in this wedding bouquet are so vibrant, the bride's floral designer tempered the arrangement with black-and-white anemones for balance.
Why We Love This Bouquet: Sofia Deeb is the Assistant Fashion Commerce Editor at The Knot.
"This bouquet has 'spring' written all over it and frankly, I'm obsessed. The white anemones add an excellent touch of contrast against the assorted orange and yellow flowers. Plus, the stems of greenery bring in a whimsical element that really ties it all together."
5. Romantic Blue and White Wedding Bouquet
"Something blue" in the form of a wedding bouquet? We love the concept, especially after seeing the flower arrangements from this chinoiserie-inspired wedding.
Why We Love This Bouquet: Samantha Iacia is an Editor at The Knot. She is the team's go-to expert on wedding decor trends ranging from popular wedding colors to of-the-moment shower inspo. "Blue is my favorite color, so of course these delphinium stems caught my eye," shares Sam. "Along with the roses (my favorite flower) and peonies, I love the organic shape of this bouquet—pretty but not too overdone. The long ribbons make the design feel especially wedding-ready."
6. Garden-Inspired Wedding Bouquet With White Cosmos
Queen Anne's lace and chamomile blooms complemented the dramatic all-white cosmo blooms in this verdant bouquet.
Why We Love This Bouquet: Lauren Whalley is the Fashion Editor, Beauty & Inclusivity, at The Knot. As a to-be-wed herself, Lauren is accurately aware of all the great inspiration out there and the importance of honing in on a wedding style that feels authentic to you. "There's just something so beautiful about a bouquet that looks like it was freshly picked from a garden," says Lauren. "The loose stems and simple blooms are absolutely lovely, it's the exact inspiration for my own spring 2024 wedding."
7. Regal Purple Wedding Bouquet
There's a reason purple is the color of royalty. The purple wedding flowers seen here (scabiosa, rose and lavender) add a fun burst of color to this romantic arrangement.
Why We Love This Bouquet: Kim Forrest is a Senior Editor at The Knot with more than 10 years of experience educating readers about how to plan a wedding. "I know this may be controversial, but I will shout it from the rooftops—I love purple," admits Kim. "I adore how this bouquet features purple blooms paired with some favorite springtime flowers—roses, peonies, and orchids to name a few. I'm also partial to bouquets that have a 'just picked from the garden' vibe, and this one definitely fits the bill."
8. Majestic Purple Bouquet With Orchids and Anthurium
Iridescent stems of anthurium are the moment. They add a unique dose of personality and intrigue to this arrangement of orchids, roses and painted palm fronds.
Why We Love This Bouquet: Nic Taliaferro is the Fashion Content Strategist at The Knot. They are an expert on wedding fashion trends and have their pulse on the attire styles current to-be-weds are interested in. "This bold, nontraditional bouquet is a stunning example of the creative trust held between a couple and the florist. [The florist] understood the assignment and curated a bouquet that captures the whimsical, edgy, romantic and glam facets of the couple and their day," says Nic. "Plus, I love that there are dried elements the couple can keep and display in their home as everyday reminders of their celebration."
9. Fall-Inspired Red and Orange Wedding Bouquet
For couples in search of seasonal fall wedding flowers, this bouquet is a standout.
Why We Love This Bouquet: Tiana Crispino is the Editorial Designer at The Knot. From creating custom illustrations to magazine layouts she is an expert at making things look as visually appealing as possible. As such, it's no surprise this fall-inspired wedding bouquet piqued her interest. "This bouquet feels like soaking in the warmth of the sunset," says Tiana of her favorite wedding bouquet. "It's a perfect palette for any season, but would be a great addition to any summer or fall wedding. Autumnal, yet bright and airy!"
10. Cascading Wedding Bouquet With Peach Dahlias
If money and seasonality weren't a factor, I would buy dahlias every day of the week, all year long—they're the definition of magnificent.
Why We Love This Bouquet: Esther Lee is the Deputy Editor of The Knot and oversees topics ranging from breaking news to travel trends. Her experience is deep and varied—in short, she knows a thing or two about weddings, especially bouquets. "A symphonic bouquet offers playful dimension and tasteful texture," says Esther. "This bountiful arrangement includes a sweeping variety of nature's offerings, including dahlias, roses, sprigs of lavender, astilbe, carnations, and my all-time favorite flower: the ranunculus."
11. Modern White Rose Wedding Bouquet
There's a reason people buy roses all year round and not just on Valentine's Day—they're marvelous.
Why We Love This Bouquet: Kerre Jo Lattanzio is a Social Media Coordinator at The Knot. In her role, she gets a front-row seat to the hottest wedding trends popping off online. "White roses are my favorite flower for two reasons: They match everything and instantly elevate their surroundings," explains Kerre Jo. "In terms of weddings, white roses provide a chic touch to any bridal look and are an underrated floral, perfect for minimalist occasions."
12. Dramatic Pink Wedding Flower Bouquet
The variety of shades of pink, from blush to berry, add to the visual depth and drama of this romantic wedding bouquet.
Why We Love This Bouquet: Alison Meehan is an Assistant Commerce Editor at The Knot. In her role, she oversees wedding anniversary-focused content which provides her unique insight into how wedding content endures beyond the big day. Alison loved this bouquet because "peonies are my favorite flowers because they're endlessly pretty and romantic. They also symbolize good luck, happiness and wealth, making them an excellent choice for wedding bouquets."
13. Romantic Peach Fresh Flower Wedding Bouquet
This bouquet embodies the feeling of a warm, sunny summer day—we can almost feel the breeze and smell the sweetness we're sure was present at this cheerful wedding.
Why We Love This Bouquet: Taylor Whitten is the Content Strategist, Planning & Style, at The Knot. In her role, she oversees the strategy and insights for wedding flower content and knows exactly what's trending and what current couples are looking for in wedding bouquets. With that in mind, Taylor was especially partial to this bouquet: "With soft, spring-like pink and peach tones and a straight-from-the-garden feel, I love the classic elements (hello, roses and ranunculus) intertwined throughout this bouquet. The touch of greenery adds a fresh, romantic layer that makes me feel the magic of spring come alive. Definitely saving this to my wedding mood board (for my future self)."
14. Orchid Wedding Bouquet for Bride
The texture of this bouquet is living rent-free in our heads. I mean, how amazing are these orchids and the sprigs of dried pampas?
Why We Love This Bouquet: Samantha Quisgard Langabeer is the Associate Director of Editorial Operations at The Knot where she establishes processes to ensure the team is a well-oiled machine so that engaged couples have access to the most relevant wedding content available. "As a huge fan of neutrals, this is a dream bouquet for me," says Samantha. "I love the way it perfectly combines old and new by pairing the textured modernness of the palms and pampas to add dimension with the classic clean nature of the orchid delicately cascading in the front to draw the eye down the dress."
15. Jewel-Tone Flower Bouquet for Wedding
You can't go wrong with jewel tones, especially if you're planning a luxe or glam wedding.
Why We Love This Bouquet: MaryKate Callahan is the Director of Content Strategy at The Knot where she oversees all the articles that get written and has the expertise to know exactly what's popular with engaged couples right now. "I love when bouquets strike the balance between polished and playful, and this one does just that," explains MaryKate. "I'm especially fond of the varying textures, colors and overall asymmetrical balance of this bouquet. (It also doesn't hurt that this shares some similarities with my own bridal bouquet from my fall wedding!)"
16. Colorful Neon Bouquet of Flowers for a Wedding
Nontraditional couples, this look is for you. If you've chosen a bold color palette then don't be afraid to get creative with a vibrant wedding bouquet.
Why We Love This Bouquet: Annie Lennon Carroll is the Head of Editorial at The Knot. Her years of editorial experience have provided her with first-hand insight into trends and popular colors, which is why her favorite bouquet pick is so notable. "Bold and beautiful. I love how all the colors pop against the white dress, making a statement of its own. To me, this bouquet says we're ready to party," says Annie.
17. Rustic Fall Orange Wedding Flower Bouquet
Orange rose and astilbe blooms bring a beautiful autumnal feel to this bride's lush wedding bouquet.
Why We Love This Bouquet: Meesha Diaz Haddad is the Editorial Operations Manager at The Knot. As a seasoned pro in the wedding magazine industry, she's seen more beautiful wedding bouquets than she can count so we advise you pay close attention to her favorite wedding bouquet. "Autumn is my favorite time of year, and this abundant bouquet of peach, orange, and cream flowers and eucalyptus and magnolia leaves feels like pumpkin season," says Meesha. "I love the mix of textures and the relaxed, romantic vibe of it all."
18. Cascading Bright Pink Wedding Bouquet for Bride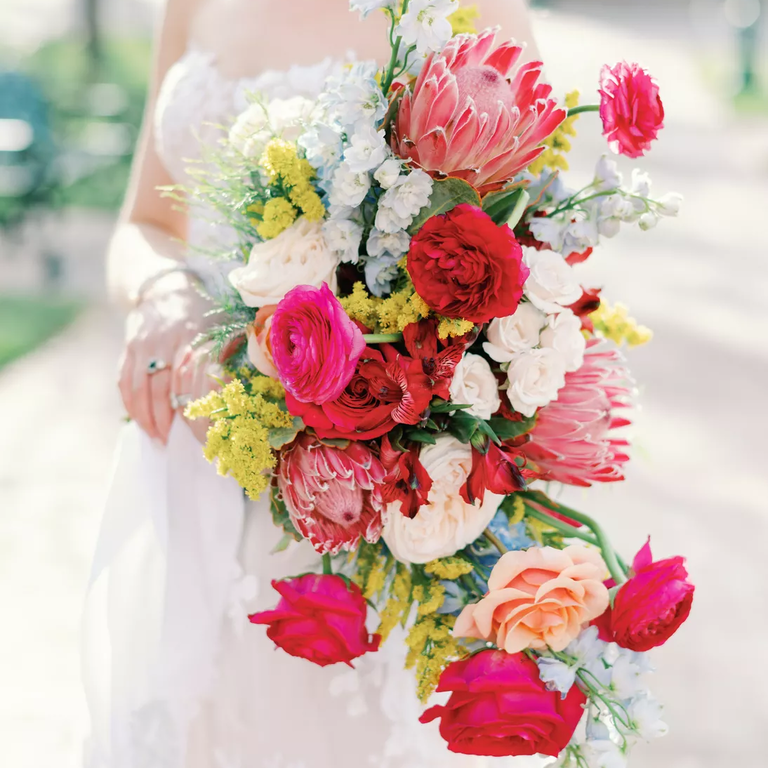 The vibrant roses, ranunculus and proteas in this bouquet keep drawing our eyes in and we simply can't look away.
Why We Love This Bouquet: Hannah Kimnach is an SEO Strategist at The Knot where she is keenly attuned to the trends and flowers engaged couples are loving right now. "Offering the perfect pop of brilliant color to any bridal bouquet, this eye-catching assortment of fun florals is full of all my faves for a springtime wedding," says Hannah. "I especially love the variety of happy hues and tasteful textures, from soft pastels to bright and bold fuschias."
19. Tie Dye-Inspired Flower Bouquets for Wedding
This couple leaned into a Grateful Dead wedding theme. Their florist creatively used a myriad of pastel wedding flowers to give the bouquets and tie dye-like quality.
Why We Love This Bouquet: Ash Tulett is the Associate Director of Editorial Video at The Knot. In his role he has a keen understanding of how colors translate into video, so his pick is worth noting if you're especially interested in making sure you bouquets pop in your wedding video. "There's something incredibly calming and mystical about this bouquet," says Ash. "I'm a sucker for pastel colors and I love that with this bouquet you have a lot of outfit-matching options. Ideal for a bridal party who doesn't want to do matching dresses or for a bride that plans to take a lot of photos with wedding guest attendees."
20. Fall-Inspired Bride Wedding Bouquet
Fall leaves draw out the burgundy hues seen in this wedding bouquet's dahlia blooms and beautifully add movement and texture to the floral arrangement.
Why We Love This Bouquet: Jody Marich is an SEO Content Strategist at The Knot. "The whimsical, elegance of this bouquet offers a beautiful transition of seasons. The mixture of organic textures and beautifully soft flowers with bold pops from my all-time favorite flower, the dahlia, makes this bouquet ooze with romantic moodiness."
21. Fresh Flower Wedding Bouquet With Sunflower, Ranunculus and Rose
Considering a sunflower wedding bouquet? This design is all the proof you need that sunflowers are a good choice, always.
Why We Love This Bouquet: Emily Rumsey is an Assistant Commerce Updates Editor at The Knot. She has a finger on the pulse of current shopping trends and the unique wedding products couples are loving these days. "Sunflowers are my favorite flower, but their vibrant yellow petals don't always feel bridal to me," says Emily. "This pastel mini sunflower bouquet is the perfect combination of their cheery feel with elegance. I love the addition of blush roses, and white ranunculus and the eucalyptus leaves add a nice contrast to help balance the dark center of the sunflowers. Plus, they have a calming smell for any big-day nerves. This bouquet's delicate color palette and full structure make it feel whimsical, yet strong and perfect for any season."
22. Spring-Inspired Wildflower Wedding Bouquet
The cosmos, zinnias and Queen Anne's lace in this wildflower wedding bouquet are mesmerizing.
Why We Love This Bouquet: Emily Platt is the Senior Manager of Commerce Content Strategy at The Knot. With more than eight years of wedding editorial experience, Emily is an expert when it comes to showcasing wedding inspiration that aligns with the interests of currently engaged couples. "Looking at this bouquet makes me feel like I'm frolicking through a field of wildflowers," says Emily. "Joy is at the core of every wedding and this charming arrangement oozes cheerfulness. I love the visual variety and unique pops of color, which give this beautiful design a freshly foraged look."
23. Classic Ivory-and-Peach Bouquet of Flowers for Wedding
Pure romance—that's the name of the game with this garden-inspired rose wedding bouquet in soft shades of peach and ivory.
Why We Love This Bouquet: Lauren Kay is the Executive Editor of The Knot. In her capacity as a wedding expert she regularly speaks with national news and television outlets about trending wedding styles, especially popular wedding flowers. "This romantic wedding bouquet tugs at my heartstrings and makes me nostalgic for my own wedding," says Lauren. "The pillowy peonies and garden roses remind me of the bouquet I carried when I tied the knot. The way the floral designer played with scale (layering small roses in with larger blooms) is another reason this design stands out to me. A win all around."
A Wedding Editor's Top Wedding Bouquets
I'm not ashamed to admit it—I am obsessed with weddings and my perfect chill night at home in Brooklyn involves flipping through the pages of the latest issue of The Knot Magazine or hosting drinks for the many talented wedding pros this job has connected me to. Between my prior career as a wedding planner and all the friends I've been a bridesmaid for, I've attended more than 40 weddings (naturally, I lost count on the exact number ages ago). In short, I live and breathe weddings as the Senior Weddings Editor at The Knot. So there was no way I was going to be able to pick just one favorite wedding bouquet. Here is an in-depth look at all the top wedding bouquets that continue to take my breath away.
24. Modern Protea Wedding Flower Bouquet
Protea has gained traction in recent years as a popular wedding flower. I love that this protea wedding bouquet keeps the bloom front and center. The black-and-white embroidered ribbon is simply the cherry on top of an already amazing wedding bouquet.
25. Eclectic Yellow Craspedia Flower Bouquet for Wedding
Many minimalist couples are leaning into wedding bouquets that only utilize one variety of flower. For this fun wedding, the floral designer crafted bridesmaid bouquets out of vibrant yellow craspedia blooms.
26. Dreamy Peach Lisianthus Fresh Flower Wedding Bouquet
Lisianthus can sometimes be mistaken for garden roses because the petals for both blooms have such a similar ruffled quality to them. This wedding bouquet is made up entirely of peach lisianthus and I am absolutely obsessed.
27. Garden-Inspired Wildflower Wedding Bouquet for Groom
I love the just-picked-from-the-garden feel of this groom's wedding bouquet. It's a design I won't soon forget.
28. Rustic Fall Wedding Flower Bouquet With Leaves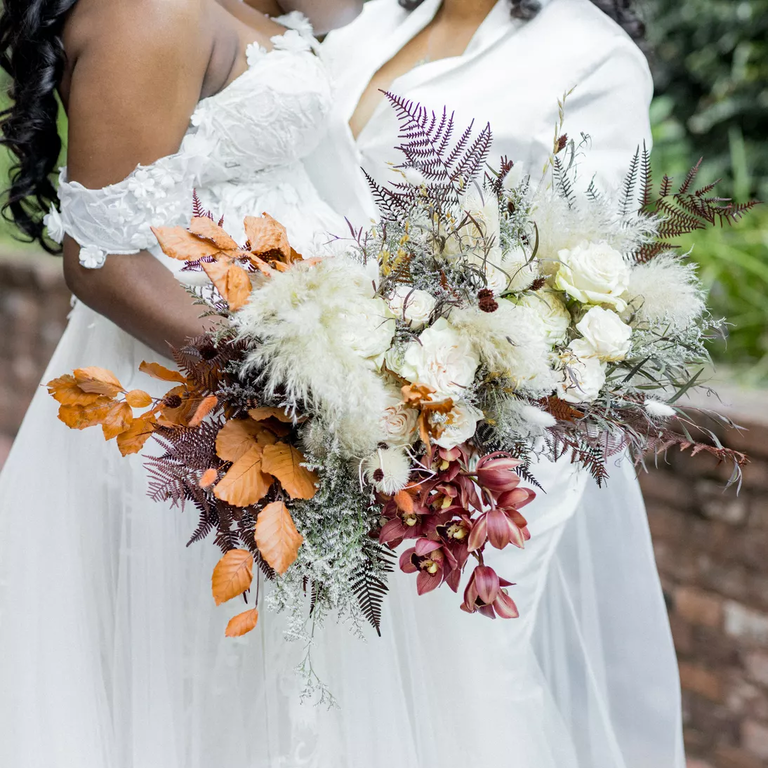 If you're planning a rustic fall wedding, this wedding bouquet is for you. I love the juxtaposition of soft fresh flowers with textural dried leaves.
29. Dazzling Pink Wedding Bouquet
If you're a maximalist bride who loves the Barbiecore aesthetic, take note of this amazing pink wedding bouquet. Bougainvillea and garden roses in similar fuchsia shades shine in this wedding floral arrangement.
30. Splendid Yellow Wedding Bouquet With Peonies and Tulips
While all peonies are beautiful, I am especially partial to Coral Charm peonies. The way the bride's floral designer paired them with bright yellow tulips is stunning.
31. Superb Wedding Flower Bouquet With Orchids, Roses and Ranunculus
Orchids are often used in traditional and glam arrangements, but the way they were incorporated into these romantic wedding bouquets stands out to me. The wedding bouquets seamlessly blend orchids, dahlias, ranunculus, delphinium, scabiosa and peonies—talk about an all-star cast.
32. Tropical-Meets-Boho Bridal Wedding Bouquet
This bride's tropical wedding bouquet is an absolute winner. Dried grasses are normally associated with boho arrangements, but I am a fan of how this floral designer layered them in with orchids and anthurium to create a tropical design.
33. Exquisite Lavender Rose Wedding Bouquet With Baby's Breath
Purple can be a tough wedding color to get right. But this bouquet is a masterclass in how to effectively infuse purple into a beautiful wedding bouquet.
34. Cheerful Rose and Butterfly Ranunculus Wedding Bouquet
Even if it wasn't my wedding, if I was shopping at a flower market and saw a design like this I would immediately add it to my shopping cart. The entire look simply exudes joy.
35. Marvelous Pink-and-Red Wedding Bridal Bouquet
I let out an audible gasp the first time I saw this epic wedding bouquet. Between the roses, scabiosa, anemones and peonies I simply can't decide which part of the design is my favorite.
36. Summertime Apricot-Hued Wedding Bouquet
All the flowers in this bouquet are magnificent, but you know what really stands out to me? The cool variegated leaves the floral designer included in the design.
37. Superb Fall-Inspired Cascading Wedding Bouquet With Orchids
If you're a fan of orchid wedding bouquets you are going to absolutely love this wedding bouquet. How amazing is the patterned look of the orchid petals?
38. Amazing Jewel-Tone Boho Bridal Bouquet
I am picky about the use of scabiosa pods in wedding bouquets, but this is an example of a subtle inclusion done right. The pods add a boho, relaxed feel to this bouquet which includes chrysanthemums and carnations.
39. Wonderful Fuchsia Orchid and Peony Wedding Bouquet for Bride
The interplay between these fuchsia peonies and the hints of pink in the orchids seen here is mesmerizing. While the flowers used here are classic and traditional, there's nothing plain or pedestrian about this stunning bouquet.
40. Colorful Wedding Bouquet With Orange Roses and Iridescent Anthurium
Orange roses and marigolds paired with lavender carnations and iridescent painted anthurium? Talk about a fun and funky combo. This design is unexpected in the very best way.
41. Tropical Wedding Bouquet With Birds of Paradise
I'm loving the drama in this bold wedding bouquet. Not only are the Birds of Paradise, peonies and orchids really beautiful, but the multicolored pom poms also add a fun note to the design.
42. Charming Rose and Sweet Pea Wedding Bouquet
I love sweet peas—they're delicate, romantic and fragrant. The all-white sweet pea blooms in this bouquet complement the roses, butterfly ranunculus and daffodils nicely.
43. Dramatic Red Dahlia Bridesmaid Bouquet
Red is the color of love and I, for one, am feeling the love from this dahlia bridesmaid bouquet. Trailing leafy vines are a nice finishing touch to this design.
44. Stunning Pink Rose and Zinnia Wedding Bouquet
Calling all couples who want to channel a "pretty in pink" feel with their wedding bouquet. Zinnias are an unexpected addition to this cascading bouquet that add a flirty feel to the otherwise preppy design.
45. Elegant Peony, Lisianthus and Sweet Pea Bridal Wedding Bouquet
If your heart doesn't skip a beat when you look at this wedding bouquet then I've got questions for you. The contrast of hot pink peonies with stark white sweet peas is stunning.
46. Autumnal Marigold, Protea and Chamomile Bouquet
Looking for a dose of whimsy? This orange wedding bouquet with yarrow, dahlia, pincushion protea, chamomile, ranunculus and marigold blooms is fire.
47. Greenery Wedding Bouquet With Ferns and Magnolia Leaves
You don't need to use fresh flowers in order to have an amazing wedding bouquet. Don't believe me? Check out this cascading greenery wedding bouquet.
48. Unexpected Fall Wedding Bouquet With Ranunculus
When someone talks about fall wedding colors, chances are your mind goes to warm shades of yellow and orange. Well, here's proof that you don't have to limit yourself when choosing a fall wedding color palette. I love how this autumn bride's wedding bouquet incorporates bright white and mauve.
49. Dazzling Wildflower Wedding Bouquet
Here's the thing—wildflower is an umbrella term used for a lot of wedding flowers. So you can have a wildflower wedding bouquet with a variety of different blooms, which is why so many couples love this style and the flexibility it affords. Wax flowers, green berries, amaranthus, cosmos and anemones were all used in this arrangement.
50. Romantic Lavender Rose and Clematis Bride Wedding Bouquet
This is purple done right and it's everything. This wedding bouquet is one of my favorites because of the effortless way in which classic blooms like roses are paired with more eclectic varieties like clematis.
51. Fresh Lily and Eucalyptus Wedding Bouquet for Groom
Eucalyptus is often used in rustic flower arrangements, but I love how the floral designer creatively incorporated the greenery into this elegant rose and lily wedding bouquet.
52. Ethereal Peach Garden Rose Wedding Bouquet
I'm weak—these peach garden roses are the stuff of dreams. Alstroemeria and lisianthus round out the design beautifully.
53. Dreamy Wedding Bouquet With Butterfly Ranunculus and Sweet Pea
If it still isn't clear, I am obsessed with butterfly ranunculus and sweet peas—Both blooms are so delicate and beautiful.
54. Garden-Inspired Rose and Lisianthus Wedding Bouquet
Oftentimes rose bouquets are tight and compact. But this one is a favorite of mine because of how loose and organic it is. Vines of greenery add nicely to the arrangement's loose look.
55. Dazzling Colorful Bouquet With Dahlia, Scabiosa and Ranunculus Blooms
If you aren't familiar with them, scabiosa are the burgundy flowers seen here that have an almost prickly look to them. Because dahlias and ranunculus are so smooth and symmetrical, the addition of scabiosa here makes the design feel less rigid.
Where to Find Your Wedding Bouquet
Now that you've seen all of our favorite wedding bouquets, you're probably wondering how you can get your hands on an equally beautiful wedding flower arrangement. The key is to start your wedding florist search on The Knot Marketplace. You'll be able to find many expert pros in your area who fit within your wedding flower budget.