How I Found the Dress of My Dreams
Find out how real brides found the dress of their dreams.
by Heather Levine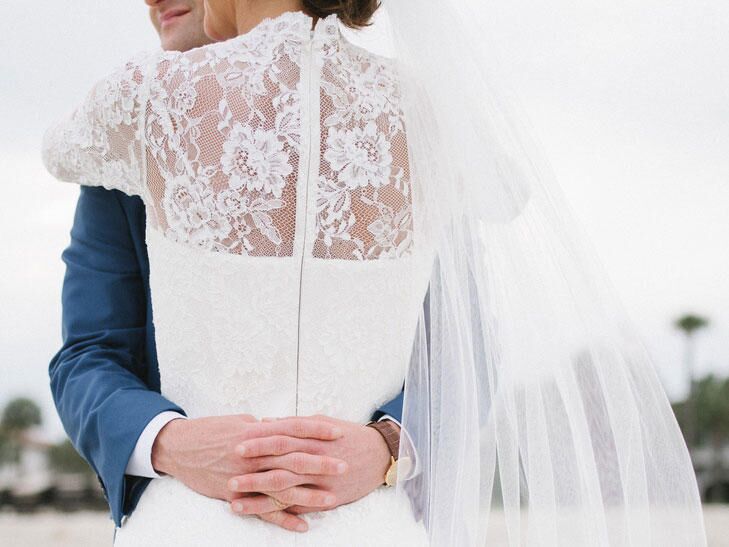 photo by
WILLETT PHOTOGRAPHY
Whether you browse the boutiques or surf the web, there's no denying the significance of the 'OMG, that's my dress' moment. Below, real brides share how they finally found the one (dress, that is).
Tune In
"I started my gown search with my mom and maid of honor. I went into a few stores to get an idea of styles that would look good on me. I immediately fell in love with a simple strapless gown. As my maid of honor zipped up the back of the dress, the song my fiancé played as he proposed came on the radio at the store! I started tearing up and knew I had to buy that dress!"
—Tamara, Franklin, MA
In the Stars
"My best friend and maid of honor was about to move across country and I knew we wouldn't be able to shop for gowns together as I had been dreaming of doing. However, I knew my boyfriend would be proposing soon so I swore her to secrecy and headed off to the most expensive bridal salon in town to have the shopping experience we had dreamed of. The sales person handed me a gorgeous gown. When I put it on and she placed a veil on my head both my maid of honor and I started crying. I later found out that the day I was trying on the dress was the same day my fiancé was buying my engagement ring."
—Lindsay, Westport, CT
One for the Money
"I ended up loving two dresses and going back and forth between the two for over an hour. When I asked if I could have something altered on the first dress, the bridal consultant asked me if I'd change anything about the other dress. I said, 'No, it's perfect the way it is.' And then I knew it was the one."
—Brenna, Olympia, WA
Drive a Hard Bargain
"I was at an expensive boutique with a few friends when I fell in love with the most beautiful gown. It was perfect—until I looked at the price tag. I knew that there had to be a way to find the dress for less. I checked the designer's website and found a store nearby and called to see if they carried this particular dress and to ask their price. To my sadness it was just as expensive, but they offered to give me 10% off to buy the sample. I said, 'Take off 25% and I will buy it right now.' I ended up getting my dream dress for $1,000 less than the ticket price!"
—Alexandra, Houston, TX
Mother Knows Best
"I kept trying on dresses and nothing made me feel like a bride. I was looking for an A-line that didn't have too much going on. My mom kept pushing for me to try on dresses that had more to them and I kept insisting that it wasn't my style. When my appointment was almost over I told her [the saleswoman/attendant] to give me the opposite of everything I had said I wanted and to bring me something my mom would love. She brought me a gold tinted, beaded white dress in a mermaid cut. I put it on and it was the one. I guess mom is always right."
—Dani, New York, NY
Bridal Instincts
"I actually decided on my wedding dress before I met my groom. My mom, sister and I had a Friday night ritual: watching Say Yes to the Dress on TLC. One night, I saw the most beautiful strapless blush ball gown and decided it was my dress. My now-husband and I weren't even dating at the time."
—L'Oreal, Chicago, IL
Online Shopping FTW
"As a curvy bride and one who doesn't normally wear dresses, I was really dreading the whole process. I wanted something simple and classic. I searched online, found a couple of options and decided to just purchase my favorite one. I knew it was the one when I pulled it out of the package! It was perfect and felt exactly like me. I felt so beautiful in it from the moment I put it on to the time I saw my groom in tears watching me walk down the aisle." 
—Janelle, Brooklyn, NY
The Second Time's a Charm
"I actually found my dress in a crowded, uncomfortable sample sale I attended with my mom. Just when I was about to give up for the day this huge, fluffy dress caught my eye, and I thought it looked so ridiculous on the hanger that I just had to try it on to get some laughs and cheer myself up. I put it on and came out to show my mom. I didn't cry. My mom didn't cry. In fact, we laughed. I didn't think it was the one, but I liked it more than I thought I would. Because I didn't get those emotional feelings everyone says you get when you find the dress, I continued shopping. I dragged my mom and bridesmaids around to nine more appointments and stores. All the while, the dress from my second appointment never left my mind. I finally went back and purchased the original dress and I can't wait to wear it."

—Victoria, Chicago, IL
It's All About the Journey
"I must have tried on 50 dresses, traveled across the country (thanks to my amazing sister/best maid of honor ever) and almost bought the wrong dress before I finally said yes to my wedding dress. There were no tears, no heartfelt moment...just a simple yes, this is the one. It was my second time trying on the dress and I knew as soon as I put it on my search was over. The dress embodied every positive thing I loved about me and how I want to feel on my wedding day. It was the style I was looking for and it fit like a glove. It made me feel confident, comfortable and like a bride. It is true what they say…'You'll know when you find it and when you stop looking!' and that is exactly what I did."

—Lauren, Manorville, NY
For Rent
"I was hopelessly lost trying to find a dress in my budget so a coworker suggested I rent a dress. I was skeptical at first, but after trying on about 30 gowns (all retailing originally between $3,000 and $5,000), we finally found a fabulous gown. It fit me perfectly and was much more dress than I could ever afford! And because I won't have to spend thousands (only hundreds), we're spending the extra money on an exotic honeymoon to Bora Bora."
—Beth, San Diego, CA


Shopping Tips
Listen up: These brides have some smart advice.
"Leave your expectations at the door and try on a variety of dresses, because advice on which dress is best for your body should be treated as a guideline and not a rule."
—Kelly, Greensboro, NC
"Ask boutiques about upcoming sales, or when they usually discount their dresses to make room for new ones. You may get the dress you want at a much better price."
—Nicole, Mesa, AZ
"Always call for an appointment so you get one-on-one attention."
—Kate, Bothell, WA
"If you think you found the perfect dress, but wished it had more buttons, more satin, and so on, and the store tells you, 'we can make any changes you want,' it's not the perfect dress. Keep looking! The perfect dress is what it is—the perfect dress."
—Jessica, Springdale, AR


"Don't overwhelm yourself with too much in one day. You want dress shopping to be fun. Bring a bottle of water and a snack and don't bring too many people. Too many opinions create tension."
—Anne, Irvine, CA
"The perfect dress is the one that sticks out in your mind when you go home and you find yourself comparing all the others to it. Don't settle—and enjoy every moment!"
—Jackie, Fort Myers, FL
* Note: some names have been changed