36 Delightful Fall Wedding Favors Guests Will Really Use
These autumnal gifts are perfectly seasonal.
We have included third party products to help you navigate and enjoy life's biggest moments. Purchases made through links on this page may earn us a commission.
If you're having trouble coming up with the right wedding favor idea, we have three words to help you nail it: personal, on-theme and practical. Celebrate the season's best offerings and your unique event and relationship with fall wedding favors your attendees will actually use. When we hear "fall wedding," we think cozy, rustic and harvest-inspired. Basically, you should opt for fall wedding favors that make guests feel warm and fuzzy inside, just like the beauty, flavors and fireside snuggles associated with autumn. Ready to cross buying guest gifts off your to-do list? Shop our favorite September, October and November goodies on the spot.
1. Cider Donuts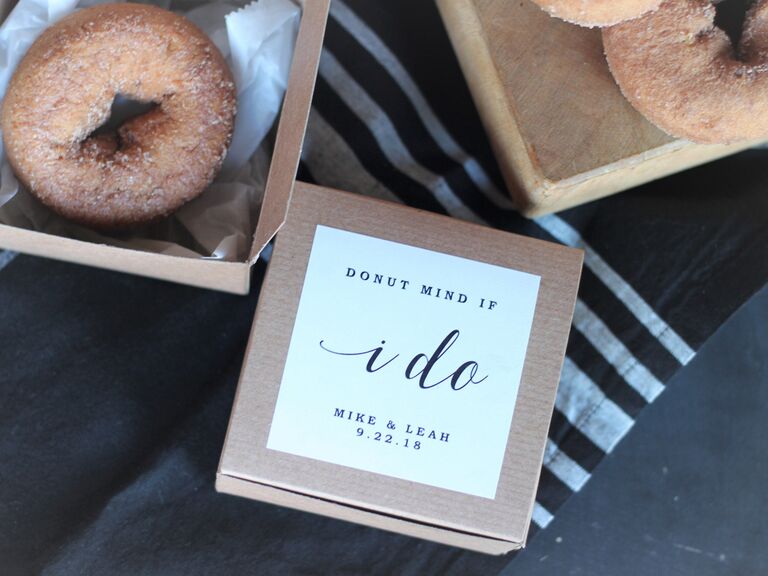 We're big fans of edible wedding favors—and we bet your guests are too. Cider donuts are one of the most beloved autumn snacks, so order these mouthwatering treats from a local orchard or bakery (regional goodies are always special) and package the sugary sweets in these adorable, personalizable "donut mind if I do" boxes.
HH Paper Co. donut favor boxes, $100 for a set of 100, Etsy.com
2. Fall-Themed Koozies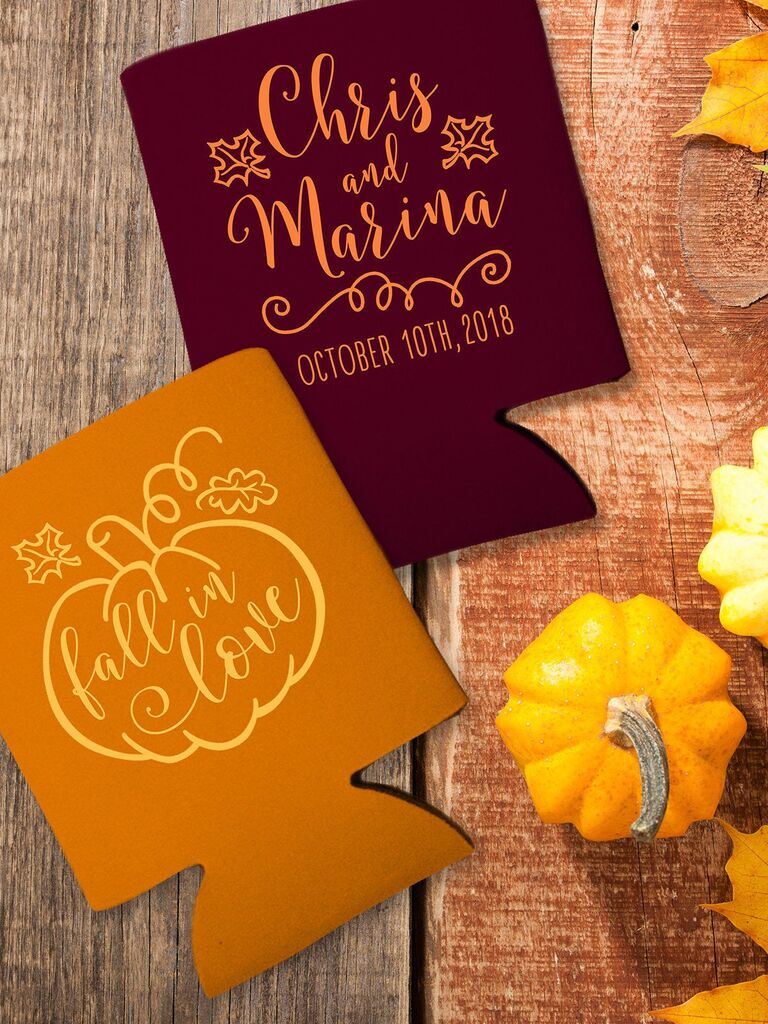 Customize these seasonal drink sleeves with your event's details. And don't forget your wedding hashtag so guests can brag about their awesome fall wedding favors on Instagram! When they take them home, they can use them to drink all their canned and bottled seasonal brews—hard cider, anyone?
That Wed Shop autumn wedding can coolers, from $54 for a set of 12, Etsy.com
3. Pumpkin Candles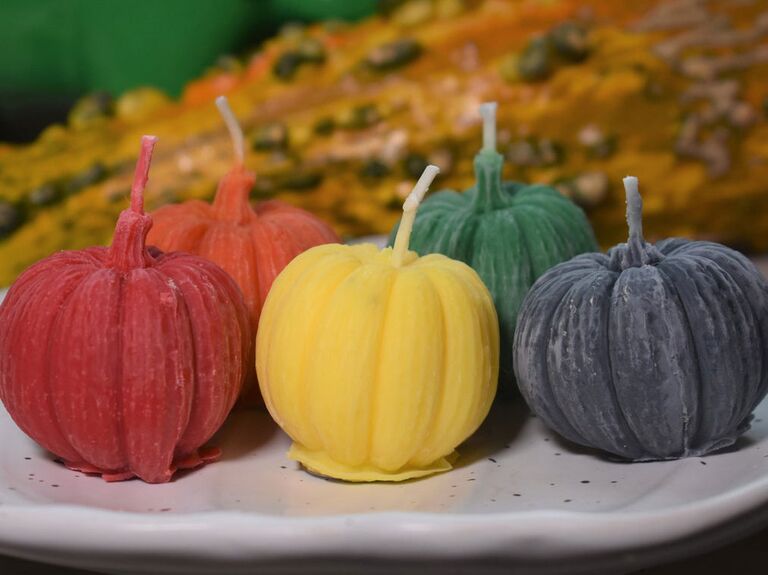 Pumpkin favors are effortlessly autumnal, and these mini pumpkin candle favors are simply delightful. They'll steal your guests' hearts just like your S.O. stole yours. Why not opt for the Jack-o'-lantern style for a slightly spooky Halloween wedding favor?
Rainwick Candle miniature pumpkin candles, $3 each, Etsy.com
4. Maple Syrup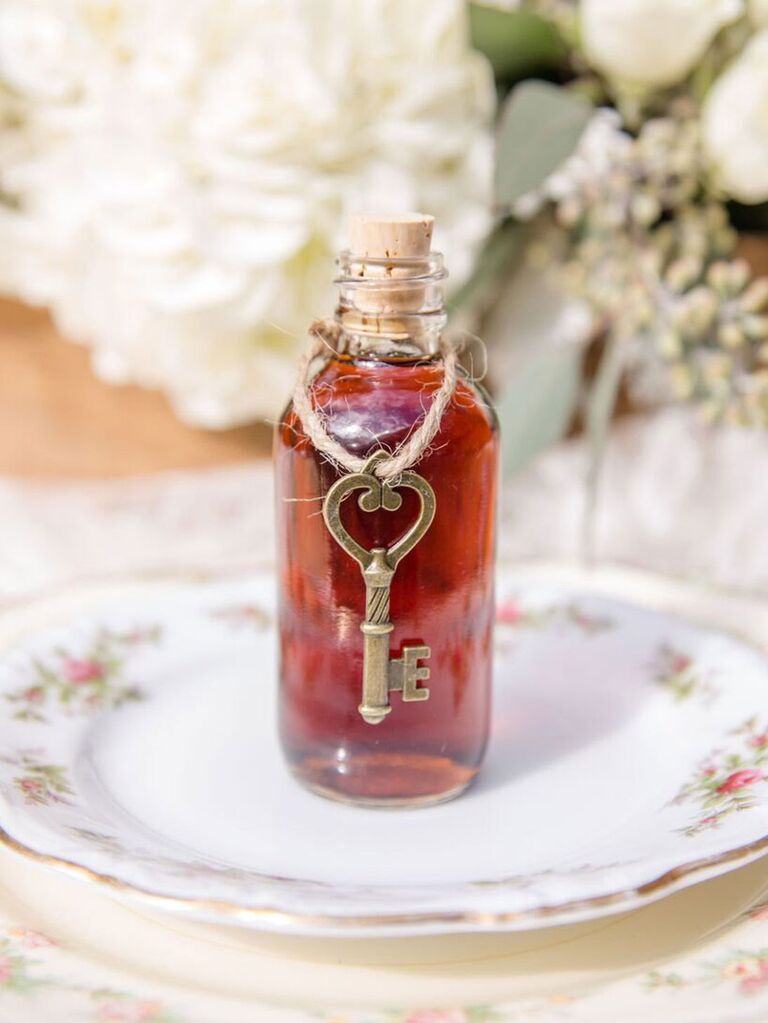 Tap into a harvest theme with mini maple syrup favors and upgrade your guests' autumn breakfasts. These come with an antique key and twine for a rustic touch.
Custom Love Gifts antique key maple syrup wedding favors, $3 each, Etsy.com
5. Seasonal Seeds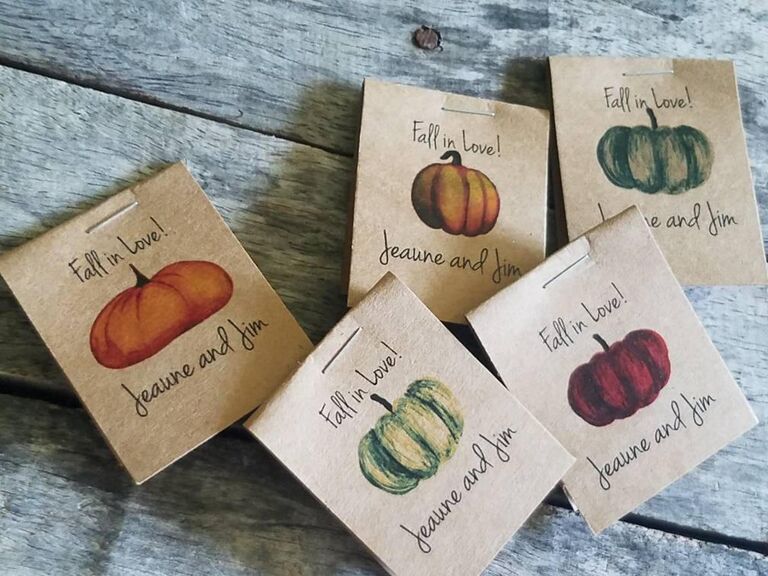 Maybe your guests would like to grow a little harvest of their own? These festive packets contain seasonal sunflower or wildflower seeds that'll bring a little extra joy to attendee's yards. (That said, the idea only works if your guests actually have yards. Shopping for city dwellers? Try edible roasted pumpkin seeds instead!)
SuLu Gifts personalized mini Fall in Love seed packets, from $12 for a set of 12, Etsy.com
6. Antler Bottle Openers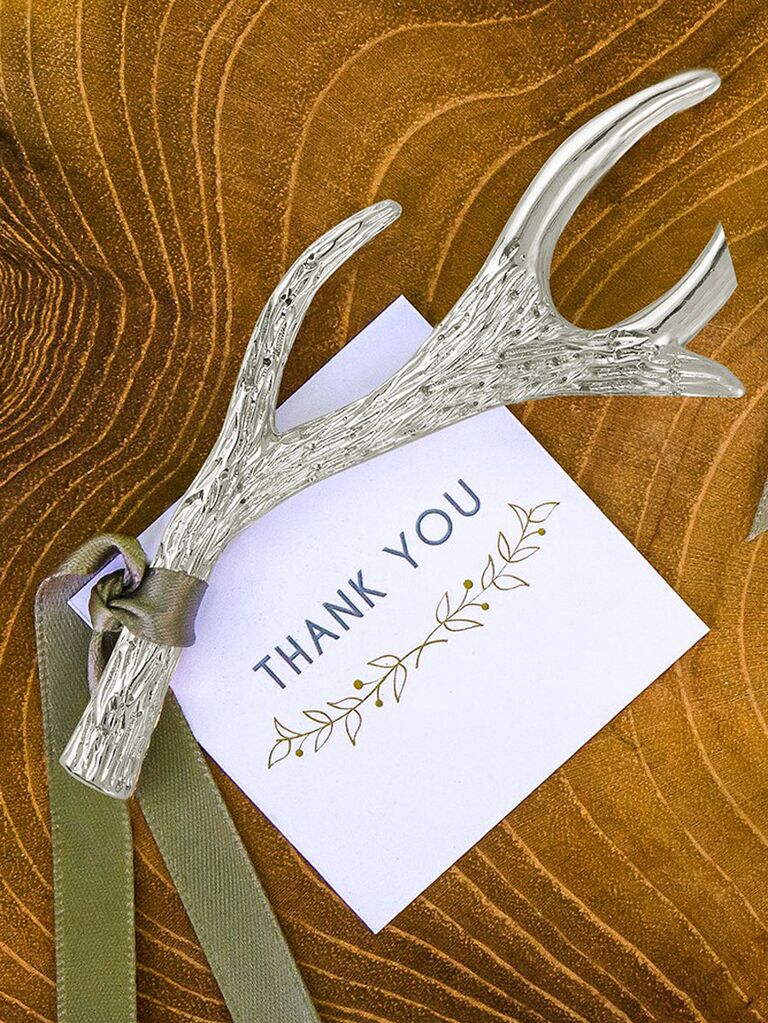 You can't go wrong with rustic motifs like antlers. And everybody could use a spare bottle opener. These work well as fall wedding favors and fall bridal shower favors.
The Knot Shop silver antler bottle opener favors, from $2 each, TheKnotShop.com
7. Autumnal Scented Soap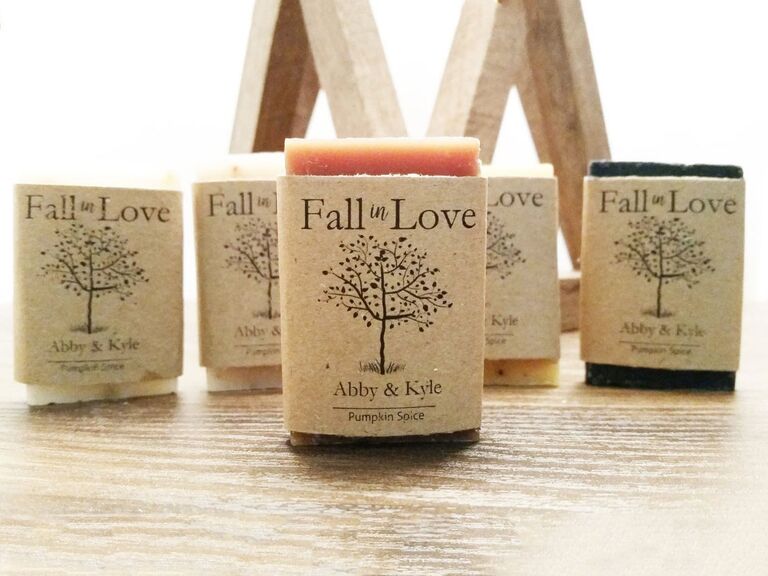 These soaps come in a variety of fall scents, including Pumpkin Spice and Cinnamon Latte. We're also big fans of the sweet customized labels. Now your guests can impress their guests with a seasonal addition to their bathroom. (Or keep it all to themselves—we won't judge!)
Le Box Boutique fall wedding soap favors, from $28 for a set of 10, Etsy.com
8. Chocolate Pretzels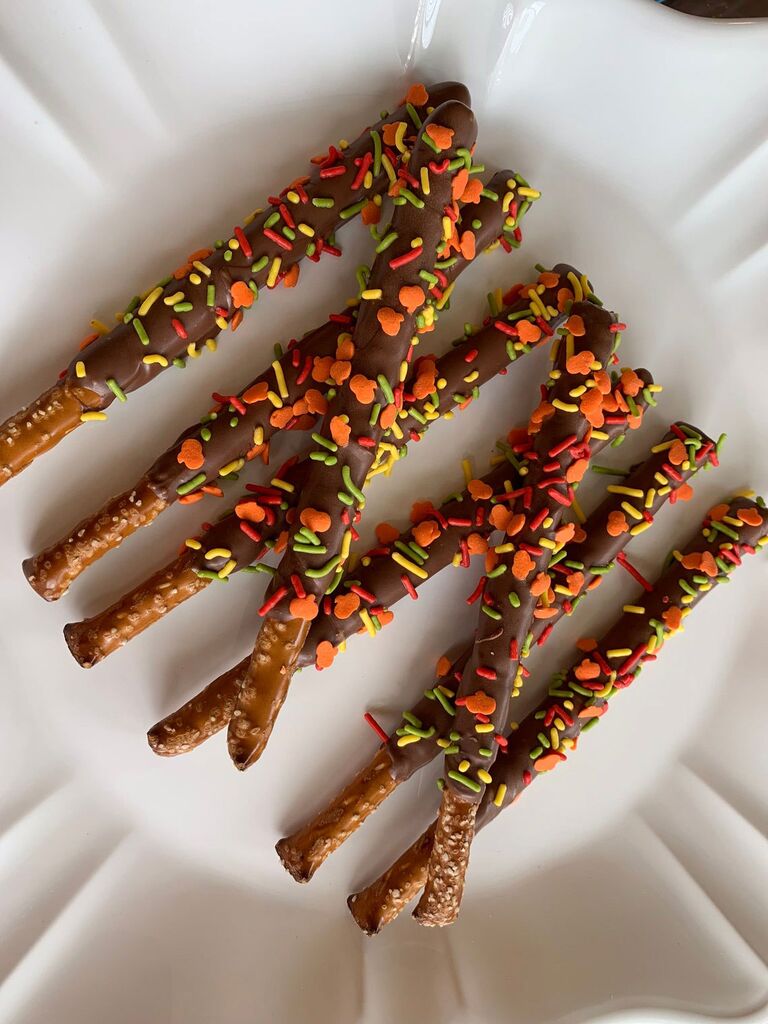 Putting two delicious snack foods together is a guaranteed success, especially when they're decorated with fun fall colors and miniature pumpkin sprinkles.They also come individually wrapped and tied for easy distribution.
Maria's Candy Table chocolate covered pretzels, $18 for 12 pieces, Etsy.com
9. Rustic Pencils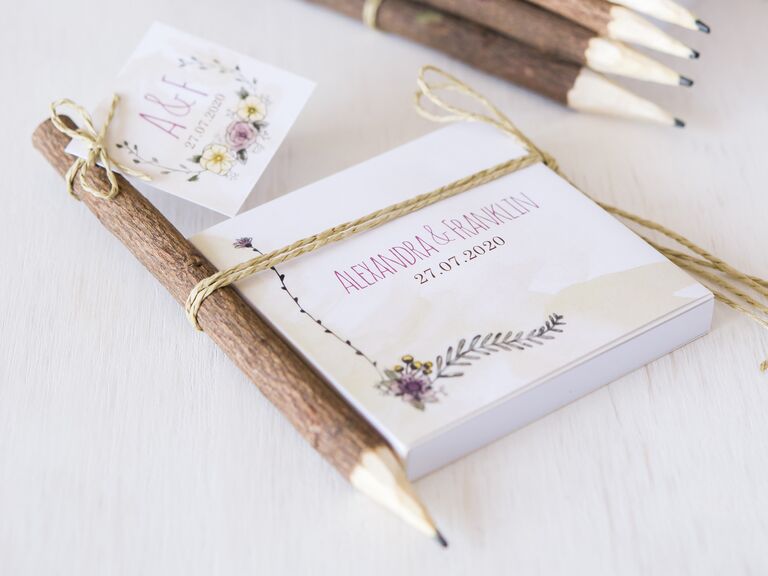 Pencils are easy to lose—unless they're these unforgettable wooden ones. The tree trunk-inspired writing utensils make fun fall desk accessories.
The Knot Shop rustic wood pencil party favor, from $2 each, TheKnotShop.com
10. Candy Corn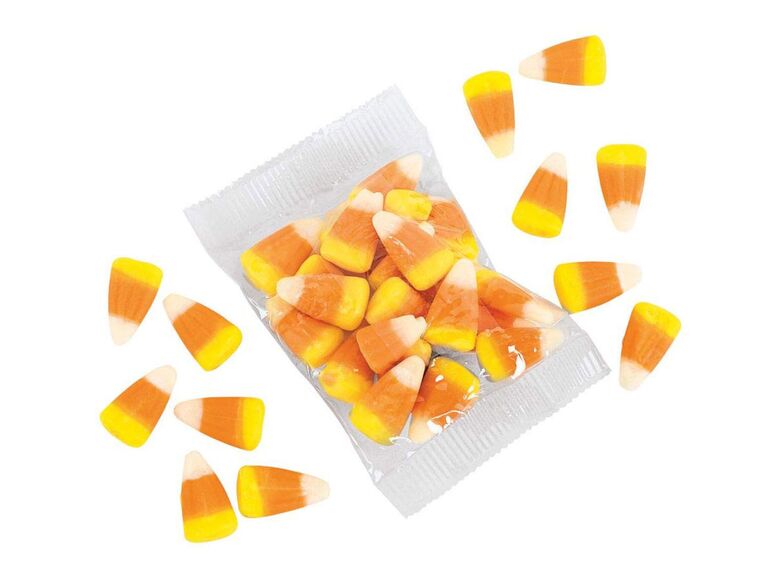 Throwing a Halloween wedding? How about candy corn fall wedding favors? These treats conveniently come in small, individual baggies.
Fun Express candy corn treat bags, $15 for a set of 32, Amazon.com
11. Caramel Apples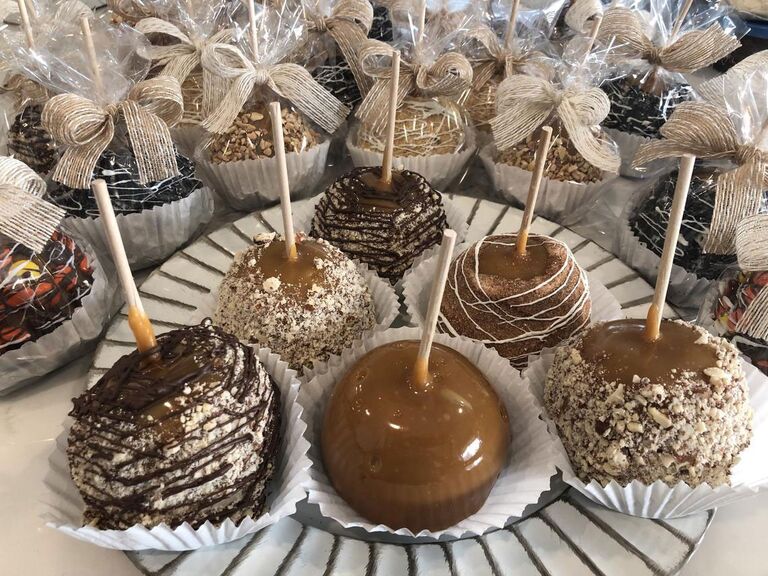 These decadent fall wedding favors come in loads of different flavors, including on-theme Apple Pie, depending on your preference. Talk about enticing sweets.
Claire's Sweet Treats caramel apples, $7 each, Etsy.com
12. Hot Cocoa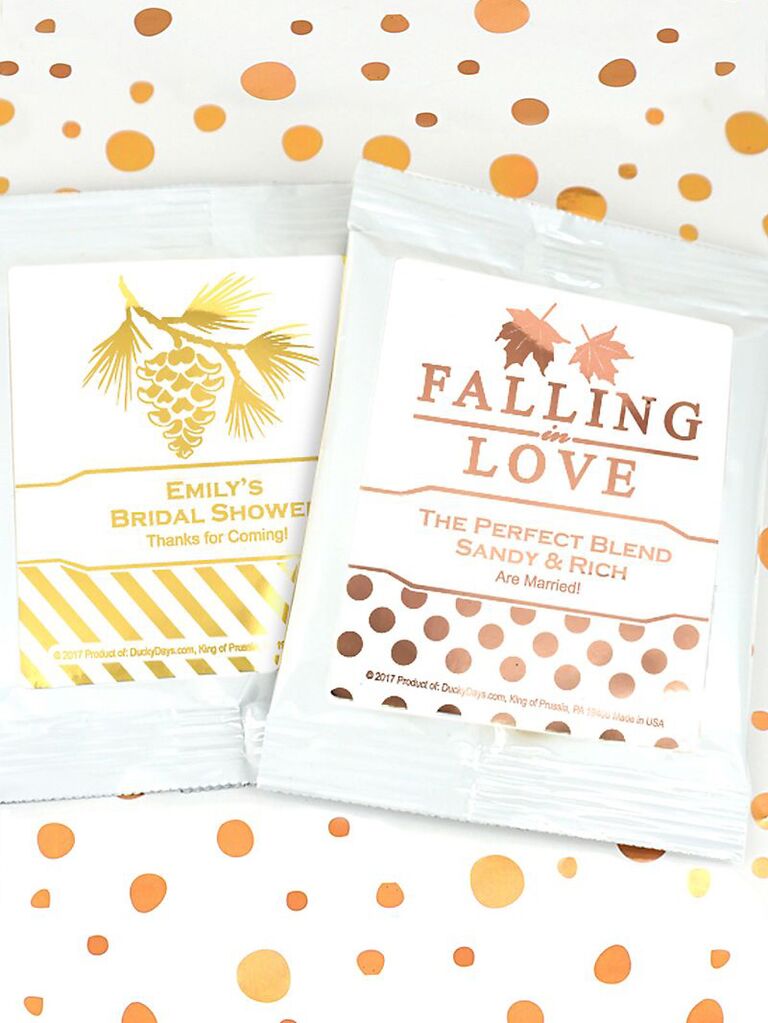 Gift a kid-friendly drink like yummy hot chocolate. Customize these single-serving packets with a fall phrase like "falling in love." Guests will thank you for the warm beverage on a chilly autumn night. Bonus: There's also an option to customize the packets for a fall bridal shower favor.
David's Bridal metallic foil cocoa favors, $2 each, DavidsBridal.com
13. Cozy Blankets
Autumn is cuddling season, so help your attendees cozy up! These soft throw blankets should do the trick. (They're also perfect to have on hand for a cool outdoor ceremony or reception.) Go the extra mile and display them alongside a sweet "snuggle up" sign.
PCB Home bulk listing throw blankets, from $240 for a set of 10, Etsy.com
14. Fall Chocolate Bars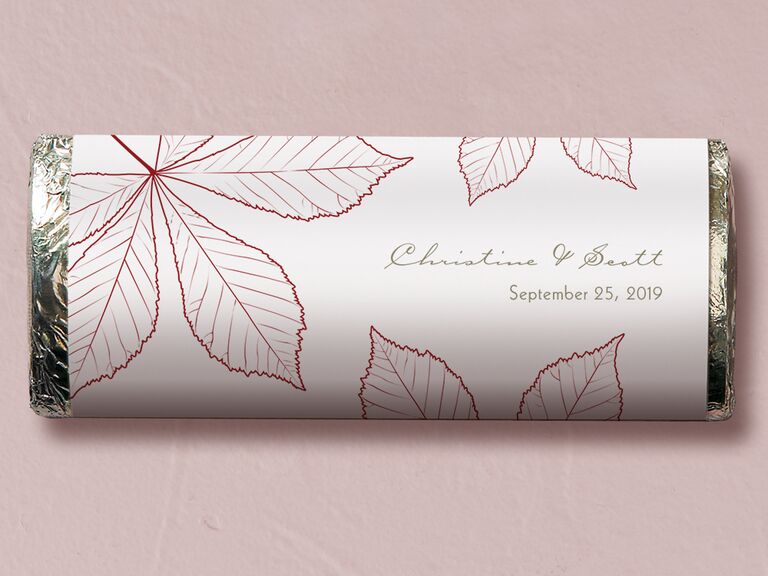 These milk chocolate bars come wrapped in thematic leaf-print packaging. They're excellent edible fall wedding favors for the event itself, but they're also amazing as turndown gifts that you leave on destination wedding guests' hotel pillows.
The Knot Shop Autumn Leaf nut free gourmet milk chocolate bar, from $3, TheKnotShop.com
15. Festive Lollipops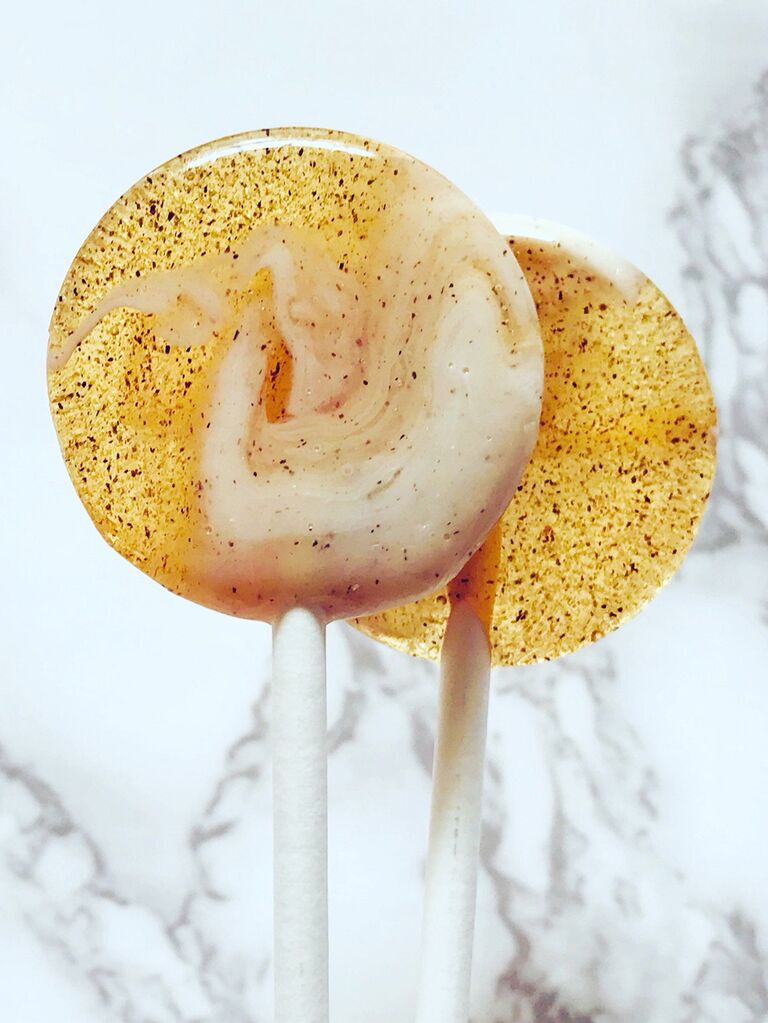 In our opinion, when it comes to fall wedding favor ideas, the more unique the better! These lollies look cool and taste delicious—they're apple pie-flavored! On the hunt for Thanksgiving wedding favors? There's a lollipop for that too!
Leccare Lollipops apple pie lollipops, from $14 for a set of 10, Etsy.com
16. Apple Cider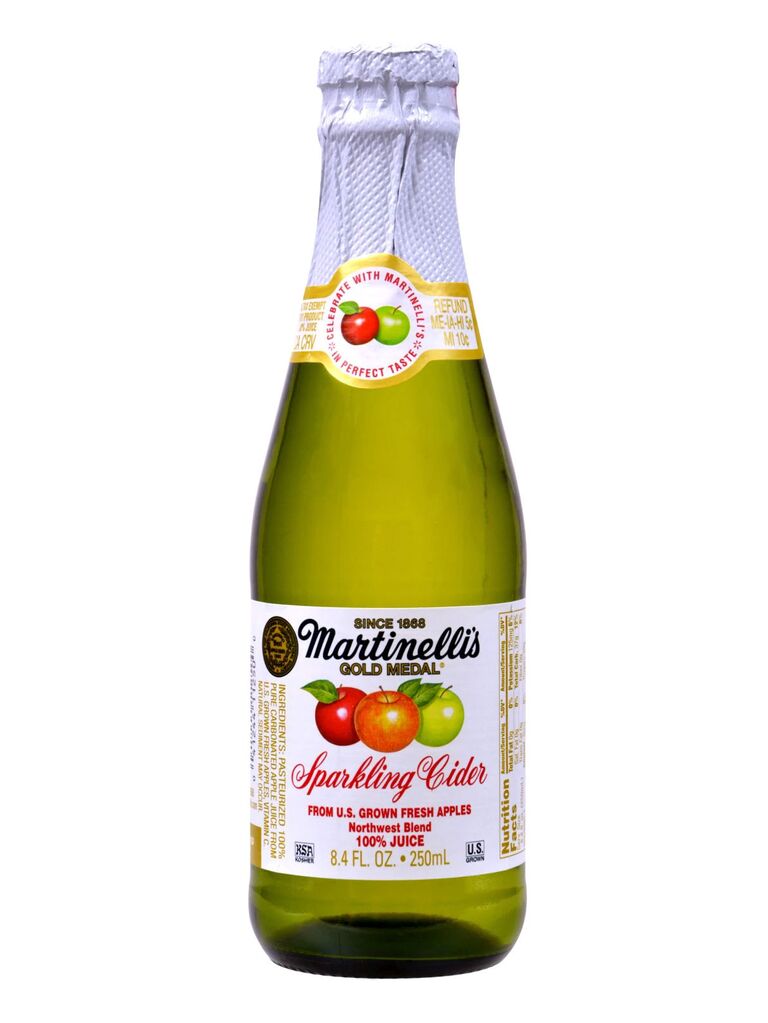 Sparkling cider is a nice way to get fancy without excluding guests who don't drink alcohol. Buy mini bottles in bulk online, or choose regular ol' apple juice instead. It'll stir up sweet nostalgia.
Martinelli's sparkling cider, $12 for a set of 12, DollarTree.com
17. Fall Cookie Cutters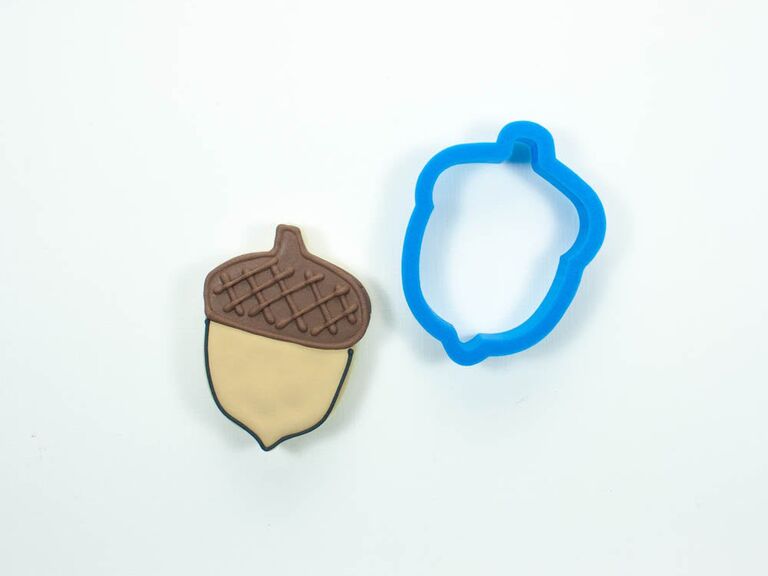 Give guests fall cookies and feed them for a day; give them fall cookie cutters and feed them for a lifetime. Bakers will adore these seasonal acorn cookie cutters. The seller also makes lots of leaf-shaped options too.
Frosted Co acorn cookie cutter, from $4, Etsy.com
18. Mini Pies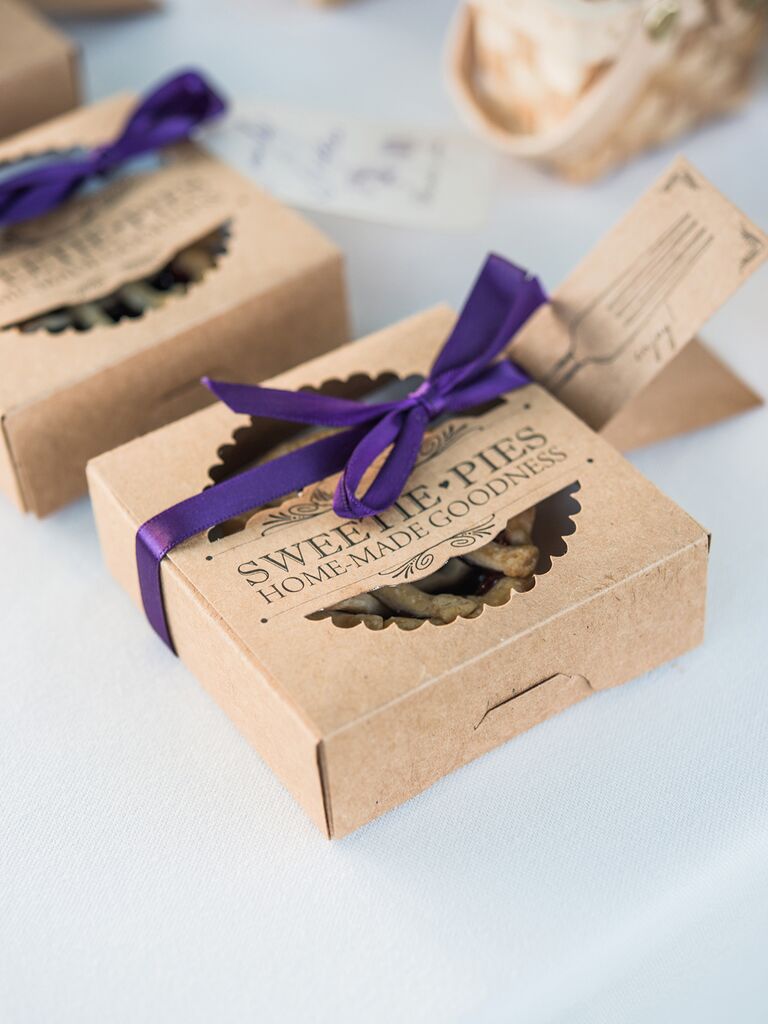 Bestow mini versions of your favorite fall pie, be it apple or pecan. Make them yourself or outsource the work, then place them in these cute "sweetie pies" containers.
The Knot Shop Sweetie Pies mini pie packaging kits, from $1 each, TheKnotShop.com
19. Honey Sticks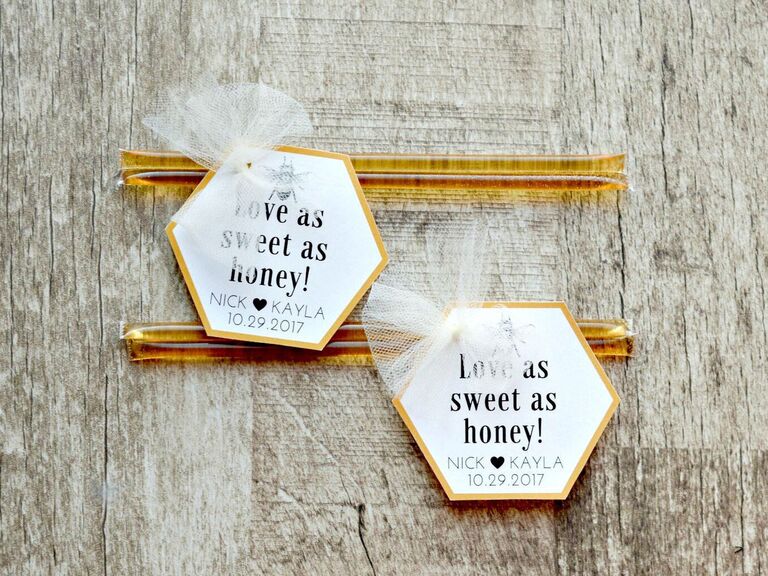 Honey is another sweet snack that works well as a fall favor. These cute sticks are sold with tulle-tied tags, making them ideal for an elegant or rustic-chic affair. Choose from three adorable label phrases: "meant to bee," "love as sweet as honey" or "you're so sweet for coming."
Plain Jane 2424 custom honey stick wedding favors, $80 for a set of 50, Etsy.com
20. Autumnal Tea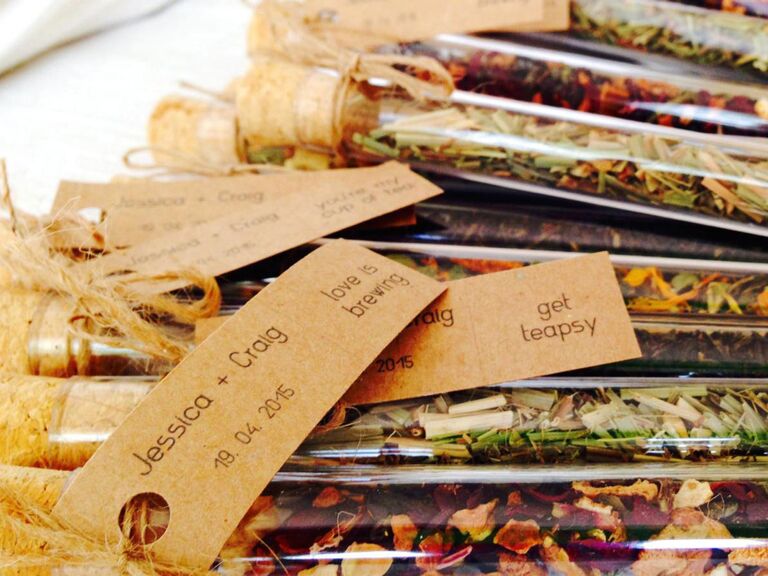 Send guests home with a relaxing beverage: seasonal tea. Chai is a classic fall flavor that they'll love to curl up with, and these test tube-shaped vessels are too cute.
Custom Favours test tube with loose leaf tea in Chai, $3 each, Etsy.com
21. Fall Matchboxes
Help them stay warm and toasty with a new set of matches. We're here for these plaid-patterned (and personalizable!) ones.
Kate Aspen personalized black matchboxes in Fall, from $35 for a set of 50, KateAspen.com
22. Festive Lip Balm
The colder it gets, the more chapped lips get. Luckily, your guests can reach for this super-unique, maple mead-flavored balm to soothe their pout postwedding.
Cired Abeille Skin Care Maple Tap mead-infused lip balm, $5, Etsy.com
23. Coffee Mugs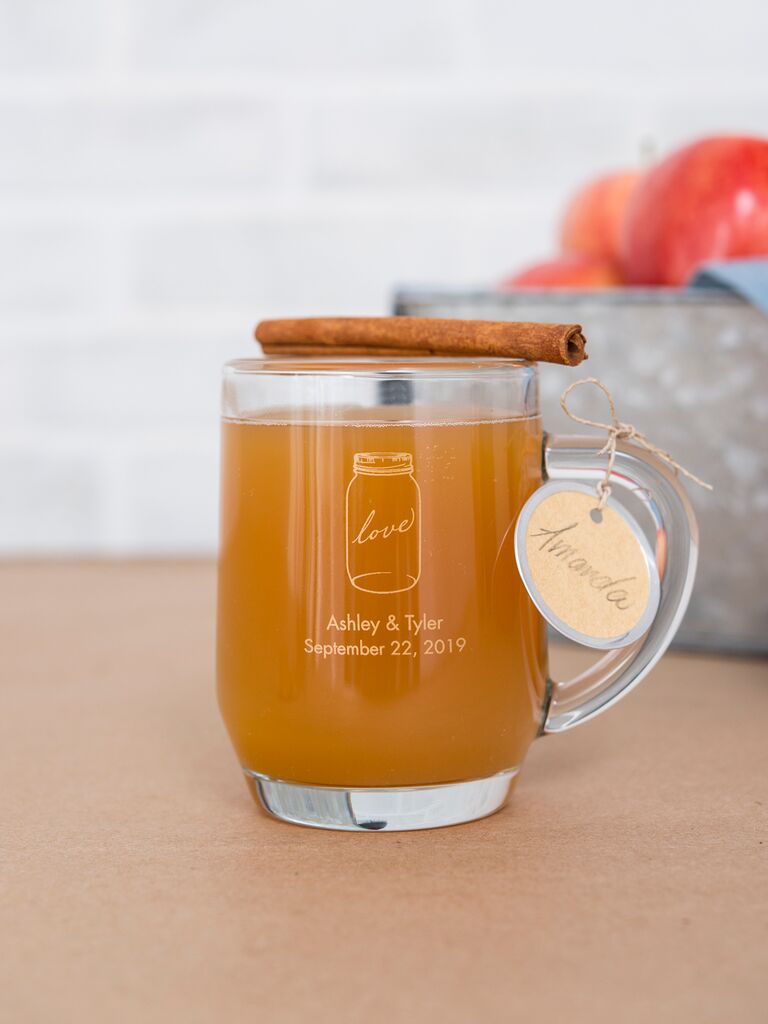 Help them kick off cold autumn mornings the right way: with a warm beverage. These glass mugs work for coffee but the possibilities don't stop there. Might we suggest having a mulled cider bar (or hot cocoa bar!) at your wedding? Give each guest a glass to use and refill then take home at the end of the day.
The Knot Shop clear glass coffee mugs in Personalized, from $5 each, TheKnotShop.com
24. Mulling Spices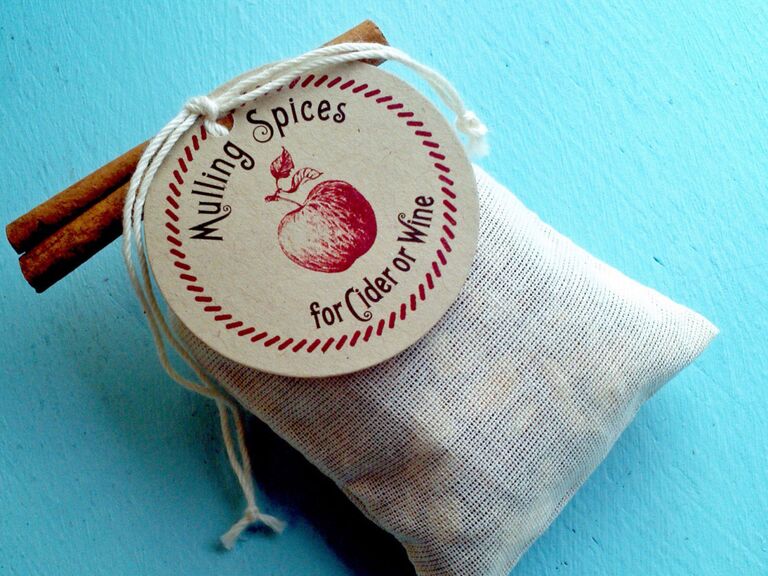 Speaking of mulled cider, you can also give guests mulling spices to make their own at home. These spice sachets can be used for mulled wine too.
Idea Chic assembled mulling spices wedding favor sachets, $22 for a set of 5, Etsy.com
25. Mini Candles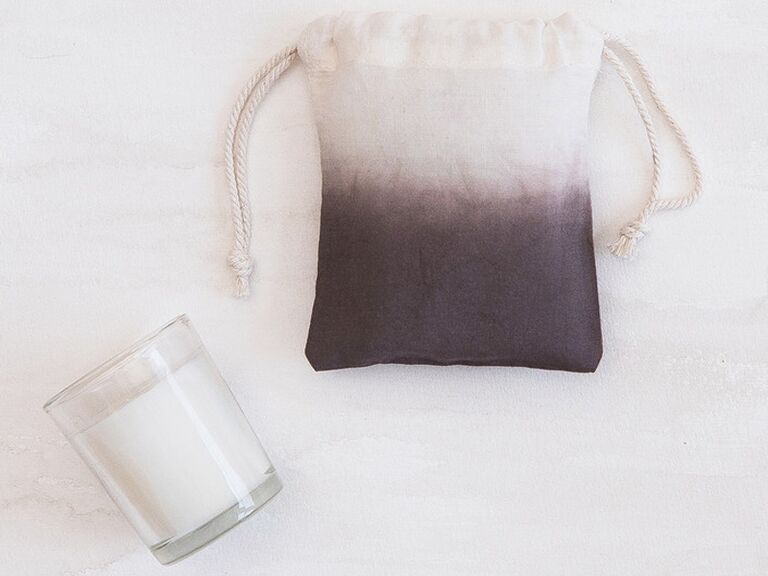 There's nothing like a fall evening inside lit by candlelight. Give guests that amazing sensory experience by gifting little candles. These votives come in moody (read: autumnal) dip-dyed gray bags.
Minted votive with dip-dyed pouch in Warm Gray, $5, Minted.com
26. Fall Coasters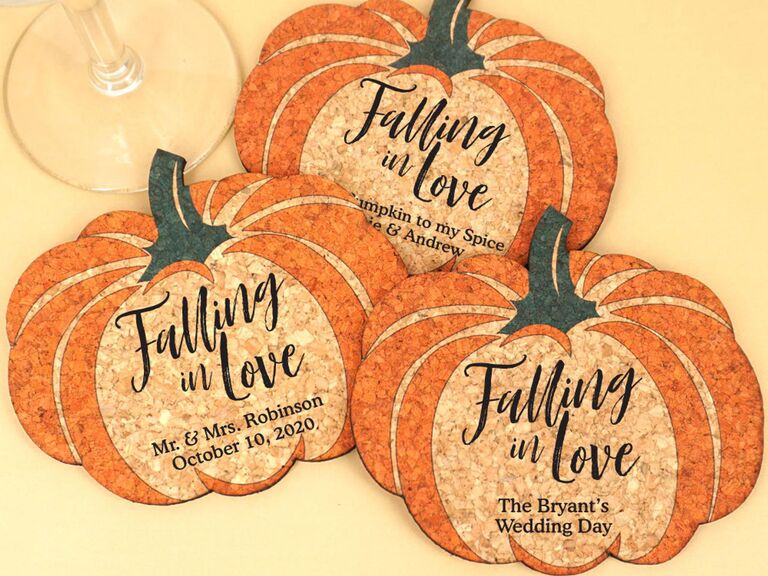 Give your guests an affordable fall wedding favor they'll really appreciate: autumnal coasters that'll keep their furniture looking brand new. Try these pumpkin-shaped cork ones, or, for Halloween wedding favors, a fun and spooky set.
Best Day Ever Spot pumpkin shaped cork coasters, $29 for a set of 12, Etsy.com
27. Leaf Bottle Openers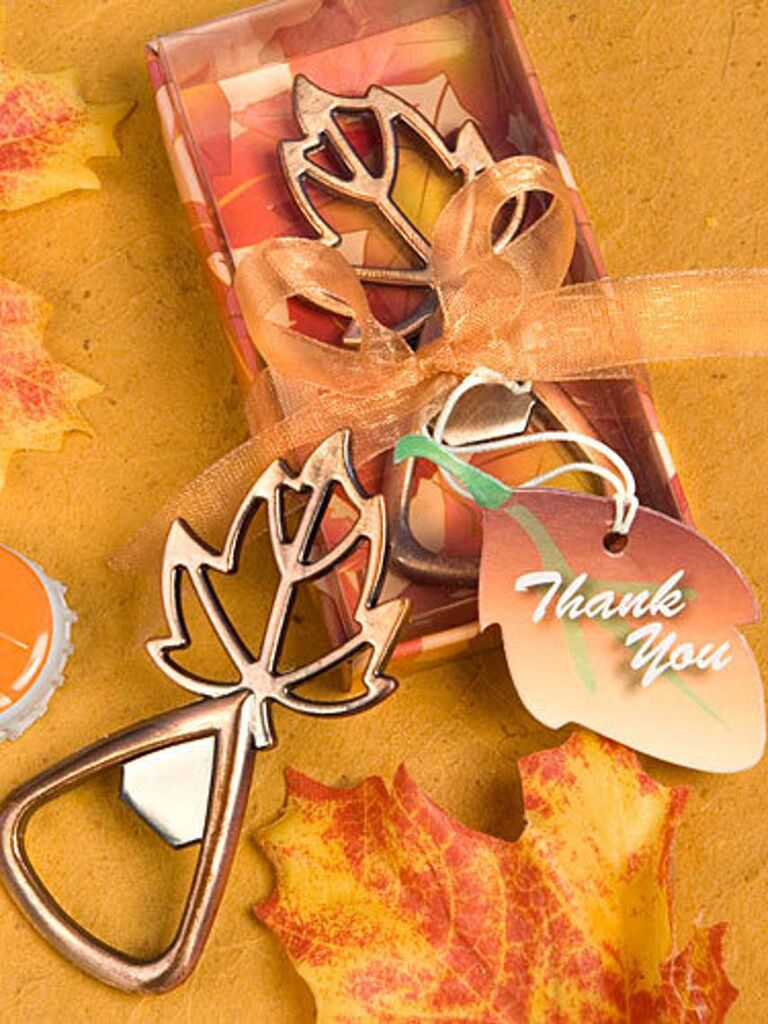 Here's another fall-themed bottle opener, this time with a super-chic leaf design. It's got rustic, vintage and seasonal flair.
Glo Boutique Co gold leaf bottle opener favor, $3, Etsy.com
28. Fall-Themed Soap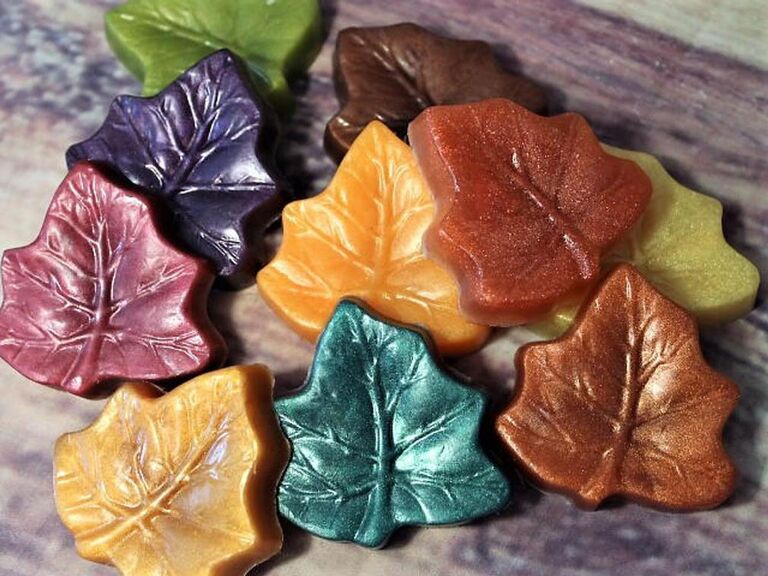 This soap comes in a range of soothing, fall-y scents (Farmhouse Cider, Orange Clove and Pumpkin Souffle are just some of them) but that's not all: It's thematically-shaped too. Maple leaves radiate fall's coziness.
Bath Gear & More maple leaf soap favors, from $15 for a set of 5, Etsy.com
29. Maple Candy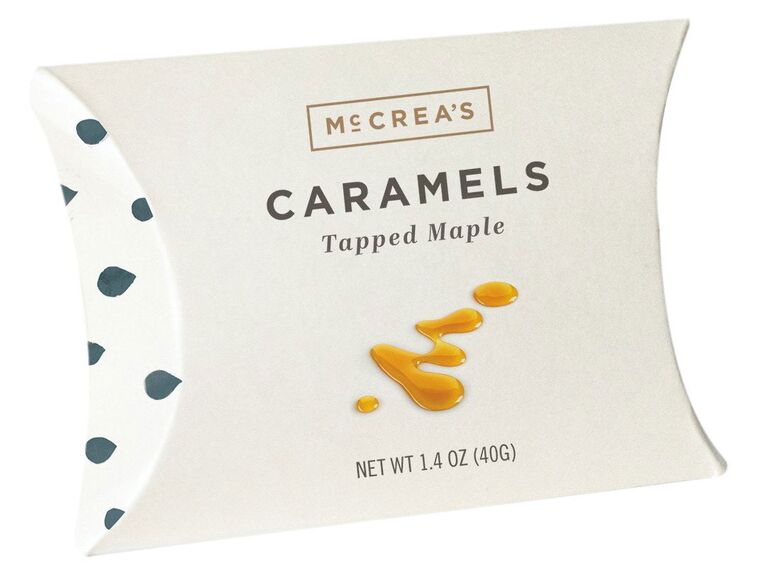 These yummy candies make maple even better by adding some mouth-watering caramel. They come prepackaged in cute pouches for a tasty fall candy wedding favor.
McCrea's Candies maple caramels, $5 per pack of 5, Mouth.com
30. Fall Hand Sanitizer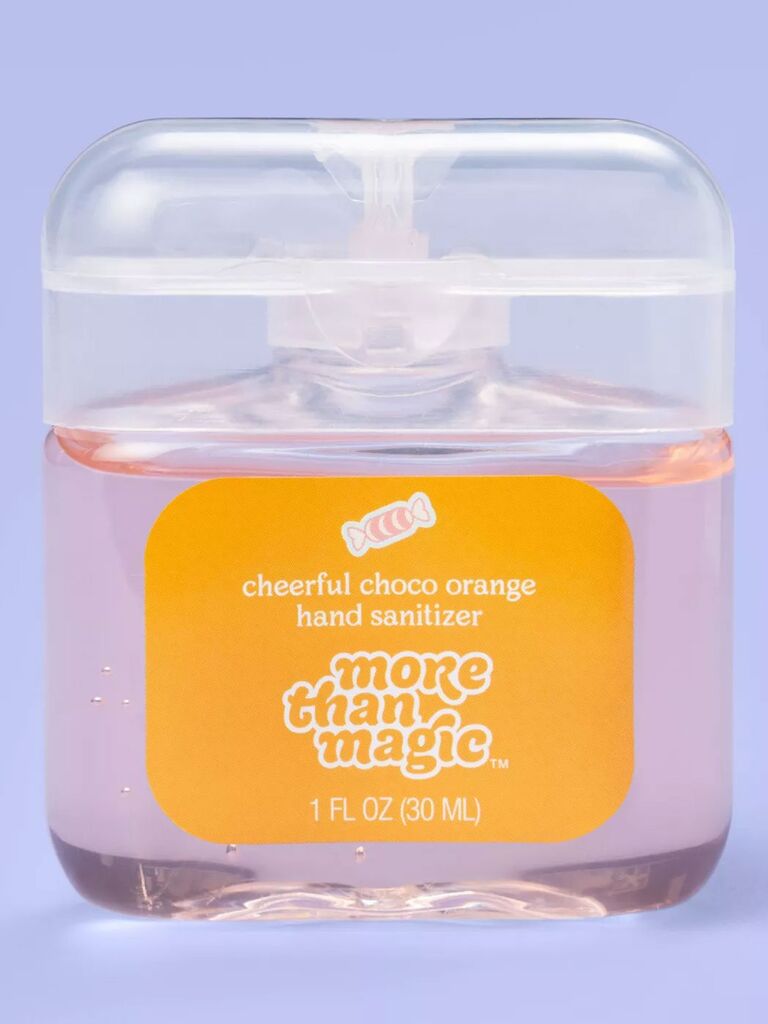 Make sure your guests have that all-important hand sanitizer within reach with this convenient pocket-sized bottle. Plus, it smells like Halloween candy! How cute is that?
More Than Magic hand sanitizer bottle in Orange Tootsie Roll, $2, Target.com
31. Jarred Goodies
Fill these mini jars with anything you'd like, as long as it's fall-inspired! We're talking homemade apple jam, local cider caramels, spiced hot cocoa mix—anything! It's such a sweet fall favor to make yourself. The best part is your guests can reuse the vessels once the food inside is gone.
The Knot Shop small glass jar with wire snap lid favor container, from $2, TheKnotShop.com
32. Cinnamon Mints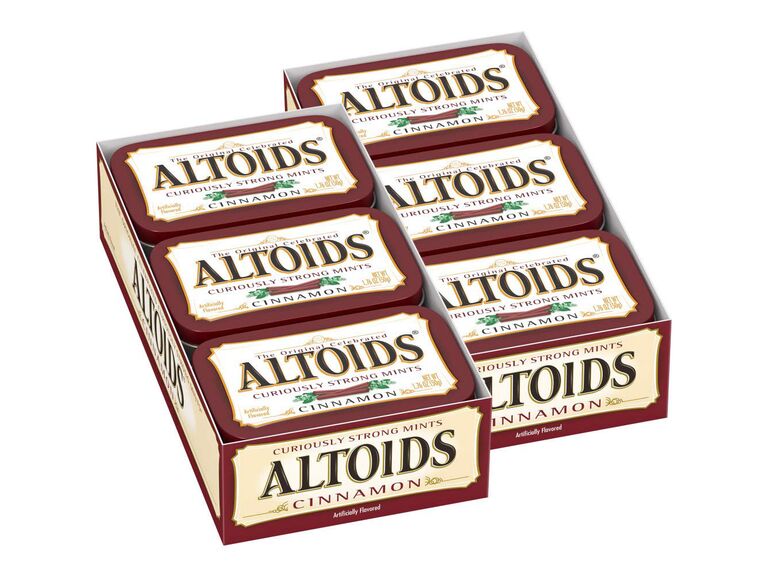 You'll be hard-pressed to find someone who won't enjoy an extra pack of mints. Just be sure to choose an autumnal flavor, like cinnamon.
Altoids classic cinnamon breath mints, $22 for a set of 12, Amazon.com
33. Chocolate Acorns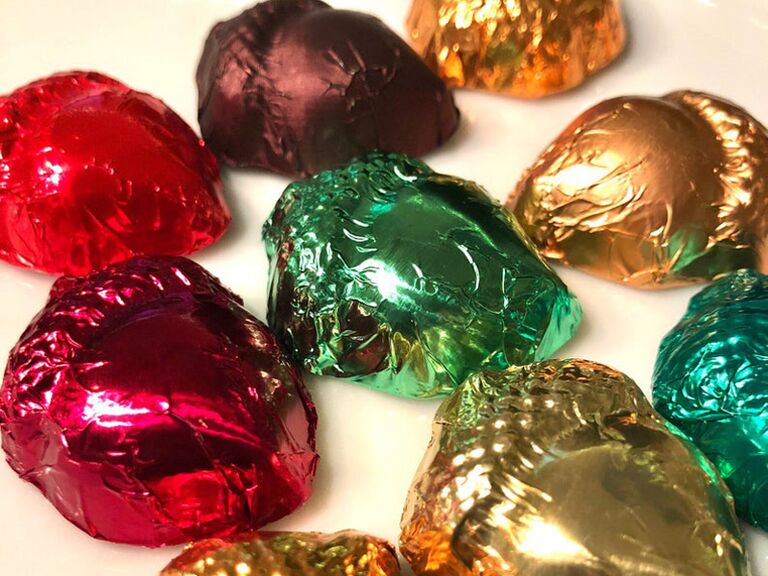 Get these chocolate acorn-shaped cuties wrapped in fall-colored foil—there are plenty of green, red, orange and metallic options to choose from. The bite-sized treats are ideal for snacking.
Island Girl Gourmet foil wrapped little chocolate acorns, $36 per pound, Etsy.com
34. Fall Magnets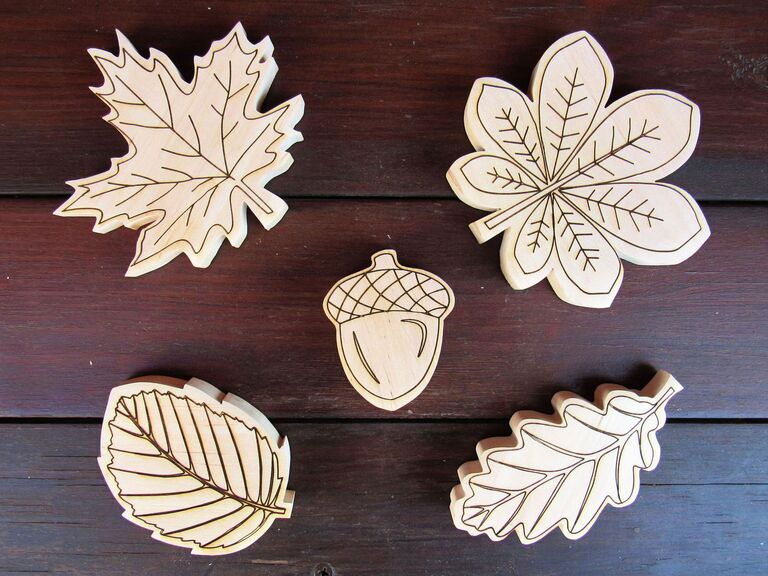 Your guests can bring these magnets out every year to celebrate autumn. Or, gift them as favors at your fall bridal shower so your guests can use them to show off your fall wedding invitation!
Day Dream Toys fall magnets, $19 for a set of 5, Etsy.com
35. Gardening Gift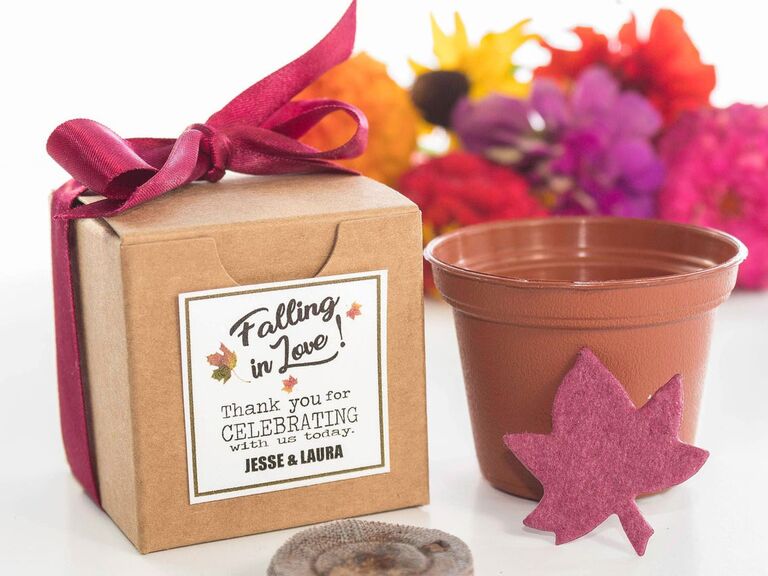 What about a DIY fall wedding favor? Your guests can plant this leaf-shaped seed paper indoors and, in just a few weeks, they'll have beautiful flowers.
Nature Favors mini leaf themed garden grow kit in Falling in Love, $7, Etsy.com
36. Whiskey Nips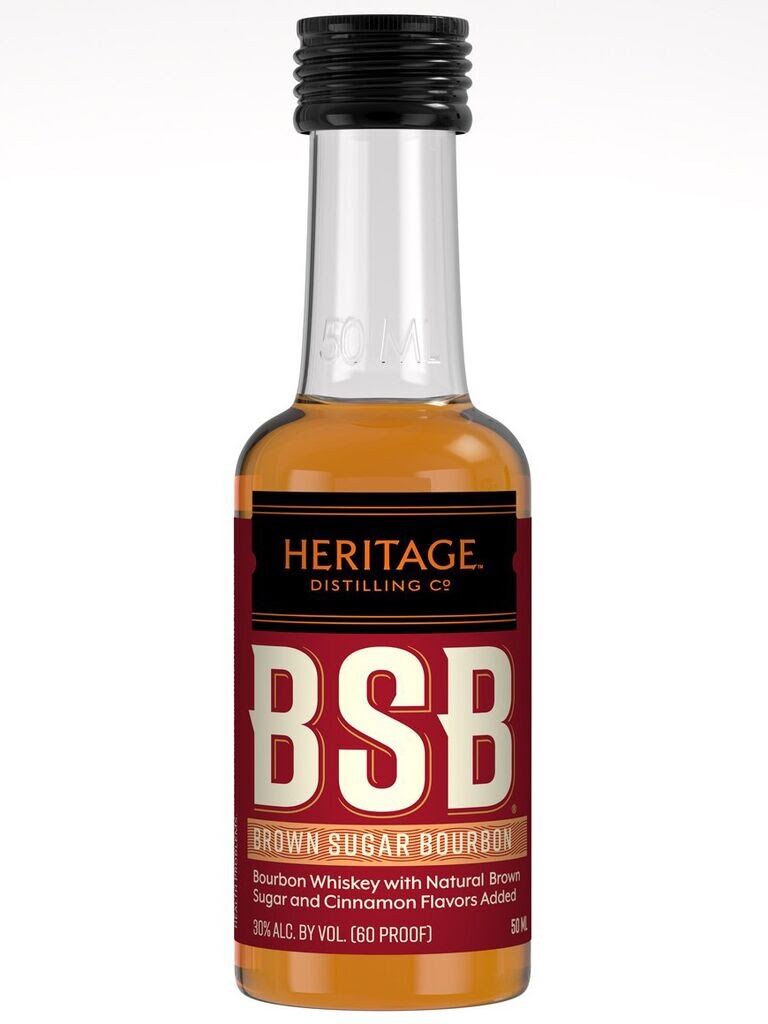 Keep the party going with personal bottles of booze. Bourbon is always a classic choice for fall, but this brown sugar-flavored bourbon was basically made for autumn. (FYI: Alcohol can't be shipped to every state. Visit a local liquor store for more tiny tipple options.)
Heritage Distilling Co. BSB Brown Sugar Bourbon mini, $4, HeritageDistilling.com