10 Fall Wedding Favor Ideas Your Guests Will Love
If you're having an autumnal affair, send your guests home with one of these fall-inspired wedding favors.
by The Knot
While you don't necessarily need to reference the season of your wedding with your favors, there are endless opportunities for on-theme ways of saying "thank you" to your guests if your ceremony's taking place between the months of September and November. Below, check out our favorite fall wedding favor ideas for autumnal affairs. 
1. Caramel Apples
Treat guests to the quintessential fall indulgence—caramel apples. Have them packaged individually and tied off with a ribbon that matches your colors so they can grab the treat as they exit without getting caramel on their nice clothes.
2. Apple Butter 
Whether you buy it or make it yourself, apple butter is a unique fall favor that not only looks the part, but tastes great too. Package the sweet spread into mini jars, cover each jar lid with fabric to match your wedding day colors and tie them off with a thin piece of raffia.

3. Cookbooks
Custom cookbooks that combine favorite family recipes from both sides are perfect wedding favors year-round. But when filled with familiar fall recipes, they'll feel right on trend. 
4. Matches
Matches come in handy the most during chillier months, so gift your guests matchboxes with personalized labels. 
5. Scarves
If your wedding is outdoors, make sure your guests stay warm and cozy with cute wraps, scarves or blankets they'll love for years to come. Drape them over the seats at your reception, or stock them in baskets at the ceremony. 
6. Jam 
This is another one you can make yourself if you have a favorite seasonal recipe. Either way, we recommend packaging them in pretty, reusable jars. 
7. Local Boxes
Can't decide what to send your guests home with? Make a package filled with you and your future spouse's favorite fall things that represent your hometowns. Think: cans of ale from a local brewery and snacks from your favorite childhood bakery. 
8. Compasses
Perfectly on theme for rustic weddings set in the woods, guarantee your guests make it out safely by gifting them compasses. (Obviously you should give them directions, but we still think these are cute.) 
9. Honey
Honey's a sweet (and non-perishable) gift your guests will be able to incorporate in all of their favorite fall recipes. 
10. Caramel Popcorn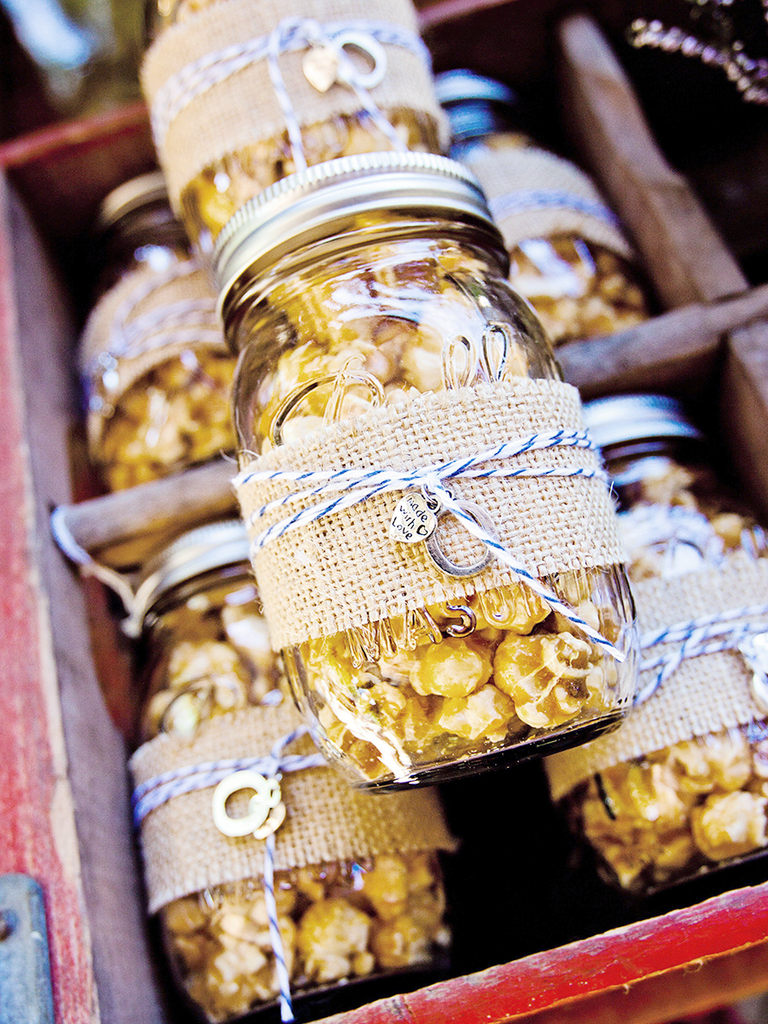 Caramel popcorn's a snackable treat that's always guranteed to be a crowd-pleaser. Put it in jars and wrap it in decorative fabrics and matching ribbons.