How to Put Together the Perfect Gift Baskets
Jamie Kutchman from Marigold and Grey gave us her expert tips and tricks for the best welcome baskets and gifting ideas.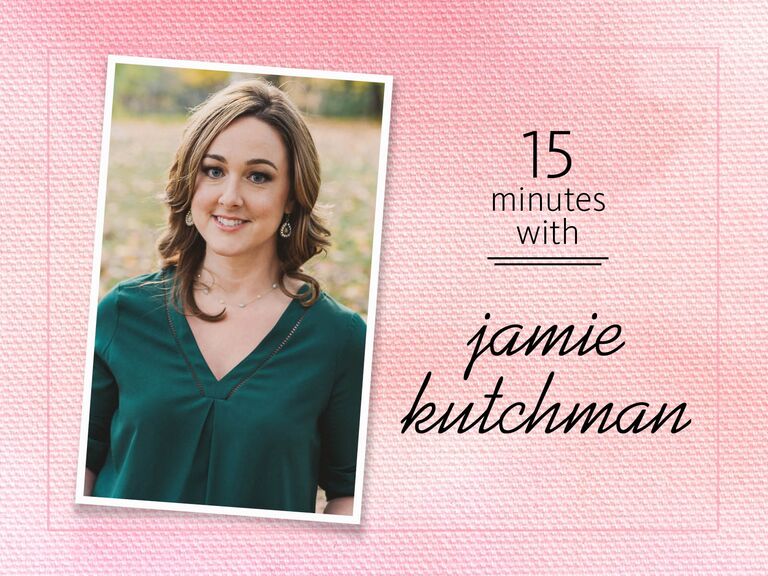 Renee Hollingshead Photography
Back in the day, when wedding cake tiers were separated by tall columns and gowns were embellished with prominent puffy sleeves, May Day was celebrated the old-fashioned way: with baskets of goodies left on the doorstep of neighbors, friends or lovers (or your secret crush!).
As tradition has it, when April rolled to a close people would prepare a May Day basket with flowers, candies, trinkets—really anything deemed gift-able—and leave it at the appropriate doorstep. If you were leaving a basket to express romantic interest, you'd knock on the recipient's door, leave the basket and dash off. If the gift recipient saw you running away, it was their job to chase you and if caught, steal a kiss. (Aww...)
What better timing than May 1st to catch up with the basket-gifting expert Jamie Kutchman, founder of Marigold & Grey. From wedding welcome baskets to bridesmaid proposal ideas, Marigold and Grey curates each occasion with care and thought, while giving you complete control. Whether you're partaking in the May Day tradition for your sweetie or putting together favors for your guests, learn the ins and outs of exceptional gift-basket-making and the etiquette to go with it.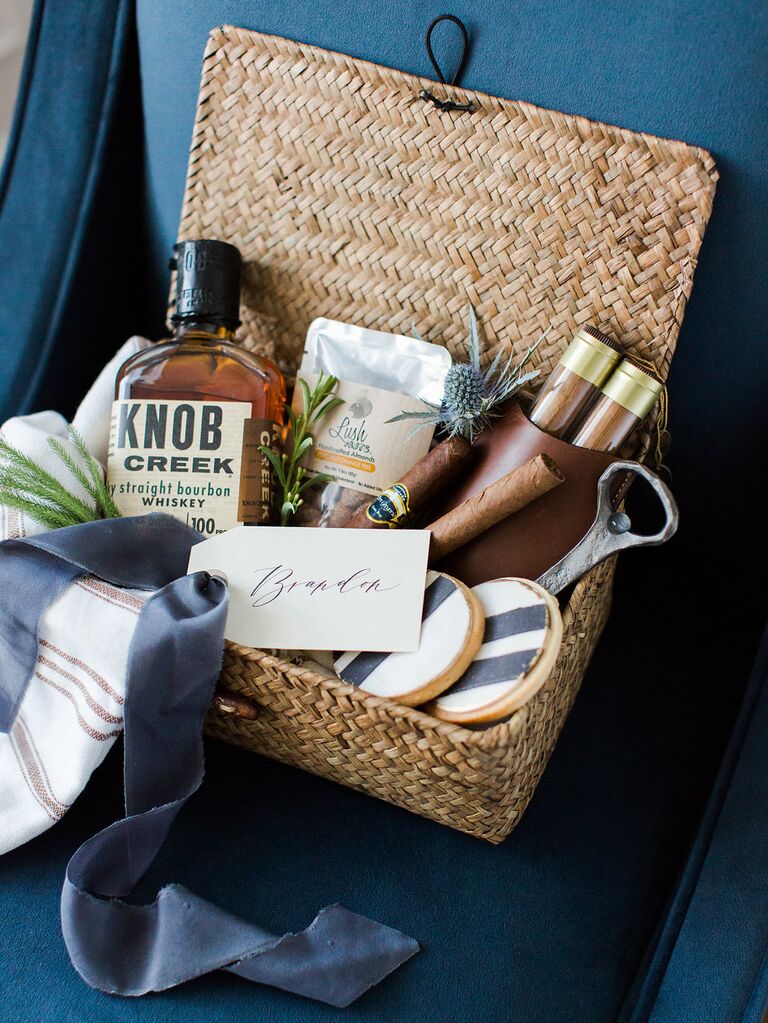 How did Marigold & Grey come about, and what's the origin of the name?
It was crunch time, a couple of weeks before my own wedding, when I realized how tricky it is to find unique, one-of-a-kind items for welcome gifts. I didn't want common and generic when our guests were making such efforts to travel in from out of town. I wanted thoughtful and locally inspired—things I could feel excited to give. But after all of that work getting them just right, I returned from my honeymoon and heard that some of our welcome bags were delivered to the wrong hotel by mistake. Some guests received a gift and others did not. Embarrassing!
Today, I'm thankful for the mix-up. It was exactly the "aha moment" I needed to get me going. I resigned from my successful corporate career and jumped head first into making this idea come to life. The name Marigold & Grey was inspired by my own wedding colors.
What makes a memorable basket?
Thought! Each item you select for your basket should have a reason for being included. If you can't think of a good reason why your recipient would use the item, then leave it out and choose something else. If you stick to this formula, you'll find that when you're done curating your items, the gift will end up being appropriate for the occasion and "just right." In terms of selecting packaging, it's best when your recipient can reuse it in their home and always think back to the memorable gift they received from you.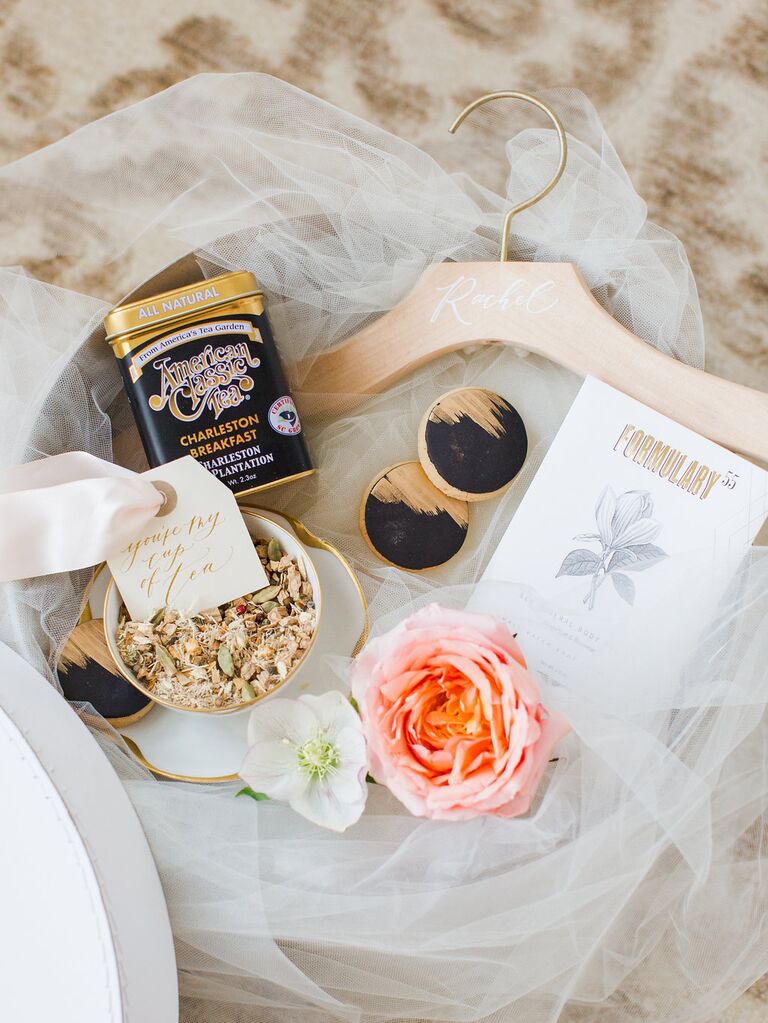 What's essential for a bridesmaid proposal basket?
I love to infuse wedding sneak peeks into the gifts when I'm designing "will you be my bridesmaid" gifts for brides-to-be. This means designing around the wedding color palette the bride has chosen. For example, maybe a spool of ribbon in the color of the bridesmaid dresses or even some fabric swatches. I also love including a nod to the wedding location itself through the use of custom maps, state-shaped cookies or a locally inspired treat. Most of all, personalization is key! Including each bridesmaid's name somewhere in the gift, along with a handwritten note, makes it heartfelt and memorable.
What's essential for a welcome basket?
For wedding welcome gifts, we love to include something sweet, something savory, some "home away from home" amenity items, perhaps a locally inspired keepsake and finishing touches such as ribbon, a welcome letter and a gift tag. And don't forget water! Whether you opt for sparkling or still, guests always appreciate having extra water on hand after an evening of dancing.
What's essential for a favor or pillow basket?
Think nighttime and relaxation. I love candles, bath and body items, and even aromatherapy and essential oils. Opt for soft, neutral colors to achieve that lush, spa feel.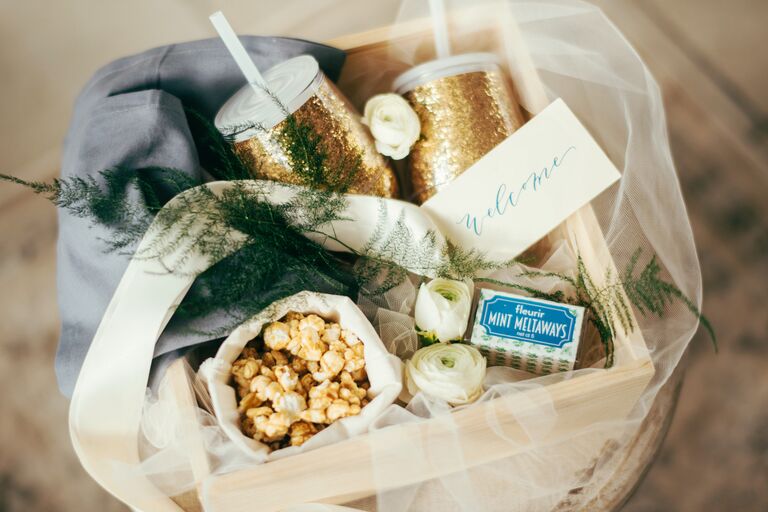 What are some ways couples can really personalize their basket?
I love a good monogram. You don't necessarily have to monogram every single item inside the basket, but a few here and there is tasteful and appropriate. I also love custom welcome letters, especially for wedding welcome gifts. Since all guests are typically receiving the same exact gift, it's nice to have words from the couple to read as soon as they open the gifts. It's a warm welcome and really sets the tone for a memorable wedding weekend.
What are some of your favorite products or brands to include in baskets?
Sugarfina, Plum Pretty Sugar, Brooklyn Candle Co., Fresh Bakes—the list goes on!
Any one particular thing every basket should have?
A gorgeous, calligraphed gift tag, for the win! While a gift tag is technically a finishing touch and not necessarily part of the gift itself, it speaks volumes about the level of thought and care that goes into creating the gift. It really gets the recipient excited to see what's inside. Hands-down, this is the secret to taking your gift to the next level.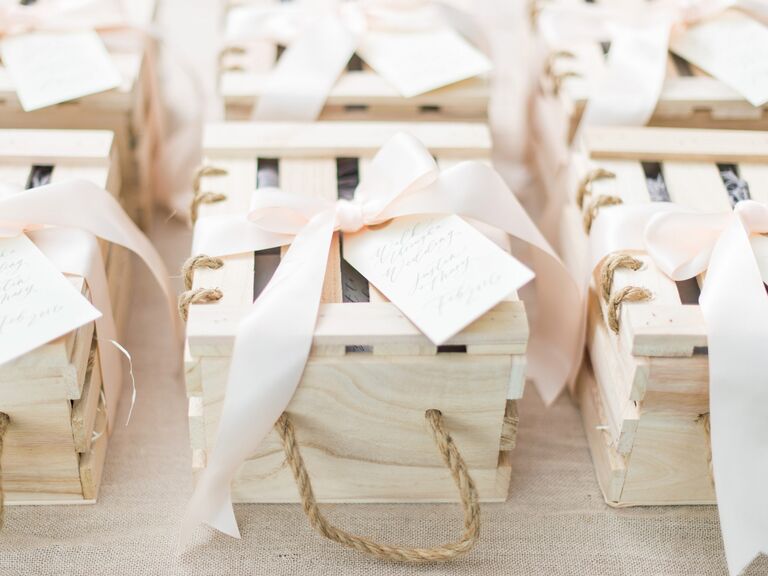 Any delivery tips? What about destination weddings—how can you ensure they'll bring it all home?
I'll spare you the gory details but think twice before shipping chocolate in warm weather. For destination weddings, choose packaging that's lightweight and can fit into luggage with relative ease for the trip home. Or you can opt for completely disposable packaging that guests can simply toss prior to departing for home. Not usually as pretty or memorable, but functional for sure.
Any etiquette no-nos when it comes to baskets?
While it's fine to plan for one gift per couple at weddings, if you have two single people sharing one hotel room, make sure they each receive their own gift. If they have any qualms about attending without a plus-one, this will instantly make them feel great about being there and will get the weekend off to a festive start.