The Most Expensive Wedding Gifts Worth Adding To Your Registry (And Which to Skip)
Creating the registry is fun, but which gifts will stand the test of time?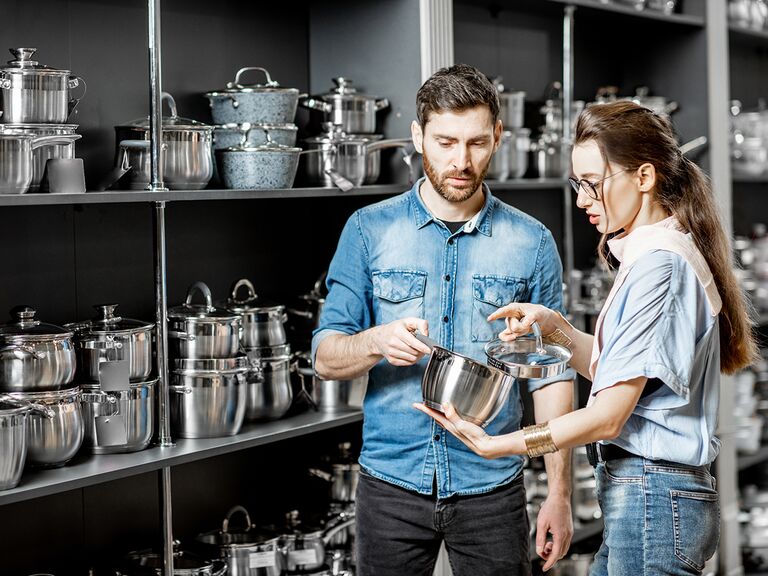 Rosshelen/Shutterstock
We have included third party products to help you navigate and enjoy life's biggest moments. Purchases made through links on this page may earn us a commission.
Arguably one of the most fun aspects of the wedding planning process is building the registry. It allows partners to focus on their life together after the wedding and dream about what their weeknights and weekends will look like. (We'll make waffles every Saturday for the rest of our lives!)
Over time, some expensive wedding gifts will become treasured keepsakes while others collect dust or end up in a garage sale years later. While it's tempting to treat the registry more like a consumer bucket list, it's wise to build a registry that holds some practicality to avoid waste, regret, and precious starter home real estate.
Before you start scanning: by no means does an expensive wedding gift make or break a marriage. In fact, some couples choose to forego the registry altogether. But if you're itching to update your newlywed nest and are curious to know what's worth the splurge, we've got you covered.
For the bedroom
When it comes to choosing expensive wedding gifts for the bedroom, quality picks will go a long way. After all, we spend a fraction of our lives resting and asleep. The bedroom is a sanctuary for rest, intimacy, and will house some of your most precious moments together.
As a tip, consider requesting items that are timeless versus trendy. You may think you'll always love that tie-dye comforter from your favorite designer, but it's more likely that you'll be thankful someone invested in quality linen sheets years down the road.
Worth adding to your list
Silk pillowcases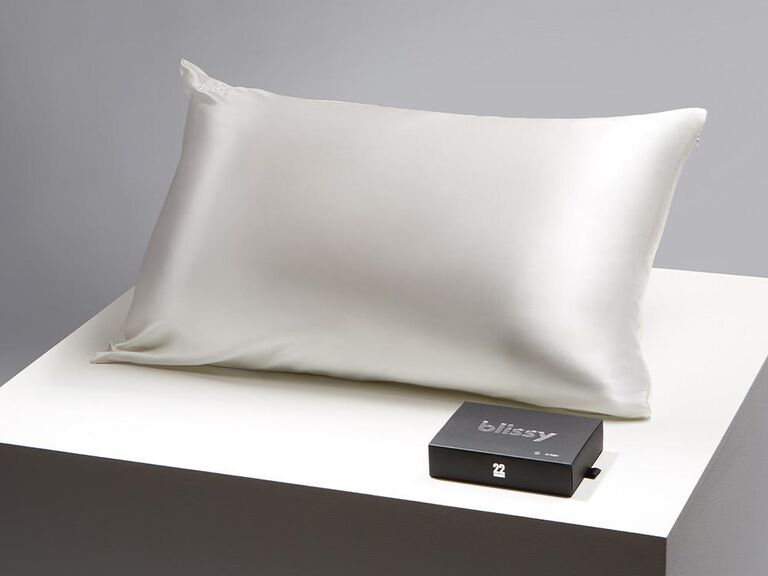 They are great for your hair, especially if you're looking to keep it healthy and free of breakage.
Blissy Silk Pillowcase, $90, Blissy
Quality linens
It's nice to ditch old bedsheets and start your new chapter with something fresh. Investing in quality linens will save you the time and money of replacing cheaper sheets over time.
Coyuchi organic relaxed linen sheet set, $598, The Knot Registry
Leave it off the list
Comforters
We tend to rotate comforters more frequently than we do sheets. Allow a guest or family member to spring for something you'll use night after night.
Decorative pillows
Similar to comforters, decorative pillows tend to stay on rotation in homes. While they can be luxurious and a perfect styling moment for your bedroom, it's something worth passing on for now.
Tchotchkes and styling pieces
Smaller pieces like home decor accessories can be tempting. It's cute, and it will go perfectly on your nightstand. But quirky personality pieces are best bought for you, by you.
For the kitchen
Ah, what wedding registry dreams are made of. But before you ask for the dreamy Kitchen-Aid mixer or reach for the expensive knife set, consider if what you're adding to your list is useful or aspirational. While there is nothing wrong with buying an appliance you've always dreamed of, it could be taking up precious space in your kitchen or be one more thing that you only end up using once.
Consider what tools will make your life easier, the dishware you'll come to use every day, and the items that will be useful when you're hosting friends and dinners (if you do that kind of thing!)
Worth adding to your list
Dutch Oven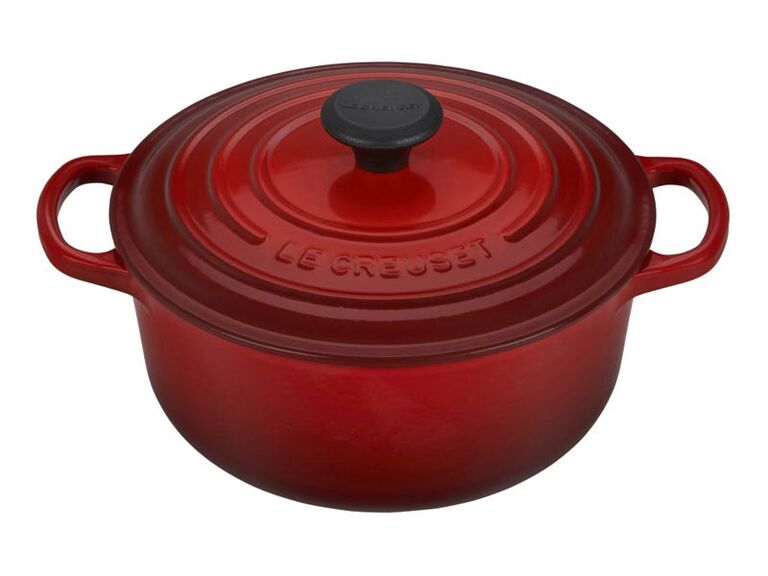 Whether you're a cooking novice and a seasoned chef, a Dutch oven will be your secret weapon for one-pot meals, soups, casseroles, stews, pot pies, stir fry, and more! Dutch ovens are one kitchen appliance to not skimp on. A quality Dutch oven can last you a lifetime.
Le Creuset Signature cast iron round Dutch oven, $360, The Knot Registry
Coffee, Tea, and Espresso Makers
Your traditional Mr. Coffee has a time and place, but your Saturday mornings and brunch with the in-laws can feel more luxurious and intentional with an ultra-smooth cup of joe. From the aroma to the taste to the experience of feeling like a barista in your pajamas, a coffee maker splurge will not let you (or your sleepy mornings) down.
Cuisinart Programmable Espresso Maker, $220, The Knot Registry
Leave it off the list
Aspirational cooking appliances
Remember, you want to receive big-ticket items that will make your life easier and be things you use repeatedly. Blenders, juicers, and expensive baking mixers are likely to collect dust if it's a hobby you haven't taken up before the wedding.
However, if you love baking, you've got to spring for the KitchenAid stand mixer. And if you are the Smoothie King yourself, definitely ask for a Vitamix.
Carbonated water maker
These seem to be making a splash on registries. But again, if you aren't currently craving bubbles in your water, it may be another appliance that gets pushed to the back of the pantry.
For the bathroom
The bathroom is a space in the home to relax and unwind with spa treatments and long showers — but it can also be a space couples fight about most. Balance your registry with expensive wedding gifts that will make your bathroom an at-home oasis and a functioning shared space between two adults.
Worth asking for
Towels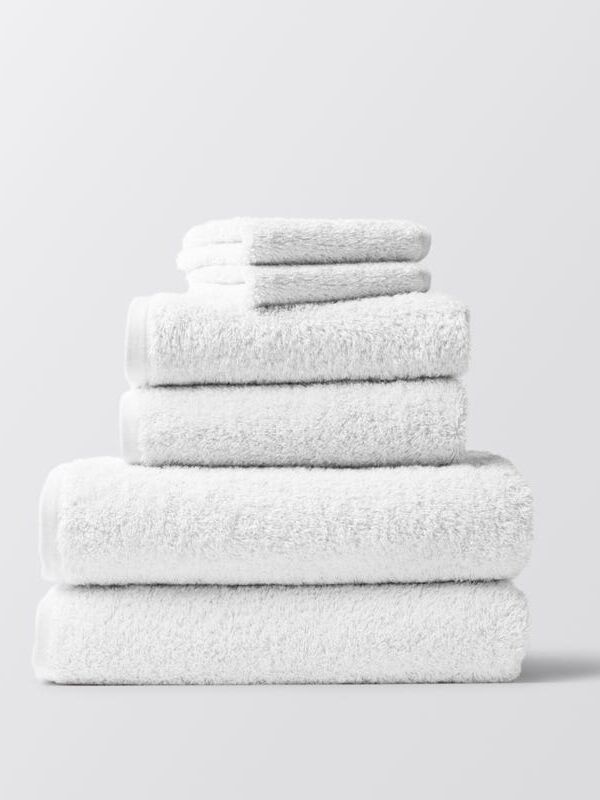 Pretty self-explanatory, but gorgeous, soft-to-the-touch towels are the upgrade your bathroom deserves, especially if you each are coming into the marriage with towels bearing wear and tear.
Coyuchi Cloud Loom 6-piece towel set, $198, The Knot Registry
Robes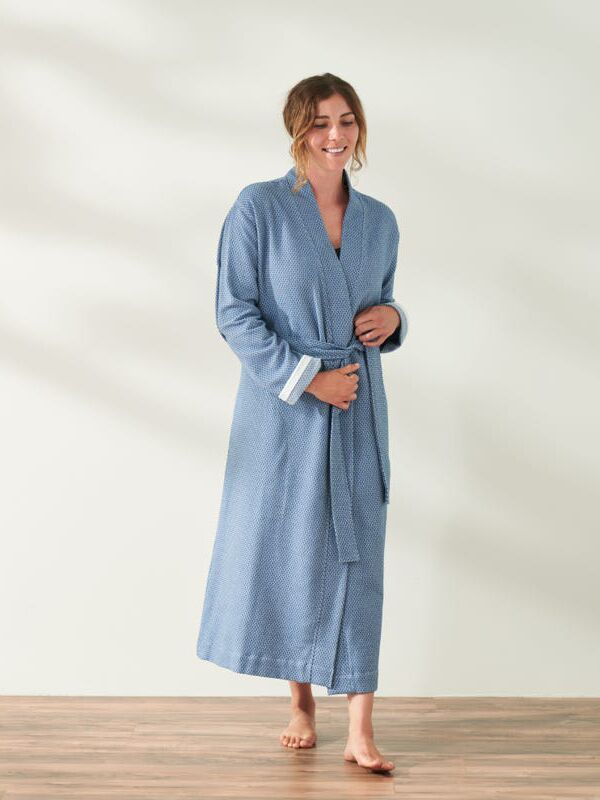 Relaxing in comfort in a non-negotiable for weekends, late nights, and slow mornings. Enjoy the day while relaxing in matching robes, or keep one in the bathroom for a spa-at-home feeling any day of the week.
Coyuchi unisex Mediterranean organic modern robe, $148, The Knot Registry
Leave it off the list
Bathtub Caddy
Is it Instagram-worthy? Yes. Will it elevate your bubble baths to new levels? Absolutely. However, we're suggesting you pass on this for now because it may be something you only break-out once in a while, especially if your bathtub doubles as your standing shower.
Scale
Every couple will be different, but if you're not already someone who uses a scale, don't put pressure on yourself as a newlywed to shift your body size. Enjoy this season, and ditch the scale.
Countertop Sensor Mirror
Like the bathtub caddy, it's a great purchase but likely something that only one of you will use. Use your registry to invest in pieces that will serve both of you!
For home and entertainment
Every couple dreams of marrying their best friend and creating unforgettable memories year after year. Make quality time at home most enjoyable with gifts that will allow you both to indulge in your hobbies, make Saturday date nights more special, and even take spontaneous trips at a moment's notice.
Worth asking for
Robot Vacuum Cleaner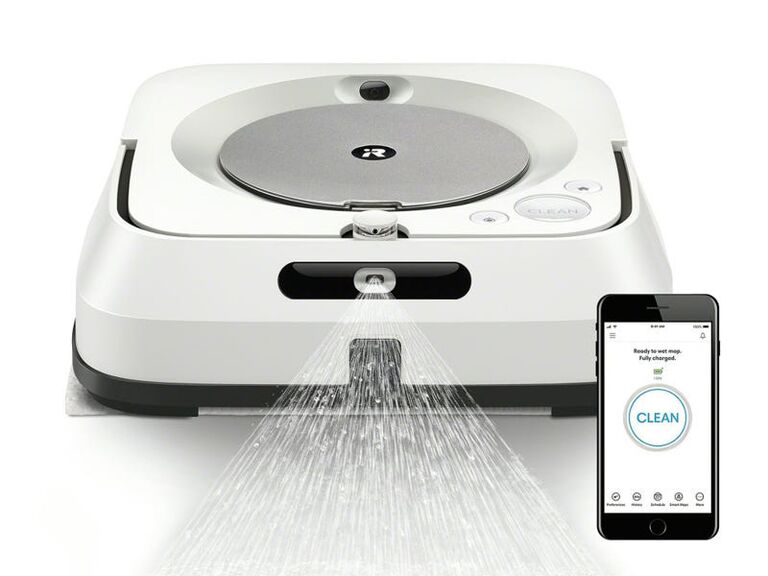 Game-changer right here. When life gets busy, it's easy to forget the small tasks like vacuuming and sweeping. That's where robot vacuums help out and show-up. (And you definitely don't want a robot cleaner that's going to miss a spot. That's why we suggest an iRobot.)
iRobot Braava M6 Jet, $450, The Knot Registry
Luggage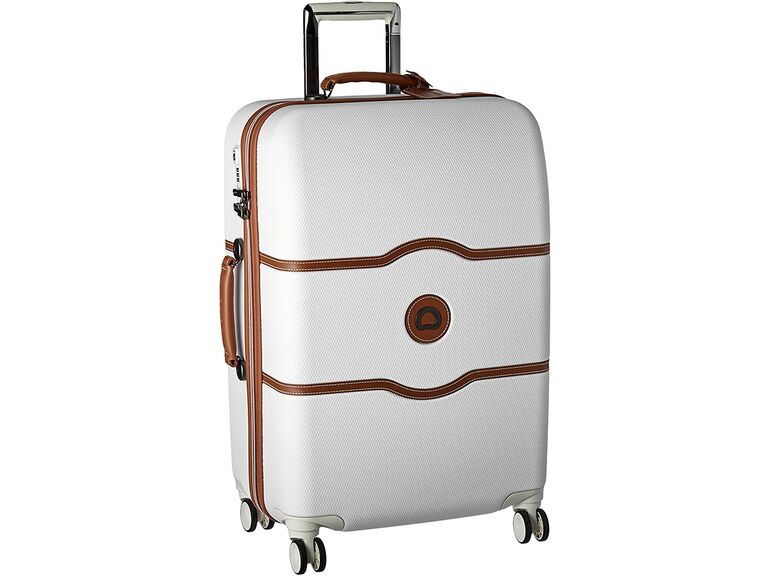 Between the honeymoon to holidays at the in-laws, you two will be headed somewhere soon enough. Matching or personalized luggage is a way to travel in style, and quality luggage is an expensive wedding gift that will take you anywhere for years to come.
DELSEY Paris Chatelet 24-inch suitcase, $600, Amazon
Headphones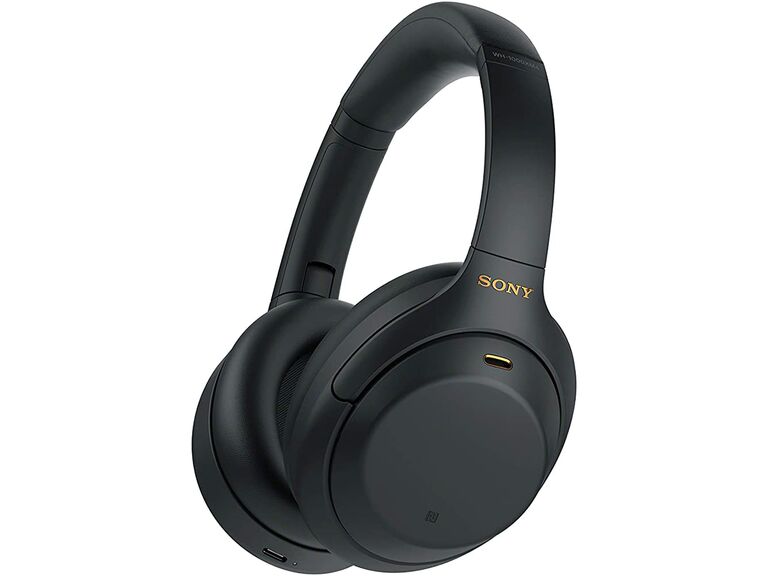 For the days when you're both WFH or just wanting some "me" time on the weekends, noise-canceling headphones will tune out the world for just a little bit.
Sony WH-1000XM4 wireless headphones, $348, Amazon
Workout gear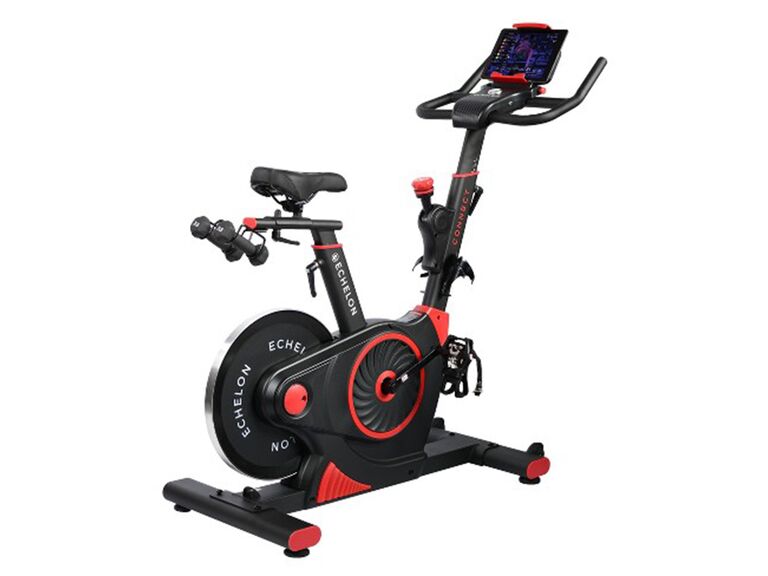 If you're a fit couple or have health-related goals as newlyweds, investing in workout gear can make all the difference on the days you just can't make it to the gym.
Echelon EX3 Connect Bike, $1,000, Echelon Fitness
Leave it off the list
Decorative pieces
Decor pieces can be so personal and should be unique to the couple. If you find something you know you can't live without, amazing! We recommend opting for a gift card to home decor retailers so you can touch, feel, and connect with the piece in person.
Furniture
Similar to decorative pieces, furniture can be such an intimate focal point of a home. What looks gorgeous online may not look as great in person. Skip scanning or selecting furniture until you're able to see what the home is filled with post-wedding.